Italian Grilled Chicken
This post may include affiliate links. As an Amazon Associate I earn from qualifying purchases.
This Italian Marinated Chicken is such an easy recipe to make and its packed full of amazing flavor! I guide you through this Italian grilled chicken recipe so that you get a juicy flavorful chicken breast.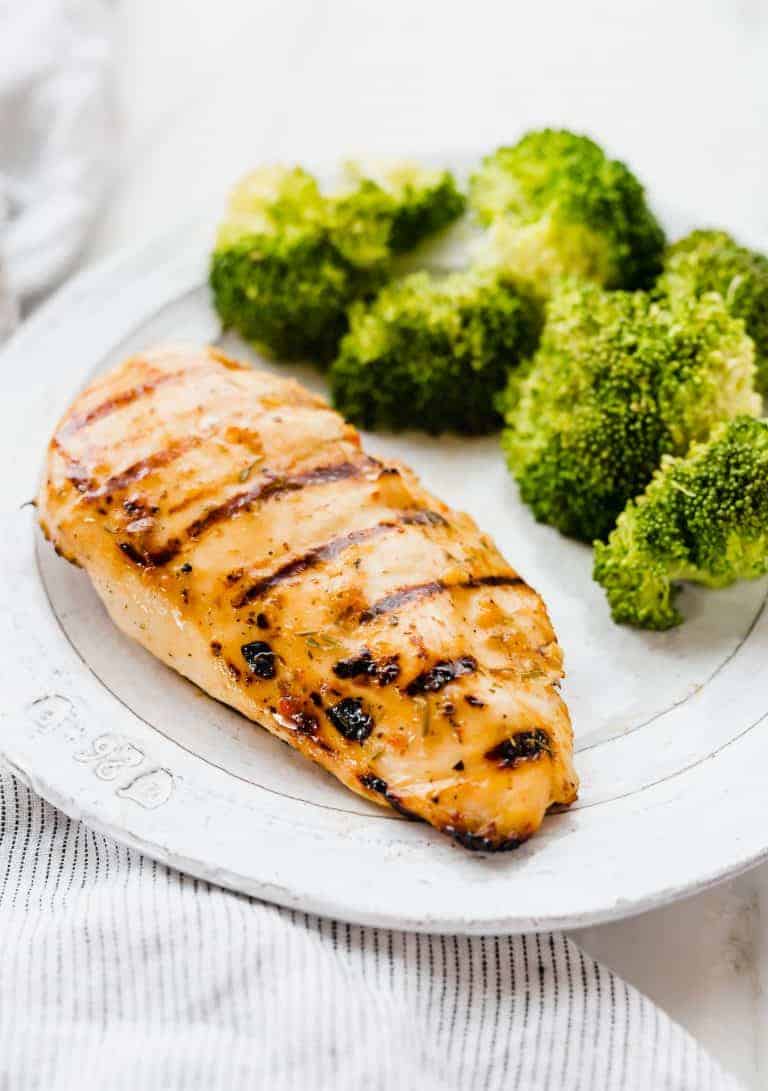 Everyone needs a  healthy dinner. We all love a good soup, such as my sweet and spicy chili recipe, or an easy lasagna soup; but it's also very refreshing to have a good serving of lean meat and a side of vegetables. If you meal prep, be sure to add this Italian Grilled Chicken to your meal prep menu!
Easy Italian Grilled Chicken
Grilling chicken has been a struggle for me. Why is it so difficult to get a nice juicy piece of chicken off the grill!?
The answer: I wasn't using an instant read thermometer.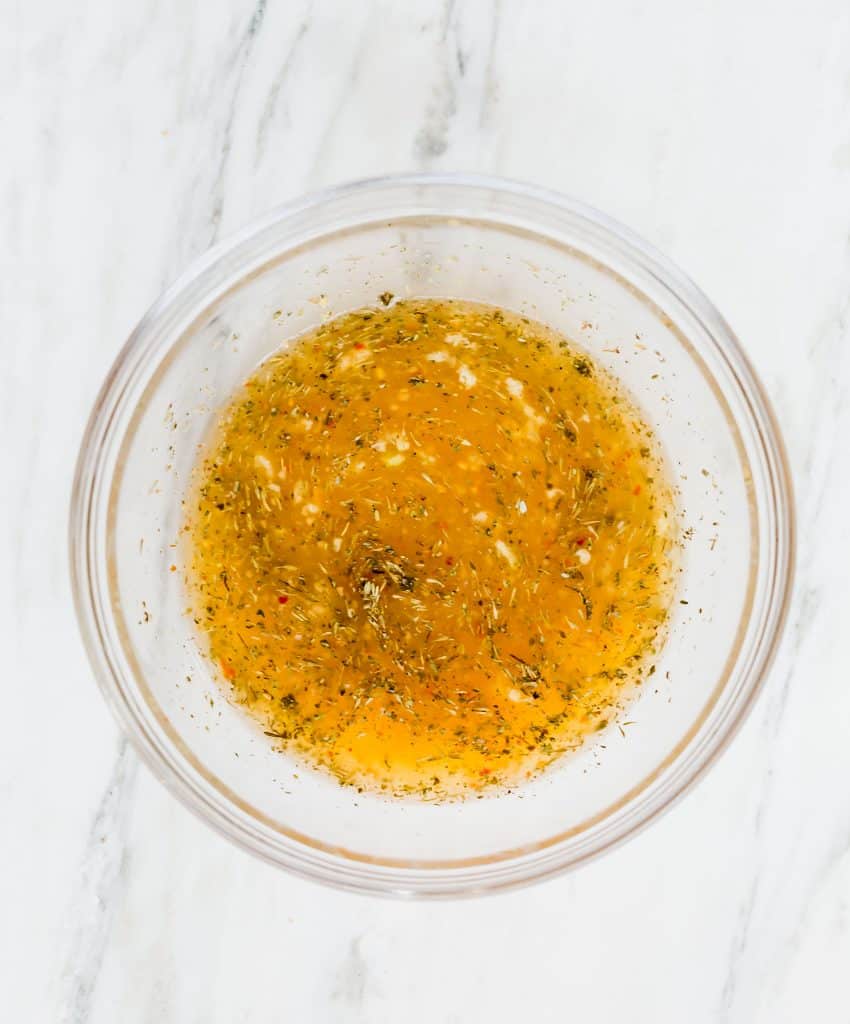 You NEED an instant read thermometer if you want a juicy cut of grilled chicken. This is the one I use, and it's hands down THE BEST!
First things first, prep the marinate.
I marinate my chicken overnight. Is this necessary? No. However, marinating overnight greatly affects the flavor of the chicken.
All you need for the marinate is a bottle of Italian Salad Dressing and a few seasonings. Mix the ingredients together, reserve a small portion of the marinate for basting, then place the marinate and the chicken breasts in a ziplock bag. Set this in a bowl in the fridge (just in case your bag has a tear) and let sit overnight.
Once the chicken has marinated for your desired length of time, pull it out of the refrigerator and let it sit at room temperature for 15 minutes.
Now comes the fun part, grilling chicken.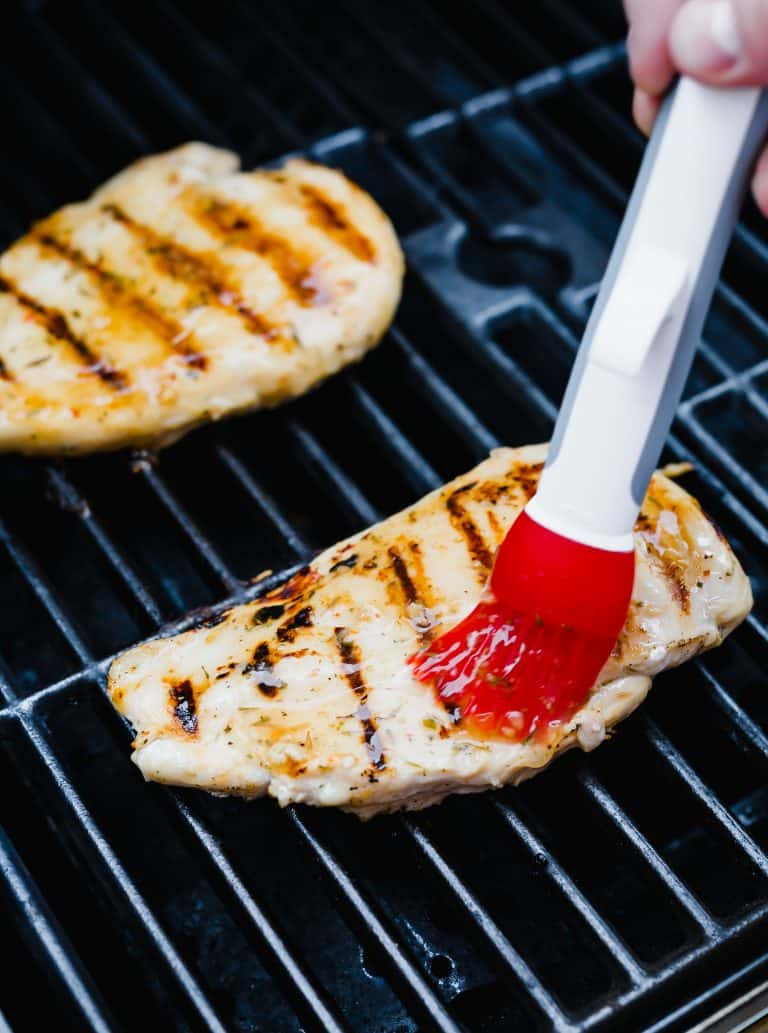 How do you grill chicken? Here are some steps to ensure you get a juicy piece of meat every time.
Heat your grill to 350°-400°.
Place chicken breasts on the grill. Close the lid and let them cook for 5 minutes.
Turn the chicken breasts and baste each one with a generous amount of the marinate you reserved.
Close the lid, and cook for an additional 5-6 minutes. Using an instant read thermometer you want the thickest part of the breast to be 155°F. Once it reaches this temperature remove the chicken breasts from the grill.
Place the chicken breasts on a plate, and cover with foil to keep warm. Let rest for 5 minutes before serving.
Note: If your grill stays around 400°F a majority of the time you're grilling, your cooking times may be less. I would estimate grilling both sides 4-4.5 minutes, rather than 5-6 minutes.
Now, the only way you can ensure you have a juicy perfectly grilled chicken is by using an instant read thermometer. Chicken is fully cooked once it reaches 165°F. So why did I tell you to remove the chicken once it reaches 155°F? Chicken continues to cook for several minutes after removed from the heat source.
When you remove the chicken breast from the grill the internal temperature will continue to rise. This is because the outside/surface of the chicken is much hotter than the inside. As the chicken is resting, the outside temperature begins to transfer to the center and thus equalizes the chickens temperature.
Doing this results in a juicy perfectly grilled chicken. Those that remove chicken from the grill when the internal temperature is 165-170°F will find themselves eating a dry, overcooked piece of meat.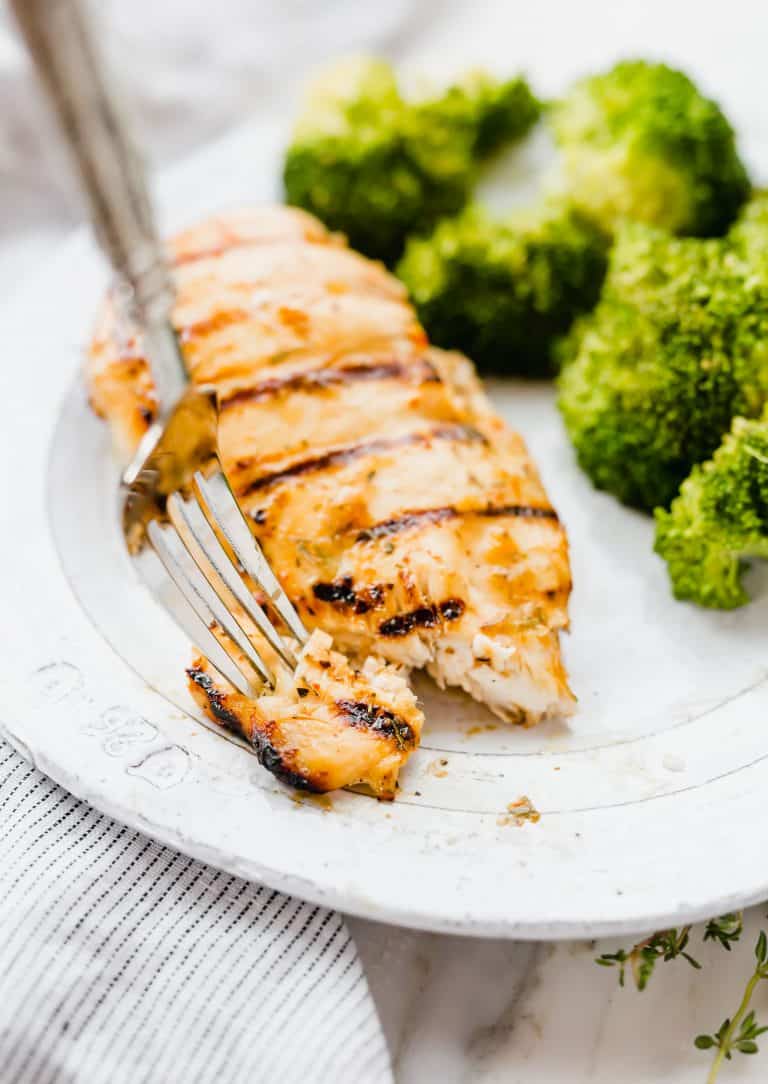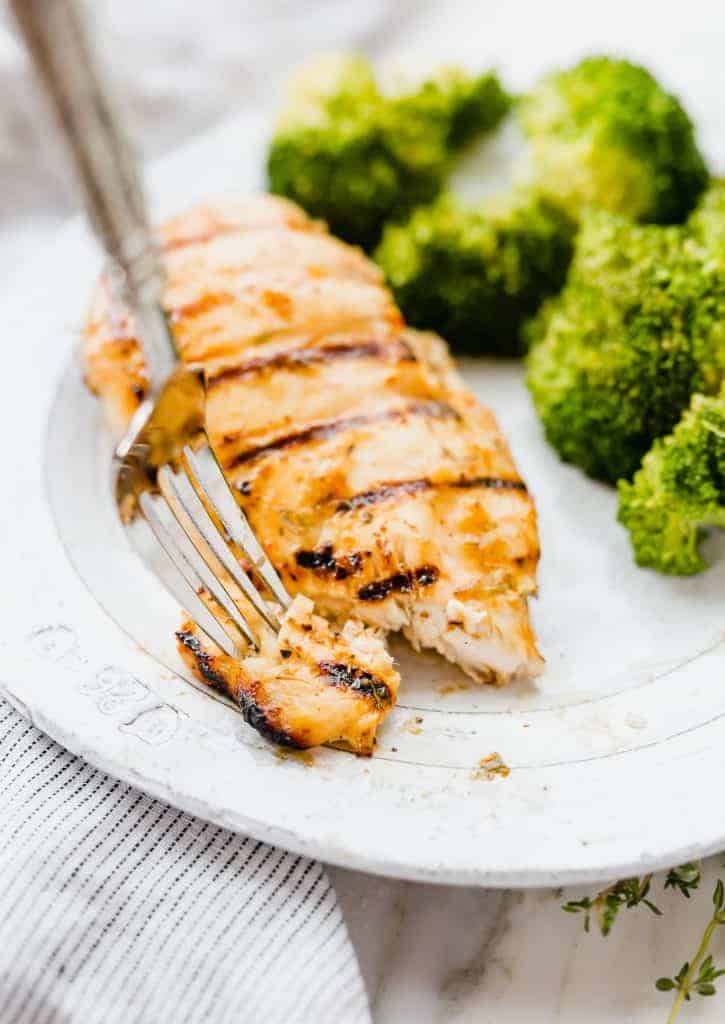 This easy Italian Grilled Chicken recipe is the perfect flavorful lean meat to incorporate in your meal planning or meal prep rotation.
Looking for more chicken recipes? Check out these:
---
Craving more?  SUBSCRIBE TO SALT & BAKER to get new recipes delivered straight to your inbox! Simply enter your email in a subscription box located on the right hand side of the blog or scroll below the recipe and sign up there!
And stay in touch on Facebook, Pinterest and Instagram for all of the latest updates.
---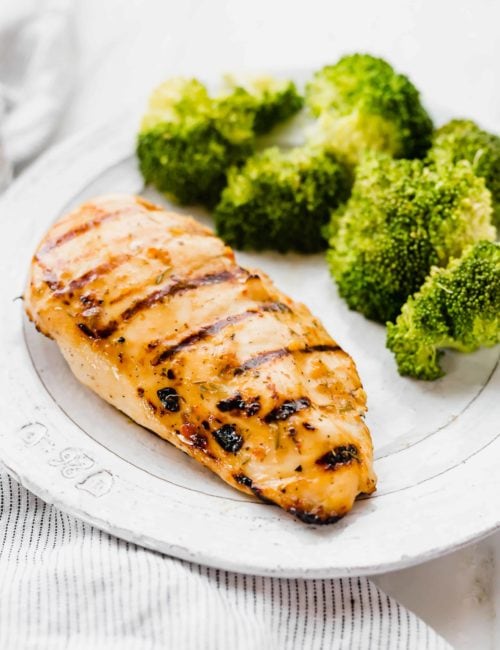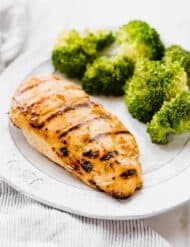 PRINT
Italian Grilled Chicken
The perfect Italian marinate makes this chicken a favorite of ours! Juicy, flavorful chicken is what you'll get!
INGREDIENTS
4

chicken breasts, or the equivalent of 1.5 lbs

1

bottle of Italian salad dressing

2

teaspoons

dried thyme

1

teaspoon

dried Italian seasoning

1/3

cup

lemon juice

4

garlic cloves, minced
INSTRUCTIONS
In a medium sized bowl, combine the Italian salad dressing, dried thyme, Italian seasoning, lemon juice, and garlic cloves. Stir to combine. Reserve 1/3 cup of the marinate (to be used for basting later). Transfer the mixture to a large Ziploc bag. Add the chicken. Close the bag, and place in the fridge to marinate for 3-5 hours, or overnight.

Pull the chicken out of the fridge. Let sit at room temperature for 15 minutes. Remove the chicken from the marinate and discard the marinate.

Heat a grill to 350°F-400°F. Place the chicken breasts on the grill. **Cook the first side for 5 minutes. Flip and immediately thoroughly baste each chicken breast with the reserved marinate.

Close the grill lid and cook for an additional 5-6 minutes or until inside temperature reaches 155°F. *

Remove from the grill and place the meat on a plate, tent with foil to keep the meat warm. Let rest for 5 minutes before serving.
RECIPE NOTES
* You will need an instant read thermometer for this part. The meat continues to cook a few minutes after removing it from the grill. If you cook it until the temp reads 155°, your meat will be fully cooked by the time it's on your table. AND it will be juicy and so delicious!! 
**If you find your grill is at 400° a majority of the time, you may only need to cook each side for 4.5- 5 minutes. Be sure to check so that your meat isn't dry and overcooked.
Recipe Source: Salt & Baker
Did you make this recipe?
Leave a comment or share a photo on Instagram and tag @saltandbaker and hashtag it #saltandbaker.