Oven Roasted Broccoli
This post may include affiliate links. As an Amazon Associate I earn from qualifying purchases.
You can make Oven Roasted Broccoli with just 4 simple ingredients to help turn this super healthy vegetable into something incredibly delicious and easy to eat! It's the best way to cook broccoli and a great side dish to any meal.
If you don't like broccoli, give the green vegetable another chance. Use this recipe or make some more of my favorite broccoli recipes like my Broccoli Caesar Salad and my Cheesy Broccoli Potato Soup! I bet broccoli will become your new favorite vegetable!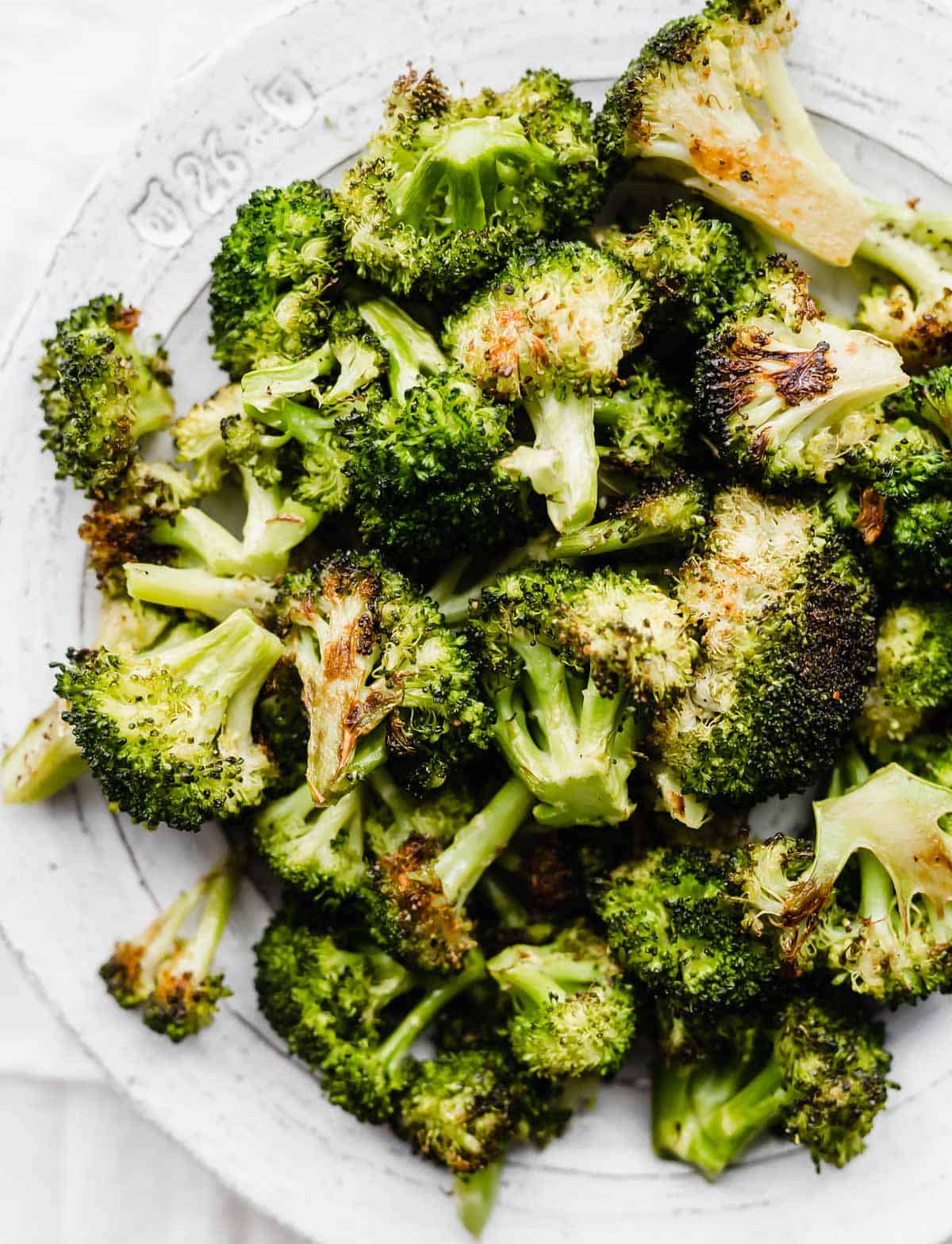 Why This Recipe Works
Best way to cook broccoli. We aren't the only ones who love baked broccoli! One reader, Mary, said, "We loved this recipe! Our new favorite way to have broccoli! I know exactly what you mean wanting to eat the whole pan."
Easy roasted broccoli recipe. If you are looking for an easy and healthy side dish to make for dinner, get the broccoli ready because this recipe takes next to no time to prep and the oven does the rest!
So yummy you won't want to share! Once upon a time, a few weeks ago, I recipe tested this roasted broccoli recipe. I then ate the ENTIRE pan of roasted broccoli. The end. Ironically I made the broccoli for dinner and was planning on serving it alongside my honey glazed salmon. Yeah, that didn't happen. I literally ate them standing next to the oven because I was practically shoveling the green trees in my face. Moral of the story: this oven-roasted broccoli recipe is a game changer!
Ingredient Notes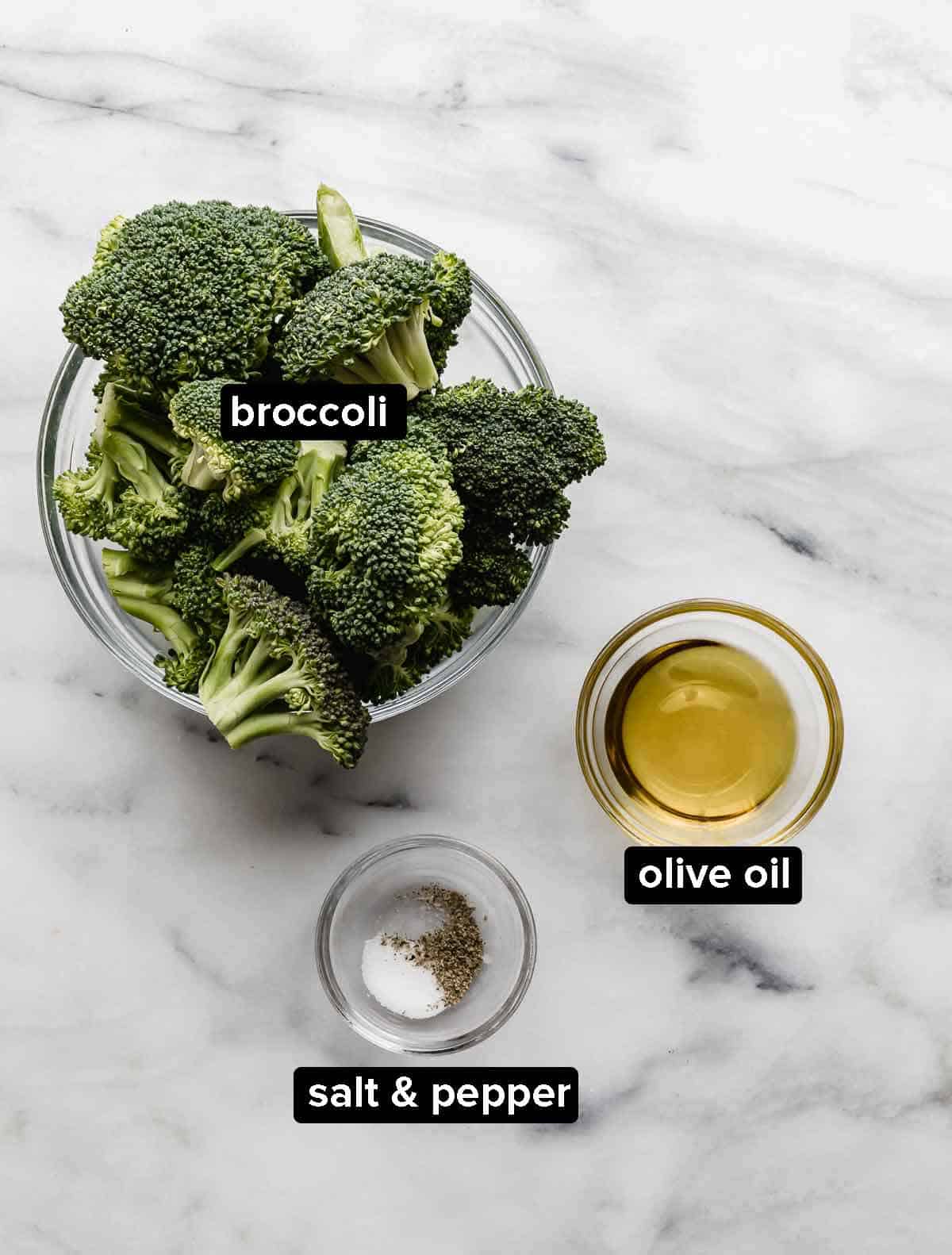 Fresh Broccoli: You'll need 2 large broccoli heads. If yours are on the smaller side, use 3. Cut the broccoli into smaller florets. You should end up with somewhere around 6 cups of broccoli
Olive Oil: The olive oil will coat the broccoli, giving them flavor and helping them to get lightly browned in the oven. It will also help the salt and pepper stick to the broccoli florets.
Kosher Salt & Black Pepper: Season this best roasted broccoli to your likeness.
Step-by-Step Instructions
Prepare and toss the broccoli. Preheat your oven to 425ºF. Place the washed and cut broccoli onto a rimmed baking sheet. Drizzle with the olive oil and toss until fully coated. Spread the broccoli florets into a single layer on the large baking sheet. Season with salt and pepper.
Bake. Roast the broccoli for 18-22 minutes, tossing halfway through, until they are fork tender and have those lightly golden brown crispy edges. Remove from the oven and serve. Enjoy!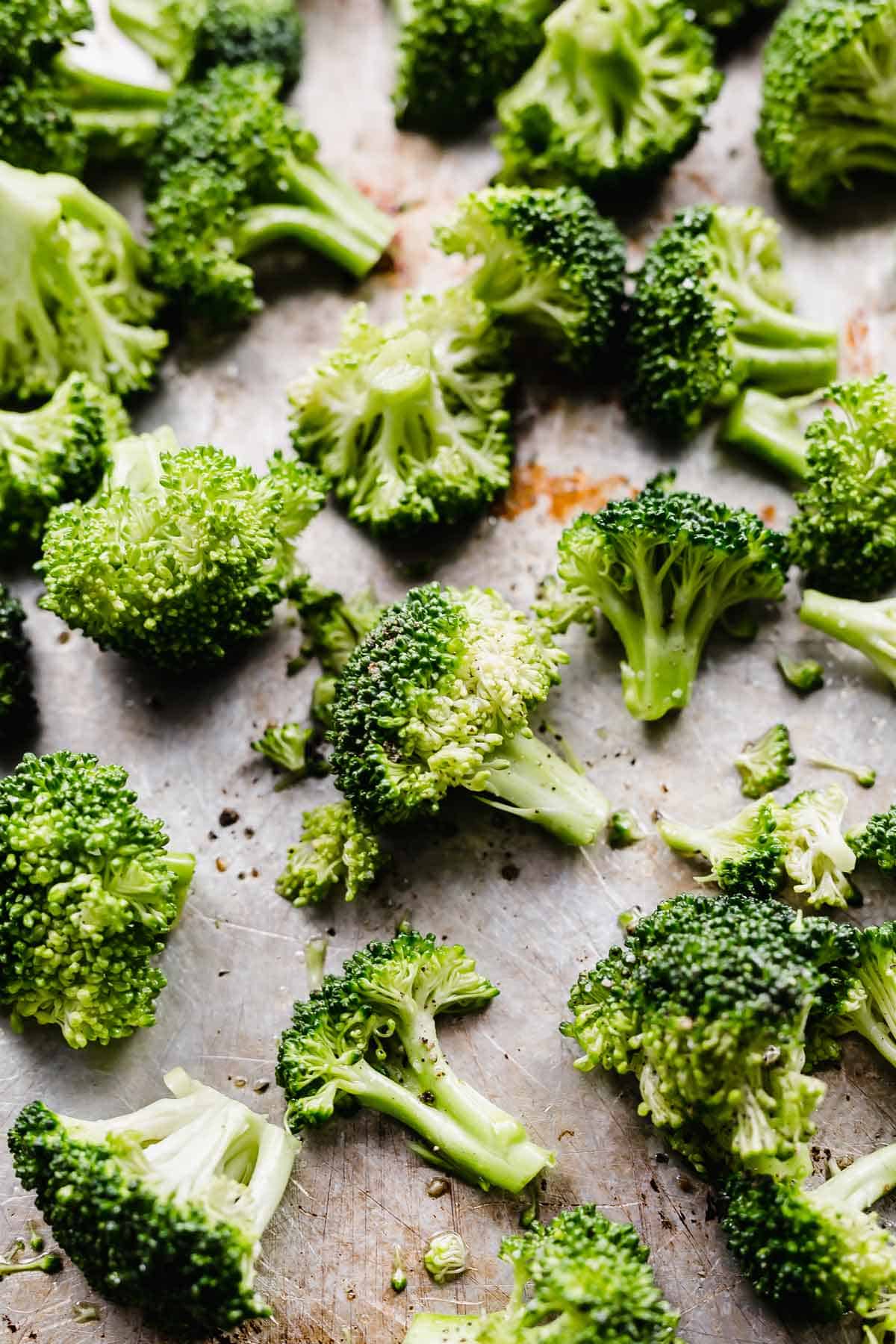 Recipe Tips
When cutting the broccoli into florets, try and cut them into bite-size pieces, and uniform in size. This will make them easier to eat and they'll roast in the oven more evenly.
Don't overcrowd the sheet pan. Do your best to spread the broccoli in an even layer prior to roasting. Use a sheet of parchment paper on the pan if you'd like.
Roast at the right temperature. You want the oven to be hot enough it crisps the edges of the broccoli, but doesn't burn them. Also keep in mind we're working with olive oil, so you don't want to crank the oven too hot. I found 425°F to be perfect!
I hope you make this recipe! If you have as little self control as me (like you totally eat the full pan), please let me know! 😊 My husband thought I was slightly crazy for gobbling up a pan of broccoli, of all things!
Make Ahead, Storing, and Freezing
You can prepare the broccoli ahead of time by washing it and cutting it into florets. Otherwise, this oven roasted broccoli recipe is best enjoyed fresh out of the oven!
Store any leftover baked broccoli in an airtight container in the fridge for 2-3 days. Reheat in the microwave or oven until warm.
Instead of freezing, simply keep some frozen broccoli on hand so you can make this oven broccoli whenever!
Recipe FAQs
Is oven roasted broccoli healthy?
Yes! This broccoli recipe is definitely healthy! It's made with healthy olive oil, broccoli and salt and pepper! 
Is oven roasted broccoli soft?
Yes! It's all about roasting at the right oven temperature and then removing from the oven when the broccoli is fork tender. You don't want them hard and you don't want them fall-apart mushy. 
Can you oven roast broccoli?
Yes! It's the best way to cook broccoli in my opinion! 
How long to oven roast broccoli at 425?
18-22 minutes baking time is what I've come up with. Just check on the oven at 18 minutes and add any extra time depending on how things look and if the broccoli is fork tender. 
What temp for oven roasted broccoli? 
I find that 425ºF is the best temperature for roasting broccoli. It's high heat enough that you get slightly crispy broccoli on the edges but not burned. Remember that this oven roasted broccoli recipe uses olive oil, so you don't want the oven to be any hotter.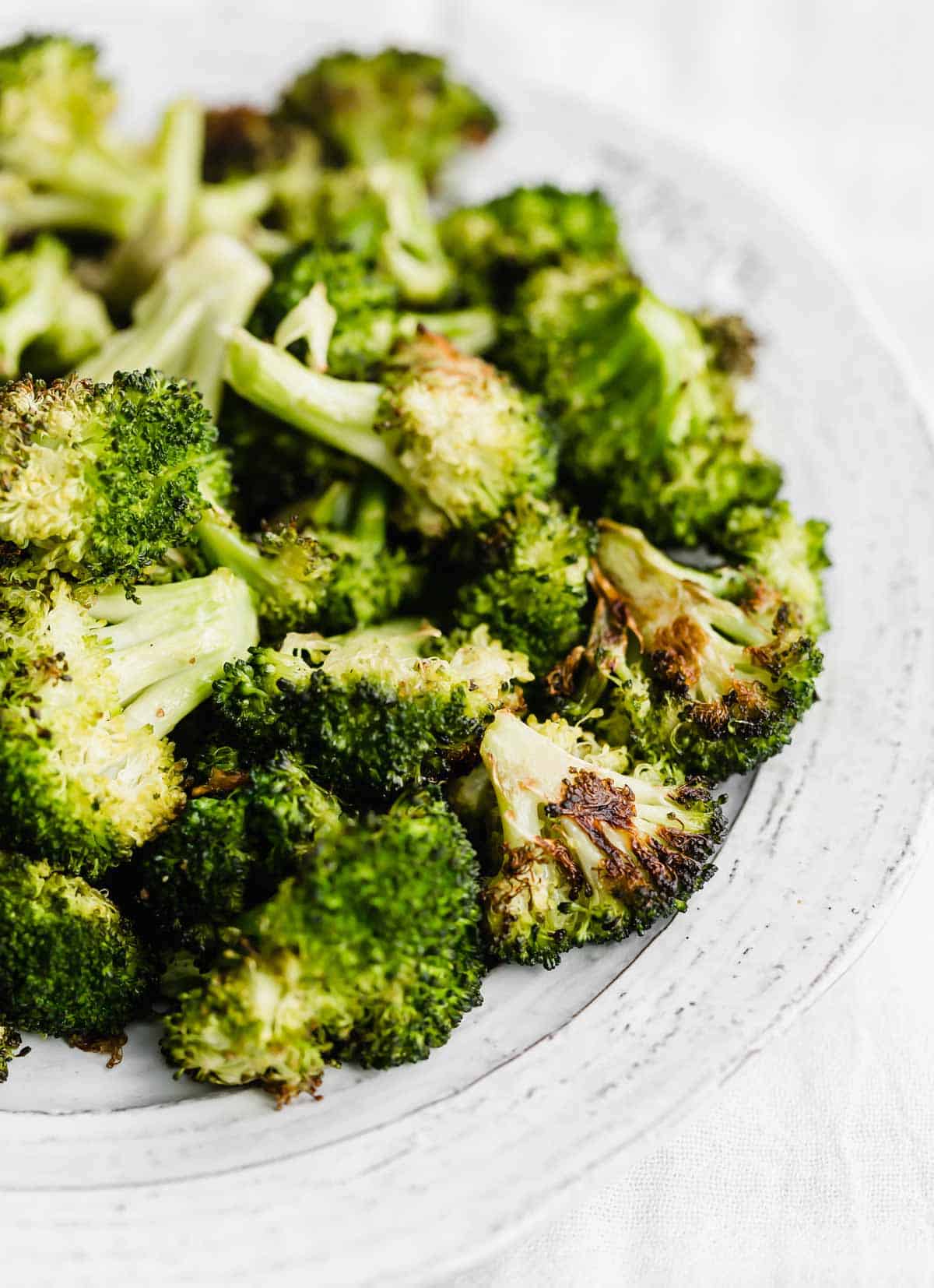 Recipes to eat alongside roasted broccoli
Oven Roasted Broccoli
Easy oven roasted broccoli is healthy and delicious! Fresh broccoli is tossed in olive oil then roasted to fork tender perfection.
Ingredients
2

large

broccoli heads

-

cut into florets (about 6 cups)

4

tablespoons

olive oil

kosher salt

freshly ground black pepper
Instructions
Preheat the oven to 425°F. Place the broccoli on a rimmed baking sheet. Drizzle the olive oil overtop of the broccoli. Using your hands, gently toss the broccoli so that it's evenly coated in the olive oil. Arrange the broccoli in an even layer across the pan. Season with salt and pepper. 

Roast, tossing halfway through baking time, until fork tender and lightly browned, about 18-22 minutes. 
Did you make this recipe?
Leave a star rating and review on the blog post letting me know how you liked this recipe! Take a picture and tag @saltandbaker on Instagram and Facebook so I can see what you're making!