Spinach and Bacon Quiche
This post may include affiliate links. As an Amazon Associate I earn from qualifying purchases.
This Spinach and Bacon Quiche is perfect for breakfast, brunch, or dinner. It has a delicate custard filling loaded with bacon, spinach, onion and a scrumptious combination of cheeses! Serve this best bacon quiche for breakfast, brunch, or dinner.
I always tend to serve this delicious spinach bacon quiche recipe for dinner, since I like to keep breakfasts a bit more simple; But if you are looking for more delicious breakfast recipes (which can also be served at dinnertime, let's be honest!) try my Jimmy Dean Breakfast Burritos, Scrambled Eggs on Toast or my Homemade Sausage and Egg McMuffin! So yummy!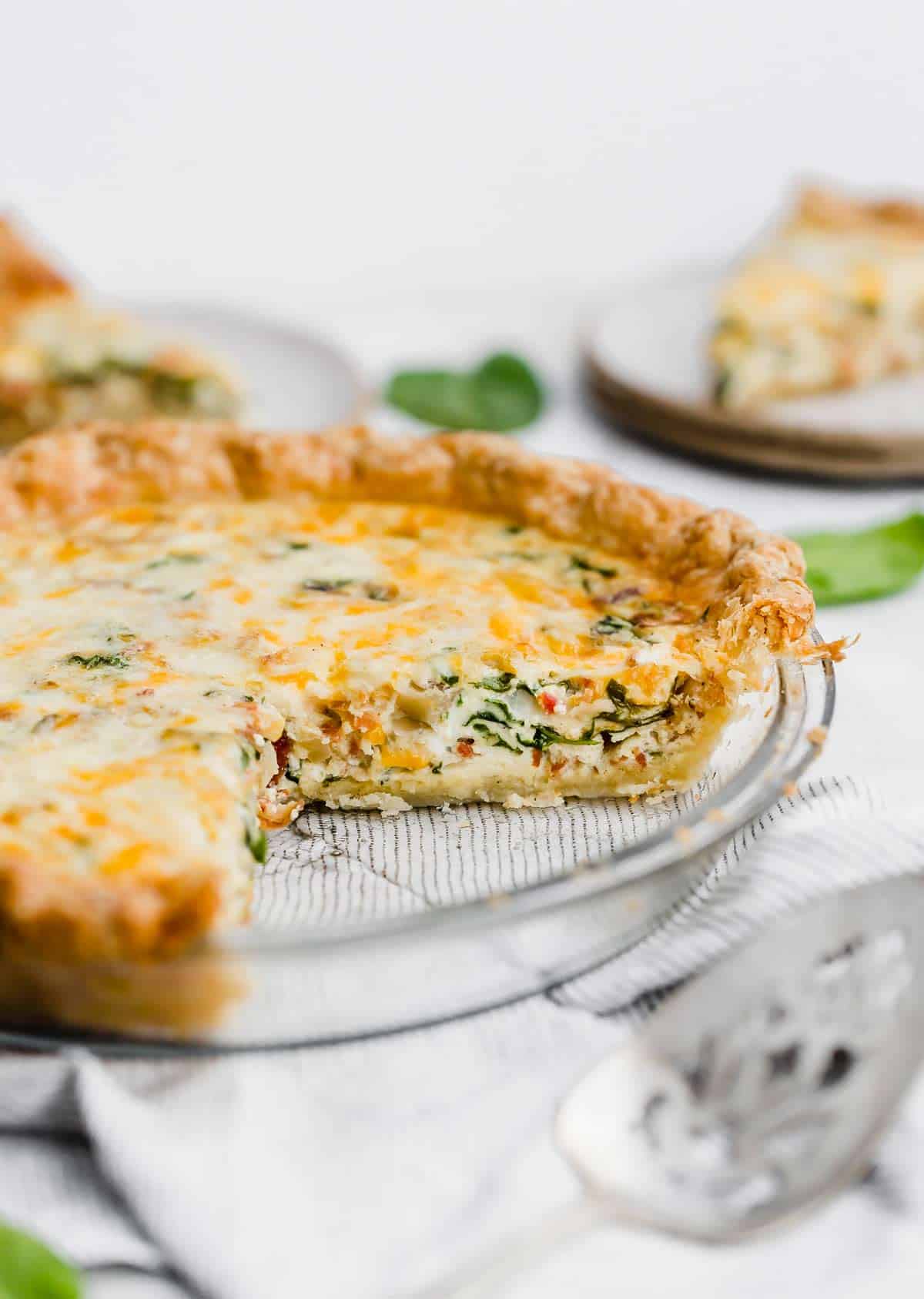 Why This Recipe Works
Best bacon quiche recipe. I definitely feel partial to this delicious combination or vegetables, flavors, and ingredients! But the best thing about quiche is it is SO easy to adapt things based off the items you have: use a different cheese, swap out the spinach for kale, etc etc!
No soggy crust! It is a definite crime to eat a quiche with a soggy bottom of the pie crust! Don't do it! The trick to making a delicious quiche without a soggy crust… partially bake the pie crust (AKA par bake) before adding the filling for a delicious flaky crust with no soggy quiche! Follow my recipe for instructions and best tips.
Ingredient Notes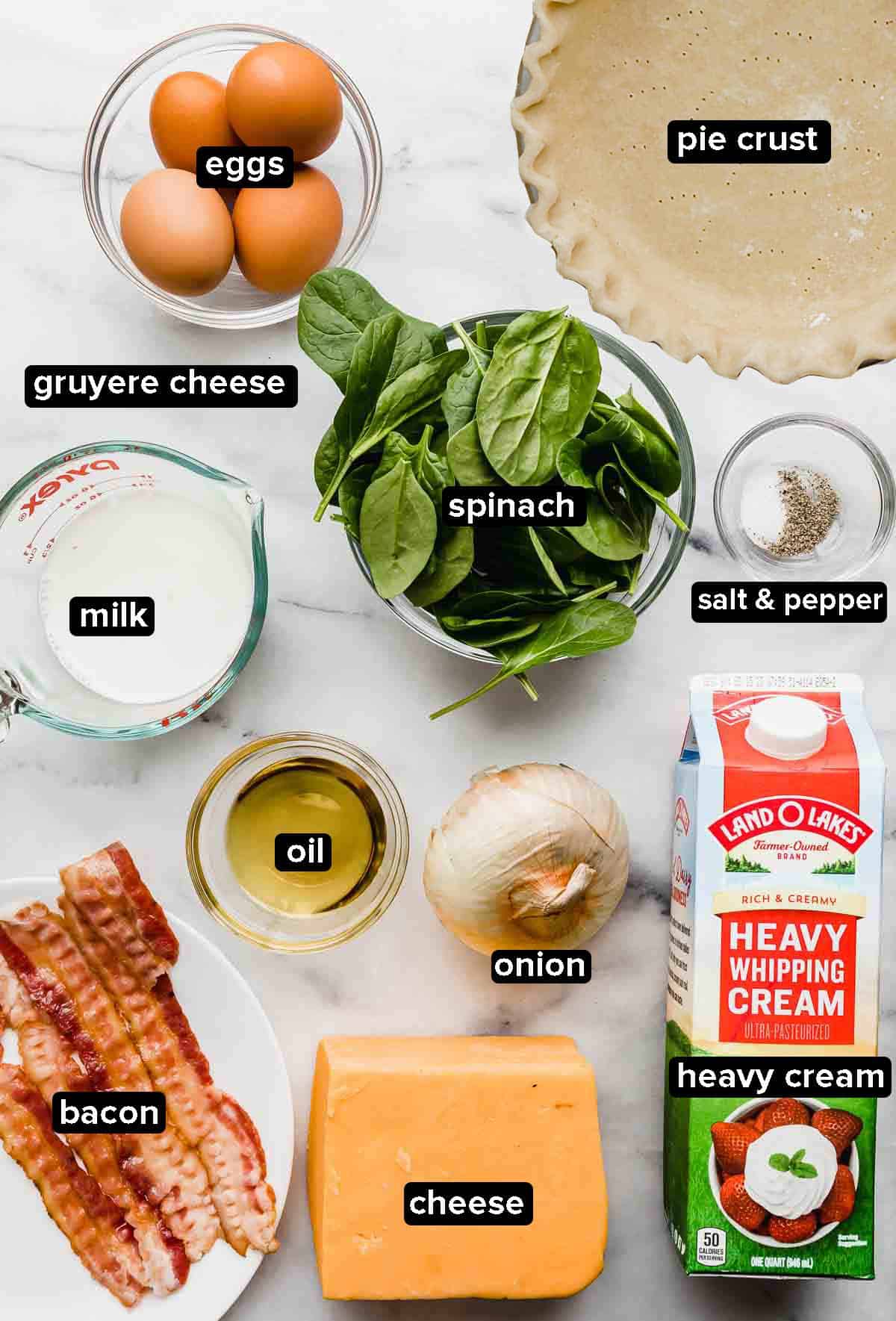 Homemade Pie Crust Recipe: You are going to LOVE this pie crust recipe. It is my favorite pie crust. It's an all-butter flaky pie crust (no Crisco!!) and is so so yummy. This recipe makes 2 pie crusts, so keep that in mind. If you don't have time, you can use a store-bought pie crust.
Onion: The chopped onion adds a great layer of flavor and texture inside the filling for this quiche with spinach and bacon.
Spinach: Feel free to use fresh or frozen spinach (regular or baby spinach). I used fresh spinach. However, if you have frozen spinach, you may get a bit more liquid in your onion and spinach mixture. You can drain it or cook it off.
Bacon: Use what works for you! If you have some fresh bacon, cook it up and chop or crumble it for this yummy bacon quiche. Or you can use frozen, precooked bacon and microwave it and crumble or chop it. You can even use some bacon bits if that's all you have! Personally, I would opt for traditional bacon over bits but up to you!
Cheese: I love using a combination of gruyere cheese and Colby Jack cheese. The combination is so yummy! If you don't have these cheeses, feel free to use what you have. Swiss cheese and Colby Jack would be delicious, or just use straight Swiss.
Eggs: Quiche filling is a combination of eggs, milk and heavy cream. The eggs help to create that custard like filling.
Milk + Heavy Cream: Using a combination of milk and heavy cream ensures a creamy and delicate texture to the spinach quiche recipe.
Step-by-Step Instructions
Prep and chill the pie crust. Using your homemade crust dough, place it in a 9-inch pie plate. Leave about a 1 inch overhand and flute the edges (that's the fancy wave you see pictured). Dock the pie crust (prick the dough with a fork about 8-9 times). Chill in the freezer for 20-30 minutes or until firm. Preheat your oven to 425ºF while the crust is chilling.
Blind bake the pie crust. Place a large sheet of parchment paper into the crust and fill with pie weights about 1/2 way up the sides. Bake for 15 minutes at 425ºF. Remove from the oven and carefully remove the parchment paper and pie weights. Return the crust to the oven and bake for 5 additional minutes. Remove from Theo oven and let cool slightly while you prepare the spinach and bacon quiche filling. Reduce oven temperature to 350ºF.
Cook the vegetables. Heat 2 tsp olive oil in a large skillet over medium heat. Once shimmering, add the diced onion and cook for 7-8 minutes or until translucent. Add 1 1/2 cups chopped spinach and cook until just wilted. Remove from the heat.
Make the custardy quiche filling. In a medium bowl, add 4 large eggs, 3/4 cup milk, 1/2 cup heavy cream, 3/4 tsp salt, and 1/4 tsp black pepper. Whisk eggs until smooth. Add in the onion and spinach mixture, the crumbled bacon, and 1 cup of cheese (I do a combination of Colby Jack Cheese and gruyere cheese). Stir until combined.
Pour egg mixture into the crust. Pour the custard filling into the pie crust and top with the rest of the cheese.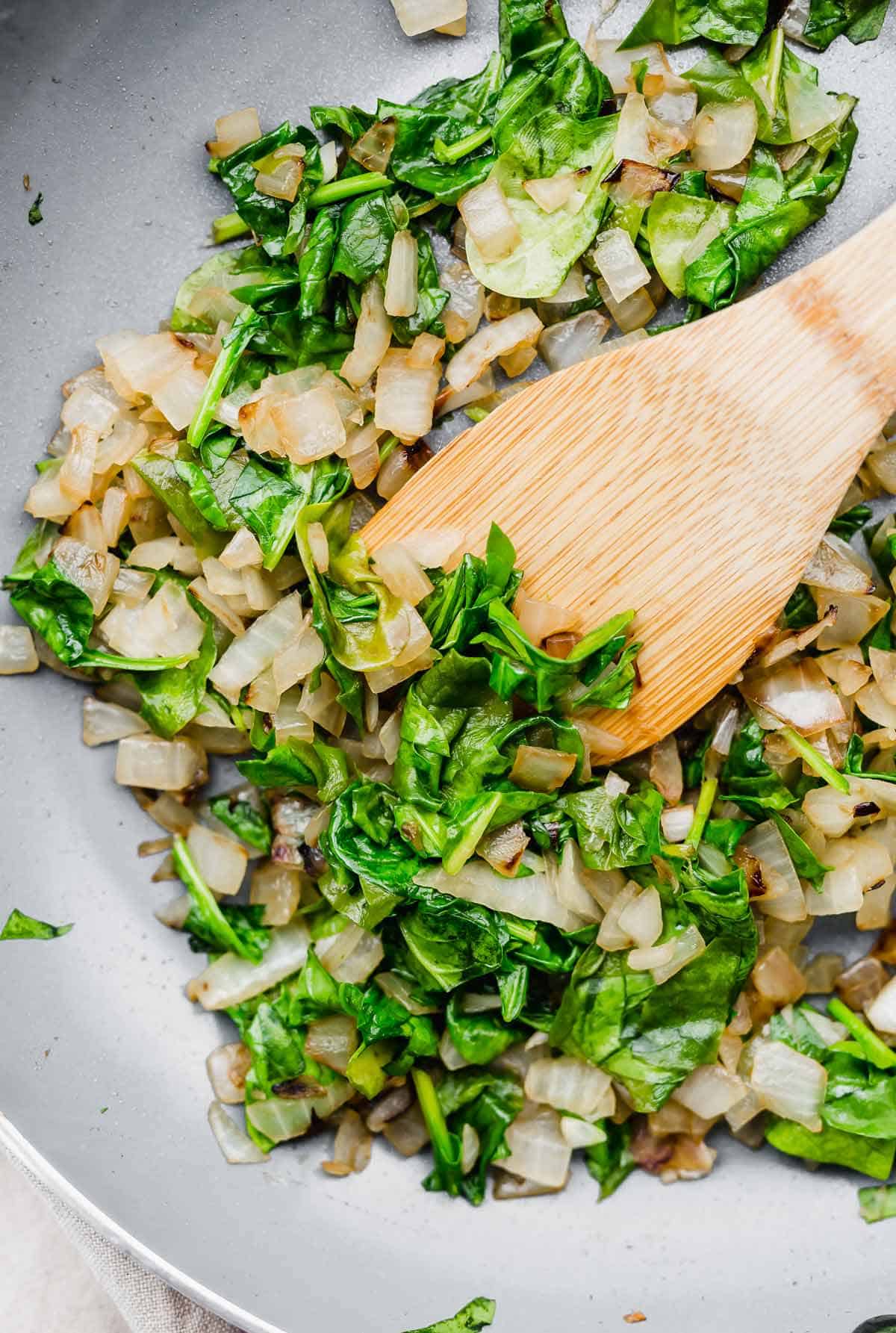 Bake the bacon spinach quiche. Bake quiche for 32-38 minutes at 350ºF. The cheesy spinach quiche is done when the edges are set and the center jiggles slightly (the center still needs to be cooked, it will just slightly jiggle! You don't want the middle to be under cooked).
Remove and set rest. Remove the quiche from the oven and let it rest for 15 minutes before cutting into it. Serve and enjoy!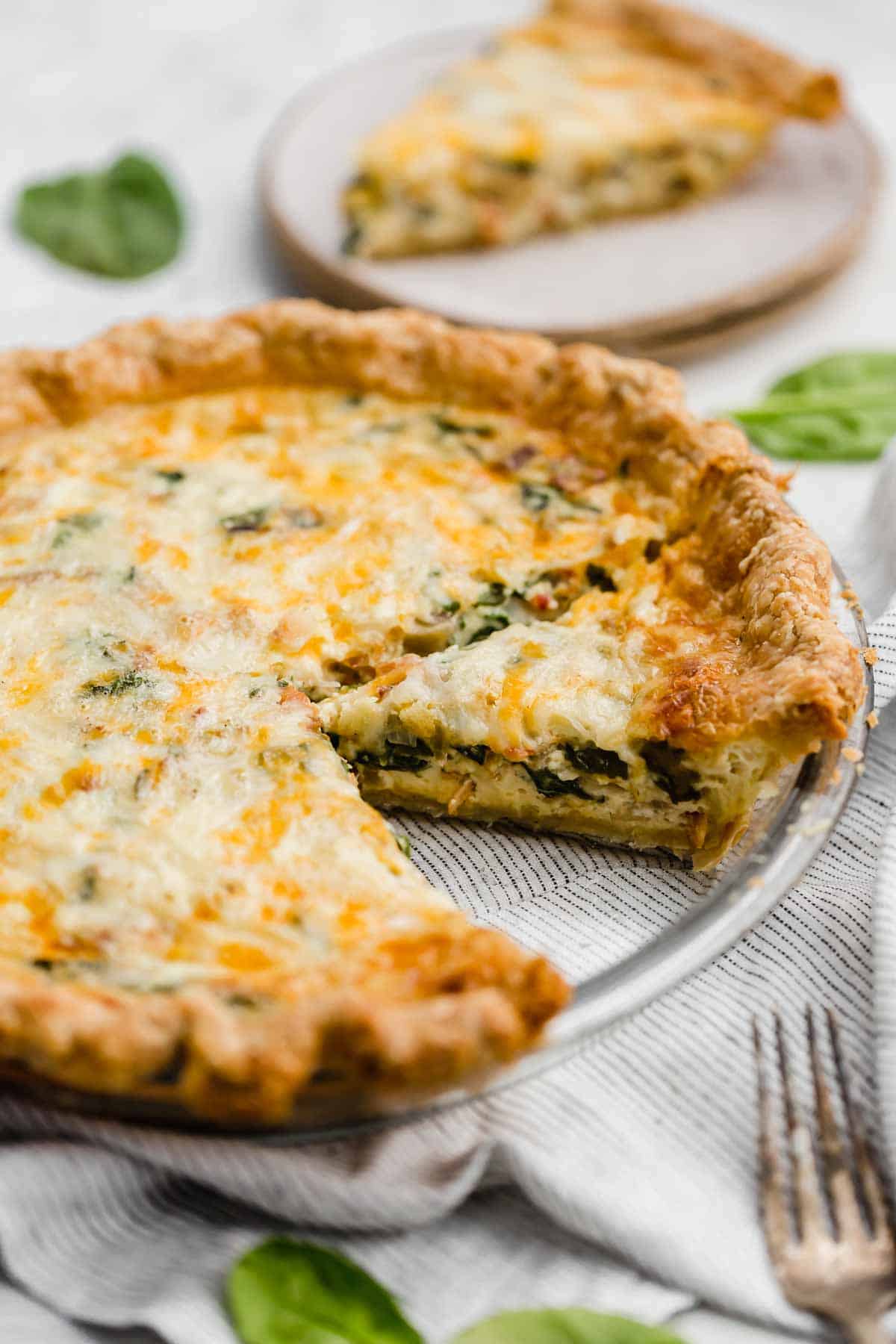 Recipe Tips
Weighing down the pie crust prevents the bottom crust from puffing and the sides from falling down the pie plate.
When making this quiche, I dock the bottom of the pie dough (I don't go crazy… maybe 8-10 fork tines on the bottom) AND use the pie weight method. Doing both hasn't given me any problems, and I've made this quiche at least 5 times.
You definitely should par bake the pie crust! Without par baking, the crust on the bottom of the pie dish will be under baked and definitely soggy. Par baking (also known as blind baking) means the crust will be baked and will hold up much better in the oven once the wet quiche mixture is added.
Be sure to allow the pie crust dough the proper amount of time chilling or else you'll have a hard time getting the sides of the crust to stay up.
Sometimes I find that the crust is getting a bit more golden brown than I'd like while the custard quiche filling is still baking. One thing that helps is to wrap top of the crust (the part that is fluted) with strips of aluminum foil so they don't burn or get over done.
Variations:
Add some chopped bell pepper to the skillet with the onions
Swap out the spinach for chopped kale
Don't have bacon? Cook up some ground sausage and add that — or cook up some sausage links and chop into pieces.
Different cheeses to use: Swiss cheese, Colby Jack cheese, Monterey Jack cheese, gruyere cheese, Cheddar cheese, mozzarella cheese, etc. I find using a combination makes things extra tasty. Slice some cheeses and try them together to get your favorite combination!
Make Ahead, Storing, and Freezing
I would definitely make the pie crust for this spinach bacon quiche ahead of time. Making the crust and the quiche in one day will take longer than 1 hour, which is technically all I give myself to make dinner — ha!
Store any leftover quiche covered in the fridge for 3-4 days.
To freeze, let the quiche cool completely and then wrap in plastic wrap then aluminum foil. Store in the freezer for up to 2 months. When ready to serve, remove quiche from freezer, do not thaw before reheating. Place the quiche (being sure to remove the layer of plastic wrap and the layer of foil) in a 350°F oven and bake for 25 minutes or until heated through.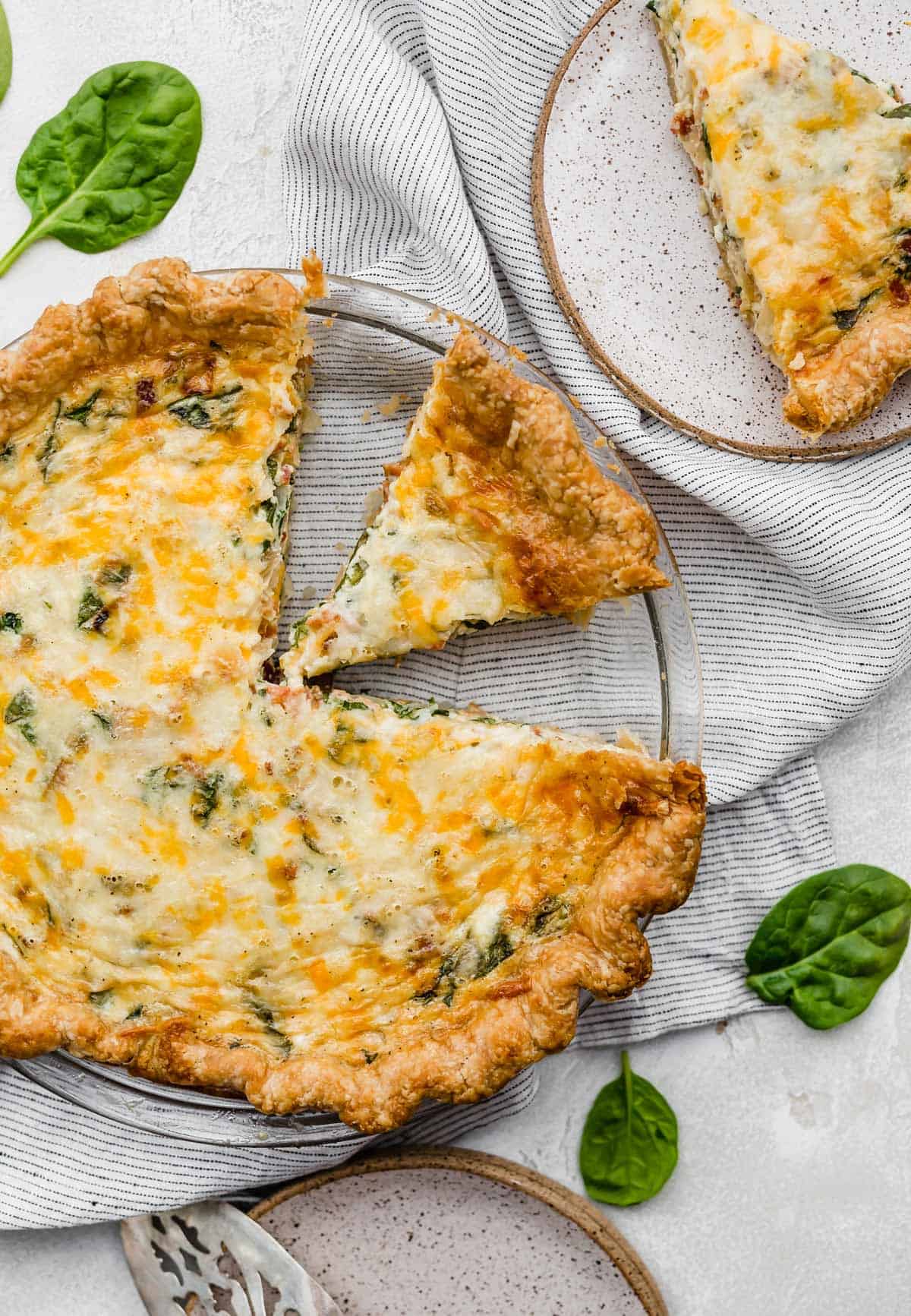 Recipe FAQs
Why is quiche soggy?
Ok listen up! Quiche SHOULD NOT be soggy! If so, you aren't doing it right. I'm here to help you get a delicious quiche that doesn't have a soggy bottom at all! If your quiche is soggy, then you aren't par baking the quiche crust prior to adding the filling. 
How to par bake pie crust?
Cover the pie crust with a large piece of parchment paper, big enough to barely drape over the sides of the pie's edge. Fill the pie pan with ceramic pie weights or dry beans. Bake at 425°F for 15 minutes, remove the parchment and pie weights and bake for an additional 5 minutes. The pie crust will be lightly golden.
How do you dock pie dough?
Docking pie crust simply means to prick the crust with a fork before baking it. This provides small holes in the pastry dough to allow for steam to leave while baking, and reduces puffing up in the oven. You should always dock a pie crust before baking it. 
What is quiche lorriane?
Quiche lorraine is quiche made with eggs, cream, bacon and Swiss cheese. This spinach and bacon quiche recipe isn't a quiche Lorraine because we use a different cheese and we added onion and spinach.
Should vegetables be cooked before putting in quiche?
Yes
Can I use milk instead of heavy cream for quiche? 
This recipe uses both milk and heavy cream. You don't want to opt for just milk or else the consistency of the custardy quiche won't be the same. It could end up runnier, making your crust soggy and taking much longer to cook.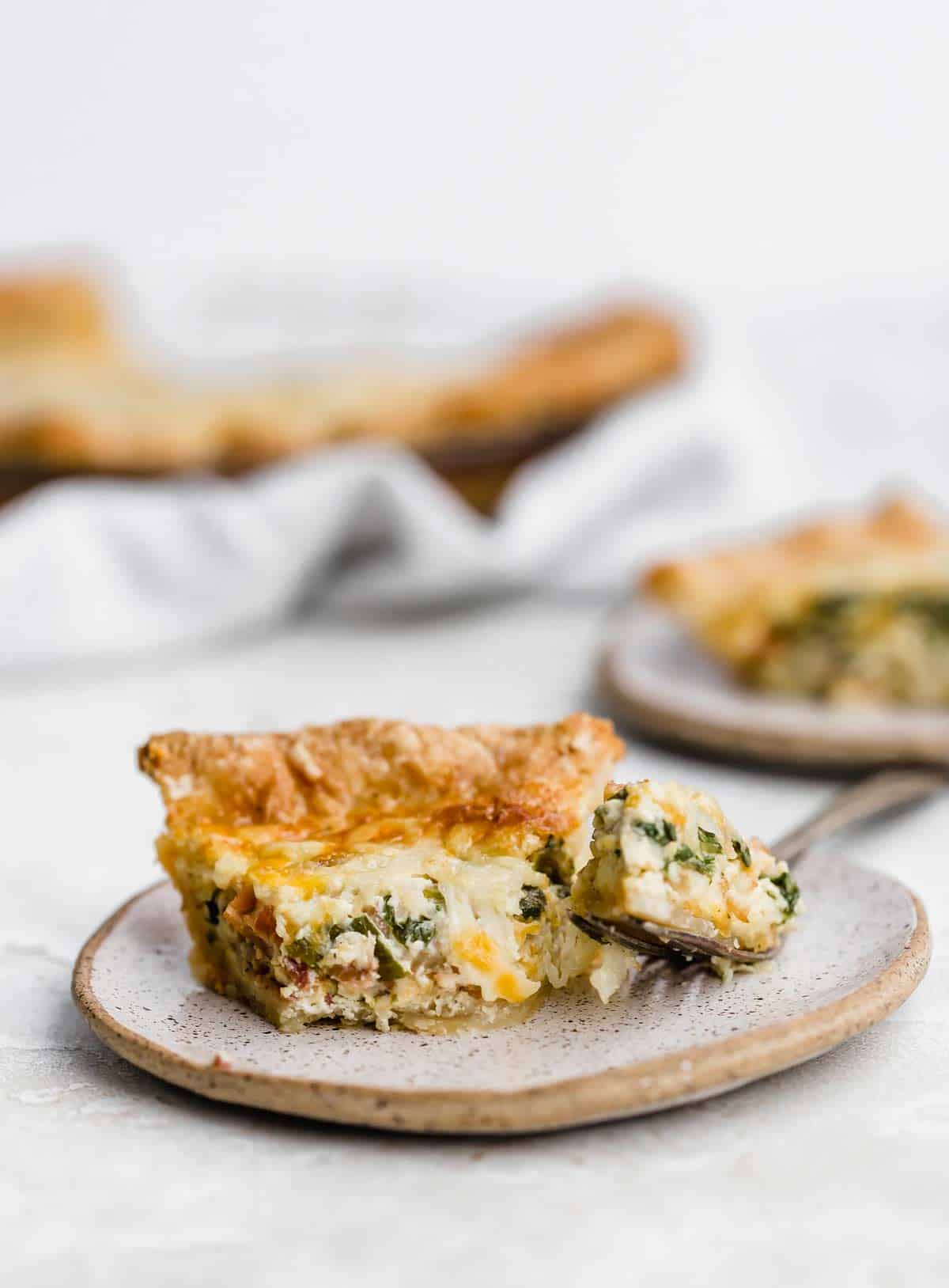 More Breakfast Recipes 
Spinach and Bacon Quiche
This classic custard quiche is perfect for breakfast, brunch, or dinner. It tastes just as good warm as it does cold. Truth is, this quiche is a winner on every level.
Ingredients
2

teaspoons

olive oil

1

small

yellow onion

-

diced

1 1/2

cups

spinach

-

chopped

6

slices

bacon

-

cooked and crumbled

3/4

cup

gruyere cheese

-

see note #1

3/4

cup

Colby jack cheese

4

large

eggs

3/4

cups

milk

1/2

cup

heavy cream

3/4

teaspoon

salt

1/4

teaspoon

black pepper
Instructions
Blind Bake the Pie Crust
Place your pie crust in a 9" inch pie plate. Flute the edges. Prick the bottom of the pie dough with the tines of a fork. Chill the pie crust in the freezer until firm, about 20-30 minutes. Preheat the oven to 425°F.

Place a large piece of parchment paper into the pie crust, then fill with pie weights (should come about 1/4-1/2 way up the sides of the pie). Bake for 15 minutes. Remove the pie from the oven, carefully remove the parchment and pie weights. Place the pie crust back in the oven to bake for an additional 5 minutes. The pie crust should just be startign to brown. REmove the pie crust from the oven and let it cool slightly while you prep the filling.

Lower the oven temperature to 350°F.
Make the Filling
In a skillet over medium heat add the olive oil, once shimmering add the chopped onion. Cook until softened and translucent, about 7-8 minutes. Add the spinach and cook until just wilted. About 30 seconds. Remove from heat.

 In a medium bowl whisk the eggs, milk, heavy cream, salt, and pepper until smooth. Stir in the onion, wilted spinach, crumbled bacon, and 1 cup of cheese. See note #2.

Pour the filling into the pie crust. Top with the remaining cheese.

Bake the quiche at 350°F until the edges are set and it jiggles slightly in the center, about 32-38 minutes.

Cool the quiche for 15 minutes. Quiche can be served warm, cooled, or chilled.
Notes
Notes:
If you don't have gruyere cheese, can you use a different kind? Yes, you can. Swiss cheese would be a great alternative. But keep in mind, the taste will be slightly different.
For the 1 cup of cheese added into the filling, I will use half gruyere cheese and half Colby Jack cheese. 
Store the quiche covered, in the refrigerator for 3-4 days.
Nutritional information does not include pie crust. Nutritional information is based on 1 serving. 
Did you make this recipe?
Leave a star rating and review on the blog post letting me know how you liked this recipe! Take a picture and tag @saltandbaker on Instagram and Facebook so I can see what you're making!