Mississippi Pot Roast Recipe
This post may include affiliate links. As an Amazon Associate I earn from qualifying purchases.
Mississippi Pot Roast is a slow cooker recipe that produces melt-in-your mouth tender meat that is seasoned with pepperoncini, dry ranch seasoning, and au jus seasoning. With just 5 minutes of prep, you can let the slow cooker do all the cooking!
My family loves this recipes alongside my Homemade Creamy Mashed Potatoes and served with some delicious Homemade Dinner Rolls! Another great slow cooker meat recipe is my Coca Cola Slow Cooker Ribs!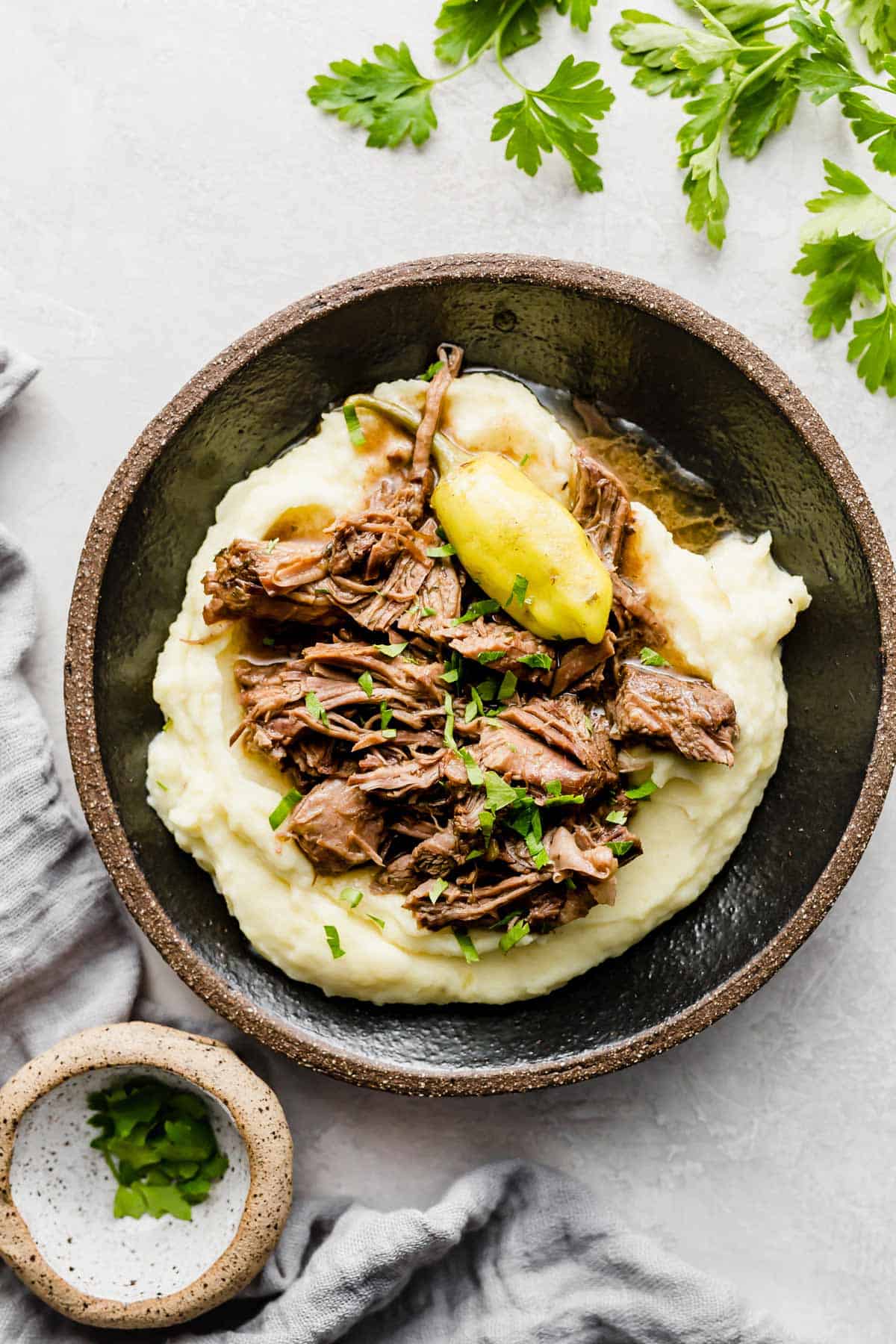 Why This Recipe Works
Fall apart tender meat. This Mississippi roast is fall apart tender! Since we are cooking it in the slow cooker for 8-9 hours, the proteins in the meat break down, producing the best roast texture!
Perfect family meal. You don't have to worry about this pepperoncini roast being spicy! Pepperoncini aren't spicy at all — in fact, they are sweet and mild. You can serve this dish to your family with confidence!
Less than 5 minutes of prep time. It only takes 5 minutes to prep things for this easy Mississippi pot roast recipe. Add all the simple ingredients to the crockpot, and you're done!
Slow cooker Mississippi pot roast recipe. We all know the feeling of coming home from work, walking through the door and smelling dinner cooking in the crockpot. We breathe a huge sigh of relief and feel the sense of calm come over us because dinner is made and all that's left to do is eat it!
Ingredient Notes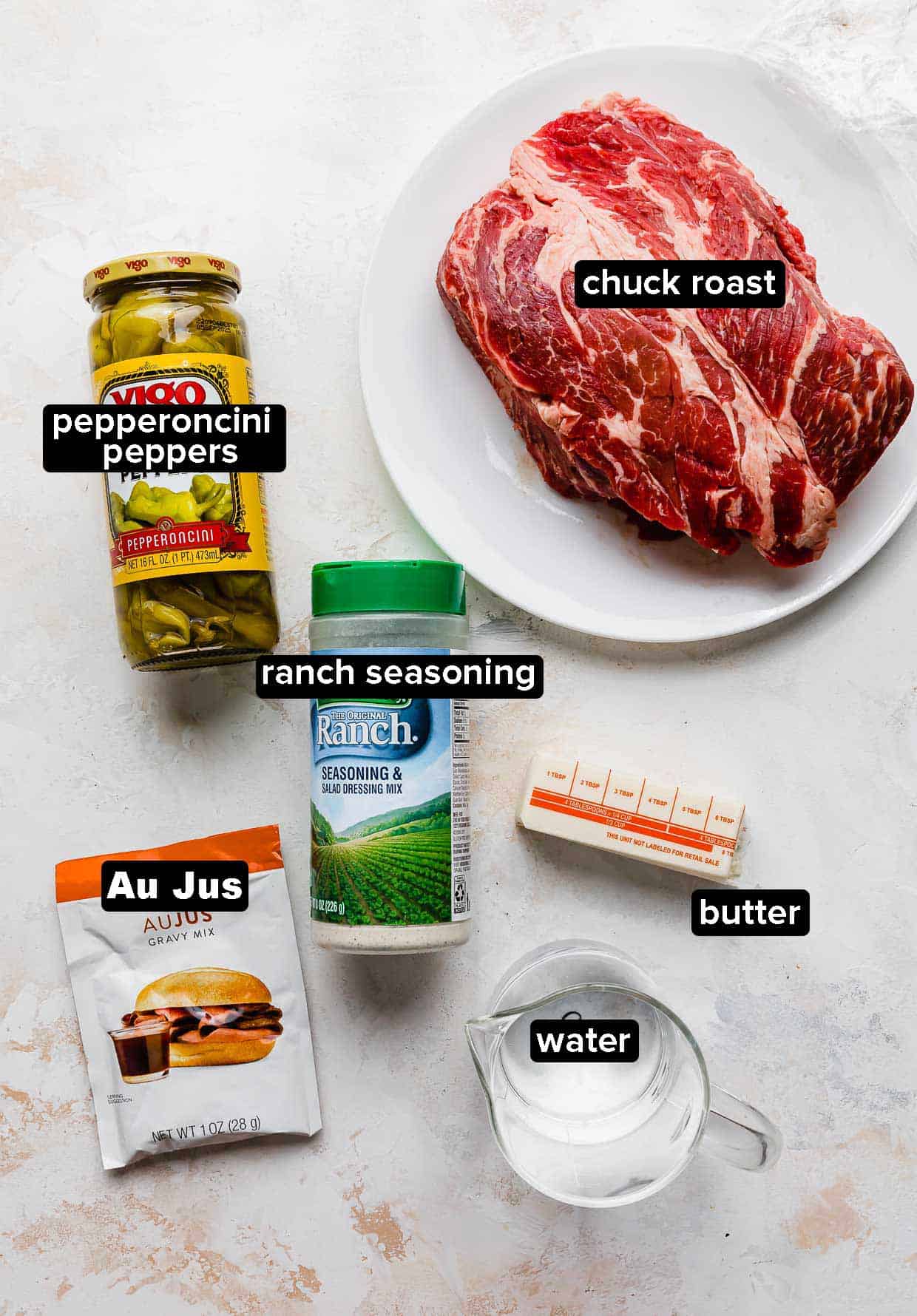 Chuck Roast: I use about a 3 lb beef chuck roast for this Mississippi roast recipe. If there is a huge chunk of fat on it, I'll clean that up a bit, but otherwise leave the fat there because it will make for a delicious pot roast!
Dry Ranch Dressing Mix: This is the powdered ranch mix. You'll need a 1 oz packet.
Au Jus Seasoning: This is the powdered au jus packet mix. You'll use the full 1 oz packet.
Pepperoncini Peppers: FYI these come in a jar, so don't go looking in the fresh produce section because you won't find them there.
Butter: I always have unsalted butter on hand so that's what I used, but you can use salted butter as well. You'll want to cut the stick of butter into slices.
Step-by-Step Instructions
Add the chuck roast to the slow cooker. Pour the water into a large slow cooker. Add the chuck roast on top. Sprinkle with the package of ranch dressing mix and the packet of au jus gravy mix. Place 5-6 of the pepperoncini and the butter (in slices) on top.
Cook on low. Cover and cook on low for 8-9 hours. Once finished, shred the meat. Serve the crock pot Mississippi pot roast over mashed potatoes. Enjoy!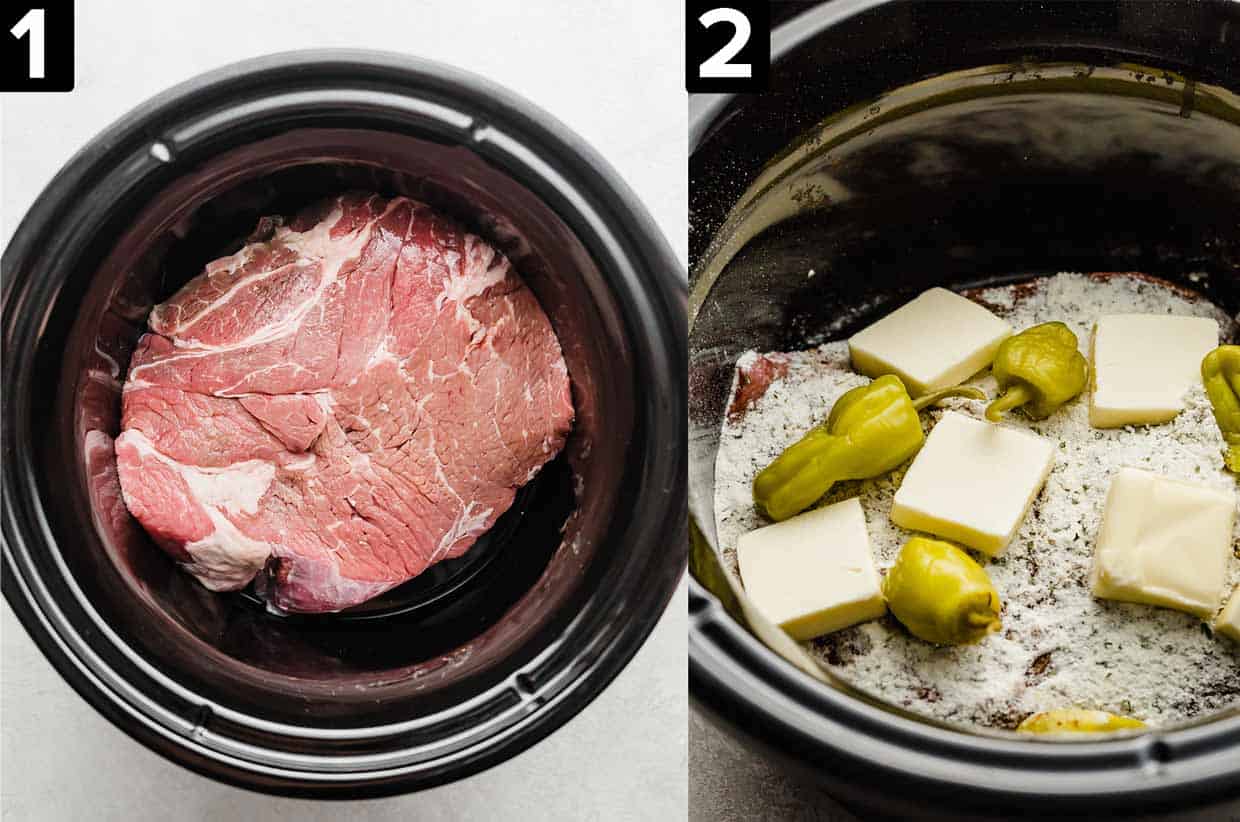 Recipe Tips
When I shred meat I like to remove it from the crock pot and place it on a large cutting board to shred. You can also shred it directly in the crockpot if you prefer.
Do not use frozen meat. You want a fully thawed chuck roast for this slow cooker pot roast recipe!
The pepperoncini are not spicy. They are a sweet and mild pepper. You're welcome to eat them with the meat if you'd like, or you can remove them prior to serving.
Do not cook on high. To get the best pot roast you want to cook it on low for 8-9 in a slow cooker.
While I don't focus too much on different diets, this recipe is keto if you are looking for that!
You can also make this Mississippi pot roast with potatoes and carrots. Add raw cubed potatoes and some baby carrots to the slow cooker with the other ingredients and cook together.
There's no need to sear the meat or cook it in any way prior to adding it to the crock pot.
Do not add additional salt to the slow cooker. The au jus and ranch packets contain enough sodium content to season the pot roast. 
If you prefer a pork roast rather than beef, follow my Mississippi Pork Roast recipe.
Make Ahead, Storing, and Freezing
Since this is a slow cooker pot roast recipe, you do need to make it ahead of time. But the prep is super easy! It takes less than 5 minutes to prep!
Store any leftover roast in an airtight container in the fridge for 4-5 days.
I'm not a big fan of freezing these leftovers because I think the meat is so incredibly tender after cooking it. Once frozen and thawed, you'll lose some of that and the meat will just get dried out the longer you take to store it or freeze it.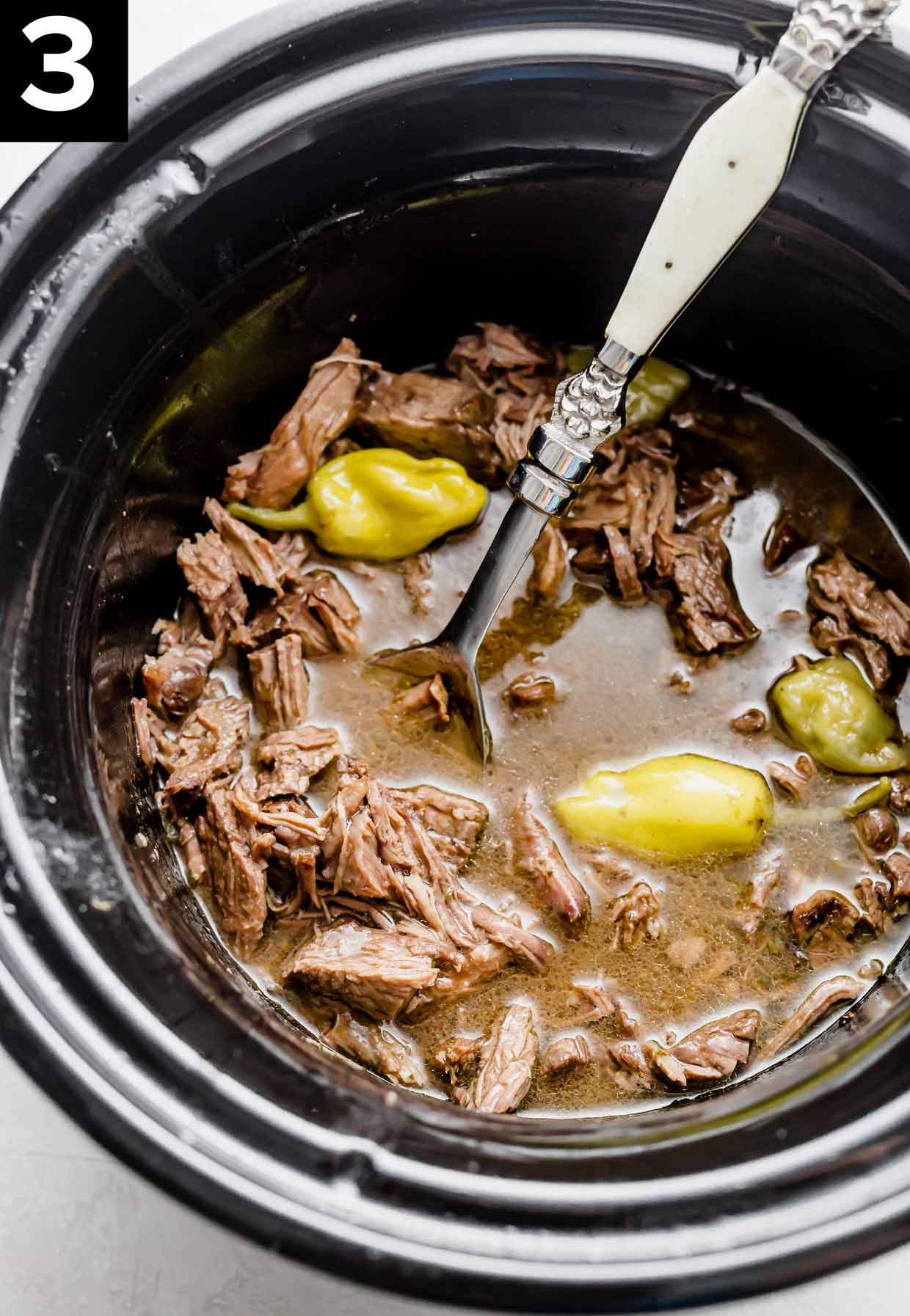 Recipe FAQs
Do I add water to Mississippi pot roast?
Yes. You'll add some water to the slow cooker before putting the roast in. The water will help to keep the meat nice and moist while it cooks, preventing it from drying out.  
Is Mississippi pot roast spicy?
No it isn't! The pepperoncini are sweet and mild chili peppers. They are not spicy and only add a nice flavor touch to the roast. You're welcome to eat the pepperoncini, but I use them more for a flavor garnish.
What is Mississippi pot roast? Why is it called Mississippi pot roast? 
Mississippi roast is a slow cooker recipe made of chuck roast, butter, ranch seasoning, au jus seasoning, and pepperoncini. According to today.com, the original Mississippi pot roast recipe was created by a mom (Robin Chapman) from Mississippi who was trying to make a family recipe less spicy for her children. 
What is Mississippi pot roast made from?
It is made from a beef chuck roast.
Why is my meat tough?
If your meat is still touch or isn't easily shreddable (it should just fall apart as you start shredding it), then it needs a bit longer in the slow cooker. Let it continue to cook until the meat is fall-apart tender! 
Can I cook Mississippi pot roast in an instant pot?
I wouldn't! And here is why: the key to getting the best flavor and the super moist, fall-apart-in-your-mouth texture of the meat is the low and slow way of cooking it. Cooking it for just 1 hour in the instant pot will cook it super quickly, not giving the proteins in the meat time to break down in order to get nice and fall-apart delicious! (And yes, that includes not using the slow cooker function on the instant pot either.)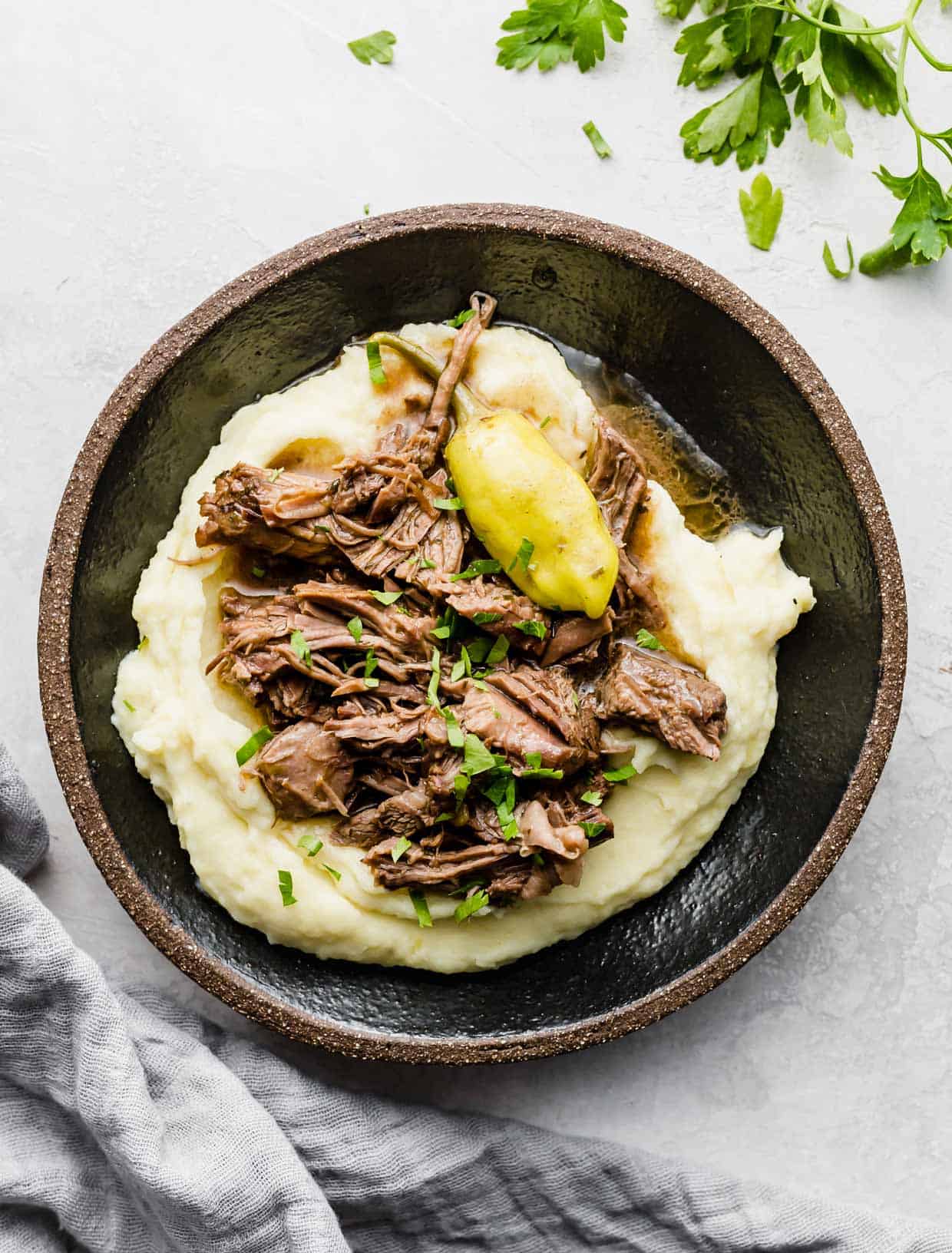 More Slow Cooker Recipes
Mississippi Pot Roast
My favorite Sunday meal, bonus points because it's made in the slow cooker, it takes 5 minutes to prep, and it tastes INCREDIBLE!
Ingredients
1

3 lb

chuck roast

1/2

cup

water

1

oz

packet dry ranch seasoning

1

oz

packet au juice

5-6

pepperoncini peppers

6

tablespoons

unsalted butter -

sliced into 6 slices
Instructions
 To a large slow cooker add the water. Place the chuck roast in the water then sprinkle the dry ranch seasoning and dry au juice seasoning over the roast. Add the pepperoncini to the slow cooker.

Lastly, place the butter slices over the meat.

Cover and cook on low for 8-9 hours. 

Remove lid and shred the meat. Serve over mashed potatoes if desired.
Notes
Store leftovers in an airtight container in the fridge for 4-5 days. 
Do not add extra salt — there is salt in the seasoning packets you'll use that will be enough for the meat. 
Do not cook on high. Cook on low — this will give you the best results. 
Did you make this recipe?
Leave a star rating and review on the blog post letting me know how you liked this recipe! Take a picture and tag @saltandbaker on Instagram and Facebook so I can see what you're making!
This post contains affiliate links. I am a participant in the Amazon Services LLC Associates Program, an affiliate advertising program designed to provide a means for us to earn fees by linking to Amazon.com and affiliated sites.