Homemade Mashed Potatoes Recipe
This post may include affiliate links. As an Amazon Associate I earn from qualifying purchases.
This Homemade Mashed Potatoes Recipe is my favorite of all time! These potatoes are soft and creamy with superb flavor and texture! I've mastered the butter and liquid ratio so you'll end up with the best mashed potatoes every. Single. Time.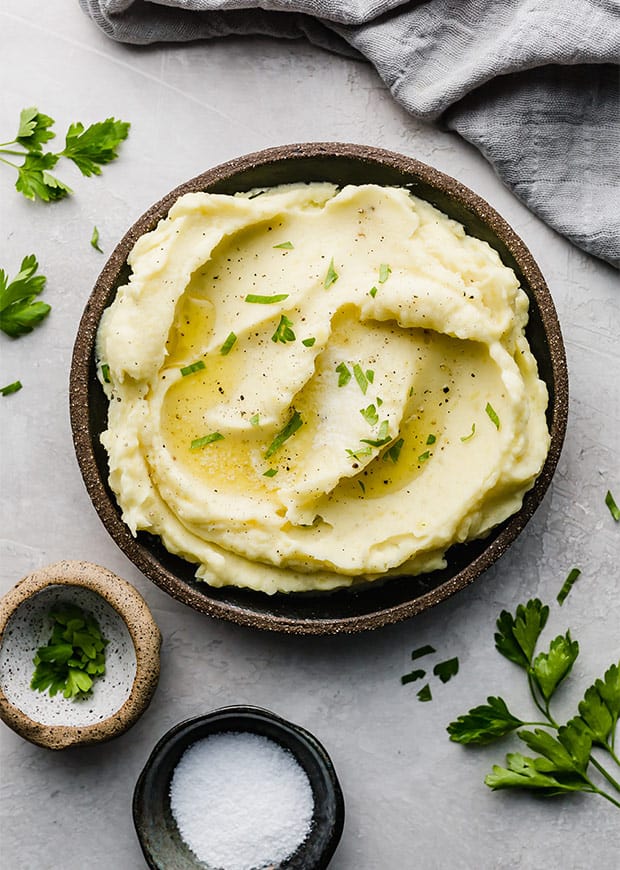 If you're looking for the perfect Thanksgiving mashed potatoes recipe, or a side for your Mississippi pot roast, these potatoes are your answer.
I literally make these and start eating it straight out of the pot because I'm 100% obsessed with this recipe! If you're ever wondering what's on my table over Thanksgiving, this is one recipe that always makes an appearance. It's classic, easy, delicious, and everyones favorite!
Ingredients needed to make homemade mashed potatoes
Yukon gold potatoes – this is the key to smooth and creamy mashed potatoes. I've used russets (I'm from Idaho, so russets are growing in everyones backyards), but they don't hold a candle in comparison to mashed potatoes made with Yukon golds. BIG difference when it comes to texture and creaminess. Skip the russets and grab the gold.
Unsalted butter – I use unsalted butter so that I have more control over the salt levels. However, unsalted butter works perfectly fine here as well.
Half and half – I prefer half and half over regular milk because it's higher in fat. Can you use heavy cream to make mashed potatoes? Sure can! Your potatoes will be ultra creamy and the calories will go up, but you'll get amazing and delicious results.
Kosher salt – use kosher! The salt granules are bigger than table salt. I
Freshly cracked pepper – for flavor.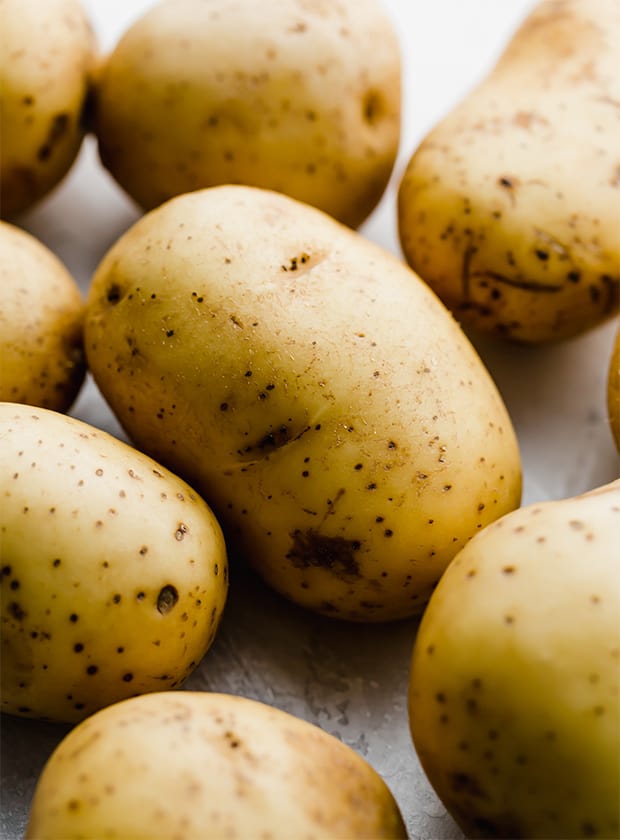 How to make homemade mashed potatoes
Place the peeled and chopped potatoes in a pot of cold water.
Pro tip: The reason why you don't want to place the potatoes in already hot water is because we want the full potato to cook at the same rate. If you place the chopped potatoes in hot water the outermost parts of the potato will be done far quicker than the insides. Starting off with cold water allows for even cooking.
Once the potatoes are very soft and fork tender, drain the potatoes and place them back in the pot.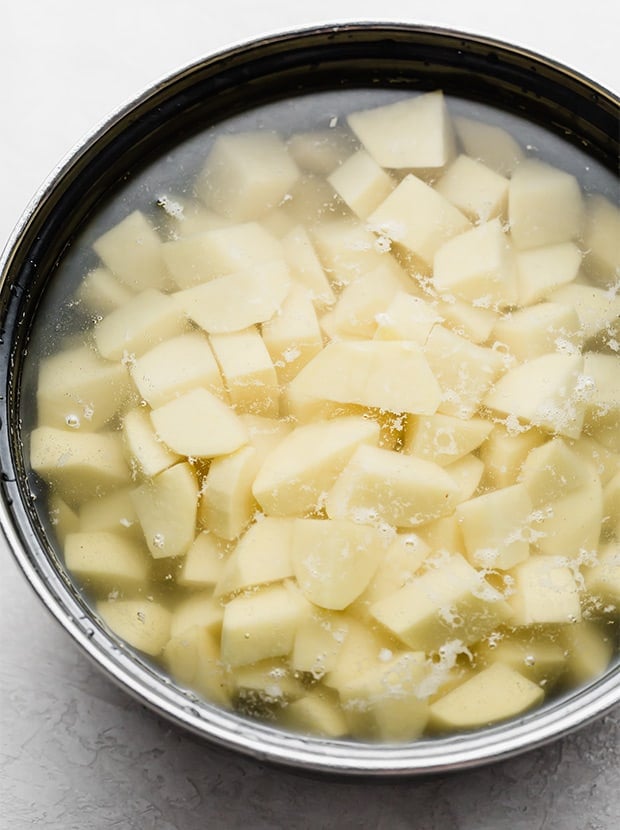 While the potatoes are boiling you can prep the butter and half and half mixture.
All you have to do is add the butter and half and half to a small saucepan. Heat it until the butter has fully melted.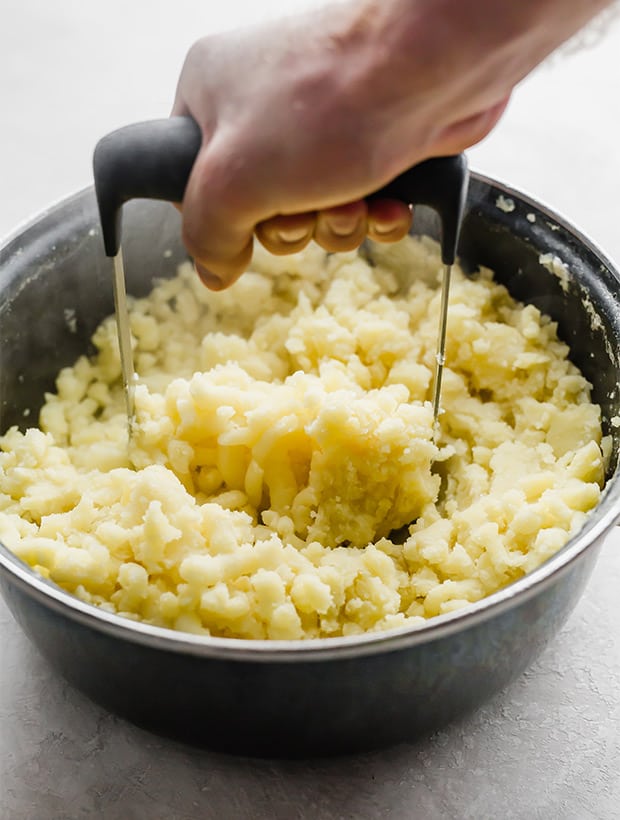 Once the potatoes are drained and back in the pot, begin mashing the potatoes with a potato masher (or ricer).
Slowly pour in the butter and half and half mixture and continue mashing until all of the liquid has been used up, and the potatoes are smooth and no lumps remain.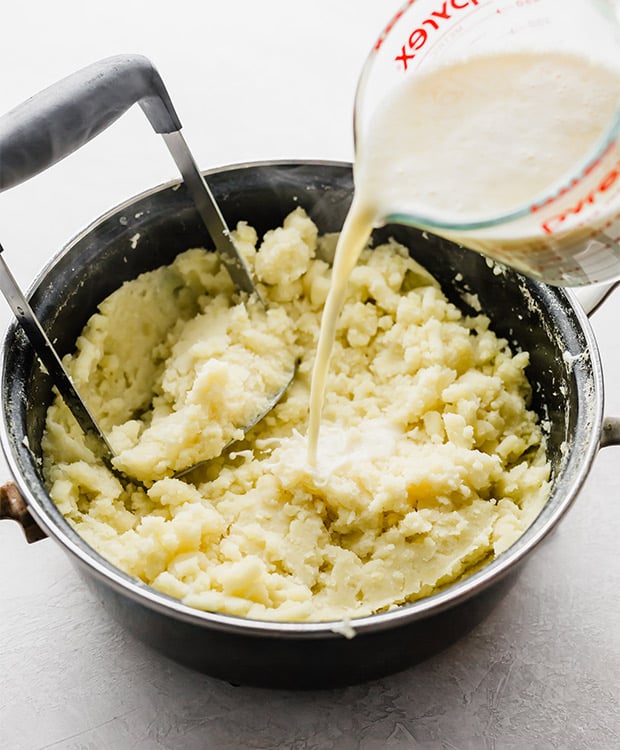 Stir the kosher salt and freshly cracked black pepper into the creamy mashed potatoes. Serve warm.
These potatoes will store in the fridge for about 7-8 days, but they won't last that long. Trust me!
Homemade Mashed Potato tips
Making these for a holiday party or get together? You can keep these homemade mashed potatoes warm by placing them in a slow cooker. Simply pour enough half and half or heavy cream on the bottom of the slow cooker (about 1/4 cup) place the mashed potatoes overtop, and then top with a splash of cream. Keep on warm and stir occasionally. If the potatoes seem too dry at any point, simply add more half and half or heavy cream to the pot and stir it in.
This is how I keep my mashed potatoes warm on Thanksgiving! It's works perfectly.
If using salted butter, reduce the amount of salt called for in the recipe. If you're watching your salt intake, start by only adding in half of the salt, taste, and season as you go.
You can add chopped parsley or garlic to the potatoes if you want more flavor. However, these potatoes are well seasoned, so I think you'll enjoy them as is!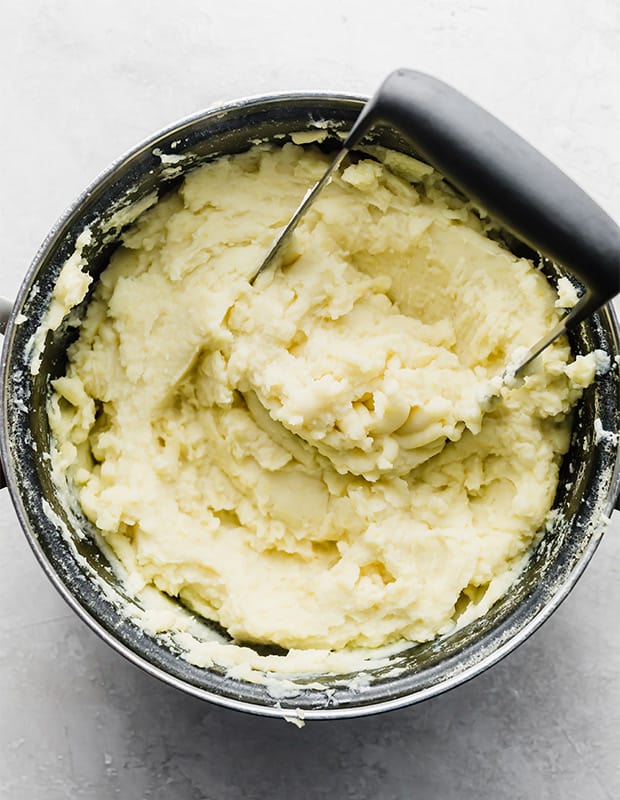 Related Recipes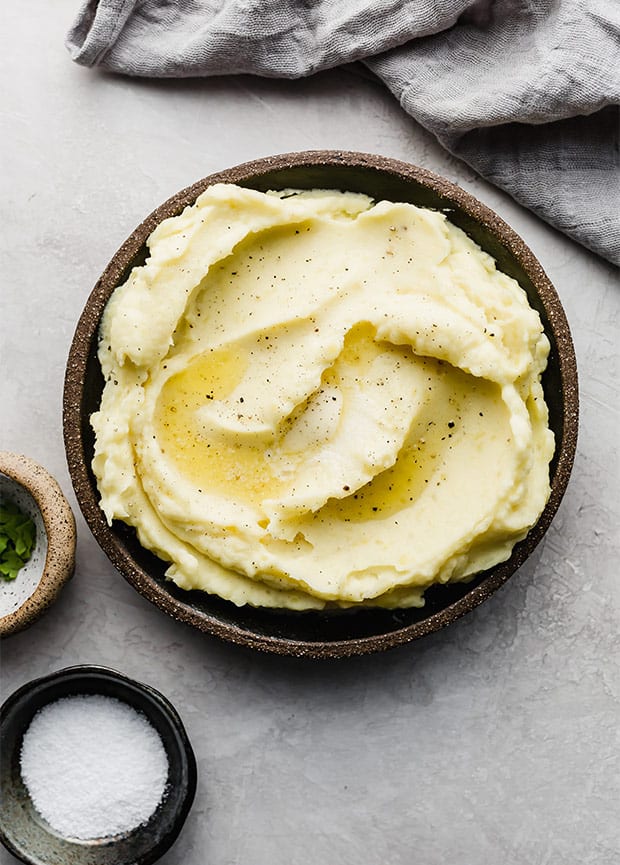 SUBSCRIBE TO SALT & BAKER
If you love these recipes, be sure and subscribe. You'll get new recipes delivered straight to your inbox…. you don't want to miss out!
And don't forget, if you make a recipe from my blog be sure to share it on social media. Tag @saltandbaker and #saltandbaker so I can see what you've made!
Homemade Mashed Potatoes
The most perfectly creamy mashed potatoes! This is the best mashed potato recipe to serve along side any meal whether it be a casual gathering or Thanksgiving or holiday party. Everyone RAVES about these potatoes!
Ingredients
4

lbs

Yukon gold potatoes

-

peeled and chopped

12

tablespoons

unsalted butter

1 1/2

cups

half and half

3

teaspoons

kosher salt

1/4

teaspoon

freshly ground black pepper
Instructions
In a large pot full of cold water, add the potatoes. Bring to a boil and cook until potatoes are fork tender. Drain the water from the potatoes. And return the potatoes to the pot. 

While the potatoes are cooking, In a small saucepan add the butter and half and half. Cook over medium low heat until butter has melted. Set aside.

Using a potato masher start mashing the potatoes, slowly add the warm butter and milk mixture to the potatoes. Continue mashing until all of the potatoes are fully mashed and you've reached your desired consistency.

Stir in the salt and pepper. Serve warm.
Did you make this recipe?
Leave a star rating and review on the blog post letting me know how you liked this recipe! Take a picture and tag @saltandbaker on Instagram and Facebook so I can see what you're making!