Best Pumpkin Recipes
This post may include affiliate links. As an Amazon Associate I earn from qualifying purchases.
One of my favorite things about the fall is all the delicious pumpkin recipes that come with the season! The weather is sheer perfection; the temperature begins to drop and the leaves change colors. It's refreshing to step outside and realize you need a light jacket to beat the chill in the air. Or perhaps when you take a deep breath and you can smell autumn in the air. It's a beautiful thing.
We don't have quite the drastic dip into fall here in the south, but I still love this time of year! And thank goodness I have pumpkin puree and all the fall spices to bake with. If I can't experience true fall weather, then I will bake until my house smells of everything pumpkin and all the warm autumn spices!
Join me in the kitchen by making some of my favorite pumpkin recipes.
Happy fall y'all!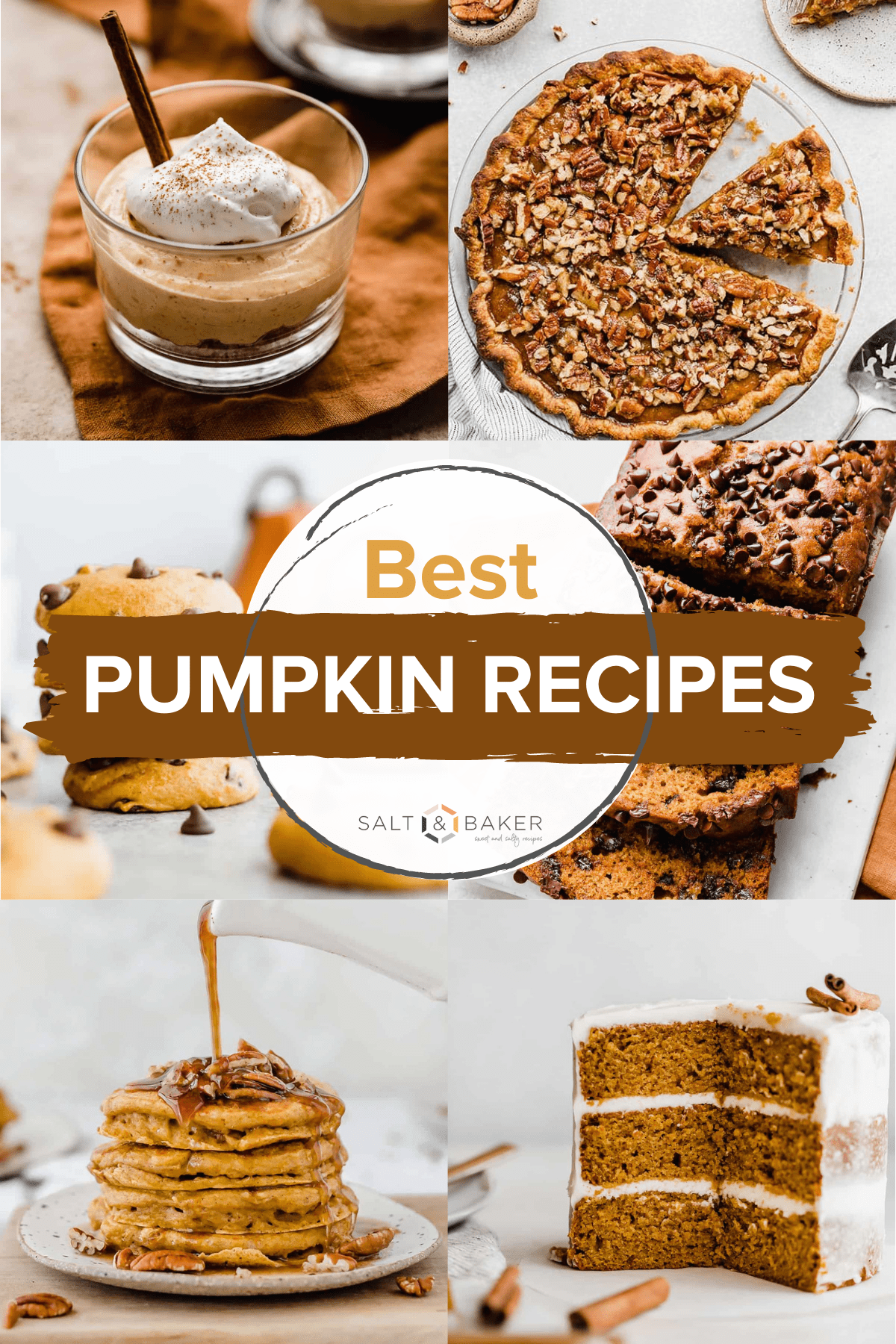 Possibly my favorite cookie of all time, these pumpkin chocolate chip cookies get raving reviews. Every. Single. Time. I should warn you though, once you make them you'll crave them non stop!
This delicious pumpkin pie is made without a crust! It's the perfect option for those family and friends who don't like pie crusts or who can't eat them!
Still in the pie realm, we have this amazing pecan pumpkin pie! It's the perfect combination of pumpkin pie and pecan pie! The combination is delicious!
Let's take a dive into the magical world of Harry Potter with this delicious pumpkin juice! It tastes just like the pumpkin juice from the wizarding world of Harry Potter! You will love it! It's the perfect fall drink to share this time of year.
These pumpkin scones are hands down the best pumpkin scones you'll ever eat! These delicious scones are topped with a double glaze. Here's my advice to you, double the batch. You'll be glad you did!
All great things come in small packages, this applies to food too! These mini pumpkin no-bake cheesecakes are insanely good! You'll love the soft graham cracker crust and the fluffy mousse-like texture of the pumpkin cheesecake.
If you like pumpkin + chocolate, then you'll love this bread! It's incredibly moist and it's studded with just the right amount of chocolate chips. Go ahead, make a loaf… then watch it disappear!
Ohhhh these pancakes are goooooood!! And don't get me started on the homemade syrup. Yes! It's a cinnamon brown butter pecan syrup. You'll be tempted to grab a straw and drink the syrup.
The pumpkin pancakes and the syrup combo is unreal! We make pumpkin pancakes for breakfast at least twice during the fall months. It's one of the most highly anticipated breakfasts at our house.
If you've been looking for the perfect pumpkin cake, I've got your back. This is it. The crumb texture is spot on. This pumpkin cake is moist and the pumpkin flavor is perfection. I have no other words; it's everything you could want in a pumpkin cake. And it's topped with a cream cheese frosting, so yeah.. .it really is everything you could want in a cake.
Can we call these pumpkin bars a lazy persons pumpkin cake? It's pumpkin flavor heaven but in a sheet cake, so a bit easier for those of you who aren't comfortable making round cakes. Either way, these pumpkin bars are great when you're feeding a handful of people.
These crepes made with pumpkin puree are such a fun fall twist on crepes! Filled with a whipped Nutella, you can serve these for dessert — or for a sweet breakfast treat!
I love the texture of steel cut oats, do you? If you're looking for some variation in your breakfast or morning snack switch it up by making pumpkin steel cut oats. Top it with raisins, craisins, or nuts for a medley of delicious flavors and textures.
In order to experience the autumn season one must make a pumpkin coffee cake. Let me rephrase that… In order to experience the autumn season one must make THIS pumpkin coffee cake.
It's topped with a smooth cinnamon spiced glaze… oh yes, you'll want seconds.
These pumpkin cookies are like soft pillows, but not cake-like. Drizzled with glaze, these cookies will disappear in minutes.
I have three words for these easy pumpkin energy bites: bite-size, healthy, delicious. Eating healthy never tasted so good!
This pumpkin French toast casserole is the perfect brunch or breakfast item. It's topped with a delicious pecan streusel that adds the perfect flavor and dimension of textures. Plus it's pumpkin French toast, so yes, it's crazy good.
---
Question for you: What's your favorite pumpkin recipe to make this time of year? Feel free to share in the comments below!