Starbucks Pumpkin Scone Recipe
This post may include affiliate links. As an Amazon Associate I earn from qualifying purchases.
Inspired by the famous Starbucks Pumpkin Scones, this copycat Starbucks Pumpkin Scone Recipe produces deliciously moist pumpkin spice scones topped with two glazes — a plain glaze and a spiced glaze!
I'm loving all the delicious fall recipes these days! I can't get enough of the recent Crumbl Pumpkin Chocolate Chip Cookies recipe I posted. It's a winner! And Pumpkin Coffee Cake is another delicious spiced pumpkin treat you will love! If you are looking for a smooth pumpkin dessert, you'll love my Mini No-Bake Pumpkin Cheesecakes!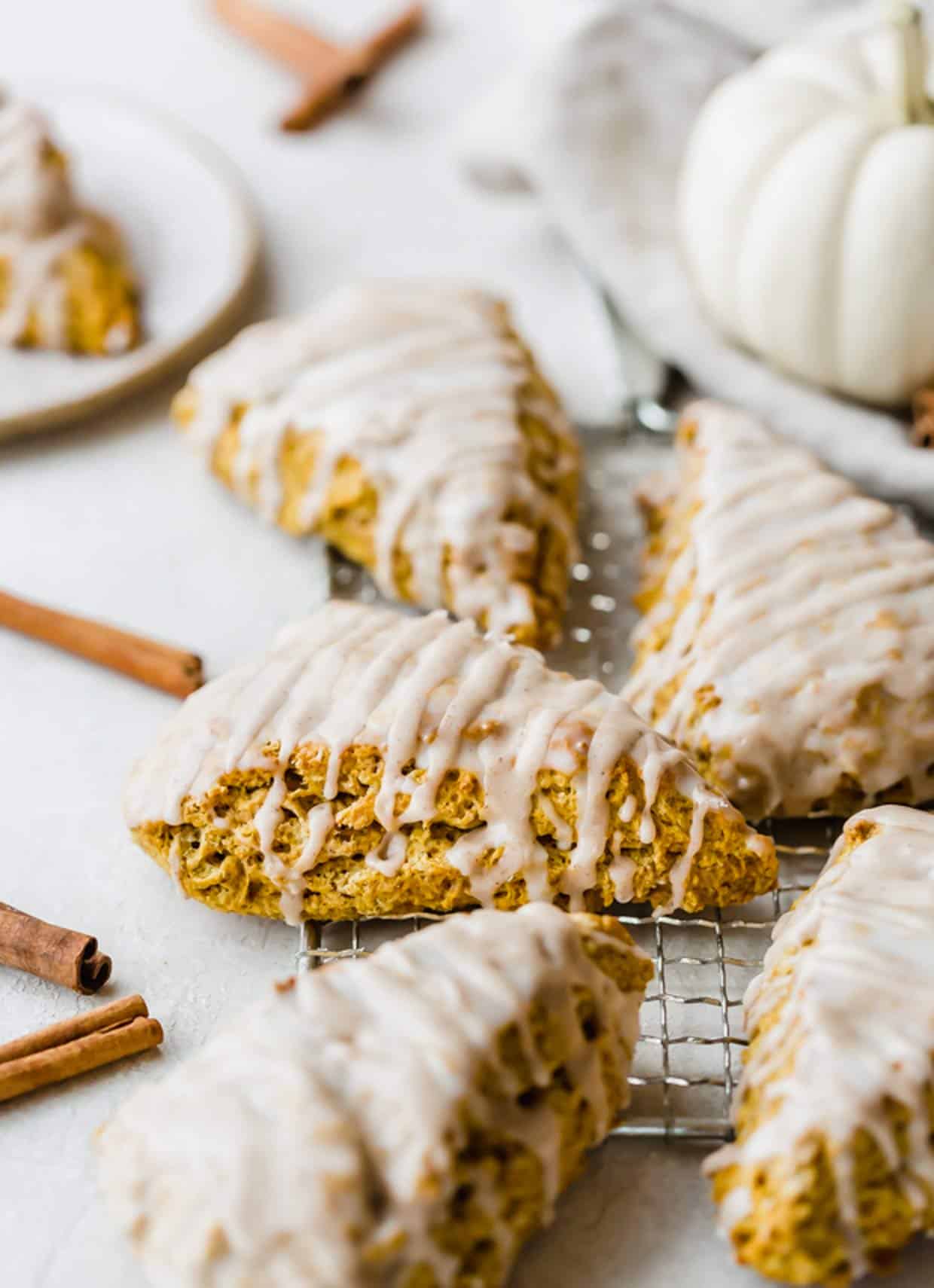 Why This Recipe Works
Best pumpkin scones. Not only are these pumpkin scones packed with pumpkin, but they are super moist and perfectly spiced! You are going to love them. 
Glazed scones. There are two different glazes on these glazed pumpkin scones and you are going to love them! It makes the pumpkin spice scones moist and you get that sweetly spiced flavor right off the bat. 
Flavorful and moist scone. These easy pumpkin scones are moist and packed with pumpkin flavor and fall spices. These easy pumpkin scones have delicious spices and plenty of pumpkin. When you bite into this delicious scone, you'll taste the cinnamon, the pumpkin, the cloves, and a hint of nutmeg and ginger. If you're worried you'll be smacked in the face with too much spice flavor, don't fret. These are better than the starbucks version and you'll love them!
Ingredient Notes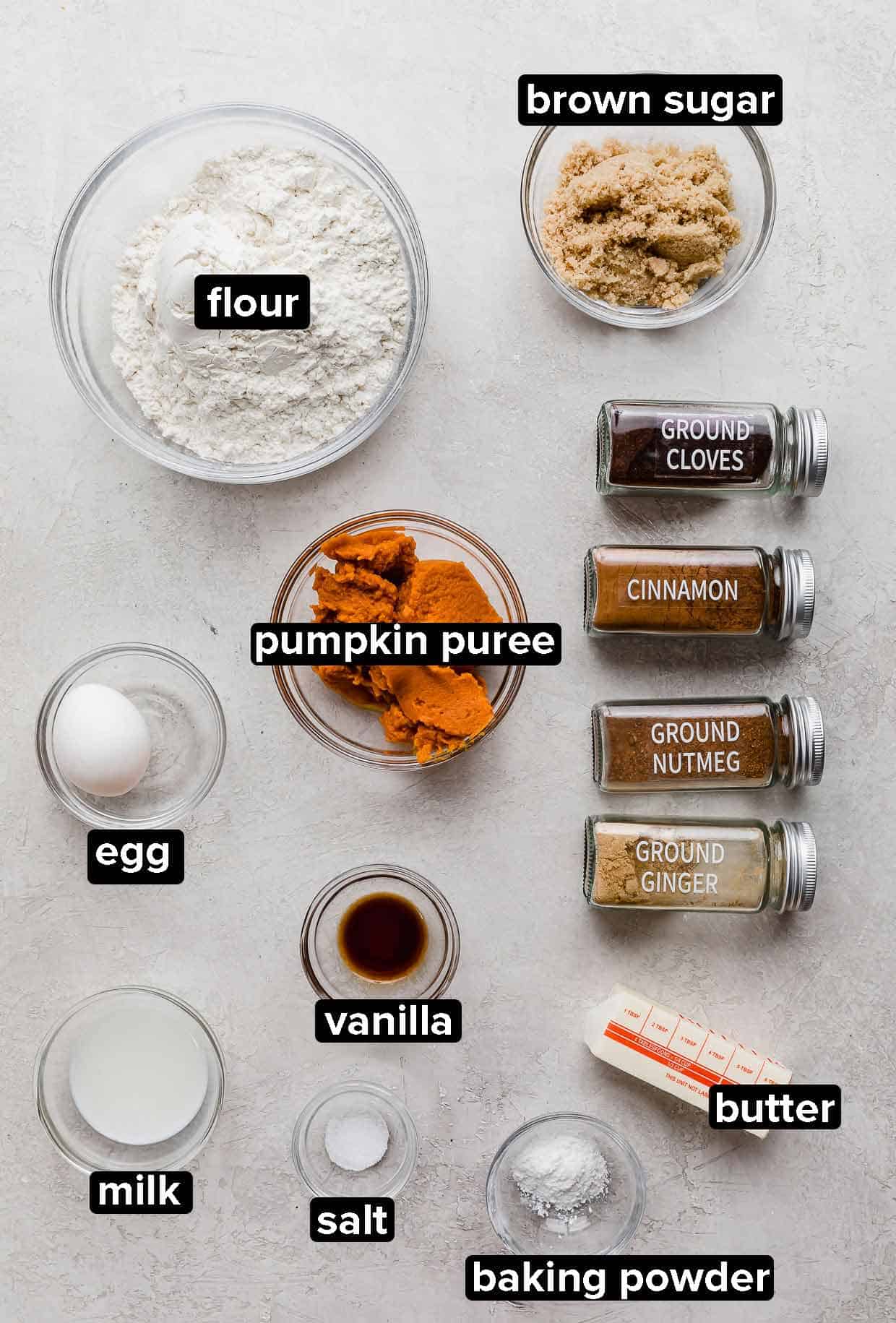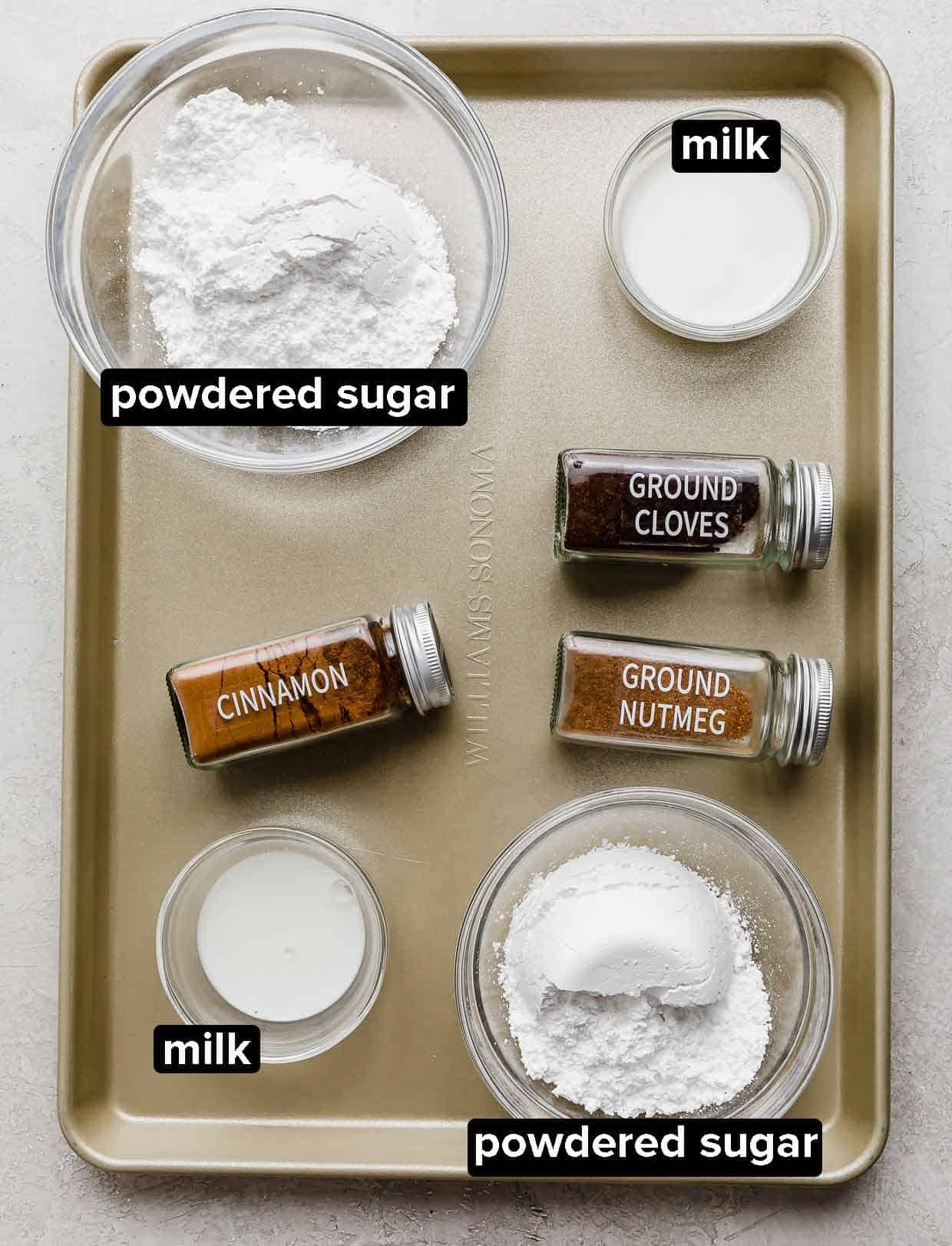 All-Purpose Flour: These pumpkin scones use regular flour. No need for cake flour or anything! 
Light Brown Sugar: Using brown sugar instead of granulated sugar will give us a richer flavor and a texture that is more moist. 
Spices: Ground cinnamon, nutmeg, cloves and ginger form the most delicious fall spice mixture for these delicious pumpkin scones! 
Baking Powder: The baking powder is the leavening agent used in this pumpkin scones recipe. 
Unsalted Butter: Be sure to use cold butter! This will help with the lamination process that happens when you use a pastry cutter to cut the butter into the flour mixture. 
Pumpkin Puree: Pumpkin puree is different than pumpkin pie filling. Pumpkin puree is plain pumpkin that has been pureed. Pumpkin pie filling includes added sugar and added spices. 
Milk: The milk will be used to add a bit of moisture to the dough as well as to help the consistency of the glaze in the spiced glaze recipe. 
Powdered Sugar: This glazed pumpkin scones recipe uses two different glazes: a regular glaze with powdered sugar and milk and then a spiced glaze that includes a bit of nutmeg and cloves! 
Step-by-Step Instructions
Combine the wet ingredients. In a medium bowl, add the pumpkin puree, milk, egg, and vanilla extract. Whisk until combined. 
Combine dry ingredients. Whisk the flour, brown sugar, baking powder, cinnamon, nutmeg, cloves, ginger, and salt in a large mixing bowl. 
Cut in the cold butter. Add the cubed cold butter and cut in with a pastry blender until the butter is no large than the size of peas and resembles a crumble texture.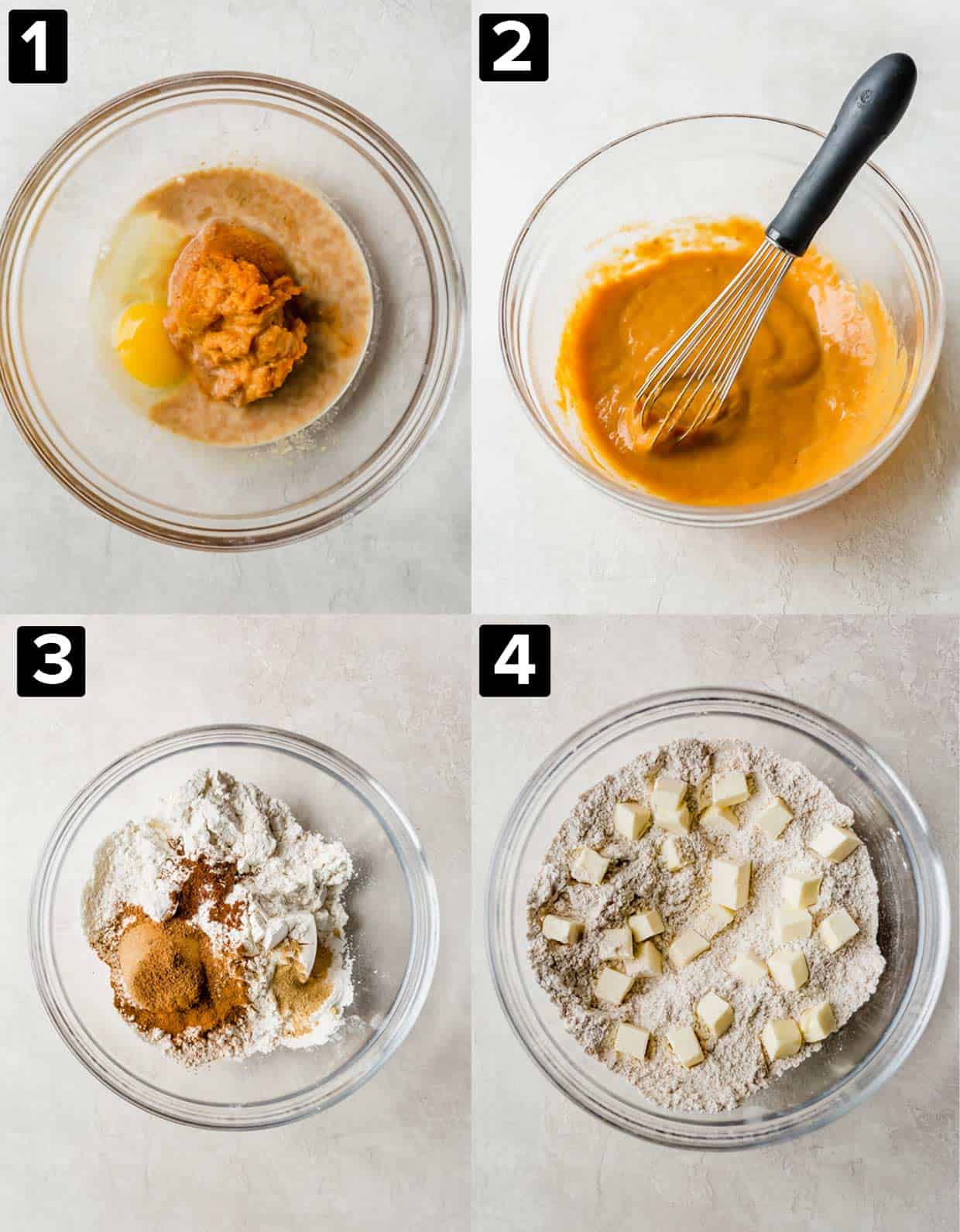 Fold wet ingredients into dry. Using a spatula, fold the pumpkin mixture into the flour and butter mixture. 
Form dough and cut. Turn the scone dough out onto a clean work surface and form into an 8-inch circle and cut into 8 triangles. 
Bake. Place the pumpkin scones onto a baking sheet lined with parchment paper and bake at 425°F for 15-17 minutes or until lightly golden brown. Remove and let cool for 20 minutes prior to glazing.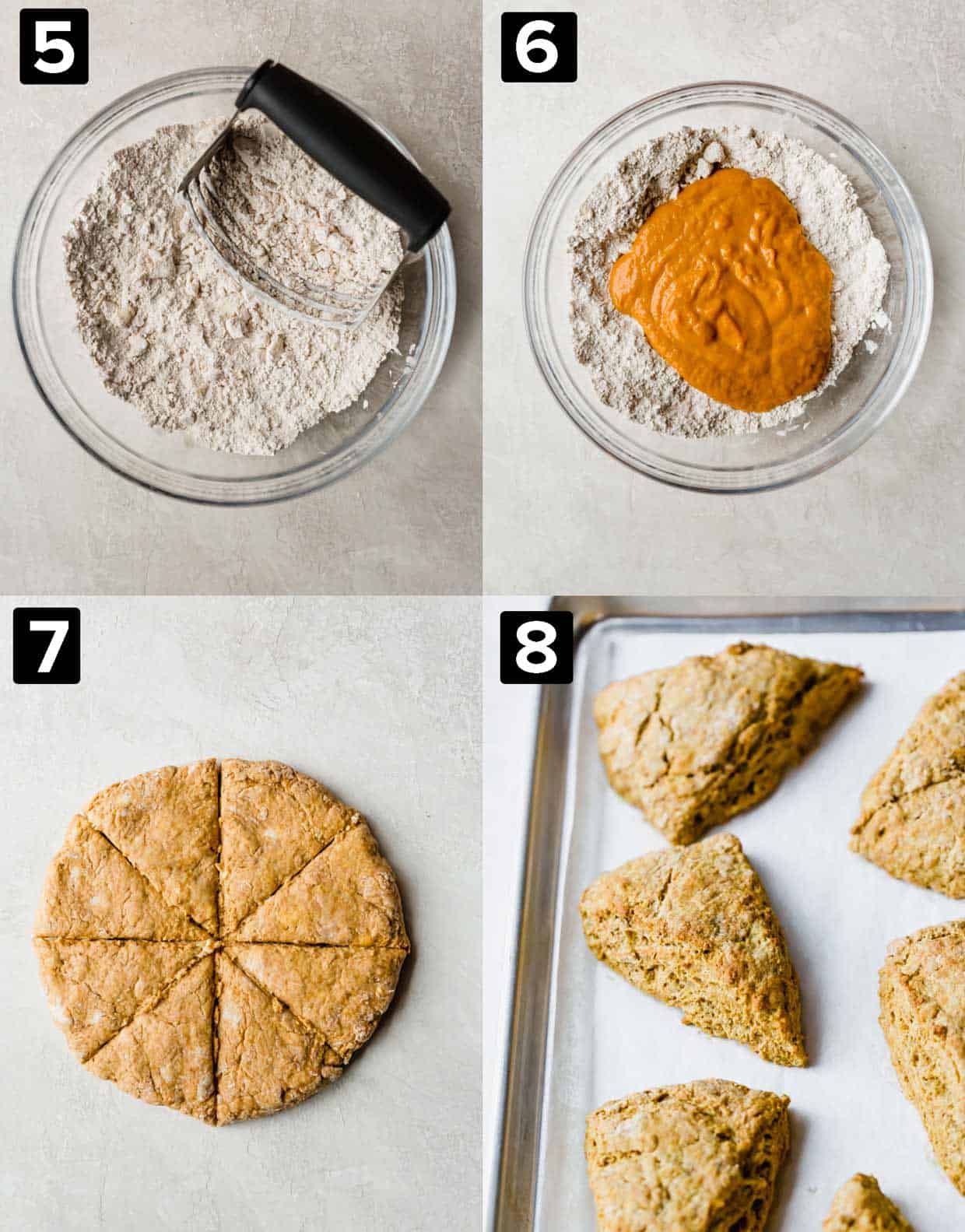 Make the glazes. While the starbucks pumpkin scones are cooling, make the glaze. Add the ingredients for each glaze into two separate small bowls. Whisk until combined. 
Glaze the pumpkin scones. Using a pastry brush, take the first glaze (the white glaze) and brush a layer top of the scones. Let set for 10 minutes. Then use a spoon to drizzle the spiced glaze on top. Let set and enjoy!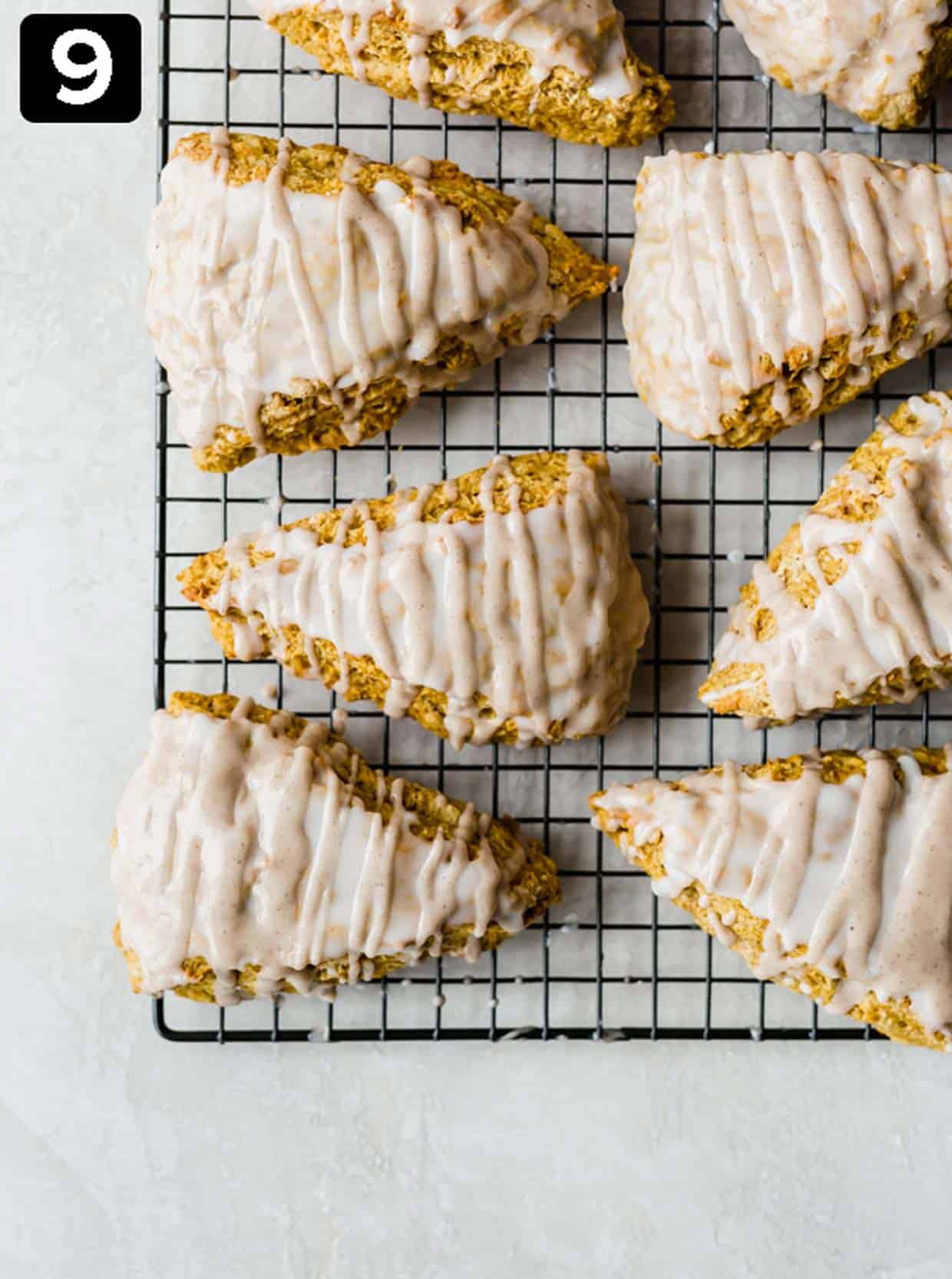 Recipe Tips
I know a bunch of you are probably wondering what kind of milk you should use. It doesn't matter. I used 2%, it worked great. You can even use half and half or heavy cream if you'd like.
Use COLD butter. Butter contains both fat and water. At normal baking temperatures, water creates steam. By laminating cold butter between layers of dough, you create pockets to contain the steam formed during heating. When little crumbles of butter melt in the scones as they cook, they release steam and thus create small pockets of air in the scone. The final result is a better rise and a flaky biscuit/scone.
If you want to grate the butter you can, but I would grate frozen butter so as to make grating easier and maintain a cold temperature.
The dough will look very dry, but it's not. You can use your hands to help the dough come together.
When making the glazes keep in mind their consistency. If the glaze appears too runny add more powdered sugar and if it appears too thick add more milk.
If you want to make a large batch of scones, double the recipe. Every time I make these scones I regret not making more! We devour them.
Make Ahead, Storing, and Freezing
Store in a ziplock bag at room temperature for up to 3 days or in the fridge for 5-6 days.
To freeze, let cool completely. Chill in the freezer for 5 minutes to set the glaze. Then wrap each glazed scone individually in plastic wrap. Store in a ziplock bag or airtight container in the freezer for up to 2 months. Remove and let thaw in the fridge overnight then warm in the microwave!
Recipe FAQs
When are pumpkin scones at Starbucks? 
Each year it varies, but around the end of August or beginning of September Starbucks will begin serving they delicious glazed pumpkin scones. However, instead of spending money on buying 1 scone, use this Starbucks pumpkin scone recipe to make 8 pumpkin scones right at home!
Can you freeze pumpkin scones?
Yes you can! Let the glazed pumpkin scones cool completely, then chill in the freezer for 5 minutes to help the glaze set completely. Remove and wrap in plastic wrap and store in a freezer safe bag or airtight container in the freezer for up to 2 months. Remove and let thaw and warm in the microwave to enjoy warm!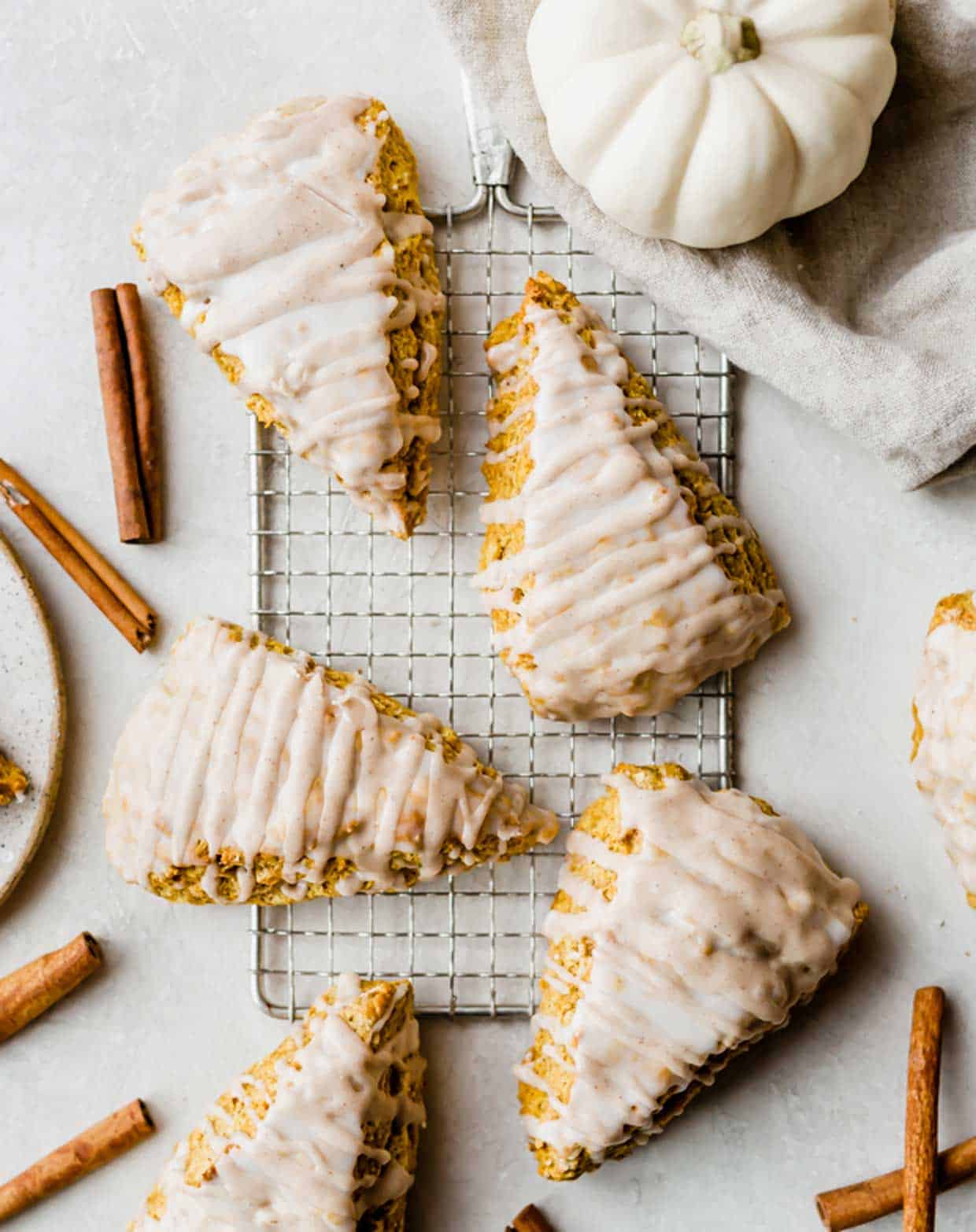 Starbucks Pumpkin Scones
Pumpkin scones that are thick, moist, and tender. These scones are topped with an irresistible spiced glaze.
Ingredients
2

cups

all-purpose flour

1/3

cup

light brown sugar

-

packed

1

teaspoon

ground cinnamon

1

tablespoon

baking powder

1/2

teaspoon

salt

1/2

teaspoon

ground nutmeg

1/2

teaspoon

ground cloves

1/4

teaspoon

ground ginger

6

tablespoons

unsalted butter -

cold, cut into cubes

1/2

cup

pumpkin puree

3

tablespoons

milk

1

egg

-

large egg

1

teaspoon

vanilla extract
Glaze
1 cup + 2 tablespoons

powdered sugar

2

tablespoons

milk
Spiced Glaze
1

cup

powdered sugar

1/4

teaspoon

ground cinnamon

pinch

cloves

pinch

nutmeg

1

tablespoon

milk
Instructions
Preheat oven to 425°F. Line a baking sheet with parchment paper, set aside.

In a large bowl whisk the flour, brown sugar, cinnamon, baking powder, salt, nutmeg, cloves, and ginger. Cut in the butter using a pastry blender. Work it until the butter is no larger than the size of peas. It will resemble a crumble. Set aside.


In a medium sized bowl add the pumpkin, milk, egg, and vanilla. Whisk until smooth.


Using a spatula, fold the wet ingredients into the dry ingredients. Turn out the mixture onto a clean work surface and knead until everything is evenly combined. The dough will be fairly sticky.

Pat the dough into an 8 inch circle. Cut into 8 equal triangles.


Place scones on the prepared baking sheet. Bake for 15-17 minutes, or until lightly golden brown. Remove from oven and allow to cool for 20 minutes before glazing.

Glaze
Make the glazes by combining them in 2 separate bowls. Whisk to combine the ingredients.

Use a pastry brush to brush the white glaze overtop each scone. Let set for 10 minutes before adding the spiced glaze.


Using a spoon, drizzle the spiced glaze overtop the regular glaze. Let set. Serve.

Did you make this recipe?
Leave a star rating and review on the blog post letting me know how you liked this recipe! Take a picture and tag @saltandbaker on Instagram and Facebook so I can see what you're making!