Pumpkin Steel Cut Oats
This post may include affiliate links. As an Amazon Associate I earn from qualifying purchases.
Pumpkin steel cut oats are a creamy, spiced oatmeal breakfast that is hearty, healthy, and flavorful! The soft, chewy texture of the steel cut oats is deliciously paired with the best ingredient fall has to offer — pumpkin puree! WIth pumpkin pie spice and cinnamon, you can't go wrong with a bowl of this homemade pumpkin steel cut oats recipe!
Oh how I love pumpkin recipes. Come August I'm so ready for the fall to begin! And I absolutely love pumpkin in breakfast recipes. Care to join me for all the pumpkin breakfasts?! We have pumpkin pancakes, pumpkin French toast casserole, pumpkin waffles, pumpkin crepes and pumpkin baked oatmeal cups, which all taste delicious (by the way) with my homemade cinnamon brown butter pecan syrup!
I most definitely have you covered for all of your fall breakfast needs!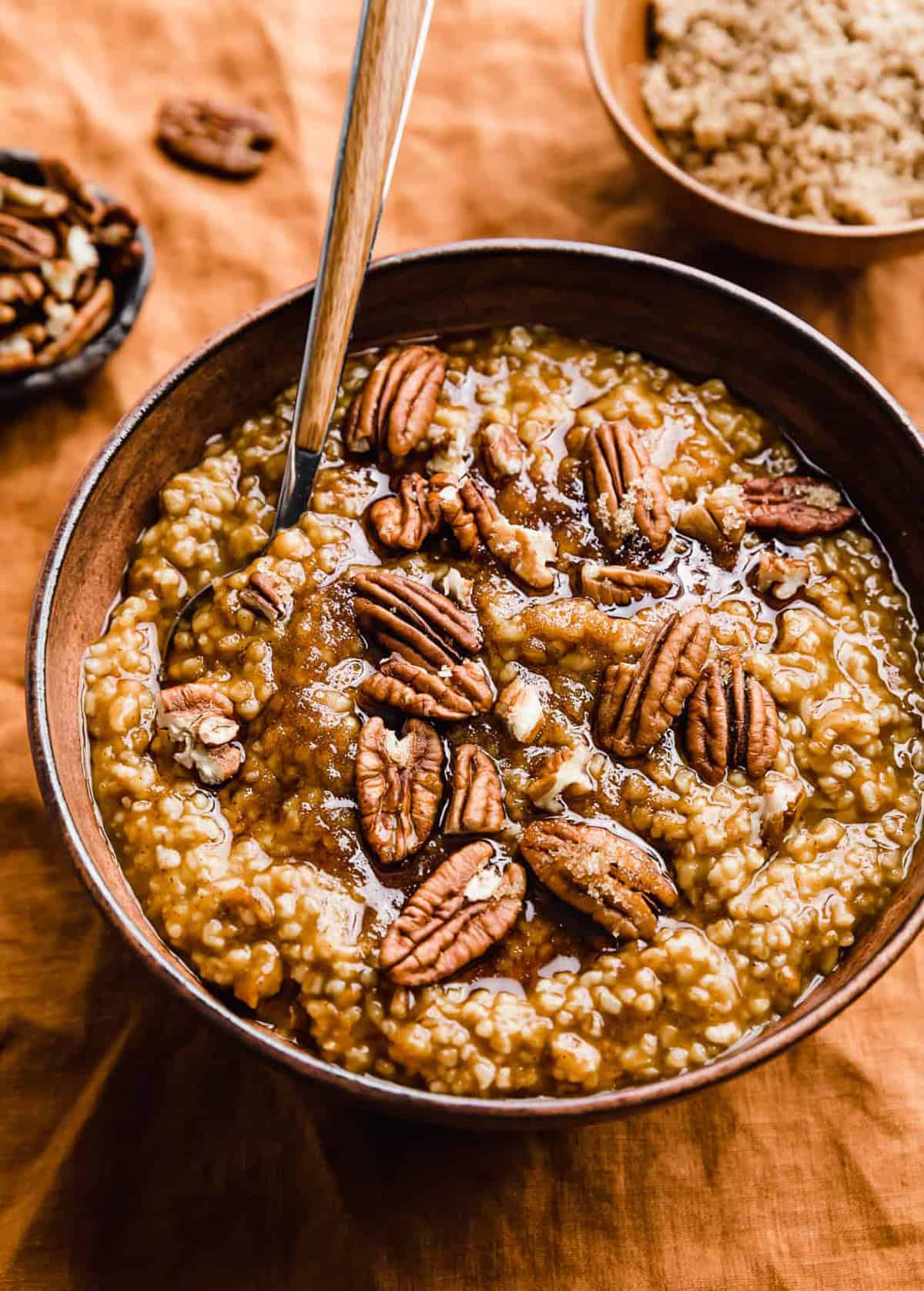 Why This Recipe Works
Pumpkin steel cut oats are a heartier and healthier breakfast than cereal and keep you full longer throughout the day. Too many times I'd wake up early with my kids and have breakfast cereal with them, just to turn around and be hungry again an hour and a half later. Not anymore! Steel cut oats for breakfast is the way to go!
It's all about the texture! I love the chewy texture of these steel cut oats. They get creamy but they don't get mushy — the best combination.
Packed with nutrients for the body. While steel cut oats take a little bit longer to cook than instant oats, it's definitely worth it! Steel cut oats nutrition is much better than instant oats. You'll be glad you took the extra time, trust me!
This recipe is sugar free! Sugar free pumpkin steel cut oats is just another great thing about this recipe! The spices and some dried cranberries or chopped pecans on top make it so you really don't need the additional sugar. If you find you'd like it sweeter, add a drizzle of maple syrup or honey.
Ingredients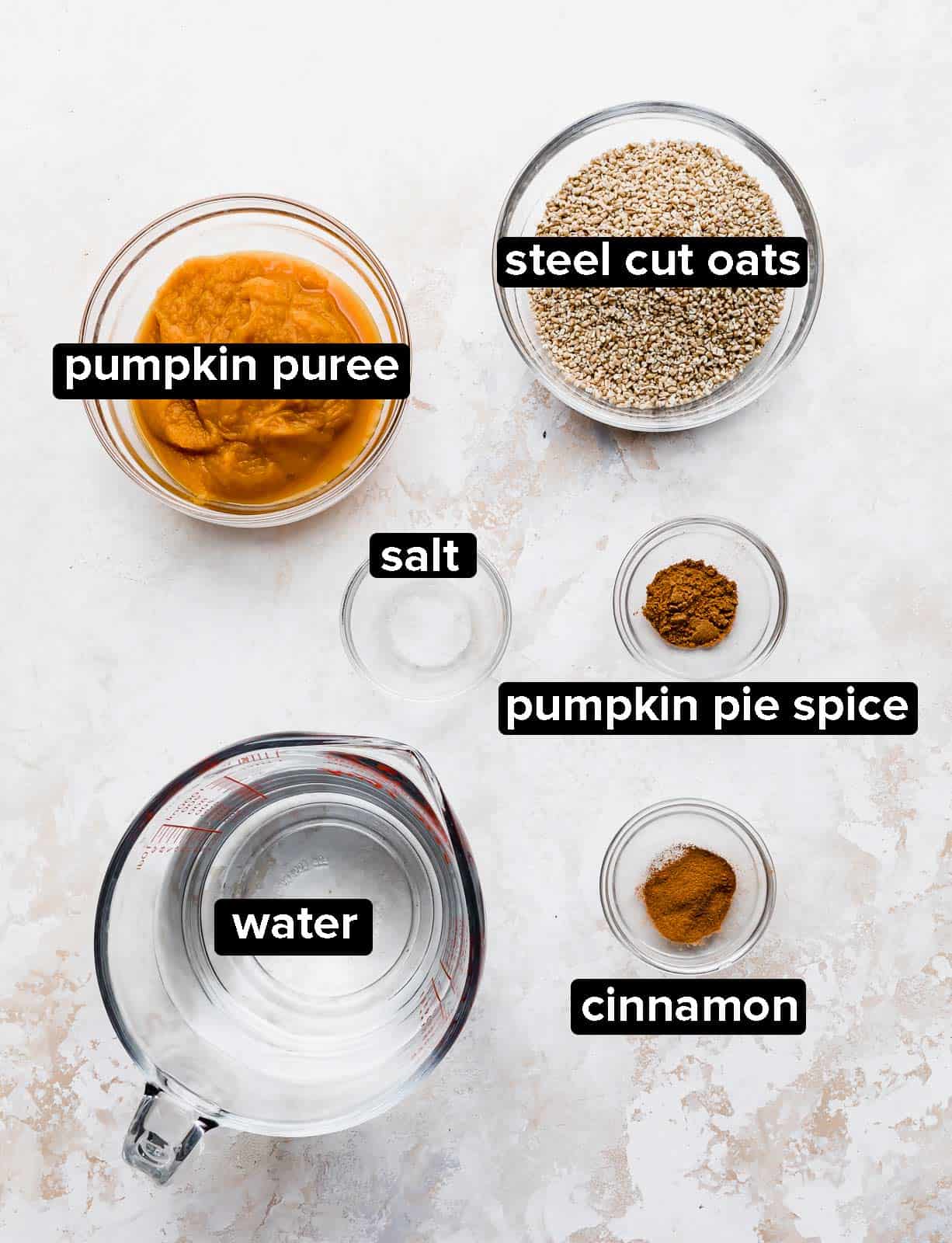 Water: This is our liquid for the pumpkin oatmeal. Feel free to use milk or almond milk if you'd prefer.
Steel Cut Oats: These are a chunkier looking oat instead of the flat oats you are used to. Using steel cut oats will give us a more robust texture to the oatmeal.
Pumpkin Puree: Any brand of pumpkin puree will do. I like Libby's pumpkin puree, but a store brand option is just fine, too.
Ground Cinnamon & Pumpkin Pie Spice: Using both these spices really brings out the pumpkin flavor.
Ingredient Variations and Substitutions
Sweetener: Feel free to add a drizzle of maple syrup or honey on top of your pumpkin oatmeal breakfast! I like eating mine with some dried fruit, which provides a bit of sweetness and flavor.

Liquid: We just use water in this recipe, and we still get a nice and creamy pumpkin steel cut oats texture. However, you're welcome to use milk, almond milk, etc.
Step-by-Step Instructions
Add all the ingredients to a saucepan and stir.
Bring the mixture to a boil, then reduce the heat to a simmer. Cook for 20-30 minutes. The longer you cook the oats, the thicker the mixture becomes.
When the pumpkin steel cut oats have reached your desired consistency, remove from heat. The mixture will thicken as it cools.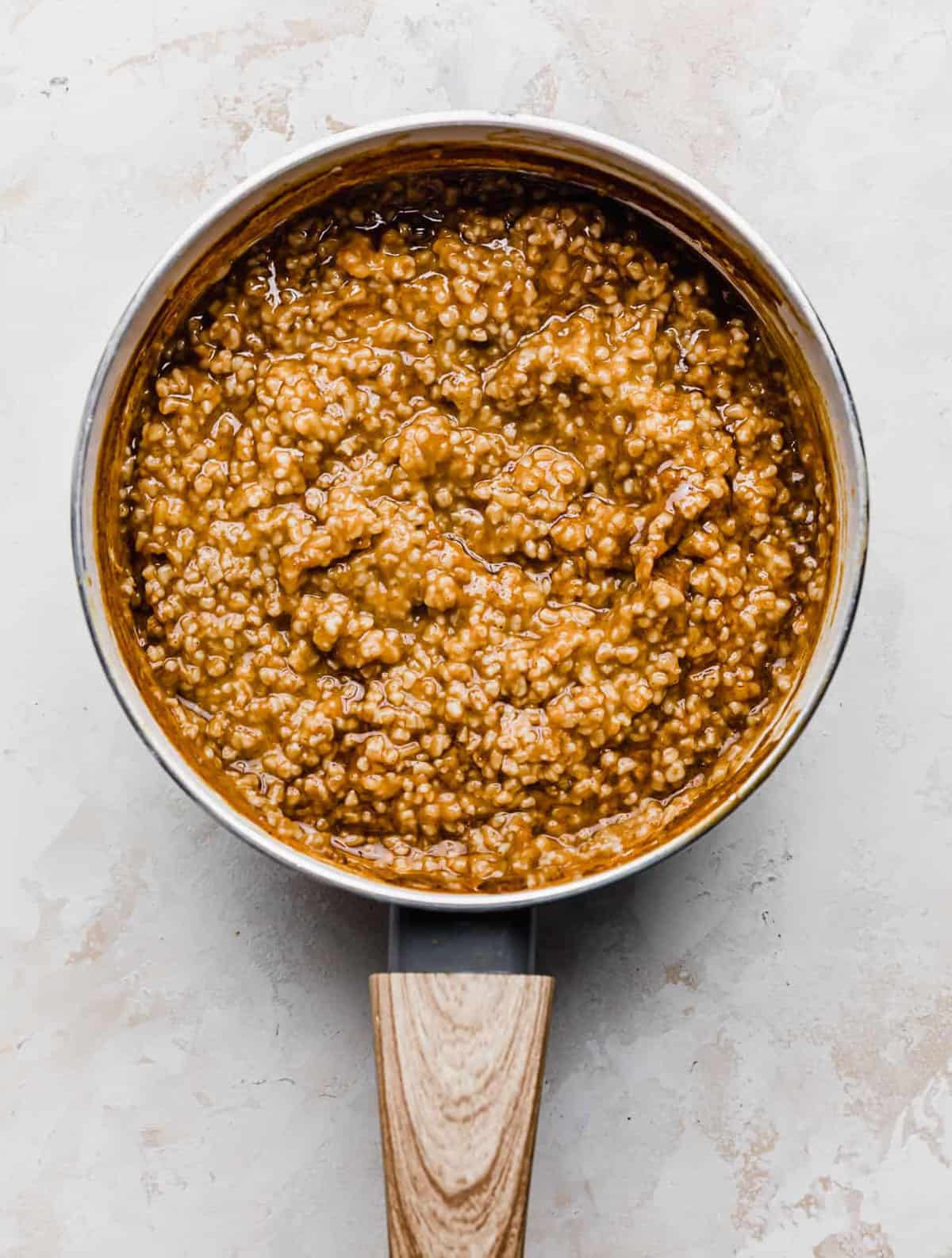 Eat immediately, or add a sweetener such as brown sugar, maple syrup, or honey.
You can garnish with raisins, dried cranberries, or candied pecans.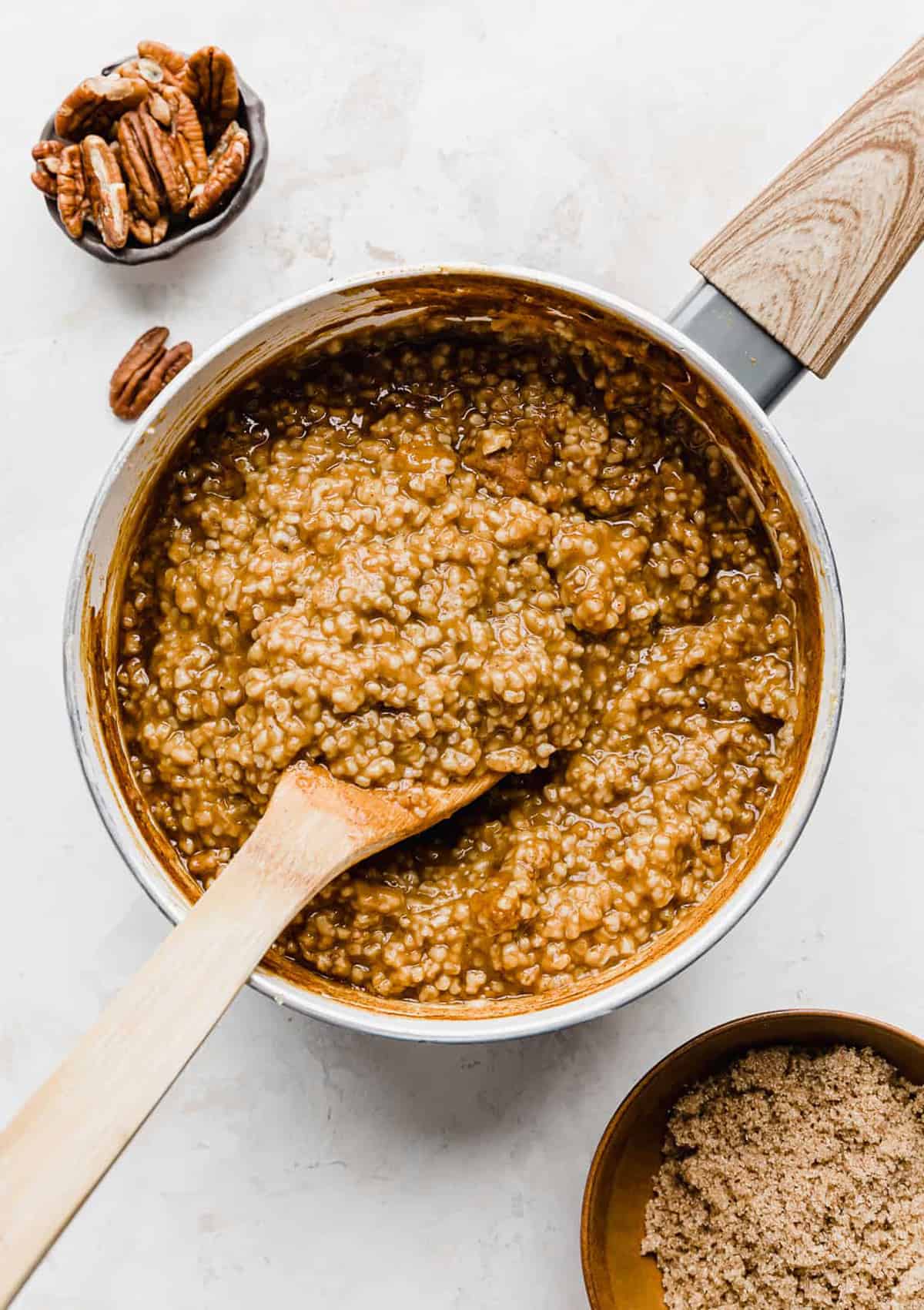 Recipe Tips
Make ahead/Freezing: You can use this recipe to make individual oatmeal servings and freeze them to reheat later for a quick and healthy breakfast option! Spray a muffin tin with cooking spray and fill each muffin hole with some of the pumpkin steel cut oats. Freeze until set (about an hour). Then remove from the tin and store in a plastic bag in the freezer for up to 2 months. Microwave the individual oatmeal cups for about 2 minutes when ready to eat.
Storing
Store the finished pumpkin steel cut oats in an airtight container in the fridge for 3-4 days.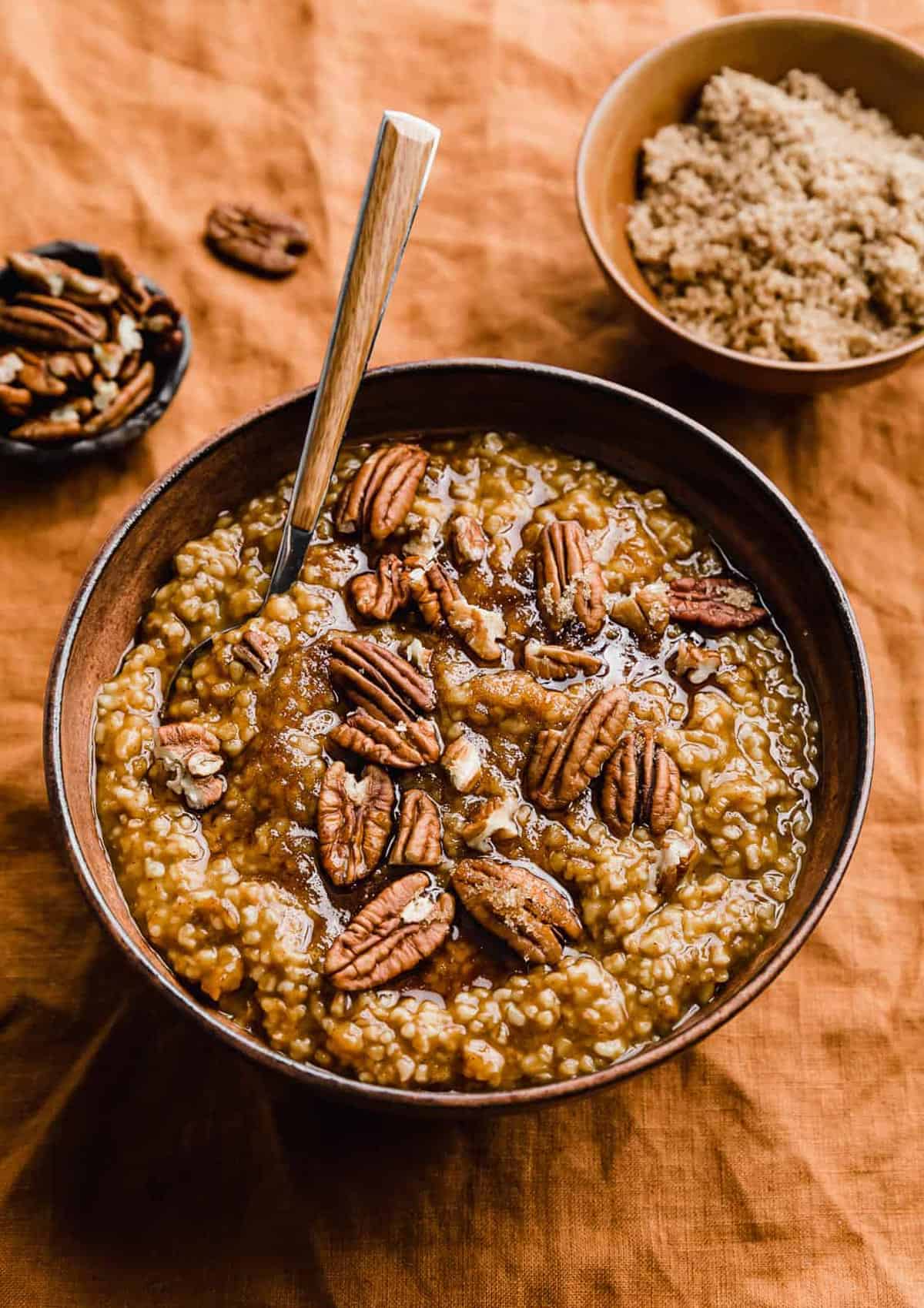 FAQs
How do you make slow cooker pumpkin steel cut oats?
To make this Pumpkin Steel Cut Oat recipe in a slow cooker combine all of the ingredients in your slow cooker. Stir everything together and cover. Place the setting on low for 6-8 hours or overnight. There you have it friends! A yummy, hearty, and healthy breakfast recipe! Give it a go, I know you'll love it!

What are steel cut oats?
Steel cut oats are minimally processed. Old fashioned rolled oats are steamed and then rolled flat. Because the old fashioned oats are rolled flat, they require less time to cook. Steel cut oats aren't previously cooked. Rather, they pass through a steel blade and the grain kernel is then cut into thin slices, retaining more protein and fiber. Steel cut oats require more cooking time (15-25 minutes) because they are larger and not steamed and flattened like old fashioned oats are.
Do I need to soak steel cut oats?
Soaking steel cut oats isn't really necessary. These oats soften up just fine with our cooking process. If you're hoping to reduce cooking time, you could soak the steel cut oats overnight, but preserve the water they were soaking in to use in cooking so you don't lose any flavor or nutrients that may have come off in the water while soaking.
More Pumpkin Recipes
Did you make this recipe? I'd love to hear about it! Click here to leave a star rating and review, or scroll below the recipe card and do so there.

Stay up-to-date by following us on Instagram, Facebook, and Pinterest.
Pumpkin Steel Cut Oats
The perfect breakfast for you to make this fall! Pumpkin steel cut oats are healthy and delicious!
Ingredients
3

cups

water

1

cup

steel cut oats

pinch

salt

1

cup

pumpkin puree

1

teaspoon

ground cinnamon

1

teaspoon

pumpkin pie spice
Instructions
In a saucepan over medium heat add the water, steel cut oats, salt, pumpkin puree, cinnamon, and pumpkin pie spice. Bring the mixture to a boil.

Reduce heat to low and let simmer for 20-30 minutes, stirring frequently. The longer you cook the oats the thicker the mixture becomes. Remove from heat and let sit for several minutes before serving.


Stir in brown sugar, honey , or maple syrup according to taste. Garnish with nuts, craisins, raisins, or any other toppings you desire.
Did you make this recipe?
Leave a star rating and review on the blog post letting me know how you liked this recipe! Take a picture and tag @saltandbaker on Instagram and Facebook so I can see what you're making!
This post was first published October 2018 and was updated October 2021 with new photos and information.