Sprinkle Donuts
This post may include affiliate links. As an Amazon Associate I earn from qualifying purchases.
These delicious Sprinkle Donuts will turn anything into a party with their fun, rainbow-colored sprinkles and funfetti flavor. The soft and moist cake texture makes them a delicious treat for any occasion. Perfect for birthdays, showers, or anytime you need a sweet indulgence! Enjoy this classic favorite with a fun twist!
Making baked donuts at home is such a fun treat! You know I love a good Oreo dessert, so of course I needed a donut version too! Oreo Donuts is definitely a keeper so be sure to try it out. And if you are a chocolate purest, then my Chocolate Sprinkle Donuts are for you!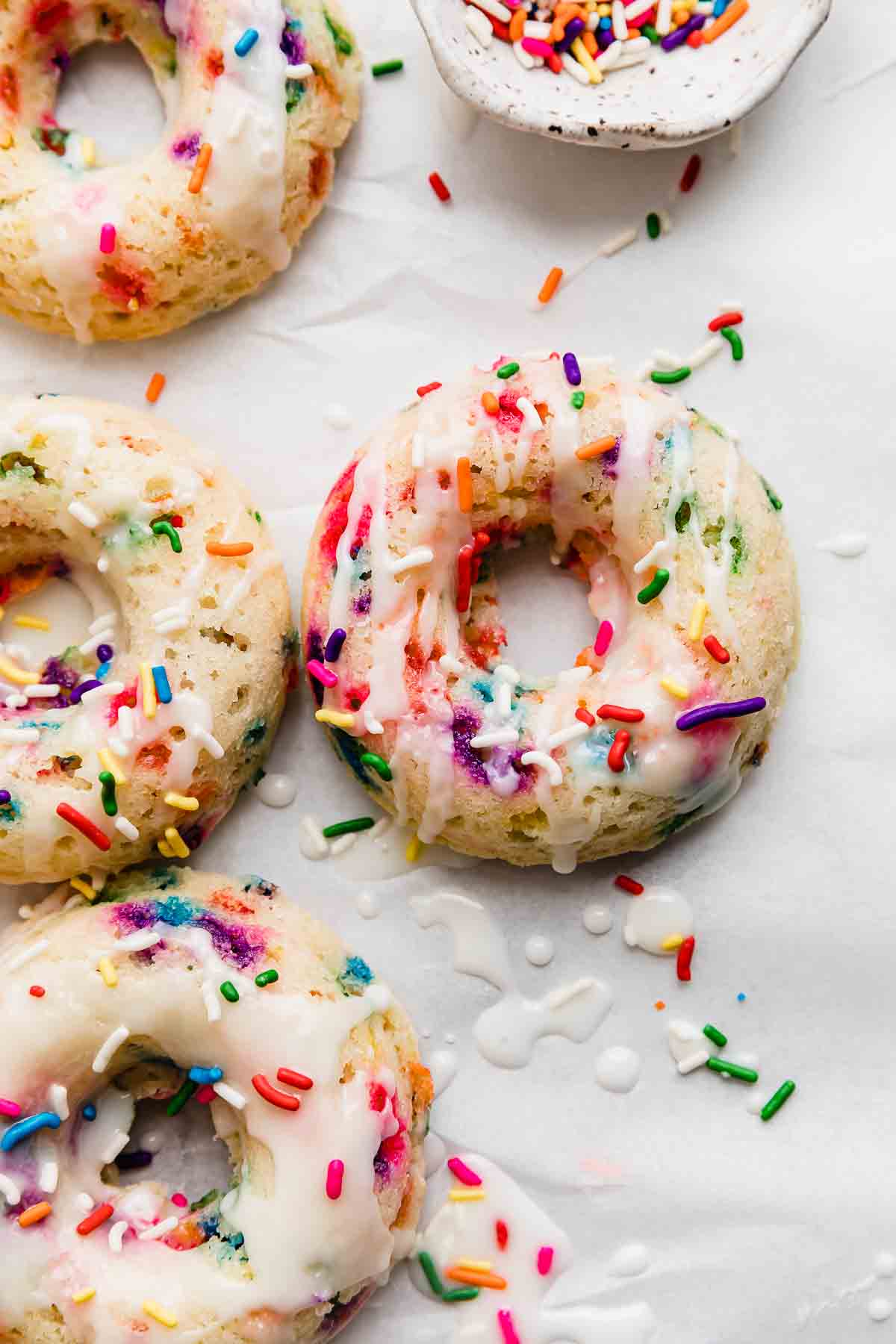 Why This Recipe Works
Party-ready. Turn any gathering into a party with these confetti-filled sprinkle donuts!
Moist donuts. Thanks to added sour cream, we get the most amazing moist texture.
Glazed or unglazed. Add the option of a glaze! Or don't! Both versions are big hits.
Ingredient Notes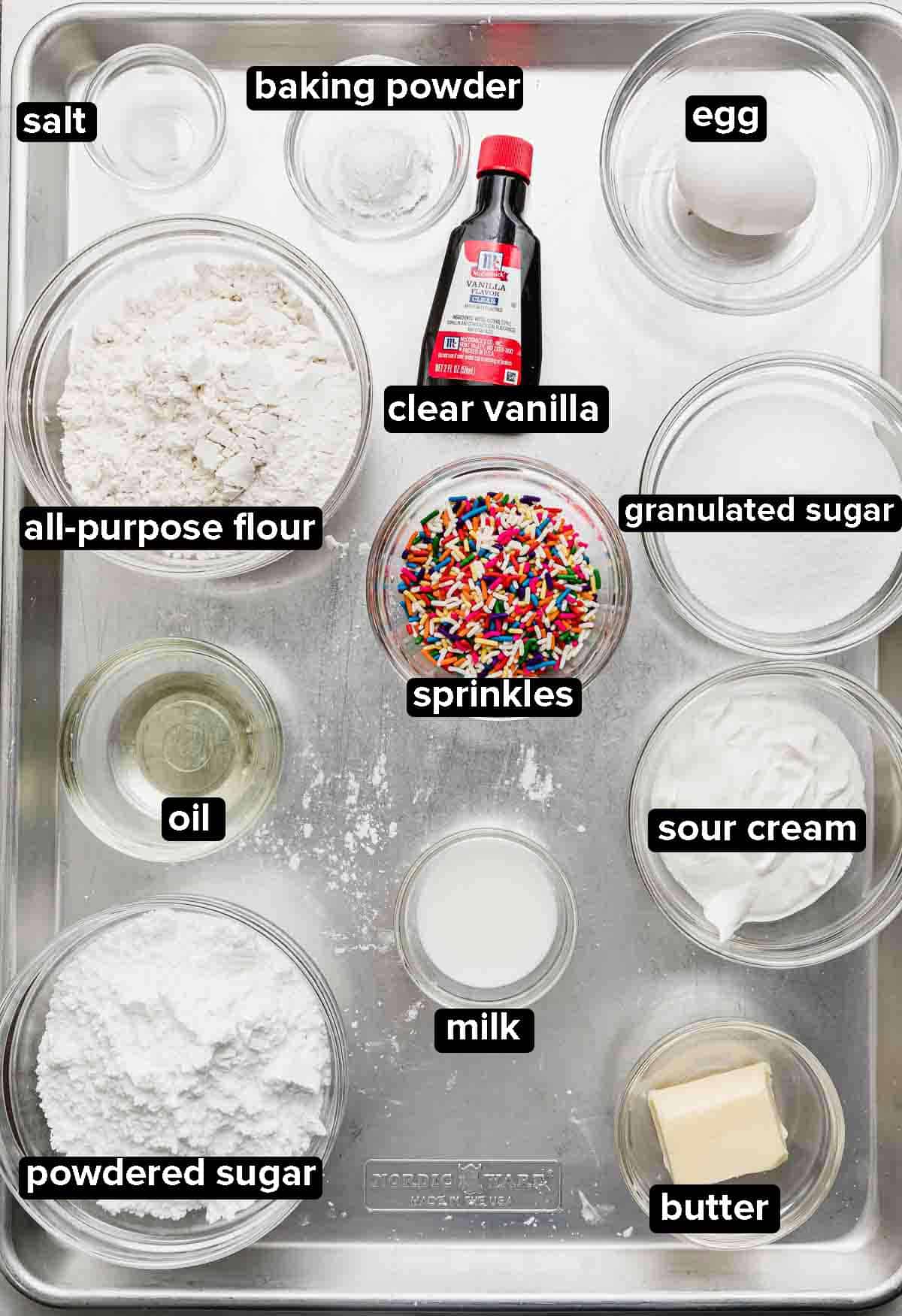 Flour: Regular, all-purpose flour is what you'll need!
Baking Powder: The baking powder is our important leavening agent. This will help the sprinkle donuts rise in the oven.
Egg: The added egg will add structure to the batter.
Clear Vanilla Extract: Using clear vanilla extract will give you the funfetti taste, but you can use regular vanilla extract if you want.
Sour Cream: If you don't have sour cream, you can use plain greek yogurt. Use non fat or low fat options for healthier version; however, the point is the added fat will help these funfetti donuts be extra moist! 
Melted Butter: The melted butter will provide a delicious buttery flavor to the sprinkle donuts recipe that your taste buds will love!
Sprinkles: Use jimmies colorful sprinkles — these are technically called jimmies. They won't bleed as much as nonpareils.
Step-by-Step Instructions
Combine dry ingredients. Preheat your oven to 350ºF. To a medium bowl add 1 1/3 cups all-purpose flour, 1 1/2 tsp baking powder, and 1/4 tsp salt. Whisk to combine.
Combine wet ingredients. To a large bowl add 1 large egg, 1 tsp clear vanilla extract, 2/3 cup granulated sugar, 1/2 cup sour cream, 2 tablespoons melted butter, and 1 tablespoon vegetable oil. Whisk to combine.
Combine wet and dry ingredients. Using a spatula, stir the dry ingredients into the wet ingredients.
Fold in the sprinkles. Add 1/3 cup sprinkles to the batter and gently fold in. Do not over mix. The batter will be thick.
Pipe the batter into a donut pan. Transfer the sprinkle donuts batter into a piping bag or ziplock bag with the corner snipped off. Thoroughly spray a donut pan with nonstick cooking spray that contains flour. Pipe the donut batter into the cavities, about 1/2-3/4 full.
Bake the sprinkle donuts. Place the sprinkle donuts in the oven and bake for 12-15 minutes or until lightly golden brown and a toothpick comes out with a few moist crumbs but no wet batter. Remove and let cool in the pan for 5 minutes. Then turn out and let cool on a wire rack.
Make the glaze. You can enjoy the sprinkle donuts without the glaze and they are moist and yummy! If you'd like to add extra sweetness, make the glaze. Whisk 1 1/2 cups powdered sugar and 3-4 tablespoons milk until combined. Drizzle over each of the donuts and decorate with extra sprinkles if desired.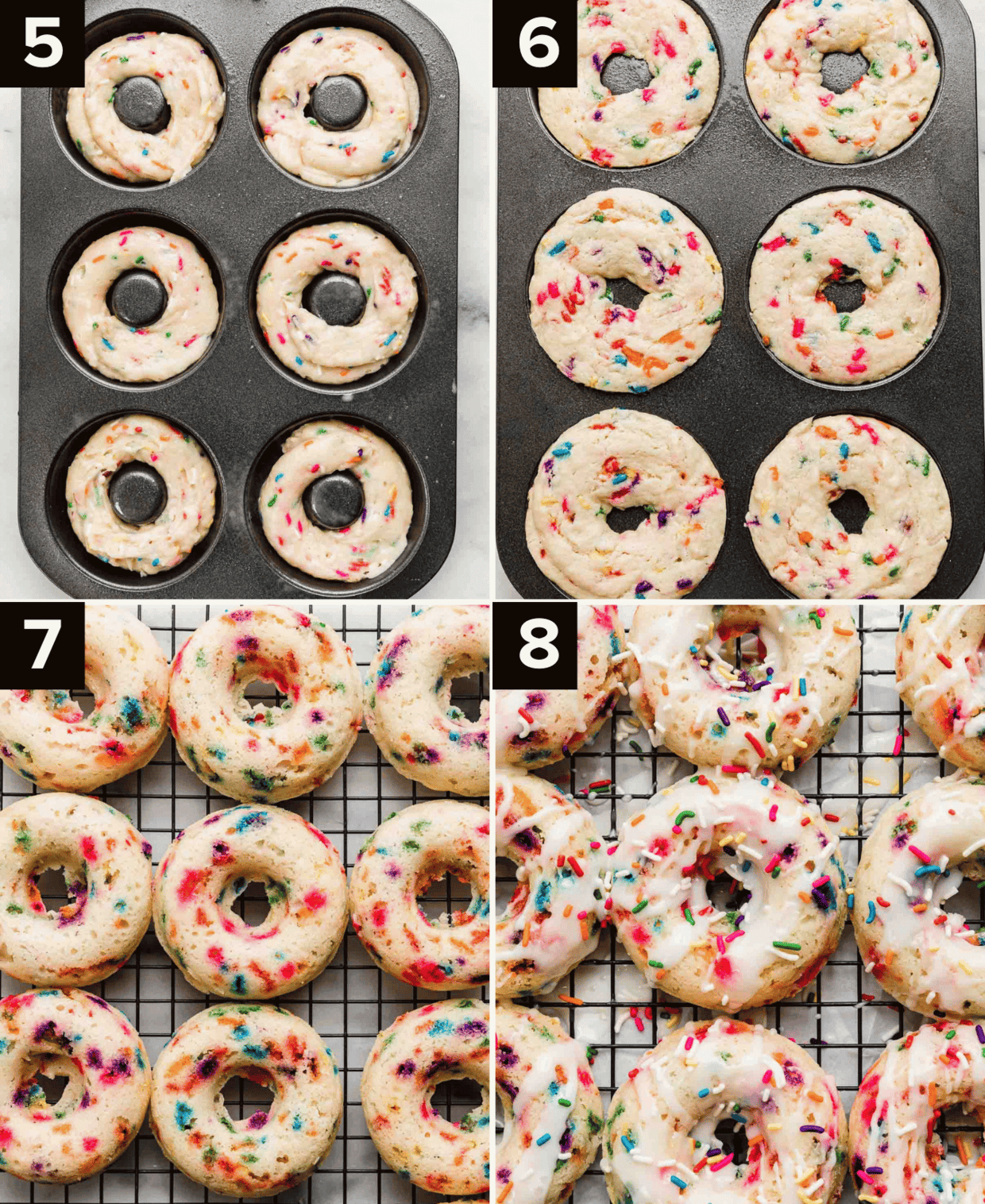 Recipe Tips
You can drizzle the glaze on top or dip each of the donuts into the glaze. Whichever works better for you!
The batter will be very thick, so keep that in mind.
You will want to pipe the batter into the pan. There really isn't an easy way to pour or spread the batter into the donut pan cavities and have things look pretty.
If you don't have piping bags, no problem! I add the batter to a gallon ziplock bag, seal it shut and snip off a corner. Then squeeze to pipe the batter in.
Don't over mix the batter when you add the sprinkles or else your sprinkles will bleed color more readily into the batter.
These sprinkle donuts are delicious plain! If you like an extra sweet donut, then make the glaze! Some might not love the extra sweetness, so I made sure the sprinkle donuts were delicious plain, too.
Turn the glaze into a vanilla glaze by adding 1/4 tsp vanilla extract.
Make Ahead, Storing, and Freezing
The batter comes together easily, and you don't really want to let it sit for too long, so I wouldn't make the batter ahead of time.
Let the sprinkle donuts cool completely then store in an airtight container at room temperature for up to 3 days.
To freeze, let the donuts cool completely, then store in a freezer safe bag or container in the freezer for up to 2 months. Remove and let thaw. Enjoy cold, at room temperature, or sneak it in the microwave for a few seconds for a nice, warm sprinkle donut treat!
Recipe FAQs
What sprinkles should I use?
I would use jimmies. You can feel free to use whatever colors. Rainbow jimmies are most associated with the funfetti treats.  
What can I use instead of sour cream?
Plain greek yogurt. 
Why are my sprinkles bleeding color?
They will bleed some color into the batter just by nature. However, it shouldn't be enough to completely change the color of your entire batch of batter. If so, you either used a type of sprinkles that bleed more easily or you over mixed when adding in the sprinkles. 
What are sprinkle donuts?
These sprinkle donuts are a funfetti-flavored donut filled with rainbow-colored sprinkles and topped with an optional sweet glaze. There is also a donut shop called Sprinkle Donuts, but they make a variety of donut flavors.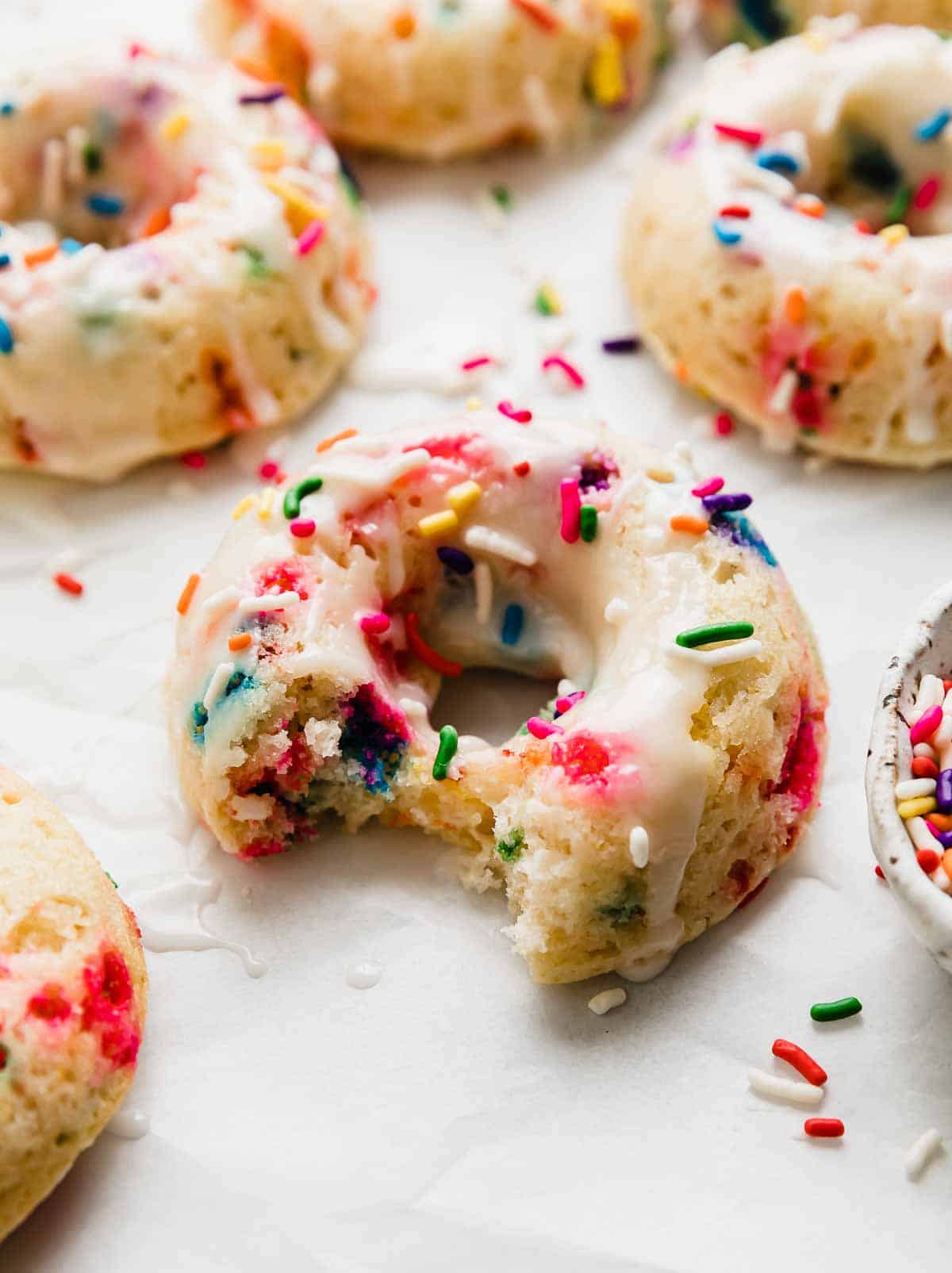 More Donut Recipes
Sprinkle Donuts
These sprinkle donuts are a delicious funfetti donut made with oil, sour cream, and melted butter to add extra moisture, flavor, and soft chewy texture.
Ingredients
1 1/3

cup

all-purpose flour

1 1/2

teaspoons

baking powder

1/4

teaspoon

salt

1

large

egg

1

teaspoon

clear vanilla extract

-

if you don't have clear, you can always use regular vanilla extract

2/3

cup

granulated sugar

1/2

cup

sour cream

-

or plain greek yogurt

3

tablespoons

unsalted butter -

melted

1

tablespoon

vegetable oil

1/3

cup

sprinkles
Glaze (optional)
1 1/2

cups

powdered sugar

3-4

tablespoons

milk

more sprinkles

-

for topping, if desired
Instructions
Preheat oven to 350°F. Pray a donut pan with nonstick cooking spray that contains flour. 

In a medium bowl whisk the flour, baking powder, and salt. 

In a large bowl whisk the egg, vanilla, granulated sugar, sour cream, melted butter, and vegetable oil until combined. Using a rubber spatula, stir the dry ingredients into the wet ingredients. 

Fold in the sprinkles with a spatula. Don't overmix. Batter will be thick. 

Transfer batter to a piping bag or a Ziploc bag with the end snipped off. Pipe the batter into the donut pan (about 1/3 cup of batter per donut cavity). The cavities should be ½ – 3/4  full. 

Bake for 12-15 minutes or until a toothpick comes out with a few moist crumbs. 

Remove from the oven, let cool in the pan for 5 minutes then turn out on a wire rack. Enjoy as is, or make the glaze. 

Glaze: whisk the powdered sugar and milk in a medium bowl until smooth. Add more milk if the glaze is too thick. Use a spoon and drizzle the glaze over top of each donut, add more sprinkles over the glaze for extra flair! Alternatively you can dunk each donut in the glaze.
Notes
You can get 12 donuts if you fill the cavities less full, the bake time will be 10-12 minutes.
Did you make this recipe?
Leave a star rating and review on the blog post letting me know how you liked this recipe! Take a picture and tag @saltandbaker on Instagram and Facebook so I can see what you're making!