Freezing Cookies
This post may include affiliate links. As an Amazon Associate I earn from qualifying purchases.
Freezing Cookies comes in handy when you need homemade cookies in a moment's notice! It is also helpful when you need to a lot of homemade cookies for a party or event and want to spread out the baking. Make a couple batches of cookies, freeze them, and finish the rest another day!
Knowing how to freeze cookies is any easy way to get immediate cookies without having to wait for frozen cookie dough balls to bake. For all things on How to Freeze Cookie Dough (including drop cookie dough, sugar cookie dough, icebox cookie dough and more!) see my post on Freezing Cookie Dough!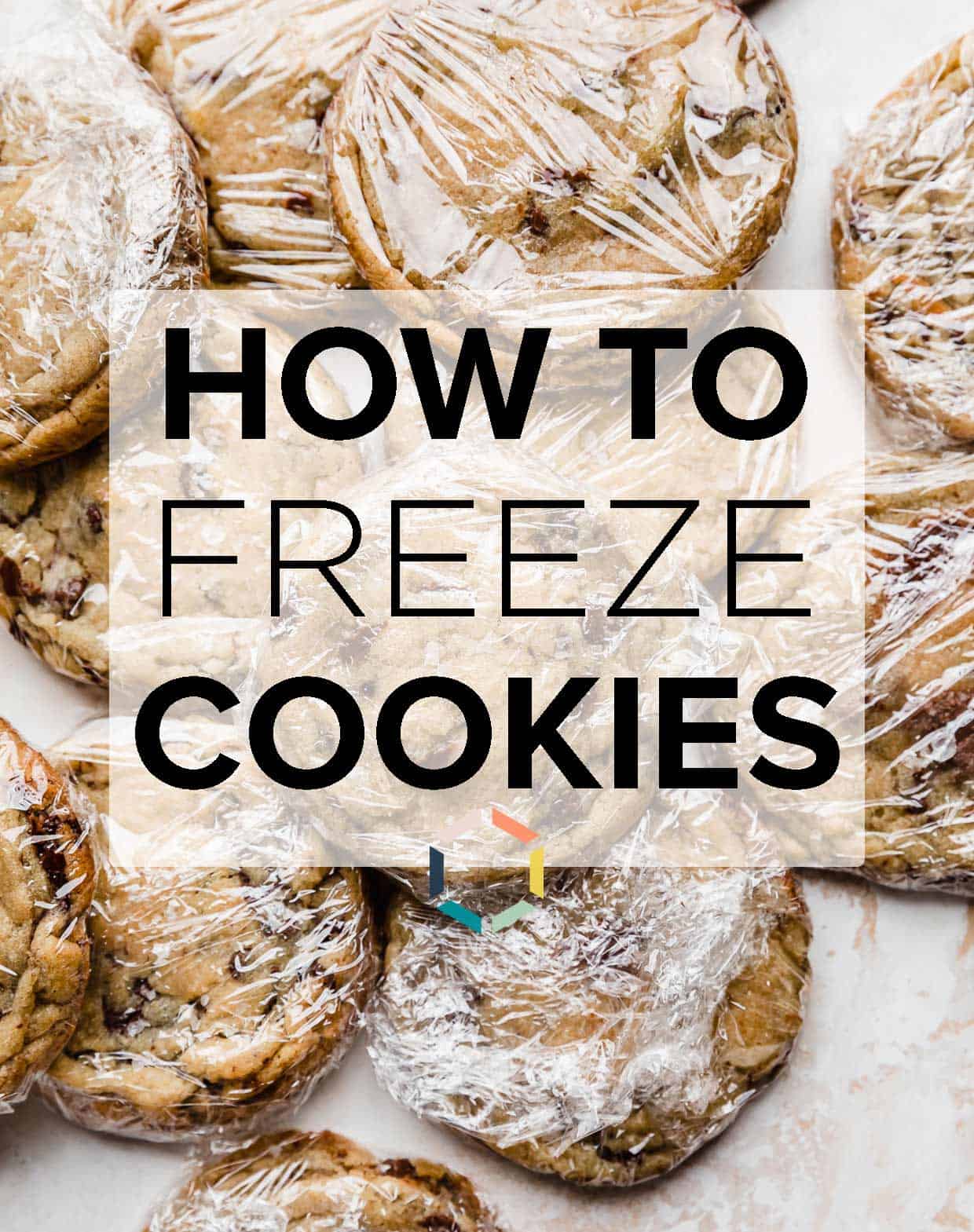 How To Freeze Cookies
Bake cookies as directed. To freeze cookies, you'll first need to choose the cookies you'll be making and follow the recipe to bake the cookies.
Let cookies cool completely. Prior to freezing baked cookies, you need to ensure the cookies are completely cooled!
Wrap the cookies. To get a better result, individually wrap each cookie in plastic wrap.
Store in freezer safe bag or container. Once the cookies are individually wrapped in plastic wrap, store them in a freezer bag or airtight container. Store in the freezer for up to 2 months.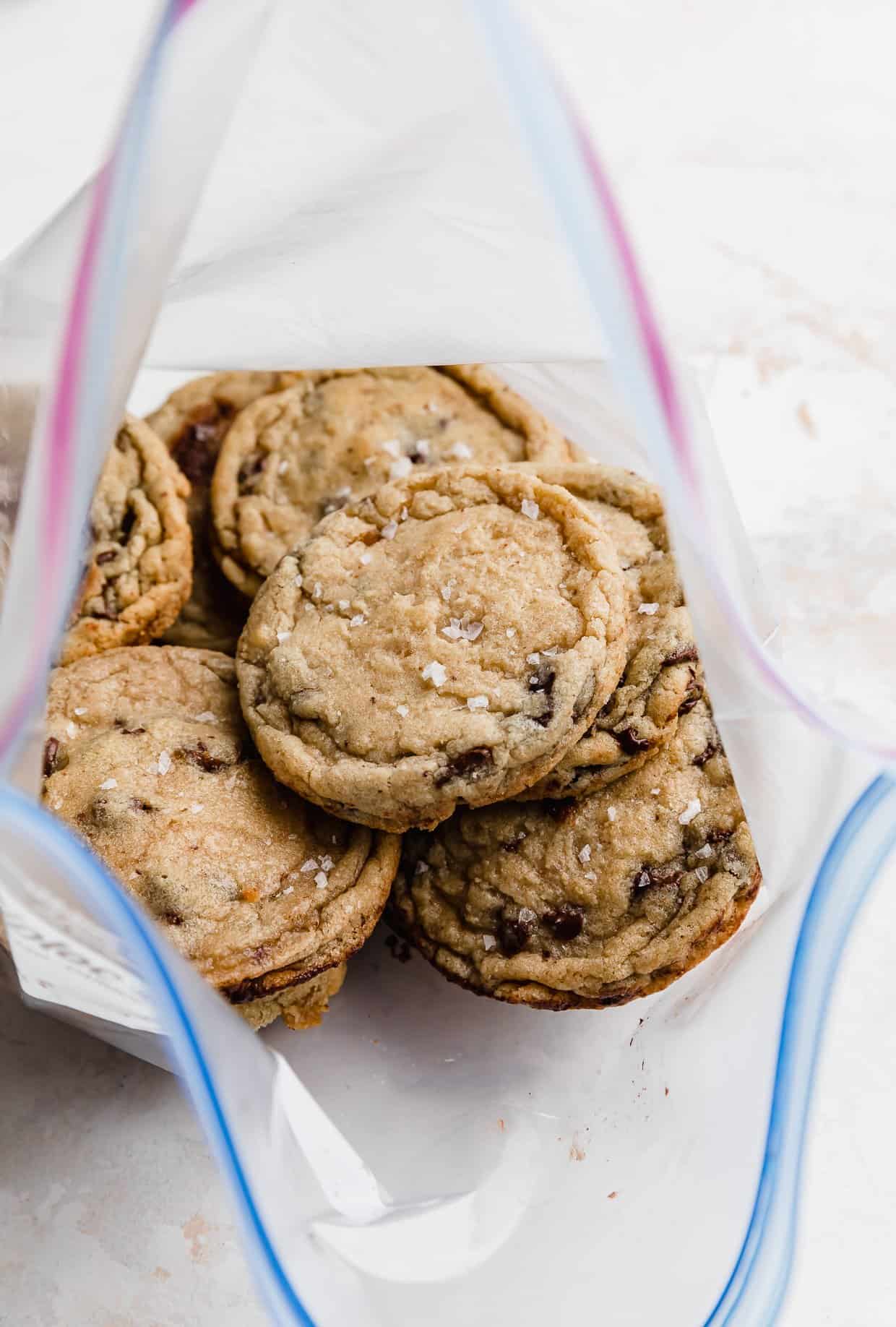 How to Thaw Frozen Cookies
Remove from the freezer. There are two ways to thaw baked cookies. You can remove the frozen cookies from the freezer and let thaw in the fridge overnight. Or you can let thaw at room temperature.
If thawing in the fridge: If you are thawing the cookies overnight in the fridge, keep them wrapped and in their container or plastic bag. Remove from the fridge the next morning and unwrap and let come to room temperature.
If thawing at room temperature: If you want to thaw the cookies at room temperature (this is the faster method), I recommend unwrapping the cookies from the plastic wrap so any moisture doesn't linger on the cookies and affect their texture.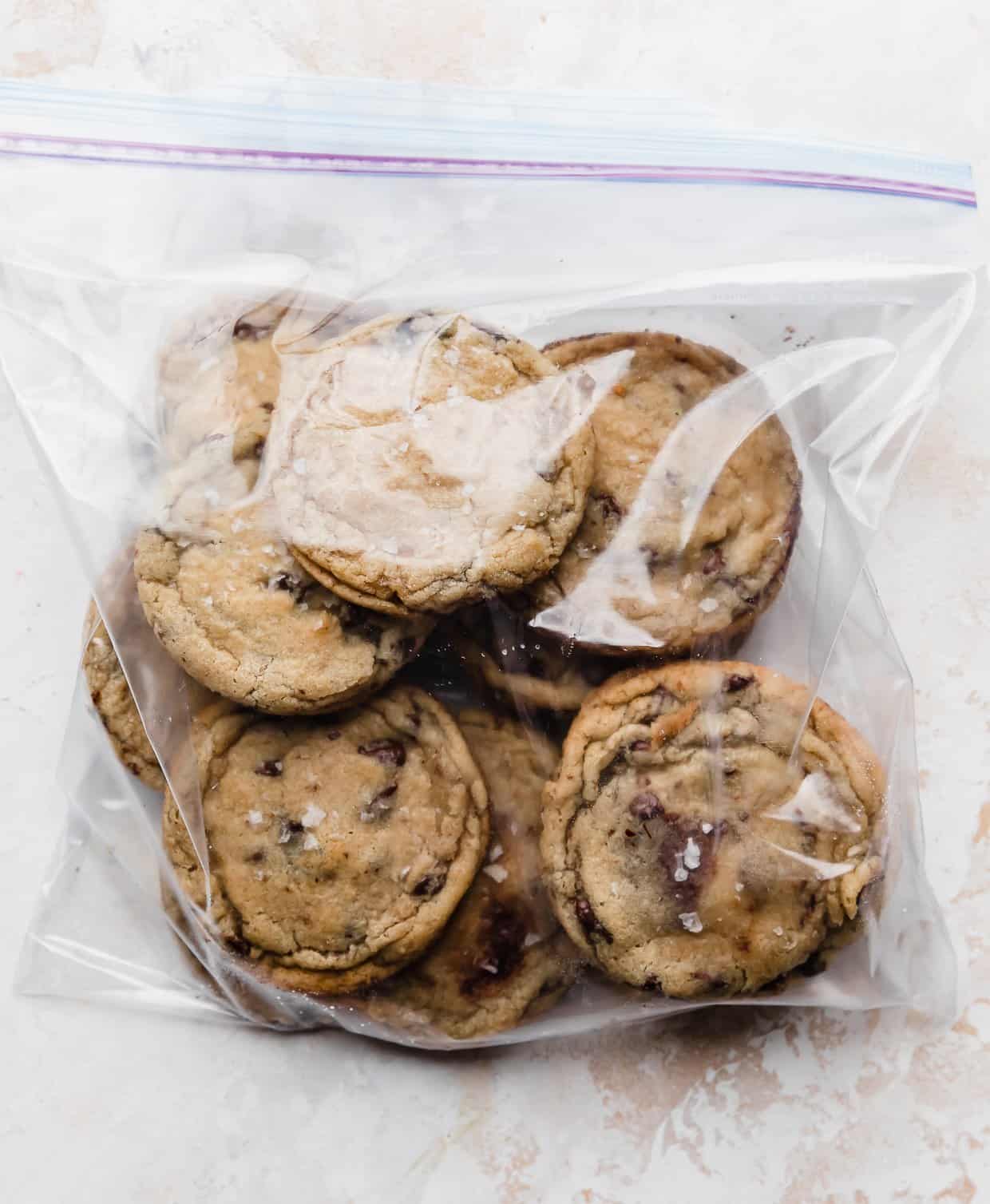 Storing and Freezing Tips
Let the fresh-baked cookies completely cool prior to freezing. Letting the cookies cool completely is important because it limits the amount of moisture (from heat) around the cookies. Moisture in the freezer can cause freezer burn.
If you aren't going to wrap the cookies individually in plastic wrap, then I would layer parchment paper between each of the cookies so they don't stick together while freezing.
Preventing freezer burn starts with keeping air out. That's why wrapping in plastic wrap first then storing in a bag or container acts as another layer of protection from air.
If you want to freeze cookies that come with a frosting, drizzle, ganache, or other topping, I recommend freezing the cookies separately and then topping them with the topping the day you'll be enjoying them.
Thaw the cookies overnight in the fridge to reduce condensation, then remove and let come to room temperature (while still wrapped).
If thawing frozen cookies at room temperature, unwrap them from the plastic wrap and make sure you don't have cookies on top of each other. You can also place them on a paper towel to catch any condensation that may happen while thawing.
Frozen cookies will keep in the freezer for 2 months.
The cookie recipe featured in these images is my Chocolate Chip Cookies recipe!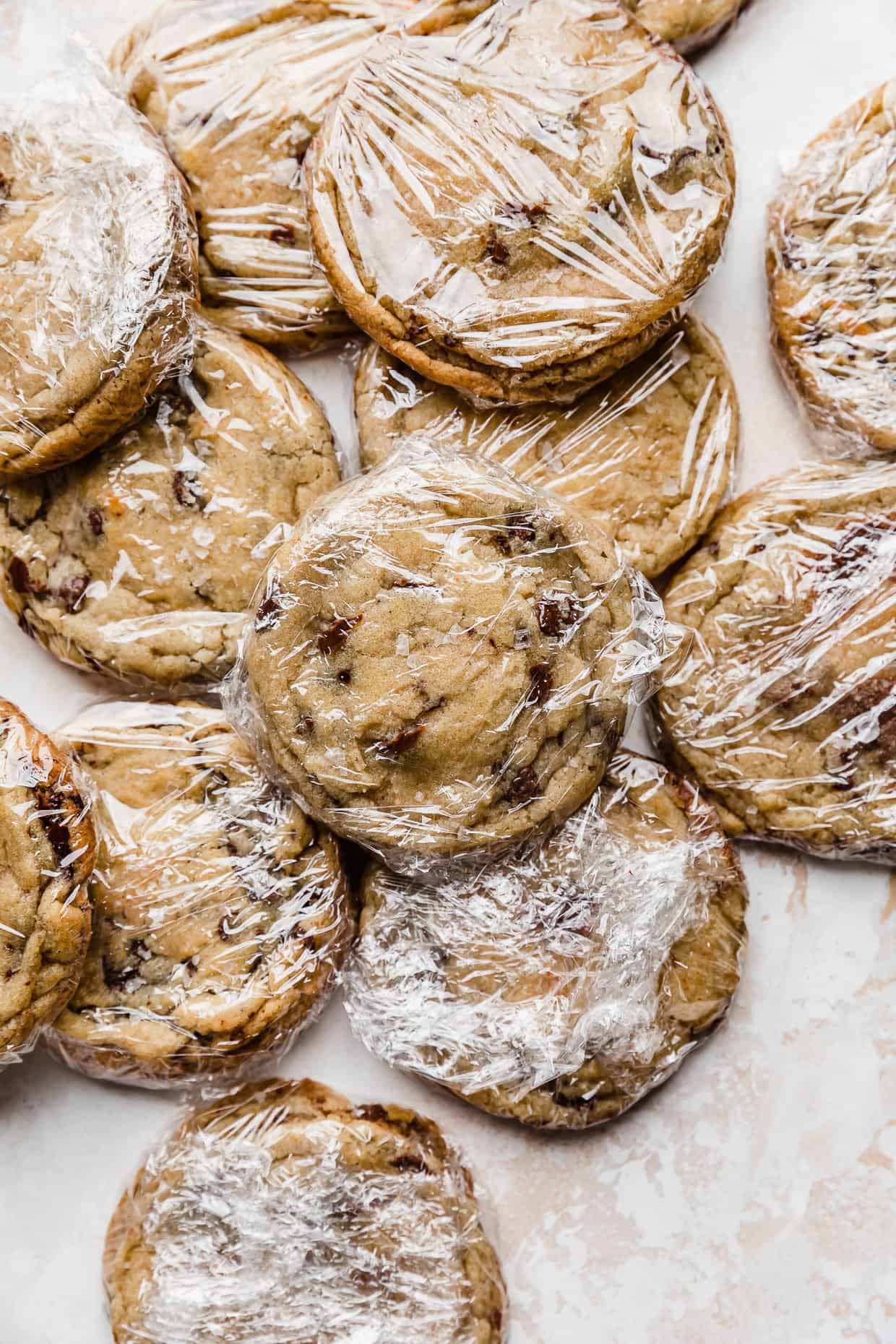 FAQs
Does freezing cookies keep them fresh?
Freezing cookies helps them stay fresher longer. After about a week, cookies can go stale, especially if you haven't stored them properly. Freezing cookies keeps them fresher longer so long as you freeze them properly. 
How to freeze cookies with icing?
While you can freeze cookies with icing, it's best to freeze them without the icing. If you are making Frosted Sugar Cookies, I recommend following the freezing instructions prior to frosting the cookies. Then, on the day you need them, let thaw, make the frosting, and frost!  
How to freeze cookies to stay fresh?
I find the best way to freeze cookies to stay fresh is to wrap them individually in plastic wrap and then put them in a freezer safe bag or airtight container. It gives them an extra protection to stay fresh! 
What cookies freeze well?
Most all types of cookies will freeze well. Cookie recipes like drop cookies (things like chocolate chip cookies), sugar cookies (I recommend freezing unfrosted), icebox cookies (slice and bake cookies like shortbread cookies or sandies) all freeze well. However, I wouldn't freeze cookies that require a frosting, glaze, drizzle, or other topping with those things on them. Freeze the bare cookie separately and then top with the frosting, glaze, drizzle or topping on the day you'll be serving them. I wouldn't freeze any delicate type of cookie or any that easily crumble either (this includes macarons or meringue type cookies).
What does freezing cookies do? 
Freezing cookies helps prolong their shelf life so you can enjoy them later! It can also help when you need to make a lot of cookies for a party or gathering! Freezing cookies is also helpful when it comes to Christmas cookies! Make a batch or two and freeze them for later so you don't have to make all your Christmas cookies in one day! 
Are cookies good after freezing?
Yes! If you have properly frozen cookies, then they can still stay very good after being frozen and thawed. 
Does freezing cookies make them hard? 
In their frozen state, the cookies should be hard. But, if you've over baked cookies, then they'll be hard before and after freezing. If you've let the cookies cool completely and stored them properly, then they shouldn't go hard once thawed. 
Can you freeze bar cookies?
Yes you can! I recommend letting the pan or sheet of cookie bars cool first. Then cut them into squares. Once they are cooled completely, wrap each square in plastic wrap and store in an airtight container or Ziploc bag in the freezer for up to 3 months. Remove and let thaw in the fridge overnight for best results. 
How long can you freeze cookies?
When stored properly, cookies can last in the freezer for 2-3 months.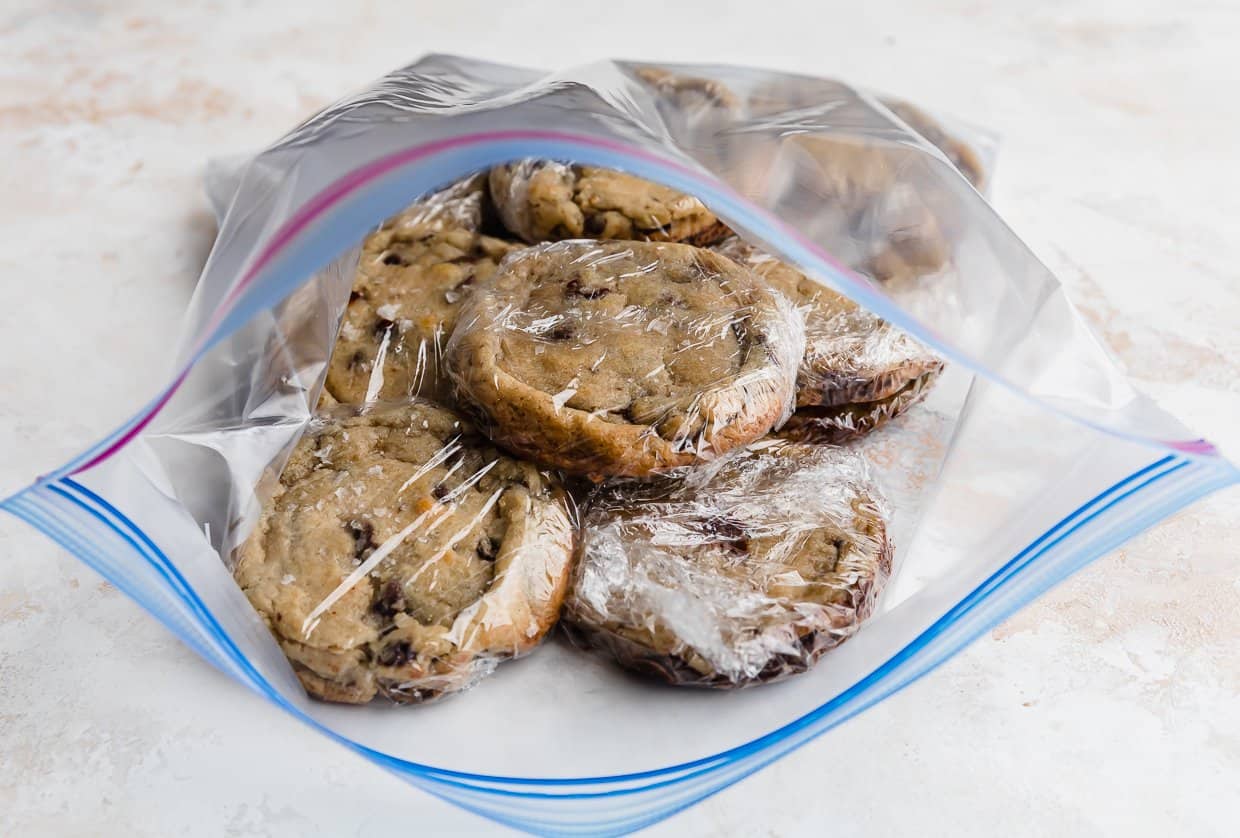 More Baking Tips