Mummy Hot Dogs
This post may include affiliate links. As an Amazon Associate I earn from qualifying purchases.
Mummy Hot Dogs are the perfect Halloween appetizer or snack! Each hot dog is wrapped in flakey, buttery bandages and is complete with candy eyes to give the perfect spooky hot dogs look! This kid-friendly Halloween recipe is one we make every year!
Since my kids have gotten old enough to remember Halloween and get excited for it, I've found myself making more Halloween-themed recipes! Black Cocoa Brownies are the perfect black brownie recipe to spruce up for the holiday. Then add Halloween Dirt Cups, Black Velvet Cupcakes, or Halloween Crackers and your kiddos will go crazy for Halloween treats!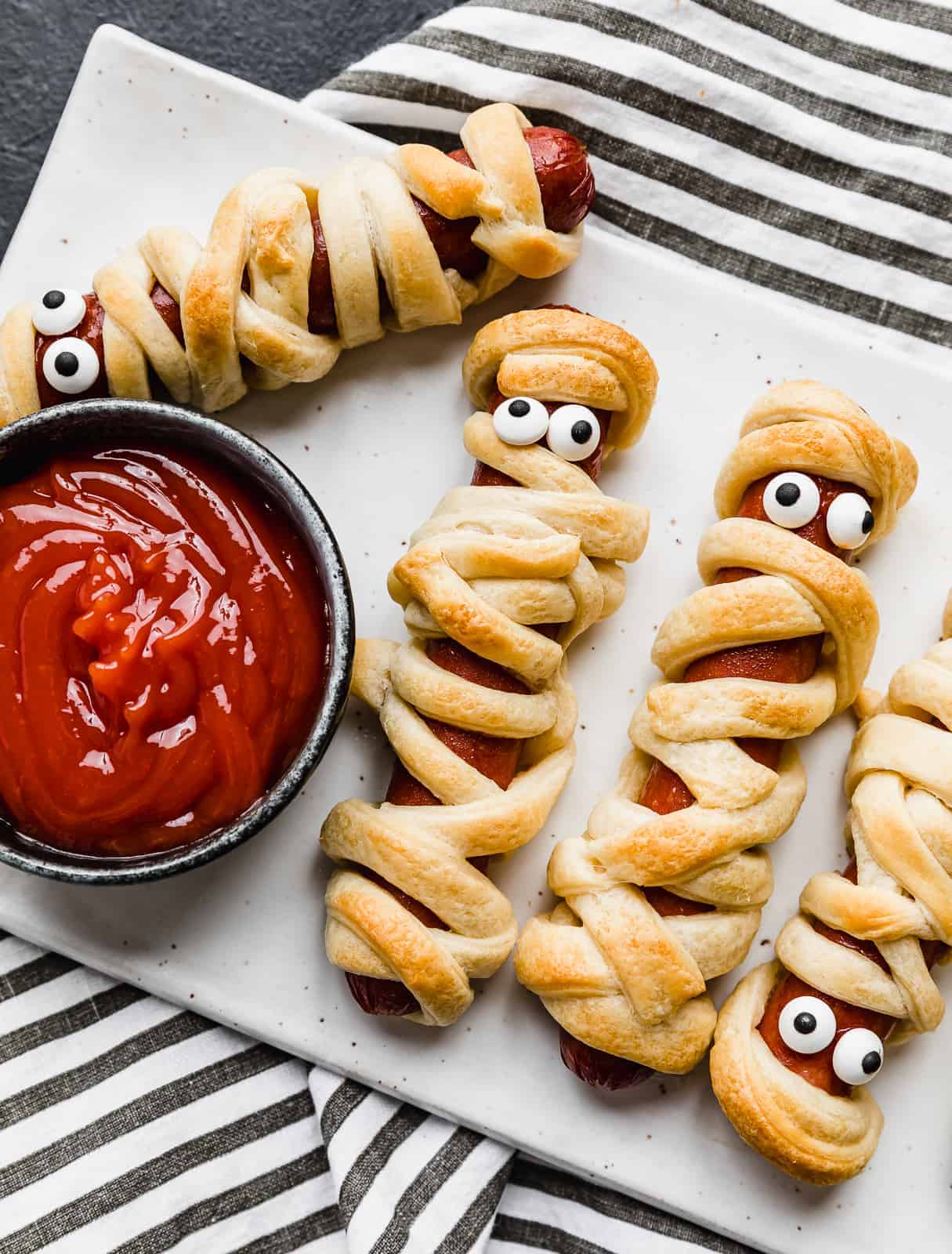 Why This Recipe Works
Easy mummy dogs. This recipe is a super simple and easy one to throw together! In about the same amount of time that it takes to preheat the oven you could be mostly finished with your mummy prep.
Complete with mummy hot dog eyes. Unlike real mummies, these spooky hot dogs are sure to taste great and bring a smile to everyone's face. The candy eyes really help to make them look more fun and friendly.
Perfect Halloween mummy dogs. Hot dogs and crescent rolls create the perfect mummy dog recipe to serve up at Halloween parties or as a fun meal before trick-or-treating on Halloween night! They're kid-friendly and the perfect party finger food. Just make sure to offer some sauces for dipping! Our favorites are ketchup and mustard.
Ingredient Notes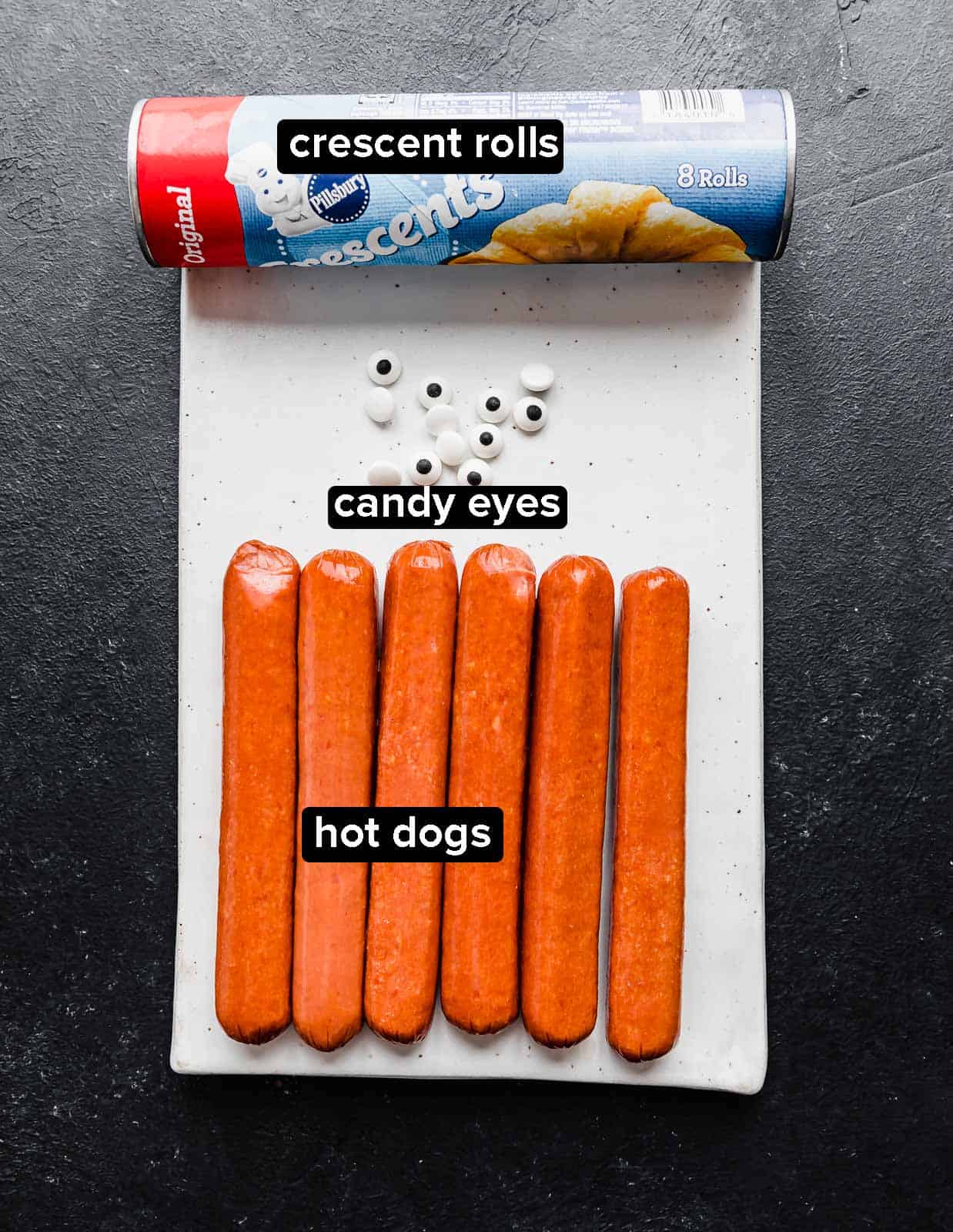 Hot Dogs: You can use any hot dog that you prefer from the cheaper ones to the more expensive ones, they all turn out great. Beef, pork, chicken, and cheese dogs all turn out fabulously so pick whichever one you're in the mood for.
Crescent Rolls: You'll cut thin strips of crescent roll dough into bandages for your crescent mummy dogs. You can use any brand preferred as they will all bake up the same.
Step-by-Step Instructions
Cut the mummy strips. Unroll the Pillsbury crescent rolls. Press perforations (the dotted lines where you would regularly tear the crescent triangles to create rolls) to reconnect the dough into one big piece. Cut into thin strips (about 1/4 inch thick).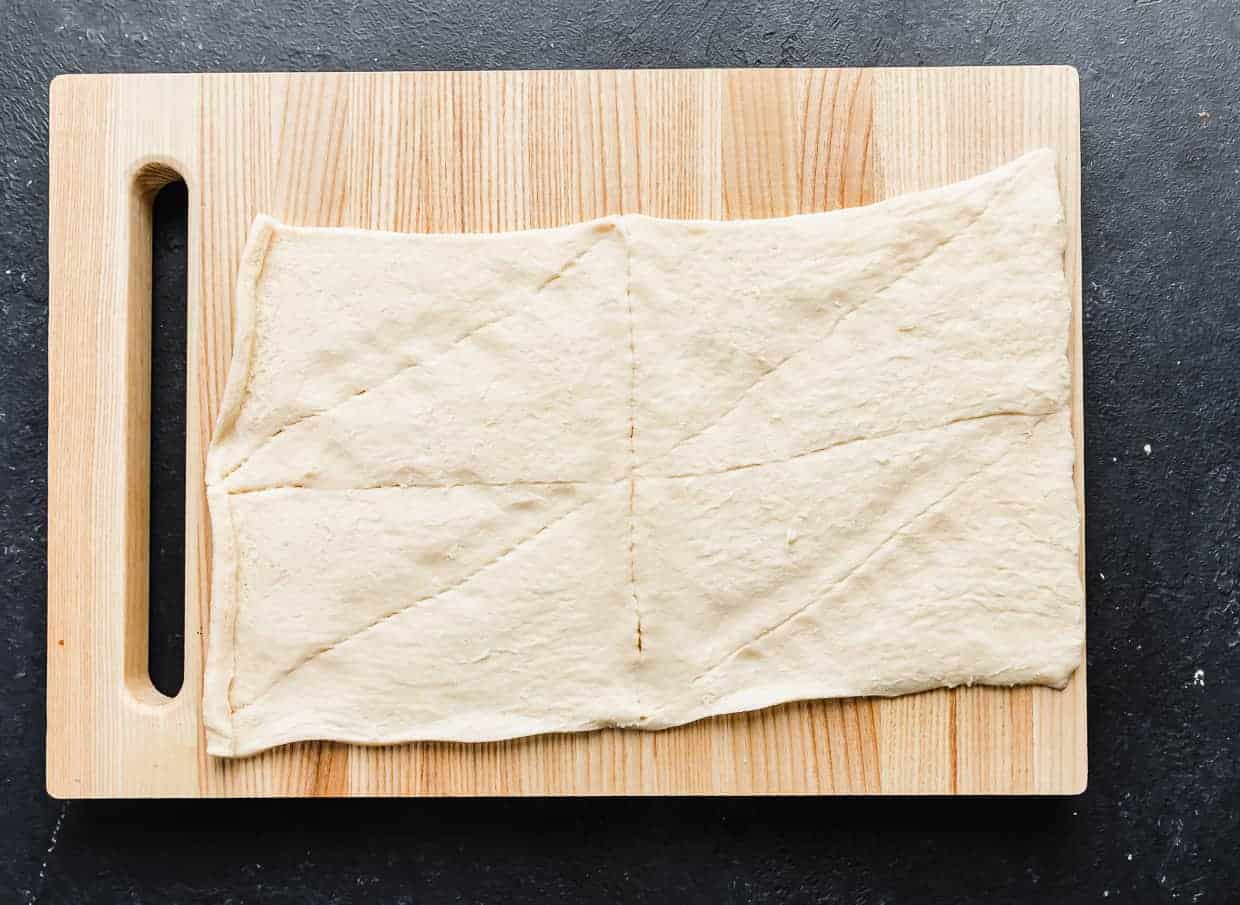 Wrap the hot dogs with crescent rolls strips. Take the thin dough strips and messily wrap the hot dogs for the perfect mummy look, leaving a small opening at the top for the eyes.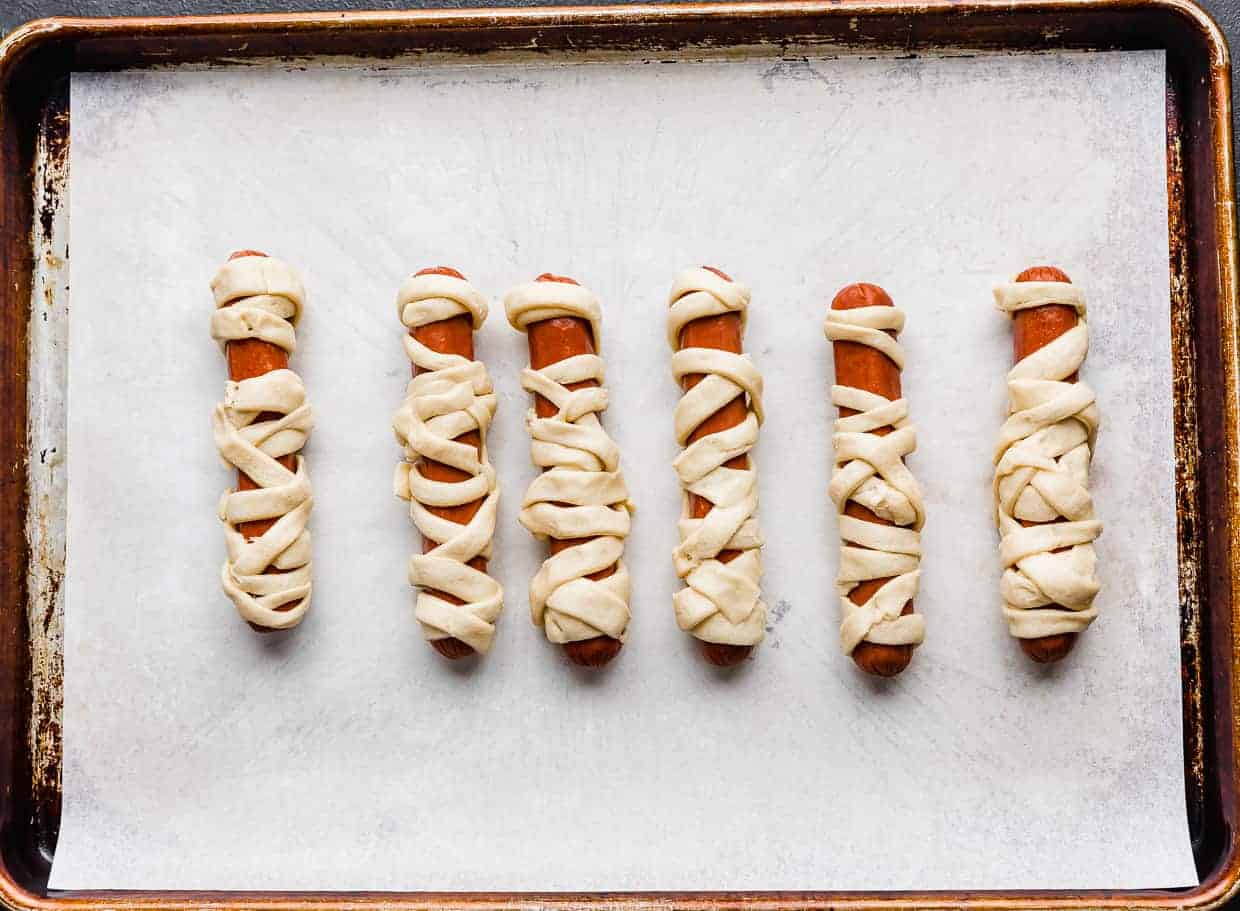 Bake the mummy hot dogs. Place the wrapped hot dogs onto a baking sheet lined with parchment paper or sprayed with nonstick cooking spray. Bake in an oven preheated to 375ºF for 12-15 minutes or until the mummy dough is golden brown and the hot dogs are warmed through.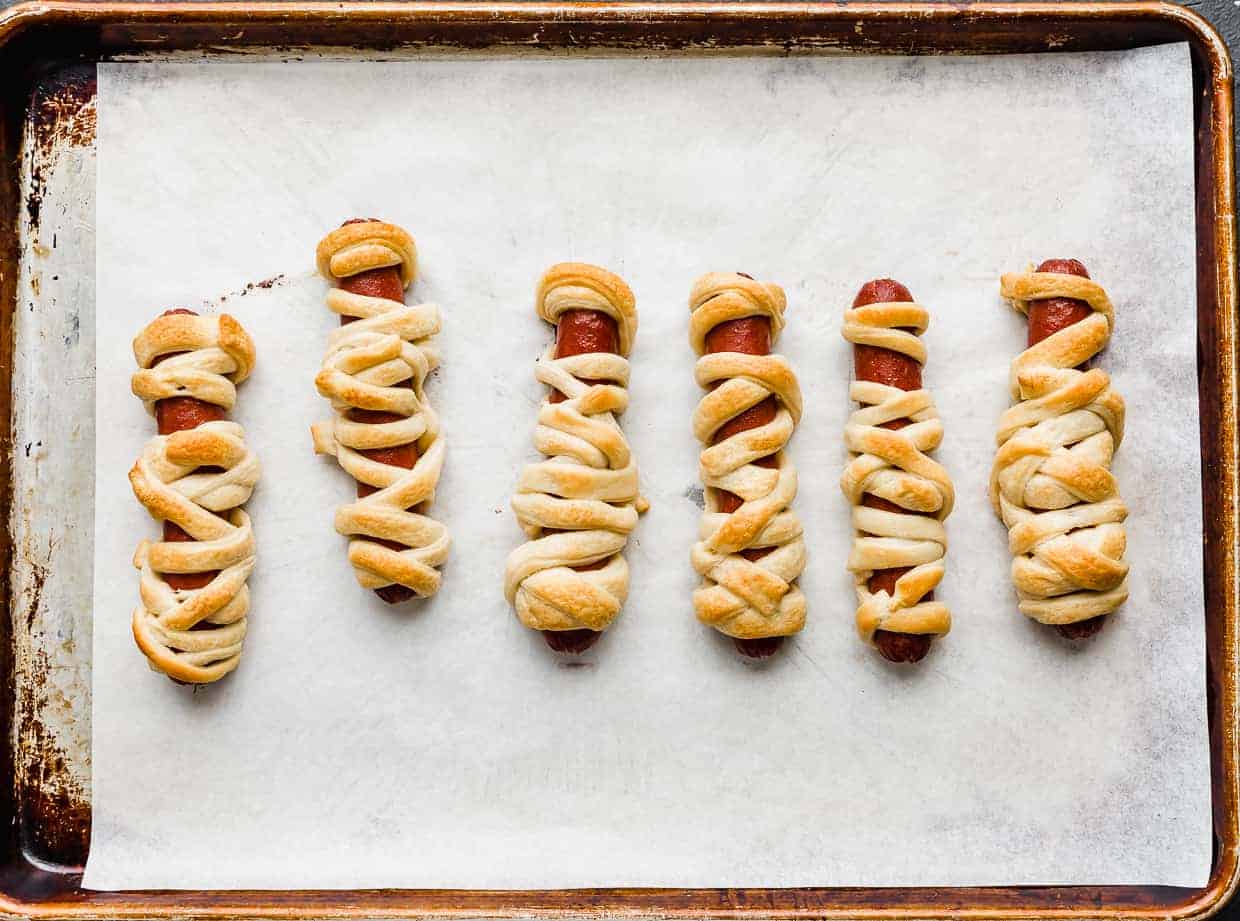 Add the mummy hot dog eyes. Take the cute candy eyes and dip the backs in mustard or ketchup and place them on the mummy hot dogs! Serve the hot dog mummies with ketchup and/or mustard. Enjoy!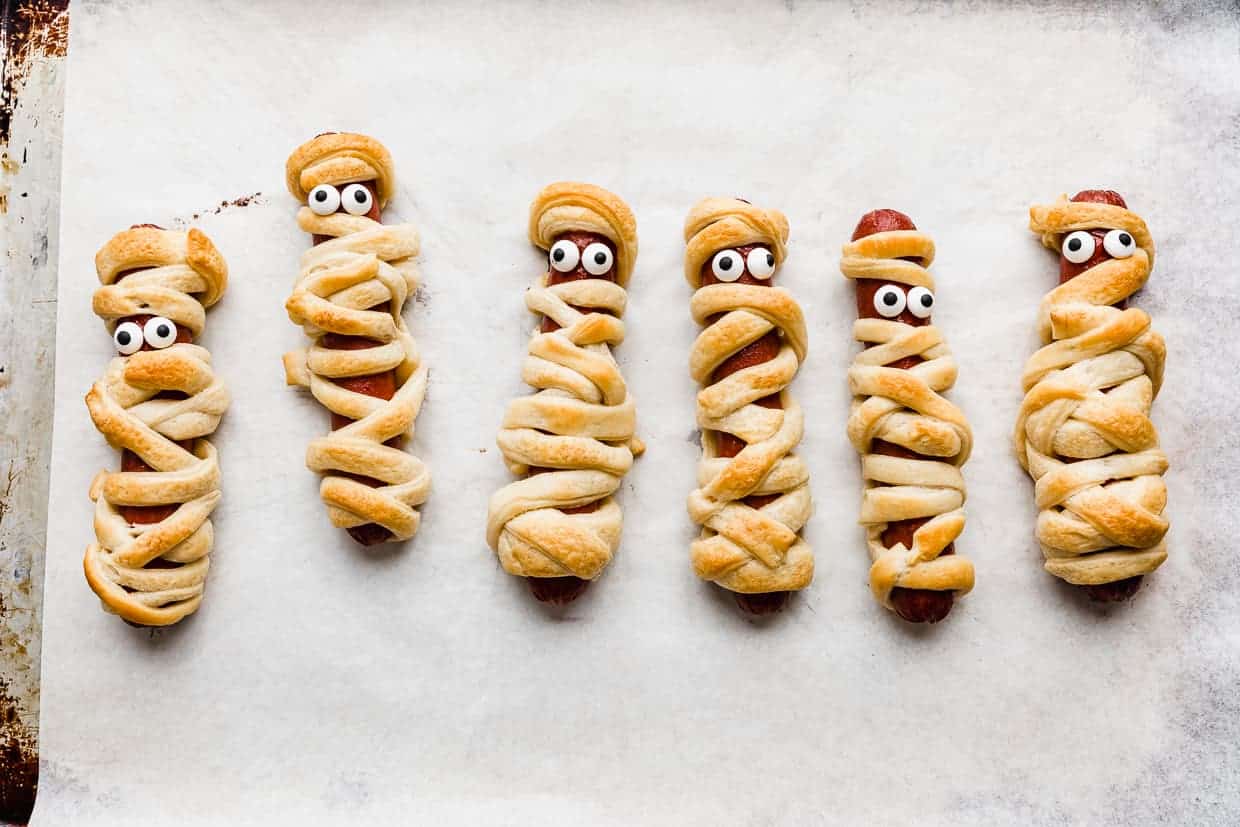 Recipe Tips
If you don't have candy eyeballs or do not wish to use them, you can use a little bit of ketchup or mustard for the eyes. Simply take a toothpick and dip it into the sauce and adding dots of mustard where eyes would go. Note that mustard or Dijon mustard will show up much better thanks to the darker color and thicker texture.
Use a pizza cutter to making cutting the pieces of dough much easier!
Add the mummy eyes after baking or else they'll melt in the oven!
You can add a slice of American cheese to your mummies by laying it on the underside of the hot dogs before wrapping it with dough.
Depending on how much of the crescent roll strips you use on each hot dog, you may have enough to cover 6-8 hot dogs.
When wrapping, it helps to keep some gaps so that the hot dog flesh will show through the bandages in several areas. It makes them look more mummy-like! 
Pair some mummies with Ghost Cupcakes for dessert!
Make Ahead, Storing, and Freezing
You can wrap the dogs up to a day in advance and keep them stored on a baking sheet covered in plastic wrap in the fridge until ready to bake. Then preheat the oven while the baking sheet sits on the counter and bake as directed.
Store leftover mummy dogs in the fridge in an airtight container for up to 3 days. Remove and reheat in the microwave or oven before eating.
Unopened packages of hot dogs will keep in the fridge for 2 weeks prior to opening. Opened hot dogs will keep up to a week in the fridge.
You can freeze hot dogs by keeping them in their sealed package and storing in the freezer for 1-2 months. Remove and let thaw in the fridge overnight.
To freeze mummy hot dogs, let cool completely and then store in an airtight container or ziplock bag. Freeze for up to 1 month. Remove and let thaw in the fridge overnight. Reheat in the oven.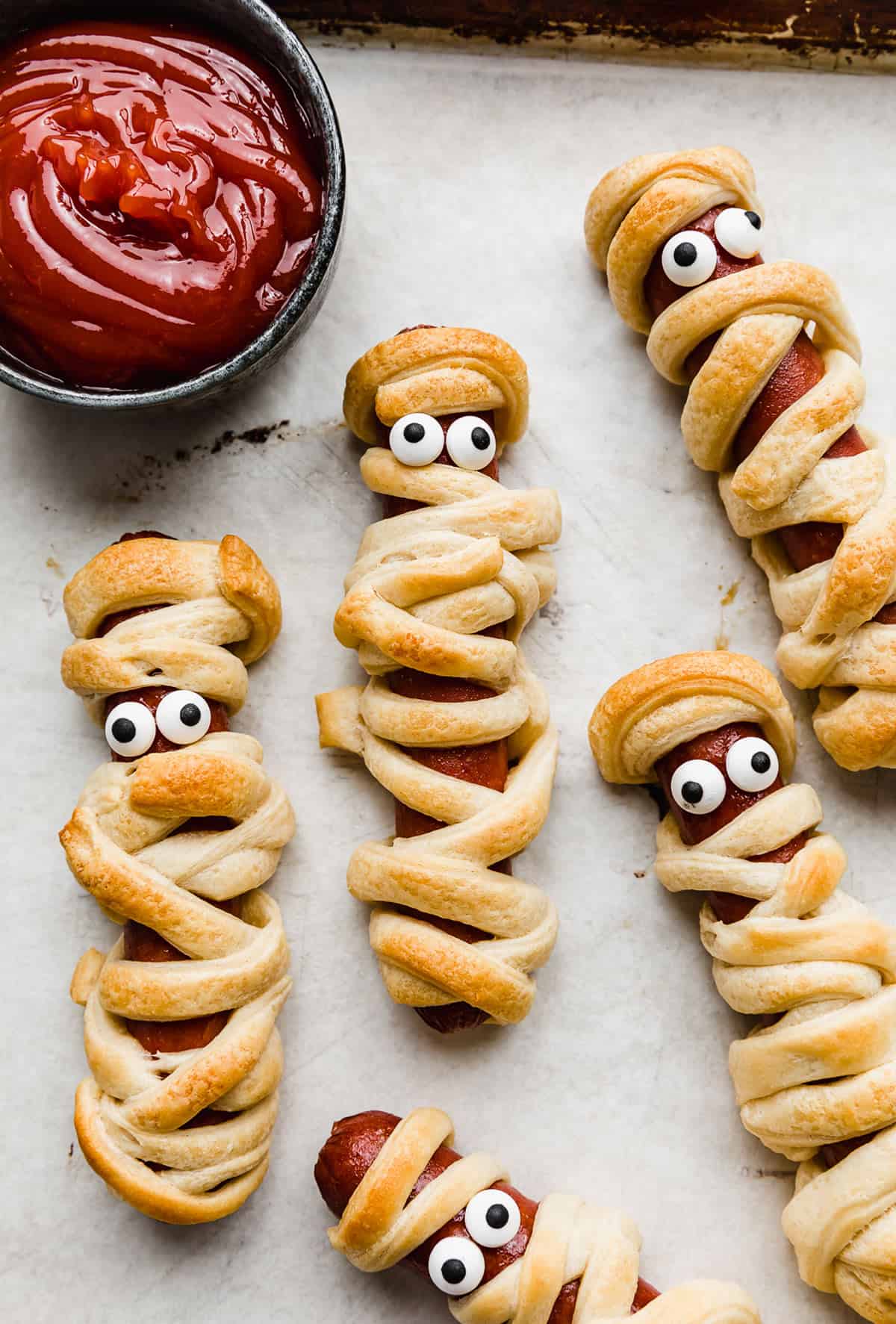 Recipe FAQs
How long are mummy dogs good for?
Mummy dogs are best eaten when fresh and warm from the oven, but the leftovers can be stored in an airtight container in the fridge for up to three days before being reheated and eaten.
How to make mini mummy hot dogs? 
You can make mummy weenies by using small cocktail weenies or by cutting regular hot dogs in half. 
Can you make mummy hot dogs ahead of time?
Yes you can. Simply wrap the hot dogs in the crescent dough strips and place on the baking sheet lined with parchment paper. Cover and store in the fridge for up to 1 day. Then following the baking instructions.
How to make mummy dogs without crescent dough?
If you cant find crescent rolls in your store you can always swap them out for puff pastry (thawed) or store-bought pizza dough. Both will give you similarly tasty results. Just make sure that the dough is cooked fully before serving.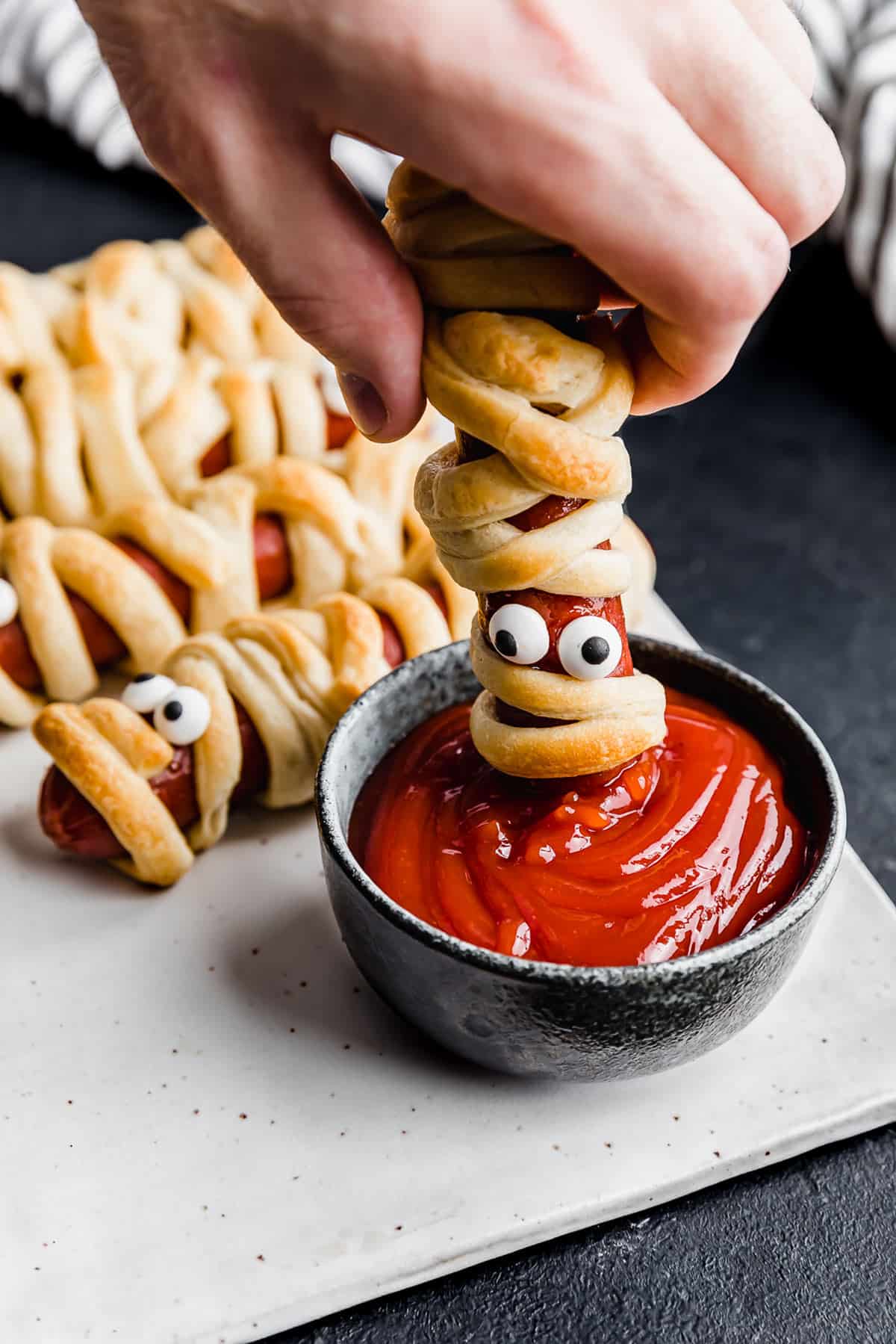 More Halloween Recipes
Mummy Hot Dogs
Hot dogs wrapped in crescent rolls to look like a mummy. Add eye candy and you have a cute mummy hot dog, perfect for Halloween! Everyone LOVES these!
Ingredients
6

hot dogs

-

see notes

8

oz

crescent roll tube

candy eyes

-

for topping
Instructions
Preheat oven to 375°F. Line a baking sheet with parchment paper or spray with nonstick cooking spray, set aside. 

Unroll crescent roll dough. Press on perforations to seal together. Cut dough into 1/4 "strips. 

Take the strips and wrap them around each hot dog, keeping gaps so that the hot dog flesh still shows through in several areas. Keep a small gap towards one end so that you can place the candy eyes after they have baked. Place the hot dog on the baking sheet. Continue wrapping the hot dogs until all have been partially covered to resemble a "mummy". 

Bake for 12-15 minutes or until the dough is golden brown and the hot dogs are warmed through. 

Remove from the oven. Place a dot of mustard or ketchup on the back of the candy eyes then stick the eyes on each of the mummy dogs. Eat warm. 
Notes
Depending on how much of the crescent roll strips you use on each hot dog, you may have enough to cover 6-8 hot dogs. 
If you do not have candy eyes you can dip a toothpick in mustard or Dijon mustard and poke the hot dog to create eyes.
Did you make this recipe?
Leave a star rating and review on the blog post letting me know how you liked this recipe! Take a picture and tag @saltandbaker on Instagram and Facebook so I can see what you're making!