Mummy Hot Dogs
This post may include affiliate links. As an Amazon Associate I earn from qualifying purchases.
These mummy hot dogs are a perfect lunch option or even appetizer as they're such a simple and fun treat for Halloween. Each Halloween hot dog is packed with a festive Halloween appearance and a delicious taste of flakey, buttery bandages wrapped around your favorite hot dogs.
More Halloween recipes to try include Halloween dirt cups and black velvet cupcakes.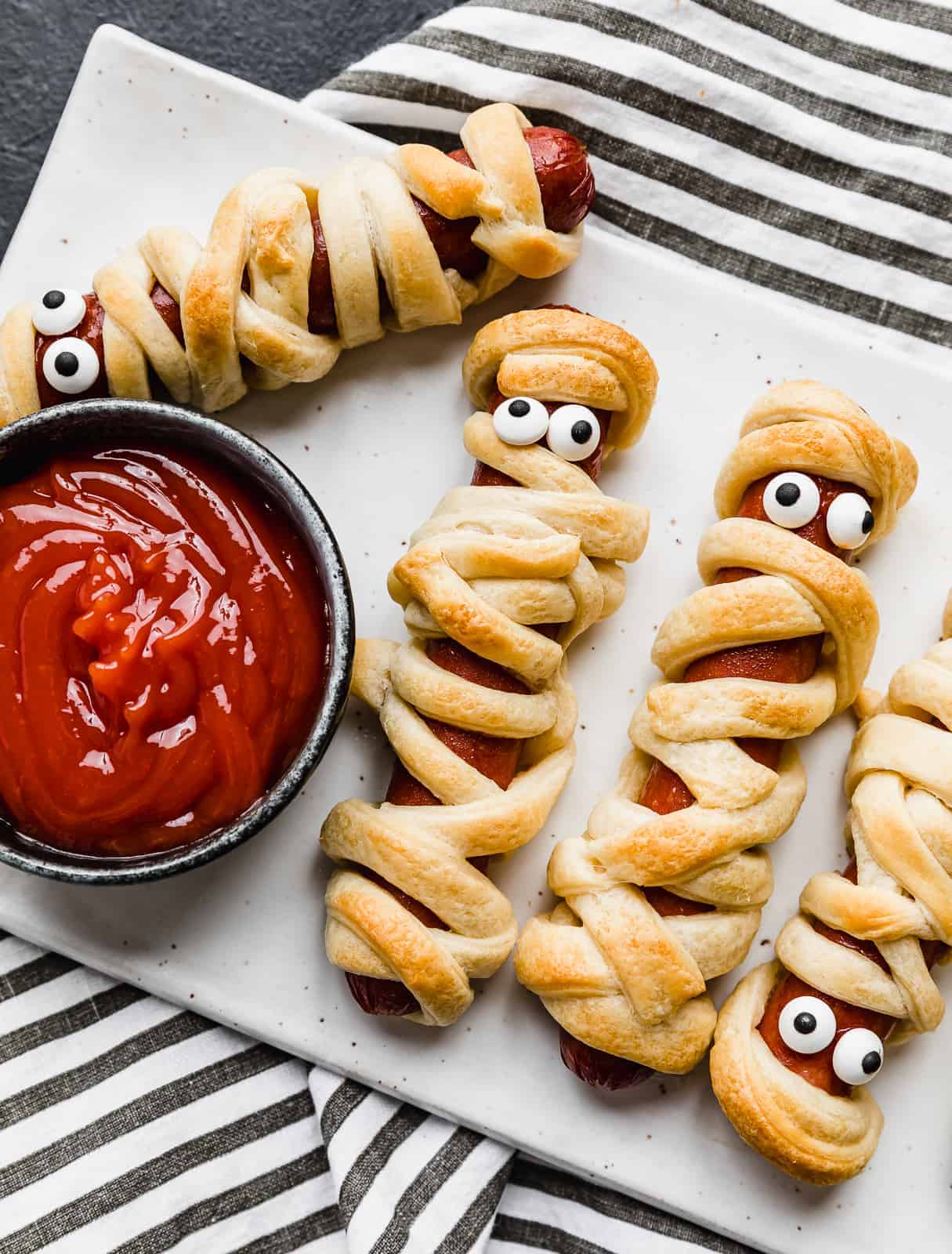 Why This Recipe Works
This recipe is a super simple and easy one to throw together and in about the same amount of time that it takes to preheat the oven you could be mostly finished with your mummy prep.
Unlike real mummies, these mummy hot dogs are sure to taste great and bring a smile to everyone's face. The candy eyes really help to make them look more fun and friendly.
Crescent mummy dogs would be a great recipe to serve up at Halloween themed parties because they're easy to grab and eat without utensils. Just make sure to offer some sauces for dipping. Our favorites are ketchup and mustard.
Ingredients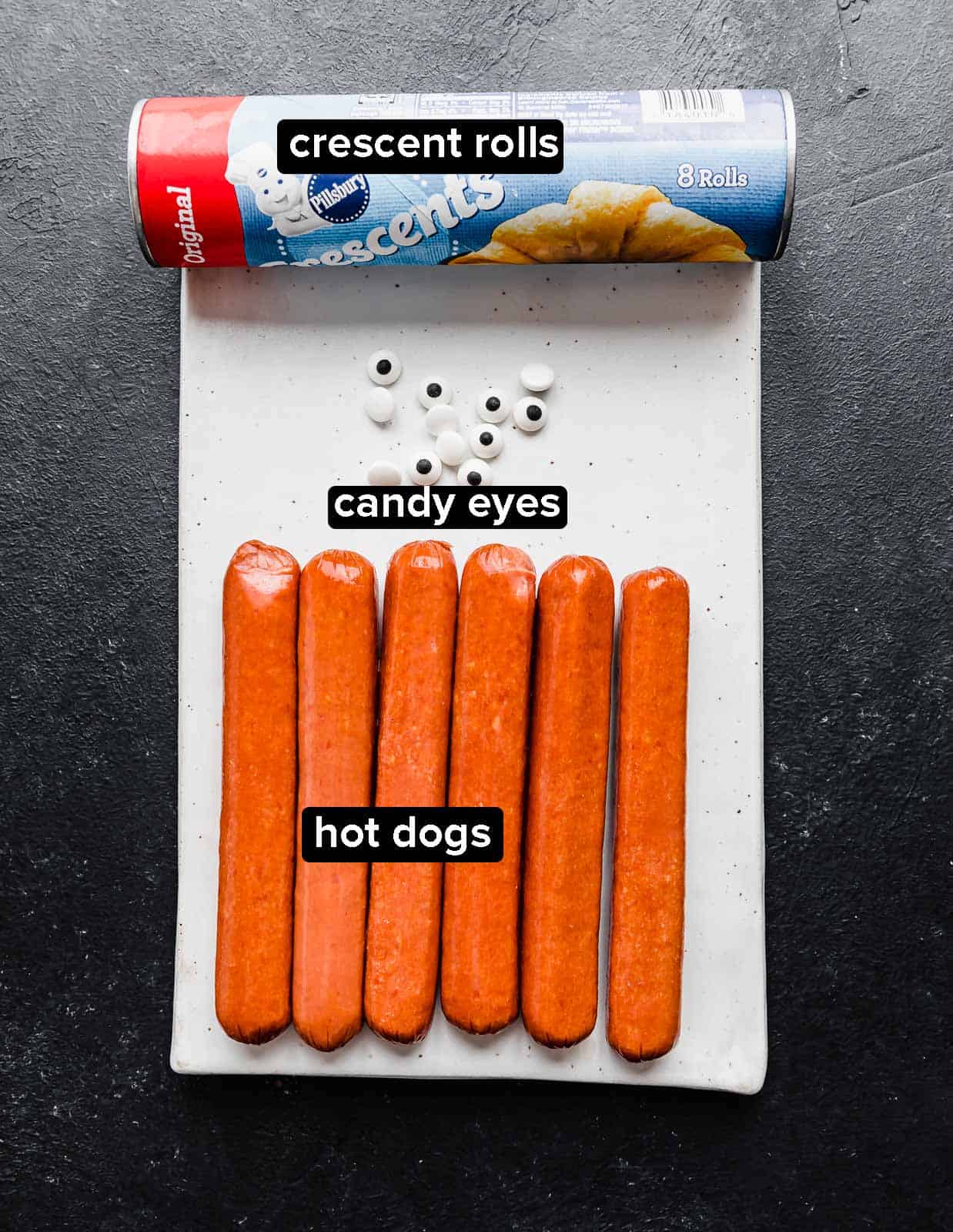 Hot dogs: You can use any hot dog that you prefer from the cheaper ones to the more expensive ones, they all turn out great. Beef, pork, chicken, and cheese dogs all turn out fabulously so pick whichever one you're in the mood for.
Crescent rolls: You will need a can of crescent rolls to give you enough dough for cutting into bandages for your mummies. You can use any brand preferred as they will all bake up the same.
Step-by-Step Instructions
Preheat your oven to 375 degrees F and line a baking sheet with parchment paper or spray with cooking spray before setting aside.
Unroll your canned crescent rolls and press on the perforations to seal the dough triangles together. Cut the dough into ¼ inch thick strips.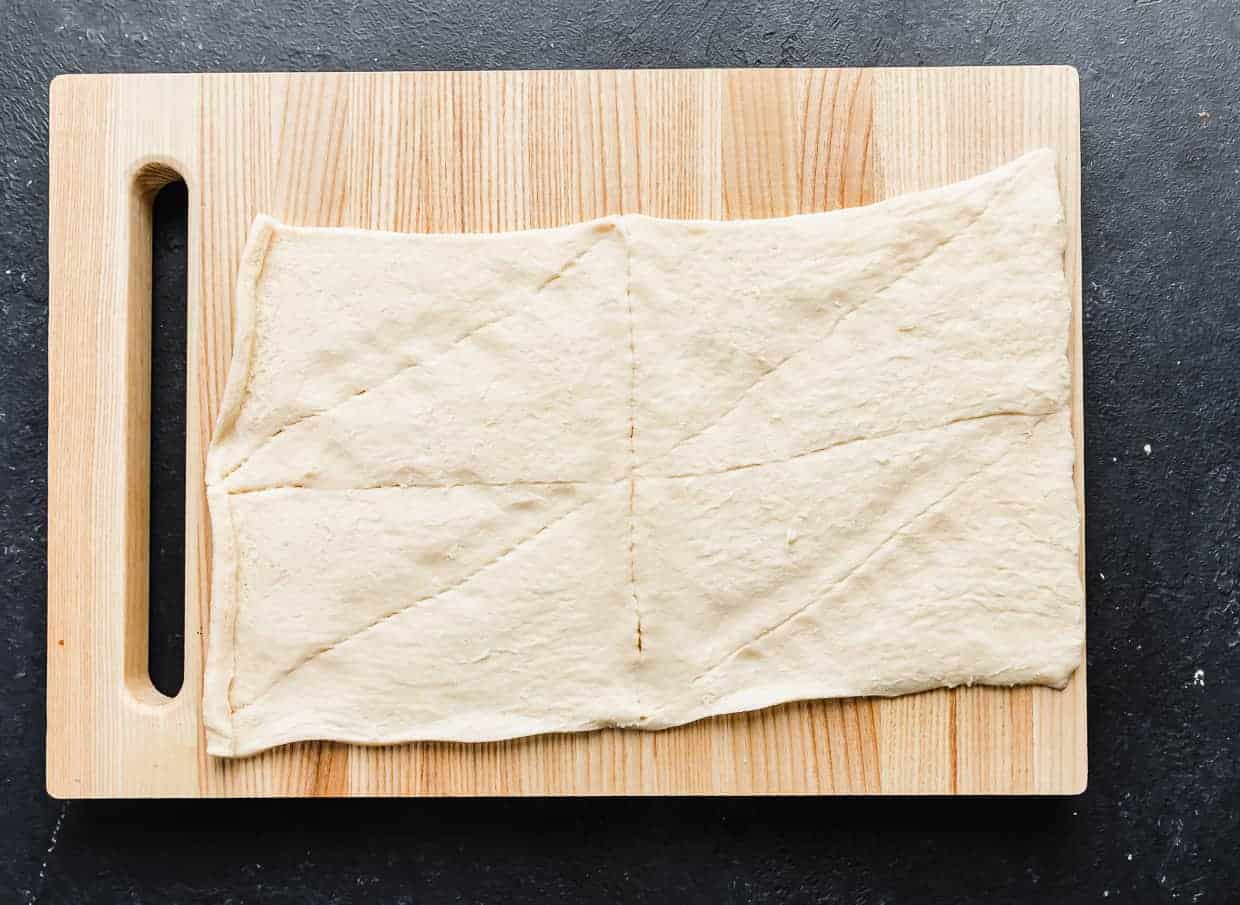 Take your strips of dough and wrap them around each hot dog, keeping gaps so that the hot dog flesh will show through the bandages in several areas. Also, keep a gap at the top of the dog where the eyes will go so that you can place the candy eyes there after it has been baked.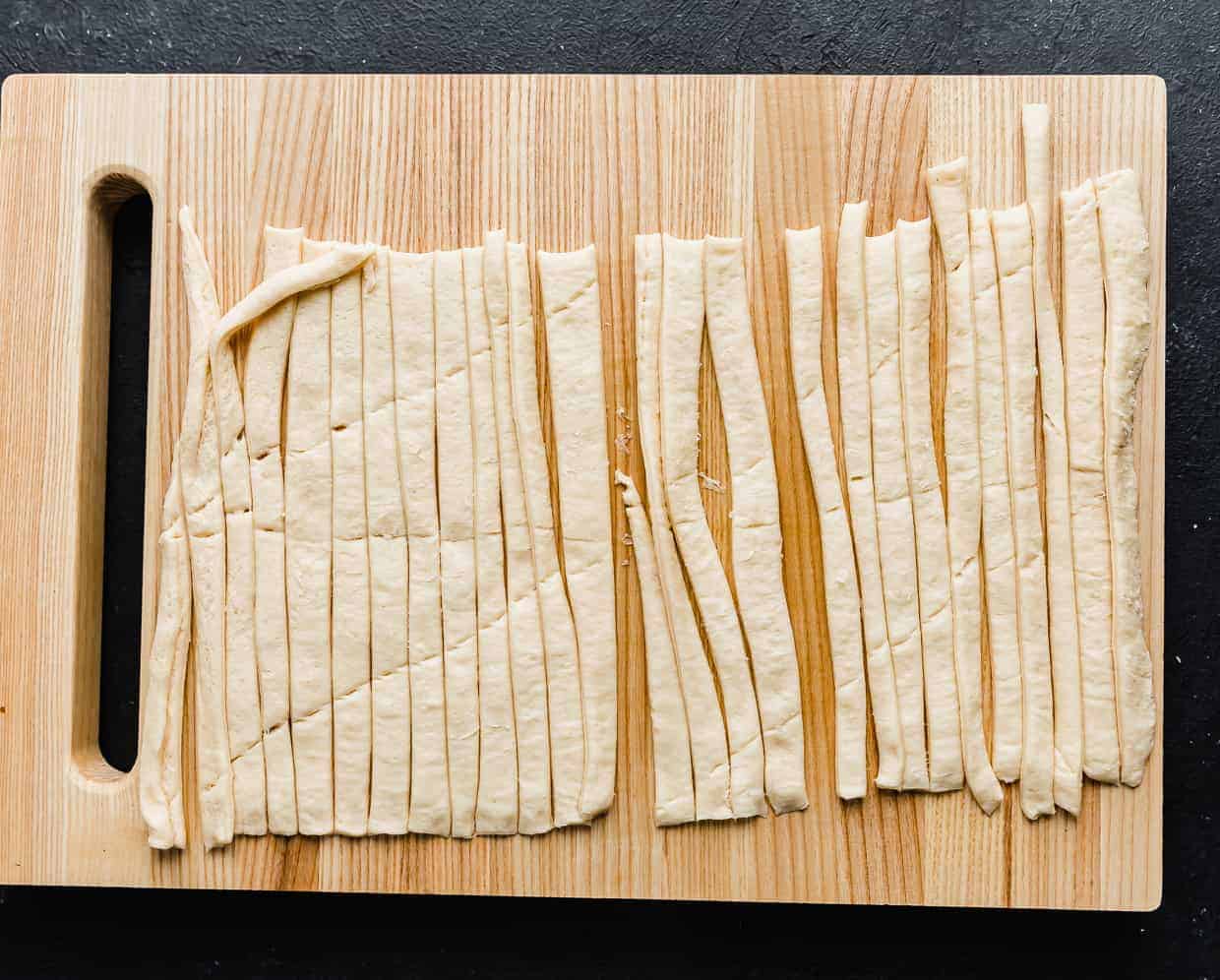 Place your mummies on the prepared baking sheet and repeat until all of the mummies have been wrapped.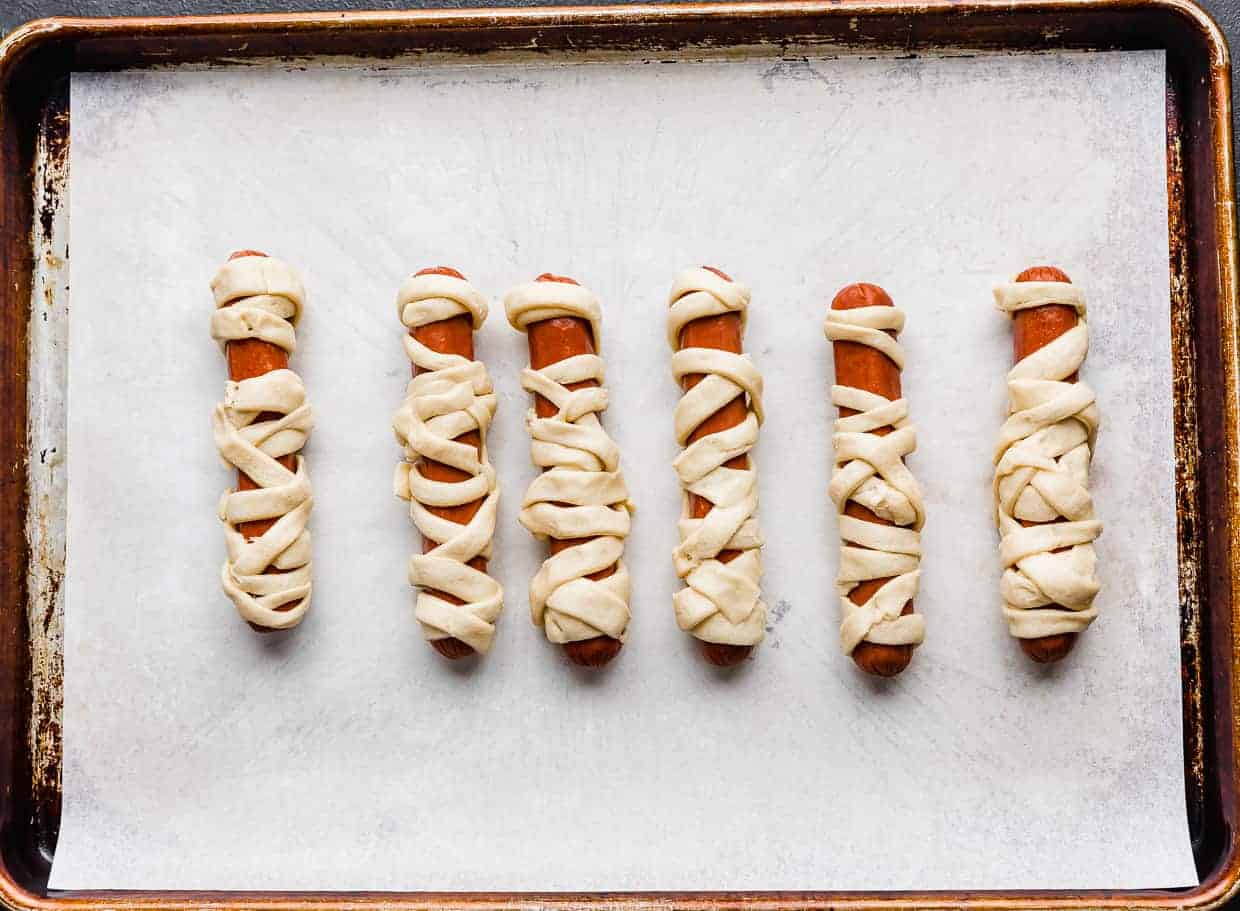 Bake in the oven for 12-15 minutes or until the dough looks golden brown and the hot dogs are warmed all of the way through.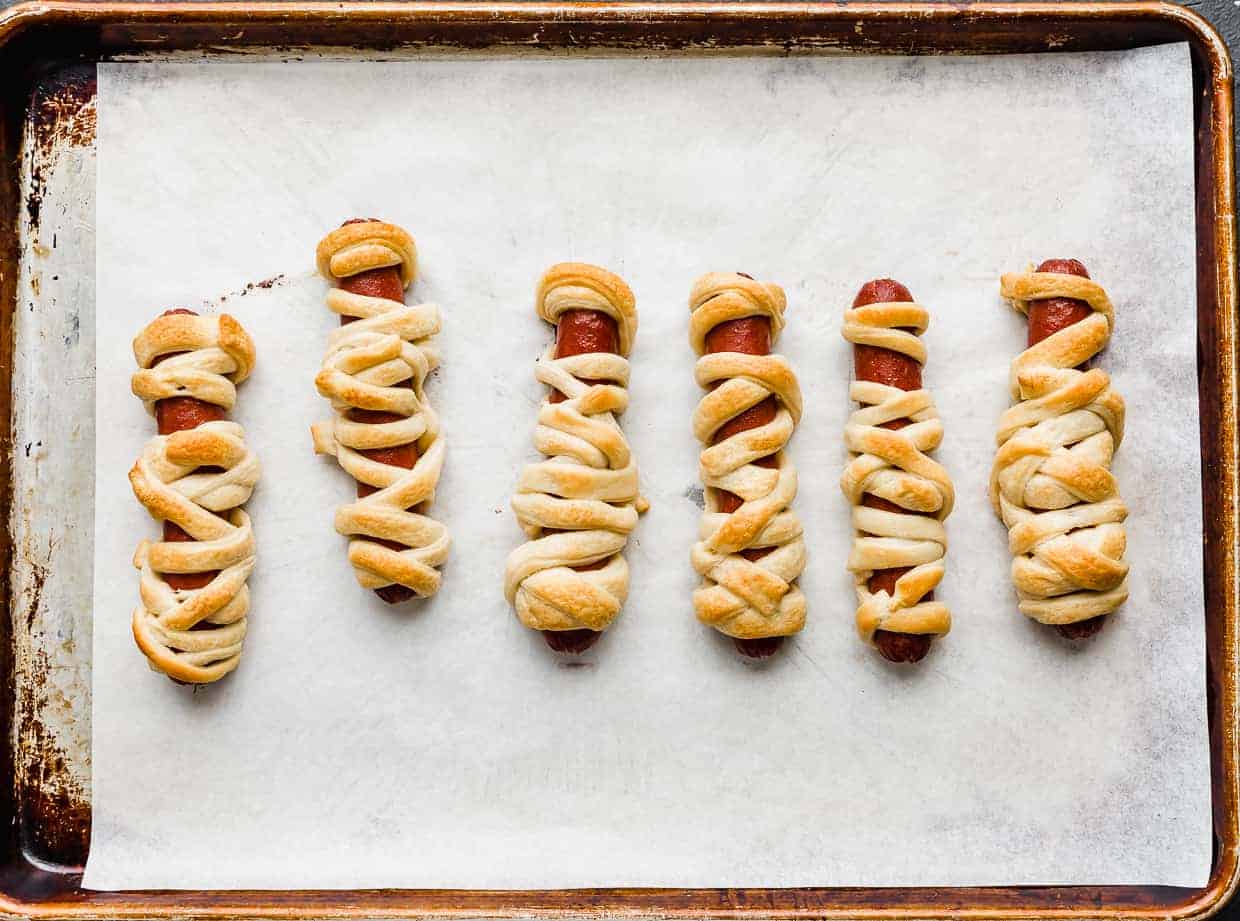 Remove the tray from the oven and place a dot of mustard or ketchup on the back of the candy eyes so that they will stick. Place the eyes on the mummies. Serve warm.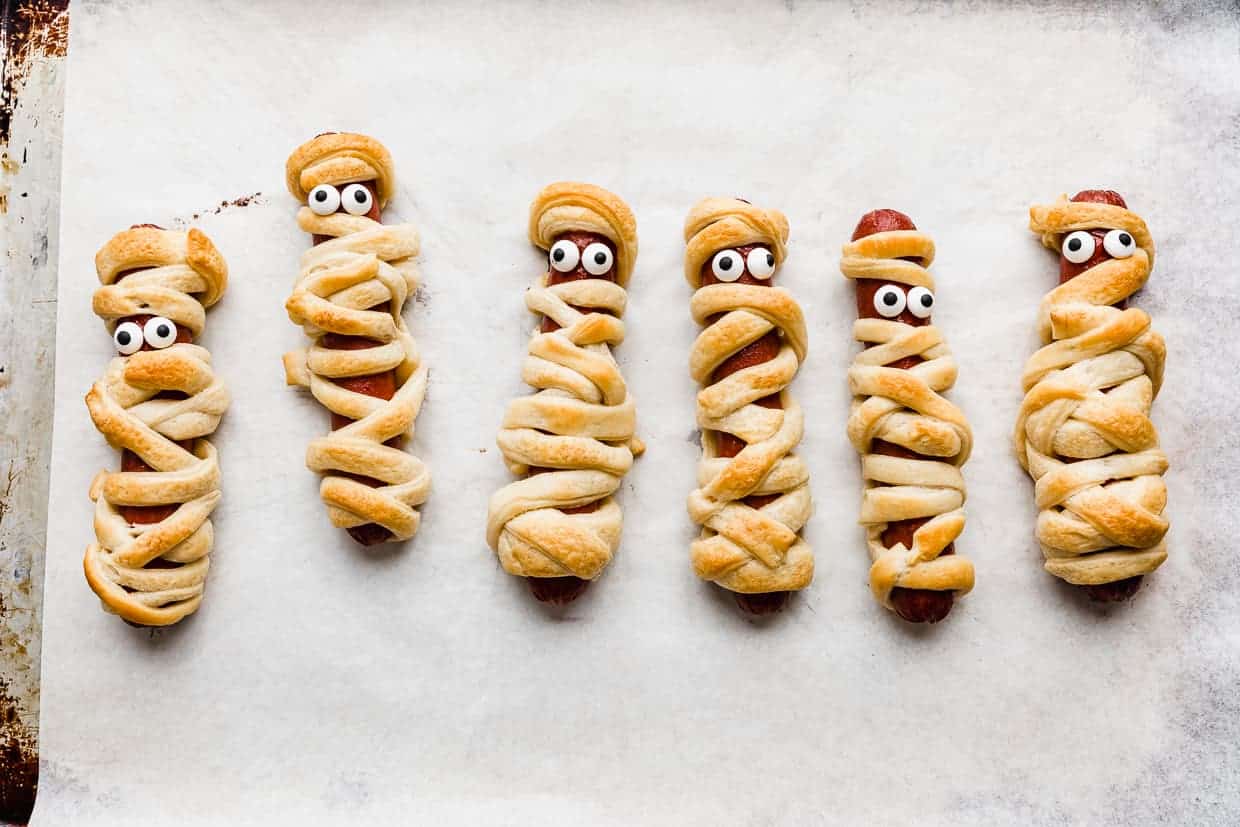 Recipe Tips
Eyes. If you do not have candy eyeballs or do not wish to use them you can use a little bit of ketchup or mustard for the eyes. Simply take a toothpick and dip it into the sauce before poking it onto the mummy dog where the eyes should go. Note that mustard or Dijon mustard will show up much better thanks to the darker color and thicker texture.
Make ahead. You can wrap the dogs up to a day in advance and keep them stored on a baking sheet covered in plastic wrap in the fridge until ready to bake. Then preheat the oven while the baking sheet sits on the counter and bake as directed.
Cheese. You can add a slice of American cheese to your mummies by laying it on the underside of the hot dogs before wrapping it with dough.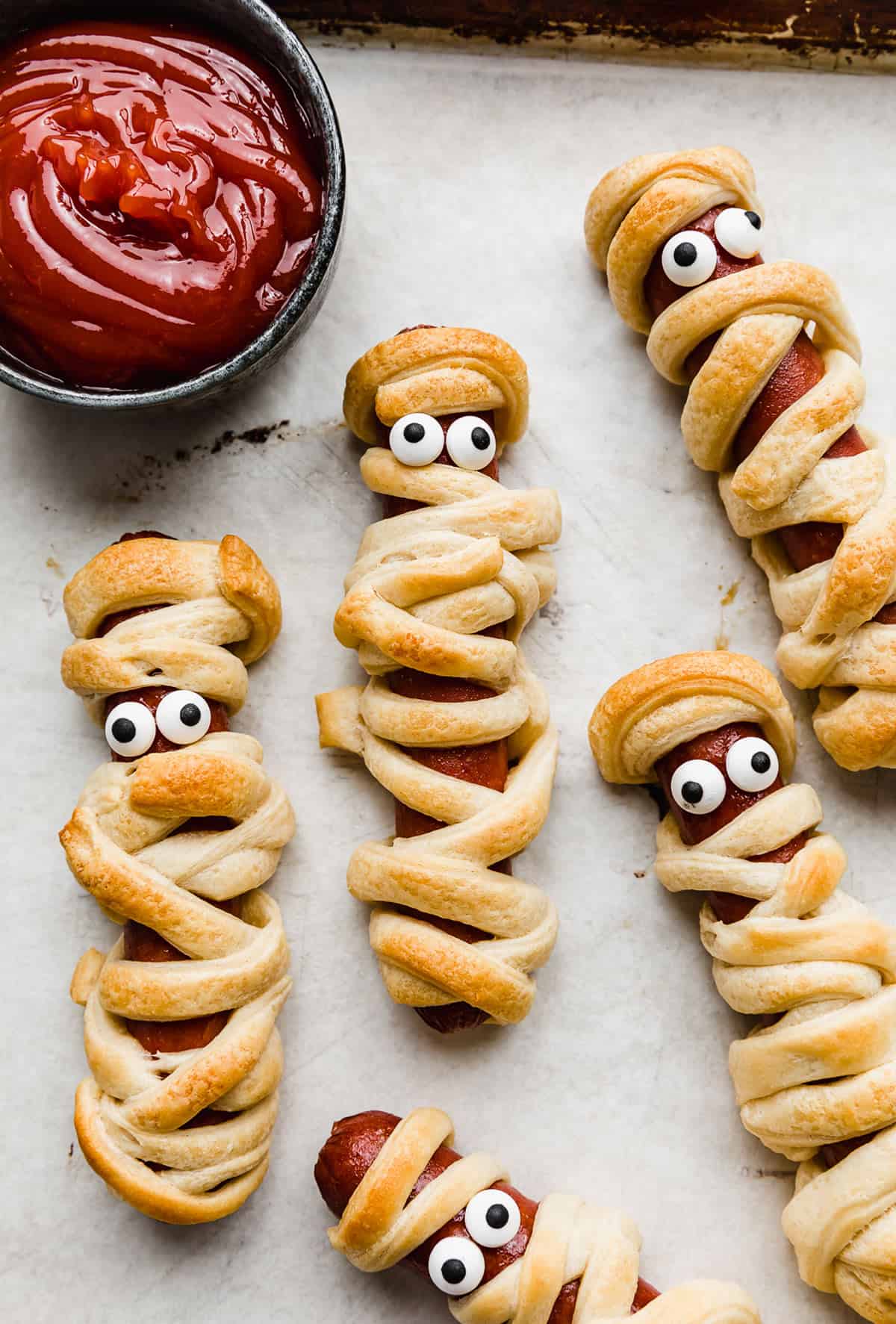 FAQs
How long are mummy dogs good for?
Your mummies are best eaten when fresh and warm from the oven but the leftovers can be stored in an airtight container in the fridge for up to three days before being reheated and eaten.
Can I make mini mummy dogs?
Yes, you can make them much smaller by cutting each hot dog in half. Or you can simply use small cocktail weenies instead of hot dogs.
How to make mummy dogs without crescent dough
If you cant find crescent rolls in your store you can always swap them out for puff pastry (thawed) or pizza dough. Both will give you similarly tasty results. Just make sure that the dough is cooked fully before serving your mummies.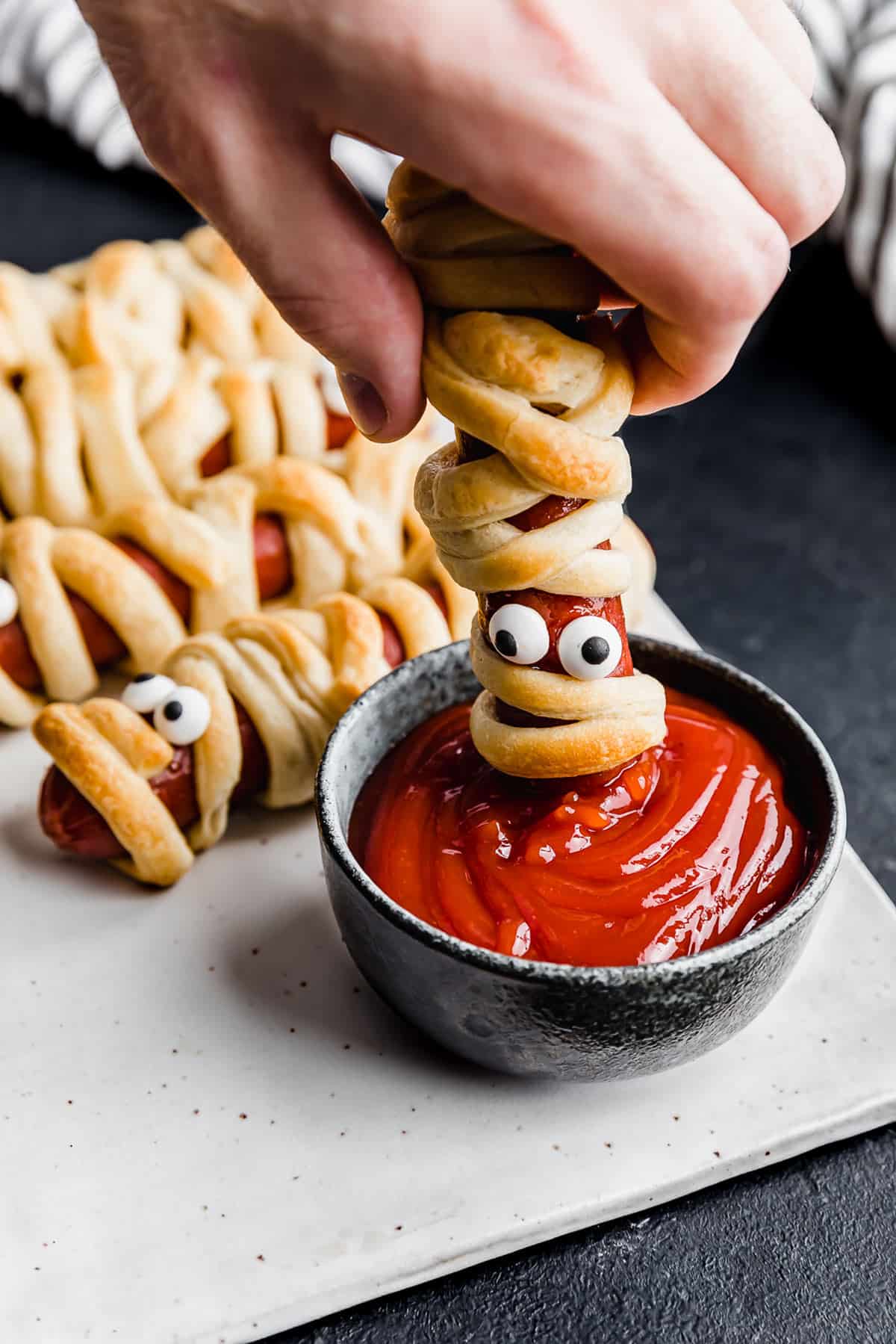 More Halloween Recipes
Did you make this recipe? I'd love to hear about it! Click here to leave a rating and review, or scroll below the recipe card and do so there.
Stay up-to-date by following us on Instagram, Facebook, and Pinterest.
Mummy Hot Dogs
Hot dogs wrapped in crescent rolls to look like a mummy. Add eye candy and you have a cute mummy hot dog, perfect for Halloween! Everyone LOVES these!
Ingredients
6

hot dogs

-

see notes

8

oz

crescent roll tube

candy eyes

-

for topping
Instructions
Preheat oven to 375°F. Line a baking sheet with parchment paper or spray with nonstick cooking spray, set aside. 

Unroll crescent roll dough. Press on perforations to seal together. Cut dough into 1/4 "strips. 

Take the strips and wrap them around each hot dog, keeping gaps so that the hot dog flesh still shows through in several areas. Keep a small gap towards one end so that you can place the candy eyes after they have baked. Place the hot dog on the baking sheet. Continue wrapping the hot dogs until all have been partially covered to resemble a "mummy". 

Bake for 12-15 minutes or until the dough is golden brown and the hot dogs are warmed through. 

Remove from the oven. Place a dot of mustard or ketchup on the back of the candy eyes then stick the eyes on each of the mummy dogs. Eat warm. 
Notes
Depending on how much of the crescent roll strips you use on each hot dog, you may have enough to cover 6-8 hot dogs. 
If you do not have candy eyes you can dip a toothpick in mustard or Dijon mustard and poke the hot dog to create eyes.
Did you make this recipe?
Leave a star rating and review on the blog post letting me know how you liked this recipe! Take a picture and tag @saltandbaker on Instagram and Facebook so I can see what you're making!