Oreo Truffle Brownies
This post may include affiliate links. As an Amazon Associate I earn from qualifying purchases.
If you love Oreo Truffles and brownies then you will go crazy for these Oreo Truffle Brownies! A baked brownie mix is spruced up with a layer of Oreo truffle (Oreo crumbs + cream cheese) all topped with a smooth chocolate ganache! 
Doctoring up a brownie mix is one of my secret weapons when it comes to making treats for a family gathering, providing desserts for a potluck dinner, or taking treats to families in need. All you need is a brownie mix and a some creative flavors to make them ultra delicious!
Take my Buckeye Brownies, for example! Adding that layer of peanut butter goodness on top of the brownie base makes a boxed brownie mix sing! You can also add a layer of Oreos in between brownie mix and top with Oreo pieces as in my Fudgy Oreo Brownies!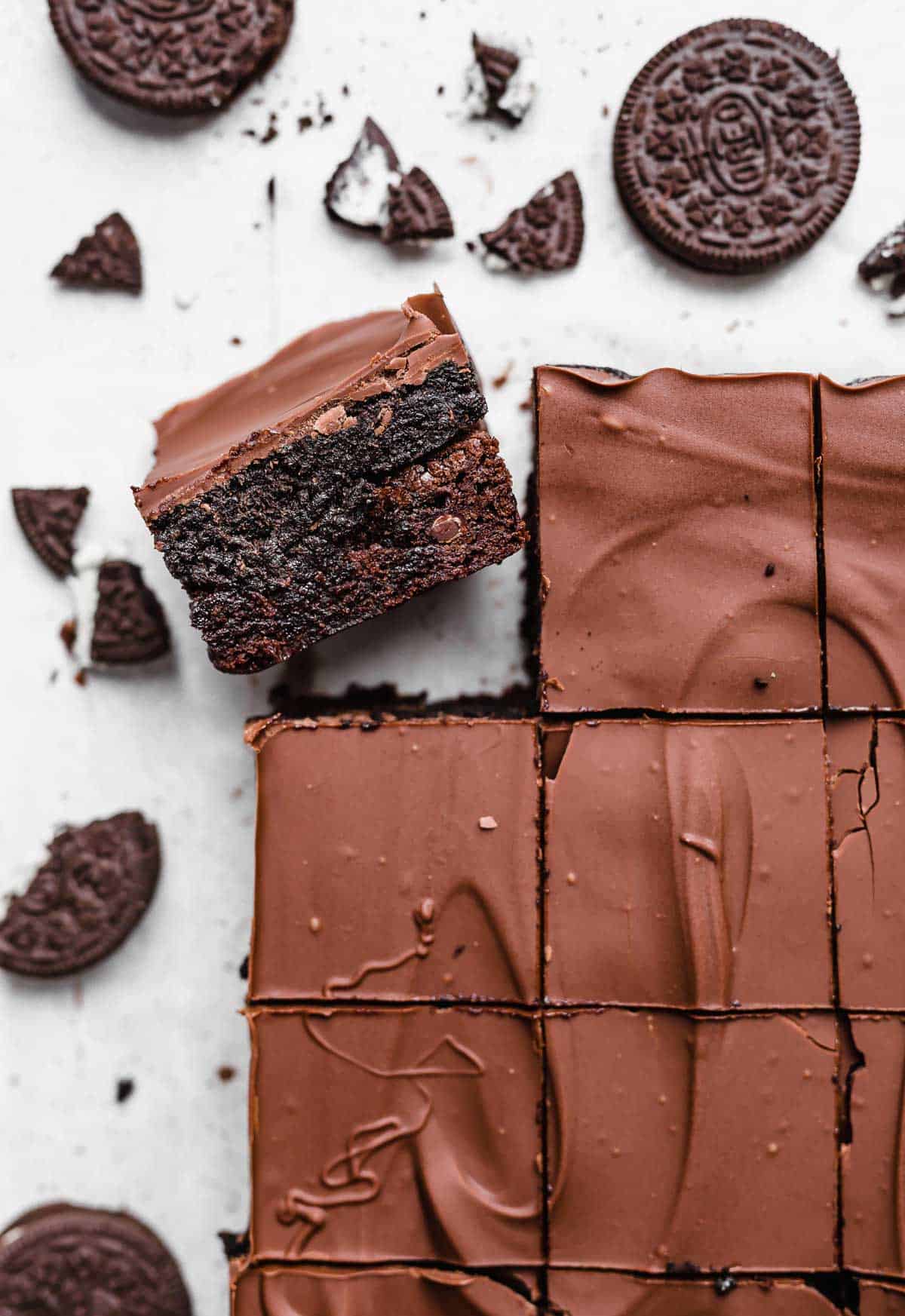 Why This Recipe Works
Doctored brownie mix. I love this truffle brownies recipe because it's a great way to spruce up a brownie mix! Adding the Oreo layer and the chocolate layer sends these over the top.
Best Oreo brownies! Not only are these Oreo Truffle Brownies easy to make (thank you brownie mix!) but they are insanely delicious! Everyone will be asking you for the recipe.
Easy dessert recipe. Using a brownie mix makes throwing these Oreo brownies together super easy — without sacrificing on presentation or flavor!
Ingredient Notes
Oreos: Feel free to use doubled stuffed Oreos or regular Oreos. You'll need about 26 Oreo cookies. 
Cream Cheese: You'll want the cream cheese to be really softened so it is easier to mix with the Oreo crumbs. 
Chocolate Chips: I find that using a combination of milk chocolate chips and semi sweet chocolate chips provides the best chocolate ganache! 
1 Brownie Mix: I love using the Ghirardelli Brownie Mix! It's my favorite. You'll need the mix as well as the ingredients listed on the box. 
Step-by-Step Instructions
Make the brownies. Follow the directions on the package for making brownies. Bake in an 8×8-inch pan lined with parchment paper. Let cool.
Make the Oreo truffle. Add 26 Oreos (keep the filling in) to a food processor and pulse until they become fine crumbs. Add the crushed Oreos and 6 oz cream cheese to a medium sized bowl. Mix until combined. Gently spread on top of the cooled brownies.
Make the chocolate ganache. Place 1 1/4 cups milk chocolate chips, 1/4 cup semi sweet chocolate chips and 1 T coconut oil into a microwave safe bowl. Microwave for 15-20 second increments, stirring after each, until the mixture is melted and smooth. Pour the melted chocolate on top of the Oreo truffle layer. 
Chill then serve! Let the Oreo truffle brownies set in the fridge. Remove the brownies from the pan by grabbing the parchment paper. Cut and serve! Enjoy!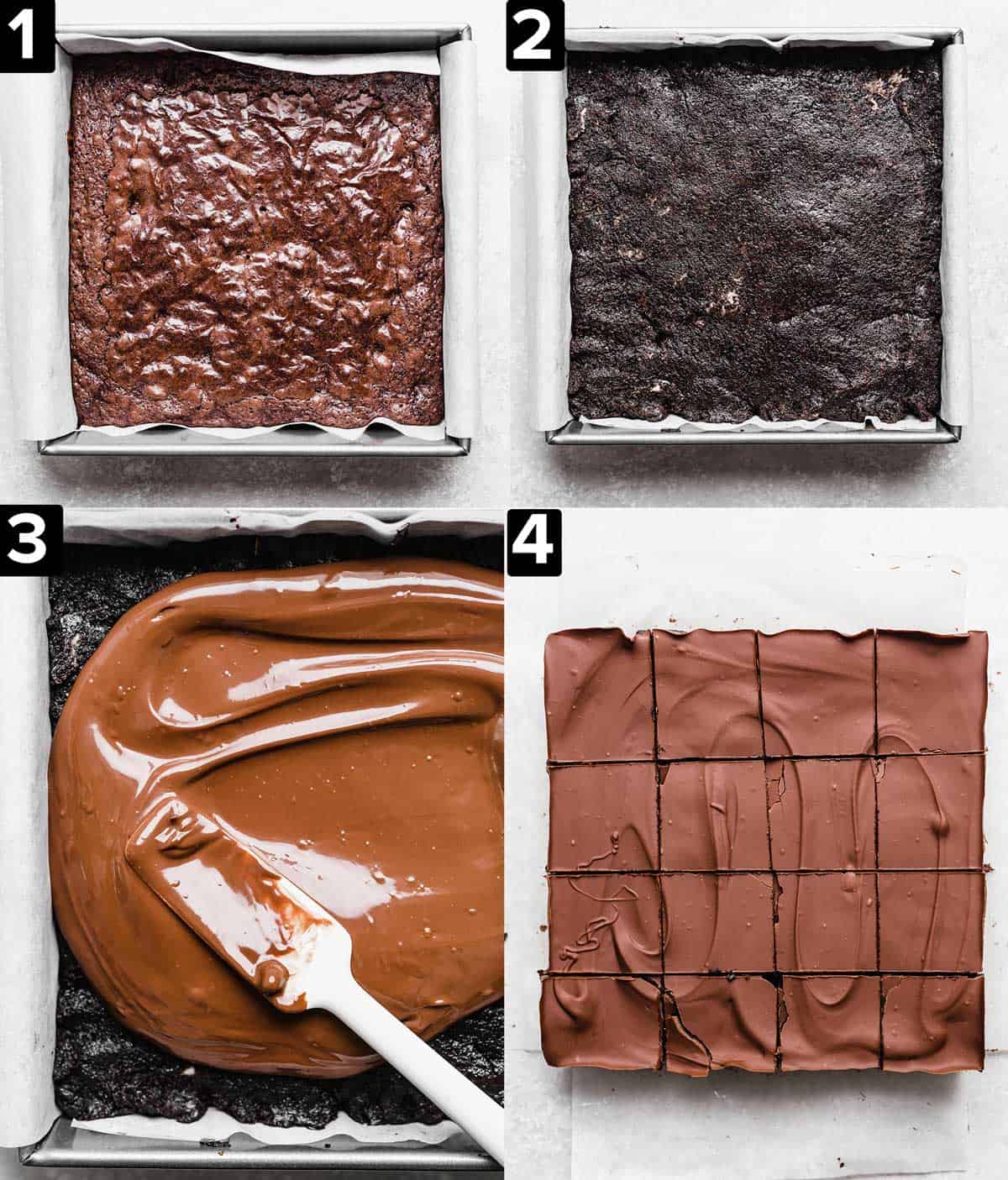 Recipe Tips
For easier removal, line the brownie pan with parchment paper.
Make sure the cream cheese is really room temperature, it will make mixing into the Oreo crumbs easier. I also like to just use clean hands to press the Oreo and cream cheese mixture on top of the baked brownies. It's much easier than use a spoon or rubber spatula.
If you don't have a food processor, you can add the Oreos to a ziplock bag and use a rolling pin to crush Oreos.
Be sure to let the ganache topping set or else it will just drip down the sides instead of giving you those nice lines.
I actually love eating these Oreo Truffle Brownies chilled! The ganache topping doesn't get hard, your teeth just sink right through it!
This recipe is super easy, partially because we use a brownie mix. If you'd rather make homemade brownies you can opt to do that instead.
Make Ahead, Storing, and Freezing
You can make the brownies a day in advance and then make the Oreo truffle topping and ganache on the next day.
Store Oreo truffle brownies in an airtight container in the fridge for 3-5 days. They need to be refrigerated due to the cream cheese in the truffle layer.
To freeze, I would let the brownies set, then cut into squares. Wrap each square in plastic wrap and store in an airtight container or freezer-safe ziplock bag. Store in the freezer for up to 2 months. Remove and let thaw. Enjoy!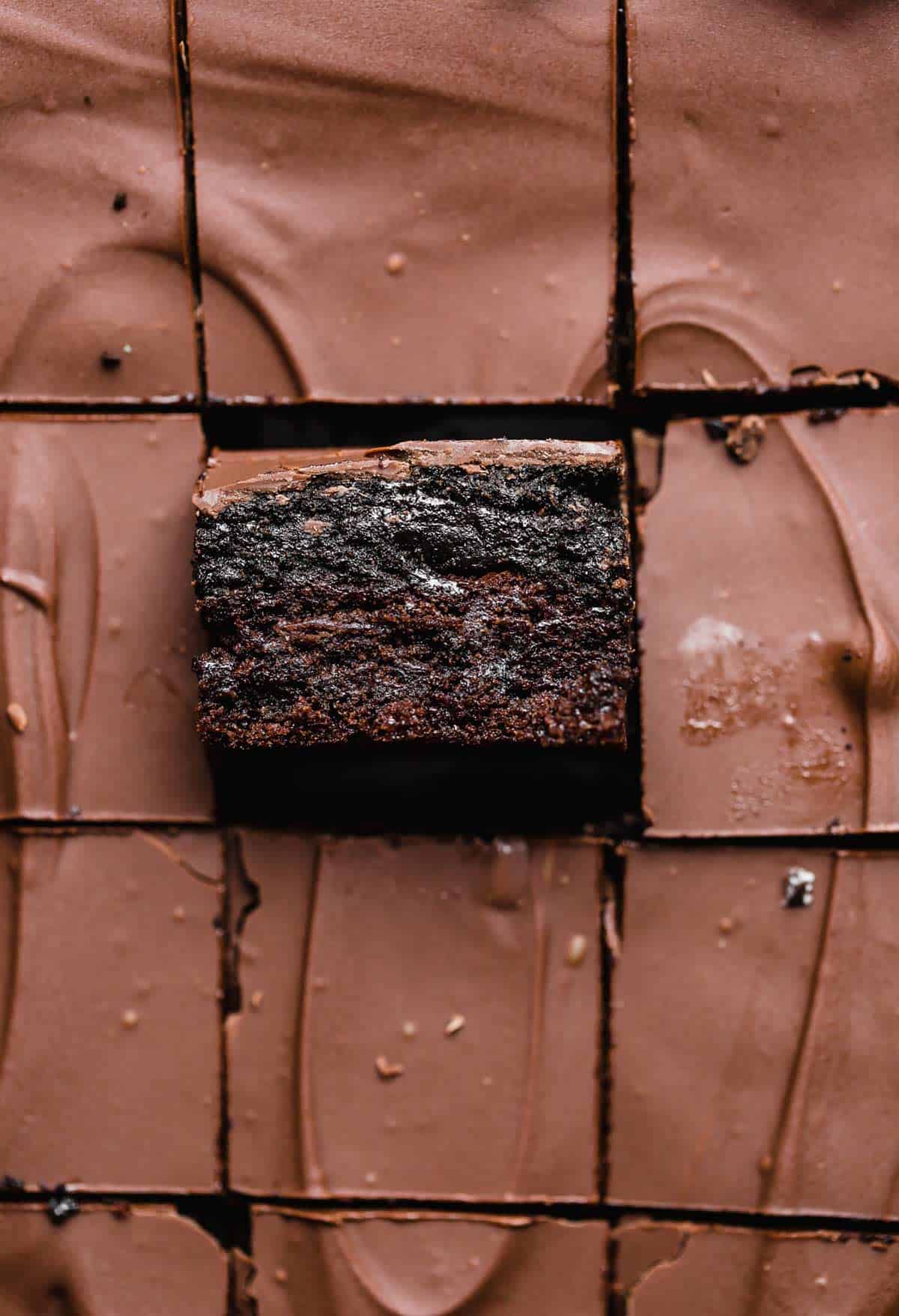 Recipe FAQs
Do I need brownie mix to make this recipe?
No, you can use a homemade brownie recipe, but the boxed brownies simplifies the recipe and saves time.
How many servings does this make?
Depends on the size of brownie you cut, but as you can see in the photo above, I calculated it made 16 brownies.
What is an Oreo Truffle Brownie?
Oreo Truffle Brownies are made with a layer of brownies, topped with an Oreo truffle mixture (think crushed Oreos + cream cheese) all topped with a smooth and delicious chocolate ganache! 
Do I need to refrigerate these Oreo Truffle Brownies?
Yes. Because of the Oreo truffle layer (which has cream cheese), you'll want to store these in the fridge.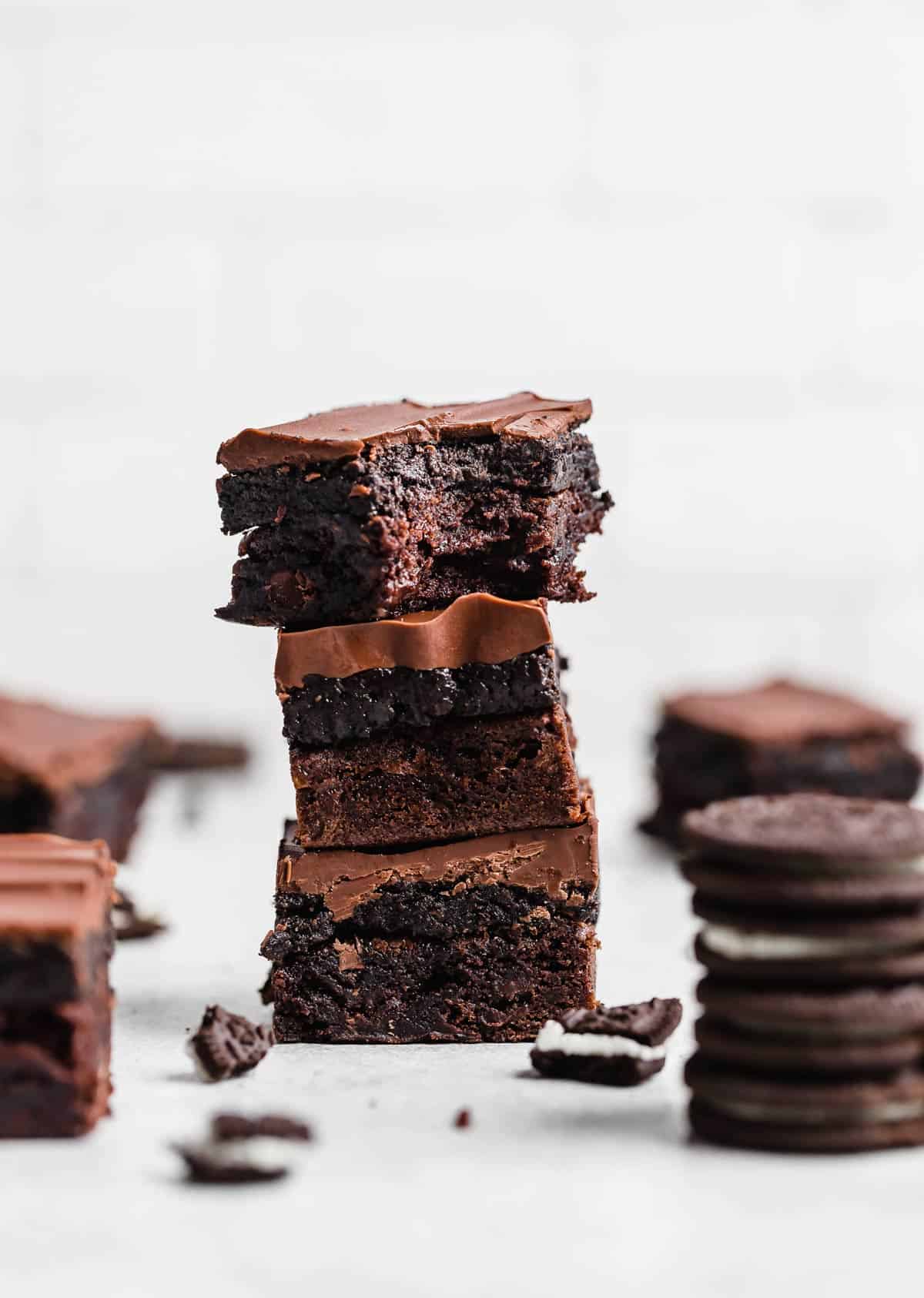 More Oreo and Brownie Recipes
Oreo Truffle Brownies
This recipe features a rich and fudgy chocolate brownie topped with a creamy layer of irresistible Oreo truffle, and deliciously smooth melted chocolate ganache.
Ingredients
1

package

Ghirardelli brownie mix

-

plus ingredients needed to make them
Oreo Truffle
26

Oreos

-

double stuf or regular is fine

6

oz

cream cheese

-

softened
Instructions
Make the brownies according to package directions. I baked mine in an 8×8 inch brownie pan. Bake and cool.

Make Oreo truffle: In a medium sized bowl mix the crushed Oreos and cream cheese until combined. Use a wooden spoon or your hands, whatever you'd like. 

When brownies have cooled, spread/gently press the Oreo truffle overtop of the brownies. 

Make chocolate topping: Place chocolate chips and coconut oil in medium sized microwave safe bowl. Microwave on half power in 20-30 second increments, stirring well after each interval. Continue until fully melted and smooth.

Pour the chocolate topping over the Oreo truffle layer. Let set before serving. (Can place in fridge to speed up process). 
Notes
Store brownies in the fridge due to the cream cheese in the truffle layer. 
Calories do not include the brownie portion. 
Did you make this recipe?
Leave a star rating and review on the blog post letting me know how you liked this recipe! Take a picture and tag @saltandbaker on Instagram and Facebook so I can see what you're making!