Buckeye Brownies
This post may include affiliate links. As an Amazon Associate I earn from qualifying purchases.
Buckeye Brownies uses a brownie mix, topped with a sweetened peanut butter filling then covered in a smooth and rich chocolate ganache. These brownies will be your new favorite!
These brownies taste just like Buckeye Balls! They are made with a brownie mix doctored up! You can find more doctored brownie recipe you can try like my Fudgy Oreo Brownies, and my Oreo Truffle Brownies.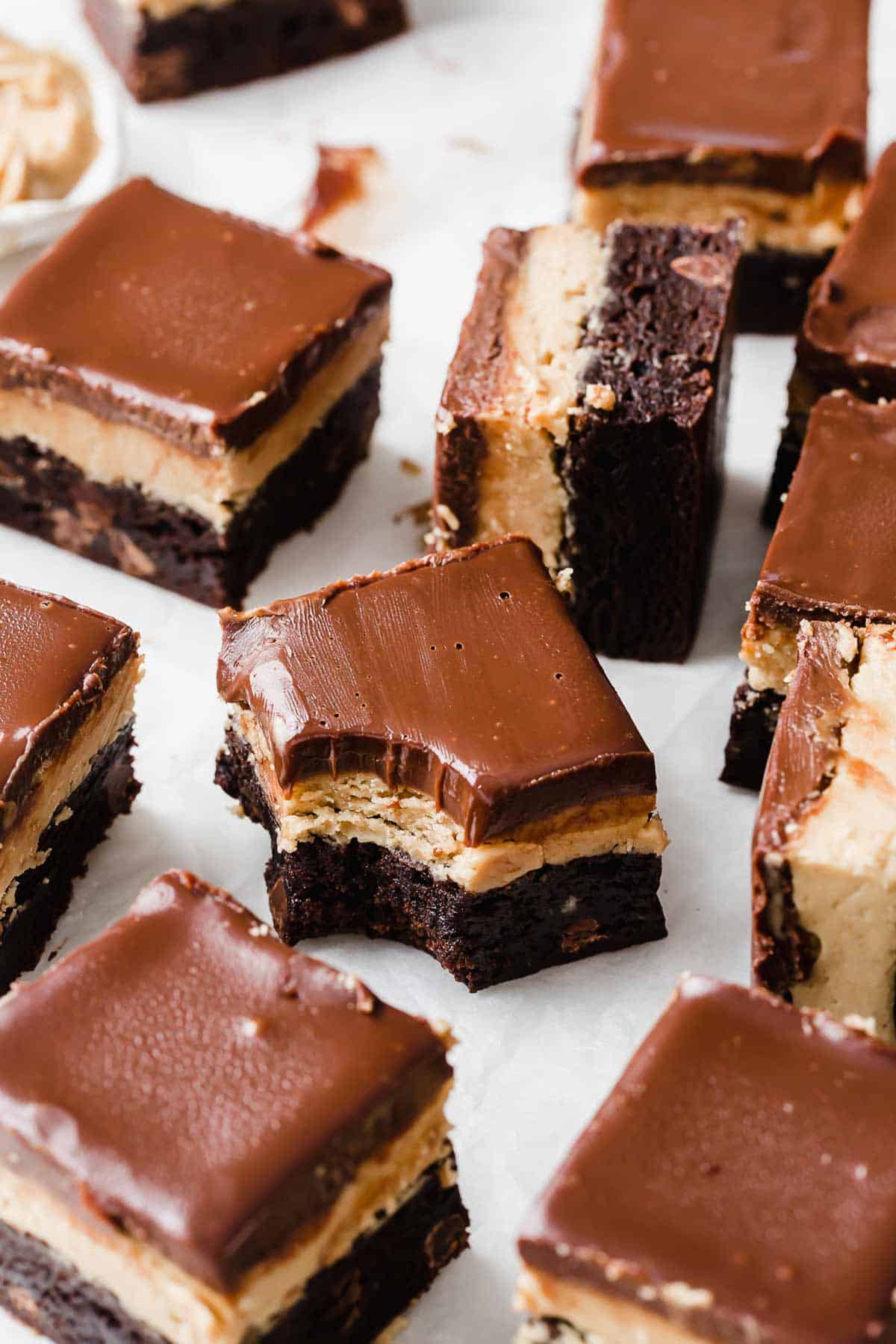 Why This Recipe Works
Lazy buckeye brownies. These are incredibly easy buckeye brownies because they are made with a brownie mix! We're just doctoring up the brownie layer with  layers of goodness.
Peanut butter heaven. Are you a peanut butter lover? Then listen up! The peanut butter layer in this recipe is AMAZING. I've seen other fillings for this layer that are just peanut butter and powdered sugar, but we're taking this filling to an entirely new level! Butter, peanut butter, vanilla and powdered sugar is the only way to go! Trust me on this. Have I ever led you astray when it comes to butter and vanilla? 😍
Taste just like buckeye candies! This buckeye brownie recipe is a buckeye ball in brownie form — rich chocolate brownies with a creamy peanut butter layer and a rich chocolate top! 
Ingredient Notes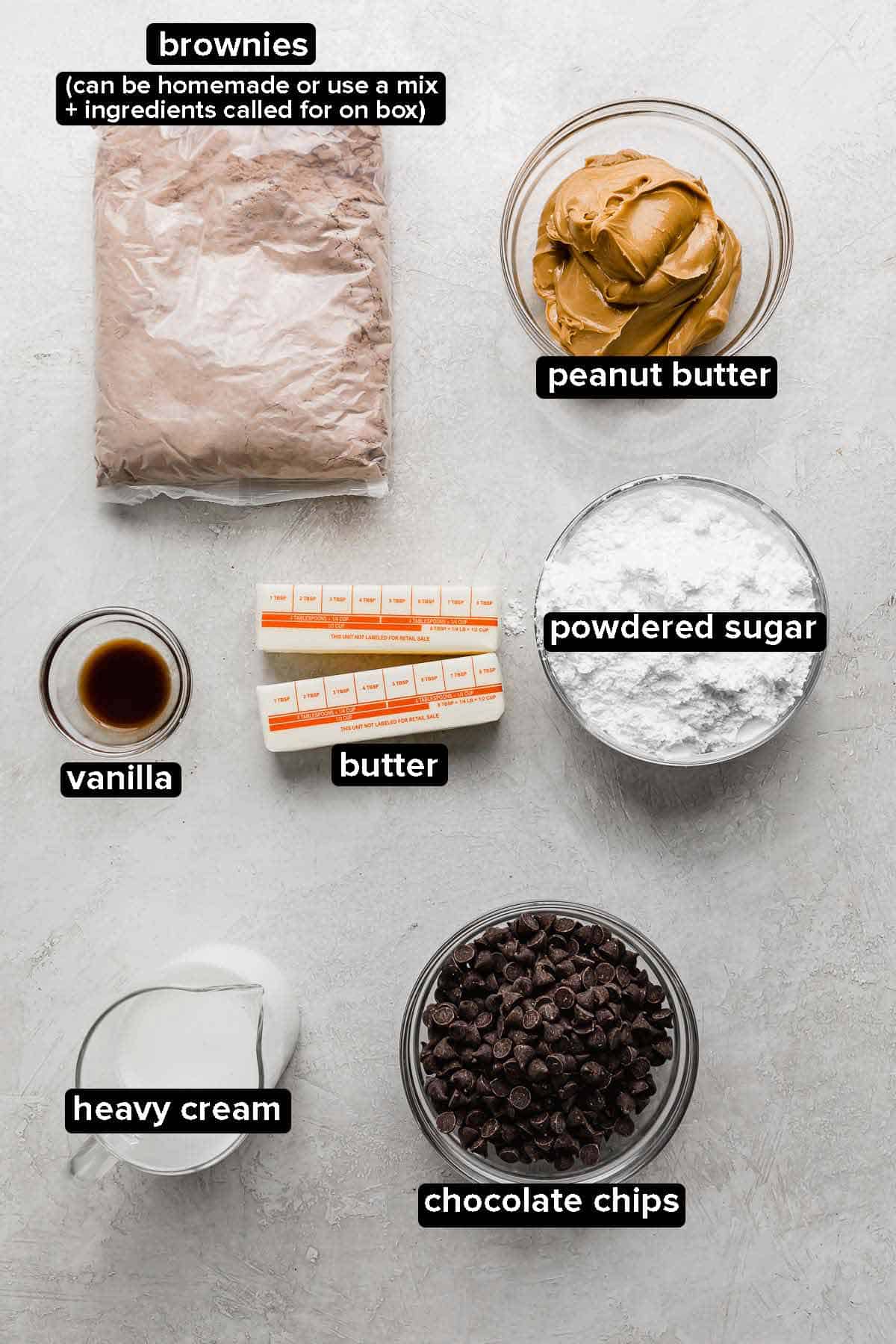 Brownie Mix: You'll need a box of brownie mix plus the ingredients to make a 13×9 pans' worth. You can use my homemade fudgy brownies recipe or a brownie box mix (if you are looking for a shortcut. If so, I recommend the Ghirardelli brownie mix).
Powdered Sugar: This will sweeten the peanut butter filling. 
Creamy Peanut Butter: Brand doesn't matter. Although the natural peanut butter brands that usually have a layer of oil on the top may make the filling too liquidy.
Butter: Softened. I usually take it out of the fridge in the morning and let it soften while I'm doing stuff around the house. For an ultra creamy peanut butter filling, use creamy peanut butter. 
Vanilla Extract: A splash of vanilla does wonders in these 🙂 
Semi-Sweet Chocolate Chips: I prefer the semi-sweet over milk!
Heavy Cream: This will be used to make the delicious chocolate ganache layer that goes on top of these best buckeye brownies. 
Step-by-Step Instructions
Make brownies. If using a box brownie mix, following the package directions to make 1 batch of brownies in a 9×13-inch pan. You can also use my Homemade Brownies recipe instead. Let the brownies cool.
Make the peanut butter buckeye filling. Add 2 cups peanut butter and 1 cup softened butter to the bowl of a stand mixer fitted with the paddle attachment. Cream until smooth. Add 3 1/2 cups powdered sugar and 1 tsp vanilla extract. Beat until well combined. Spread the peanut butter mixture over the cooled brownies in an even layer.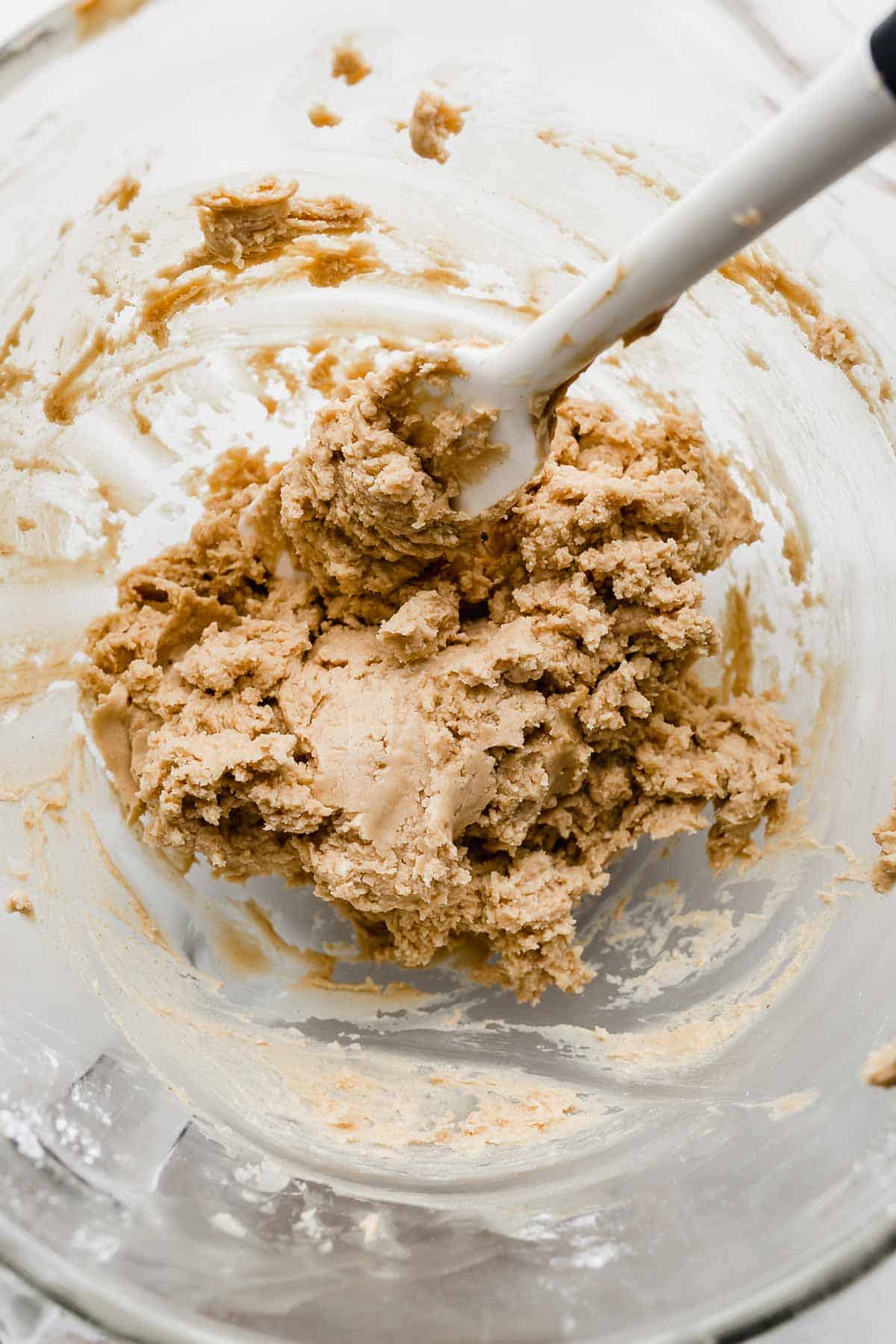 Make the chocolate ganache topping. Add 1 1/2 cups of heavy cream to a small saucepan and heat until barely simmering. Remove from heat and pour over the 1 3/4 cup semi-sweet chocolate chips in a heat proof bowl. Do not stir. Let sit for 3 minutes. Whisk until smooth. Let sit for 10 minutes to cool slightly. 
Pour ganache on top. Pour the melted chocolate on top of the brownies (on top of the peanut butter mixture) using an offset spatula to spread into an even layer. Place in the fridge to set. Enjoy!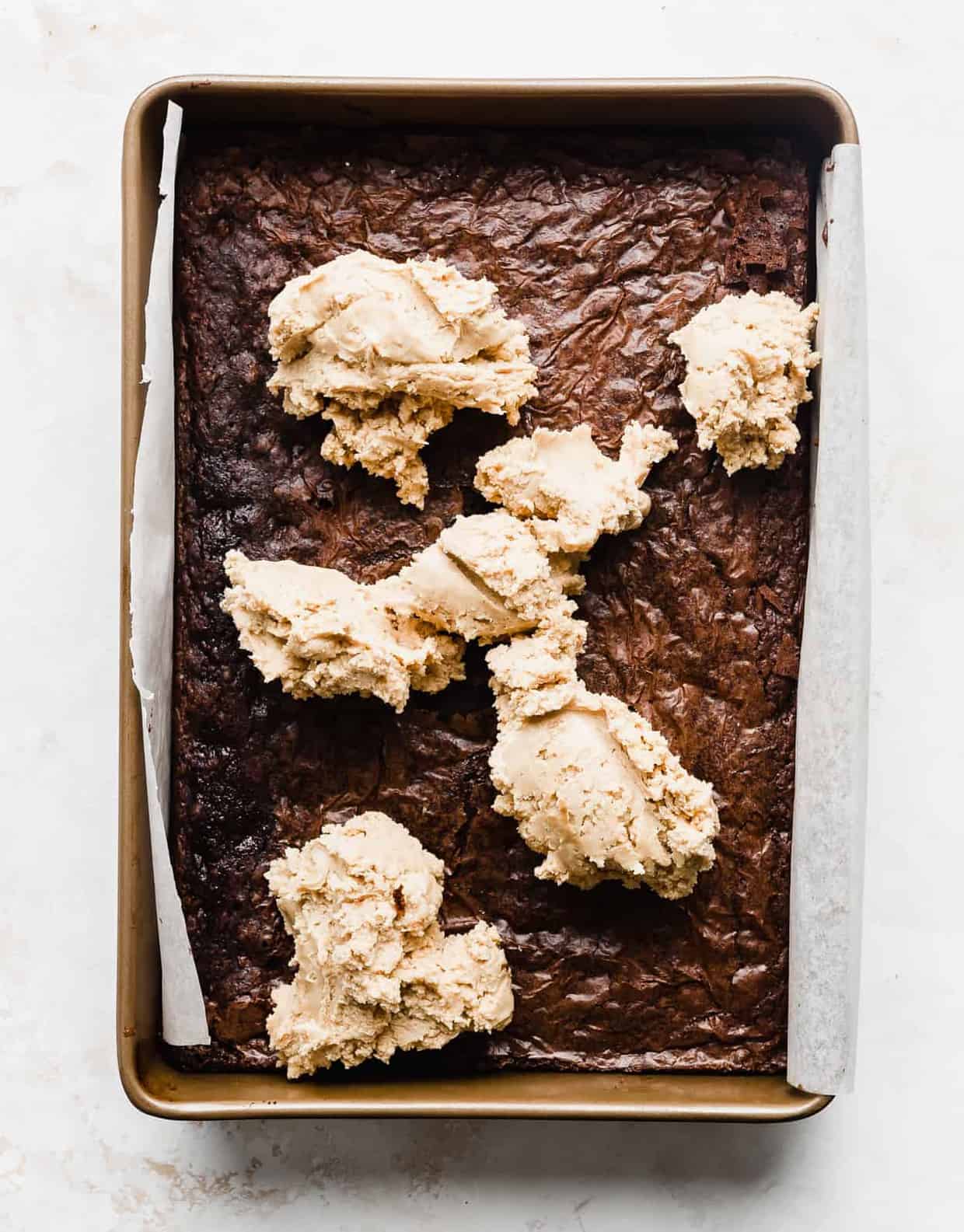 Recipe Tips
Let the hot cream sit with the chocolate chips for 3 minutes before you start stirring. This will give the cream time to warm the chocolate chips and will create a smoother consistency. If you begin stirring sooner, you're more likely to end up with a grainy ganache.
I wouldn't use a natural peanut butter that has the layer of oil on the top. If there's a natural brand you like that doesn't have that oil layer, then awesome! The extra oil in the peanut butter would affect the consistency of the peanut butter filling.
Buckeye brownies using brownie mix is a great way to simplify this recipe! Use whatever boxed brownie mix you like. I love the Ghirardelli brownie mix, so I used that. You can also use a homemade brownie recipe.
I like to line my pan with parchment paper when making these chocolate peanut butter brownies to make it easier to lift and cut once finished.
If you prefer milk chocolate chips, you can use those for the chocolate ganache instead of semi-sweet.
Make Ahead, Storing, and Freezing
This buckeye brownies recipe is delicious at room temperature, but can be sort of messy to eat because of the soft PB filling and chocolate ganache. I like to store mine in the fridge. Will last in the fridge, covered, for 1 week.
To freeze these peanut butter buckeye brownies, flash freeze until the ganache is set. Then wrap each brownie in plastic wrap and store in an airtight container or ziplock bag in the freezer for up to 2 months. Remove and let thaw.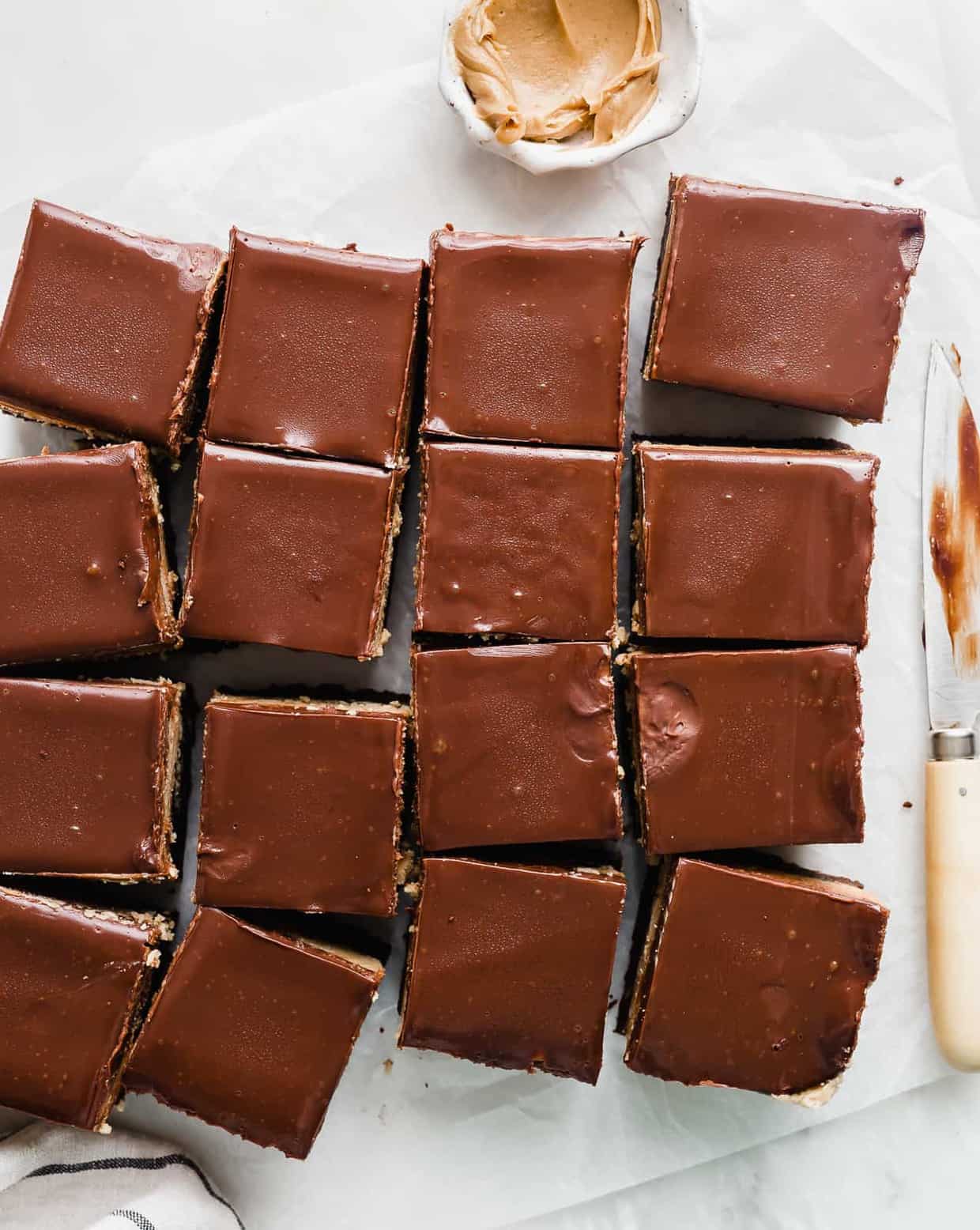 Recipe FAQs
Can you freeze buckeye brownies?
Yep! Cut the brownies in squares and place them separated on a cookie sheet. Freeze for about an hour or until the brownie squares are firm and the chocolate layer is frozen. Individually wrap each brownie square in plastic wrap and then in foil. Store in a zip-top bag. The brownies will stay in the freezer for 2-3 months. 
What are buckeye brownies?
Buckeye brownies are a brownie version of the popular buckeye treat, which are peanut butter balls dipped in chocolate. Buckeye brownies have a chocolate brownie base with a peanut butter filling layered on top and a chocolate ganache topping. 
Do buckeye brownies need to be refrigerated?
Yes. I prefer keeping these in the fridge because they will last longer and then you don't risk the peanut butter and ganache getting melty or too soft. 
What are buckeyes?
Thought you'd never ask. A buckeye is a circular type of seed that has a dark brown color and a light brown circle in the middle. Buckeye treats — made with a peanut butter filling rolled into a ball and dipped in chocolate, leaving a light brown circle in the middle — were named because of their resemblance to the buckeye seed. So, we've taken the flavors and elements of buckeyes and morphed them into these delicious brownies!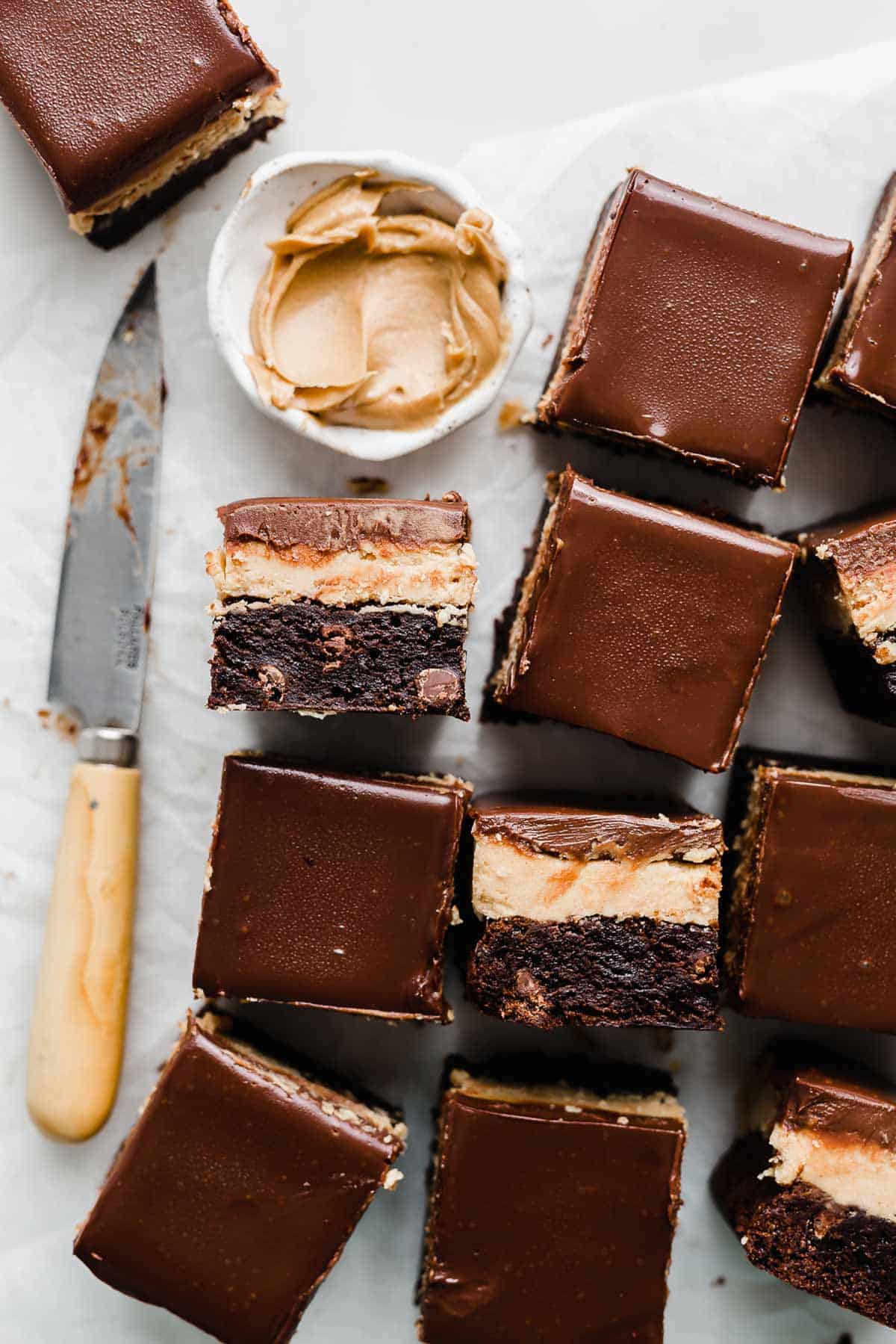 More Brownies/Bars Recipes
Buckeye Brownies
Three layers of deliciousness: thick brownie base, a creamy peanut buttery (buckeye) brownie middle, and a silky smooth chocolate ganache overtop. These are a festive and perfect dessert that everyone will love!
Ingredients
1

batch

homemade fudgy brownies -

or brownie mix with ingredients used to make a 13"x9" pans worth (Ghiradelli is my favorite brownie mix).
Buckeye Filling
3 1/2

cups

powdered sugar

2

cups

peanut butter

1

cup

unsalted butter

-

softened to room temperature

1

teaspoon

vanilla extract
Chocolate Topping
1 3/4

cups

semi sweet chcoolate chips

1 1/2

cups

heavy cream
Instructions
Brownies
Make the brownies according to package directions for a 9×13 pan, or make a batch of my homemade brownies.
Buckeye Filling
In the bowl of an electric mixer, cream the butter and peanut butter until smooth. Add the powdered sugar and vanilla. Beat until smooth. 

Spoon the peanut butter mixture over the cooled brownies, smoothing the PB mixture into an even layer. Next, make the ganache. 
Chocolate Topping
Place the chocolate chips in a medium sized heat proof bowl.

In a small saucepan heat the heavy cream until just barely simmering. Remove from heat and pour over the chocolate chips. Let sit for 3 minutes.

Begin whisking the chocolate and cream (starting in the middle, working your way out) until smooth. Let the chocolate sit for 10 minutes to cool slightly.

Pour the chocolate ganache over the peanut butter layer and smooth into an even layer.

Place brownies in the fridge to let set. Remove from fridge and cut into squares.

These brownies are delicious at room temperature, but can be sort of messy to eat because of the soft PB filling and chocolate ganache. I like to store mine in the fridge. Will last in the fridge, covered, for 1 week.
Notes
Nutritional information does not include the brownie base. Hard to include this information because I don't know which brownie you'll go with. 🙂 
Store brownies covered in the fridge for up to 1 week for best results. 
Did you make this recipe?
Leave a star rating and review on the blog post letting me know how you liked this recipe! Take a picture and tag @saltandbaker on Instagram and Facebook so I can see what you're making!