Soft Gingerbread Cookies
This post may include affiliate links. As an Amazon Associate I earn from qualifying purchases.
Soft Gingerbread Cookies are a holiday MUST! ? It's not Christmas if you don't make homemade gingerbread cookies! And nothing beats a perfectly soft gingerbread cookie.
We also love making homemade gingerbread waffles and homemade gingerbread granola during the season. They are so yummy!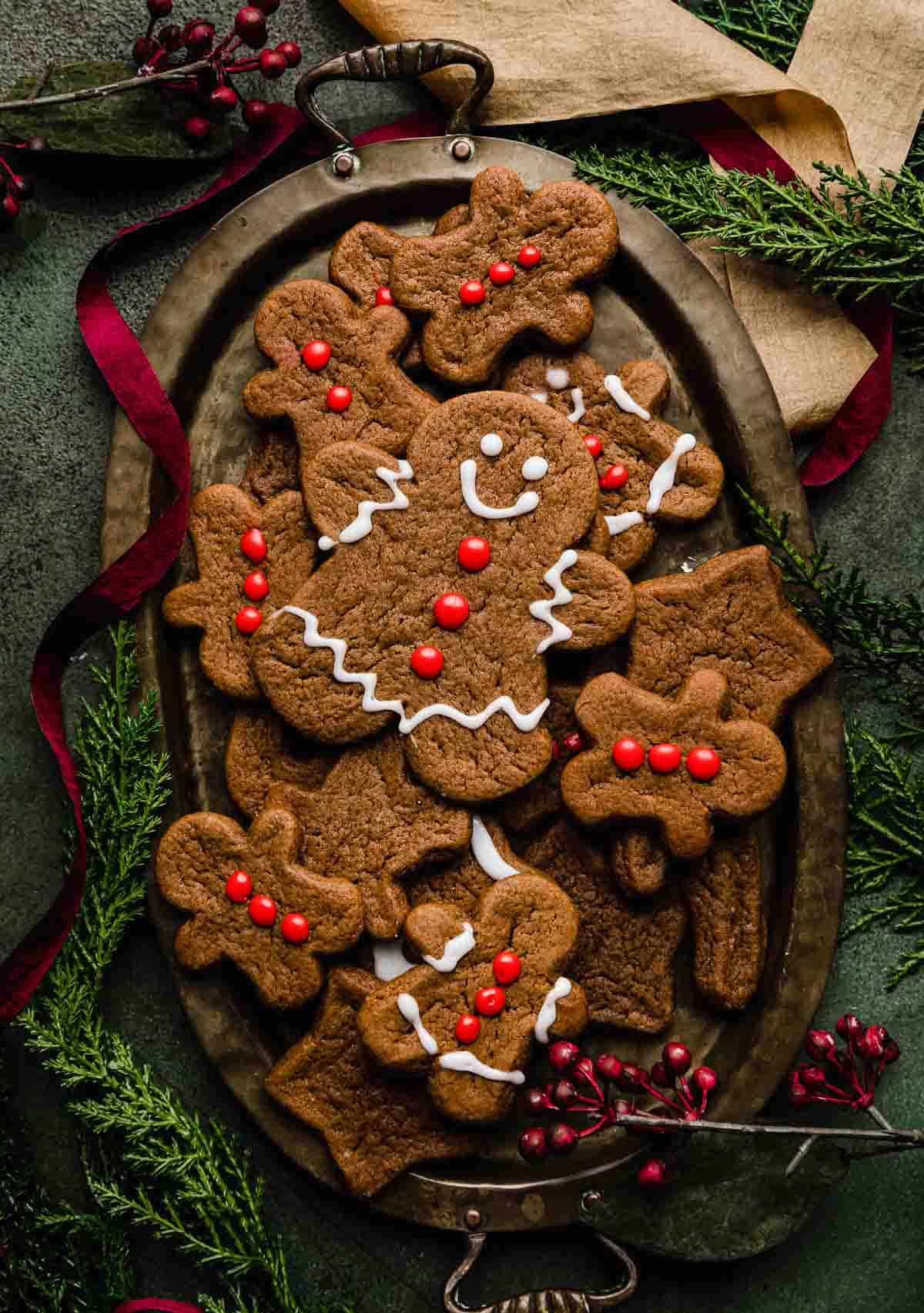 You should know there are no eggs in this cookie dough recipe. You can eat ALL the cookie dough you want! I mean, if that's your thing.
Honestly, eggs in cookie dough has NEVER stopped me from eating it. I have a serious obsession with cookie dough. And cookies. Ohhhh, and Nutella brownies.
Since we're on the topic of holiday cookies, you should really check out my gingerbread whoopie pies, gingersnap cookies, and I have a Gingerbread Bundt Cake that's out of this world!
I guess gingerbread is totally my thing.
No. More like flavorful cookies/desserts are my thing! I am NOT one for bland food.
Life is too short for bland food.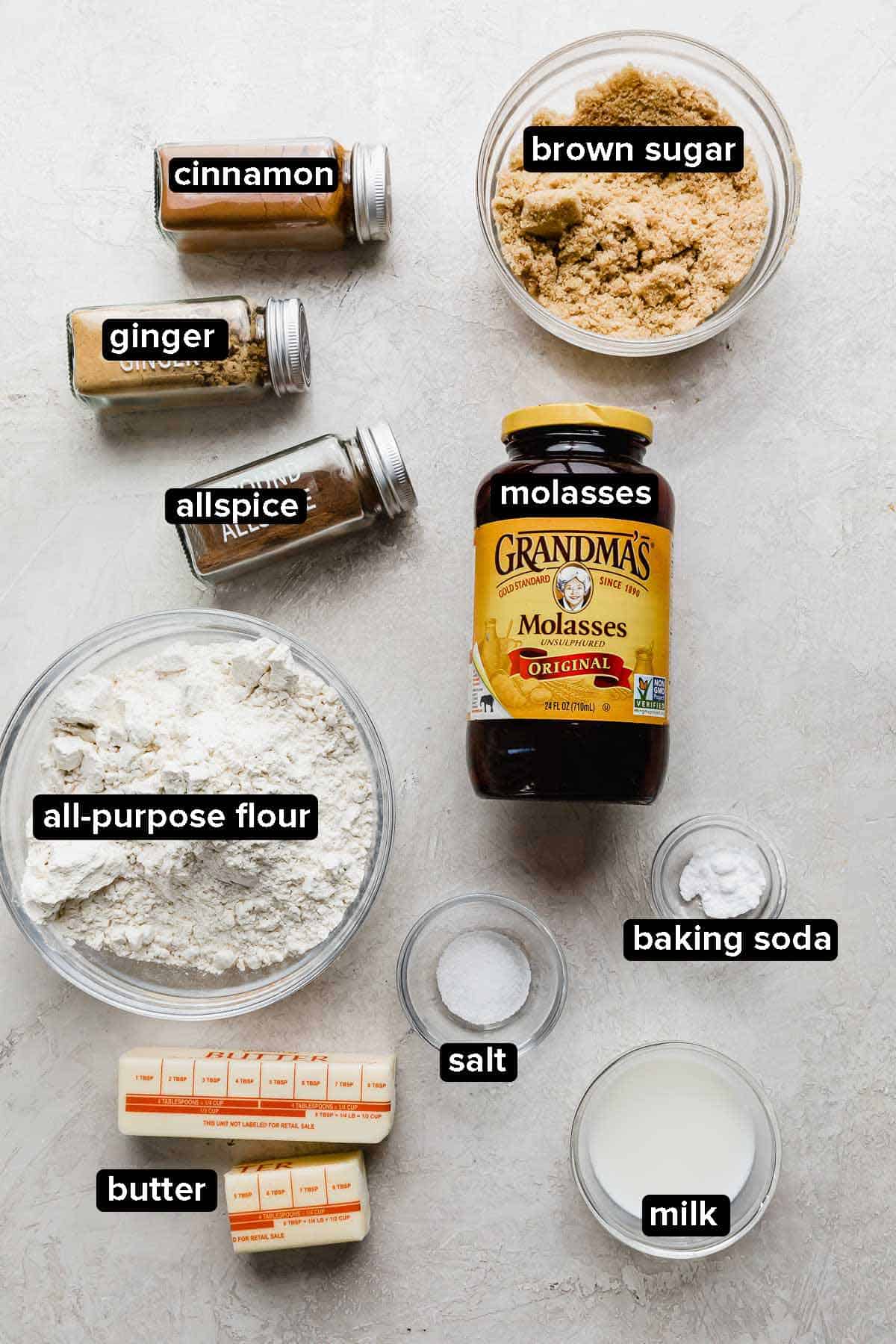 And these gingerbread cookies… so good! They're soft in the middle but have a satisfying crunch on the exterior. This gingerbread recipe has the PERFECT amount of ginger in it. There are some recipes that call for a massive amount ground ginger. In my opinion too much ginger can ruin a cookie.
But these cookies, they are perfection. Literal gingerbread cookie perfection!
How to make Gingerbread Cookies
One more amazing thing about this recipe… ONE bowl. Yes! One bowl gingerbread cookies.
Add the dry ingredients to the bowl of your stand mixer. If you don't have a stand mixer, that's OK. You can whisk the dry ingredients and then use beaters to incorporate the remaining ingredients.
Add the softened butter to the dry ingredients and mix until it resembles sand.
Next, add the molasses and milk to the dry ingredients and mix until just combined. DON'T over mix! I'll explain why down below.
Now, we divide the dough in half. Pat the dough into a disk. Sandwich each disk of dough between wax paper (or parchment paper) and place the gingerbread dough in the freezer for 20 minutes.
You can't skip this step.
Gingerbread cookie dough needs to be chilled.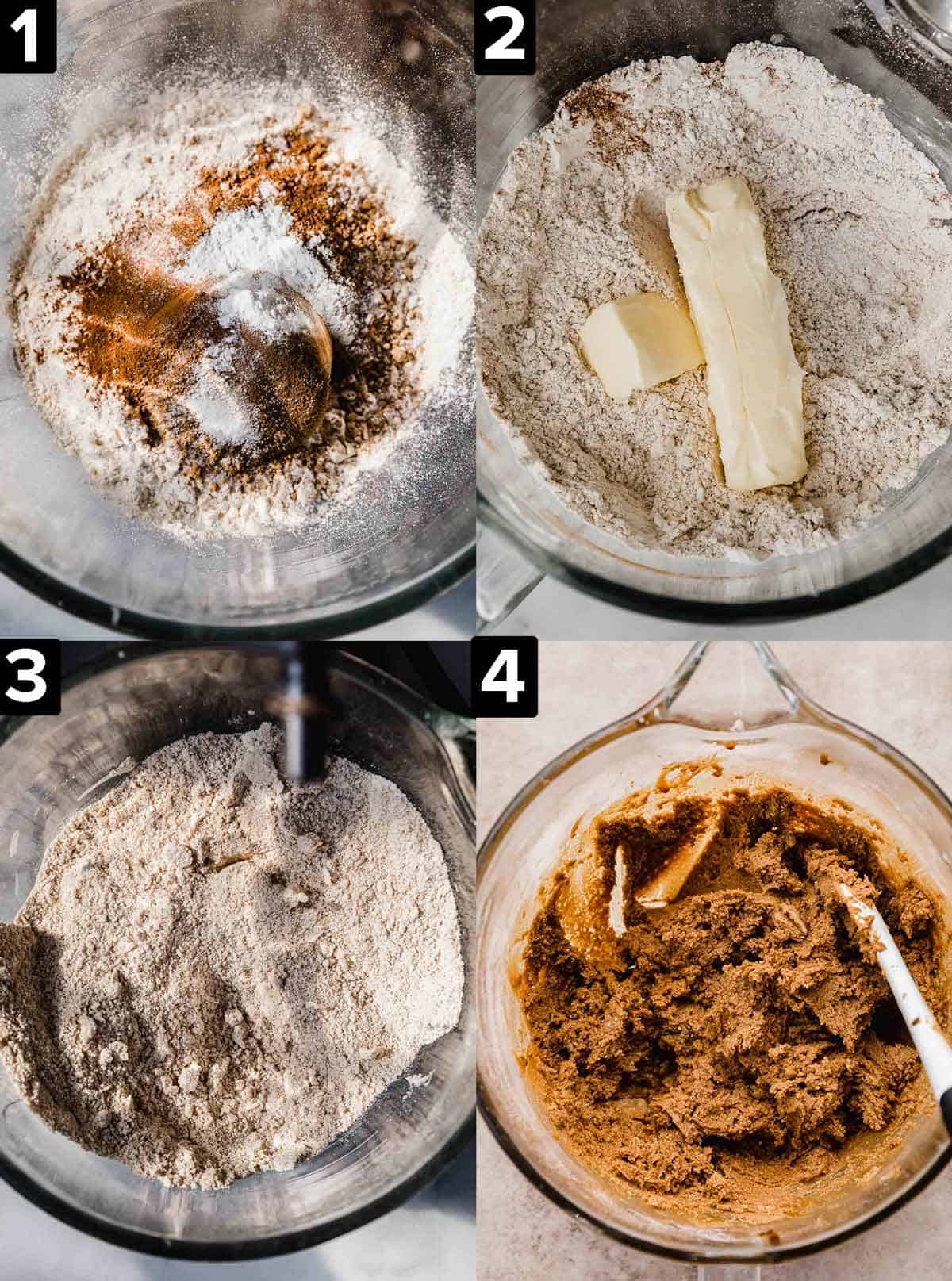 Remove one disk of dough from the freezer at a time. Turn the dough onto a generously floured surface. Roll the dough to 1/4″ inch thickness.
Use gingerbread man cookie cutters and cut out gingerbread people. Place the cut out gingerbread onto a baking sheet lined with parchment paper or a silicone baking mat.
Once you've filled one baking sheet, place it in the fridge to chill as you're cutting out and filling the second baking sheet with the second disk of dough.
After you've filled both baking sheets, place the baking sheet that was chilling in the fridge, in the oven and bake for 10-12 minutes. Once the cookies are baked, remove the pan from the oven and allow the cookies to sit on the pan for 5 minutes and then carefully transfer the cookies to a wire rack to cool completely.
Frost and decorate the gingerbread cookies as you wish.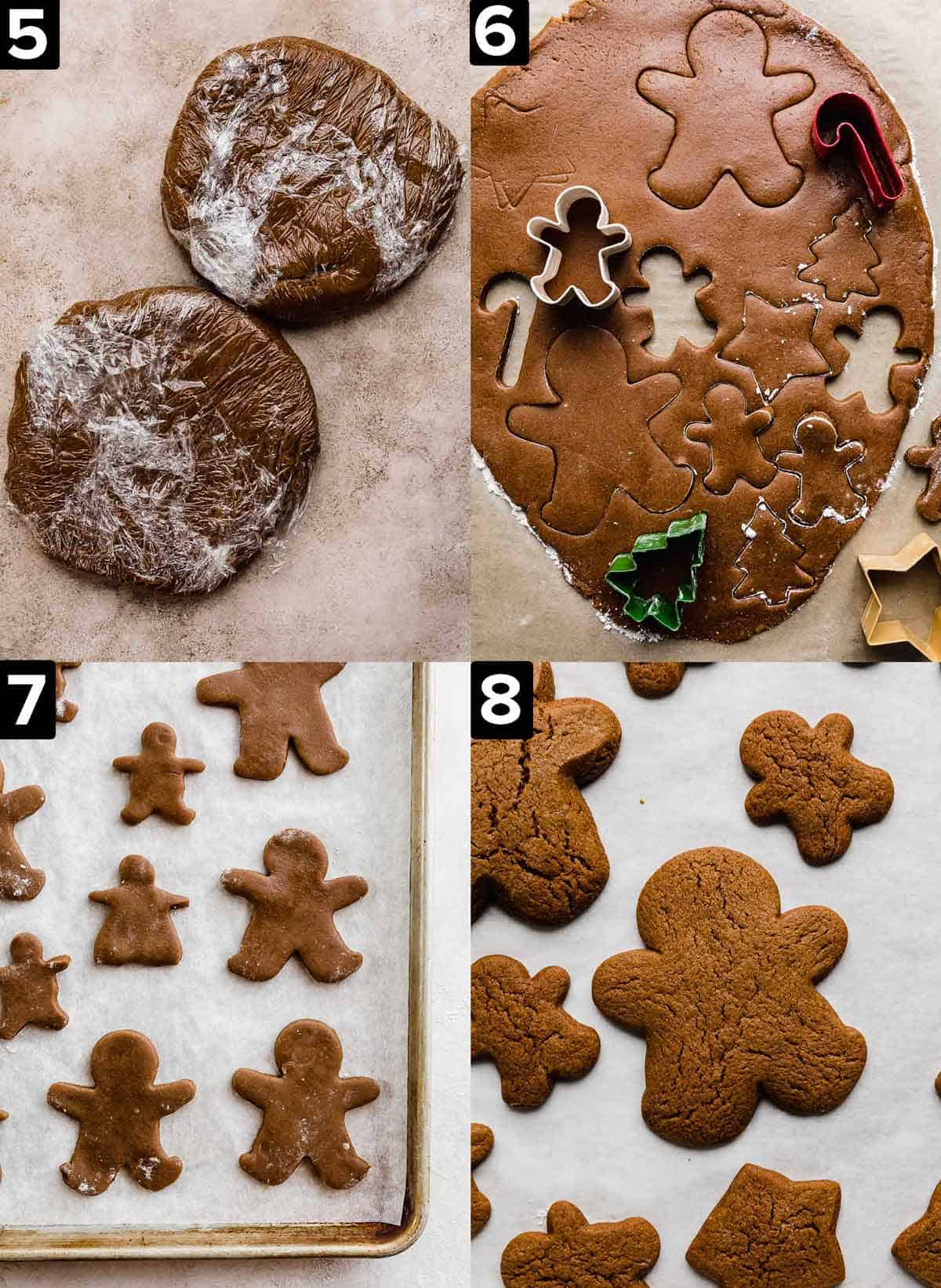 Freezing Gingerbread Cookie Dough
You can freeze this cookie dough for later use. Simply wrap the dough in plastic wrap and then place the wrapped dough in a zip top bag.
The dough should keep in the freezer for one month.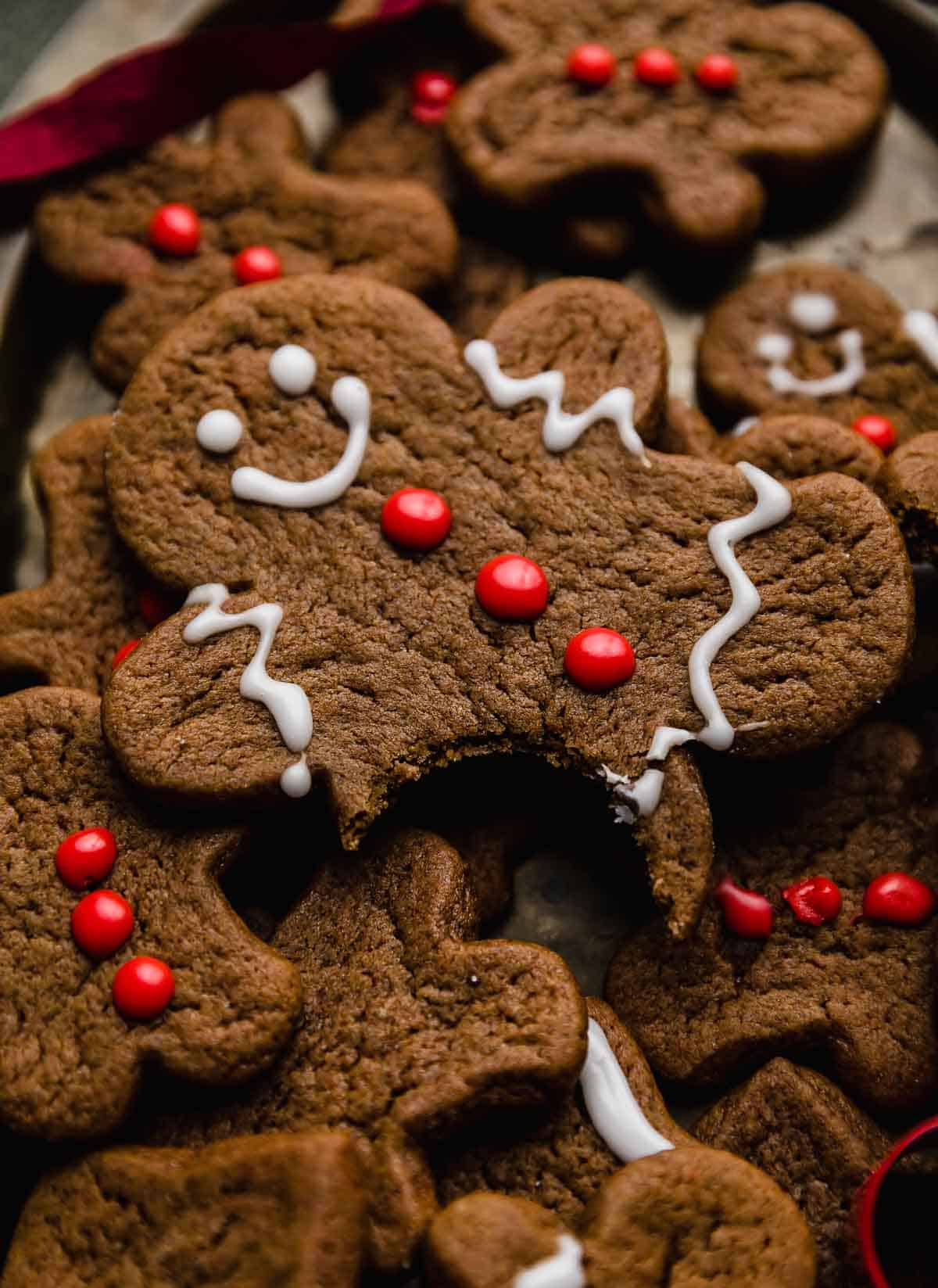 Tips for making gingerbread man cookies
Don't overwork the dough. This tip comes in handy when MAKING the gingerbread dough and when rolling it out. Refrain from over mixing the cookie dough.
Be careful not to overwork the dough when you're rolling it out. Baking science coming your way… cookies contain flour and flour contains gluten. Gluten is a protein that gets harder and tougher the more you knead it and work with it. So if you make this gingerbread cookie recipe and you find that your cookies are tough, it could be because you overworked the dough and rolled it out a handful of times.
Roll out cookies are fun! I have a 4 year old boy and he *loves* to play with bread dough, cookie dough, and anything food related. So don't stress over the "overworking the dough" concept and go have fun! These cookies will still be soft and tender even if you end up rolling out the dough multiple times.
Lastly, enjoy these cookies while they're fresh. Nothing beats a fresh gingerbread cookie! If you don't eat them right away, you can store these gingerbread cookies in an airtight container for 2-3 days.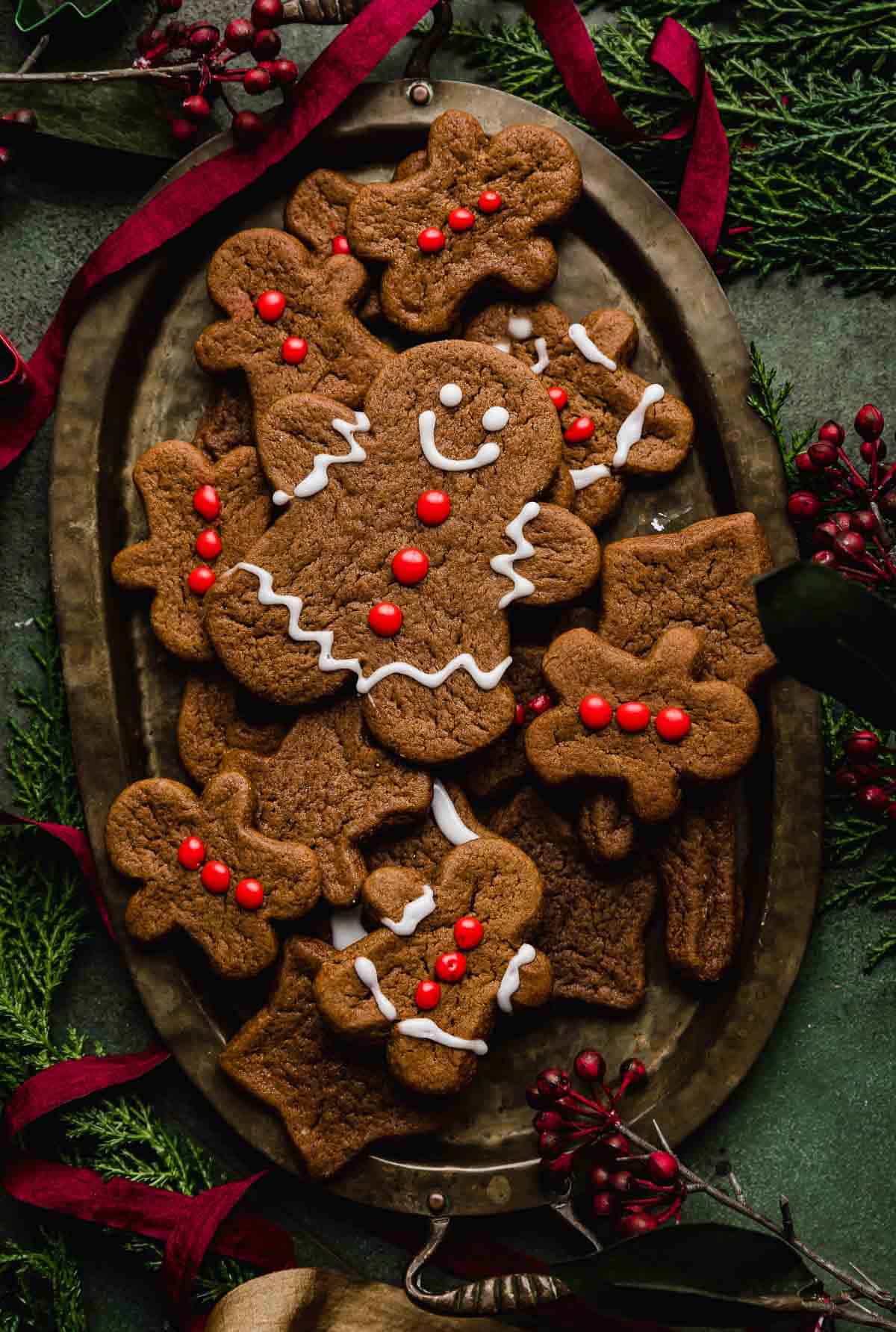 More drool worthy cookie recipes
Craving more? SUBSCRIBE TO SALT & BAKER to get new recipes delivered straight to your inbox!
Soft Gingerbread Cookies
Soft gingerbread cookies make for a traditional holiday treat.
Ingredients
3

cups

all purpose flour

3/4

cup

light brown sugar

-

packed

1

tablespoon

ground cinnamon

1

teaspoon

ground ginger

1/2

teaspoon

ground cloves

1/2

teaspoon

salt

3/4

teaspoon

baking soda

12

tablespoons

unsalted butter -

softened

3/4

cup

molasses

2

tablespoons

milk
Instructions
In the bowl of a stand mixer fitted with the paddle attachment, mix together the flour, brown sugar, cinnamon, ginger, ground cloves, salt, and baking soda. Once combined, add the butter to the bowl and mix on low speed for 1 minute or until the mixture resembles sand. 

With mixer speed on low, gradually add the milk and molasses. Mix until the dough is evenly moistened, about 15 seconds.

Divide the dough in half.

Wrap each dough disk in plastic wrap and refrigerate the dough for 2-3 hours or overnight.

Remove 1 disk of dough from the freezer at a time.


Preheat oven to 350°F. Line two cookie sheets with parchment paper or a silicone baking mat. Set aside.


Gently peel off the wax paper from the dough. Turn the dough out onto a well floured surface. * Roll the dough out until it's 1/4″ inch thick.


 Using your desired cookie cutters, cut the cookies from the dough. Carefully transfer the cut shapes to the cookie sheets spacing them 2 inches apart from one another. Gather the scraps, repeat rolling, and cutting until cookie sheets are full and the dough has been used up. The key with this dough is to keep it cold. So you'll want to work fast, or even place the cut out gingerbread men on the baking sheet, and chill for another 15 minutes before baking them.

Bake the cookies one cookie sheet at a time; bake until set in the centers or when gently touched with your fingertip and it retains a slight imprint; about 10-13 minutes. 

Cool on cookie sheets for 5 minutes then transfer to a wire rack to cool to room temperature.


Frost with white icing of your choosing. I used a royal icing and colored a small portion of the icing red to use for the buttons.
Notes
This dough is fairly sticky. I had to be fairly generous with my floured counter top 
These cookies will spread if the dough isn't kept cold. I will finish filling one baking sheet, place it in the fridge to chill for 15 minutes, while I'm cutting out more gingerbread for the second baking sheet. Once I fill the second baking sheet and all of the dough has been used up, I will then place one baking sheet in the oven. 
The key is to keep the dough slightly chilled before placing it in the oven. 
Recipe inspired by America's Test Kitchen
Did you make this recipe?
Leave a star rating and review on the blog post letting me know how you liked this recipe! Take a picture and tag @saltandbaker on Instagram and Facebook so I can see what you're making!
This post contains affiliate links. I am a participant in the Amazon Services LLC Associates Program, an affiliate advertising program designed to provide a means for us to earn fees by linking to Amazon.com and affiliated sites.