Gingerbread Sandwich Cookies
This post may include affiliate links. As an Amazon Associate I earn from qualifying purchases.
These Gingerbread Sandwich Cookies are made with perfectly spiced gingerbread cookies that are thick, chewy and soft, then are sandwiched together with a luscious cream cheese frosting!
Have you ever had Gingerbread Whoopie Pies? These are essentially those but I'm not a big fan of pillowy cookies that are more cake-like. So these chewy ginger sandwich cookies are just that — chewy cookies! They are the perfect Christmas cookies to add to your holiday season. And while you're decking the halls, add some Gingerbread Waffles, Soft Gingerbread Men Cookies, and some Gingerbread Granola to your holiday menu!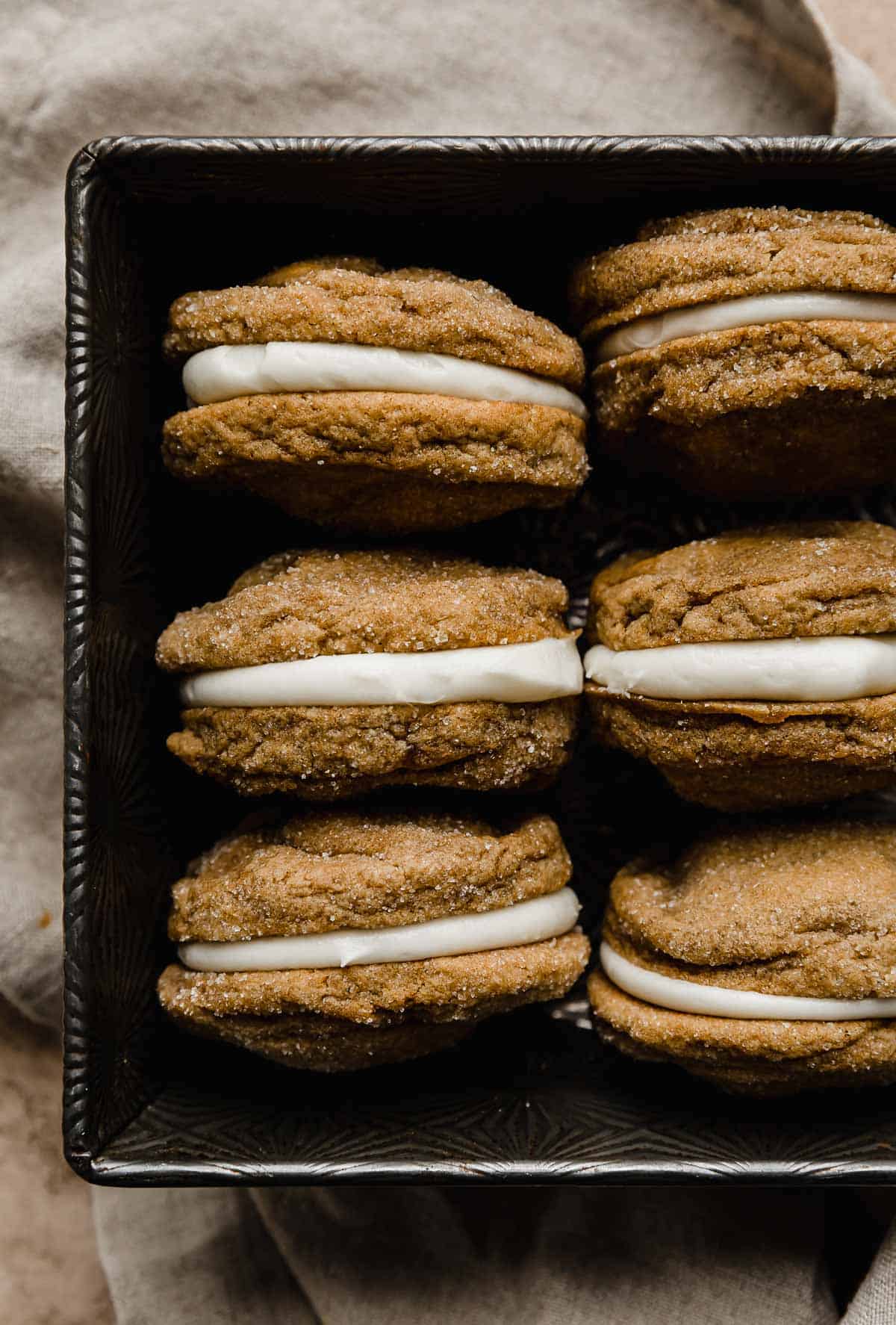 Why This Recipe Works
Best gingerbread cookies. These soft gingerbread sandwich cookies are perfectly spiced, but aren't so incredibly overloaded with molasses and ginger that you gag and wish you had a gallon of milk to chug. Truth be told, I don't love overly strong molasses flavors. If you're like me you'll go crazy for these cookies. Like, 1000% crazy for them.
Soft gingerbread cookies. I'm not a fan of crunchy cookies — and I don't make an exception with gingerbread cookies either! These cookies are thick, soft, and perfectly chewy. 
Best cream cheese frosting filling. I love how delicious these cookies are alone and with the frosting filling! Plus, two cookies in one? Sign me up! 
Ingredient Notes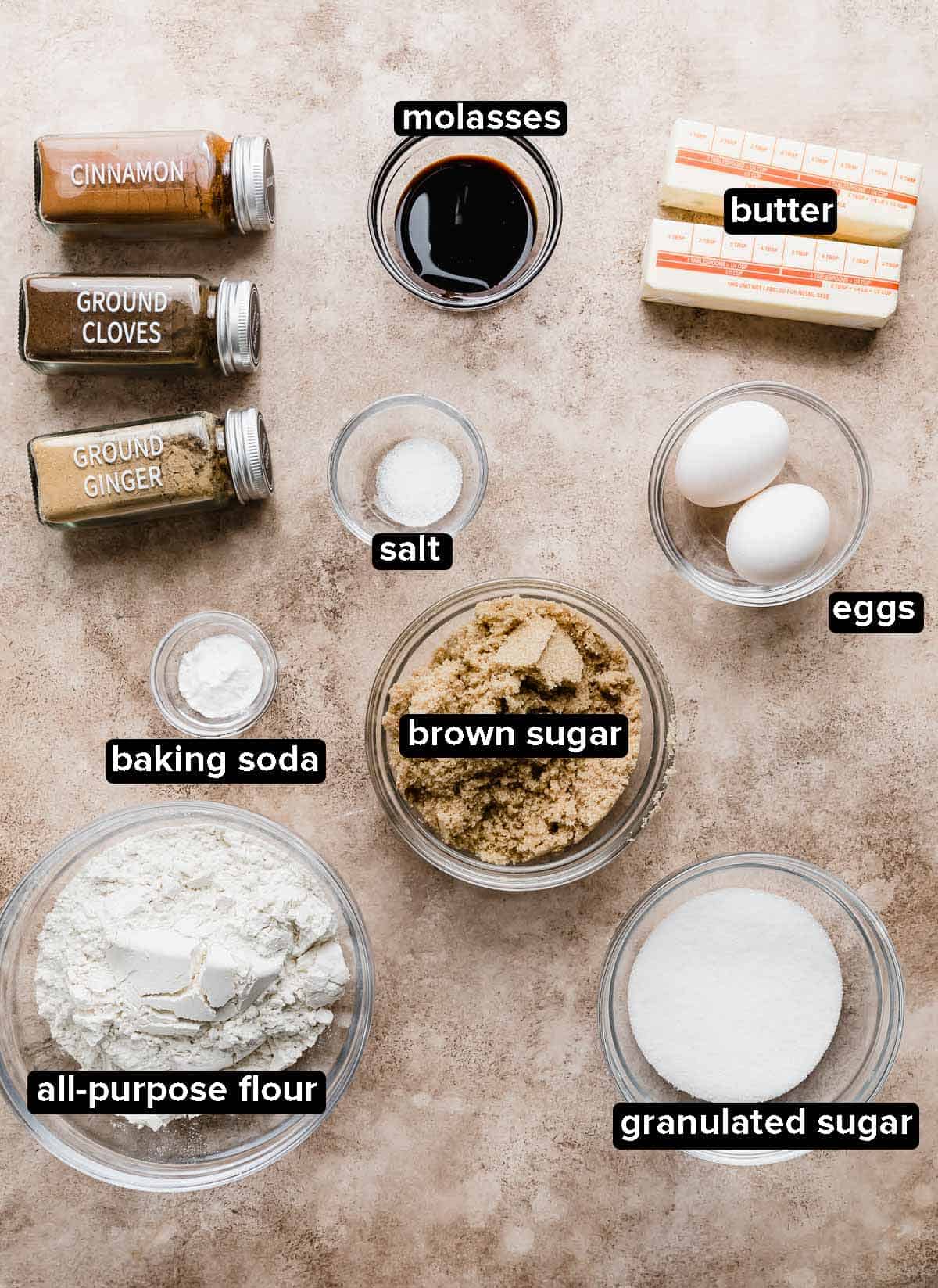 Butter: The ratio of butter to flour is what gives us the perfect gingerbread cookie sandwich. 
Brown Sugar: The brown sugar will give an extra touch of molasses that we wouldn't get with granulated sugar. 
Molasses: The balance of molasses in these ginger cookies is perfect! 
Spices: These delicious spiced gingerbread cookies use ground cloves, cinnamon and ground ginger! These spices combine for the perfect gingerbread flavor. 
Flour: If your dough is overly sticky, you should add extra flour. These cookies were made at sea level, and elevation can affect the dough and the bake. The dough should be soft but shouldn't stick to your fingers if you touch it. 
Granulated Sugar: This is used to roll the cookie dough balls in. It gives the outside of these cookies at sugary look and adds the perfect sweet touch.
Cream Cheese: To get the smoothest texture in your cream cheese filling, be sure the cream cheese is well softened to room temperature or you'll get some lumps. 
Powdered Sugar: Sift the powdered sugar for a smoother frosting texture. 
Step-by-Step Instructions
Cream the wet ingredients for the chewy gingerbread cookies. Add 1 cup softened butter and 1 1/4 cup brown sugar to the bowl of a stand mixer fitted with the paddle attachment (or use a hand mixer). Beat on medium speed for 2 minutes. Add 1/3 cup molasses and mix until combined. Add 1 egg then beat well to combine. Add the 2nd egg and beat again.
Add the dry ingredients. Add 2 tsp baking soda, 1 tsp ginger, 1 tsp cinnamon, 1/2 tsp salt, 1/2 tsp cloves, and 4 cups all-purpose flour. Mix until just combined. Do not over mix. 
Portion into dough balls. Portion the gingerbread cookie dough into 24 balls that are 1 3/4 inches in size. Roll each dough ball in granulated sugar. Place on a cookie sheet lined with parchment paper, leaving 2 inches between each cookie. 
Bake the gingerbread cookies. Bake the soft gingerbread cookies at 350°F for 9-11 minutes or until the edges are set and lightly golden and the tops are no longer shiny. Do not over bake. Remove and let the cookies cool for 5 minutes on the baking sheet. Remove and let cool completely on a wire rack.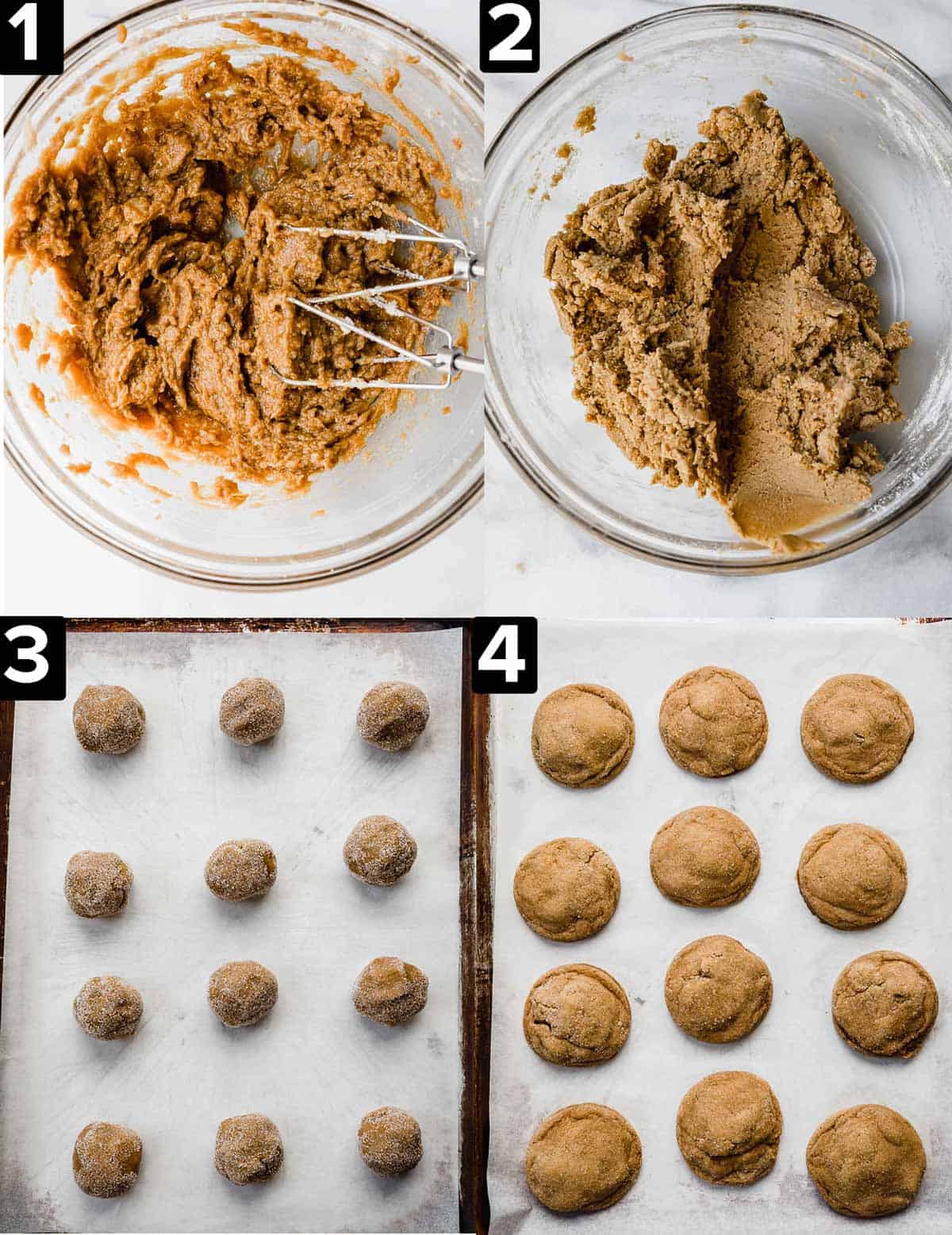 Make the cream cheese frosting filling. Add 8 oz softened cream cheese to a medium bowl. Beat until smooth. Add 3 1/2 cups powdered sugar and 1 tsp vanilla extract. Beat until smooth.
Assemble the gingerbread whoopie pies. Spread or pipe filling on the bottoms of half of the cookies. Gently press the plain chewy ginger cookies flat side against one with frosting to form the cookie sandwich. Chill the finished cookies in the fridge to help the filling set. Enjoy!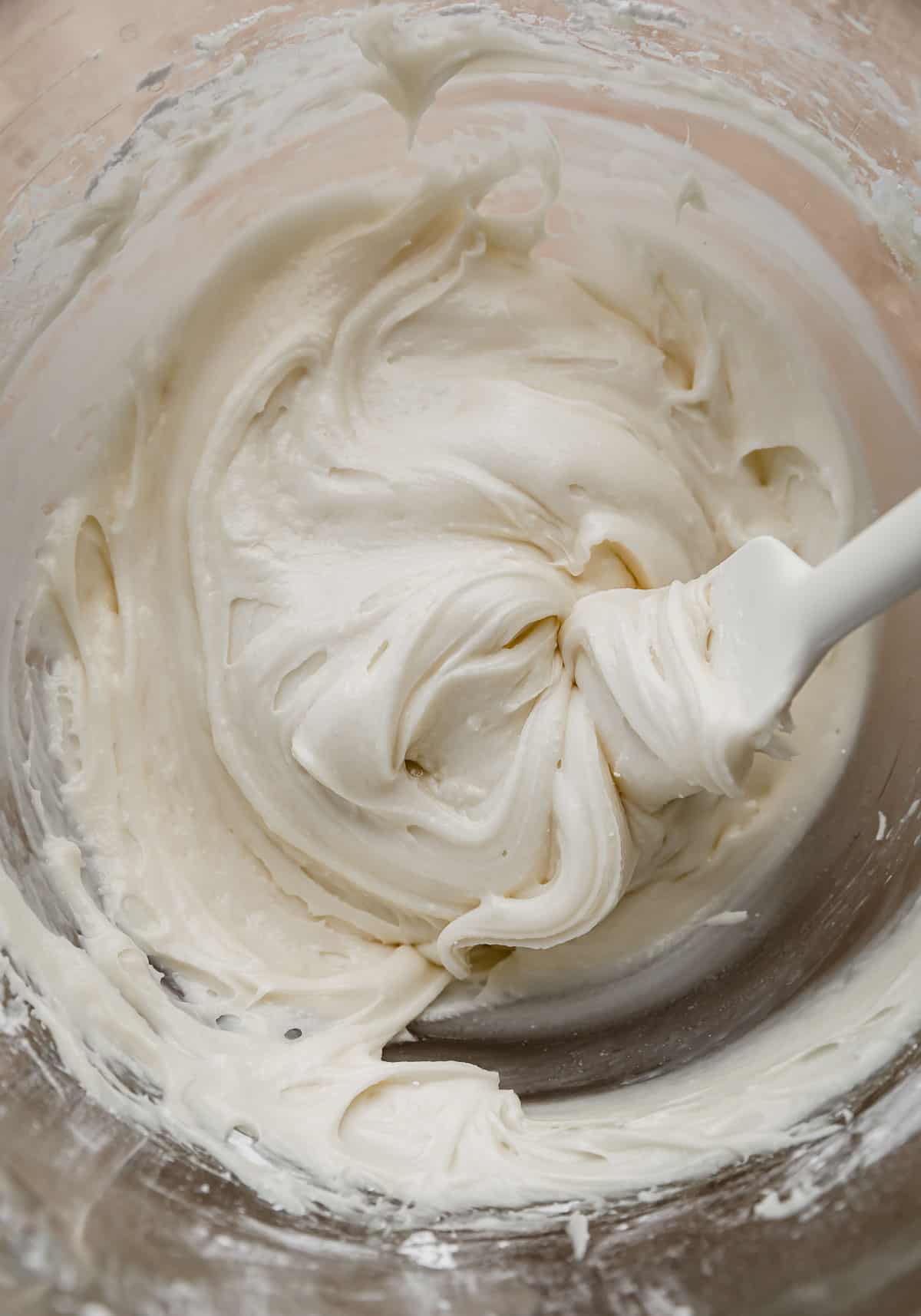 Recipe Tips
I placed 6 cookies on each baking sheet to avoid any chance of the cookies baking into one another
Do not over mix the cookie dough once you add the dry ingredients. Over mixing at that stage in the process can create a tough dough, which can cause a tough baked cookie.
The frosting shouldn't be super soft because it needs to set in the fridge. But you don't want it too thick that it's hard to spread or pipe.
Be sure the cream cheese is completely softened to room temperature in order to get a smooth frosting texture.
Make sure your cookies are completely cooled before filling with the frosting or else it will get all melty and you'll have a mess!
Make Ahead, Storing, and Freezing
These chewy gingerbread sandwich cookies, if sandwiched with the cream cheese frosting, need to be refrigerated. This is due to the cream cheese in the frosting. The cookies will keep in the fridge for 4-5 days in an airtight container.
Gingerbread cookies that aren't filled with frosting can be stored at room temperature in an airtight container for 2-3 days.
To freeze, flash freeze the ginger sandwich cookies (the whole cookies – with the filling) until the frosting in the middle is set (about 10 minutes). Then wrap the sandwich cookies in plastic wrap and store in a ziplock bag in the freezer. The cookies will keep for up to 2 months in the freezer. Remove and let thaw.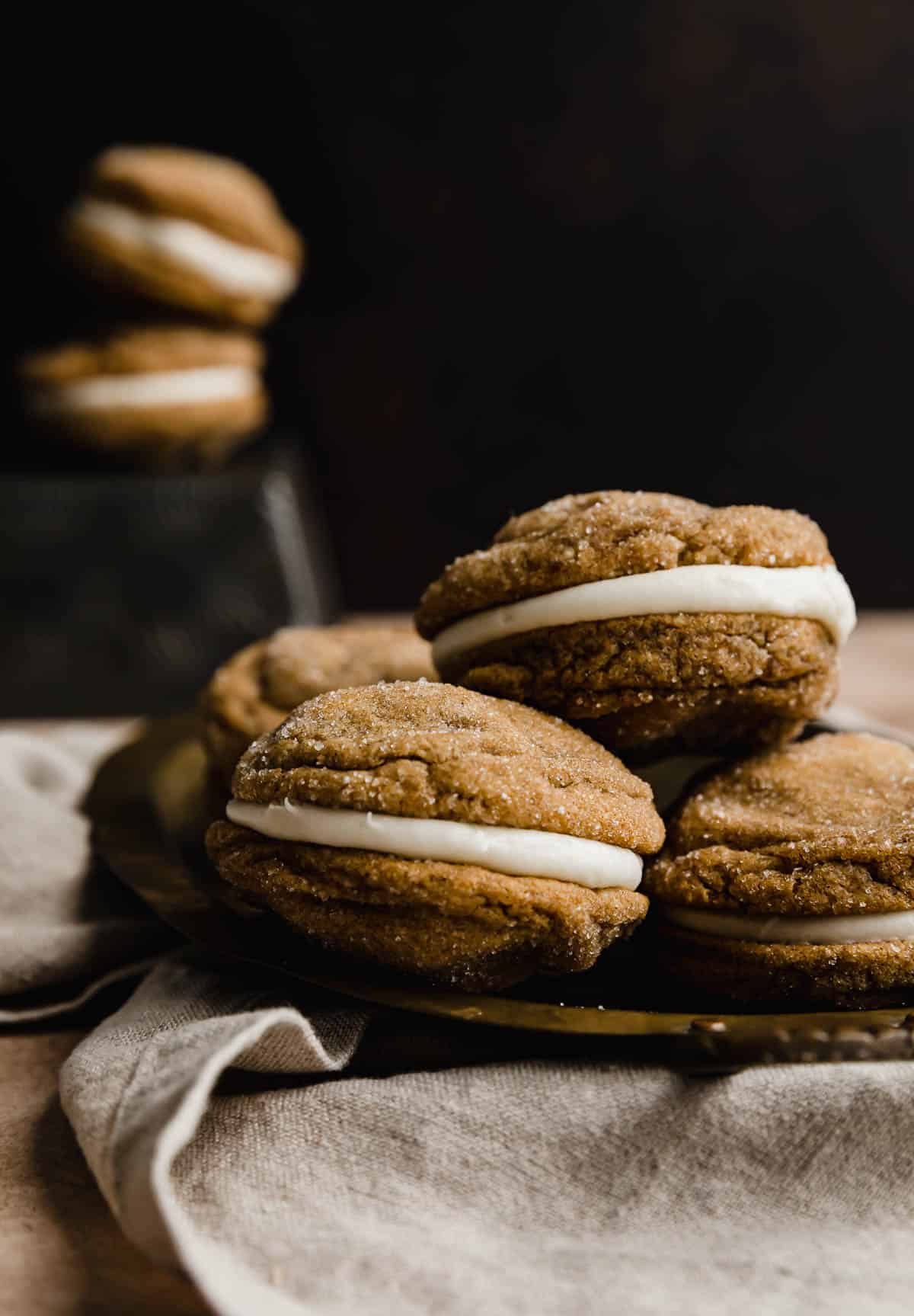 Recipe FAQs
Are gingerbread cookies soft or crunchy?
They can be both! There are tons of gingerbread cookie recipes out there that are crunchy and tons that are soft. This gingerbread sandwich cookies recipe yields ultra soft cookies! 
Can gingerbread cookies be frozen?
Yes! You can freeze them as plain cookies or even with the frosting sandwiched between the cookies! See my Make Ahead, Storing, and Freezing section above for freezing directions. 
Are these gingerbread whoopie pies cake-like?
No the cookies in these Gingerbread Whoopie Pies are definitely chewy like a cookie and not pillowy like cake! 
Why are my gingerbread cookies hard?
This could be due to over mixing and over baking. If you over bake these cookies, they will be hard and crunchy.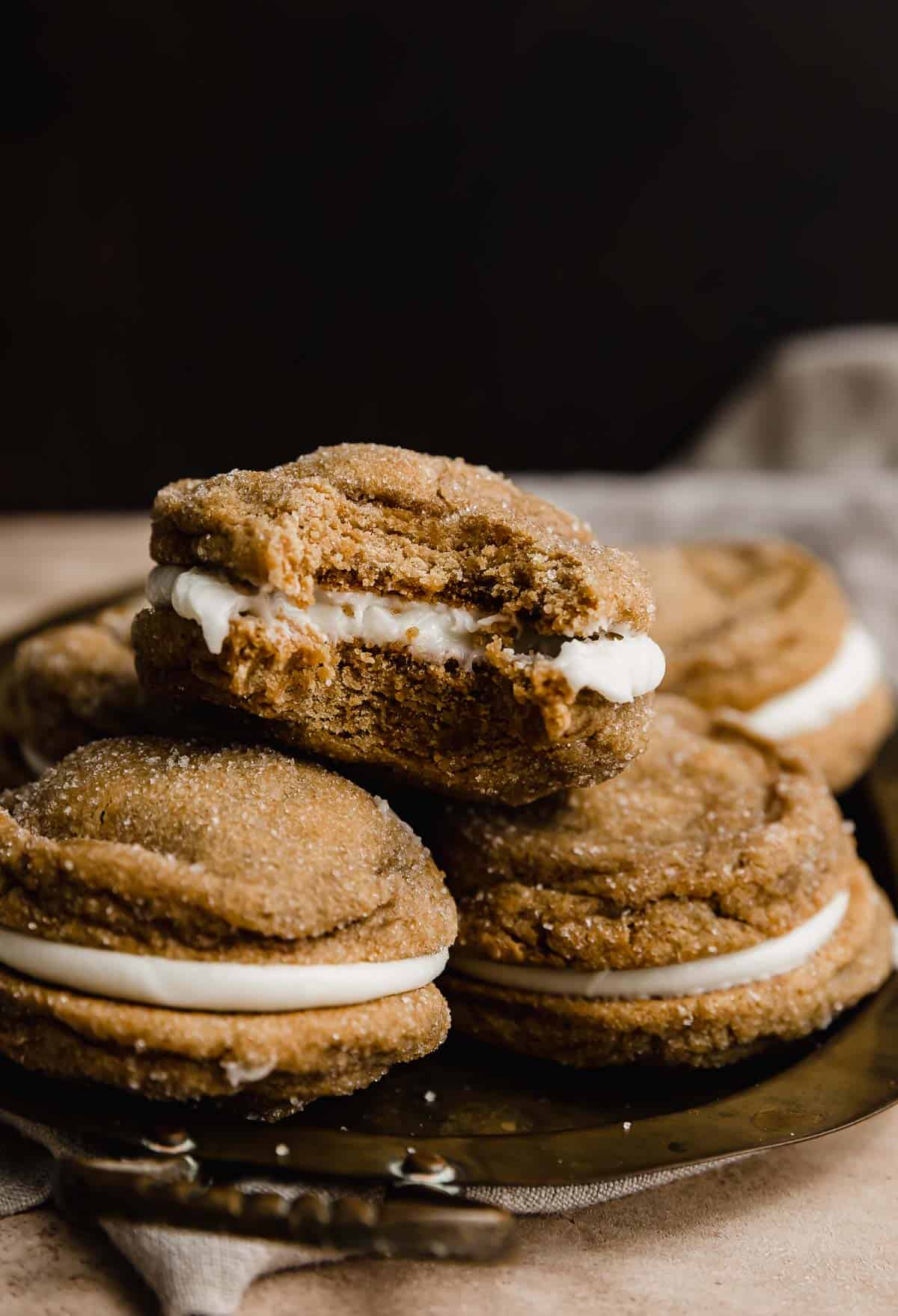 Gingerbread Sandwich Cookies
The BEST gingerbread cookies you'll ever have! Smooth cream cheese frosting is sandwiched between two soft gingerbread cookies resulting in delicious gingerbread whoopie pies.
Servings:
12
whoopie pies
Ingredients
Gingerbread Cookies
1

cup

butter

-

softened to room temperature

1 1/4

cup

brown sugar

-

packed

1/3

cup

molasses

2

teaspoons

baking soda

1

teaspoon

ground ginger

1

teaspoon

ground cinnamon

1/2

teaspoon

salt

1/2

teaspoon

ground cloves

2

large

eggs

-

at room temperature

4

cups

all purpose flour

granulated or coarse sugar
Cream Cheese Filling
8

oz

cream cheese

-

softened

3 1/2

cups

powdered sugar

1

teaspoon

vanilla extract
Instructions
Gingerbread Cookies
Preheat oven to 350°F. Line two baking sheets with parchment paper or silicone baking mats. If not using mats, spray the cookie sheets with cooking spray. 

In the bowl of a stand mixer fitted with the paddle attachment, or using hand beaters, beat the butter and brown sugar on medium speed for 2 minutes or until fluffy. Add the molasses and mix until combined. Add the eggs, one at a time, mixing well after each addition. 

Add the baking soda, ginger, cinnamon, salt, and cloves and flour. Mix until combined. 

Scoop the soft dough into 24 – 1 ¾" inch balls. Roll each ball in granulated or coarse sugar. Place the balls on the baking sheet about 2 inches apart from one another. 

Bake for 9-11 minutes or until the edges are set and lightly golden brown. Cool the cookies on the cookie sheet for 5 minutes and then transfer the cookies to a cooling rack to cool completely. 
Cream Cheese Filling
In a medium bowl beat the cream cheese until smooth. Add the powdered sugar and vanilla and beat until smooth. 
Assemble the Whoopie Pies
To make the whoopie pies spread or pipe the filling on the flat sides of half of the cookies. Gently Press the flat sides of the remaining cookies against the filling. Chill the whoopie pies to help the filling set. Store in the fridge for 2-3 days. 
Notes
Filled cookies need to be store in the fridge due to the cream cheese in the frosting. 
I placed 6 cookies on a sheet to avoid any risk of them touching. 
To freeze complete cookies, flash freeze until the filling is firm (about 5-10 minutes) then wrap in plastic wrap and store in a ziplock bag in the freezer for up to 2 months. Remove and let thaw. 
Nutritional info is based on 1 whoopie pie.
Did you make this recipe?
Leave a star rating and review on the blog post letting me know how you liked this recipe! Take a picture and tag @saltandbaker on Instagram and Facebook so I can see what you're making!
This post contains affiliate links. I am a participant in the Amazon Services LLC Associates Program, an affiliate advertising program designed to provide a means for us to earn fees by linking to Amazon.com and affiliated sites.