Christmas Wassail
This post may include affiliate links. As an Amazon Associate I earn from qualifying purchases.
Christmas Wassail is the perfect holiday drink made with apple cider (or apple juice), orange juice, lemon juice and then is infused with cinnamon sticks, allspice berries, fresh cloves, and fresh ginger!
Looking for more fun Christmas drink recipes? Christmas Cranberry Slush Punch has all your favorite holiday flavors but in slushy form! Cranberry Apple Cider is another delicious Christmas drink! Or try my Non Alcoholic Sangria and Raspberry Mojito Mocktail! All are delicious flavors and color of Christmas time!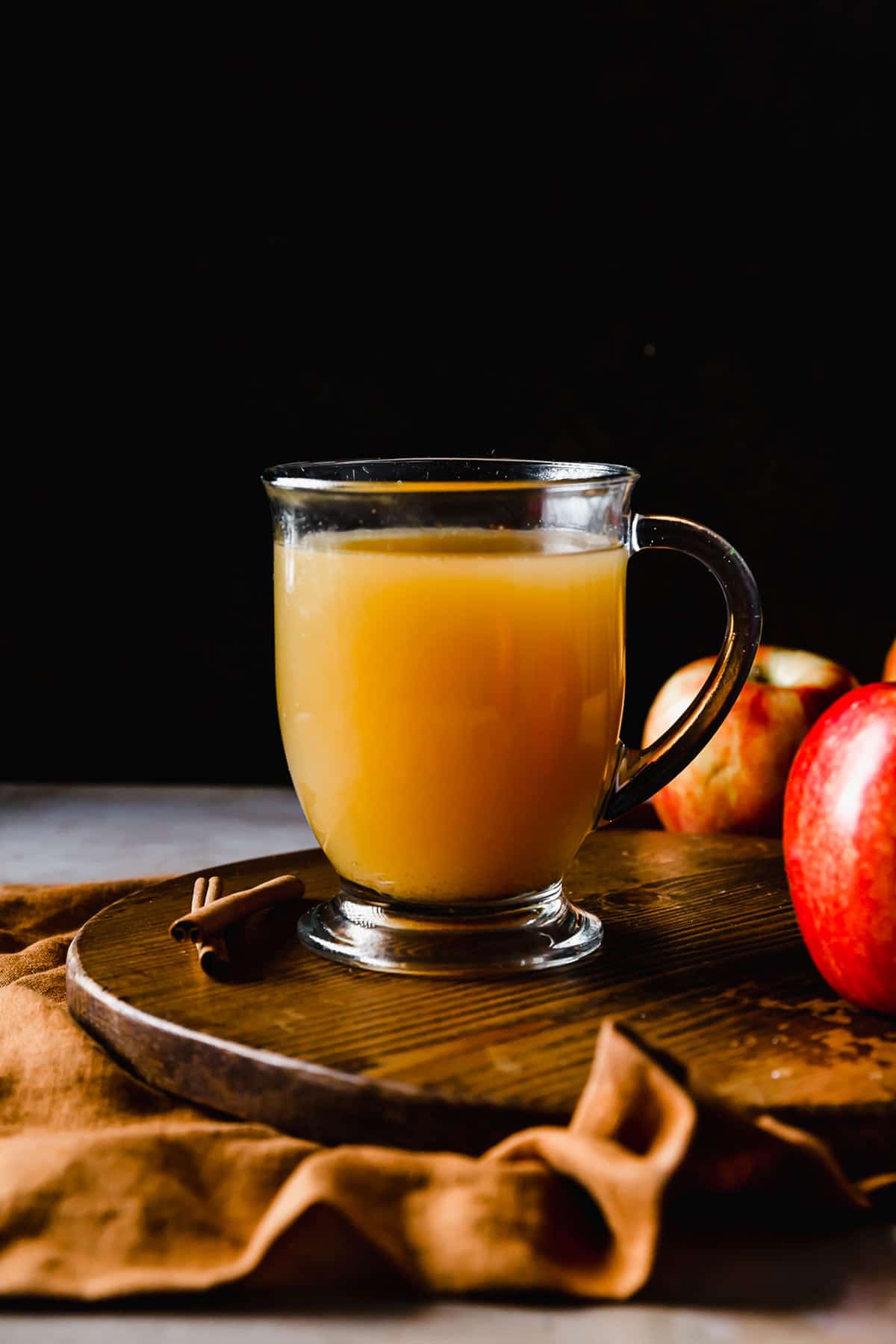 Why This Recipe Works
Christmas in a cup! It may be cliche to say it, but this really is Christmas in a cup! The smell of this homemade wassail as it sits makes me want to put on a warm sweater, turn the fireplace on, grab a mug of hot wassail and pop in a Hallmark Christmas movie! It's the best classic holiday drink for cold days! 
Easy wassail recipe. This traditional wassail recipe is super easy to make! You're simply going to melt the sugar in water on the stove, then let all those fresh spices sit and infuse into the mixture then add the juices! 
Nostalgic. Growing up, my mom made this Lion House wassail recipe. I remember those smells wafting through the house. This holiday wassail is the perfect way to ring in the Christmas season! 
Ingredient Notes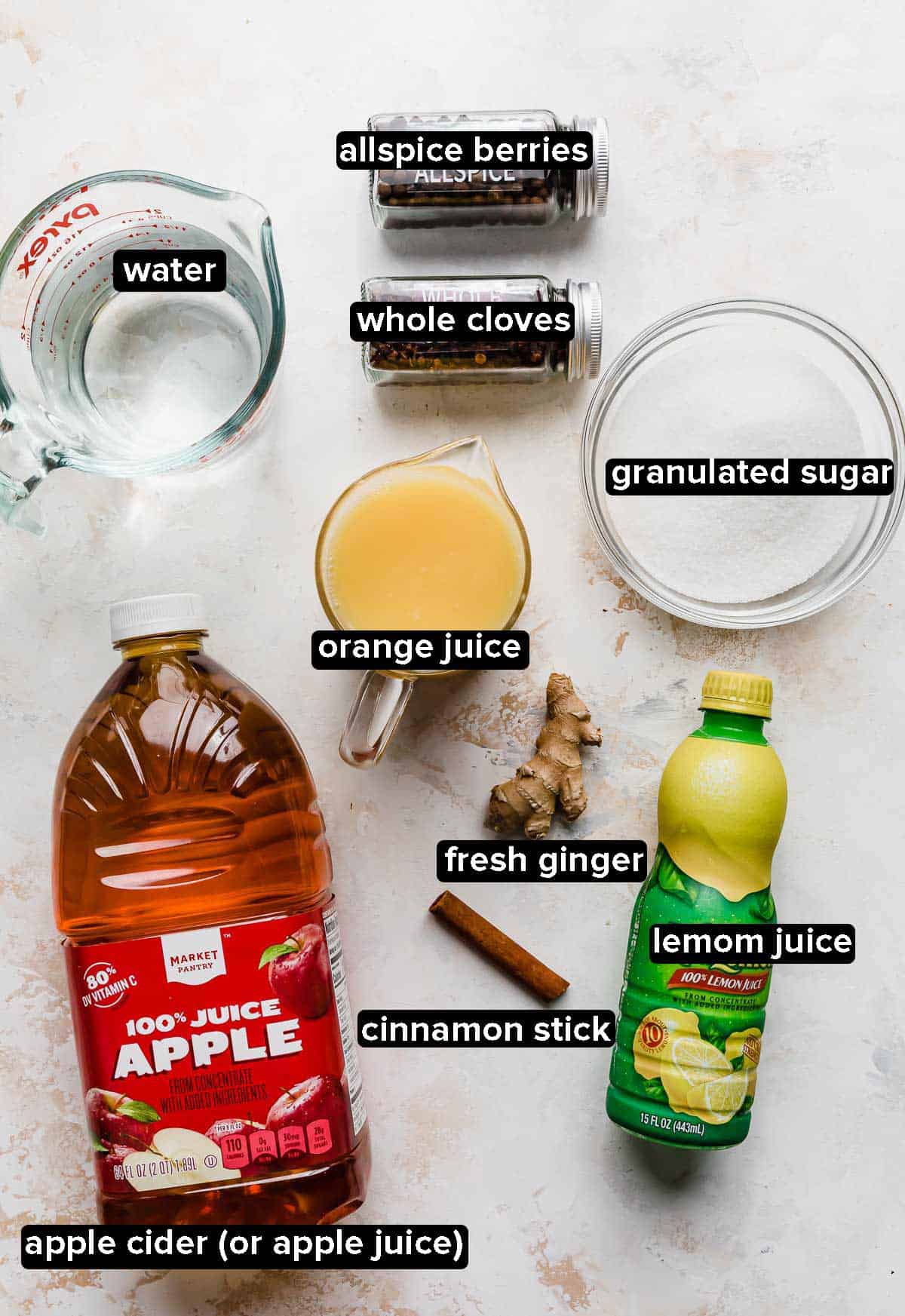 Granulated Sugar: Because we have some lemon juice in the mix, we need some added sugar to sweeten things up a bit. The sugar will be dissolved on the stove with the water.
Cinnamon Stick: A jar of cinnamon sticks from the store keeps for a while so you can use it for years to come in every Christmas wassail! 
Allspice Berries: I think the allspice berries just might be my favorite spice in this wassail recipe! 
Cloves: Fresh cloves will give a stronger flavor. Although you can use 3/4 tsp ground cloves instead if you'd like. The only difference is the cloves you'll be able to remove and the ground cloves will just have to be mixed into the wassail drink. 
Fresh Ginger: Fresh ginger will have a stronger flavor than ground. Although, you can use 1/2 tsp ground ginger. Same note as the ground cloves — if you use fresh ginger, you can just remove it after it's been infusing for the 1 hour time. Ground ginger will be mixed in and you'll probably see the spices floating. 
Juices: The perfection combination is apple cider/apple juice, orange juice and lemon juice. Note that if you decide to use apple juice, you'll want to add 1 pouch of the powdered apple cider mix. 
Step-by-Step Instructions
Dissolve the sugar. Add 1 1/8 cups granulated sugar and 2 cups water to a large pot. Place over medium heat on the stove top and bring to a boil while stirring. Let boil for 5 minutes, then remove from heat.
Add the spices. Add 1 cinnamon stick, 4 whole allspice berries, 5 whole cloves, and 1 inch of fresh ginger, grated. Cover and let sit for 1 hour to infuse the liquid with the spices. Strain and remove the spices.
Add the juices. Stir in the 4 cups apple cider or apple juice, the 1 cup lemon juice, and the 2 cups orange juice. Place over medium heat and cook until warm. Enjoy!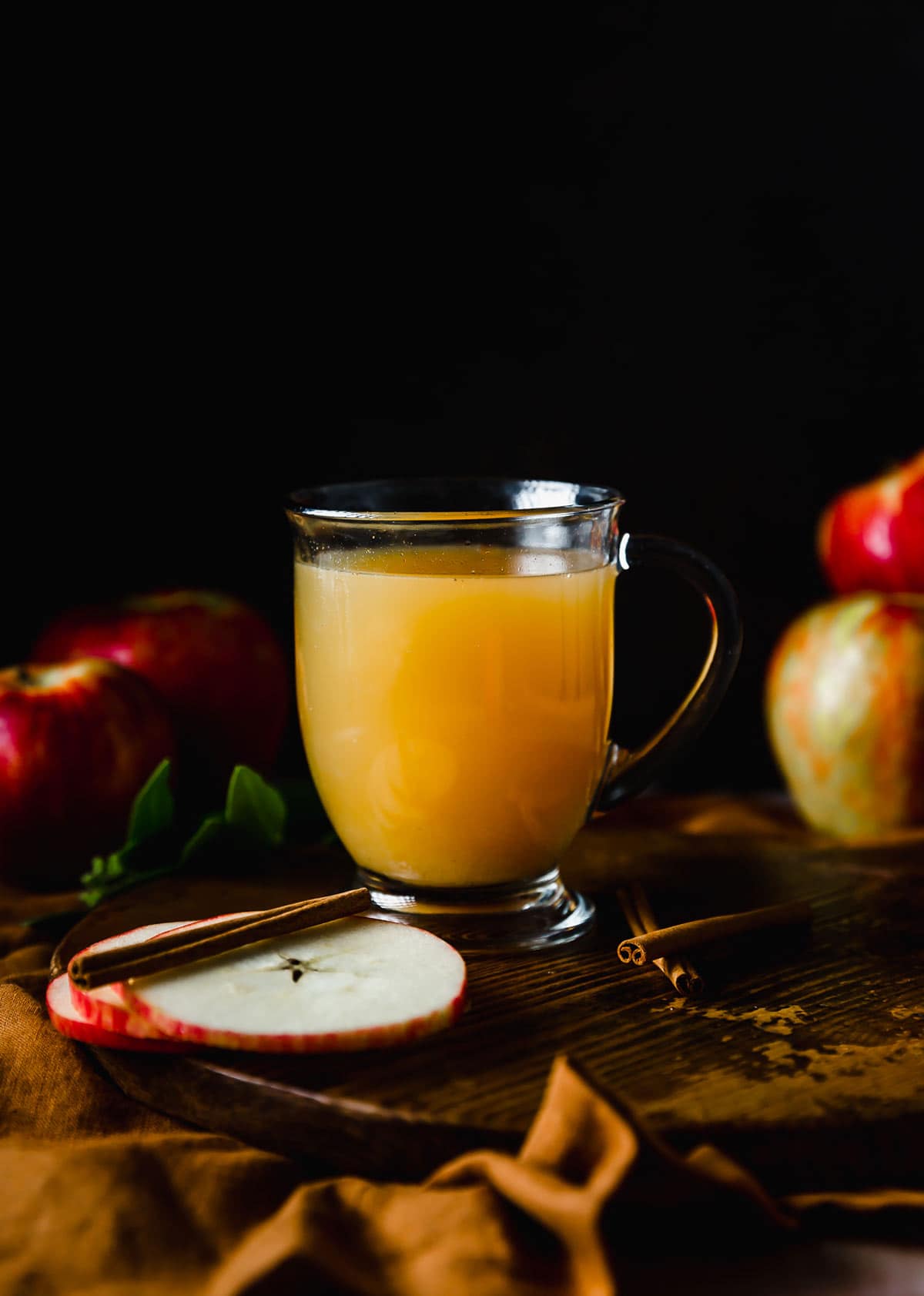 Recipe Tips
It's important to let the liquid and spices sit for the entire hour. This is what infuses the wassail with those delicious Christmas flavors!
Note that if you use apple juice, it doesn't have as much sugar or extra spices as apple cider, so you may have a weaker flavor. To fix this, add one pouch of the apple cider mix to the mixture when warming with the juices.
For the lemon juice, I just use the lemon juice concentrate, no need to squeeze any fresh lemons — although you definitely can!
If you don't have whole cloves you can substitute with ground cloves, I suggest 3/4 tsp.
If you don't have fresh ginger (make sure you peel it before adding it to the warm holiday drink – I just use a vegetable peeler), you can use 1/2 tsp ground ginger.
Strain the wassail before serving so you can remove the allspice berries, cloves and ginger.
If you'd like to leave the cinnamon sticks in there and add orange slices and/or apple slices for a pretty look in your large punch bowl, you can!
Keep the wassail warm by serving it in a large slow cooker with a ladle — this makes it easy for Christmas parties as it sits out the whole night. You can make this a crockpot wassail by adding all the ingredients to the crock pot and cooking on low heat for 6 hours or on high for 3-4 hours.
Make Ahead, Storing, and Freezing
You'll want to make this Christmas wassail ahead of time because the spices need to sit in the liquid for 1 hour in order to really infuse the liquid with all those delicious holiday flavors!
Let the hot wassail cool, then store in the fridge in a pitcher. This winter wassail will keep for about 2 weeks in the fridge — perfect to enjoy the entire holiday season!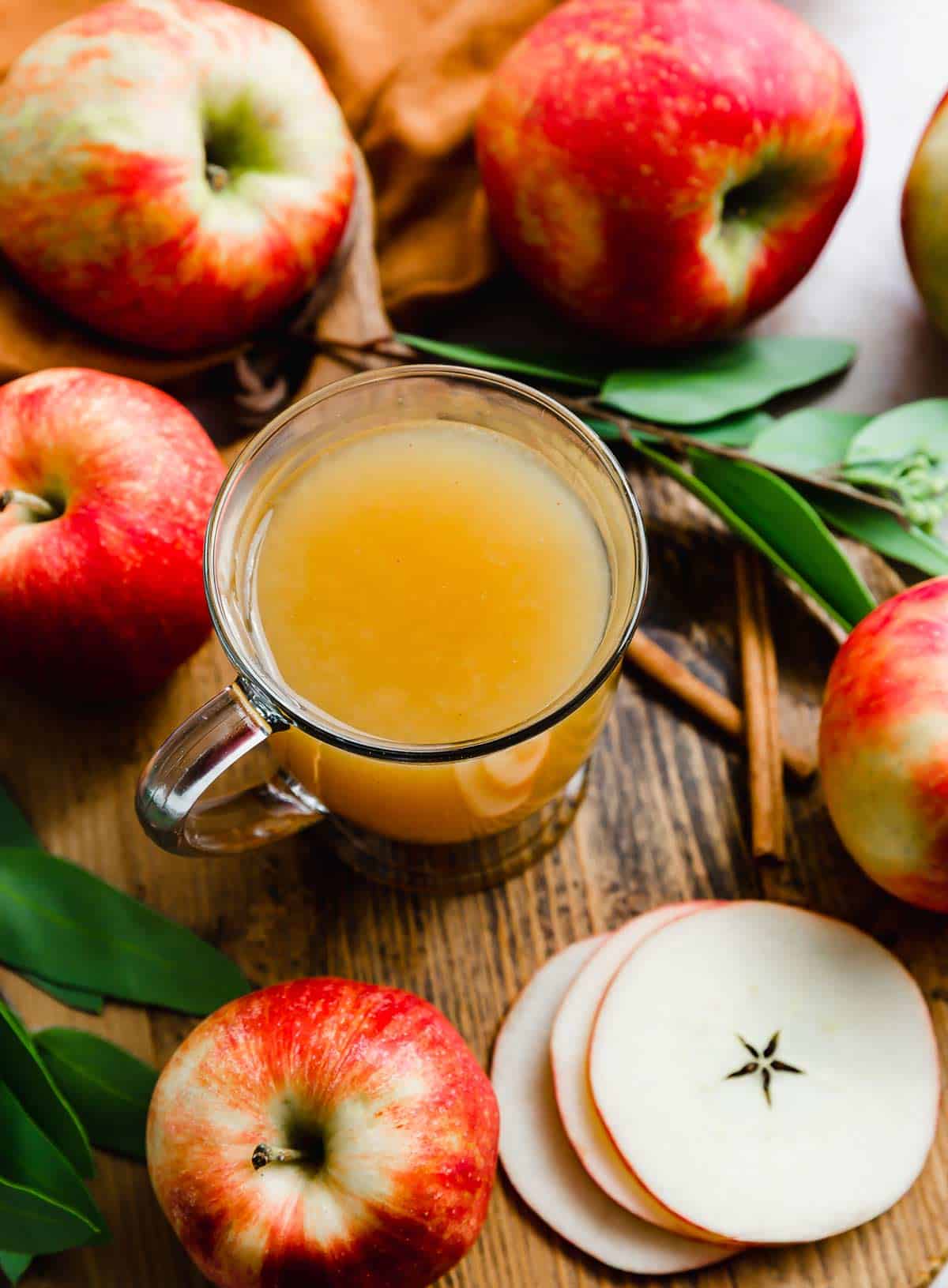 Recipe FAQs
What does wassail mean? What is the tradition of wassail?
According to Merriam-Webster, the word wassail comes from the term waes hael which means "be well." It dates back to the 12th century as a Twelfth Night tradition where people would visit local apple orchards and sing to ward off evil spirits and bring in good wishes for a good harvest. It transitioned to being referred to the drink that was enjoyed during Christmastime. You may also be familiar with the Christmas carol, "Here We Come A‐Wassailing." In England, wassailing is another word for caroling since carolers would drink wassail to warm them up!
What does wassail taste like?
Wassail tastes like Christmas in a cup! The combination of apple, orange, and lemon paired with cloves, allspice, ginger, and cinnamon creates the perfect Christmas wassail drink! 
Does wassail contain alcohol?
Wassail can be made with out without alcohol. It is always made with hot mulled cider, fruit juices, and spices. This is a nonalcoholic wassail recipe. 
Can you make wassail with apple juice?
Technically, yes. But, the flavors and sugars in apple juice are different to apple cider. This will affect the flavor of your wassail. If it's easier to use apple juice, I would add 1 packet of the apple cider drink mix. That will help amp up the flavor that you miss by using apple juice! 
Can you drink wassail cold?
Definitely! It's typically hot wassail, but you can also enjoy it cold. 
Can wassail be reheated?
Yes. To reheat in bulk, just pour the Christmas wassail into a pot and warm on the stove. You can also reheat individual cups of the wassail cider in the microwave. 
How many servings does this wassail recipe yield?
It makes about 18 half cup servings.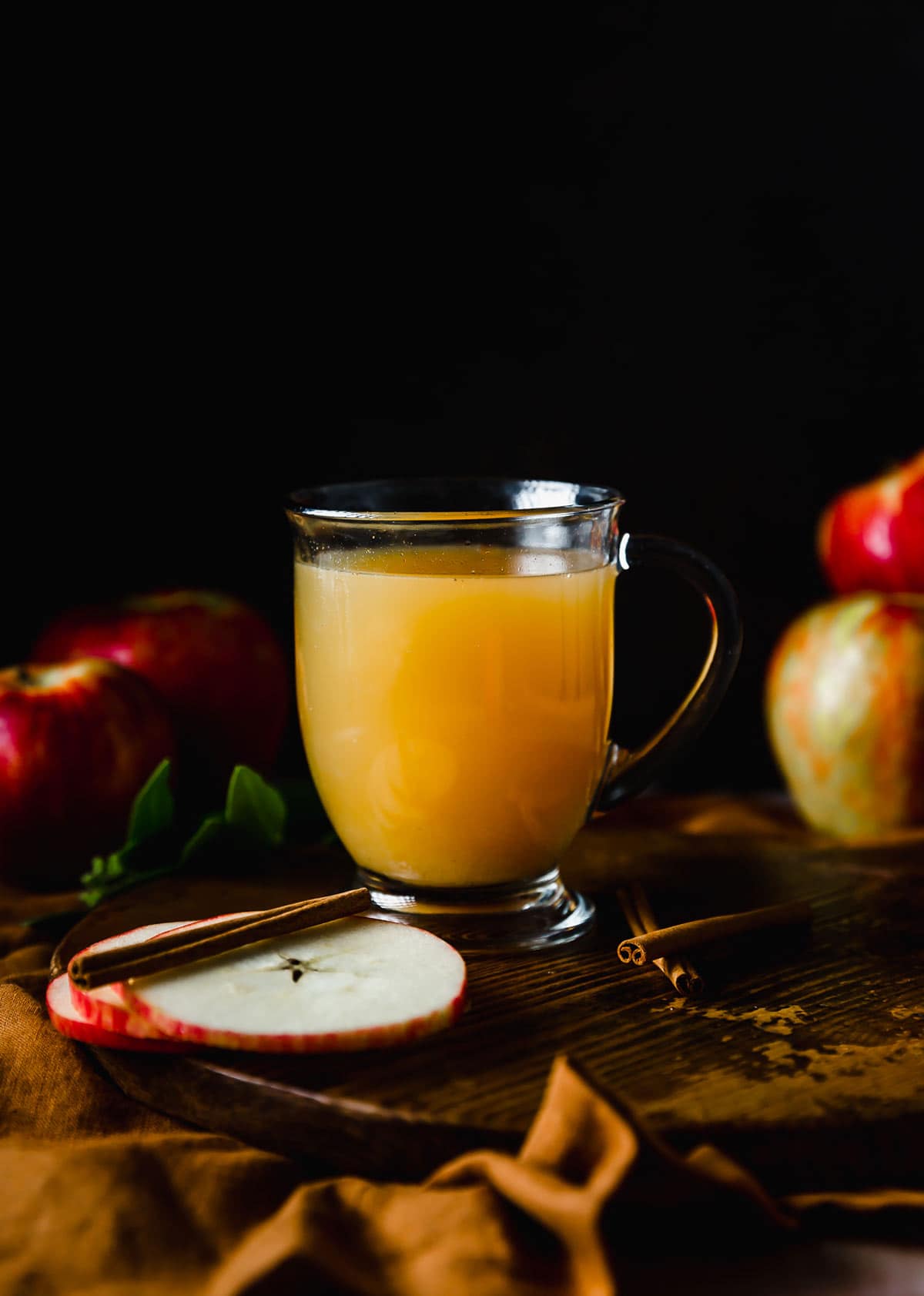 More Christmas Recipes
Christmas Wassail
This homemade wassail is the recipe my mother would make around the holidays. The spices and smells of orange juice and apple cider simmering on the stove will surely boost your spirits (and taste buds)!
Servings:
18
1/2 cup servings
Ingredients
1 1/8

cup

granulated sugar

2

cups

water

1

cinnamon stick

4

allspice berries

5

whole cloves

-

or 3/4 teaspoon ground cloves

1

inch

fresh ginger

-

peeled, or substitute with 1/2 tsp ground ginger

2

cups

orange juice

1

cup

lemon juice

-

I use the lemon juice concentrate

4

cups

apple cider

-

can also use apple juice but you'll lose some flavor.
Instructions
In a large pot over medium heat, stir the sugar and water. Bring to a boil and boil for 5 minutes, stirring frequently. 

Remove from heat. Add the cinnamon stick, allspice berries, cloves, and ginger. Cover and let sit for 1 hour. 

Stir in the orange juice, lemon juice, and apple cider. Place over medium heat to warm the drink. Serve warm.
Notes
Store in an airtight container or pitcher in the fridge for up to 2 weeks. Reheat on the stove or in individual mugs in the microwave. 
To keep warm while serving, transfer to a slow cooker. 
Did you make this recipe?
Leave a star rating and review on the blog post letting me know how you liked this recipe! Take a picture and tag @saltandbaker on Instagram and Facebook so I can see what you're making!
This recipe is the one my mother would make every year in December. She got the recipe from Lion House.