Christmas Breakfast Ideas
This post may include affiliate links. As an Amazon Associate I earn from qualifying purchases.
As you prepare for the highly anticipated Christmas morning, don't forget to include the delicious smells of Christmas food! To make Christmas Day easier on you, I've gathered a bunch of delicious Christmas breakfast ideas for you!
A special breakfast is a favorite family Christmas tradition during the holiday season — but I'm all for the easy recipes when it comes to holiday cooking and baking. Whether it's cinnamon rolls or homemade pancakes or delicious Christmas morning breakfast casseroles, you'll find these recipes will give you the best Christmas breakfast without the hassle of spending tons of time in the kitchen!
If you are looking for healthy breakfasts, sweet and indulgent, or quick and easy breakfasts, or the perfect Christmas brunch idea, you'll find a recipe for any and all of those in this Christmas breakfast recipes list! This list of recipes includes my family's favorite recipes to make — I know you'll love them too!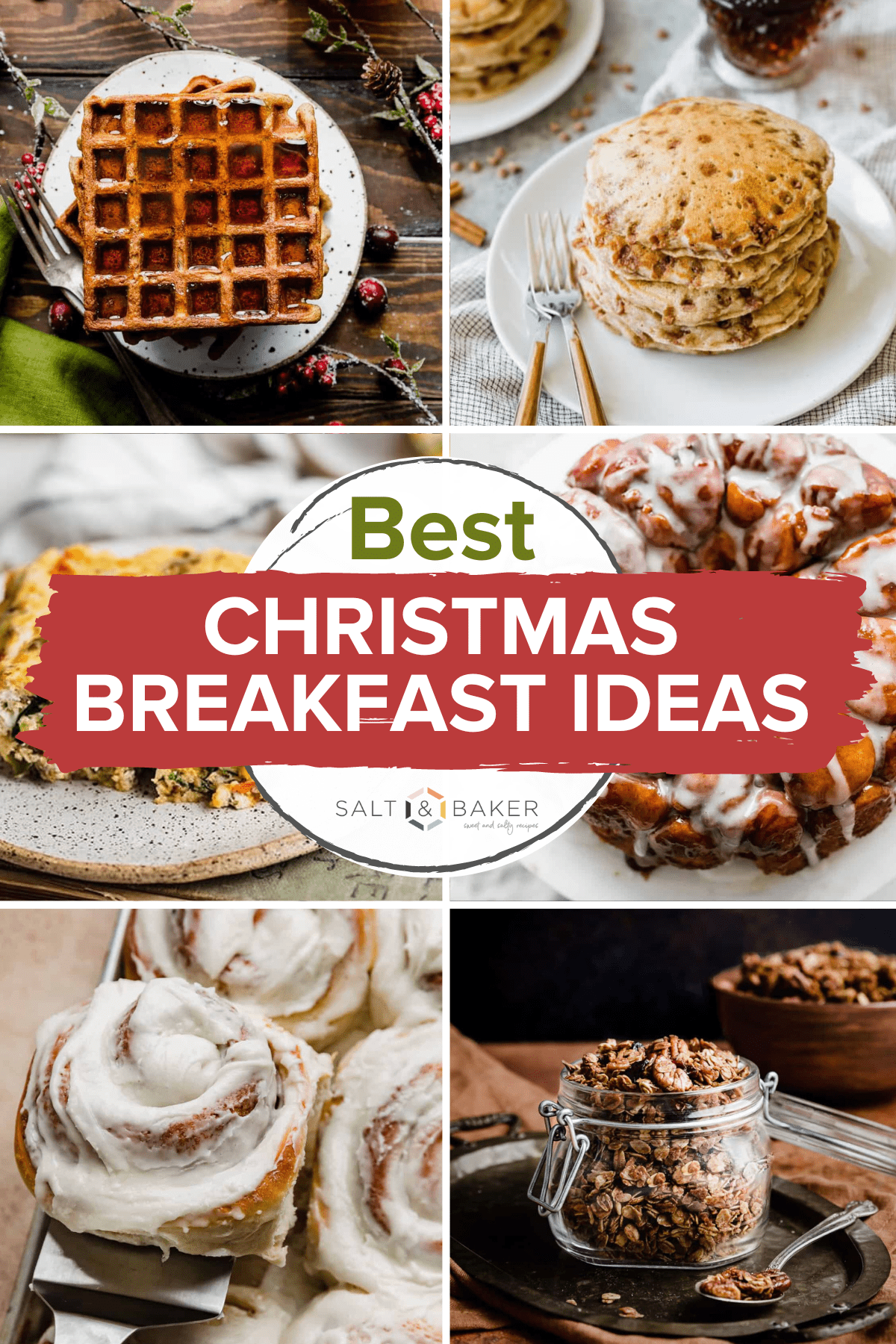 Sweet Baked Goods
Cinnamon rolls are always a favorite Christmas morning tradition in my family. There is something so special about the magic of Christmas and the smells and tastes of cinnamon rolls! Plus it's easy for people to grab a giant cinnamon roll to enjoy as kiddos and cousins open presents. 
Mini cinnamon rolls are the perfect option if you need to make a lot more cinnamon rolls for a bigger crowd. They are small, sweet, and oh so delicious! The perfect breakfast. 
Orange rolls are another family favorite! You have the delicious bakery-style sweet roll size and texture but the zesty punch of orange zest takes it to the next level! Oranges and Christmas are the perfect combination. 
Monkey bread is great for large gatherings. This pull-apart or tear-and-share recipe is like little mini cinnamon roll balls for everyone to enjoy. This is great breakfast recipe for Christmas morning because people can come and go and grab a quick bite as they lounge in their Christmas pajamas taking turns opening gifts! 
Pancakes and Waffles
These gingerbread waffles are the perfect holiday recipe! Not only do they taste amazing, but your house will smell amazing too!
Homemade buttermilk pancakes are perfect for a classic, fluffy pancakes recipe. Serve these beauties with homemade raspberry sauce, fresh fruit, and whipped cream for an extra special touch.
English pancakes can be served with sugar and lemon juice (a personal favorite) or used like crepes and filled with raspberry sauce, fresh berries, vanilla ice cream, and more! 
Cinnamon chip pancakes is another perfect holiday breakfast recipe. Cinnamon is a favorite flavor this time of year, and adding cinnamon chips to pancakes is a no-brainer! 
Buttermilk waffles are crispy on the outside and soft and fluffy on the inside! Serve these fluffy waffles with some gingerbread syrup for an extra festive touch. 
Chocolate chip waffles are great for kiddos and littles. They love those bursts of chocolate chips in the waffles! 
Healthy Christmas Breakfast
Banana oatmeal pancakes is another delicious healthy breakfast recipe to make on Christmas morning. The best part is that because these pancakes are made with bananas, oats, and cinnamon, they are healthy and delicious! 
Gingerbread granola is a fun way to turn a healthy breakfast into a festive one as well! With all the favorite flavors of gingerbread, this granola recipe is loved by kids and adults alike. This is great make-ahead option because you can make the granola a few days before Christmas Eve and just store it to use later. 
Healthy German pancakes is a spin on my favorite German pancakes recipe — but with a boost of protein and lower fat (thanks to the almond milk)! This is an easy breakfast because you just add all the ingredients into a blender then bake! 
Breakfast burrito with black beans is a great way to add a protein-packed breakfast into the busy Christmas morning traditions! 
The best holiday breakfast is one you don't have to babysit! Breakfast casserole is easy to assemble, then just let the oven do the rest! Packed with delicious flavors and healthy ingredients, a Christmas breakfast casserole is a great addition to your morning food spread.