Gingerbread Waffles
This post may include affiliate links. As an Amazon Associate I earn from qualifying purchases.
Brimming with your favorite warm spices, these Gingerbread Waffles are buttery, made with molasses and have the perfect crunchy exterior and soft interior! Serve with homemade Gingerbread Syrup for the perfect holiday breakfast!  
There's something about this time of year that makes me crave the smell and taste of gingerbread! Whether it's in dessert form or breakfast form, I'm in love! If you want more gingerbread recipes, you'll love my Gingerbread Granola, Gingerbread Cookies, and Gingerbread Bundt Cake! 
Why This Recipe Works
Perfect recipe to ring in the holiday season! If playing Christmas music, watching Hallmark Christmas movies and all the holiday decorations weren't ringing in the holiday cheer, then this homemade gingerbread waffles recipe definitely will!
Best Christmas breakfast. I would make these waffles just for the way they make my house smell! Oh man. The amazing thing is they taste just like they smell, if not better. I usually make cinnamon rolls for our Christmas morning breakfast, but cinnamon rolls are going to have to share the day because this gingerbread waffle recipe is definitely going on the menu!
Gingerbread waffles with molasses. These easy gingerbread waffles are made with a touch of molasses so the flavor of these waffles really resembles gingerbread!
Fluffy and crispy waffles. Using the cornstarch makes the texture of the waffles have a soft interior and crunchy exterior! Plus, using baking soda, baking powder and beaten egg whites, we'll get the perfect light texture we all love when we take a bite of the best gingerbread waffles!
I have many fond memories of Christmases past, gathering with my immediate and extended family singing holiday songs, wearing our best Christmas sweaters and exchanging gifts. My family always had special food around the holidays as well. Food we only got at Christmas time! There's really nothing like good food and good company.
So as you celebrate the Christmas season with your loved ones, virtually or in-person, share some laughs, some carols, and some really good food. 🎄
Ingredient Notes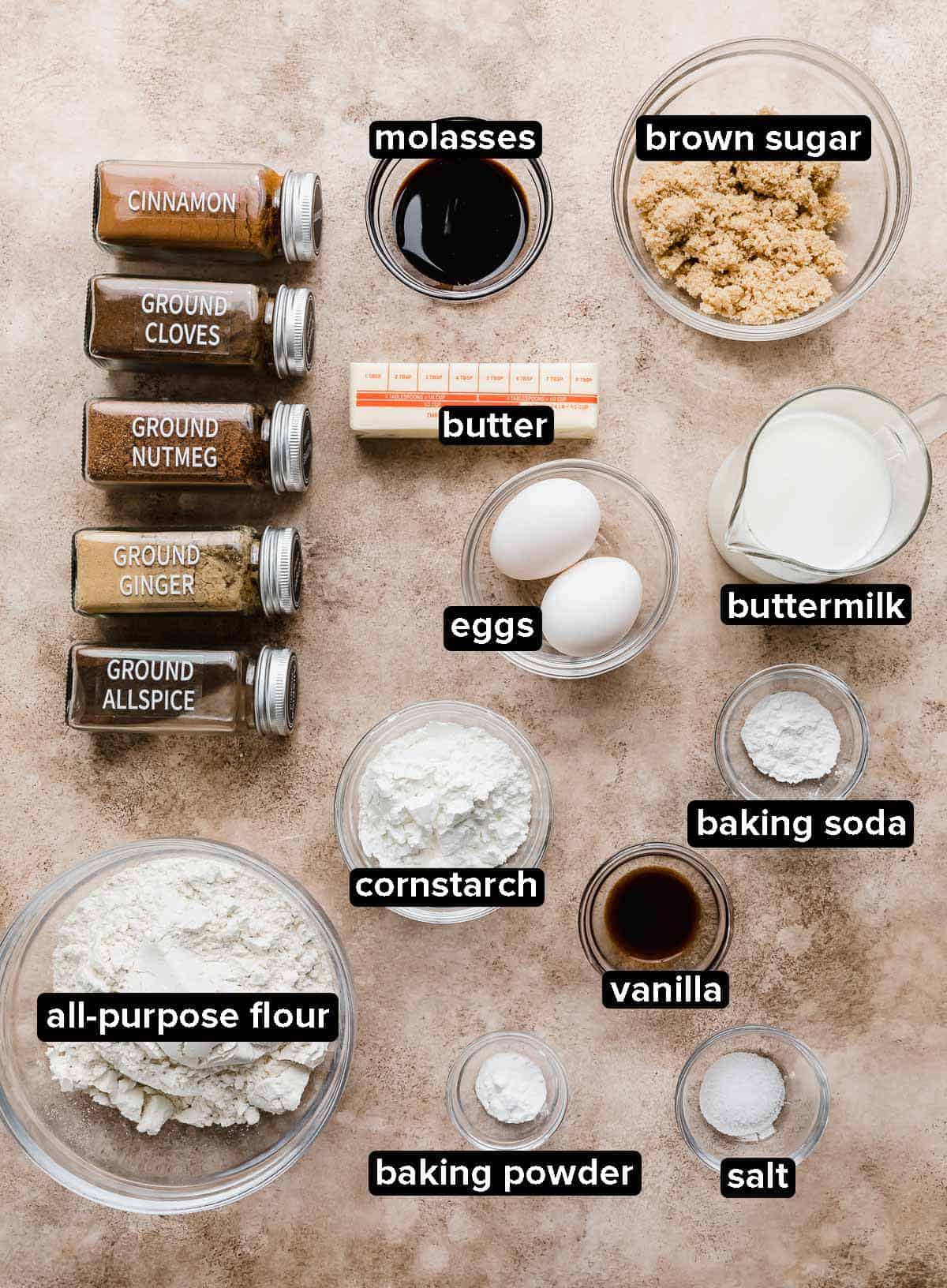 Cornstarch: The cornstarch is what creates a nice, crispy texture on our waffles and a soft interior.
Gingerbread Spices: Ground ginger, cinnamon, allspice, ground nutmeg, ground cloves. The combination of spices in these waffles is a treat to eat and to smell!
Butter: Using melted butter will give us pockets of that delicious buttery flavor!
Buttermilk: Make sure the buttermilk is at room temperature. This helps the dry and wet ingredients incorporate better, which traps air so when baked the air expands and results in perfect fluff!
Eggs: You'll separate the eggs and add the egg whites to a small plain bowl and then the egg yolks will go with the wet ingredients. We'll beat the eggs whites into peaks and incorporate those into our waffle batter, adding that amazing light texture we love.
Brown Sugar: Waffle and pancake batter always have a touch of sugar. Typically granulated sugar. But in order to enhance that gingerbread flavor, using the brown sugar is a better option (due to the molasses in it). You can use dark brown sugar or light brown sugar.
Molasses: Wouldn't be gingerbread without the molasses.
Step-by-Step Instructions
Combine dry ingredients. Add 1 1/2 cups all purpose flour, 1/4 cup cornstarch, 2 tsp baking baking, 3/4 tsp baking soda, 1 tsp ground ginger, 3/4 tsp cinnamon, 1/2 tsp ground nutmeg, 1/2 tsp ground all spice, 1/4 tsp ground gloves, and 1/2 tsp salt to a large bowl. Whisk to combine.
Combine wet ingredients. In a separate medium bowl add 1/2 cup of butter, melted, 1 1/4 cup room temperature buttermilk, 1 tsp vanilla extract, 2 large egg yolks (save the egg whites in a separate bowl), and 2 T molasses. Mix to combine.
Combine wet and dry ingredients. Add the wet ingredients into the large bowl with the flour mixture. Mix until partially combined.
Beat the egg whites. Using a hand mixer, beat the egg whites in the small bowl until very frothy, then add 1/4 cup brown sugar and beat until soft peaks form.
Fold in the egg whites. Using a rubber spatula, gently fold the egg whites into the gingerbread waffles batter. Don't over mix. Pockets of flour or egg whites is good. Let the waffle batter sit at room temperature for 10 minutes while preheating the waffle iron to medium-high heat.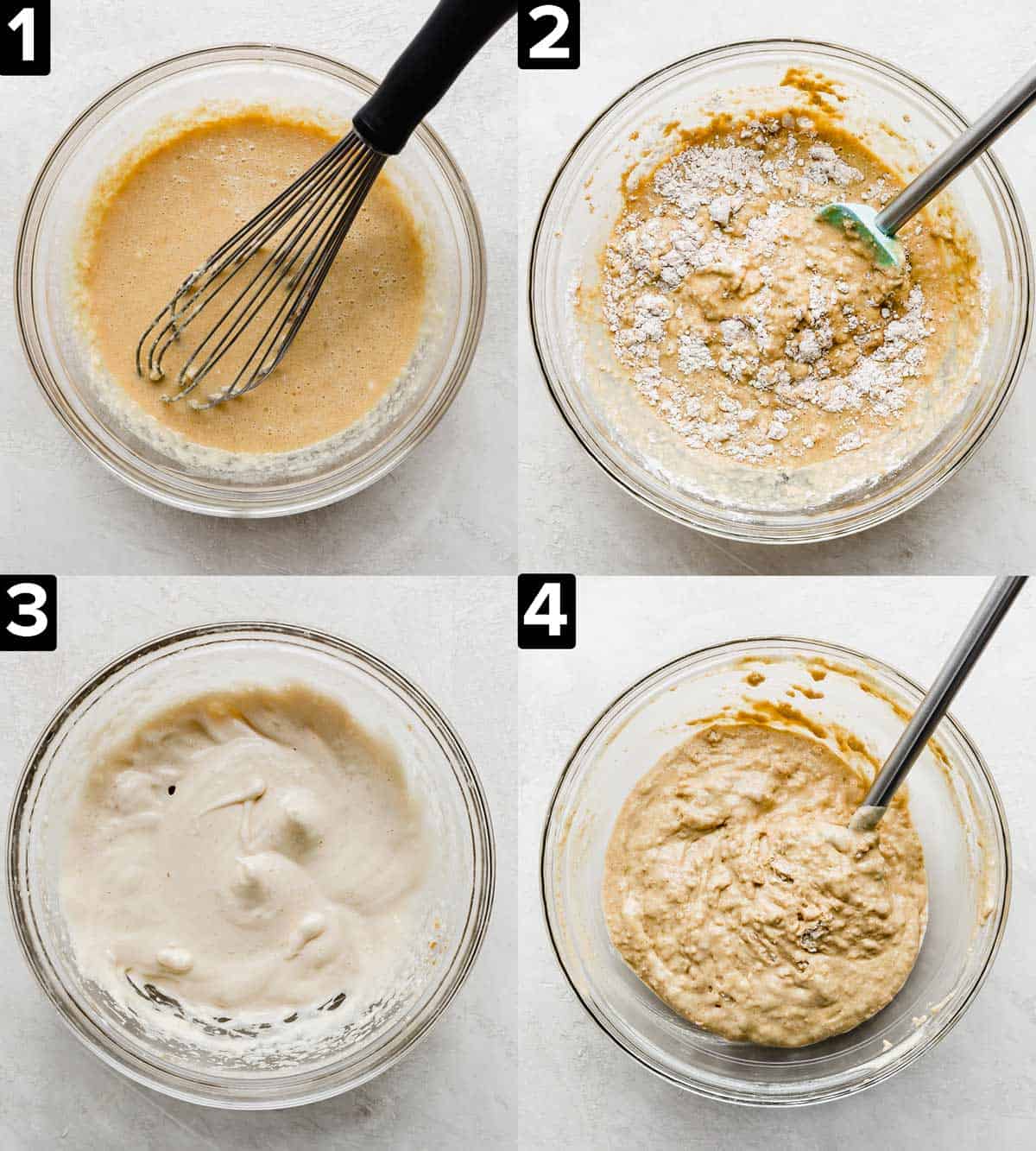 Cook the fluffy gingerbread waffles. If your waffle iron requires greasing, spray with nonstick spray. Scoop the waffle batter into the waffle iron and cook for about 4-6 minutes, until golden brown and cooked through (all waffle irons differ; follow your manufacturer's instructions). Serve these delicious gingerbread waffles warm with syrup, whipped cream or powdered sugar. Enjoy!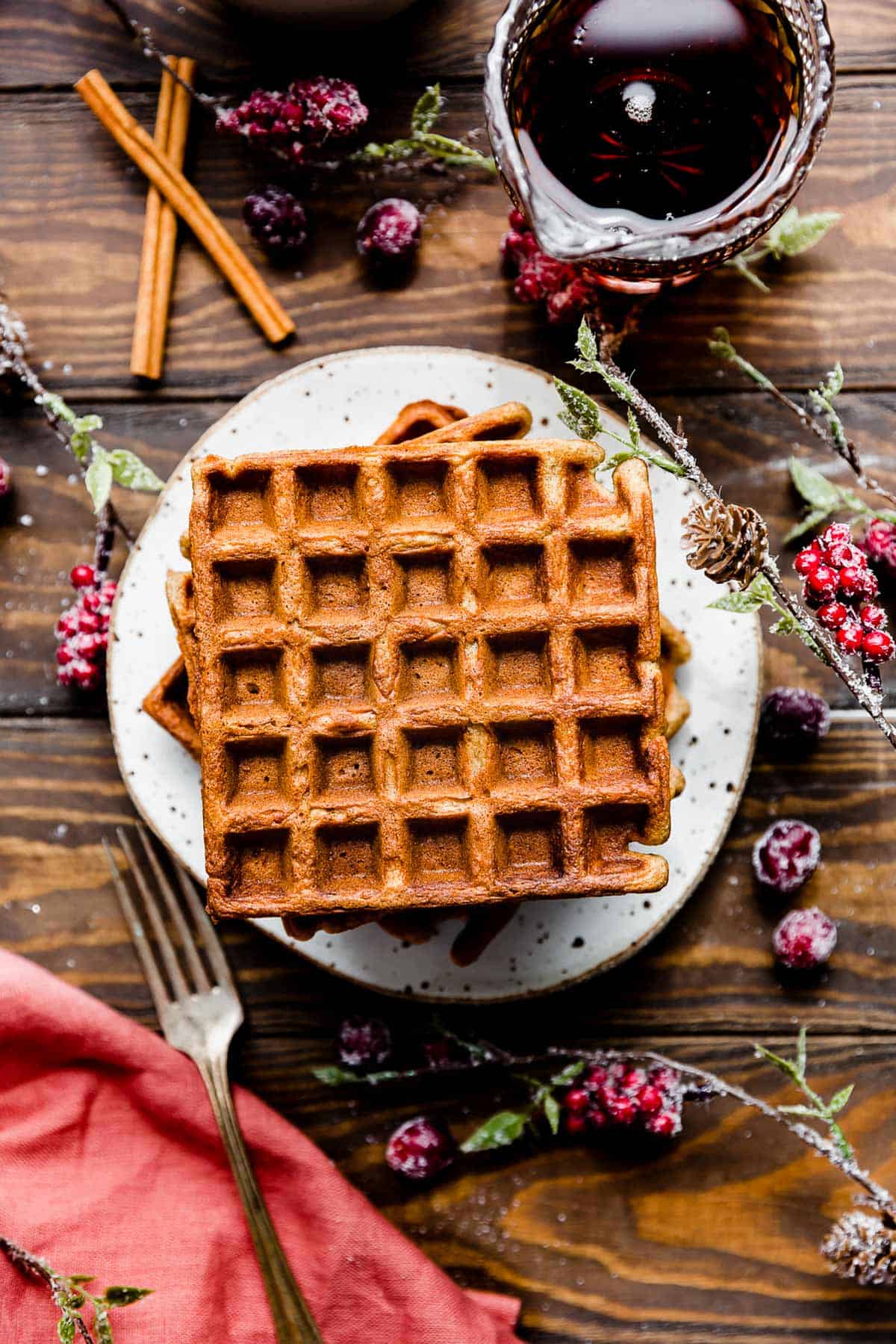 Recipe Tips
ou can also try it with coconut whipped cream!
Mix the egg whites until soft peaks form. If you whip them too much (until stiff) it makes it harder to incorporate into the other ingredients. Remember, whipping the egg whites seems unnecessary but I promise it's worth it! This extra step creates a lighter waffle than ones made without whipping the egg whites.
Letting the waffle batter sit gives the batter time to let the baking soda react with the buttermilk. This resting period also allows the gluten to relax and expand creating a more tender interior.
If your waffle iron isn't nonstick, make sure you grease it before using! You don't want your waffles sticking to the iron. You can use your fat of choice: butter, vegetable oil, or a generous dose of nonstick cooking spray. If using butter or vegetable oil, use a pastry brush to get all the nooks and crannies. My waffle iron is nonstick, so I don't have to grease it before using. One other major reason why I love it so much!
To keep the waffles warm, preheat an oven to 200°F. You can place them directly on the oven racks or my preferred method is to place waffles on a cooling rack that has been nestled into a baking sheet.
You don't want to stack the waffles on top of each other and you don't want to put them in a covered container to keep warm or else the waffles will loose their crispiness from the heat trapped in the container or trapped between the stacks of waffles.
You can have gingerbread waffles with a cream cheese frosting or hot fudge sauce if you want to make them more dessert-like. Other toppings include: powdered sugar, maple syrup, cinnamon brown butter pecan syrup, homemade gingerbread syrup, or cinnamon butter.
Make Ahead, Storing, and Freezing
You don't want to make the batter too much ahead of time. It will sit for 10 minutes to help give the waffle batter a bit of time to activate the baking soda, but then you'll want to start cooking the waffles.
Store leftover gingerbread waffles in an airtight container in the fridge for 5-6 days.
You can also freeze gingerbread waffles! Store the cooked waffles in a freezer safe ziplock bag in the freezer for up to 2 months. Remove and toast in a toaster until thawed and crispy (make sure your toaster has a frozen option. If not, you can let the waffles thaw and then toast them until crispy). Enjoy!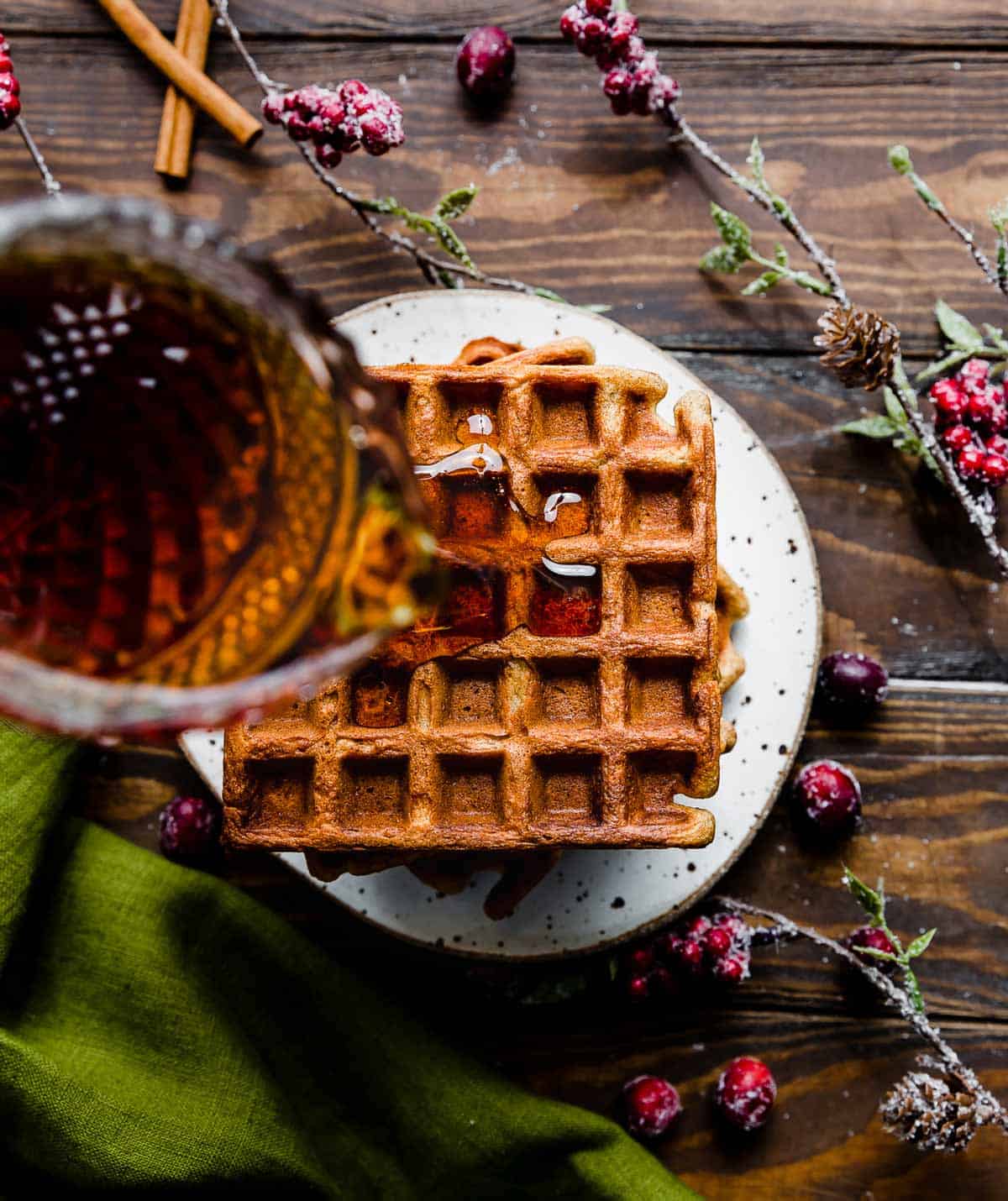 Recipe FAQs
Why add cornstarch to waffle batter?
The cornstarch will help give waffles a crispy exterior.
Why use room temperature ingredients in baking?
Room temperature eggs, milk, butter and other dairy ingredients help batters and doughs incorporate better. It also makes for more even baking.
Why should waffle and pancake batter sit before cooking?
This gives the leavening agents time to work in the batter.
What if I don't have allspice?
Allspice is a blend of cinnamon, ground cloves, and nutmeg. If you don't have allspice you can add a pinch more of each of those ingredients and you should be good to go!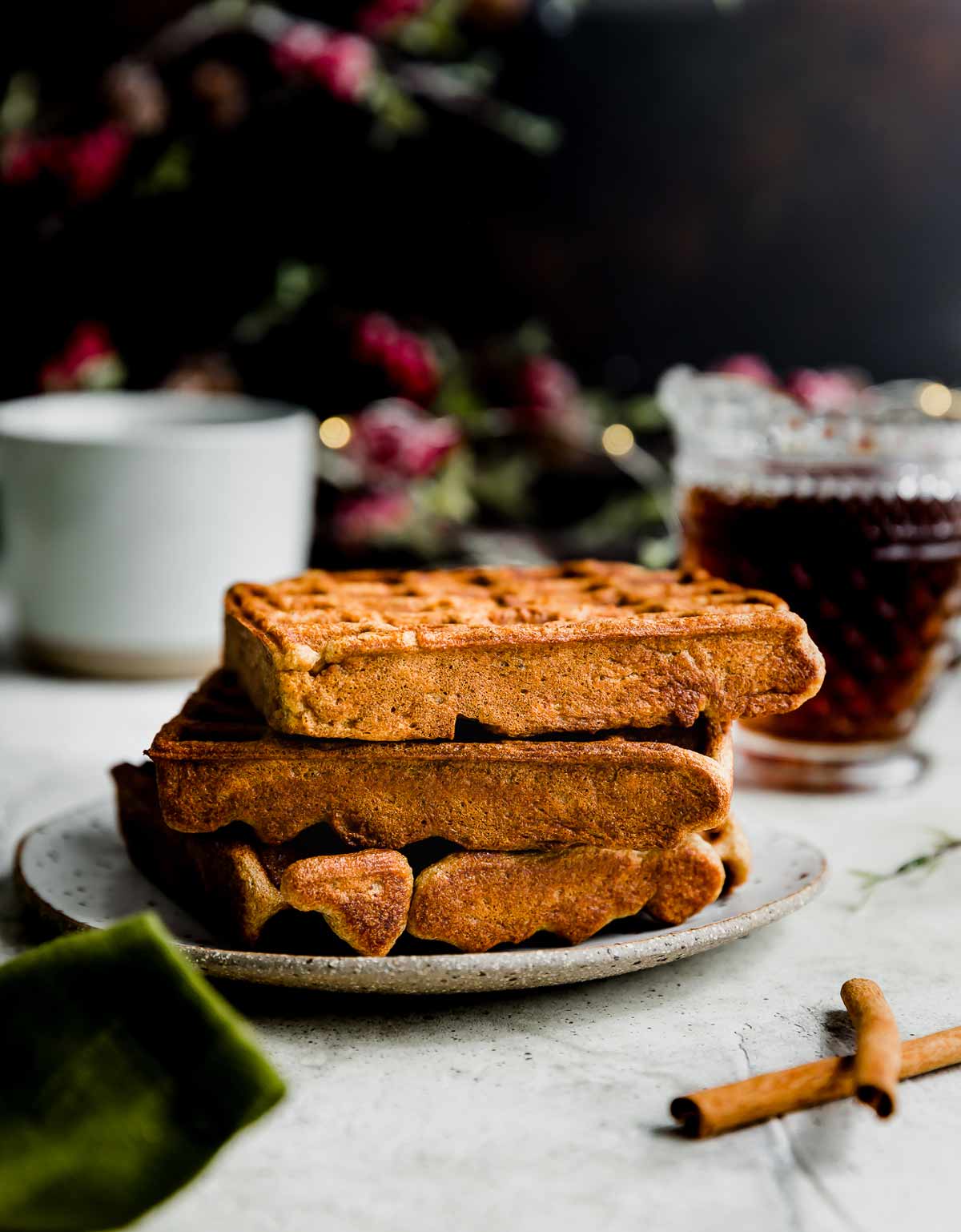 More Holiday Breakfast Recipes
Gingerbread Waffles
These gingerbread waffles are so flavorful! They are perfectly crispy on the outside and deliciously fluffy on the inside. Plus, your kitchen will smell AMAZING the entire day!
Servings:
6
square waffles
Ingredients
1 1/2

cups

all purpose flour

1/4

cup

cornstarch

2

teaspoons

baking powder

3/4

teaspoon

baking soda

1

teaspoon

ground ginger

3/4

teaspoon

ground cinnamon

1/2

teaspoon

ground nutmeg

1/2

teaspoon

ground all spice

1/4

teaspoon

ground cloves

1/2

teaspoon

salt

1/2

cup

unsalted butter -

melted

1 1/4

cups

buttermilk

-

at room temperature

1

teaspoon

vanilla extract

2

large

eggs

-

separated

2

tablespoons

molasses

1/4

cup

brown sugar

-

light or dark, packed
Instructions
In a large bowl whisk the flour, cornstarch, baking powder, baking soda, ginger, cinnamon, nutmeg, allspice, cloves, and salt. 

In a medium bowl whisk the butter, buttermilk, vanilla, egg yolks, and molasses.

Add the wet ingredients to the dry ingredients and mix until partially combined. 

In a small bowl beat the egg whites until very frothy. Add the brown sugar and beat until soft peaks form. 

Fold the egg whites into the waffle batter. Let batter sit at room temperature for 10 minutes (this is a great time to start preheating your waffle iron). 

Scoop waffle batter onto your waffle iron and cook for 4-6 minutes (all irons differ, so you'll have to gauge how much batter to use and for how long). 

Serve warm with syrup, plain, with whipped cream, or with a sprinkling of powdered sugar.
Notes
To keep the waffles crispy after they are cooked, don't stack them and don't store them in a covered dish. Place them on an oven safe cooling rack (or directly on the oven rack) in an oven preheated to 200ºF. This will keep them warm without making them go soft. 
Store leftovers in an airtight container in the fridge for 4-5 days. Reheat in the toaster to warm up and get crispy again! 
Did you make this recipe?
Leave a star rating and review on the blog post letting me know how you liked this recipe! Take a picture and tag @saltandbaker on Instagram and Facebook so I can see what you're making!