Cinnamon Baked Apples
This post may include affiliate links. As an Amazon Associate I earn from qualifying purchases.
Cinnamon Baked Apples features thinly sliced apples tossed in a brown sugar and fall spice medley then baked until fork tender. It's reminiscent to an Apple Crisp but without the Crumble Topping. Even if you want to make this baked apple recipe simply for the smell, it will be worth it!
Enjoy these delicious cinnamon baked apples with Vanilla Ice Cream, as the inside of an apple pie with my food processor Pie Crust Recipe, as a filling for my homemade Spice Cake or even bake it with my Streusel Topping! It's also completely delicious to eat by itself, on top of oatmeal or with a salted caramel sauce — guys, the options are endless!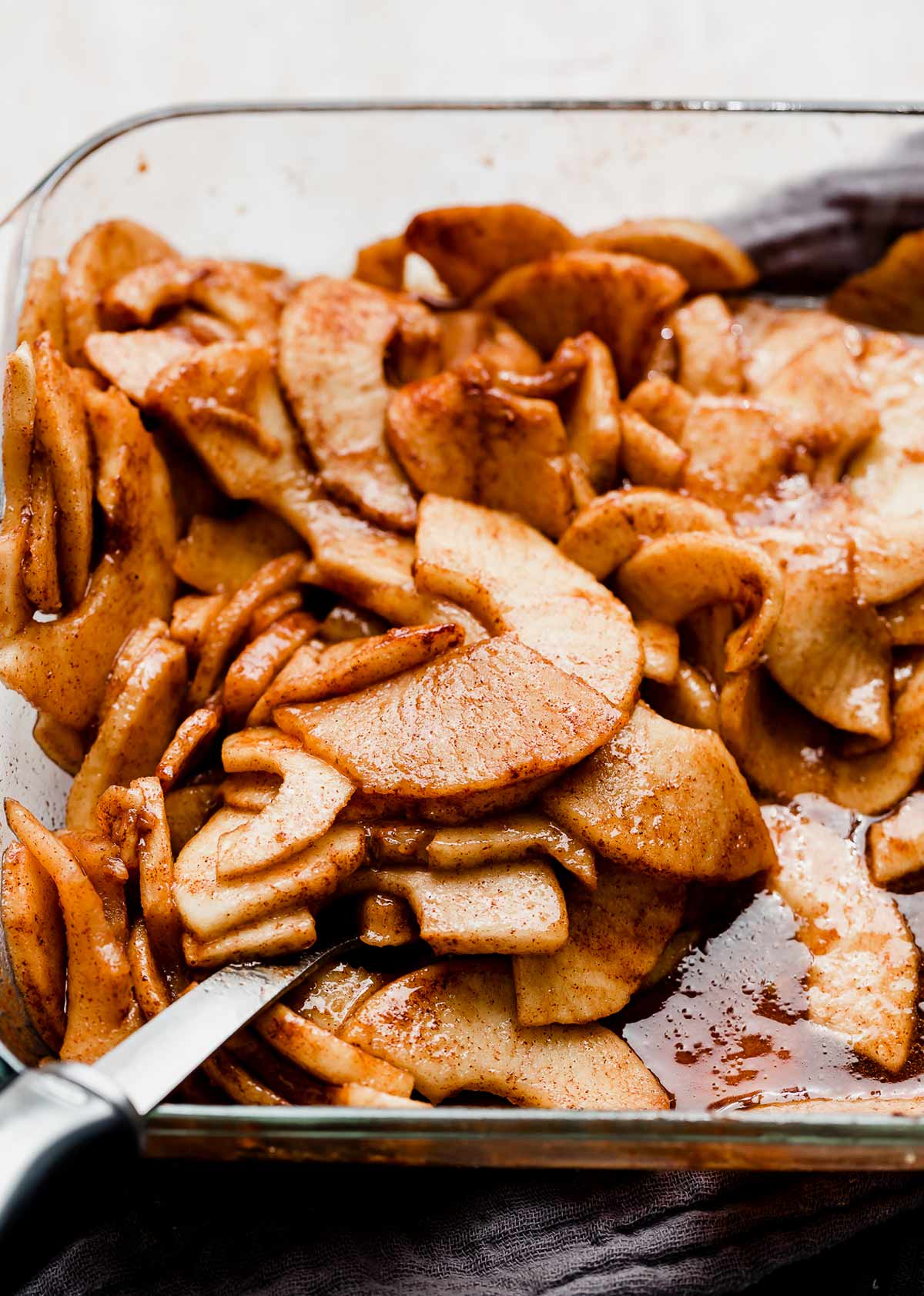 Why This Recipe Works
Delicious spiced apples. There is something magical about the combination of cinnamon, cloves and nutmeg! The buttery flavor and spices is perfect with the brown sugar apples. Once you toss the apples in the sugar and fall spice mixture you'll want to eat them all! You'll be lucky if the apples even make it into the oven. 😂 😍 I was literally slapping wrists trying to keep my 2 boys out of the apples!
Amazing as is — easy to adapt! You can enjoy these delicious baked apples plain, with a scoop of vanilla ice cream, with a delicious streusel — the best part is that the options are endless!
Easy baked apples recipe. All this recipes requires is adding sliced apples to a bowl, mixing with spices, sugar, cornstarch and butter and baking! It's an easy dessert to make and is perfect for apple season!
Ingredient Notes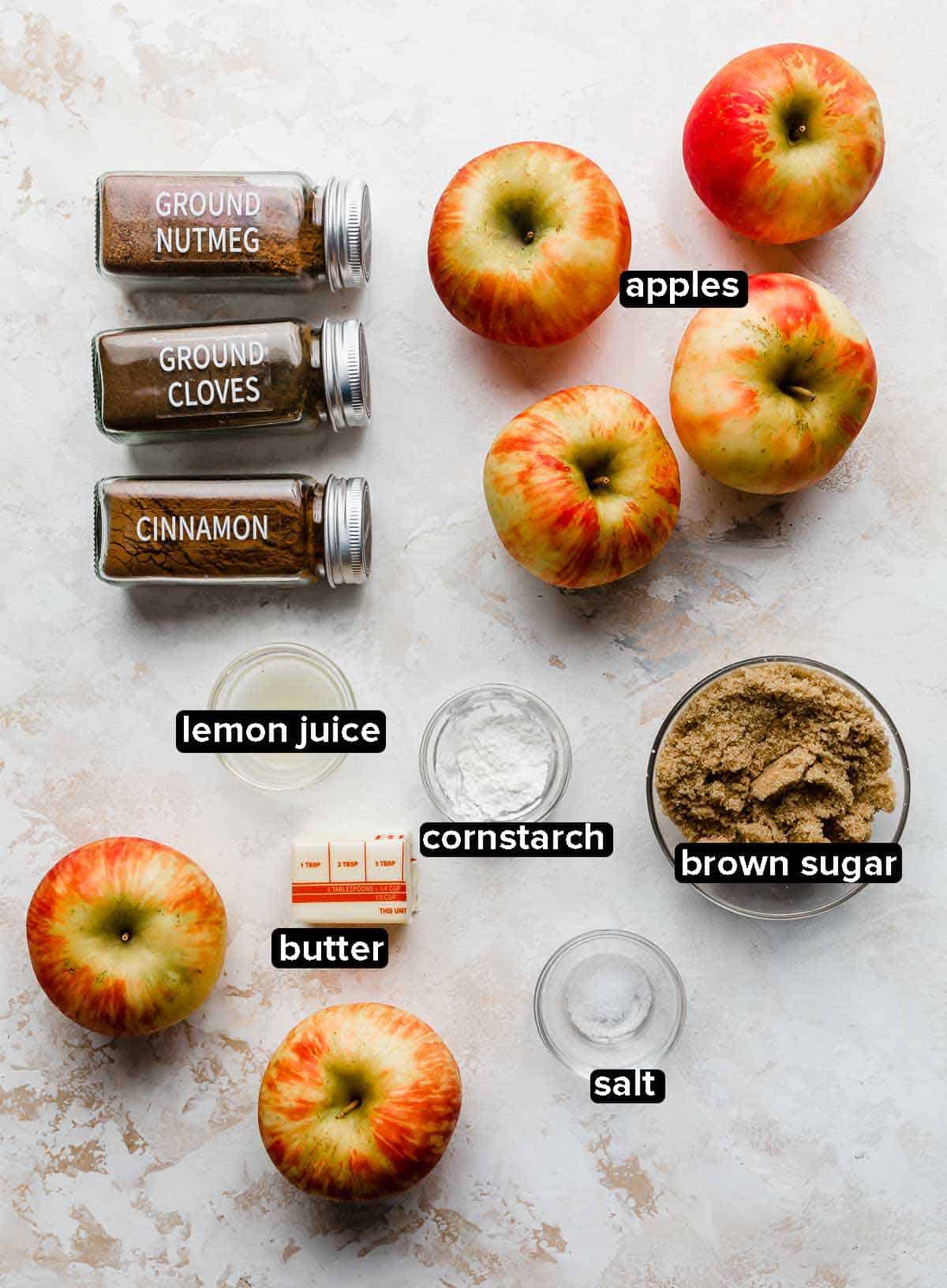 Apples: Peel, core and slice the apples in thin slices. You don't want to bake the apples with skins on. The apple skins become tough and chewy in the oven.
Brown Sugar: Any type of brown sugar will do, light or dark (whichever you happen to have on hand).
Spices: Using a medley of cinnamon, nutmeg, ground cloves provides a warm, delicious flavor.
Cornstarch: The cornstarch helps thicken the baked apples so the consistency is slightly thicker and not too liquidy.
Lemon Juice: Other than adding a tart flavor, making a more interesting flavor complex, using a little lemon juice draws out the juices in the apples.
Butter: Salted or unsalted is fine. The butter provides a delicious buttery flavor to the spiced apples.
Step-by-Step Instructions
Peel and cut the apples. Peel, core and thinly slice the apples. I have an apple peeler, corer and slicer that I use that saves me a lot of time! Or you can peel the apples and use this apple slicer to cut them.
Make the cinnamon apples mixture. Add the thinly sliced apples of 6-7 apples, 1/2 cup brown sugar, 3 tsp ground cinnamon, 1/4 tsp nutmeg, 1/4 tsp ground cloves, a pinch of salt, 1 tsp cornstarch, and 1 tsp lemon juice to a large mixing bowl. Mix until the apples are well coated.
Place in a baking dish. Grease a 9×9-inch square baking dish with butter. Place the cinnamon apples in the dish. Cut 3 T of butter into 6 pieces. Place the pieces of butter on top. Cover with foil.
Bake. Bake the cinnamon apple slices dish in an oven preheated to 350ºF for 35-45 minutes. Stir the apples every 15 minutes. The cinnamon baked apples are ready when a fork easily slides in the apples. Remove and serve the baked apples with Homemade Vanilla Ice Cream, Greek Yogurt Whipped Cream or Coconut Whipped Cream!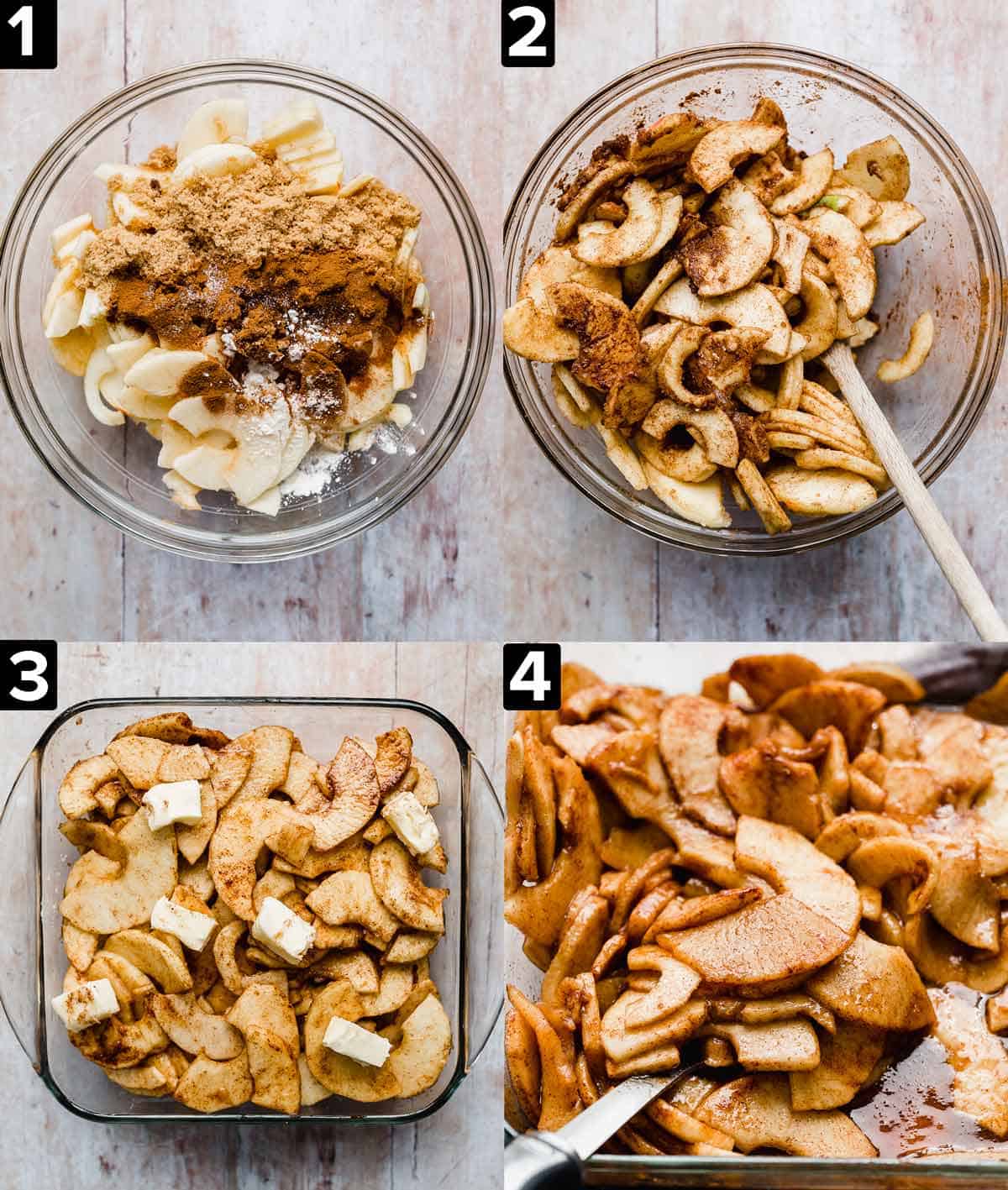 Recipe Tips
Be sure to check out my list of the best apple recipes to make this fall! Lots of great recipes in there. A recent favorite is my Apple Pie with Graham Cracker Crust!
To make these healthy baked apples, feel free to swap out the added sugar with honey, agave, or coconut sugar for a more natural sweetener.
The bake time depends on how thin or thick your apple slices are.
Use a regular vegetable peeler to peel the apple skins off the apples.
Stirring during the bake time will help keep the sauce for sticking and will keep everything a smooth consistency, helping to create delicious caramelized apples!
This simple baked apples recipe is a great way to use up apples if you have a big harvest — or you can go apple picking as a family as an excuse to make all the delicious apples recipes!
Make Ahead, Storing, and Freezing
Store the baked apples in an airtight container in the fridge for 4-5 days.
To freeze, let cool completely then store in an airtight container or freezer safe ziplock bag in the freezer for up to 2 months. Remove and let thaw. Warm in the oven.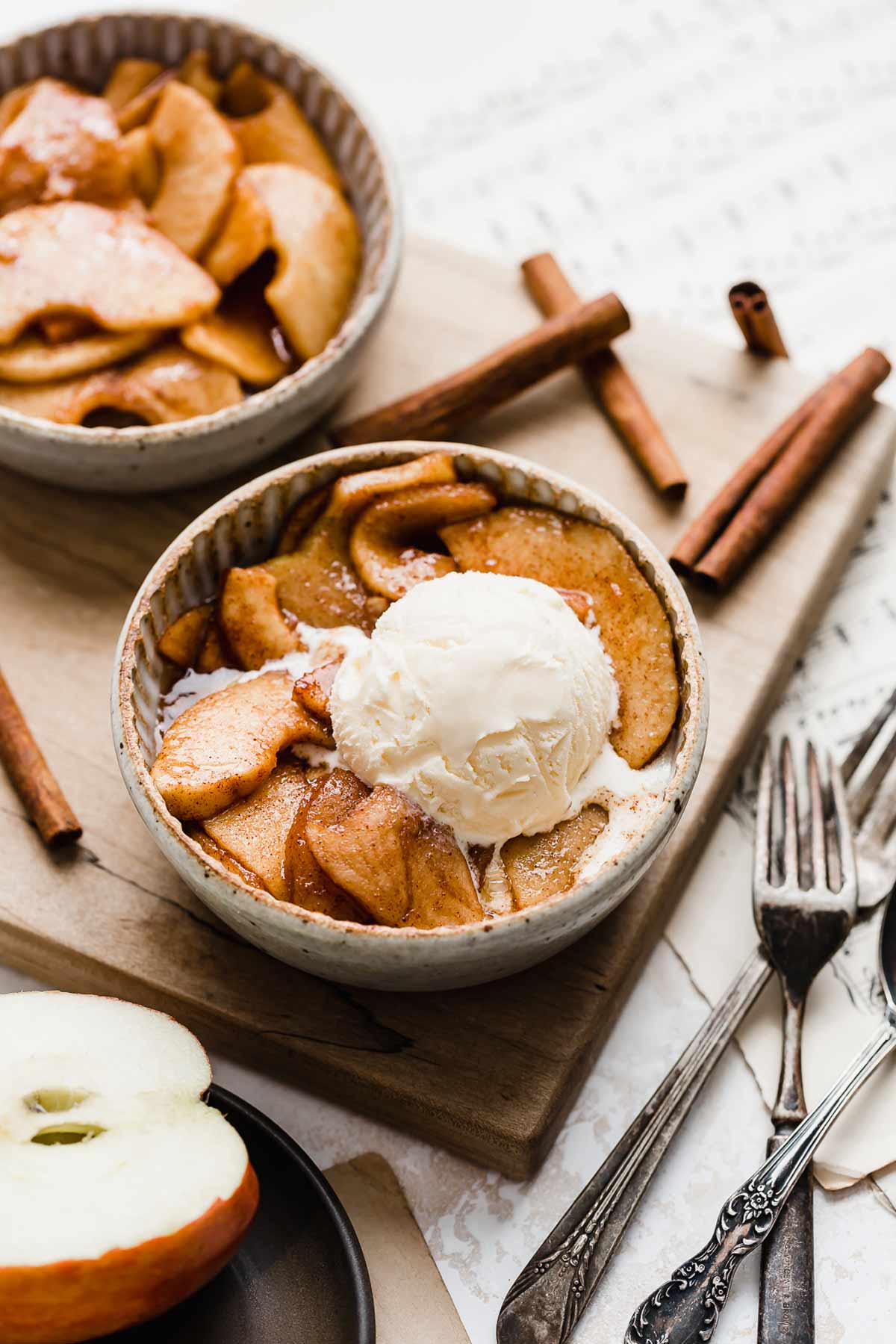 Recipe FAQs
What kind of apples should I use?
You can use a variety of apples or just one kind — it's up to you. Honey crisp, gala apples and granny smith apples are great options. Granny smith apples are much more tart, whereas honeycrisp apples and gala have more of a balance of tart and sweet. I wanted a mixture of sweet apples and tart apples, so I used honeycrisp, gala, and granny smith.  
Can I substitute honey for sugar?
Yes! You can use a different sweetener if you'd like. Honey, agave, coconut sugar, dark brown sugar, etc. are all great options. 
Do I need to peel the apples? Can I keep the apple skins on? 
I wouldn't recommend making the baked cinnamon apples with the skin still on. Apple skins tend to become tough and chewy in the oven. 
Are cinnamon baked apples healthy? 
I wouldn't put them on a list for a diet cleanse obviously. However, you can also make little adjustments to make them healthier. For example, swap out the brown sugar for honey or agave.
More Apple Recipes
Cinnamon Baked Apples
Thinly sliced apples are tossed in a brown sugar and fall spice medley then baked until fork tender.
Ingredients
6-7

cups

apples

-

peeled, cored, and thinly sliced. About 5-6 medium/large apples

1/2

cup

brown sugar

-

packed

3

teaspoons

ground cinnamon

1/4

teaspoon

nutmeg

1/4

teaspoon

ground cloves

pinch

salt

1

teaspoon

cornstarch

1

teaspoon

lemon juice

3

tablespoons

butter

-

cut into 6 pieces (can use salted or unsalted butter)
Instructions
Preheat oven to 350°F. Grease a 9×9 inch pan with butter. (See notes)

In a large bowl mix the apples, brown sugar, cinnamon, nutmeg, cloves, salt, cornstarch and lemon juice.

Spoon the apple mixture into the prepared dish. Place the butter pieces over top of the apples. 

Cover with foil and bake for 35-45 minutes, stopping every 15 minutes to stir the apples. The apples are done with they are fork tender. 

Serve warm topped with ice cream or over oatmeal, if desired.
Notes
Pan: You could also use a 9″x13″ inch pan or an 8″x8″ inch pan. As long as the apples fit in it, you're golden.
Apples: Can use a variety of apples for variation. Honeycrisp, gala, and granny smith are great options. Granny smith are much more tart, whereas honeycrisp and gala are a good inbetween of sweet and tart. So you can use a mixture if you want variation.
Sweetener: Can use different sweetener if you'd like (honey, agave, coconut sugar, dark brown sugar).
Peel apples before baking, apple skins tend to become tough and chewy in the oven.
Serve warm with homemade vanilla ice cream. 
Did you make this recipe?
Leave a star rating and review on the blog post letting me know how you liked this recipe! Take a picture and tag @saltandbaker on Instagram and Facebook so I can see what you're making!