How to Use Apples
This post may include affiliate links. As an Amazon Associate I earn from qualifying purchases.
When it comes to delicious fall recipes, it's all about how to use apples in your baking and cooking! There are so many delicious apple recipes beyond the tried and true apple crisp! You can use apples in savory recipes and in desserts!
I've gathered a list of all my favorite apple recipes in one spot for you! There are some great salads with apples, desserts with apples, and even apple snacks your kids will love!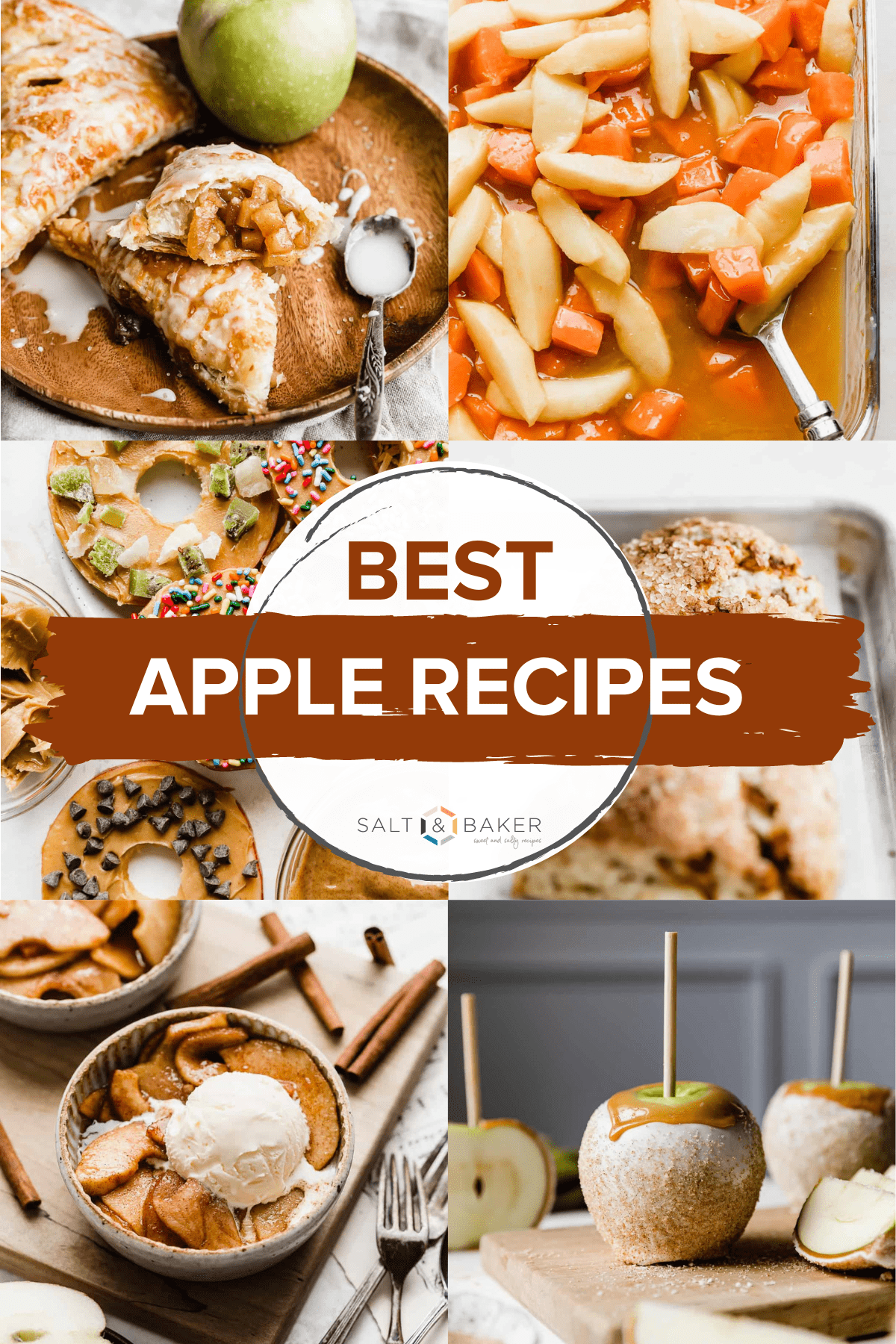 This apple crisp is so easy to make and tastes incredible! This fresh apple crisp is topped with an irresistible buttery oatmeal crumble. Serve it warm with a scoop of vanilla ice cream.
Make a simple apple pie with graham cracker crust! It's the perfect apple pie recipe that is no fuss — I love a good flaky crust, but using the graham cracker crust is a perfect hack to cutting down time. It's also topped with a most amazing brown sugar crumble.
These apple pie caramel apples are a copycat version of Rocky Mountain Chocolate Factories decadent apples. Green Granny Smith apples are dipped into a thick caramel and then covered in white chocolate then rolled in cinnamon sugar. So simple, but the flavor is to die for!
Looking for ways to use fresh apples for snacks at home? These Donut Apples are a great way to get your kids excited about fruit for snacks! Sliced to look like donuts, these apples are so fun to add your favorite nut spread and nut butters! Your kids will get excited to pick their toppings, too.
Make your own Apple Turnovers at home! It's a great way to spruce up your brunch or breakfasts and a perfect way to use up some of your apples! These Puff Pastry Apple Turnovers are quick, easy, and so yummy!
Serve fresh sliced apples as a snack with this smooth cinnamon caramel apple dip! It's creamy, delicious, and is made with cinnamon! It's the perfect apple dip recipe.
Make your own Apple Cinnamon Oatmeal at home (ditch those Quaker oatmeal packets!) with some fresh apples! This apple oatmeal recipe is quick, easy, and oh so delicious.
Turn your apples into apple cider! Then you can mix up this delicious Cranberry Apple Cider recipe for all your upcoming fall and holiday parties.
Still have some leftovers of your homemade apple cider? Put it to use in this delicious Apple Cider Bundt Cake! It's moist, spiced, and perfect for holiday brunch or dessert!
Turn your apples into a meal with this delicious Candied Yams recipe! These yams are swimming in a citrus orange glaze and are topped with cooked apples for the most amazing food combination you will ever have! This is a fan favorite at Thanksgiving in my home.
If you love cinnamon and apples, then you will love my Cinnamon Baked Apples Recipe! It's a great way to get that delicious cinnamon apple filling (like the inside of an apple pie or apple crisp!). It's amazing with some vanilla ice cream.
These scones are the best apple scones you'll ever have! The apples are chopped fairly small so that during baking they soften and bake up beautifully. Studded with cinnamon chips that turn melty… you'll have a flavor explosion with every bite.
Apples are a perfect topping for salads! If you have apples from your apples trees that you need to use up – or if you are trying to increase the use of fresh fruits in your meals, then a side salad topped with fresh apple slices is the way to go!
This recipe from Garnish & Glaze is a keeper! Who knew this delicious, moist, caramel loaded cake started from a box mix! This recipe definitely screams "fall."
This kale salad from How Sweet Eats is the perfect salad to get you in the fall spirit! So many delicious flavors, and everything is tied together with a delicious cinnamon shallot vinaigrette.
Cake By Courtney has done it again with another delicious biscoff recipe, this time using cheesecake and apples! With layers of biscoff crust, no bake cheesecake filling, and a cinnamon apples topping, complete with caramel drizzle, these Caramel Apple Cheesecake Bars are the perfect fall dessert.
This delicious pie from Brown Eyed Baker features thinly sliced apples that are layered with salted caramel sauce. Yum!
What's your favorite apple recipe to make? Let me know in the comments below!