Cranberry Apple Cider
This post may include affiliate links. As an Amazon Associate I earn from qualifying purchases.
It's time to cozy on up for this holiday season with this Cranberry Apple Cider! It's made with cranberry juice, apple juice, cider mix, cinnamon sticks, cloves, and a fresh orange to bring you the most amazing spiced apple cider!
In case the mere ingredient list didn't convince you to make this delicious cranberry apple cider, one reader, Alexandria, said, "OK… this was sooooo good! We'll be making this apple cider every single winter from here on out! The cranberry juice with the apple cider and the spices is genius. Made our house smell amazing too."
Looking for other festive holiday drinks to make this year? My Christmas Wassail is another delicious hot apple cider recipe to try out! Or you can serve a cold slush drink with my Christmas Slush Punch!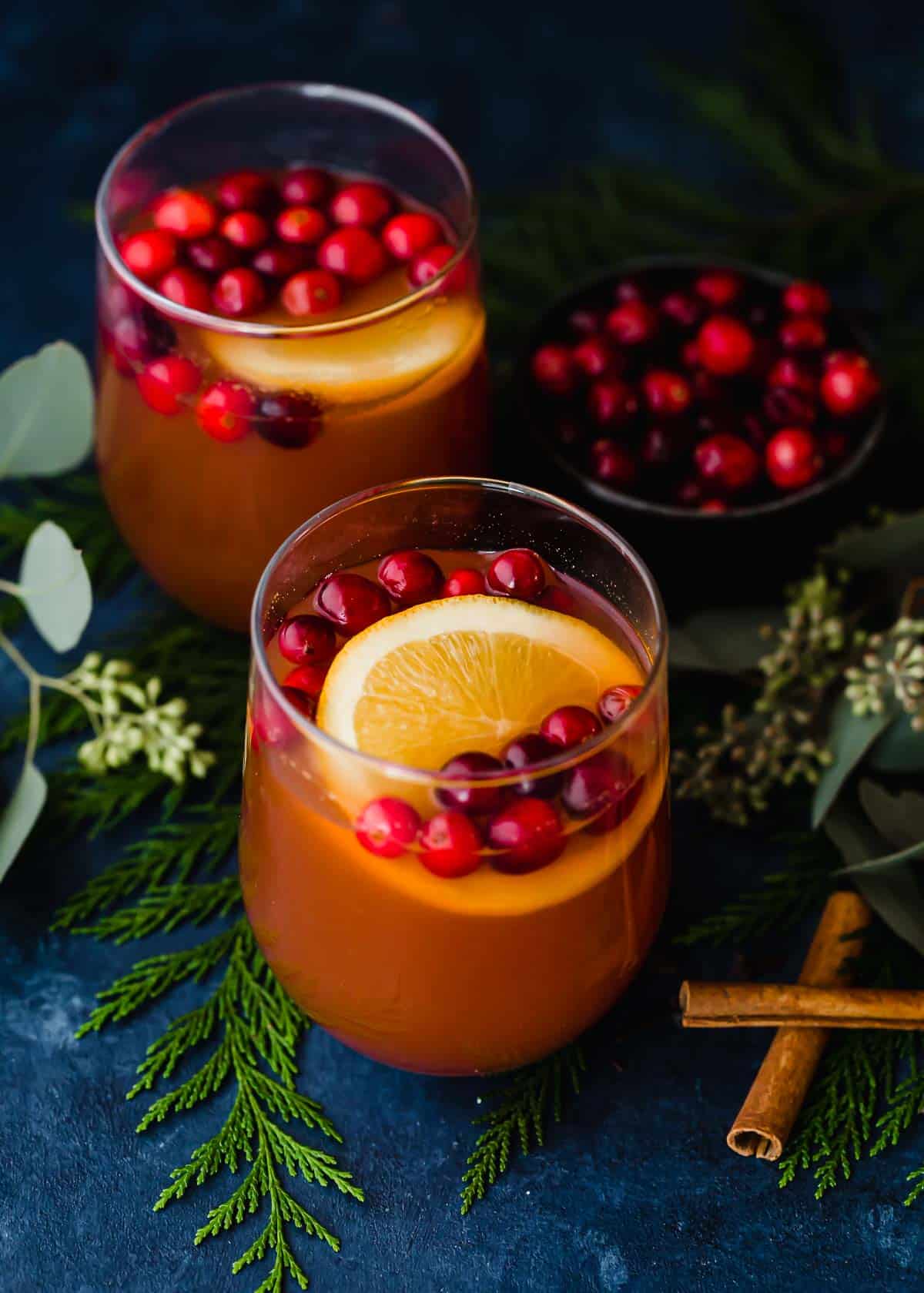 Why This Recipe Works
Perfect warm holiday drink. If you need the perfect party drink, this cranberry drink recipe is the perfect fit! It's festive, flavorful, and you can dress it up with fresh cranberries and orange slices if you want to serve it at black tie holiday parties.
Tastes and smells amazing! While I was making it I kept thinking how much I loooooved the smell! Within minutes or simmering this Cranberry Apple Cider, my whole house smelled of Christmas, cloves, cinnamon, and oranges. All those flavors are prominent in every single sip!
Stove top or crock pot. This easy apple cider recipe can be made on the stove or in a crock pot! It comes together in a cinch, too! 
Minimal ingredients. Two juices, two drink mix packets, spices, and orange slices and you are ready to go!
Ingredient Notes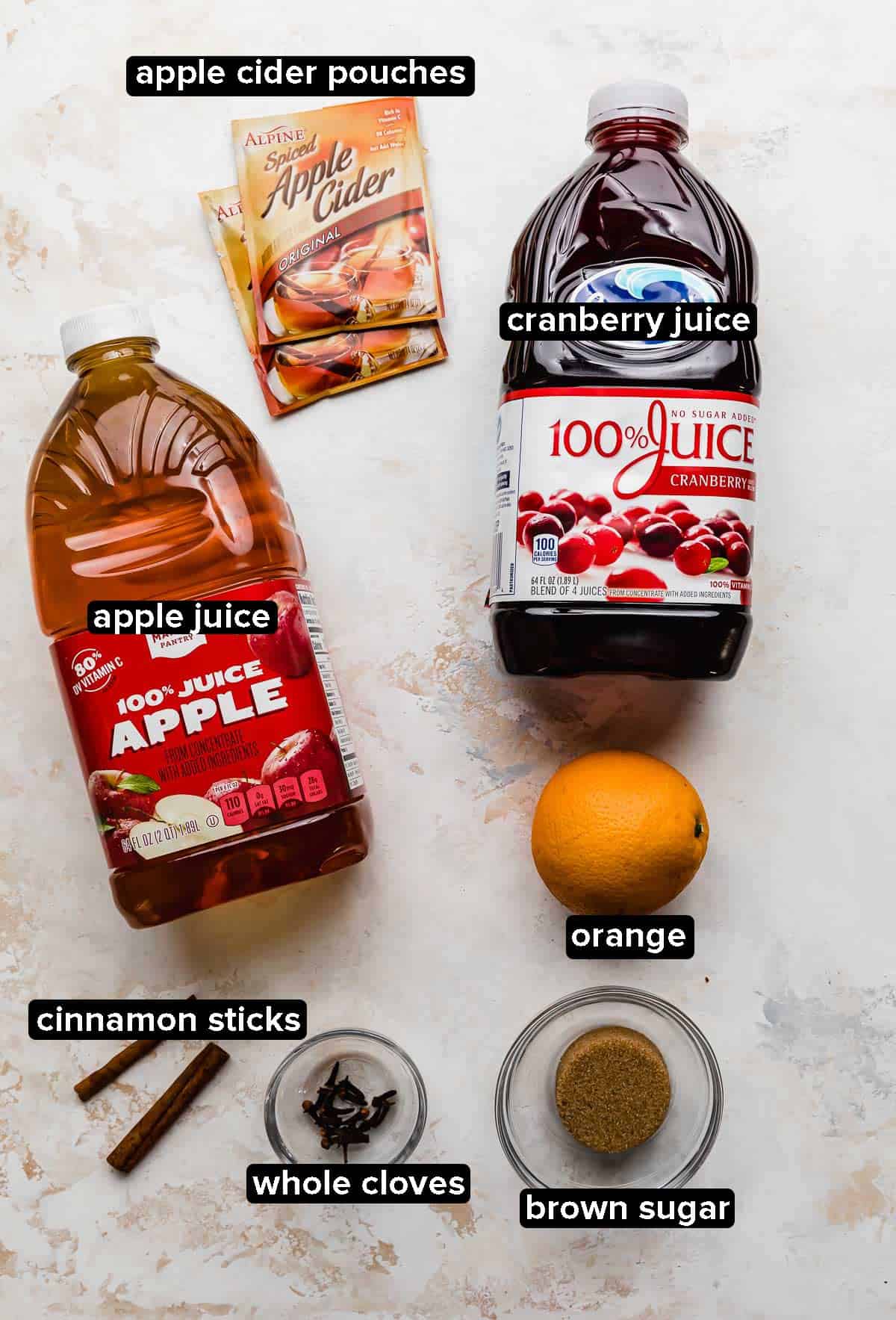 Apple Juice: You don't need apple cider for this holiday apple cider recipe since we are adding the apple cider pouches. Plain apple juice is what we need! 
Cranberry Juice: Please use straight cranberry juice — there are so many different blends like cranapple, cranraspberry, etc. You need straight cranberry juice (and not cranberry juice cocktail even). 
Brown Sugar: Adding brown sugar is an additional sweetener for the festive drink.
Apple Cider Drink Mix Pouches: Refer to the picture to know for sure what I'm talking about. These are the drink mixes. You need 2 pouches for this recipe. Feel free to use whatever brand you have.
Whole Cloves: I recommend using whole cloves and not ground cloves because they your spiced apple cider will be infused with the flavor, but you won't have the powdered spices floating in the drink. 
Cinnamon Sticks: Cinnamon sticks are found in the spice aisle at your local grocery store. You can leave them in the drink for decoration if you'd like! 
Orange: Using a thinly sliced orange will add a touch of that citrusy element to this holiday apple cider recipe. 
Step-by-Step Instructions
Combine ingredients. To a medium sized saucepan add 4 1/2 cups apple juice, 2 1/2 cups cranberry juice, 1/4 cup brown sugar, 2 pouches of apple cider drink mix, 1 tsp whole cloves, 2 cinnamon sticks, and 1 orange sliced into thin slices. Stir to combine.
Bring to a boil. Bring the holiday drink to a boil over medium-high heat. Once boiling, reduce heat to a simmer and simmer for 10-15 minutes with the lid off (your house will thank me). Remove from the heat and strain to remove the cloves and cinnamon sticks. 
Serve! Pour the cranberry apple cider into heatproof serving classes or a heatproof pitcher or punch bowl. Enjoy!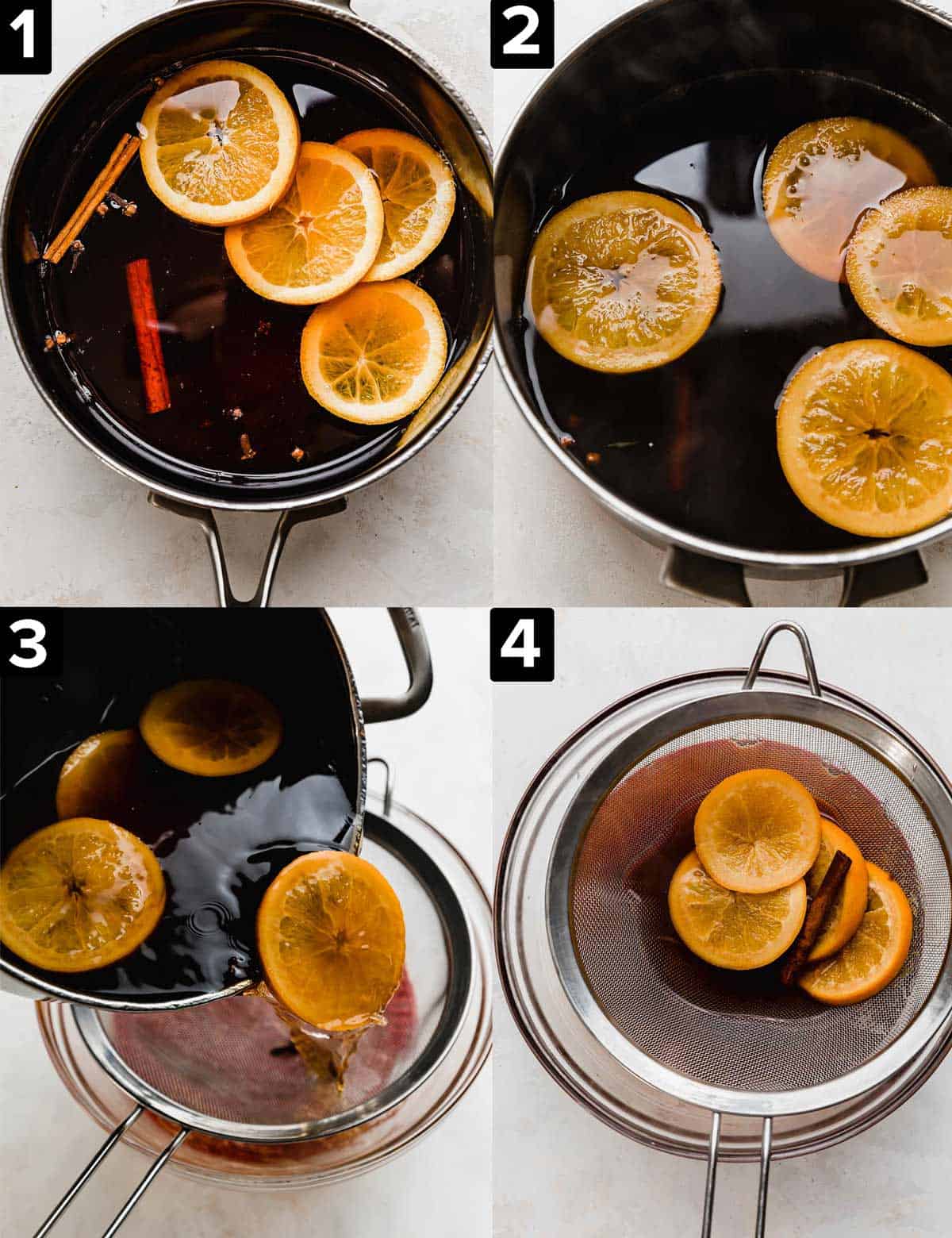 Recipe Tips
I recommend using 100% cranberry juice and not cranberry juice cocktail.
You can leave the orange slices and cinnamon sticks in the drink for a decorative touch! Add some fresh cranberries to the pitcher or punch bowl too.
Try freezing some fresh cranberries in some of the cider in ice cube trays for a fun look as well!
I recommend using whole spices or else ground spices can have a hard time dissolving in the drink and you'll either see them swirling around or they'll make the texture a bit grainy. The spices will just infuse into the drink and then you can take them out.
To keep this spiced apple cider hot while serving, you can serve it in a slow cooker on warm.
Make this a crockpot apple cider by combining all the ingredients in your slow cooker and cook on low for 3-4 hours.
This holiday apple cider is the perfect holiday drink — served hot or cold — and is a great non-alcoholic option for your next holiday party that the whole family can enjoy!
Make Ahead, Storing, and Freezing
This cranberry apple cider recipe will keep in your fridge for 2 weeks. It's perfect to make and enjoy the entire holiday season! Store in an airtight container or in a pitcher in the fridge.
To freeze, let cool completely until room temperature, then pour into an airtight container or freezer safe ziplock bag. Freeze for up to 3 months. Remove and let thaw.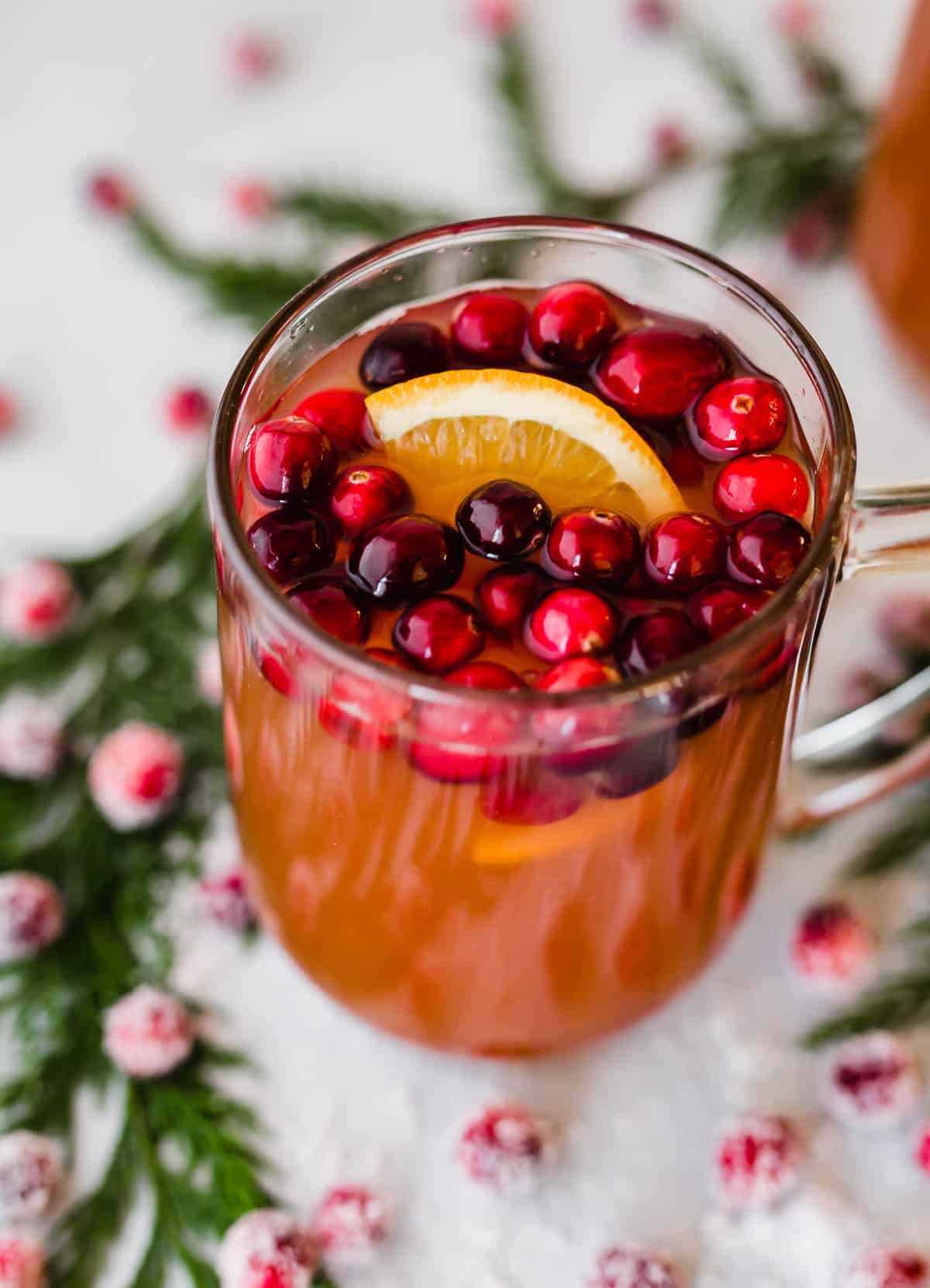 Recipe FAQs
Is cranberry juice good for you? 
Yes! Cranberry juice is an excellent source of vitamin c. Cranberries are also an antioxidant and can aid in digestive health. 
Can I make this in a crock pot?
Yes you can! Make this slow cooker cranberry apple cider by simply adding all the ingredients to a slow cooker. Cook on low for 3-4 hours, stirring halfway through. 
Can this be served cold?
Yes. While you can serve this as a hot cranberry apple cider, it is also the perfect drink to enjoy cold right out of the fridge!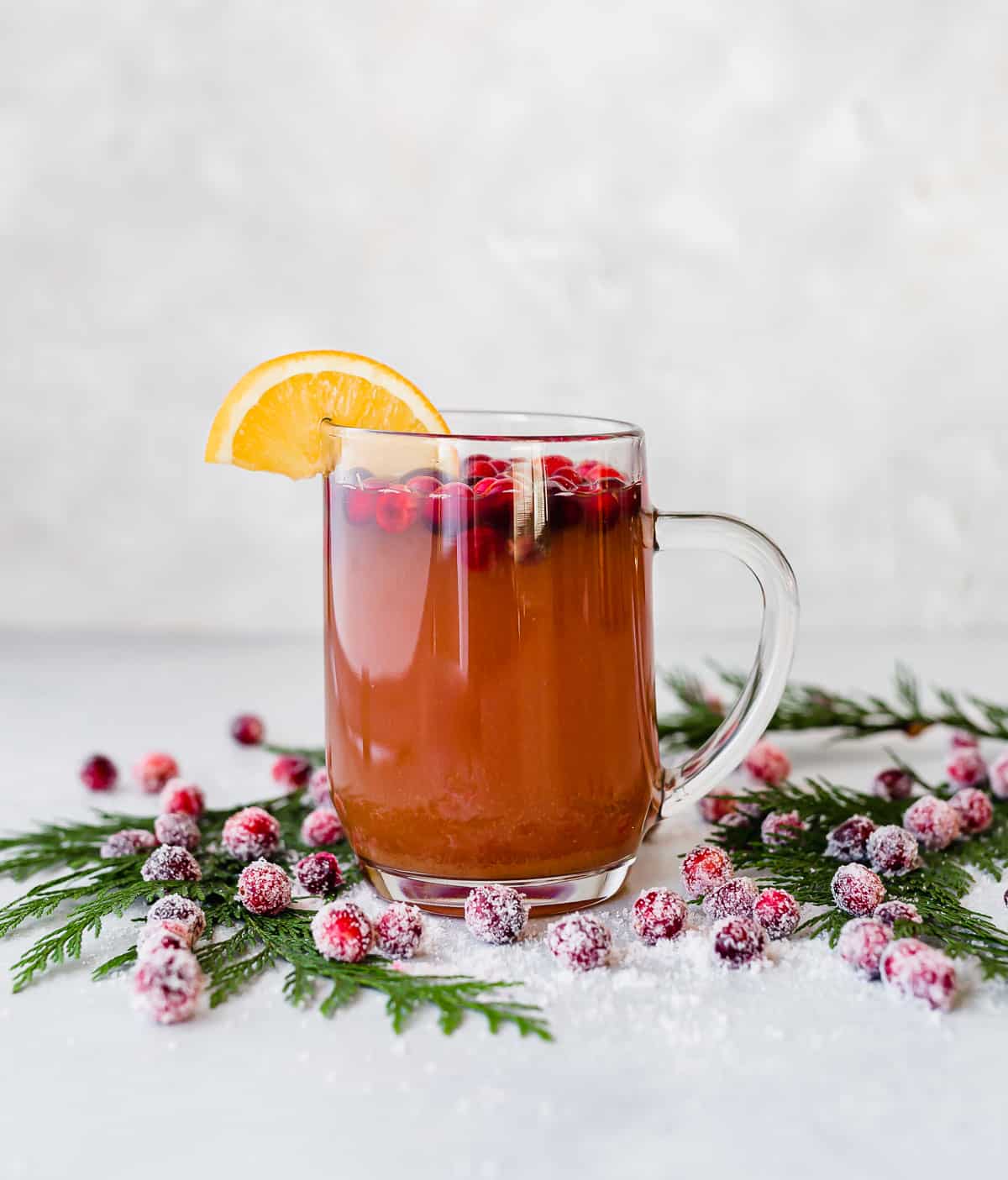 Cranberry Apple Cider
Cozy up with a warm glass of hot cranberry apple cider. It's perfect for the holidays!
Ingredients
4 1/2

cups

apple juice

2 1/2

cups

cranberry juice

1/4

cup

brown sugar

-

packed, can use light or dark brown sugar

2

pouches

apple cider drink mix -

42 grams

1

tsp

whole cloves

2

cinnamon sticks

1

orange, thinly sliced
Instructions
In a medium sized sauce pan stir together the apple juice, cranberry juice, apple cider drink mix, cinnamon sticks, cloves, brown sugar, and orange slices. Bring to a boil. Once it begins boiling, reduce to a simmer. Simmer for 10-15 minutes, uncovered. 

Remove the pan from the heat. Strain.

Pour the drink into serving glasses or a heat proof pitcher. Add a slice or two of fresh orange and enjoy! This drink can be served warm or cold, but I prefer it warm!
Notes
I recommend using 100% cranberry juice and not cranberry juice cocktail. 
Nutritional information is an estimate and not exact.
Did you make this recipe?
Leave a star rating and review on the blog post letting me know how you liked this recipe! Take a picture and tag @saltandbaker on Instagram and Facebook so I can see what you're making!