Christmas Slush
This post may include affiliate links. As an Amazon Associate I earn from qualifying purchases.
Christmas Slush is made with just 3 ingredients — orange juice, cranberry juice and Sprite (or 7 UP)! Nothing says Merry Christmas more than an easy holiday drink for everyone to enjoy!
If you love the mix of cranberry juice and orange juice, then you definitely will love my Orange Cranberry Cake! It's the perfect cake for the holiday season. Looking for more Christmas drinks? Cranberry Apple Cider and Christmas Wassail are other favorite holiday drinks (we don't drink alcohol, so I only share family-friendly drink recipes) to make during the Christmas season!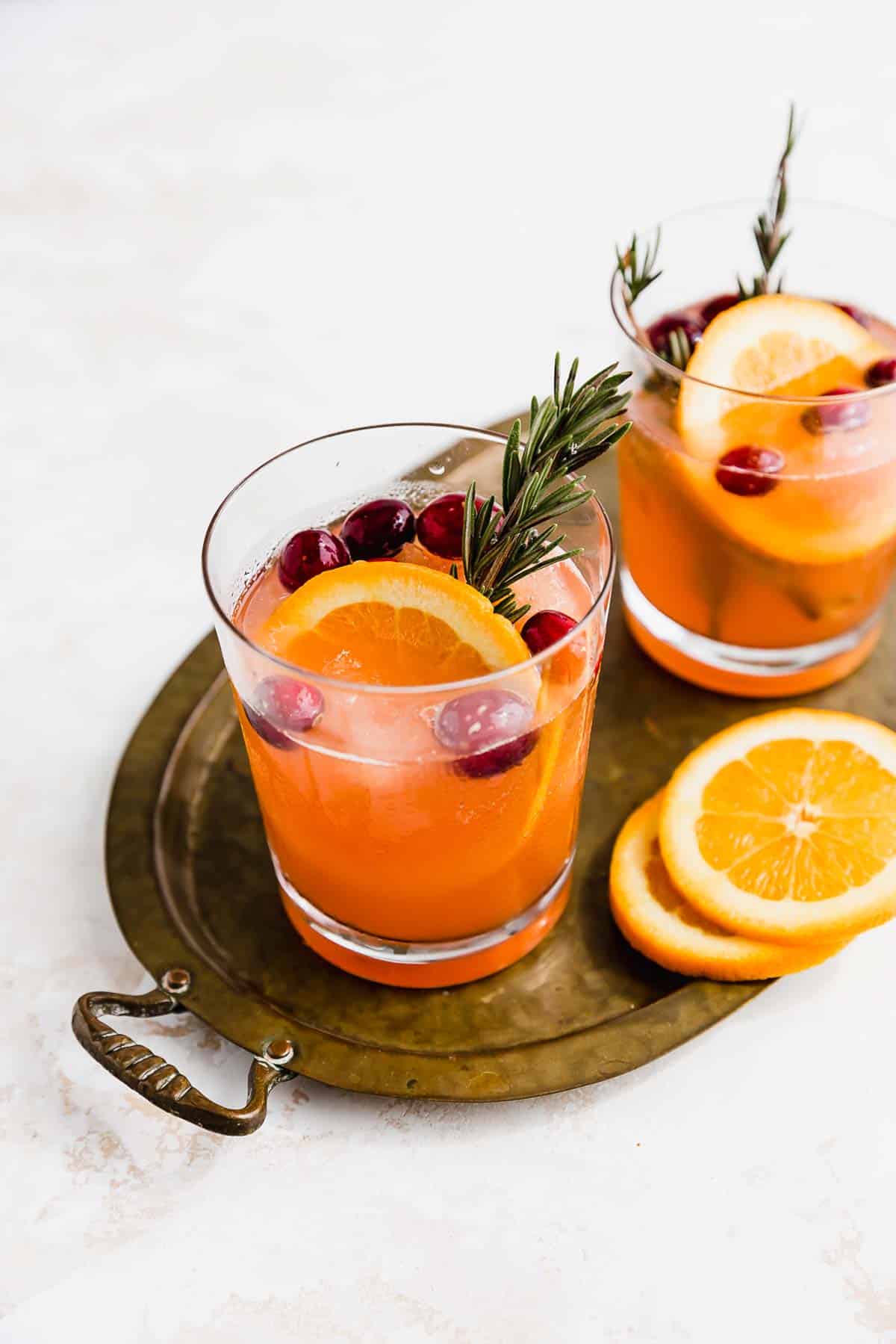 Why This Recipe Works
3-ingredient Christmas punch. That's right! You only need THREE things to make this easy Christmas punch recipe. 
Non-alcoholic Christmas punch. This Christmas slush is the perfect drink for any Christmas party because there is no alcohol! The whole family can and will enjoy this delicious holiday drink! 
Frozen Christmas punch — but also yummy not frozen! I love a good slushie! And this Christmas slush punch is the perfect one! Not a fan of slushies? That's ok! This festive drink is delicious without the slush too!
Best Christmas punch ever! This is the perfect holiday punch recipe because is non-alcoholic, requires only 3 ingredients, and is a fan favorite! 
Ingredient Notes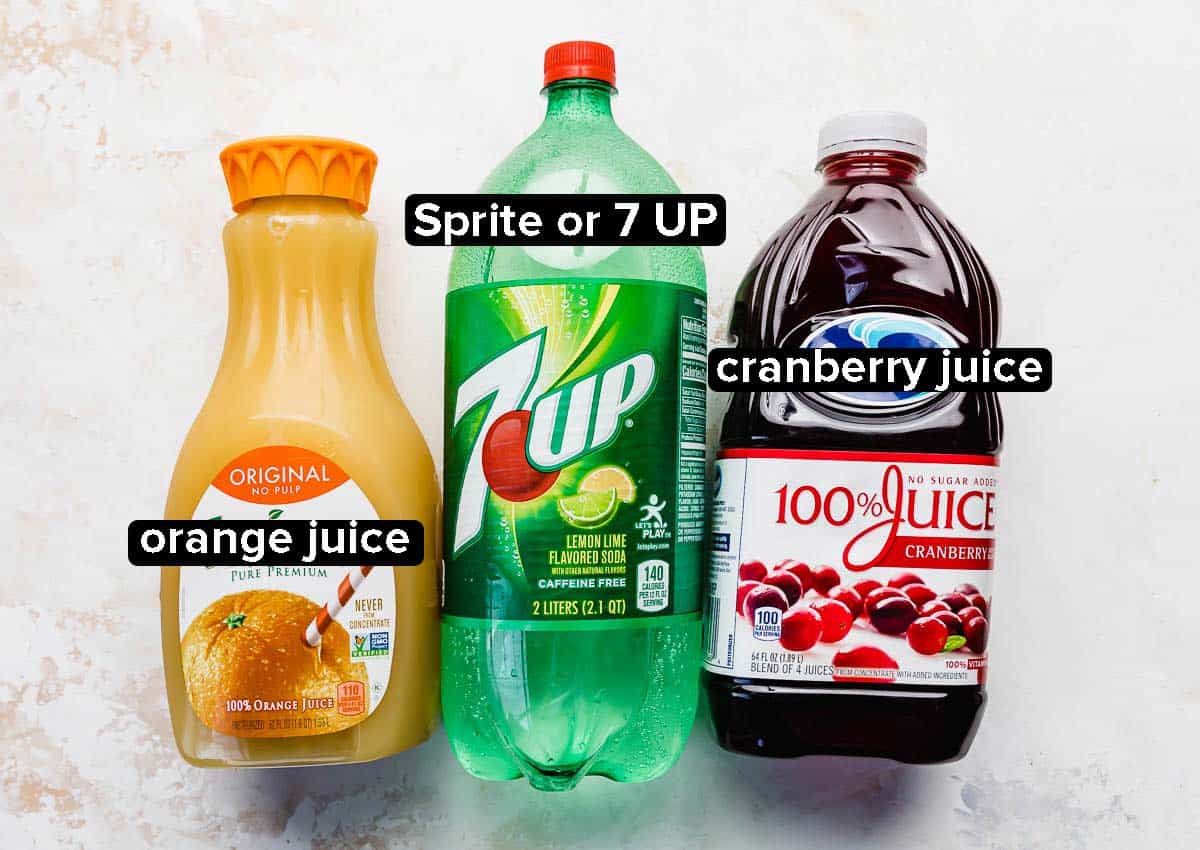 Cranberry Juice: You can use concentrates or the bottled juice, whatever you prefer. Just be sure to make the concentrate into juice before making the Christmas slush recipe. 
Orange Juice: Use an orange juice brand that you like. A good orange juice can make or break this recipe.
Lemon Lime Soda: You can use any lemon-lime soda. Sprite or 7Up work great! 
Garnishes: This isn't necessary, but you can add fresh cranberries, orange slices, and rosemary sprigs for garnish to make things look extra festive and beautiful! 
Step-by-Step Instructions
Make the cranberry slush. Add 2 cups cranberry juice and 2 cups orange juice to a freezer safe bag. Freeze until firm (about 4 hours). 
Add the soda. Place the frozen juice in a large pitcher or large punch bowl. Use a spoon to break up the juice into slushy pieces. Add 2 liters of Sprite or 7 Up to the slush mixture. Stir to combine. Add fresh cranberries and orange slices for a decorative look! Enjoy!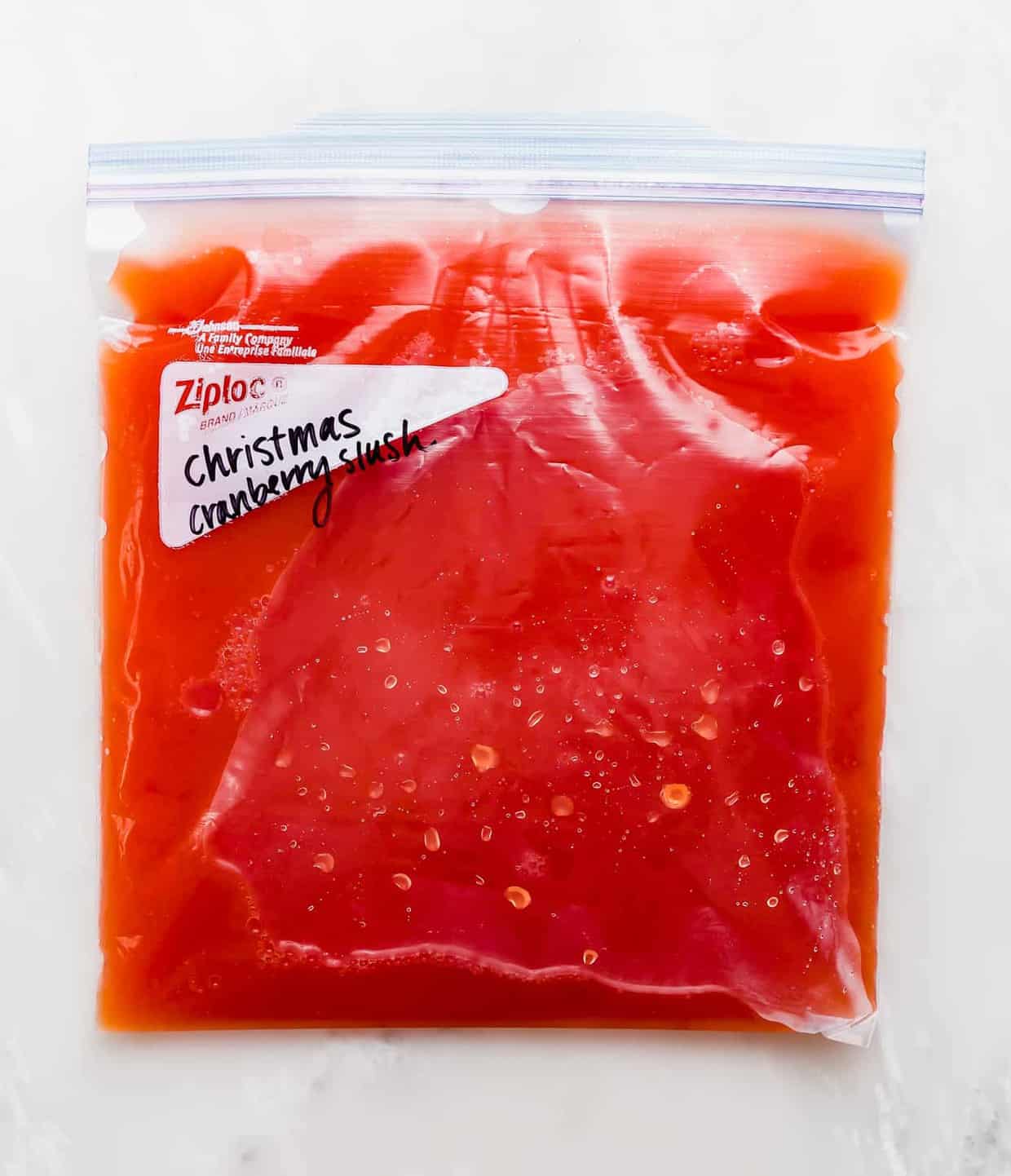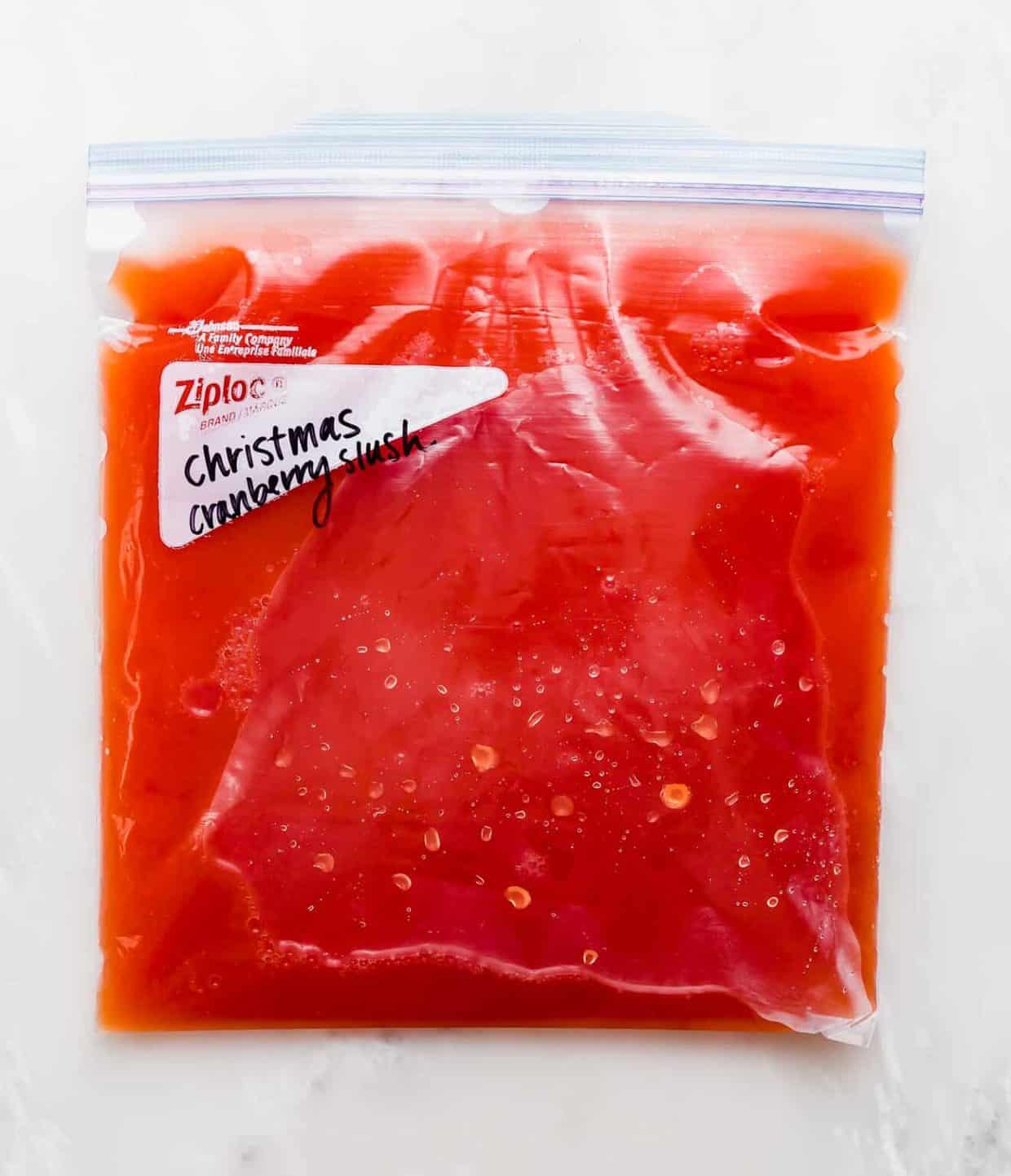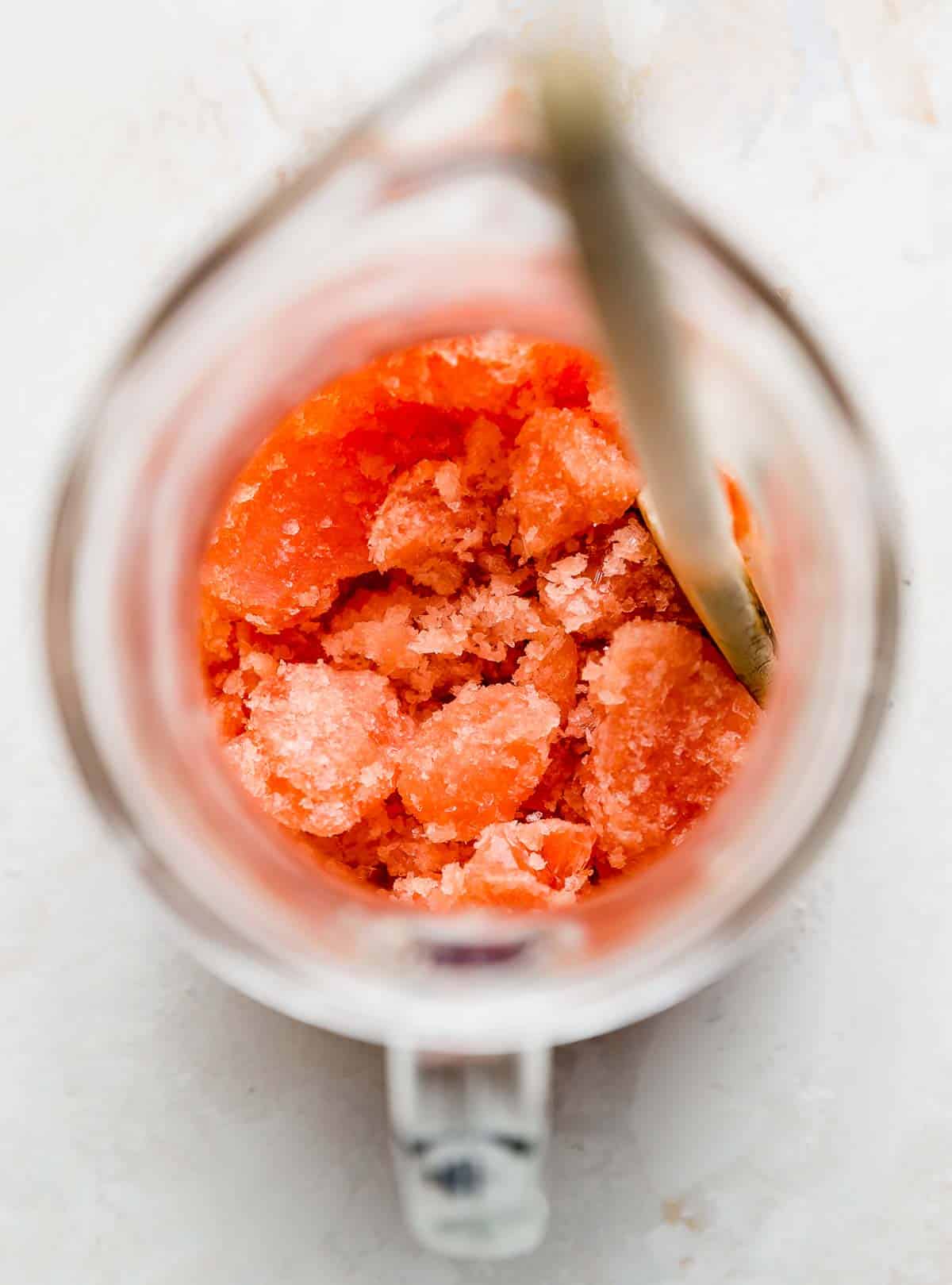 Recipe Tips
You can use any lemon lime soda option for this Christmas slush recipe. Whichever you prefer!
Select an orange juice that you love. I've made this best Christmas punch recipe using a cheap off-brand orange juice and it didn't have as good of flavor in times past when I've made it with some of my favorite orange juice brands. If using frozen orange juice concentrate, just be sure to make it into juice first.
If you're making this Christmas slush punch for a large gathering, I'd double the juice and put it in two different zip top bags to freeze. This way you can leave one bag in the fridge and use it to refill later on in your celebrations!
You don't have to freeze the fruit juices. I love a slushy drink so I always freeze mine. If you're in a time crunch or just don't want to freeze it, then just skip that step.
I don't recommend using club soda because it doesn't have a very strong fizz or flavor to it.
I wouldn't skip the orange slices and cranberries added to the punch though, it makes this delicious Christmas punch recipe not just yummy but pretty and festive! You'll be glad you did the extra step, trust me.
Shoutout to my mother-in-law for this festive punch recipe! Slushie drinks are so fun and are perfect for holiday parties.
Make Ahead, Storing, and Freezing
You definitely want to make this Christmas slush ahead of time because you need time to let the juice blend freeze to create the slush.
If you're wanting leftovers, then I would make a double batch of the cranberry punch and freeze the juices in two different ziplock bags or use an extra freezer-safe container. This way you have some frozen juices in the freezer to make up some more glass of punch later!
Store any leftovers in the fridge. However, this cranberry Christmas punch recipe is best enjoyed right away because the slush will eventually melt and the soda will lose its fizz over time.
Recipe FAQs
Can I use juice concentrates?
Yep! You can use the juice concentrates or bottled juice. You can even use fresh orange juice if you'd like! 
How long does juice need to freeze for a slushie?
About 4 hours. I would freeze it until it's just frozen because you still need to be able to break the juice into slush chunks.
Can I make this without freezing the juices?
Yes you can! Simply combine all the ingredients and you'll have a delicious fizzy holiday drink! No slush required. 
Can I use ginger ale?
Yes you can. Ginger ale has a strong ginger flavor, so just note that it will change the overall taste of the drink.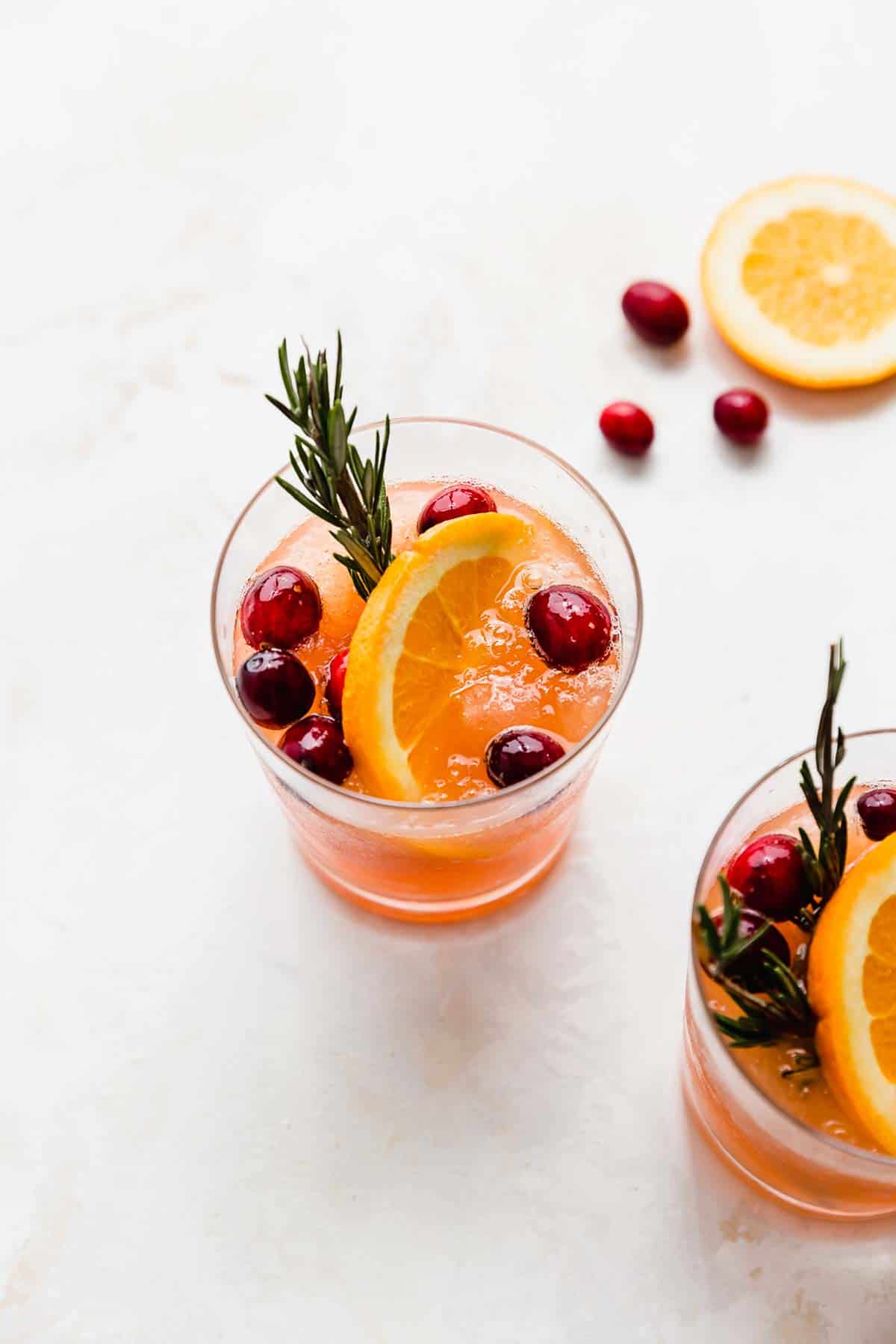 More Holiday Recipes
Christmas Slush
This holiday drink is made with just 3 ingredients! It's so delicious and perfect for any holiday party.
Ingredients
2

cups

cranberry juice

2

cups

orange juice

2

liter

lemon lime soda

-

Sprite, 7 Up
Garnishes
fresh cranberries

orange slices
Instructions
In a large bowl combine the cranberry and orange juice. Transfer the juice to a freezer safe bag and freeze until firm, about 4 hours. (See notes).

Remove from the freezer. Break up the frozen juice and place in a large pitcher or punch bowl. Use a wooden spoon to carefully break up the frozen chunks into smaller pieces (should get sort of slushy when you do this).

Add the soda and stir to combine.

Add in the cranberries and orange slices and serve cold.
Notes
You don't have to freeze the juice. I love a slushy drink so I always freeze mine. If you're in a time crunch or just don't want to freeze it, then just skip that step.
Recipe from my mother-in-law. 
Did you make this recipe?
Leave a star rating and review on the blog post letting me know how you liked this recipe! Take a picture and tag @saltandbaker on Instagram and Facebook so I can see what you're making!