Hot Spinach Artichoke Dip
This post may include affiliate links. As an Amazon Associate I earn from qualifying purchases.
This Hot Spinach Artichoke Dip is ultra cheesy, creamy, and has the perfect amount of spinach and artichoke hearts! It's the perfect go-to party dip your family and friends will love.
Growing up, whether there was a football game on, it was the holiday season or we had a family gathering, there would always be an amazing dip. This creamy spinach and artichoke dip was a frequent flyer in our family, and it's definitely one of my favorites. I've recently added a few of my own dips to those family gatherings, including this Pepperoni Pizza Dip my kids gobble up and my Sausage Dip everyone loves!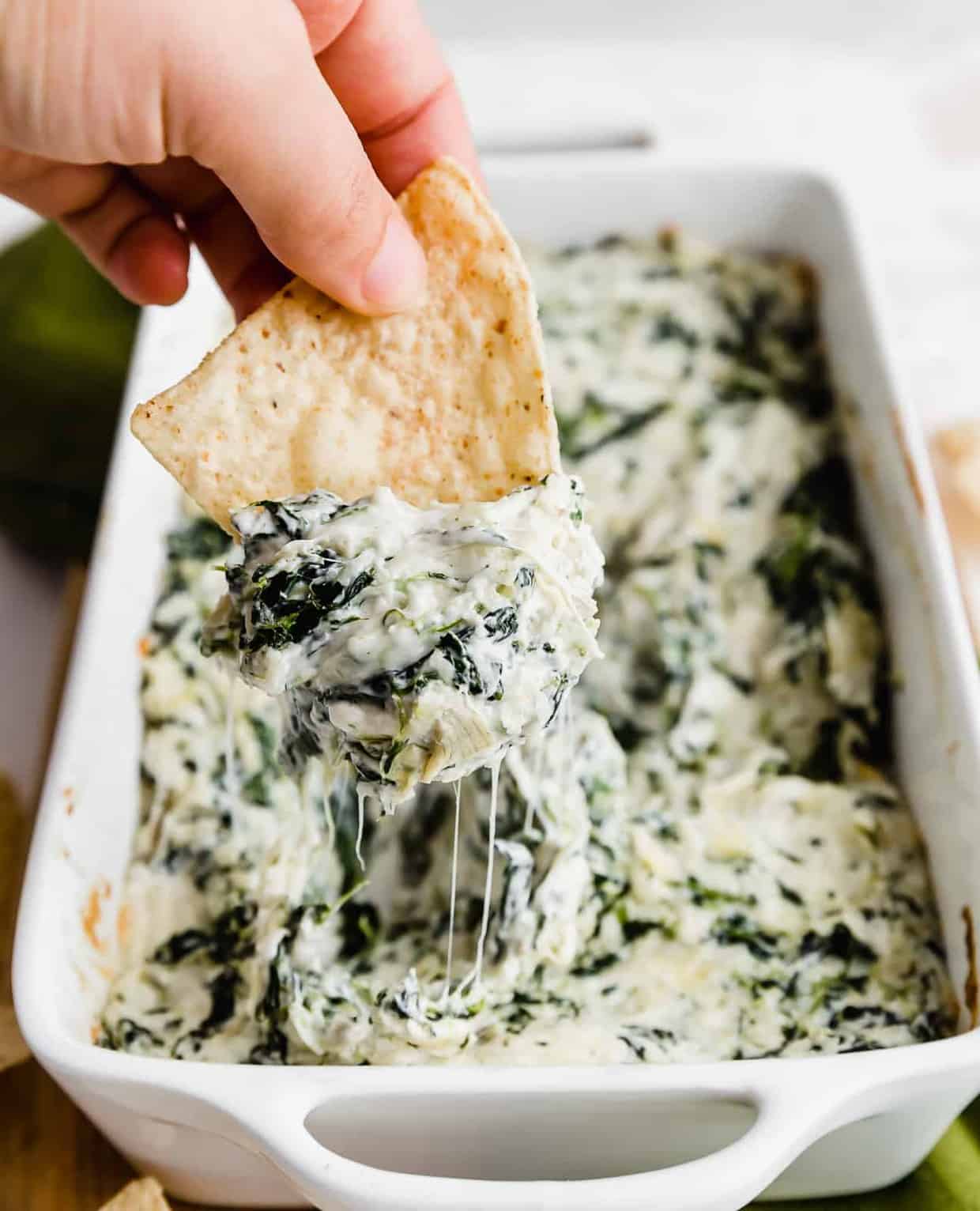 Why This Recipe Works
Best spinach artichoke dip recipe. I get so many request for this recipe! One reader, Jessica said, "I made this for a baby shower and had so many people compliment it and ask me for the recipe! I could have made twice or three times as much and it still would have gotten eaten. Such a good recipe!"
Easy to make. This easy spinach artichoke dip recipe comes together very quickly — and doesn't need to be baked for very long either. Just 20 minutes in the oven! 
Perfect balance of flavor. This sour cream spinach artichoke dip has the perfect balance of artichokes, spinach, cheese and spices! It's incredibly delicious. 
Endless dipping options! There are so many ways you can serve this creamy dip, which is one of the reasons it's one of my very favorites. Bread bowl, crackers, tortilla chips, potato chips, pretzels, carrots, pita chips, and probably so much more! But those ideas will get you started.
Ingredient Notes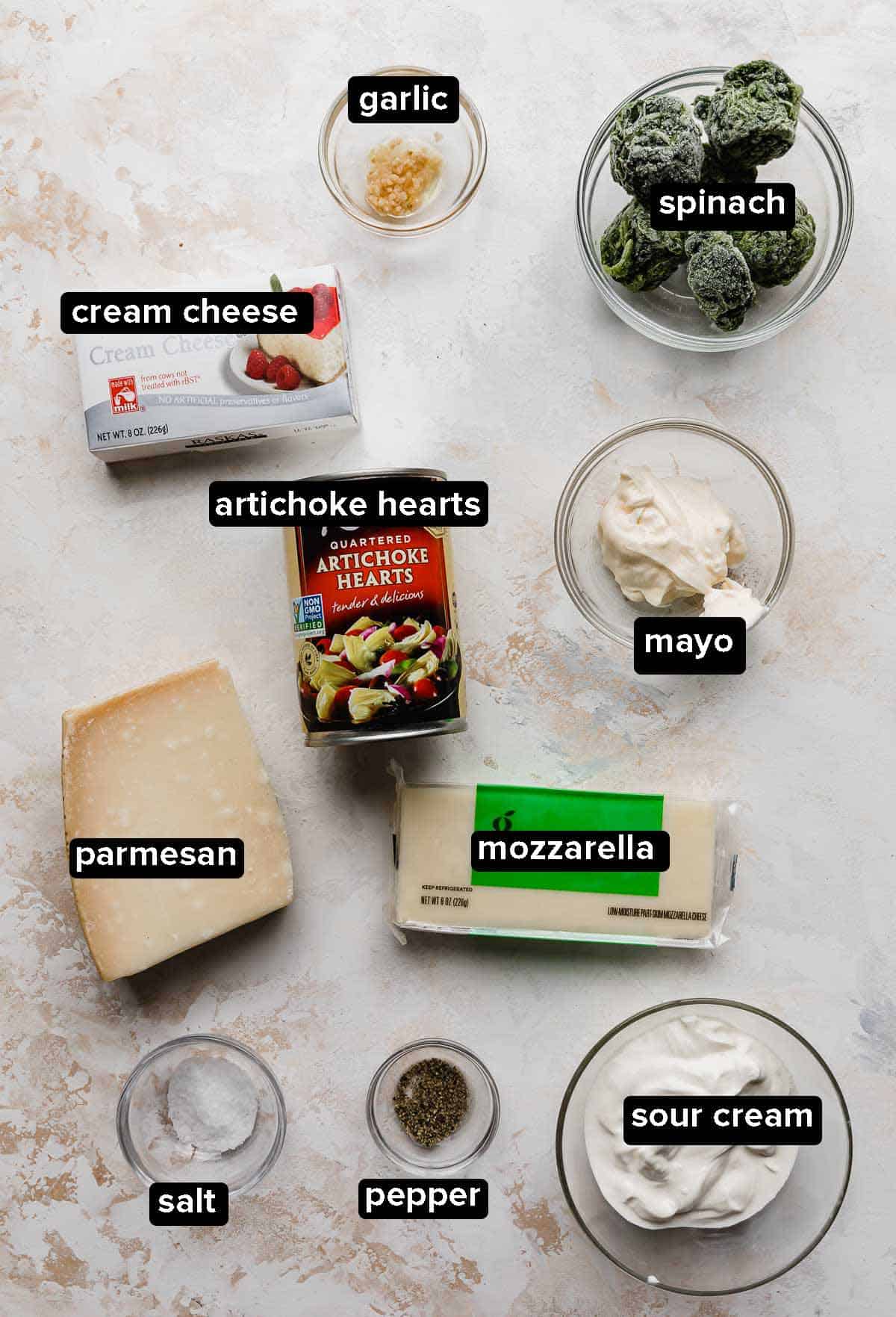 Cream Cheese: Very softened. I will place the cream cheese on the counter 1 hour before I need it. If it's not room temperature or softened enough I will place the cheese in a microwave safe bowl and heat it up for 15 seconds or so.
Sour Cream: Any kind will do. I have recently been using lite sour cream and I love it. If you prefer full fat sour cream you can use that instead. 
Mayo: Any kind will do. I like the olive oil mayo! 
Minced Garlic: You'll definitely want fresh minced garlic over garlic powder!
Parmesan Cheese and Mozzarella Cheese: Freshly grated and finely grated is best. Pre-grated packs of cheese you buy at the store have a coating on the grated cheese to help it not clump together. This also keeps it from melting as easily. 
Quartered Artichoke Hearts: Drain the liquid and squeeze the artichokes in paper towels to remove excess liquid then chop the artichoke hearts so that they are bite sized. I don't use the full jar because I don't like an overwhelming amount of artichokes in my dip. However, if you LOVE artichokes feel free to use the full jar. 
Frozen Spinach: You'll want the chopped spinach to be thawed and squeezed to remove excess moisture.
Step-by-Step Instructions
Make the cream cheese mixture. Add 8 oz softened cream cheese, 1/4 cup mayo, and 1/4 cup sour cream to a medium sized bowl. Beat until smooth. Add 1 tsp minced garlic, 1 cup shredded mozzarella and 2/3 cup grated parmesan. Mix to combine.
Add the spinach and artichoke hearts. Add 1 cup quartered artichoke hearts and 6 oz of spinach that's been thawed and squeezed in paper towels to remove excess liquid. Mix to combined.
Place in prepared baking dish. Spray a 1-2 quart baking dish (I use this Crate and Barrel dish — seen in th photos — and it works perfectly) with cooking spray. Spread the spinach artichoke dip into the dish in an even layer.
Bake the spinach artichoke dip. Place the dish in an oven preheated to 350°F and bake for 20 minutes. The dip will be warm and bubbly! Remove and serve this baked spinach artichoke dip with sliced and toasted French bred, baguette, chips, crackers, or tortilla chips. Enjoy!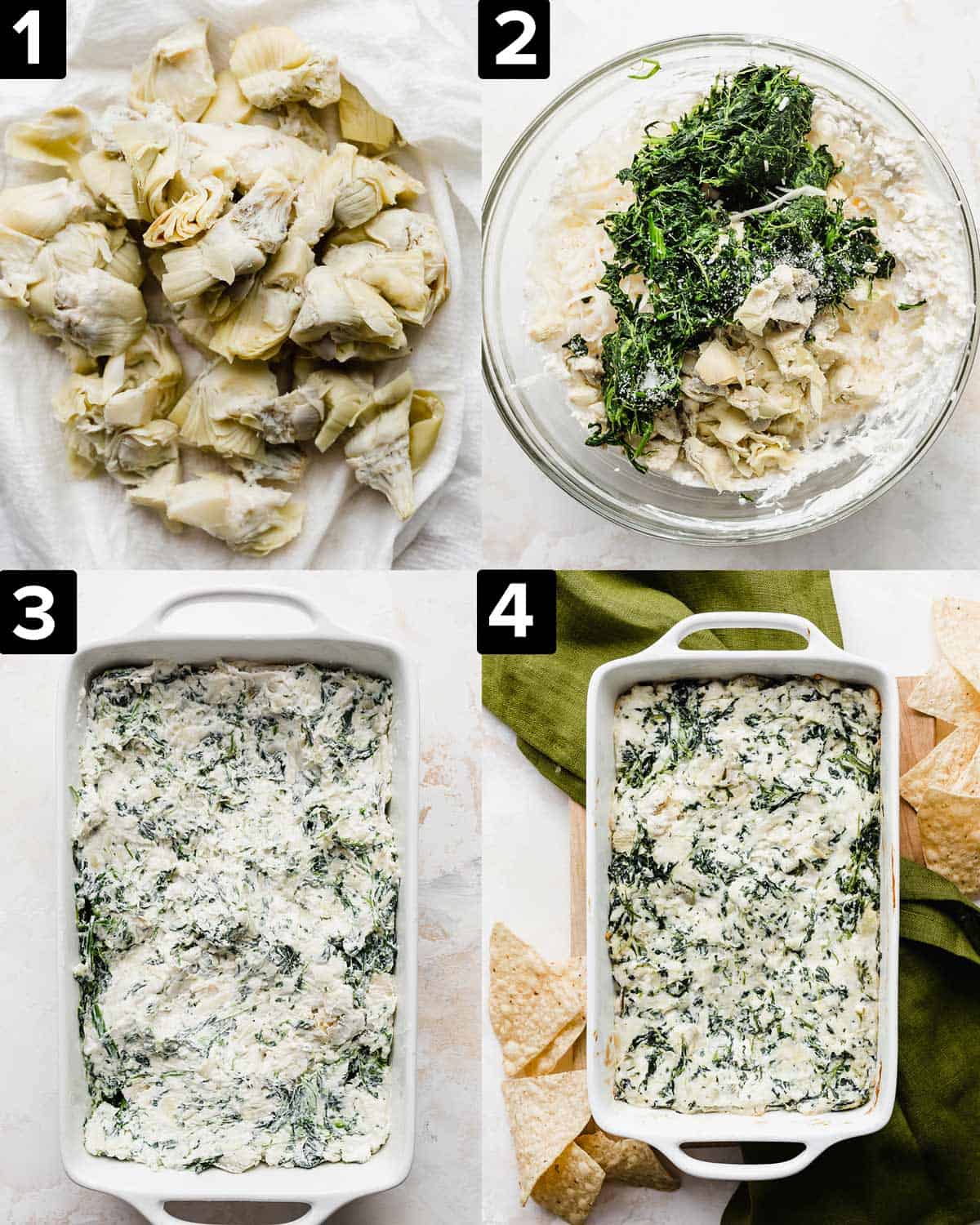 Recipe Tips
You'll need a 14 oz can of quartered artichoke hearts. I don't use the full can mainly because I don't love an overwhelming artichoke taste in my dip. However, if you are an artichoke fan through-and-through, just use the entire can!
Remember to squeeze as much liquid as you can from the artichoke hearts and the spinach. Doing this ensures the dip has a smooth and creamy consistency. If you forget to squeeze any excess water from both vegetables, your dip will be watery.
Dipping options: Pita chips, tortilla chips, potato chips, pretzels, crackers, carrots, French bread, rolls — and probably so many more!
Make sure your cream cheese is very, very soft before using. You want a soft consistency so it will combine well. If you need to, place the cheese in a microwave safe bowl and heat it for 15-30 seconds to help soften it. I do this on occasion if I'm running out of time or if my kitchen is on the cooler side.
This dip reheats very well in the microwave. I like to spoon a small amount onto a plate and then heat it up for 15-25 seconds. I haven't tried re-heating the full pan though.
You can use fresh spinach rather than frozen. Steam the spinach, drain it, and squeeze excess liquid.
To make lighter use light sour cream, light cream cheese, and light mayo. Look at you being so healthy! 😉
Make Ahead, Storing, and Freezing
You can make this in advance. Have the dip fully prepared, cover and place in the fridge for 1-2 days. An hour or so before serving, remove it from the fridge and let rest at room temperature while the oven preheats. Bake as directed.
Store the spinach dip covered in the fridge for up to 7 days. Reheat in the oven until warm.
I wouldn't recommend freezing this dish because there is a lot of dairy in it. If frozen and thawed, the texture will go all grainy and weird.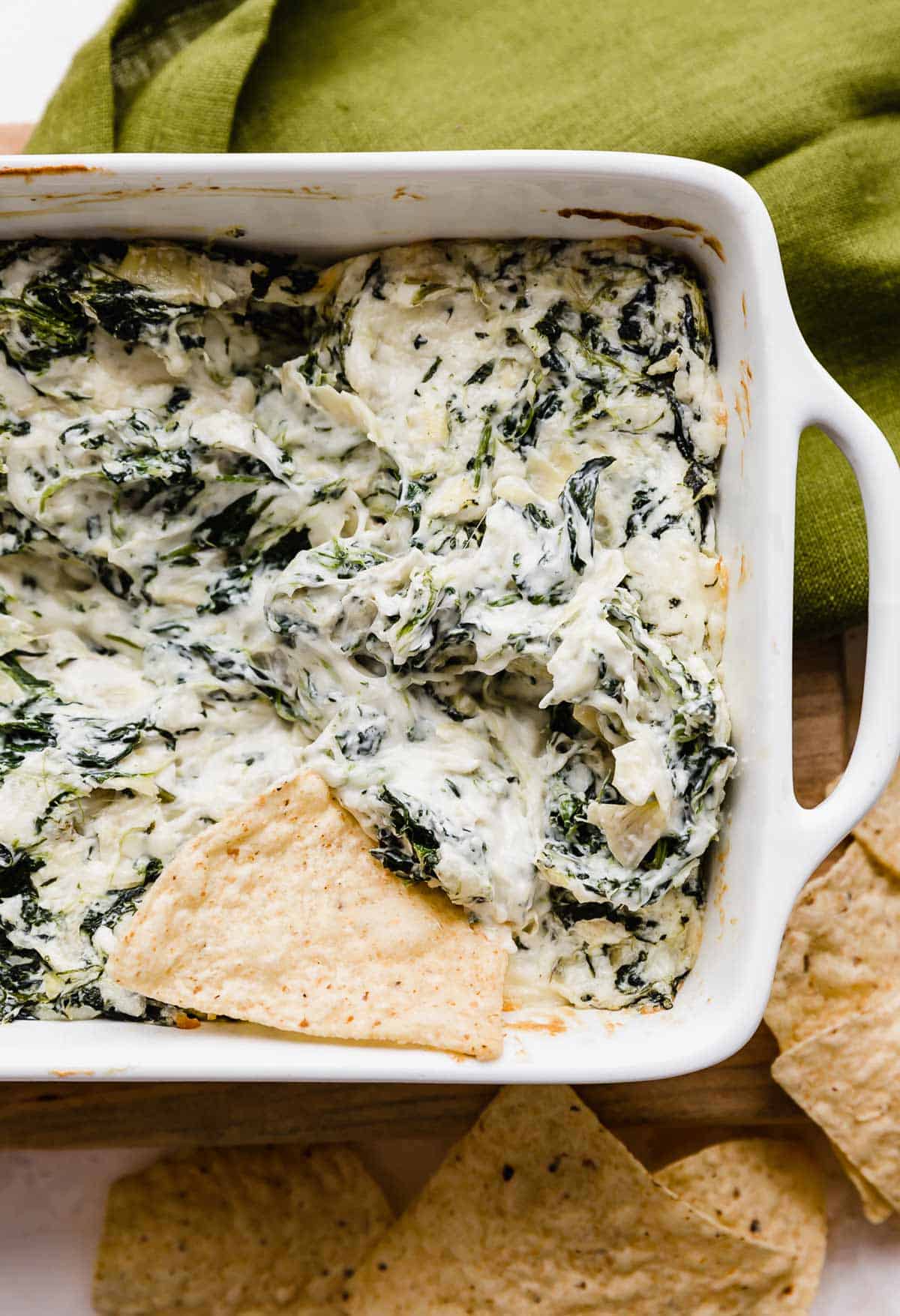 Recipe FAQs
Is spinach artichoke dip healthy?
I definitely wouldn't say the cream cheese, sour cream and cheese in this recipe makes it healthy. It sure makes it delicious! But the good news is we are still getting nutrients and minerals from the artichoke and spinach. Artichokes, for instance, are packed with fiber and antioxidants. They are high in magnesium, potassium and iron, while low in fat. Spinach is high in vitamin A, vitamin C, vitamin B, magnesium, iron, and vitamin K. And, get this, Healthline says, "One spinach leaf contains over half of your daily needs" of vitamin K. That's insane! ONE LEAF. Excuse me while I just take a few more bites of this spinach artichoke dip.
Can spinach artichoke dip be served cold?
I would recommend serving this dip warm! It's just so stinking delicious warm. You can serve it cold if you would like, but with the cheese all warm and melty it's quite irresistible!
Can spinach artichoke dip be made ahead of time?
To save time on a busy food prep day, you can make this dip ahead of time. I would probably just make it a day or two ahead. The dip will stay in an airtight container in the fridge for up to 7 days. 
Can spinach artichoke dip be frozen?
No. Because a large majority of this dip is dairy, it won't carry well in the freezer. The cream cheese, once frozen and thawed, could be grainy and/or crumbly. The sour cream could separate due to the milk in there. I would recommend storing any leftover dip in an airtight container in the fridge rather than freezing and saving for later. If you're interested in other freezer tips, check out this blog I found called Can You Freeze This?
What is good with spinach artichoke dip?
There are so many great options for dipping! You can use pita chips, potato chips, tortilla chips, crackers, pretzels, French bread, carrots, or use bread bowls and break and dip.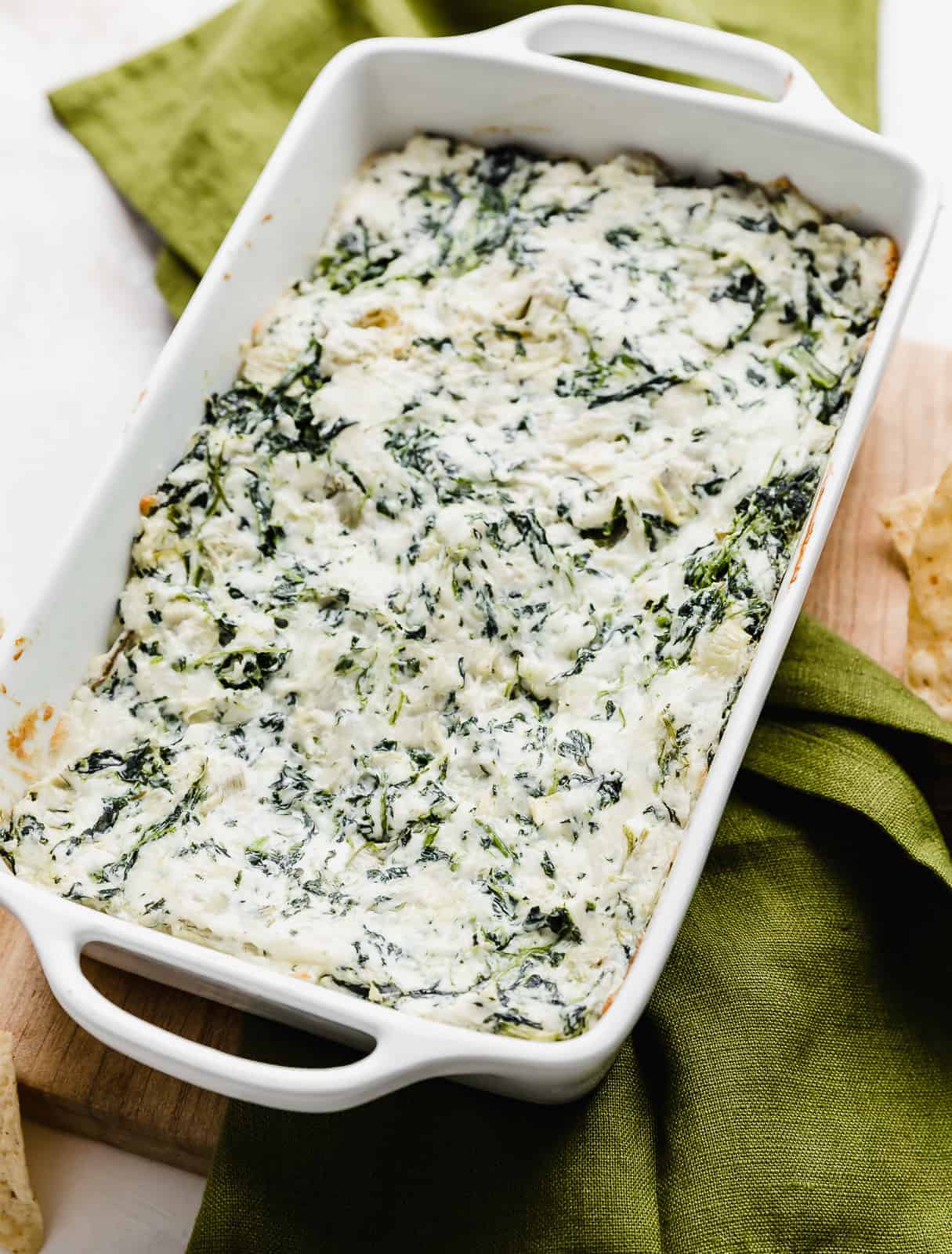 More Appetizer and Dip Recipes
Hot Spinach Artichoke Dip
This hot spinach artichoke dip is the perfect appetizer to serve at parties or gatherings. It's creamy, cheesy, and has a hint of garlic flavor too!
Ingredients
8

oz

cream cheese

-

softened very well

1/4

cup

sour cream

-

can use regular or light

1/4

cup

mayo

1

teaspoon

minced garlic

-

about 2-3 cloves depending on the size

2/3

cup

parmesan cheese

-

freshly grated

1

cup

mozzarella cheese

-

freshly grated

1

cup

quartered artichoke hearts

-

liquid drained and artichokes squeezed in paper towles to drain excess liquid. Chop the artichoke hearts once drained

1/2

teaspoon

kosher salt

1/4

teaspoon

freshly cracked black pepper

6

oz

frozen spinach

-

thawed, chopped, and squeezed in paper towels to drain excess liquid

tortilla chips, crackers, or sliced baguette for serving
Instructions
Preheat oven to 350°F. Spray a small baking dish with nonstick spray (about 1-2 quart dish). 

In a medium sized bowl beat the cream cheese, mayo, and sour cream until smooth. Stir in the garlic, and cheeses together until smooth and well combined. Stir in the artichokes and spinach. 

Spread the mixture into an even layer in the baking dish. Bake for 20 minutes or until warm and bubbly. 

Remove from oven and serve warm with sliced and toasted French bread or baquette or tortilla chips. 
Notes
Store covered in the fridge for up to 7 days. Do not freeze.
Be sure to squeeze excess liquid from artichokes and from thawed spinach. 
Nutritional information does not include tortilla chips or foods selected to serve with the dip. 
Did you make this recipe?
Leave a star rating and review on the blog post letting me know how you liked this recipe! Take a picture and tag @saltandbaker on Instagram and Facebook so I can see what you're making!