Gingersnap Cookies
This post may include affiliate links. As an Amazon Associate I earn from qualifying purchases.
These gingersnap cookies are the perfect soft holiday cookie. The cinnamon, ginger and cloves in this recipe will make your kitchen smell amazing and your holiday guests dying for the recipe!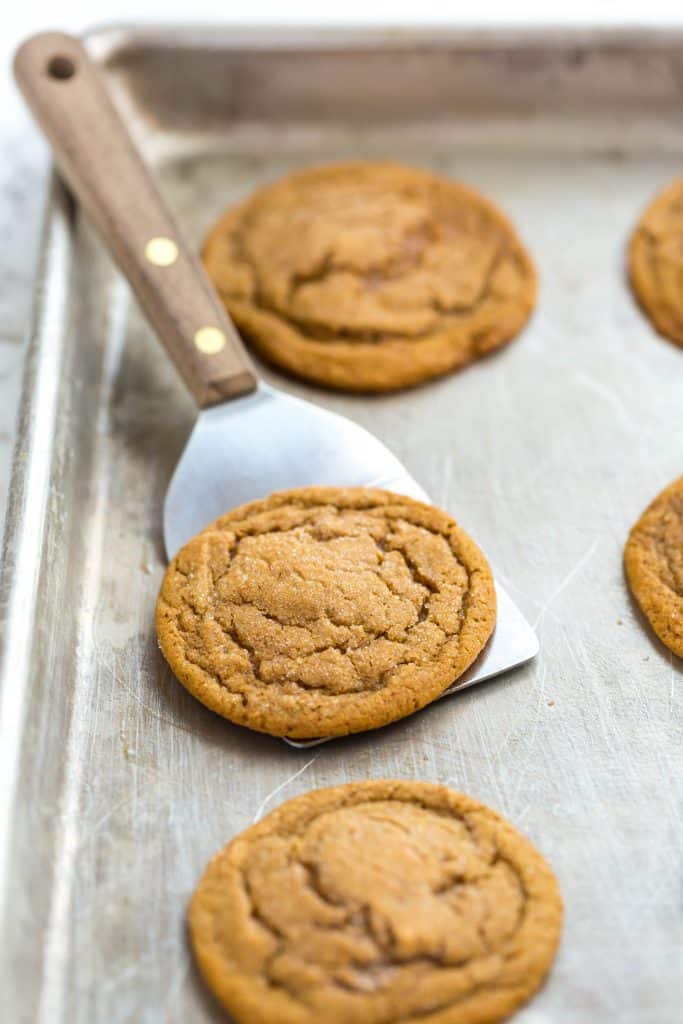 Soft Gingersnaps
I'm picky when it comes to my cookies, I want them *just* right. They have to be soft, but not doughy. They need to be on the thicker side and they definitely can't be thin!
Well, I've perfected my gingersnap cookie recipe, and folks, these cookies are gooooood! My kids can't get enough of these cookies. 
Traditionally, gingersnap cookies are a crunchy cookies, hence the *snap* in gingersnap. That just doesn't work for me! I've never been a fan of cookies that crunch when you eat them. I love soft, chewy, thick cookies! Hopefully you do too. If you haven't had a soft gingersnap cookie, please make this! I know you will love it. And maybe you'll even come over to the soft cookie side 🙂 
Gingersnap cookies are the perfect holiday treat! Not only do they smell like the holidays, they taste like the holidays, too. And the best part about this recipe is that it is simple, the perfect recipe your kids can help you make! I love holiday baking with my family. I loved it when I was young, making cookies with my sister, and I love it now!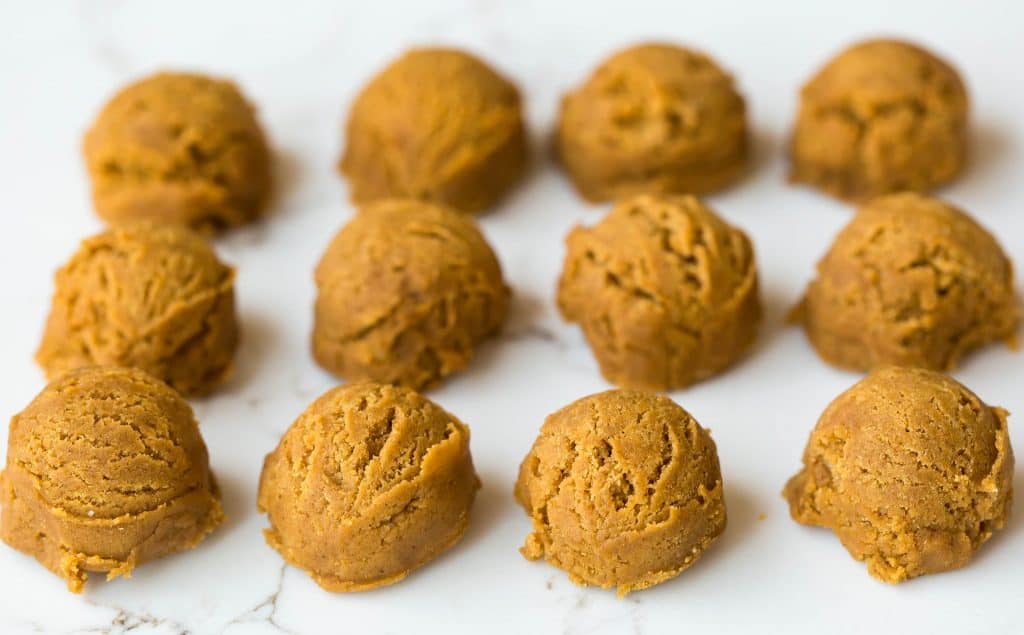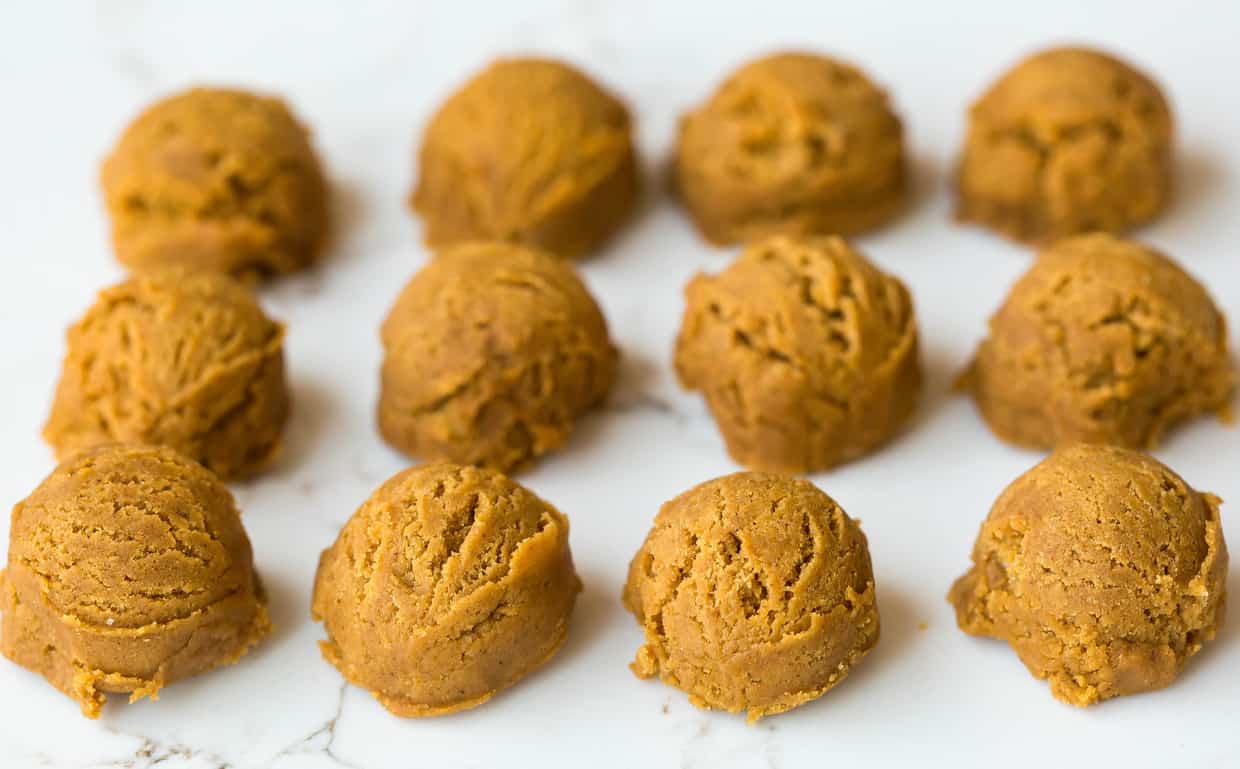 Ingredients
Butter, softened

Light brown sugar, packed

Egg, room temp

Molasses

Flour

Baking soda

Cinnamon

Ground ginger

Ground cloves

Salt

Granulated sugar, for rolling the dough in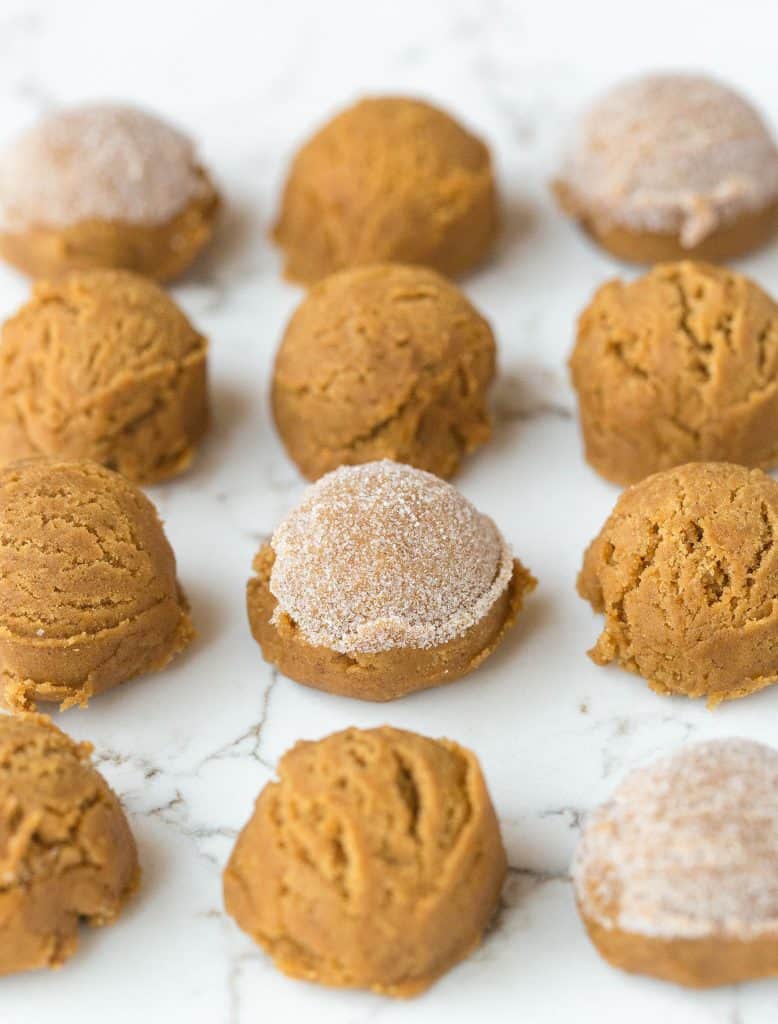 How to Make Gingersnap Cookies
Cream together butter and sugar in a stand mixer or in a bowl with a hand mixer. Add the egg and molasses.

Whisk together the dry ingredients. Add the dry ingredients to the wet ingredients.

Cover the dough and refrigerate for 1 hour.

This step is very important!

If you don't refrigerate the dough, your cookies will spread and be flat. Chilling the gingersnap cookie dough ensures you'll have a soft and thick cookie.

Using a cookie scoop (I used

this one

) scoop the dough into 1 T. sized balls.

Roll the tops of the cookies in granulated sugar.

Bake.

Refrain from eating all the cookies by yourself.
Recipe Tip
Don't forget to chill your dough for an hour before baking. Like I said above, you want thick cookies. If we don't chill the dough, the butter in the dough won't be cold enough when it hits the oven and so it will make the dough spread while baking. Chilling the dough firms up the butter and keeps the cookie dough balls in their shape for longer so they don't spread. This gives us thicker cookies instead of thin cookies.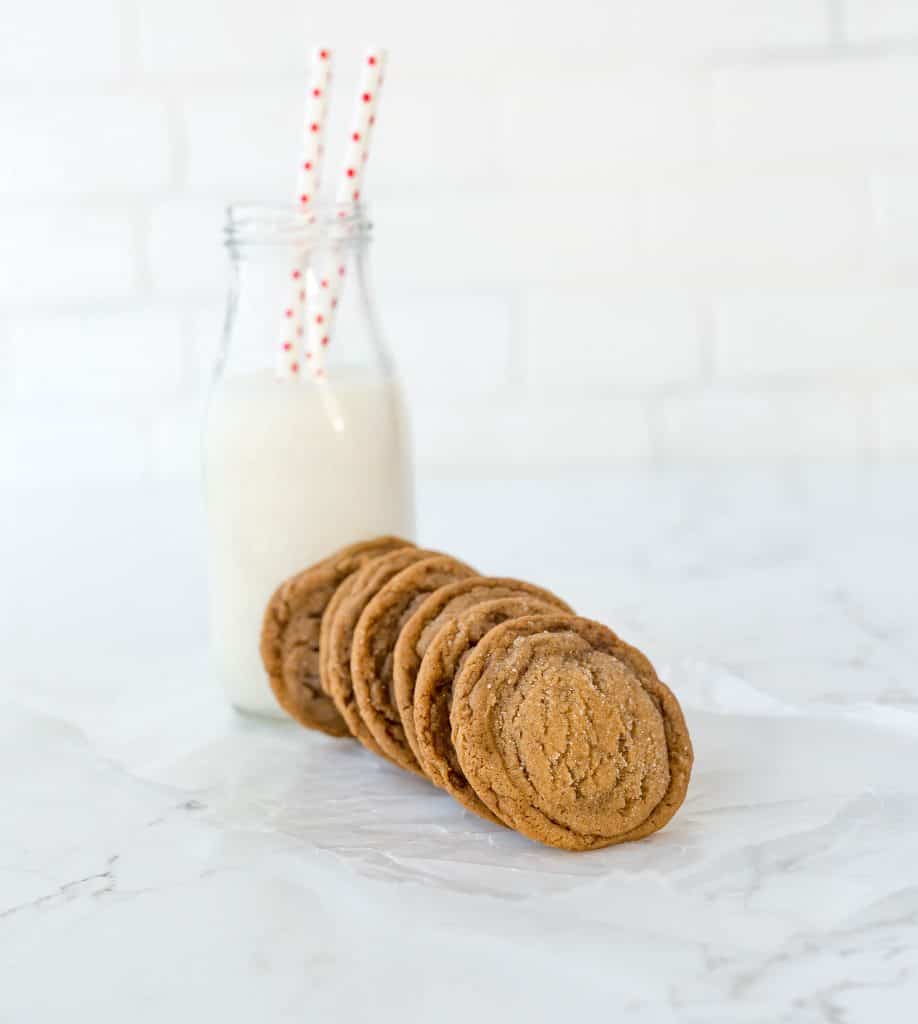 FAQs
What can I use instead of molasses? — Molasses isn't a very common pantry item these days. So if you are looking for a substitute, here are a few options: Brown sugar. Since brown sugar is simply molasses added to granulated sugar, this will help bring a bit of that molasses flavor to your dough. Pure Wow suggests using ¾ cup brown sugar per 1 cup molasses. Other options include honey, granulated sugar, corn syrup, and maple syrup. However, with each of these options, you aren't getting the true molasses flavor. Depending on which substitute you use, you may need extra water or spices. 
Why do eggs need to be at room temperature? — This is such a great question! Room temperature eggs mix better and more easily incorporate into your dough or batter mixture. The temperature of eggs also affects the baking time. If you use cold eggs, you'll most likely need to increase your baking time. To make things easier, just use room temperature eggs! I promise you'll be glad you did. One big reason is that room temperature eggs rise better!
If you love these cookies, try these holiday recipes
Gingerbread Bundt Cake

— I love love love this cake! If you need a holiday dessert for your Christmas dinner, this cake tastes incredible and looks incredible too!
Soft Gingersnap Cookies
The most delicious gingersnap cookies EVER!!
Ingredients
3/4

cup

butter, softened

1

cup

light brown sugar, packed

1

egg, room temp

1/4

cup

molasses

2 1/4

cups

flour

2

tsp

baking soda

1

tsp

cinnamon

3/4

tsp

ground ginger

1/2

tsp

ground cloves

1/4

tsp

salt

1/4

cup

granulated sugar, for rolling the dough in
Instructions
In the bowl of a stand mixer fitted with the paddle attachment, or using a hand mixer cream together the butter and brown sugar, about 1 minute.

Add the egg and molasses. Cream 1 minute more.

In a medium size bowl whisk the flour, baking soda, cinnamon, ginger, cloves, and salt. Gradually add the dry ingredients to the wet ingredients. Mix until combined.

Cover the bowl with the dough in it. Refrigerate for 1 hour*.

Preheat the oven to 375°F. Using a 1 Tablespoon cookie scoop, scoop the balls of dough. Dip the tops of the balls in the granulated sugar.

Place balls, sugar side up, on a greased baking sheet about 2 inches apart. Bake for 7-8 minutes. Remove from the oven and let cool on the pan for 3-5 minutes. Transfer to a wire rack to cool completely.
Notes
*You can also scoop the dough into balls, place the dough balls on a plate, cover it. And refrigerate them for 1 hour. Either way is fine. Chilling the dough, will ensure you have thicker cookies with less spreading.
Recipe source: Salt & Baker
Did you make this recipe?
Leave a star rating and review on the blog post letting me know how you liked this recipe! Take a picture and tag @saltandbaker on Instagram and Facebook so I can see what you're making!