Soft Gingersnap Cookies
This post may include affiliate links. As an Amazon Associate I earn from qualifying purchases.
Soft Gingersnap Cookies are the only way to go — with the perfect balance of cinnamon, ginger, cloves and molasses, your family and friends will be begging your for this classic gingersnap cookies recipe! Ring in the holiday season with this perfect holiday cookie recipe. 
This time of year, it's all about the gingerbread recipes! Gingersnaps definitely fit into that category. There's also my Gingerbread Bundt Cake, Gingerbread Sandwich Cookies and my Soft Gingerbread Man Cookies that are some definite family favorites!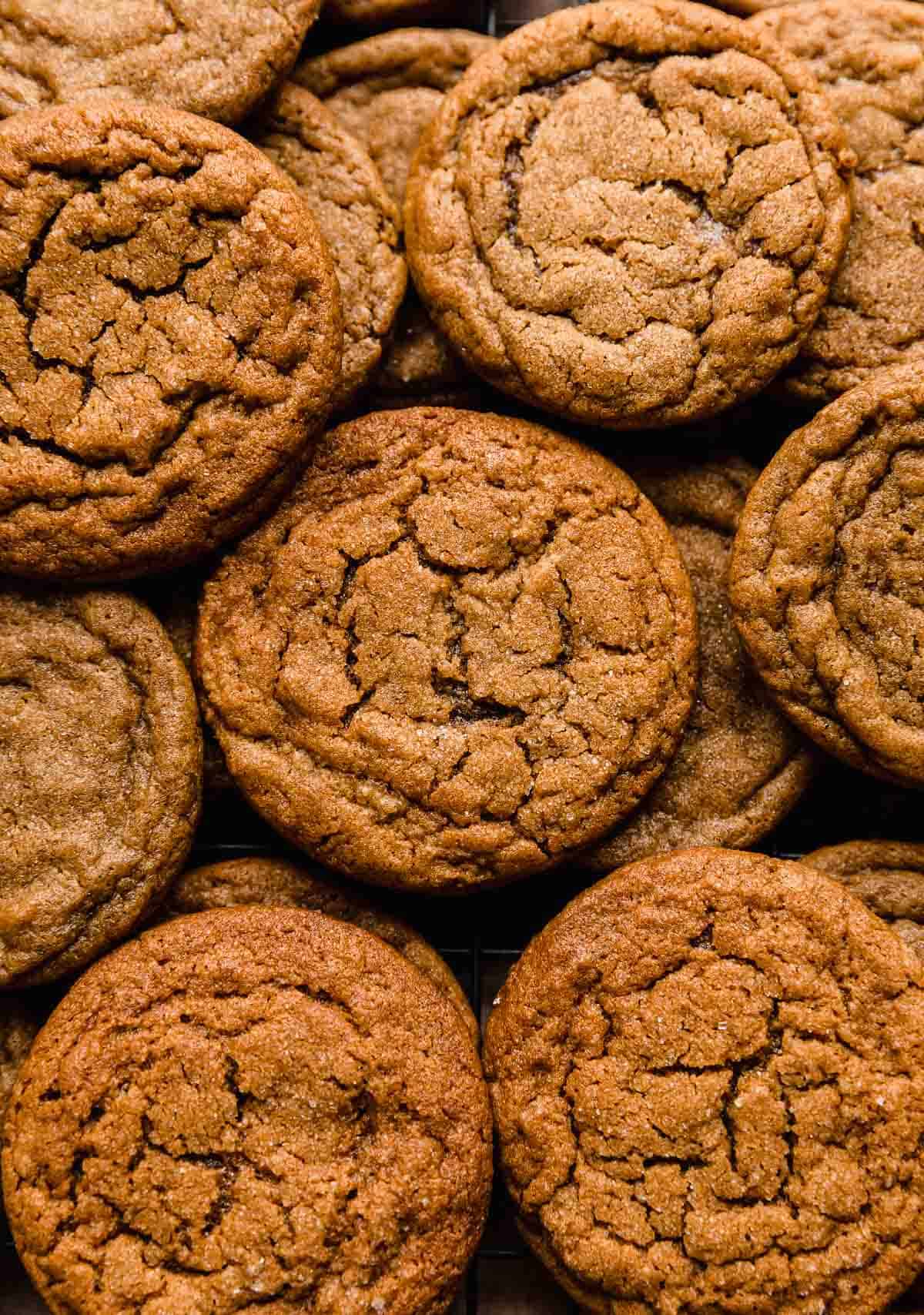 Why This Recipe Works
Soft gingersnap cookies. I know, I know! It's ginger-SNAP. But I've always been a sucker for ultra soft and chewy texture to my cookie recipes! So these ginger snaps are no different. They are chewy and soft! Perfect to sink your teeth into. 
Best gingersnap cookie recipe. I'm picky when it comes to my cookies, I want them *just* right. They have to be soft, but not doughy. They need to be on the thicker side and they definitely can't be thin! Well, I've perfected my gingersnap cookie recipe, and folks, these cookies are gooooood! My kids can't get enough of these cookies.
Delicious gingersnap cookies. This gingersnap cookie recipe has the perfect balance of cinnamon, ginger, cloves and molasses to really deliver that amazing gingerbread flavor without being overpowering. 
Best holiday cookie recipe. Gingersnap cookies are the perfect holiday treat — and great for cookie exchanges! Not only do they smell like the holidays, they taste like the holidays, too.
Ingredient Notes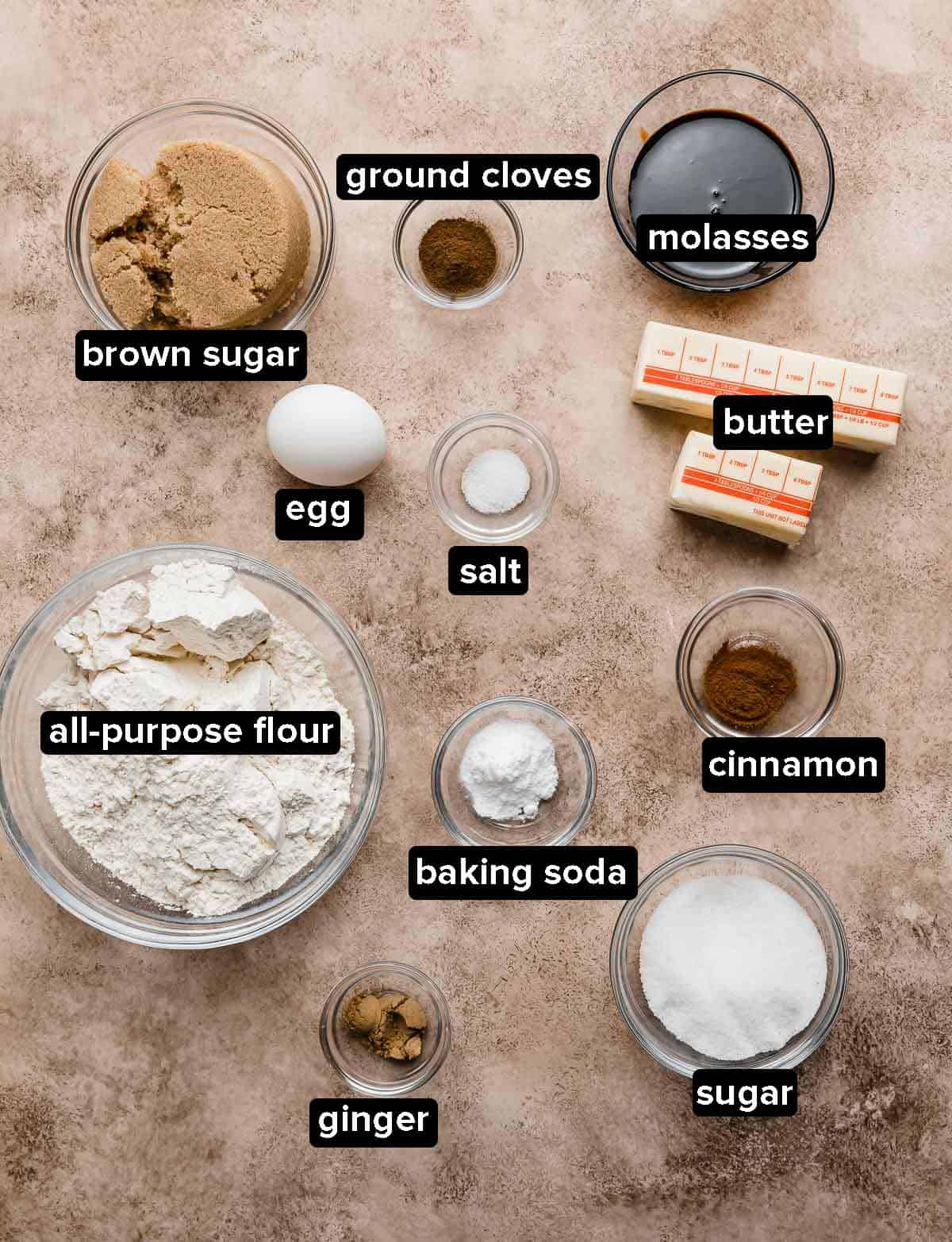 Unsalted Butter: Using softened butter will help it combine with all the other ingredients much easier. 
Light Brown Sugar: If you want to use dark brown sugar, you can. It will just give a bit more of a molasses flavor. 
Molasses: This is the iconic ingredient to get the best gingersnap cookies! 
Flour: Getting the right flour to butter ratio is how we can get the perfect soft bake. 
Baking Soda: This will help the chewy gingersnaps rise while baking in the oven. 
Spices: Ground cinnamon, ground ginger, and ground cloves gives the perfect warm spices combination for these chewy gingersnap cookies! 
Granulated Sugar: Gingersnaps always have that sugary topping! Dipping the tops in sugar prior to baking is how we get that iconic look. 
Step-by-Step Instructions
Cream butter and sugar. Add 3/4 cup softened butter and 1 cup light brown sugar to the bowl of a stand mixer fitted with the paddle attachment. Beat for 1 minute or until well combined.
Add the egg and molasses. Add 1 large egg and 1/4 cup molasses. Mix for 1 minute more. 
Add dry ingredients. Add 2 1/4 cups all purpose flour, 2 tsp baking soda, 1 tsp cinnamon, 3/4 tsp ground ginger, 1/2 tsp ground cloves, and 1/4 tsp salt. Mix until just combined.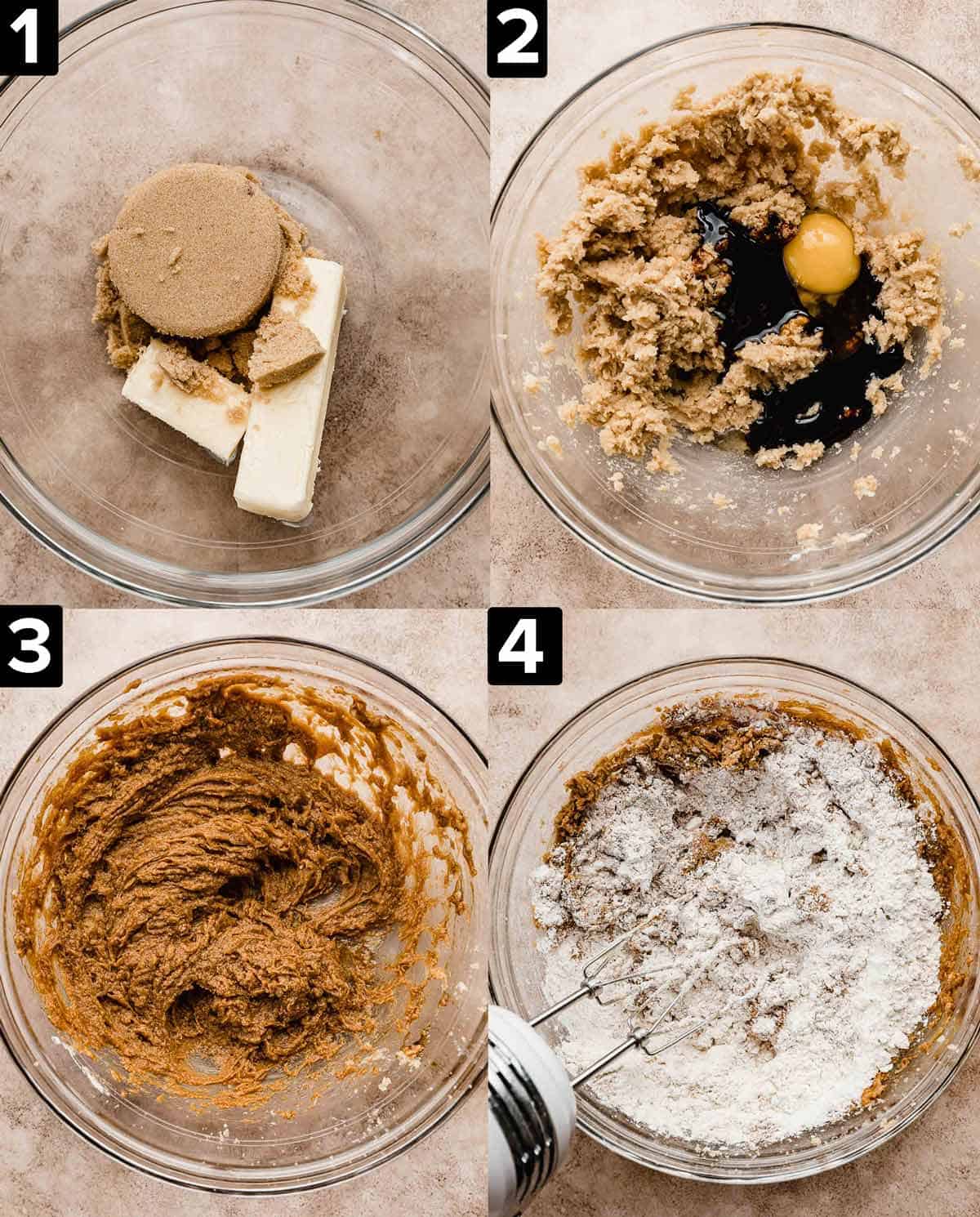 Chill dough. Cover the bowl with plastic wrap and chill in the fridge for 30 minutes. While it's chilling, preheat the oven to 375ºF. 
Portion into dough balls. Remove the gingersnap cookie dough from the fridge. Using a 1 T cookie scoop, portion the dough into balls. Place 1/4 cup granulated sugar in a small bowl. Dip the tops of each of the cookie dough balls in the sugar. Place the balls, sugar side up, on a cookie sheet lined with parchment paper.
Bake. Bake the gingersnap cookies for 9-12 minutes (9-10 minutes if you want soft gingersnap cookies and 10-12 minutes if you want a bit of a crisp). Remove from the oven and let cool on the pan for 10 minutes. Transfer to a wire rack to cool completely. Enjoy!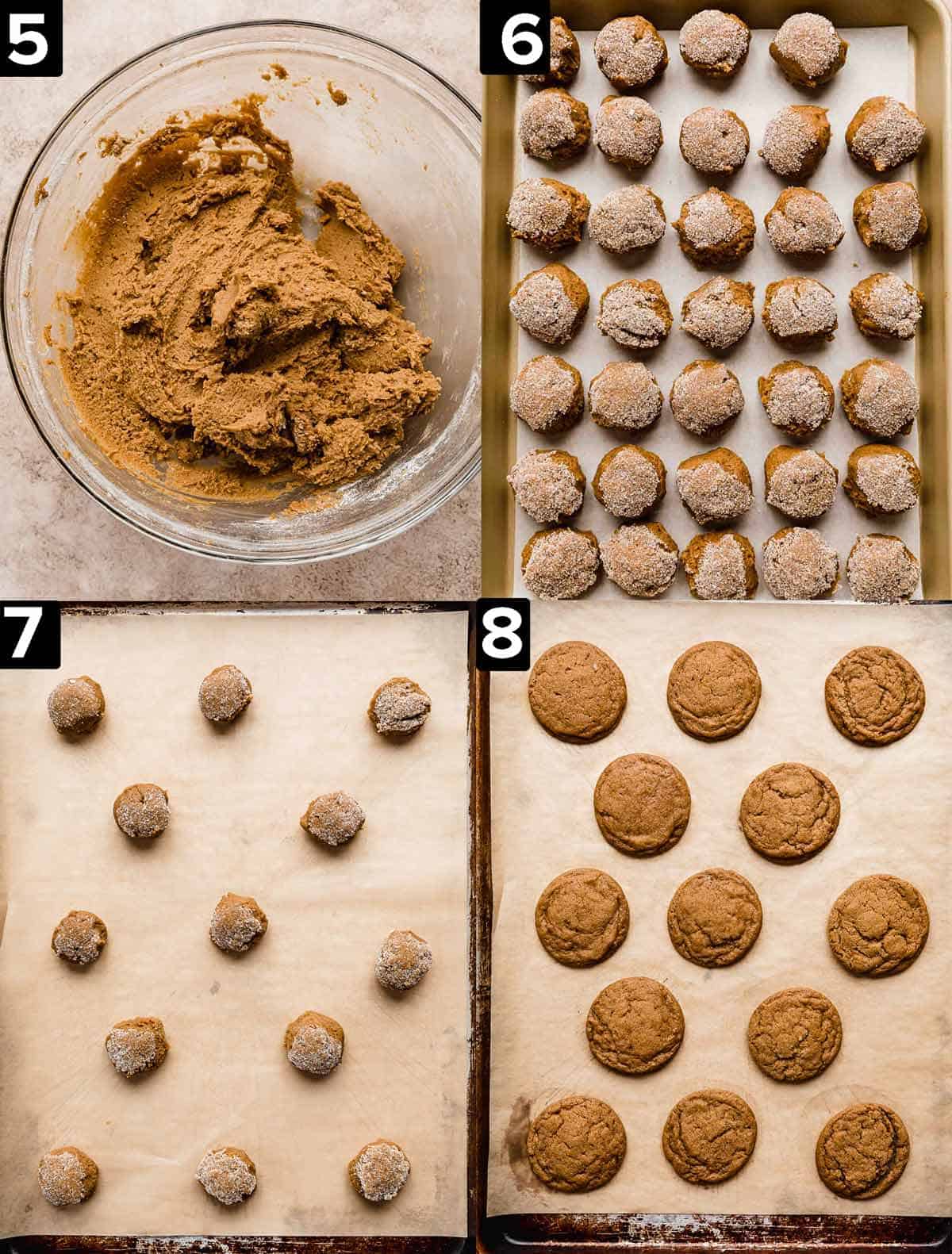 Recipe Tips
Chilling the cookie dough makes it easier to scoop the dough (less sticky) and prevents the cookies from spreading as much in the oven.
If you want these soft gingersnaps to be thicker, then chill the dough for 60 minutes. For a slightly flatter cookie chill for only 30 minutes.
Note: This gingersnap cookie dough is a deep color. So you don't want to be watching for a golden brown color when baking or else you'll end up with over baked cookies — don't get tricked by the color of the dough!
Dipping the tops in white sugar will get the crackly tops look.
Traditionally, gingersnap cookies are a crunchy cookies, hence the *snap* in gingersnap. I made these cookies so they are on the softer side. If you prefer a traditional crispy gingersnap then just bake the cookies a few minutes longer for that crunchy texture!
Make Ahead, Storing, and Freezing
You can make this gingersnap recipe ahead of time! Just make the dough, cover it and chill in the fridge for up to 48 hours. Then remove and roll into dough balls — continue following the directions from there.
Leftover gingersnap cookies can be stored in an airtight container at room temperature for 4-5 days.
To freeze the dough, I would recommend rolling into balls, flash freezing on a cookie sheet and then transferring to a freezer bag. Then, when you want to bake them, remove the dough balls from the freezer and let them thaw in the fridge overnight, then dip in sugar and bake according to the recipe instructions.
Recipe FAQs
What are gingersnap cookies?
Gingersnap cookies are made with warm spices — obviously ginger being one of them — and are typically made with molasses. They are dark in color, rich in flavor, and are known for being a hard cookie (this is where the "snap" comes in). I don't like hard, crunchy cookies, so this is a soft gingersnap cookie recipe!  
What can I use instead of molasses? 
Molasses isn't a very common pantry item these days. So if you are looking for a substitute, here are a few options: Brown sugar. Since brown sugar is simply molasses added to granulated sugar, this will help bring a bit of that molasses flavor to your dough. Pure Wow suggests using ¾ cup brown sugar per 1 cup molasses. Other options include honey, granulated sugar, corn syrup, and maple syrup. However, with each of these options, you aren't getting the true molasses flavor. Depending on which substitute you use, you may need extra water or spices.
Why do eggs need to be at room temperature? 
This is such a great question! Room temperature eggs mix better and more easily incorporate into your dough or batter mixture. The temperature of eggs also affects the baking time. If you use cold eggs, you'll most likely need to increase your baking time. To make things easier, just use room temperature eggs! I promise you'll be glad you did. One big reason is that room temperature eggs rise better!
Why are my ginger snap cookies flat?
I would chill the cookie dough for longer. If the dough is really warm (this can happen when you've tried microwaving your butter so it isn't hard — the butter will form melty pockets inside the butter cube and can affect how the dough forms). This causes overspreading in the oven, making flat cookies. The longer you chill the cookie dough, the less spreading you'll get in the oven. 
What's the difference between a gingerbread cookie and a gingersnap cookie?
Gingersnap cookies are typically baked longer to be crispier (except for this recipe which results in soft cookies!) and gingerbread cookies are made with a roll out dough and cookie cutters for cookie shapes. A big difference between my Soft Gingerbread Cookies and this recipe is that the gingerbread man recipe is made without eggs. 
Why don't you roll the entire ball in sugar?
I find that by just dipping the top of the dough ball in sugar, the underside of the cookie doesn't get as crispy and the cookie stays a bit softer.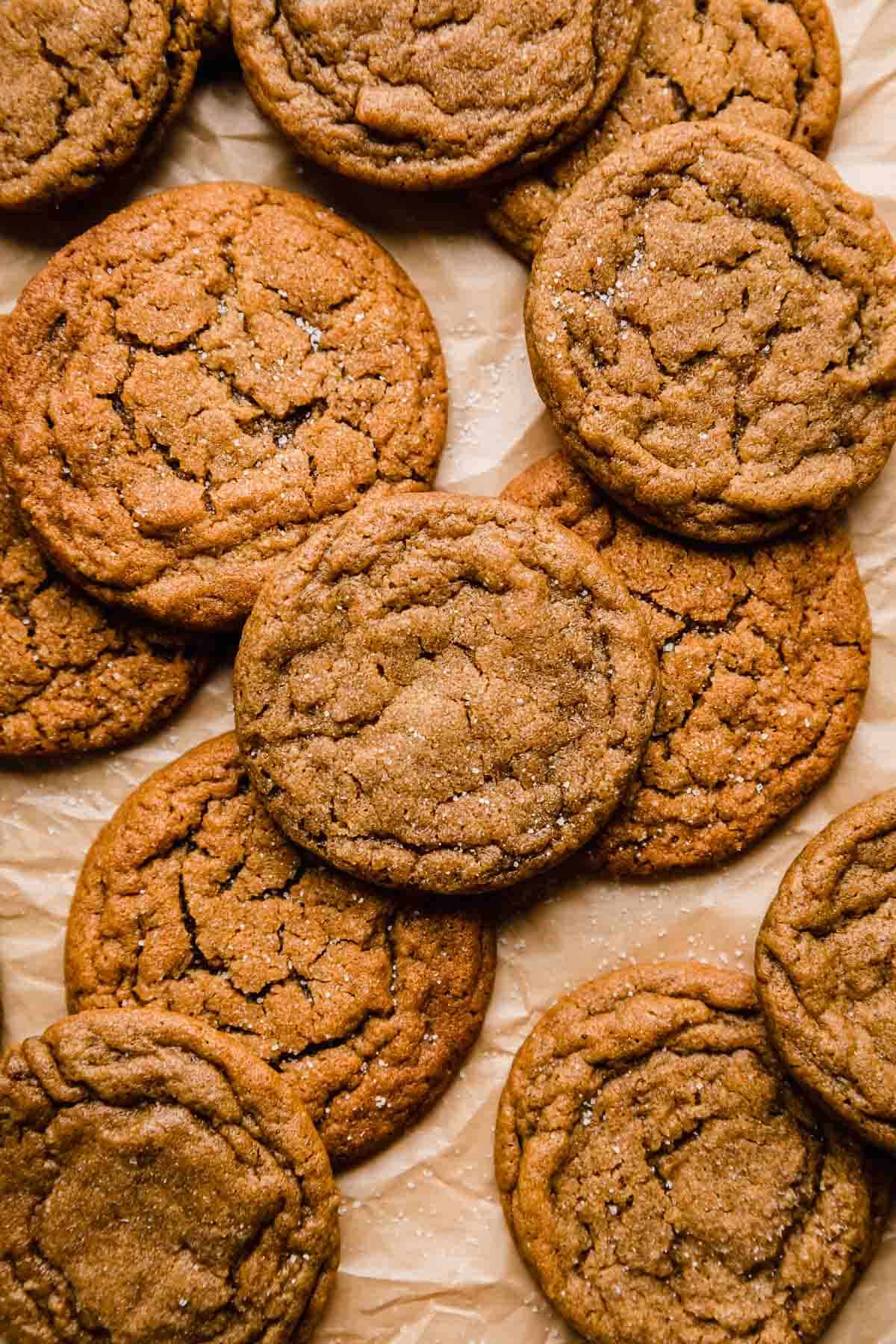 More Christmas Recipes
Gingerbread Bundt Cake

— I love love love this cake! If you need a holiday dessert for your Christmas dinner, this cake tastes incredible and looks incredible too!
Soft Gingersnap Cookies
The most delicious gingersnap cookies EVER!! These cookies are made using a 1 tablespoon sized scoop, so they are perfectly portioned, then dipped in granulated sugar and baked until soft (or bake a few minutes longer for a crispy gingersnap)!
Ingredients
3/4

cup

unsalted butter -

softened to room temperature

1

cup

light brown sugar

-

packed

1

large

egg

-

at room temperature

1/4

cup

molasses

2 1/4

cups

flour

2

tsp

baking soda

1

tsp

cinnamon

3/4

tsp

ground ginger

1/2

tsp

ground cloves

1/4

tsp

salt

1/4

cup

granulated sugar

-

for dipping the dough balls into
Instructions
In the bowl of a stand mixer fitted with the paddle attachment, or using a hand mixer cream together the butter and brown sugar, about 1 minute. 

Add the egg and molasses. Cream 1 minute more. Add the flour, baking soda, cinnamon, ginger, cloves, and salt. Mix to combine.

Cover the bowl with the dough in it and refrigerate for 30 minutes. Chilling the dough will help it be less sticky and easier to roll and dip in the sugar. It also prevents the cookies from spreading too much. 

Preheat the oven to 375°F. Using a 1 Tablespoon cookie scoop, scoop the balls of dough. Dip the tops of the balls in the granulated sugar. 

Place balls, sugar side up, on a parchment lined baking sheet, leaving 2 inches between each ball. Bake for 9-12 minutes. If you want soft gingersnaps bake for 9-10 minutes and if you want a bit crispier bake for longer. Remove from the oven and let cool on the pan for 10 minutes before transferring to a wire rack to cool completely. Transfer to a wire rack to cool completely. 
Notes
Store cookies in an airtight container at room temperature for 4-5 days. 
When baking, remember the cookie dough is already dark, so don't be looking for a golden brown color — they already are golden brown without even baking them! Don't over bake by getting tricked by the dough color! 
Did you make this recipe?
Leave a star rating and review on the blog post letting me know how you liked this recipe! Take a picture and tag @saltandbaker on Instagram and Facebook so I can see what you're making!