Gingerbread Bundt Cake
Ring in the holiday season with this festive Gingerbread Bundt Cake! This cake is spiced with ginger, nutmeg, cinnamon, and cloves.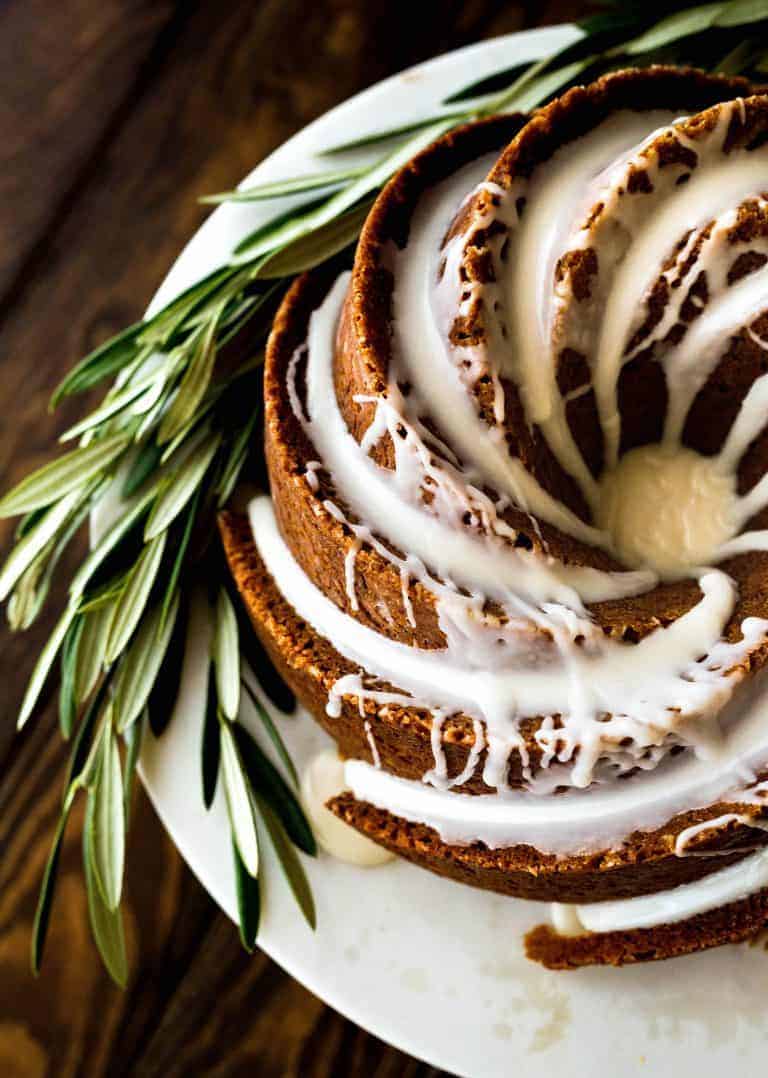 Friends, if you love gingerbread, this cake is for you! It's spiced with ginger, cloves, cinnamon, and nutmeg. This gingerbread bundt cake is bursting with holiday spices. Make this gingerbread bundt cake and your taste buds will be on a holiday high. Top it with the silky smooth maple glaze and you are in business.
Everyone who makes this has raving reviews! Not only does this Gingerbread Bundt Cake taste delicious, it can also be dressed up to be the center piece at any holiday party. Dessert and decoration all in one? That's a win-win.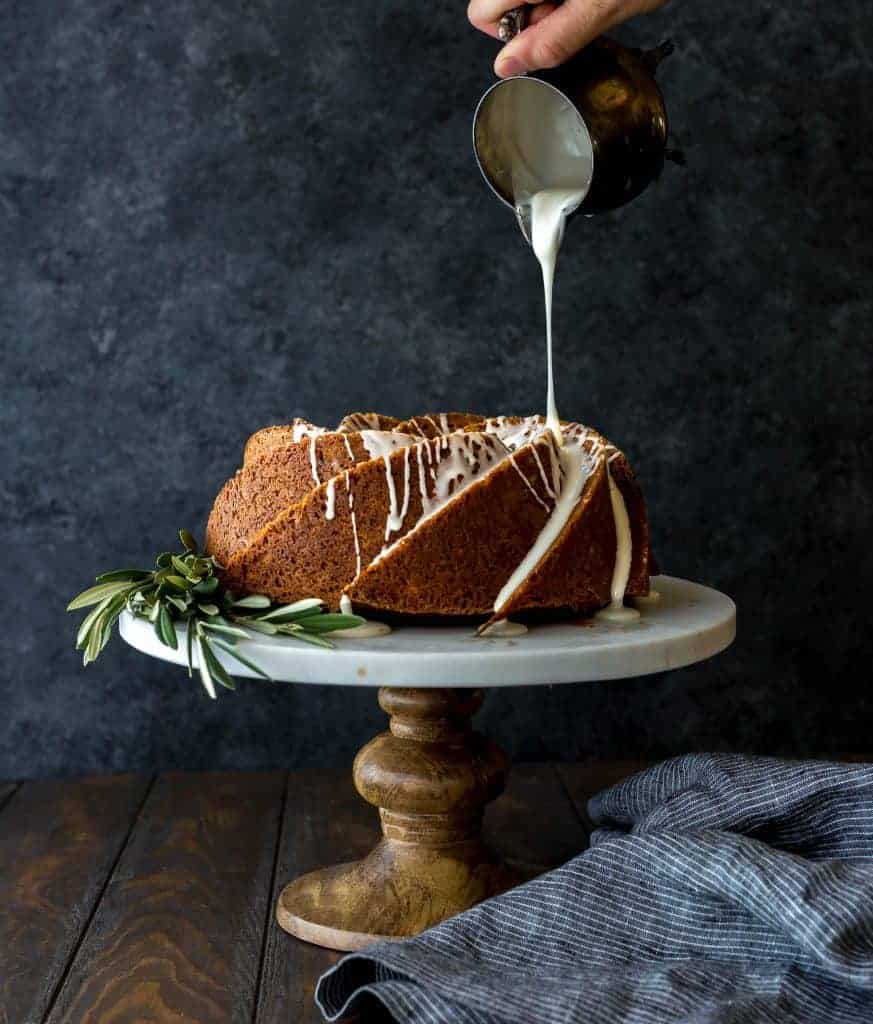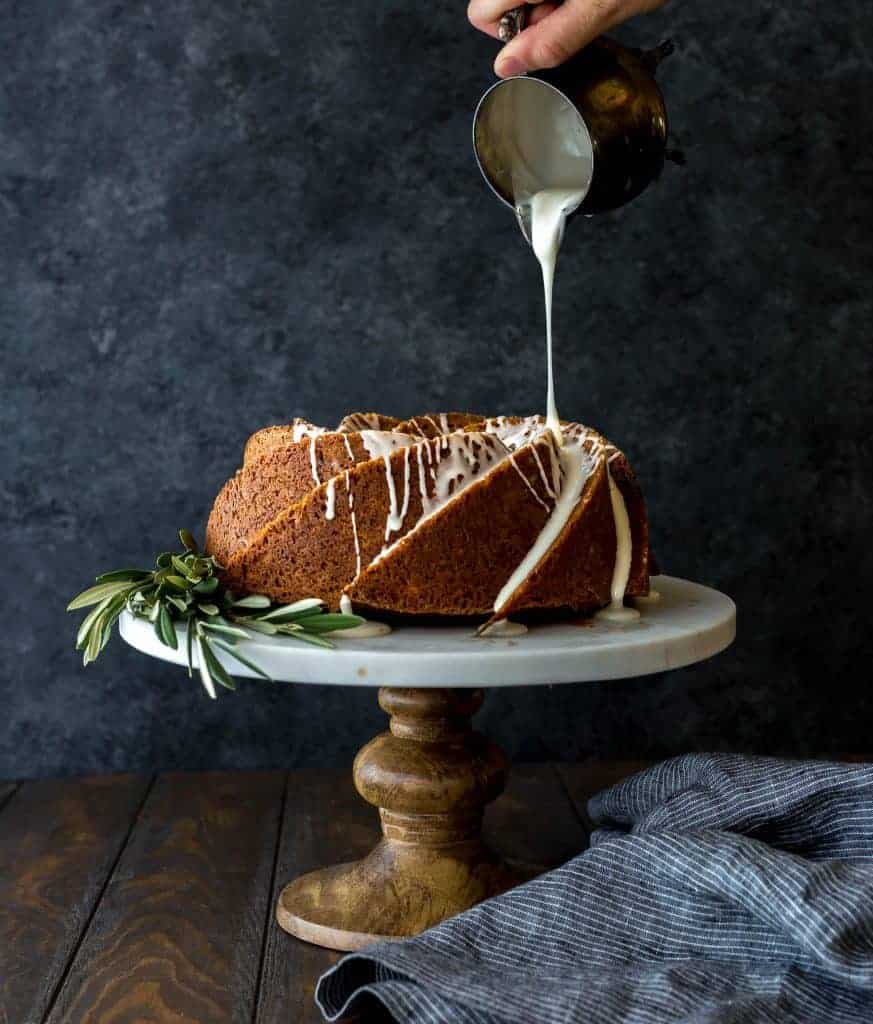 What does a Gingerbread Bundt Cake taste like?
Image the flavor of a gingerbread cookie and then times that by 2! This gingerbread bundt cake is soft, fluffy, and bursting with warm holiday flavors.  It's all of your favorite holiday spices compressed into one warm, satisfying dessert. The flavor in this cake is off the charts! 🙌🏼
Don't forget the maple glaze. My love for maple syrup is no secret. See my Creamy Butternut Squash Alfredo with Maple Glazed Bacon for example.
The smooth maple glaze that is drizzled overtop is the perfect accent to this perfectly spiced holiday gingerbread bundt cake.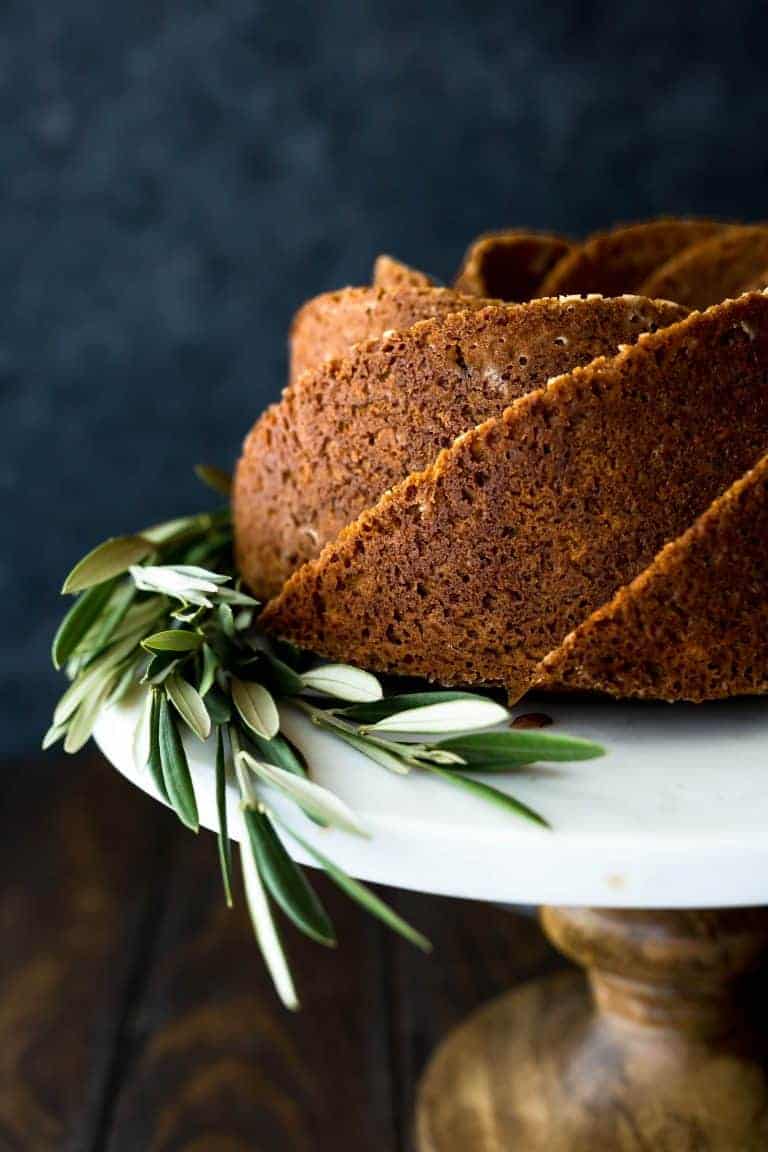 I know it's only October, but there are a few things you should know.
Things you should know about me:
I love Christmas music.
I love fall and winter. Gloomy, cloudy days make me really happy!
I love holiday smells. Cloves, oranges, gingerbread, fresh baked bread, pumpkin…. *sigh* it's heavenly.
Now that you know a few basic "Whitney" facts, I think we're great friends! And now would be a good time to tell you I'm the person who listens to Christmas music in October. I caved. I opened my Pandora App and selected the "Kenny G Holiday" Pandora station. (BEST Christmas music ever, BTW).
Last year, I told myself I wasn't going to listen to Christmas music until November 1st. Although I didn't make it to November, I'm proud of my progress! In 2016 I had good ole Kenny G holiday music playing in September. Baby steps…baby steps…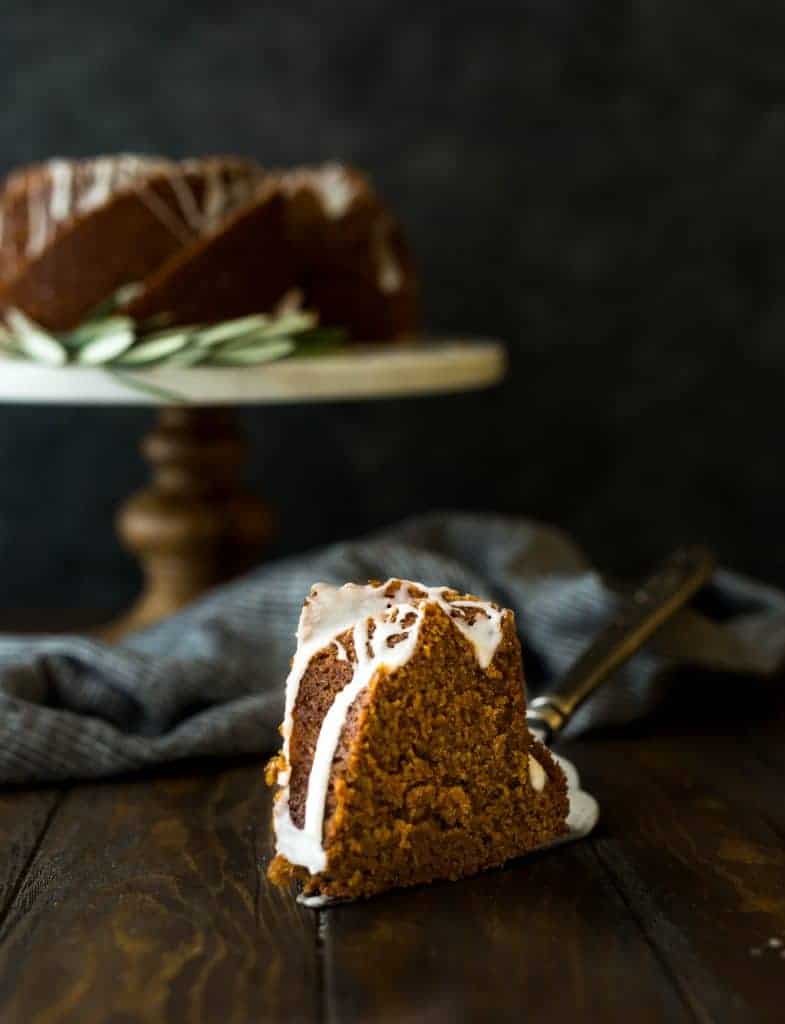 You could say I'm ready for Christmas! Will it snow already?? I'm sure you think my Christmas tree is up at this very moment. Nope. That goes up one week before Thanksgiving. I do have some self control.  😊
But holiday baking is in full swing at our house and it makes me so happy!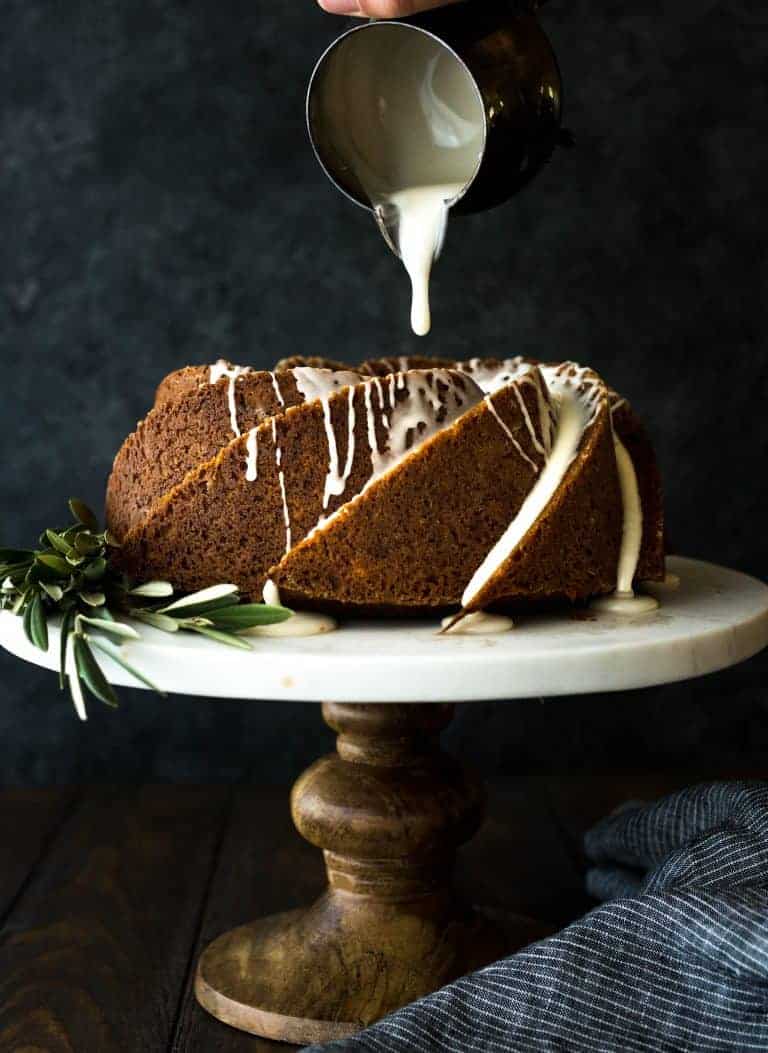 Now go enjoy this holiday treat! Or be patient and wait to make it until December. Either way, I know you'll love it!
Love this gingerbread bundt cake? Consider trying: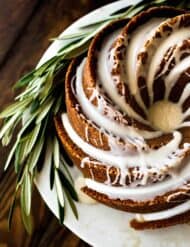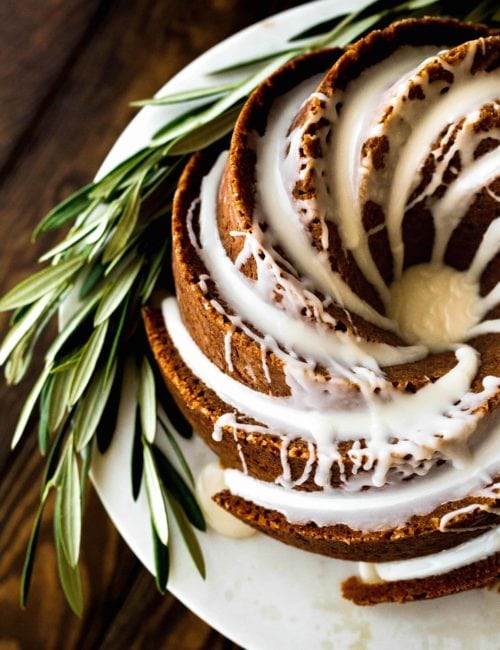 Nutrition Facts
Gingerbread Bundt Cake
Amount Per Serving
Calories 443
* Percent Daily Values are based on a 2000 calorie diet.
Gingerbread Bundt Cake
Ring in the holiday season with this festive cake! This gingerbread bundt cake is spiced with ginger, nutmeg, cinnamon, and cloves.
Ingredients
2 3/4

cups

flour

1/2

tsp

baking soda

1/2

tsp

baking powder

1/2

tsp

salt

1 1/4

tsp

ground ginger

1/4

tsp

all spice

1

tsp

cinnamon

1/4

tsp

ground nutmeg

4

eggs

whisked, room temp

1 1/2

cups

dark brown sugar

1

cup

unsalted butter, melted

1

cup

buttermilk

1/2

cup

molasses
Maple Glaze
1 1/2

cups

powdered sugar

3

tsp

real maple syrup

6

tsp

milk
Instructions
Preheat the oven to 350°F. Grease and flour a 10 cup bundt pan. * Set aside.

In a medium sized bowl whisk the dry ingredients, flour, baking soda, baking powder, salt, and spices. In the bowl of your stand mixer add the eggs, brown sugar, melted butter, buttermilk, and molasses. Using the paddle attachment, mix on low until the wet ingredients are combined, about 30 seconds. Add the flour into the wet ingredients. Mix on low until combined.

Pour the batter into your prepared bundt pan. Bake for 45-50 minutes, or until a toothpick is inserted and comes out mostly clean or with a few moist crumbs on it. Let the cake cool in the pan for 10-15 minutes. Invert cake onto cake stand. Allow to cool before topping with the glaze.
Maple Glaze
In a small bowl whisk the powdered sugar, syrup, and milk until combined. Pour over the cake.
Recipe Notes
*When I make bundt cakes, I'll often grease and flour my pan AND spray it lightly with cooking spray that has flour in it (such as Baker's Joy). 
Recipe Source: adapted from Marsha's Baking Addiction