Buttermilk Waffles Recipe
This post may include affiliate links. As an Amazon Associate I earn from qualifying purchases.
Beautifully crisp on the outside, light and fluffy on the inside, this Buttermilk Waffle Recipe results in perfect waffles every time! Top these buttermilk waffles with a slice of butter and drizzle warm maple syrup overtop, or serve it with freshly whipped cream and berries.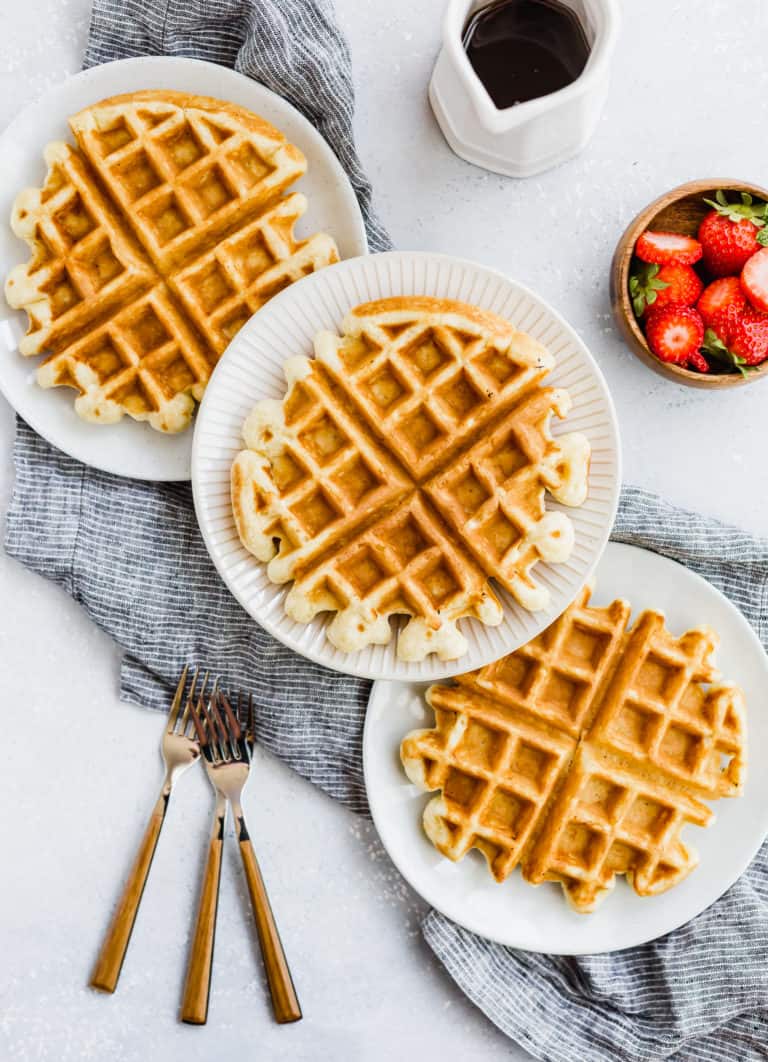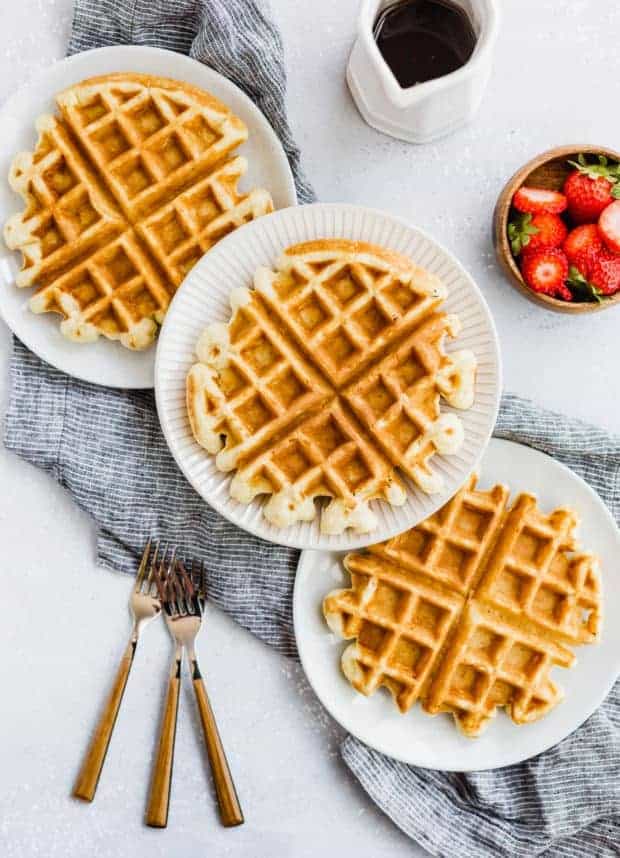 In my 27 years of living, I've never eaten a store bought frozen Eggo waffle. I hear people love them, which boggles my mind! They obviously haven't had a classic homemade waffle.
Having a solid waffle recipe you can turn to is really important! Especially when you have unexpected house guests or you need to put on brunch.
In fact, I want to serve these waffles for my sisters bridal shower. (No she is not engaged. I'm just a planner ?). Here's what you do: have these waffles or my liege waffles with a spread of fruit that guests can use to top their waffles with. Oooooh! And don't forget the mascarpone whipped cream. ? You're welcome.
Needless to say, I can promise you everyone will go CRAZY for this delicious buttermilk waffle recipe! These waffles turn out perfectly every time!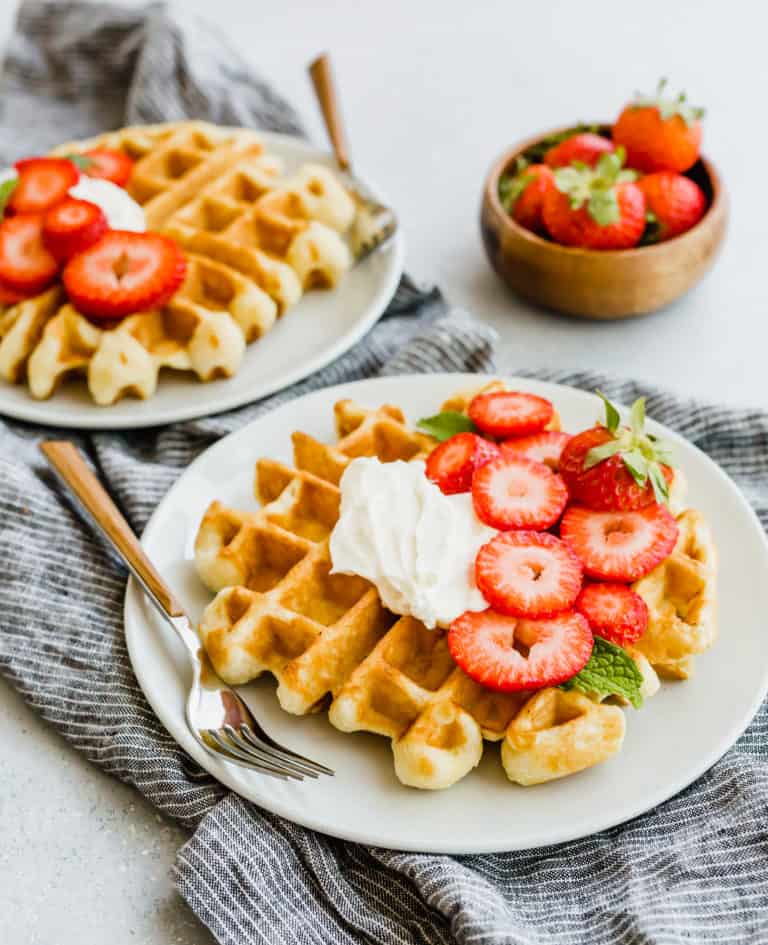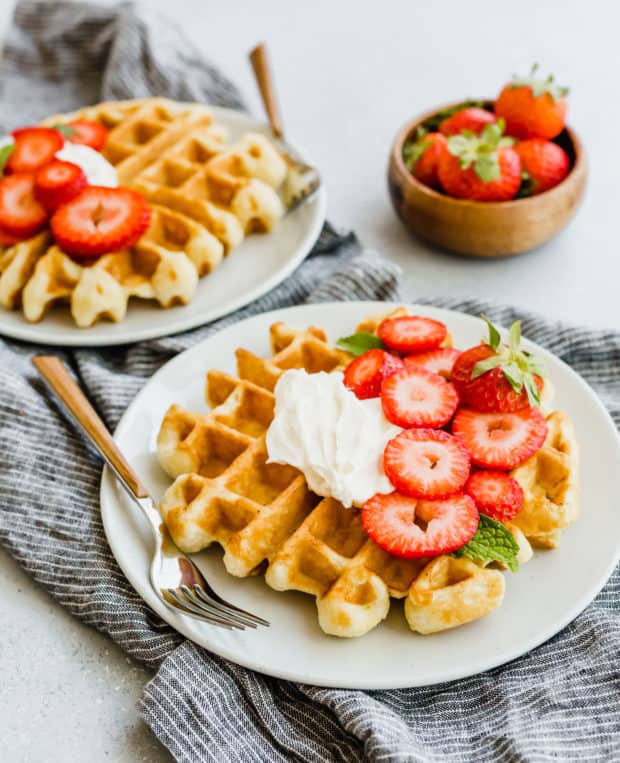 Let's go over a few common questions/thoughts regarding waffles.
Whats the difference between pancake batter and waffle batter?
One key difference between waffle batter and pancake batter is the amount of sugar used. Buttermilk waffles have a touch more sugar, not only to add flavor but it helps aid in the browning and caramelization of the exterior.
Waffles also contain more fat than pancake batter. In our case, butter. As this waffle recipe uses butter as the fat source. This higher fat content also aids in a crisp exterior.
Hello perfectly crisp waffles! ??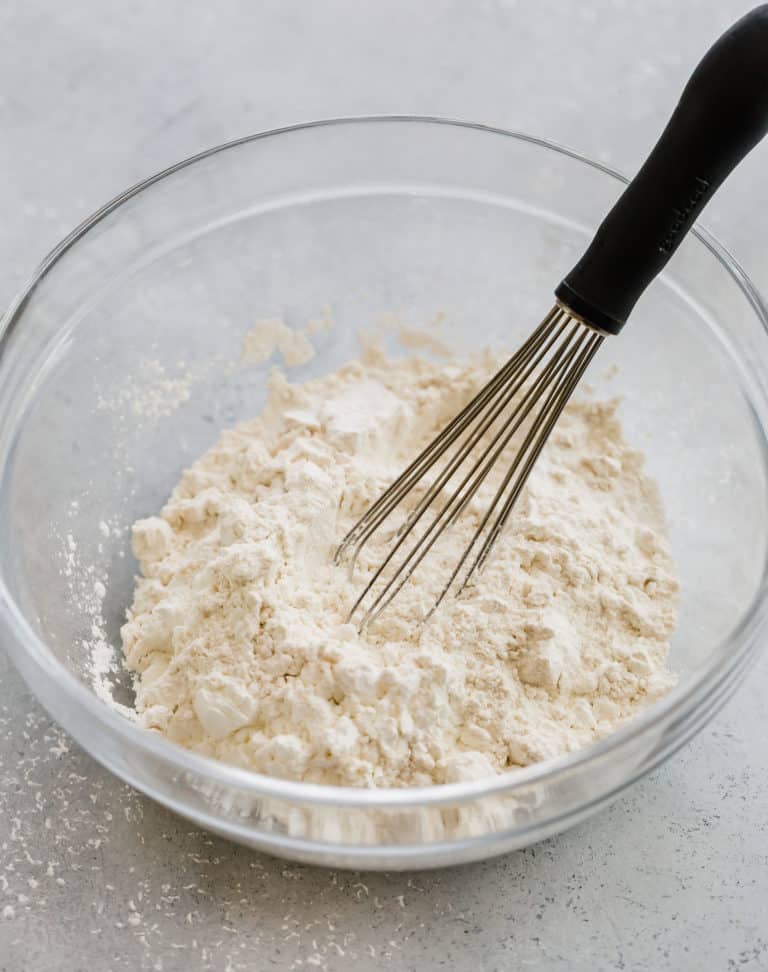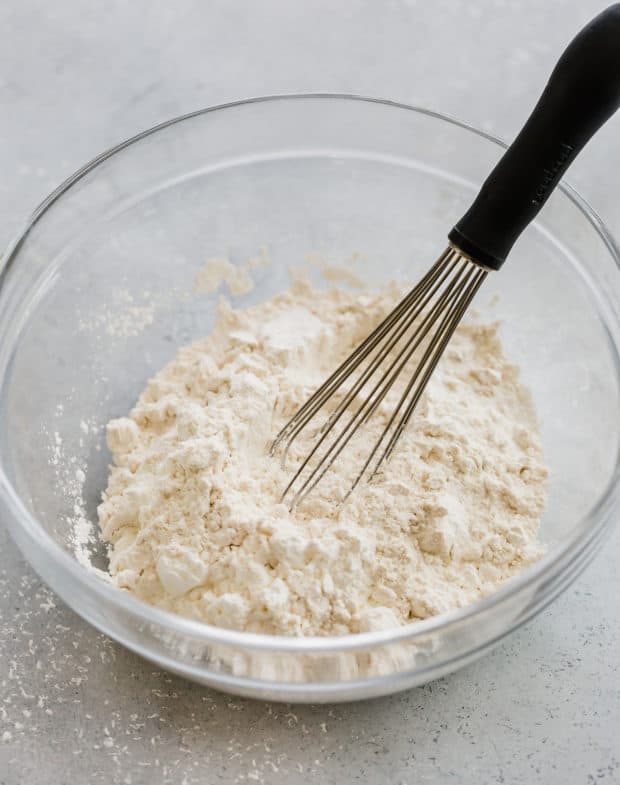 How to make waffles
Start by combining the dry ingredients.
In a separate bowl you'll mix the wet ingredients together. Minus the egg whites.
Take those egg whites and beat them until you have soft peaks. Add the sugar to the egg whites and mix until combined. I added the sugar to the egg whites to add stability.
Now, add the wet ingredients to the dry ingredients. Using a fork (or whisk) mix until somewhat combined. No overmixing here!
Using a spatula, fold in the egg whites.
Preheat your waffle iron!
Using butter, oil, or cooking spray grease the waffle iron. Add the waffle batter to the waffle iron and cook until golden brown. Every waffle iron is different so monitor closely come 3 minutes or so.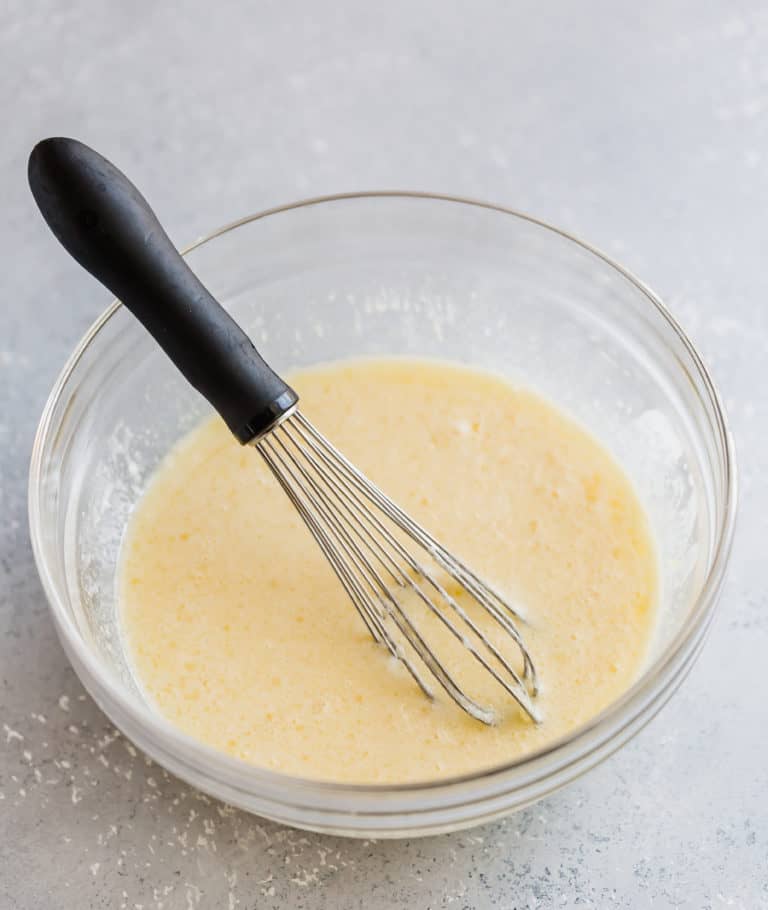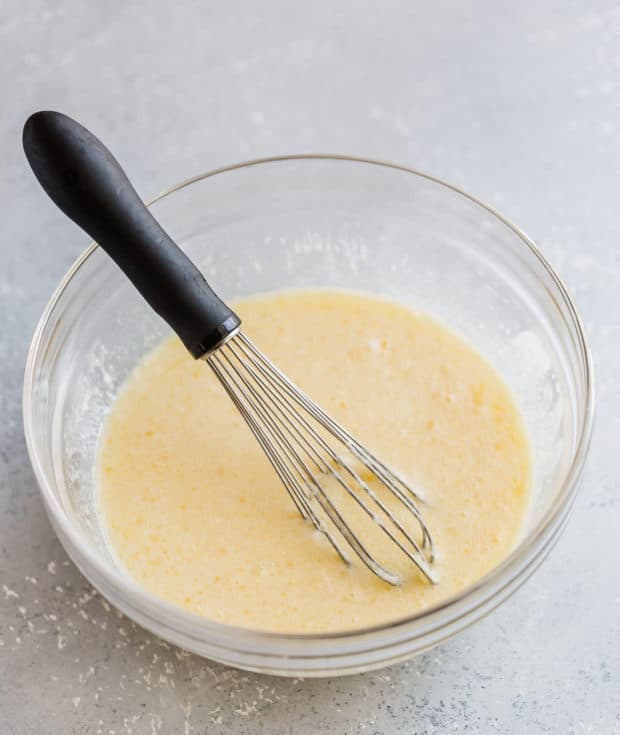 How do I get crisp waffles?
For light and crisp buttermilk waffles, separate the egg yolks and egg whites. As mentioned above, beat the egg whites until soft peaks form to aid in the ultimate waffle texture!
Whipping the egg whites will create tiny air pockets that make for a fluffy and delicious waffle! Hence the reason for folding egg whites into the batter. You do so gently because you don't want to deflate the air pockets you created by whipping the whites.
One ingredient you'll see in some waffles recipes (but not all) is cornstarch.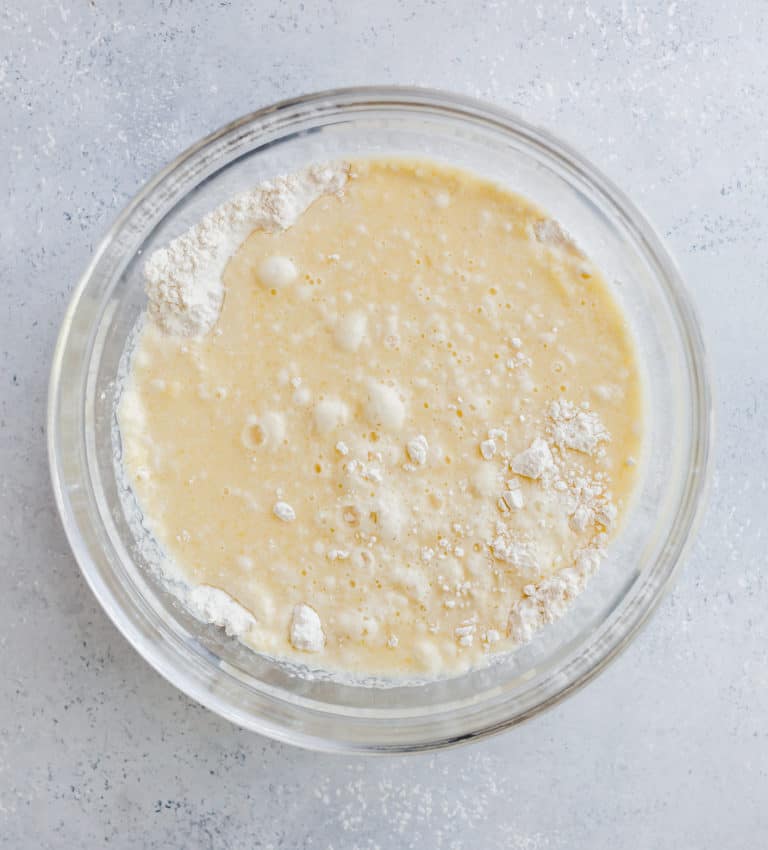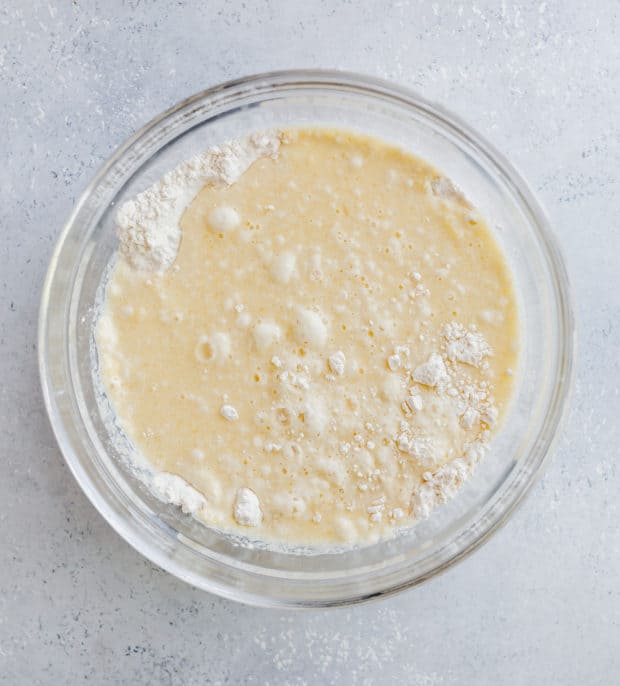 Why add cornstarch to a waffle recipe?
Mixed with flour, cornstarch is a key ingredient to making waffles that are crisp on the outside yet soft and tender on the inside.
Tip: When folding the egg whites into the batter, don't over do it. If you can see streaks of white in the batter, you're doing it right! (Pictured below is the egg whites in the batter, prior to being mixed).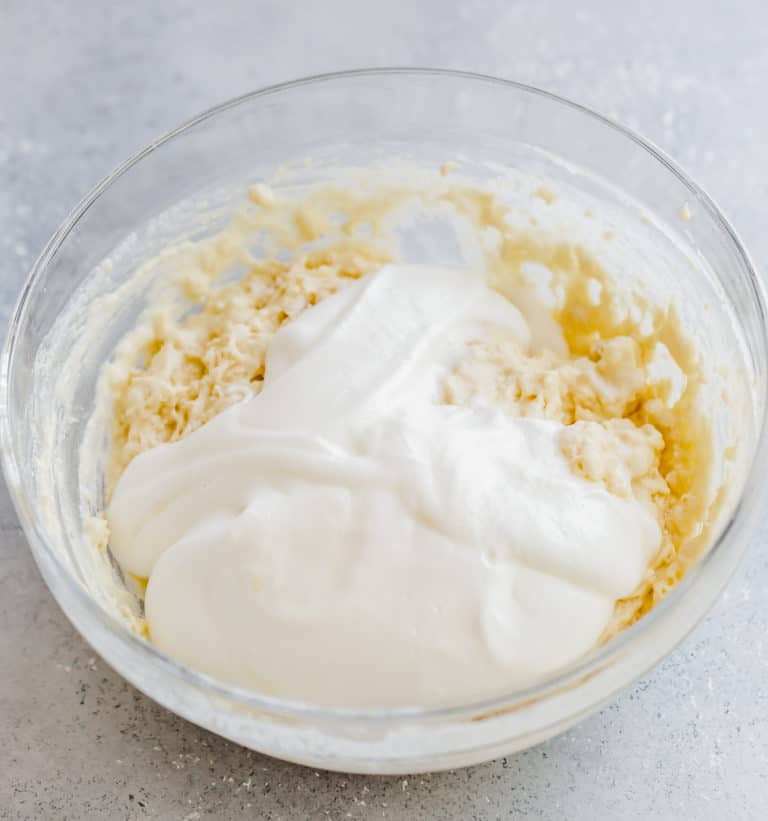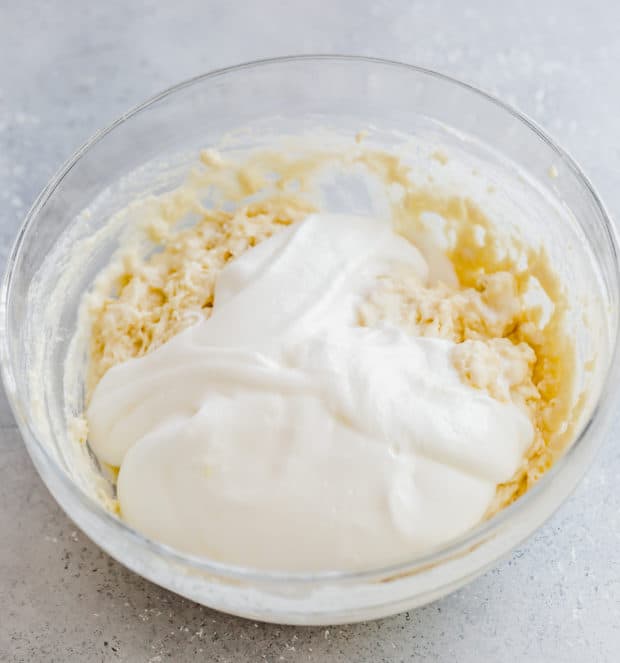 Make sure you preheat your waffle iron. A hot waffle iron prevents soggy waffles.
I love the analogy the Kitchn makes about getting crisp waffles, "You wouldn't make a cake in an oven that wasn't preheated, nor would you fry an egg in cold oil. Getting the waffle iron nice and hot means the batter will crisp up as soon as it hits the surface."
Amen. Preheat your waffle iron.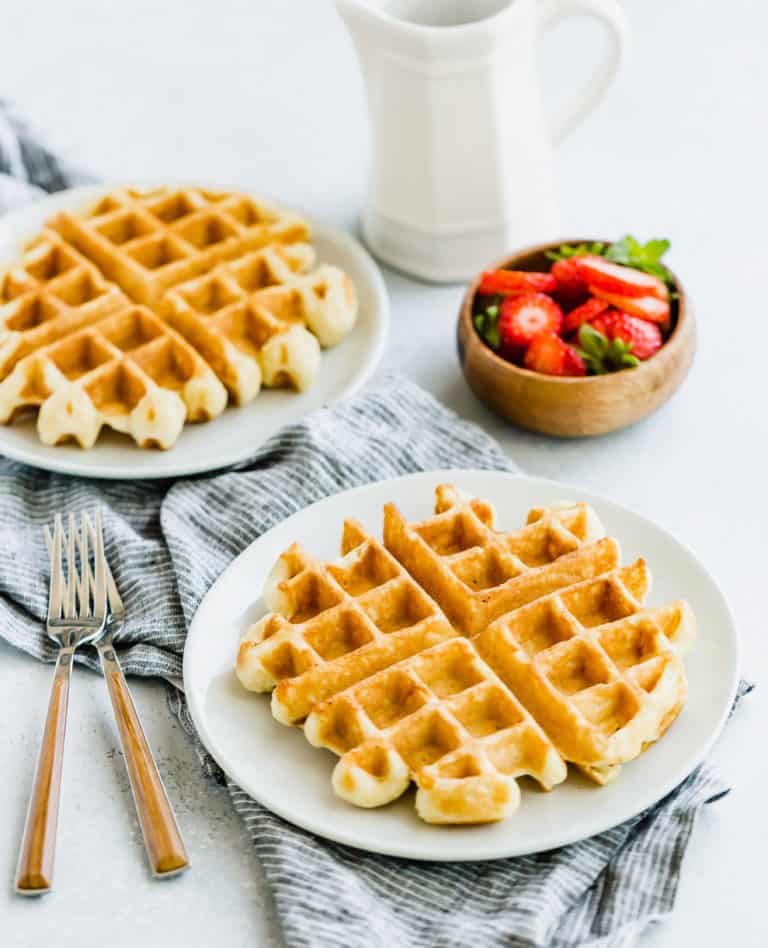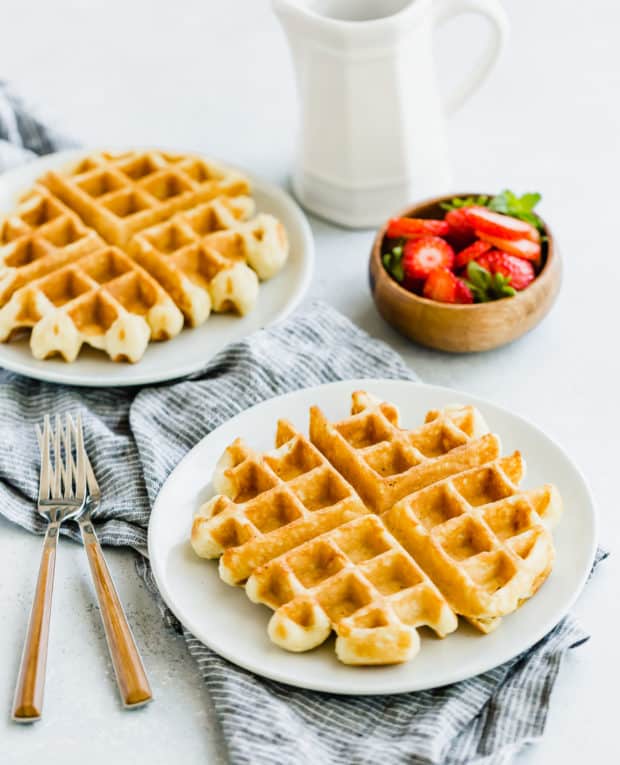 Recipe Tips
To keep waffles warm and to add extra crispiness, preheat the oven to 200°F. After each waffle is finished cooking in the waffle iron, remove it and place it in the oven to stay warm.
The waffle can be placed on the oven rack directly or on a baking sheet or oven safe plate.
This step crisps up the waffle and keeps it warm before serving to guests!
Can you freeze leftover waffles?
Yes! 
Simply line a baking sheet with parchment paper. Place the waffles on the baking sheet, do not stack them.
Place in the freezer for 3-4 hours or until the waffles are completely frozen. Remove from the freezer and place the frozen waffles in a zip top bag. Eat within 3-4 months of freezing.
Reheat using a toaster, toaster oven, or oven.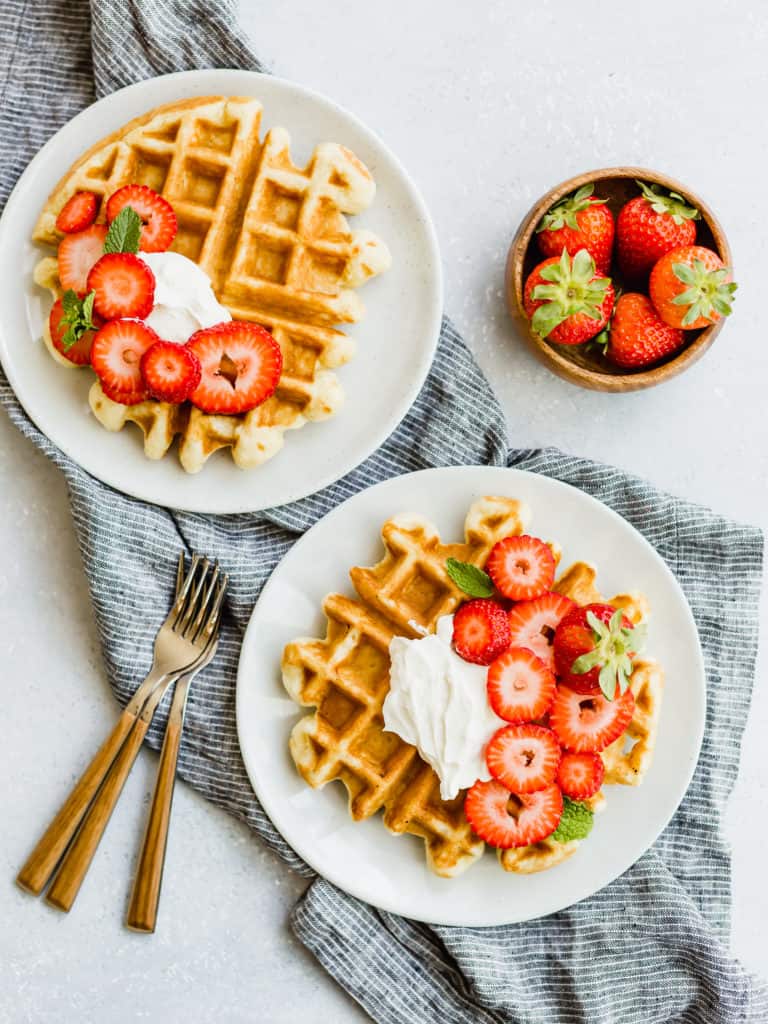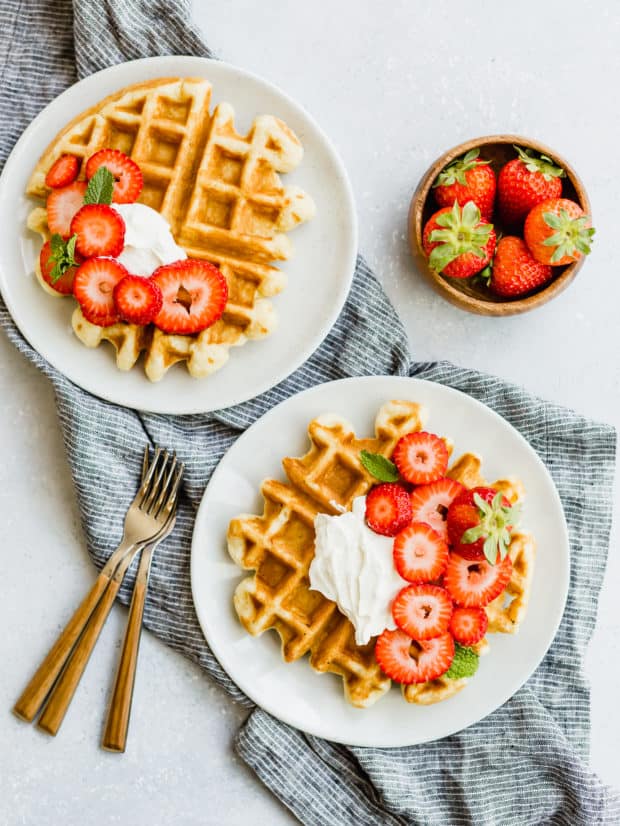 There you have it! I hope you get in the kitchen and make these waffles ASAP. They are amazing!
Buttermilk Waffles
Buttermilk waffles that are crisp on the outside and tender in the middle! These waffles are delicious!
Ingredients
1 1/2

cups

all purpose flour

1/4

cup

cornstarch

2

teaspoons

baking powder

3/4

teaspoon

baking soda

1/2

teaspoon

salt

1/2

cup

butter

-

melted and slightly cooled to room temperature

1 1/4

cups

buttermilk

-

room temperature

1

teaspoon

vanilla extract

2

eggs

-

white and yolks separated

1/4

cup

granulated sugar
Instructions
In large bowl whisk the flour, cornstarch, baking powder, and baking soda, and salt. Set aside.

In a medium bowl combine butter, buttermilk, vanilla, and egg yolks. Whisk until fully combined.


Add the wet ingredients to the dry ingredients, gently whisking (or use a fork) until just combined!


In a separate bowl add the egg whites. Beat on medium speed until soft peaks form. Then add the sugar to the egg whites and beat on medium/high speed until sugar has been fully mixed in.


Using a spatula, fold the egg whites into the batter. Do not overmix.

Preheat the waffle iron. Grease with butter or cooking spray. When ready, scoop 1 cup of batter onto the waffle iron… waffle irons differ in size so you may need more or less batter. Cook until golden brown, about 3 minutes and 30 seconds.


To keep waffles warm, place waffles in an oven preheated at 200°F. *
Notes
*To keep waffles warm and to add extra crispiness, preheat the oven to 200°F. After each waffle is finished cooking in the waffle iron, remove it and place it in the oven to stay warm. You can place the waffle directly on the oven rack or on a cookie sheet, it's up to you. 
Did you make this recipe?
snap a photo and tag @saltandbaker in your posts and stories so I can see what you're making!