Healthy Homemade Granola
This healthy homemade granola is just what you've been looking for! The flavor is warm, rich, and oh-so satisfying. Not to mention the texture is perfection.
You will quickly come to learn how much I love texture. Growing up, I ate Cream of Wheat all the time! The flavor was meh, but the texture was incredible. This homemade granola has the chewy texture I crave. This granola brings back memories of when I was little. My mom would make this for us on  rare occasions. We had to beg her multiple times to make it for us. Isn't it great to be an adult? We can make what we want, when we want. 🙂
Back to the homemade granola; I've made this granola with pecans and really enjoyed it. However, my favorite addition, is sliced almonds. Again, the texture of the thinly sliced almonds satisfies my weird texture OCD.
This healthy homemade granola is packed with:
Old fashioned oats
Raw sunflower seeds
Sweetened Coconut Flakes
Sliced Almonds
Sesame seeds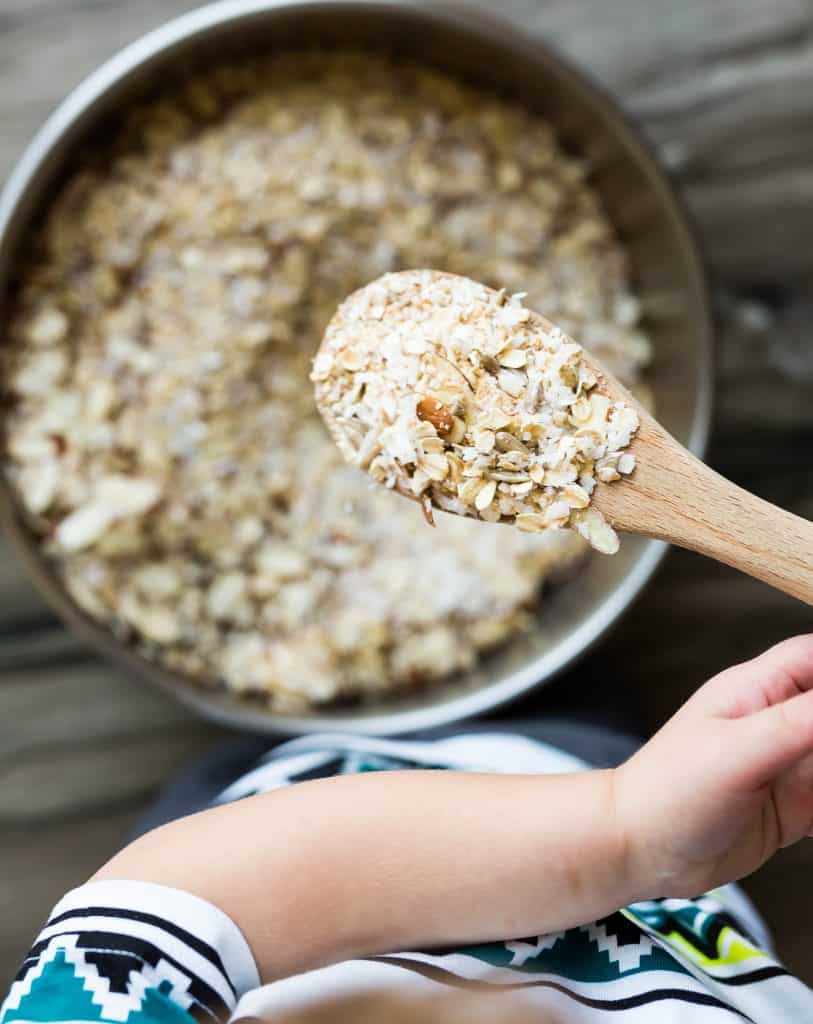 This homemade granola recipe is very simple. Mix the dry ingredients together, then add the additional ingredients to a pot on the stove. Once the ingredients on the stove have warmed up and the sugar has melted, add it to the oat mixture. You don't want the mixture to boil.
Spread it on a baking sheet, then place it in the oven. I had to do 2 batches in the oven. I like my granola on the soft side. If you prefer crunchy granola, you will want to add 10 minutes or so to your baking time.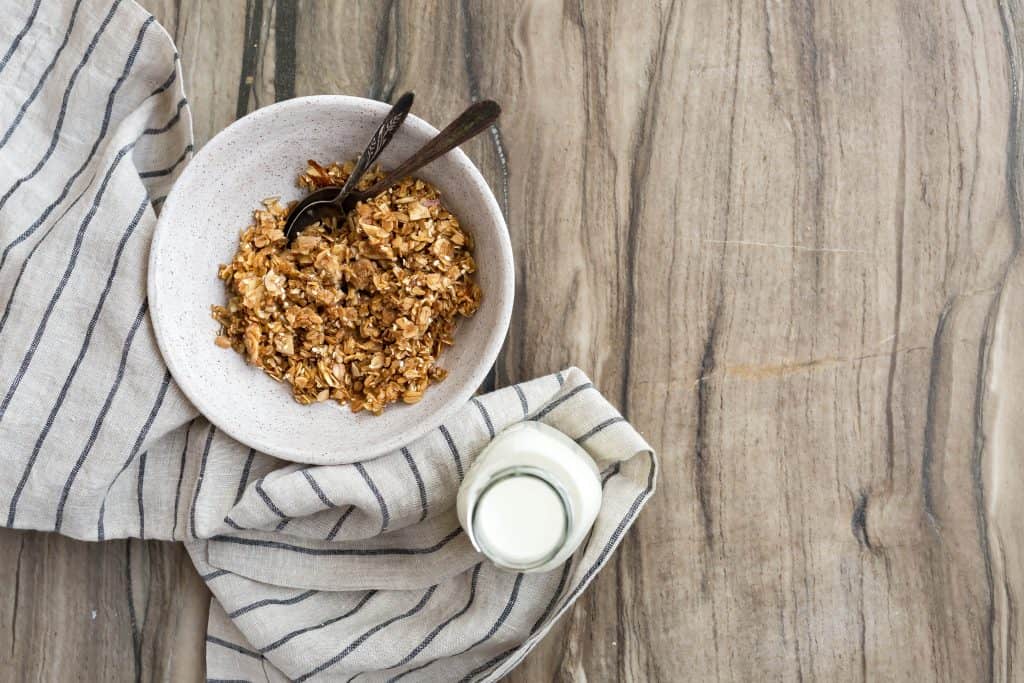 I eat this every morning. In fact, I've had this for the past 3 months, and I'm not sick of it. I hope you love this homemade granola as much as we do!
Happy Baking!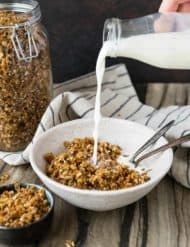 Healthy Homemade Granola
The best homemade granola you'll ever eat!
Ingredients
10

cups

Old Fashioned Oats

3

cups

sweetened shredded coconut

1

cup

wheat germ

2

cups

raw sunflower seeds

1

cup

sesame seeds

3 1/2

cups

sliced almonds

(or any nut of your choice, you could use walnuts, pecans)
1 1/2

cups

brown sugar

1 1/2

cups

water

1 1/2

cups

vegetable oil

1/2

cup

honey

1/2

cup

molasses

1 1/2

tsp

salt

2 1/2

tsp

cinnamon

3

tsp

vanilla
Instructions
Preheat the oven to 325 degrees Fahrenheit.




Combine the oats, coconut, wheat germ, sunflower seeds, sesame seeds, and sliced almonds in a large bowl. Stir to incorporate.

In a medium size saucepan over low heat add brown sugar, water, vegetable oil, honey, molasses, salt, cinnamon, and vanilla. Stir. Cook long enough for the sugar to appear melted. I kept mine on low heat for 4 minutes or so, then bumped it up to medium low heat, and cooked it for 3 minutes or so. You don't want the mixture to boil!

Remove the saucepan from the stove and pour the sauce over the dry ingredients. Mix everything so that all of the dry ingredients are coated evenly.

Spread granola onto 2 very large baking sheets (with sides). You may need to use 3 baking sheets. You don't want the granola to be layered on too thick. Place in the oven for 20 minutes. Stir halfway through baking time. I prefer my granola on the softer side. If you like a crunchy granola, continue baking for an additional 10-15 minutes. Remove from the oven. Cool completely. Store in an airtight container.
Recipe Notes
This recipe adapted from More Make-A-Mix Cookery Cookbook.
Keyword:
healthy homemade granola, homemade granola, homemade granola recipe
SaveSave