7 Layer Bars
These 7 Layer Bars are a favorite at our house! Packed with chocolate and butterscotch chips, shredded coconut, walnuts, and sweetened condensed milk, you can't go wrong with this rich and decadent dessert!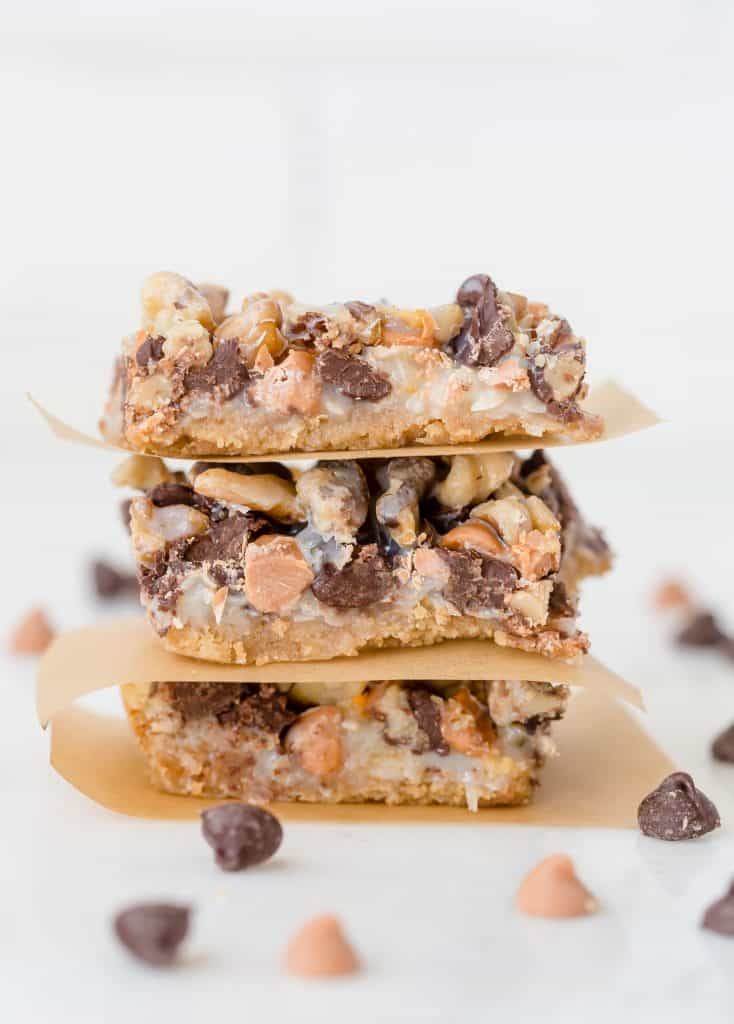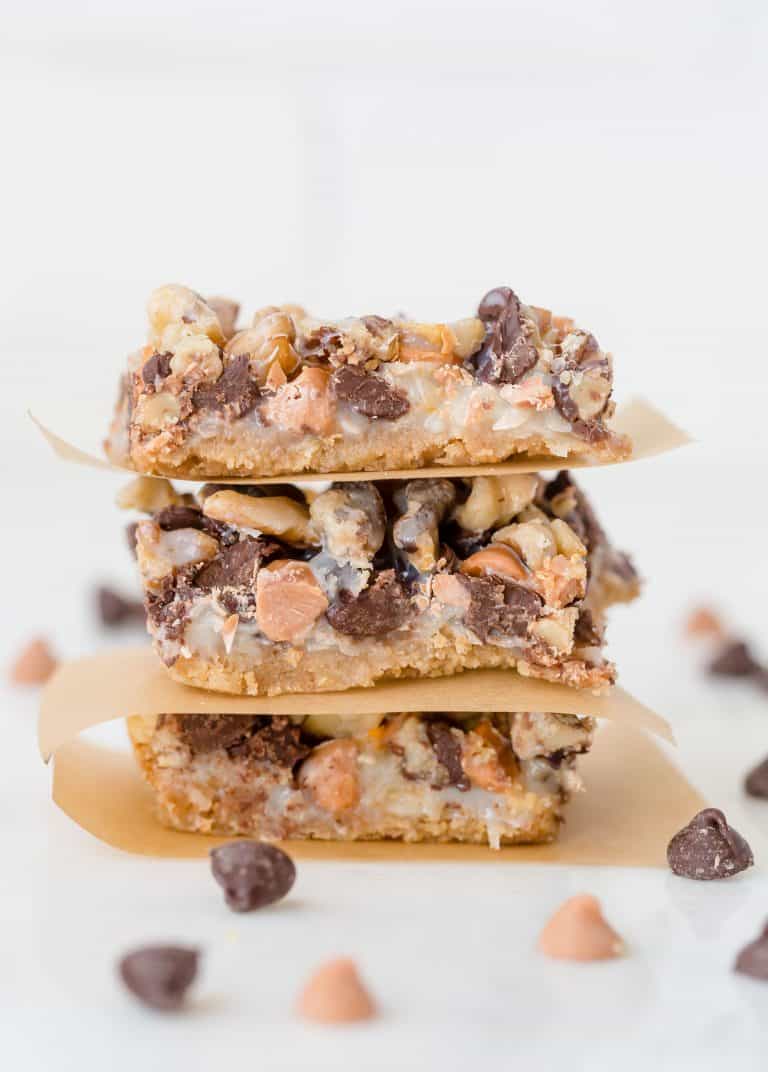 I took it upon myself to photograph each step as I made these 7 layer bars. Was it a good idea? Idk. You tell me.
I appreciate a good step by step 7 layer bar guide, so let's do this!
How to make 7 Layer Bars:
Melt butter. Add crushed graham crackers to melted butter and spread in the bottom of a 9×13″ pan.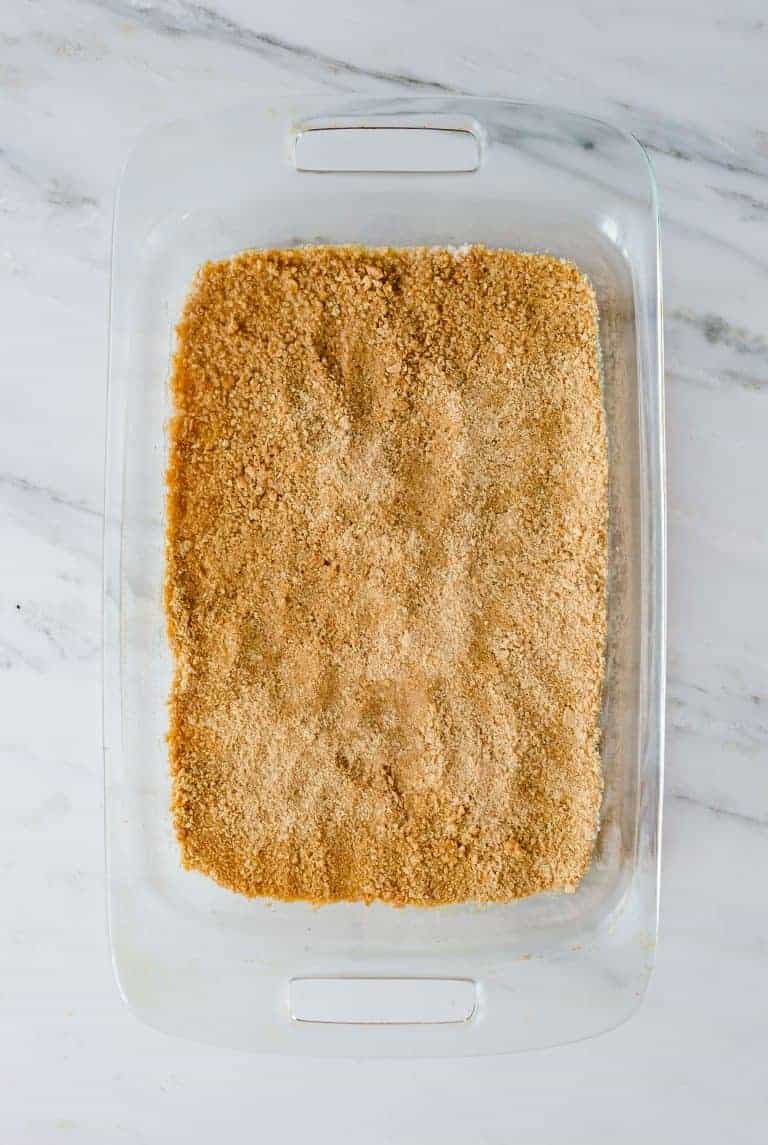 Sprinkle a generous amount of sweetened shredded coconut atop the graham cracker crust.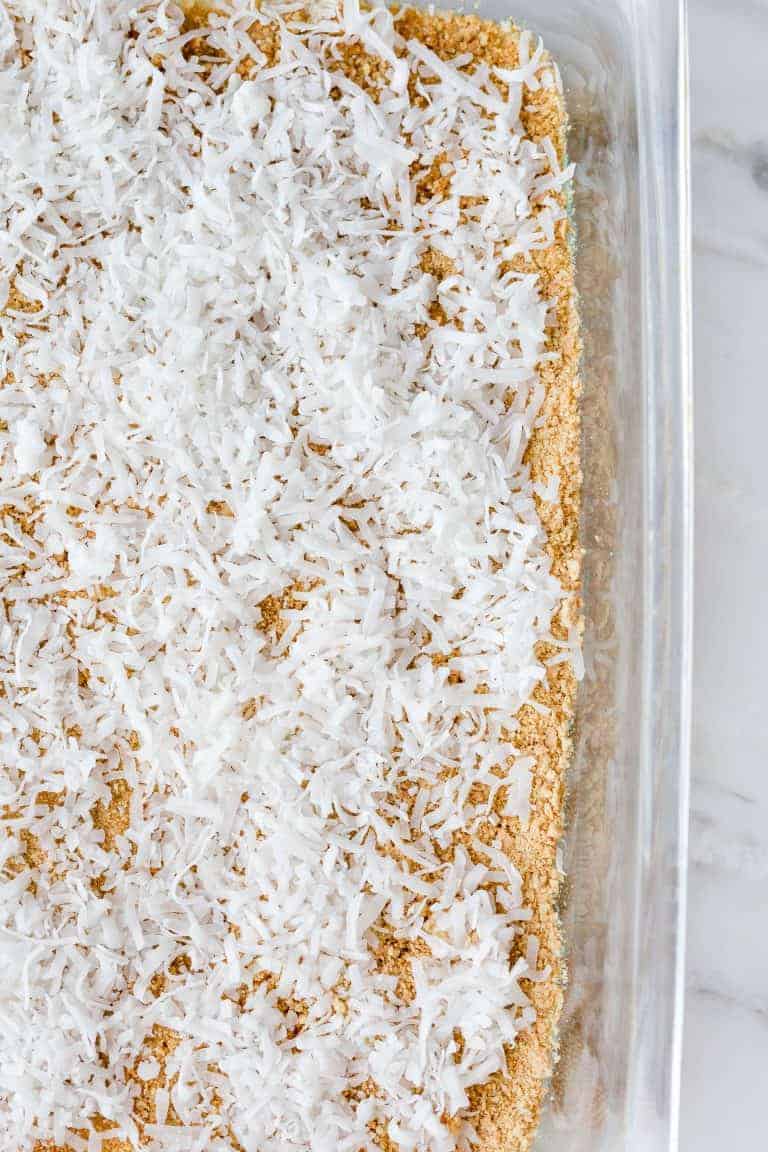 Add semi-sweet chocolate chips!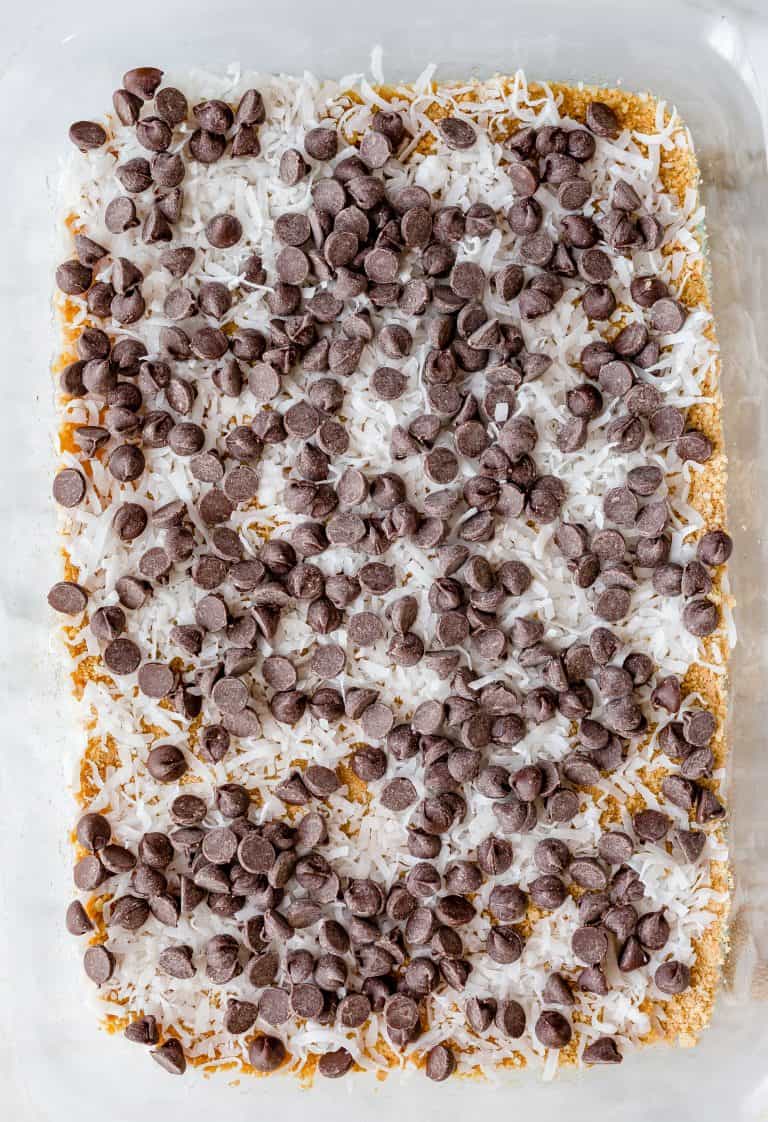 Sprinkle butterscotch chips over the chocolate chips. (It doesn't have to be in this order. You can place the butterscotch chips before the chocolate chips… whatever you'd like. Don't make this stressful).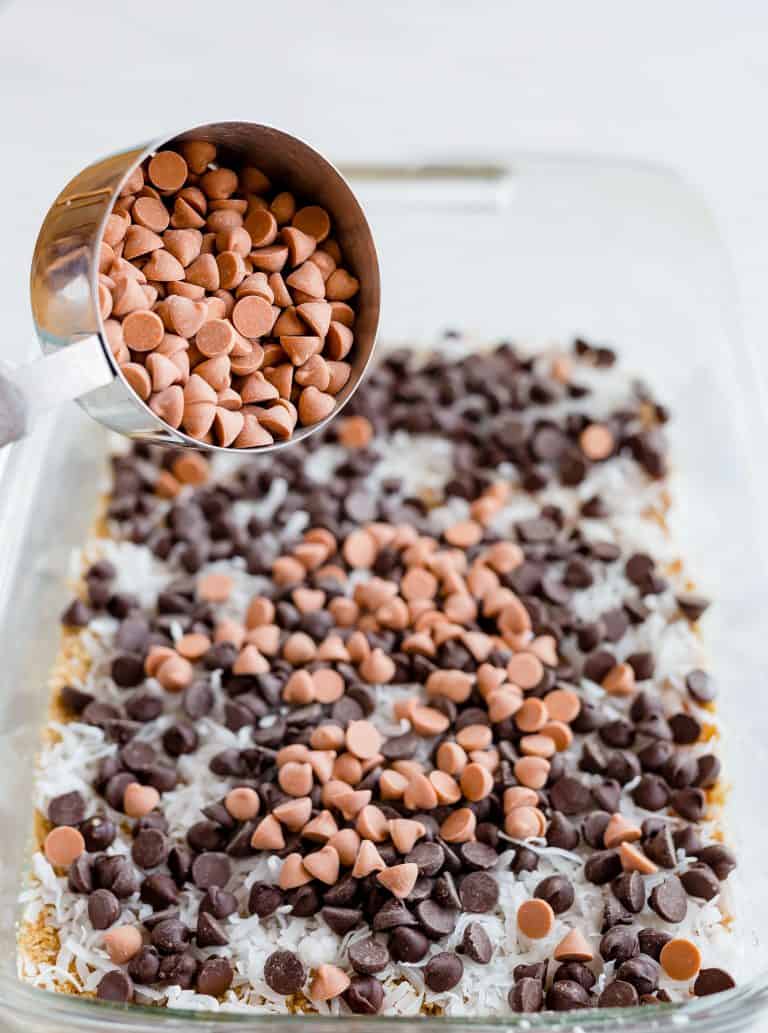 Add chopped walnuts over the chocolate and butterscotch chips. If you have a nut allergy, forgo this step. My husband prefers this dessert without the nuts. If I'm feeling extra generous I'll leave him a small corner free of nuts.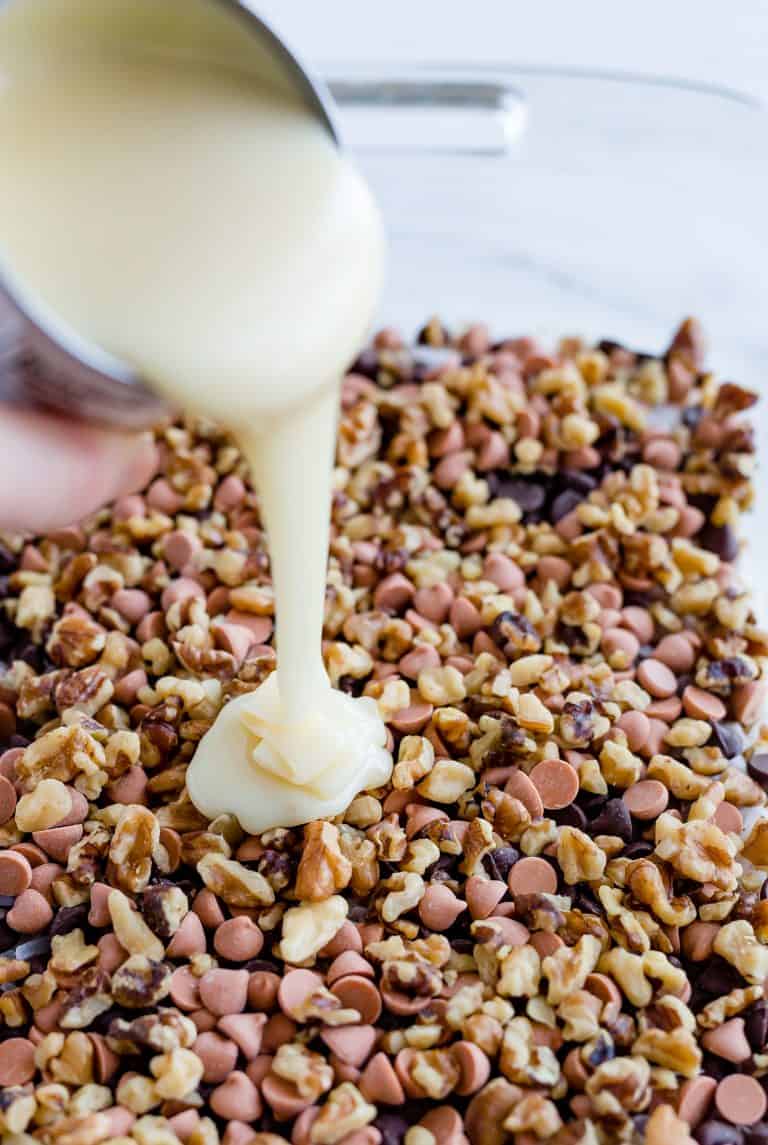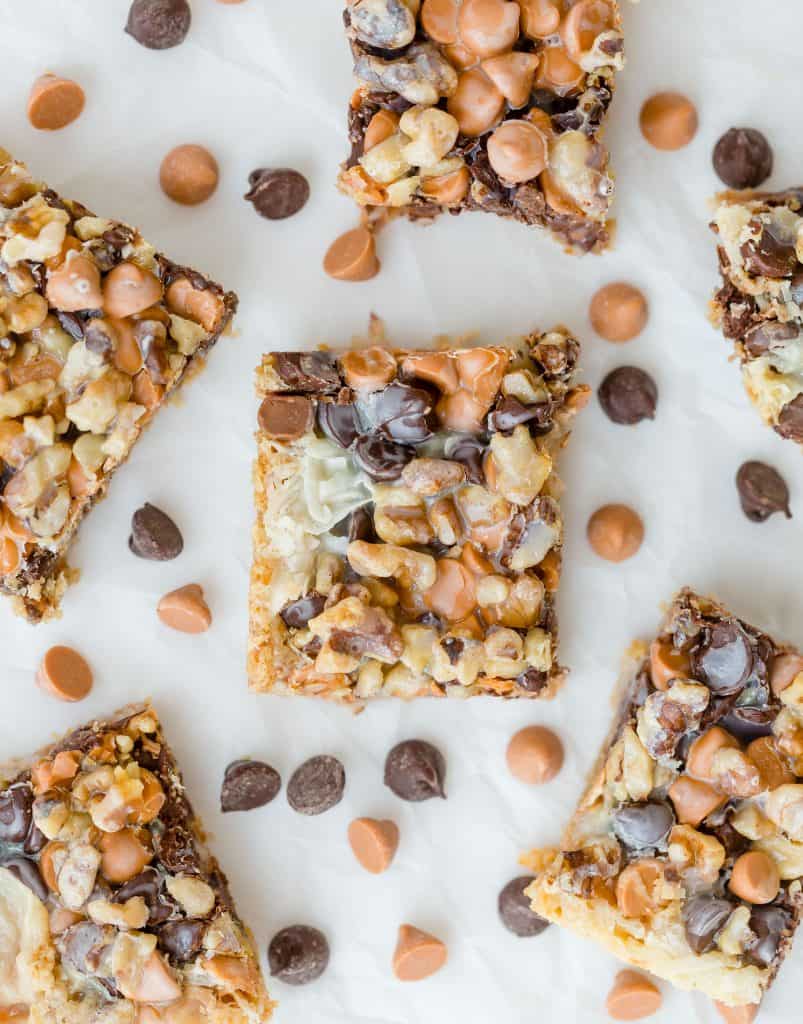 What did you think? Did you like the 7 Layer Bar step by step photo guide? Or did you feel like you were scrolling to the ends of the earth?
Probably. K, cool. Maybe I'll do again sometime when I'm super bored and I want to edit a million photos.
But HEY! IT WAS WORTH IT!
One thing I forgot to mention was that these 7 layer bars have been a favorite dessert of mine since I was 5 years old. I remember my mom making these 7 layer bars around Christmas one year and I got so flaming mad when someone had devoured the entire pan without me.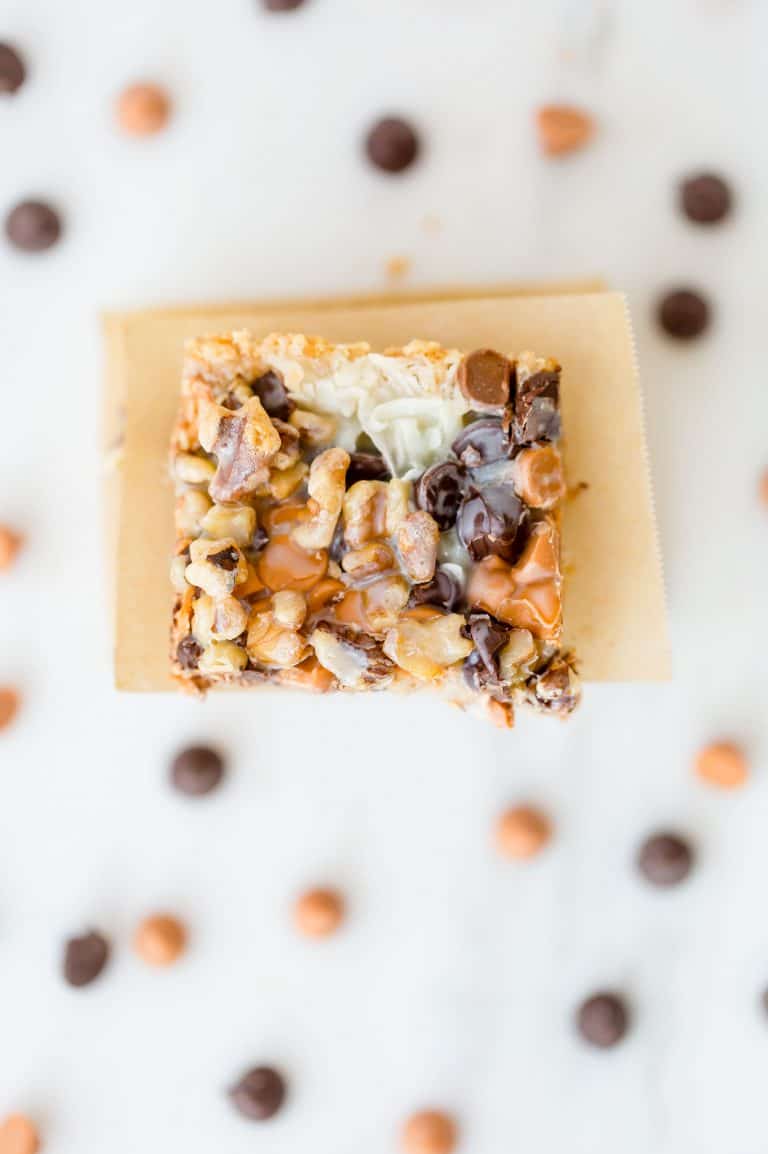 If you've tried these 7 Layer Bars or any other recipe on my blog, don't forget to rate the recipe and let me know what you thought in the comments below! I love hearing from you! And don't forget to SUBSCRIBE to my emails. I don't bombard you with emails, promise! By subscribing you'll receive my recipes straight to your inbox.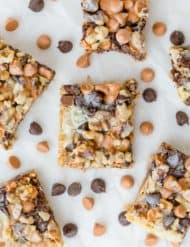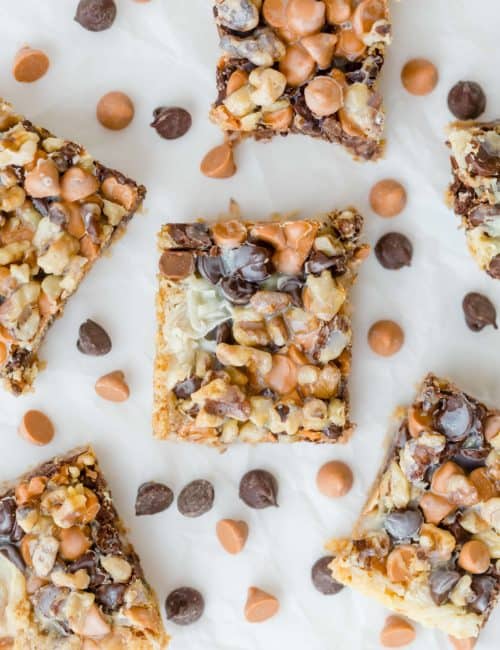 Nutrition Facts
7 Layer Bars
Amount Per Serving
Calories 264
* Percent Daily Values are based on a 2000 calorie diet.
7 Layer Bars
The best 7 layer bars on the planet. Just sayin'.
Ingredients
1/2

cup

butter,

(1 cube)

1

package/sleeve

graham crackers

(about 9 full cracker sheets)

1

cup

shredded coconut

1

cup

semi-sweet chocolate chips

1

cup

butterscotch chips

1

cup

chopped walnuts

1-14

oz

can of sweetened condensed milk
Instructions
Preheat the oven to 350°F. Place the butter in a 9" x 13" inch pan. Place the pan in the oven while the oven is preheating. * Once the butter is fully melted remove the pan from the oven and set aside.

Crush the graham cracker crumbs until they are crushed fine. I use my food processor, but you can also put the crackers in a ziplock bag and crush them with your hands or a rolling pin.


Sprinkle the graham cracker crumbs evenly across the melted butter. Using a spoon (or CAREFULLY with your hands) gently spread and mix the graham cracker and butter mixture to fill the bottom of the 9"x13" pan.

Sprinkle the shredded coconut evenly over the graham cracker crust.

Sprinkle the chocolate chips over the coconut.

Evenly distribute the butterscotch chips over the chocolate chips.

Sprinkle the chopped walnuts over the butterscotch chips. **

Pour the can of sweetened condensed milk over the entire pan and its contents, being careful not to let all of it pool in one area.

Bake at 350°F for 20 minutes. Or until the edges are slightly browned. Remove from oven. Let cool. I let mine cool at room temp for a bit, then pop it into the fridge to speed up the setting process. Once the bars are set, eat and enjoy!
Recipe Notes
*This just melts the butter. 
** If you have a nut allergy, or you just don't like nuts, you can forgo this step.