Biscoff Brownies
This post may include affiliate links. As an Amazon Associate I earn from qualifying purchases.
Biscoff brownies were requested by one of my readers, and I'm so excited to share it! This Biscoff brownie recipe has crushed Biscoff cookies, cookie butter and cookie bits. The brownies are thick, moist and packed with that delicious Biscoff in every form!
Make sure you try out my Biscoff Caramel Cake and my Crumbl Biscoff White Chip Cookies for some more heavenly lotus Biscoff recipes! I even have some more Biscoff desserts coming down the pipeline, so be on the lookout for those!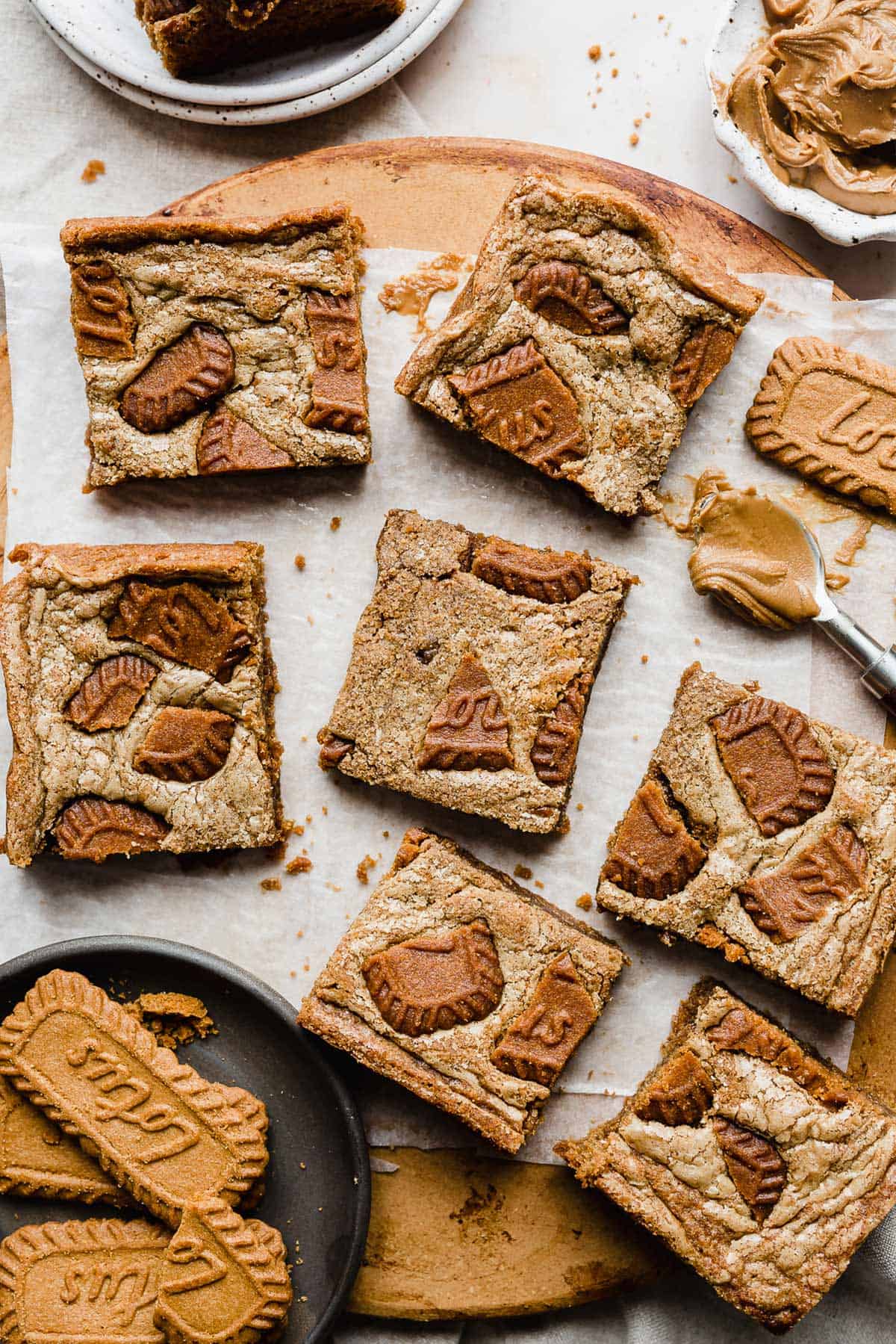 Why This Recipe Works
All Biscoff. No cocoa. These biscoff brownies are all Biscoff and no cocoa! I've seen plenty of recipes around that include cocoa powder. Not these! I really wanted the Biscoff flavor and color to stand out! And let me tell you, you don't even miss the cocoa powder!
Cookie butter + cookie crumbs. You'd think these brownies were just cookie butter brownies, but the secret to getting an even richer Biscoff flavor is to add crushed cookies into the brownie batter. I use the crushed cookies to replace some of the flour. It really enhances the flavor!
Fudgy texture. The biggest key to getting a fudgy consistency is the ratio of flour to fat. If you notice, there is only 1/3 cup of flour in this recipe! Add that with 1/3 cup of the cookie crumbs, and we still only have 2/3 cup of flour ingredients. This means the brownies will be nice and fudgy — just the way we like them!
Ingredient Notes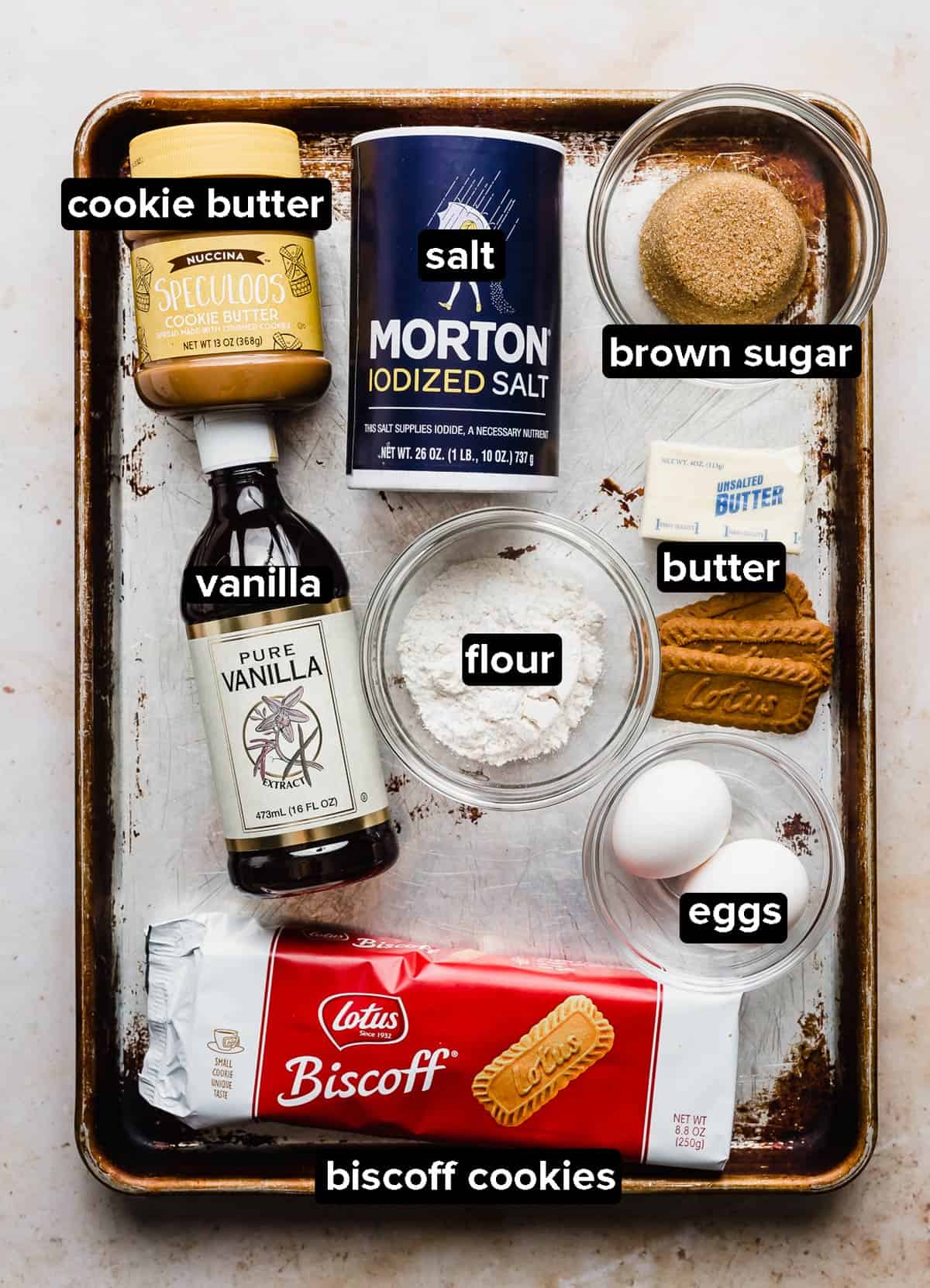 Sugar: We are using light brown sugar for this recipe. It will add sweetness, moisture, and means we'll get a chewier texture. Think of a blondie bar, using just brown sugar will give us more like biscoff blondies consistency.
Eggs: If you notice in the recipe card, this Biscoff brownie recipe doesn't have baking powder or baking soda. The eggs are our only leavening agent. I wanted the brownies to be fudgy, so using the eggs for leavening instead of eggs + baking powder will help us get a denser bake, providing a fudgy texture. Also, you'll want to use room temperature eggs to ensure they incorporate into the batter better.
Biscoff Cookie Butter: You can use Lotus or Speculoos brands. Lotus comes in a smooth or crunchy version. You can use either, just up to your preference.
Flour: This recipe calls for less flour than traditional brownie recipes because we are using finely crushed Biscoff cookies as some of the flour. I've made sure our ratio of fat to flour is just right so we get that fudgy brownie texture we all love!
Biscoff Cookie Crumbs: You want these cookies crushed almost to a powder since they act as flour in this recipe. Using a blender or a food processor will give you the best results.
Biscoff Cookie Pieces: This is optional, but I promise you'll love the crunch of the cookie on the top! Plus, it really sends the message when you are serving these that they are Biscoff brownies!
Step-by-Step Instructions
Cream the butter and sugar. In a stand mixer with the paddle attachment, cream the butter and sugar on medium-high until smooth. 
Add the eggs and vanilla. Beat until combined, scraping the sides of the bowl as needed.
Add the Biscoff spread. Add the Biscoff butter to the mixture, along with the salt, and mix until combined.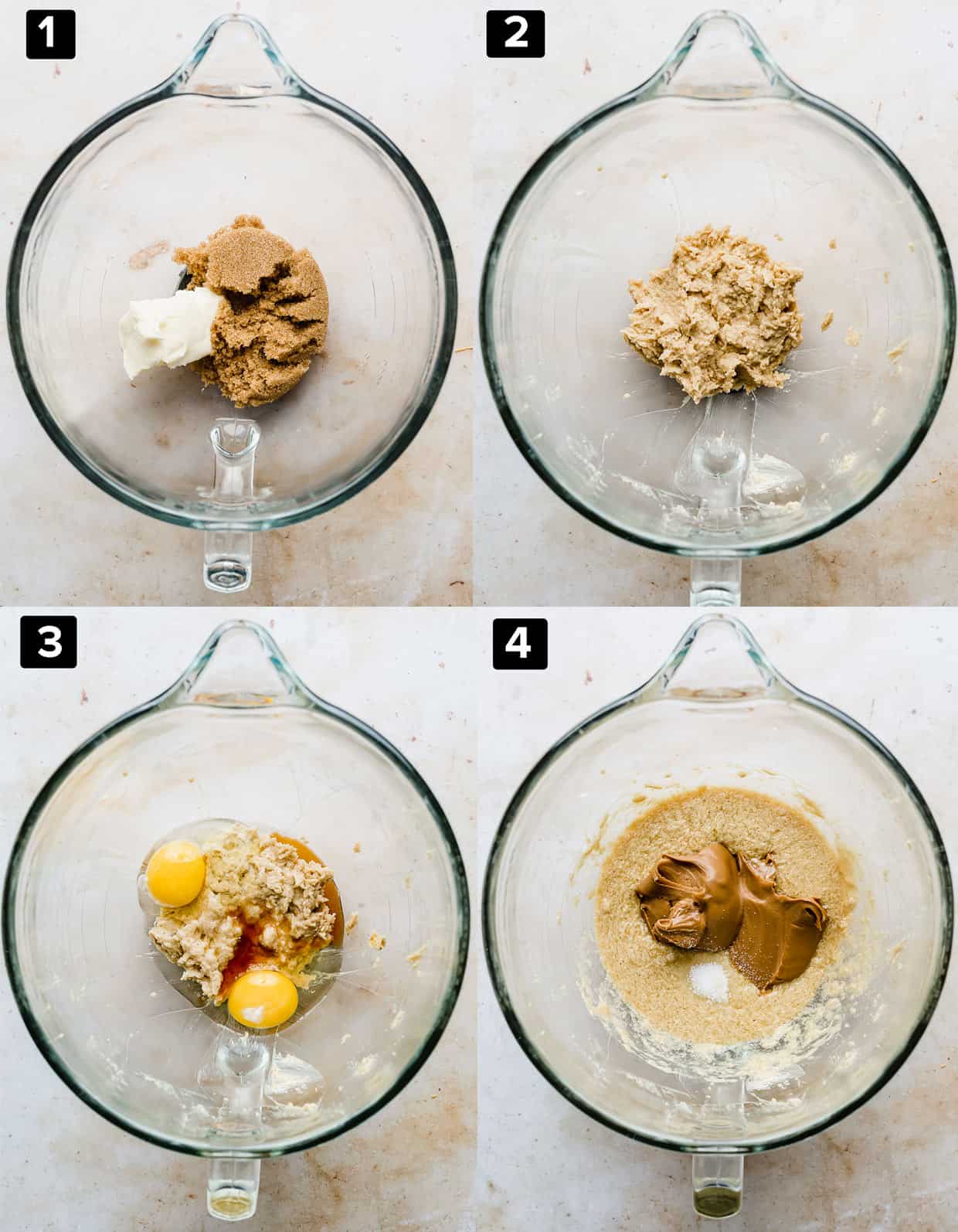 Add the dry ingredients. Add the Biscoff cookie crumbs and the flour. Mix until just combined. Do not over mix. 
Place in prepared pan. Line an 8×8-inch pan with parchment paper and spoon the Biscoff brownie batter into the pan. Spread evenly to fit the pan.
Add cookie pieces. Gently press the Biscoff cookie pieces into the batter.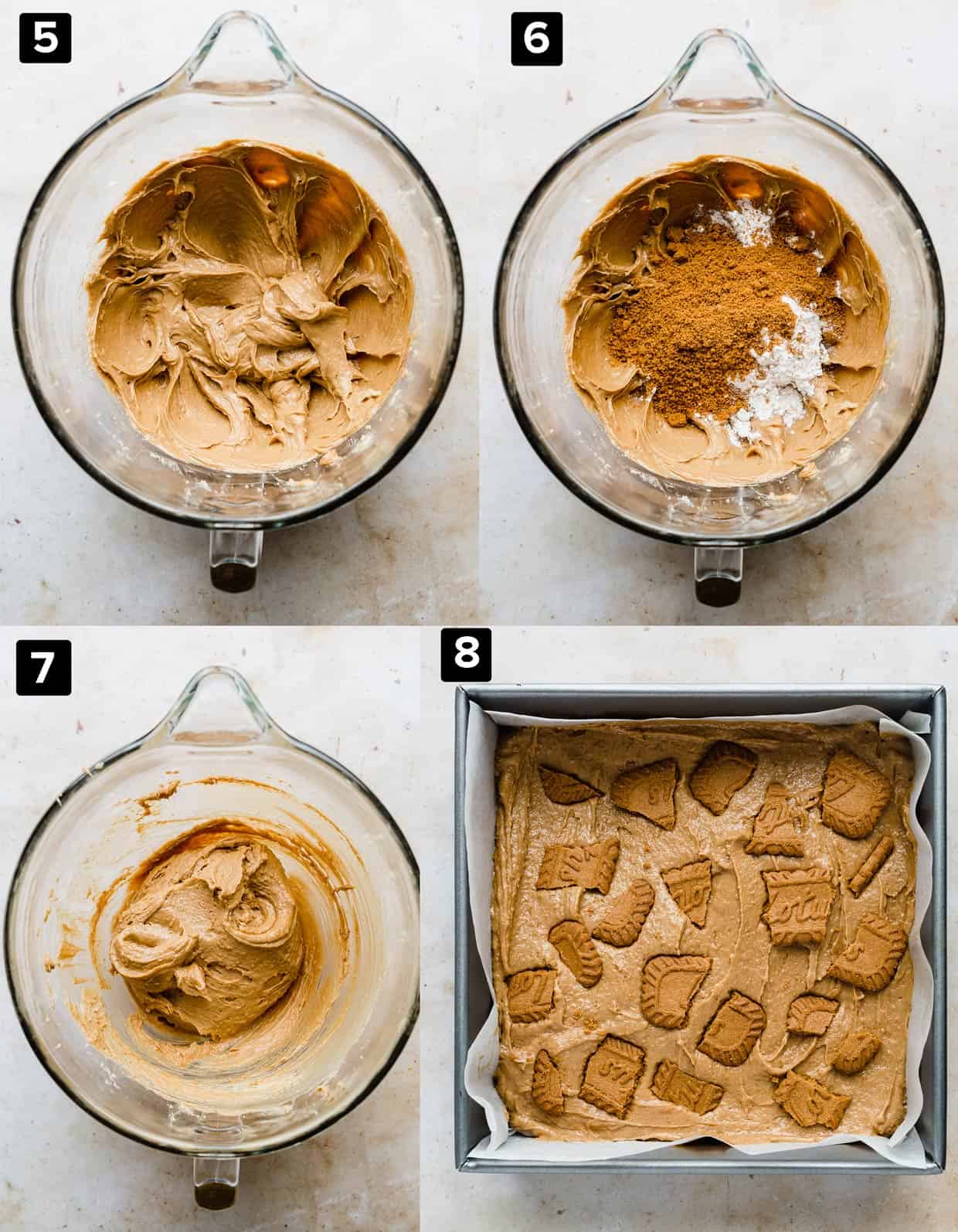 Bake. Bake the Biscoff brownies at 350°F for 23-28 minutes or until a toothpick in the center comes out with a few moist crumbs. You don't want to over bake or else you'll loose the fudgy Biscoff brownie texture. 
Remove, cool and cut. Remove the pan from the oven and let cool on a wire rack. Lift the parchment paper out of the pan and cut into squares.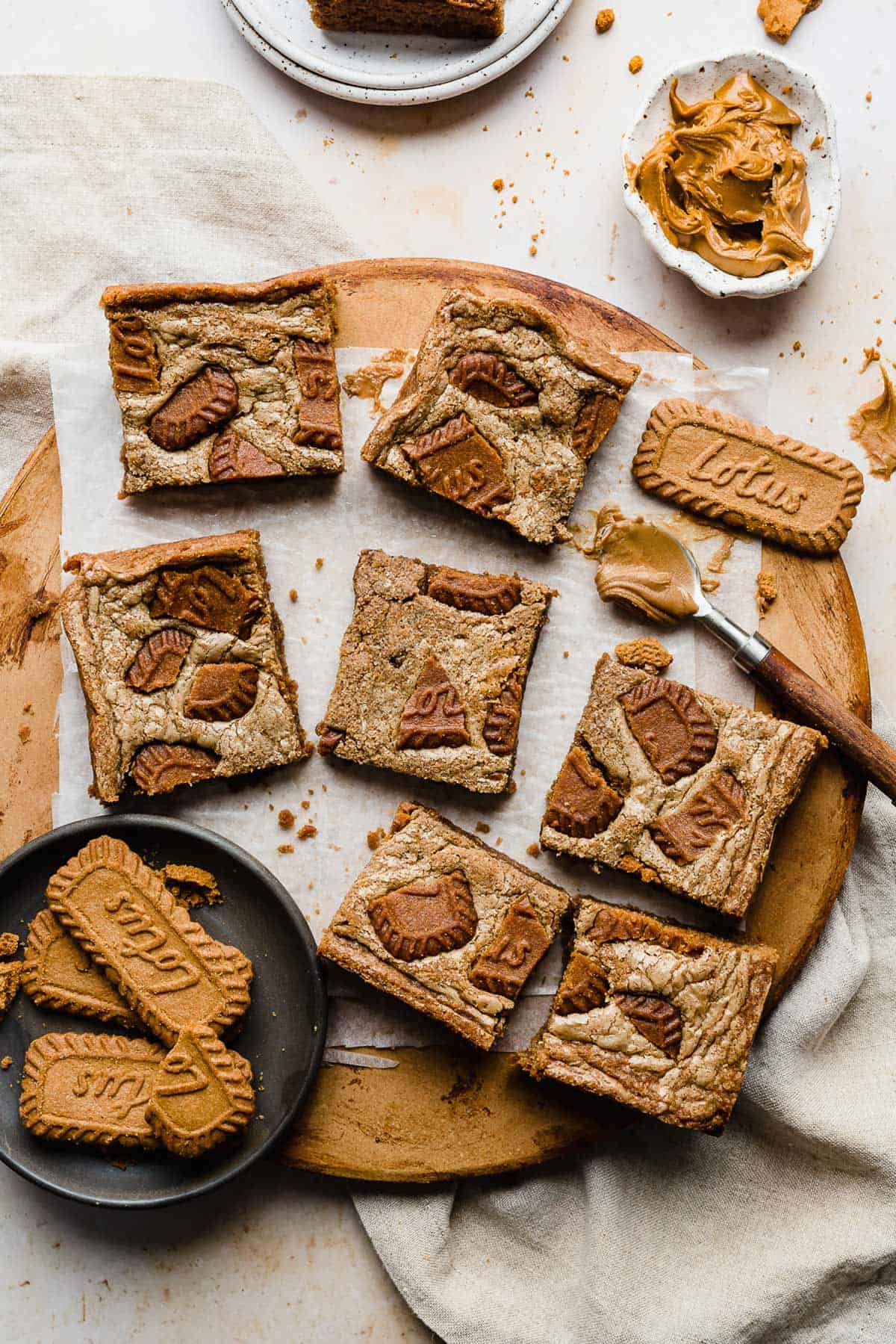 Recipe Tips
Using parchment paper with brownies will be your new favorite thing. It makes it so easy to pull the brownies out of the pan after cooling and makes for easier, clean cuts.
Make sure the brownies are completely cool before cutting them so the cookie butter brownies can fully set and to get cleaner cuts.
Don't forget to put the crushed Biscoff cookie bits on the top of the brownies. They add a delicious crunch! When pressing them into the batter, you want them to firmly be in the batter so they are baked in, but not covered in the batter. You want to see those pieces!
Using room temperature eggs will help them incorporate into the batter better, providing a more even bake.
Bake in a metal pan. Metal will give you an even bake and straight edges.
For an added Biscoff flair, you can swirl globs of Biscoff butter into the top of the brownie batter after you've put it in the pan. This is the same thing I do with my Nutella Brownies recipe, and it's divine! 
Make Ahead, Storing, and Freezing
Store the lotus Biscoff brownies in a Ziplock bag or airtight container at room temperature for 3 days or in the fridge for 4-5 days.
To freeze, let the Biscoff brownies come to room temperature and then cut into squares. Wrap each square tightly in plastic wrap, then store in an airtight container or Ziplock bag. Freeze for 1-2 months.
To freeze the entire pan of brownies, let come to room temperature (and don't cut them!) and store in the freezer until firm. Remove the parchment paper and tightly wrap the entire square of brownies in plastic wrap and store in the freezer. If you can't fit the whole thing in a Ziplock bag or airtight container, wrap in an additional layer of aluminum foil.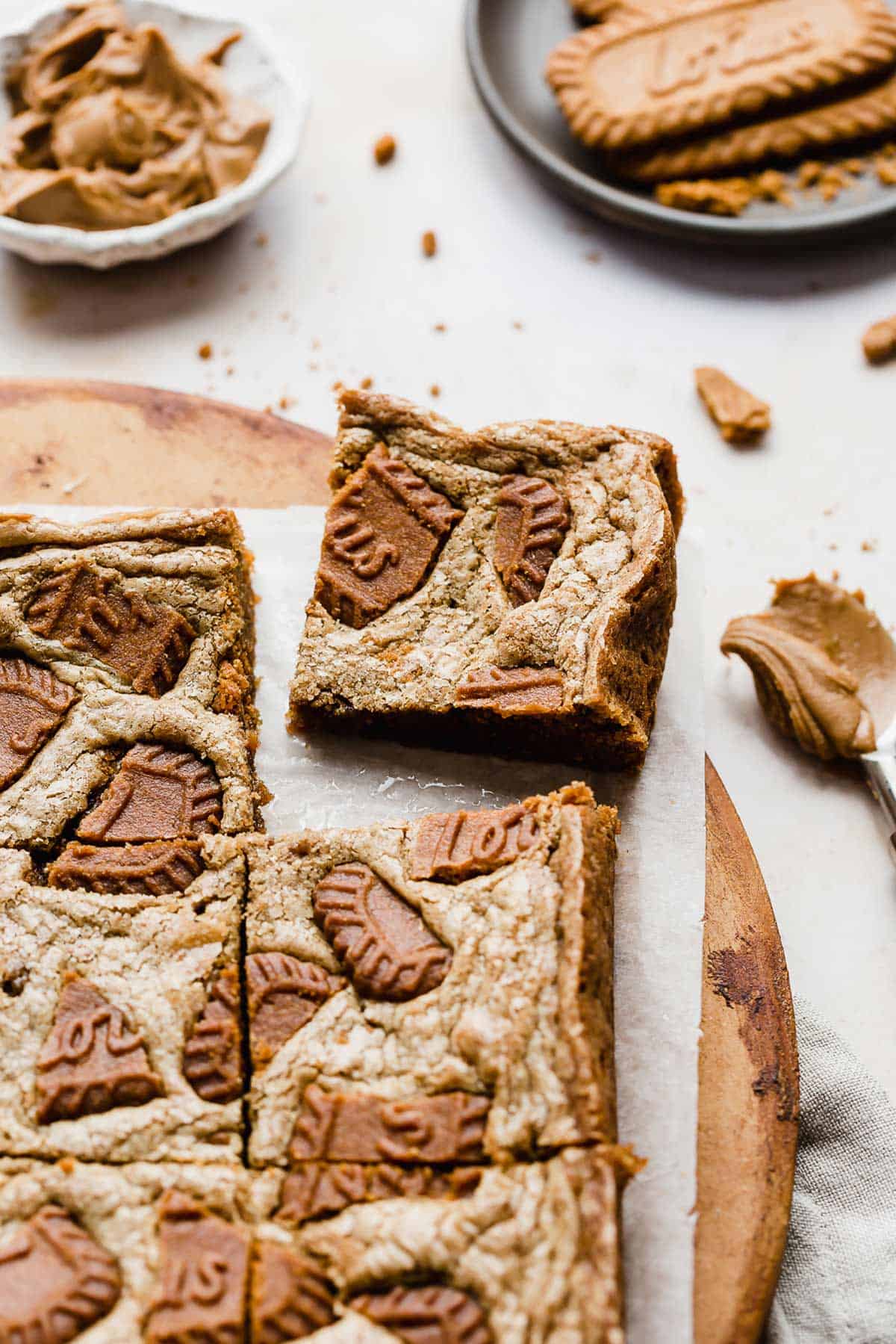 Recipe FAQs

Where do Biscoff cookies come from?
The cookie was created in 1932 in Belgium by Lotus Bakeries. Apparently the company has used the same exact recipe this whole time. I mean, when you nail it, you nail it! They are probably most well-known for being served as a snack on Delta flights. They give out almost 80 million packages of the cookies each year, according to the thrillist. WOW. That's how I was first exposed to them. Fun fact: My mom absolutely loves Biscoff cookies. In fact, she didn't know that you could get them other than on Delta flights until my dad ordered her an entire box of Biscoff cookies off the internet. Bless him. 
What does Biscoff taste like?
Biscoff cookies are a crunchy cookie that has a flavor of cinnamon, spices and caramel. King Arthur sells a Speculaas Spice mix that I've been dying to try!
Related Recipes
Did you make this recipe? I'd love to hear about it! Click here to leave a rating and review, or scroll below the recipe card and do so there. 
Stay up-to-date by following us on Instagram, TikTok, Facebook, and Pinterest.
The Most Amazing Biscoff Brownies
A recipe that features Biscoff cookies, in brownie form! With Biscoff cookie butter AND crushed biscoff cookies in the batter, you'll taste that pure Biscoff cookie through and through.
Ingredients
6

tablespoons

butter

-

softened to room temperature

1/2

cup

light brown sugar

-

packed

2

eggs

-

at room temperature

1

teaspoon

vanilla extract

1

cup

Bicoff cookie butter

-

or Speculoos butter

1

teaspoon

salt

1/3

cup

all purpose flour

1/3

cup

Biscoff cookies

-

finely crushed (about 5 cookies)

5

Biscoff cookies

-

broken in to pieces for topping
Instructions
Preheat the oven to 350°F. Line an 8"x8" pan with parchment paper. Set aside. 

In the bowl of a stand mixer fitted with the paddle attachment, (or using hand beaters), cream the butter and sugar on medium-high speed until smooth and creamy, about 2 minutes. Using a rubber spatula, scrape down the sides of the bowl. 

Add the eggs and vanilla extract. Beat until combined. 

Add in 1 cup of Biscoff and the salt. Mix until smooth and fluffy. Scrape down the sides of the bowl as needed.

Add the flour and crushed Biscoff cookie crumbs. Mix until just combined. Do not overmix. 

Spoon the batter into the prepared baking pan, doing your best to evenly spread the batter in an even layer. 

Place the broken biscoff cookies on top of the brownies, gently sticking them into the batter. 

Bake the brownies for 23-28 minutes. Be careful not to over bake! Keep your eye on them. Test the brownies by using a toothpick to determine doneness. 

Remove from the oven and set on a wire rack to cool completely. When cool, carefully lift the parchment paper (or aluminum foil) out of the pan, and cut into squares. You can store these in an airtight container for up to 4 days. 
Notes
Bake in a metal pan. Metal will give you an even bake and straight edges.
Store the lotus Biscoff brownies in a Ziplock bag or airtight container at room temperature for 3 days or in the fridge for 4-5 days.
Did you make this recipe?
Leave a star rating and review on the blog post letting me know how you liked this recipe! Take a picture and tag @saltandbaker on Instagram and Facebook so I can see what you're making!
This recipe was originally published on Oct. 29, 2020. It was republished on March 19, 2022, to include additional information and photos.