No Bake Peanut Butter Pie
This post may include affiliate links. As an Amazon Associate I earn from qualifying purchases.
This No Bake Peanut Butter Pie is an easy frozen pie recipe that uses only 6 ingredients and is easy to whip up. The peanut butter pie filling is made with cream cheese, peanut butter and whipped topping for a smooth texture and irresistible flavor! Top everything off with chopped Reese's peanut butter cups and hot fudge and you have the best frozen peanut butter pie!
You can't really go wrong with peanut butter for dessert — and this pie is a peanut butter lovers dream! I recently made my Chocolate Peanut Butter Chip Cookies and my Chocolate Cake with Peanut Butter Frosting recipes and it got me dreaming about this homemade peanut butter pie!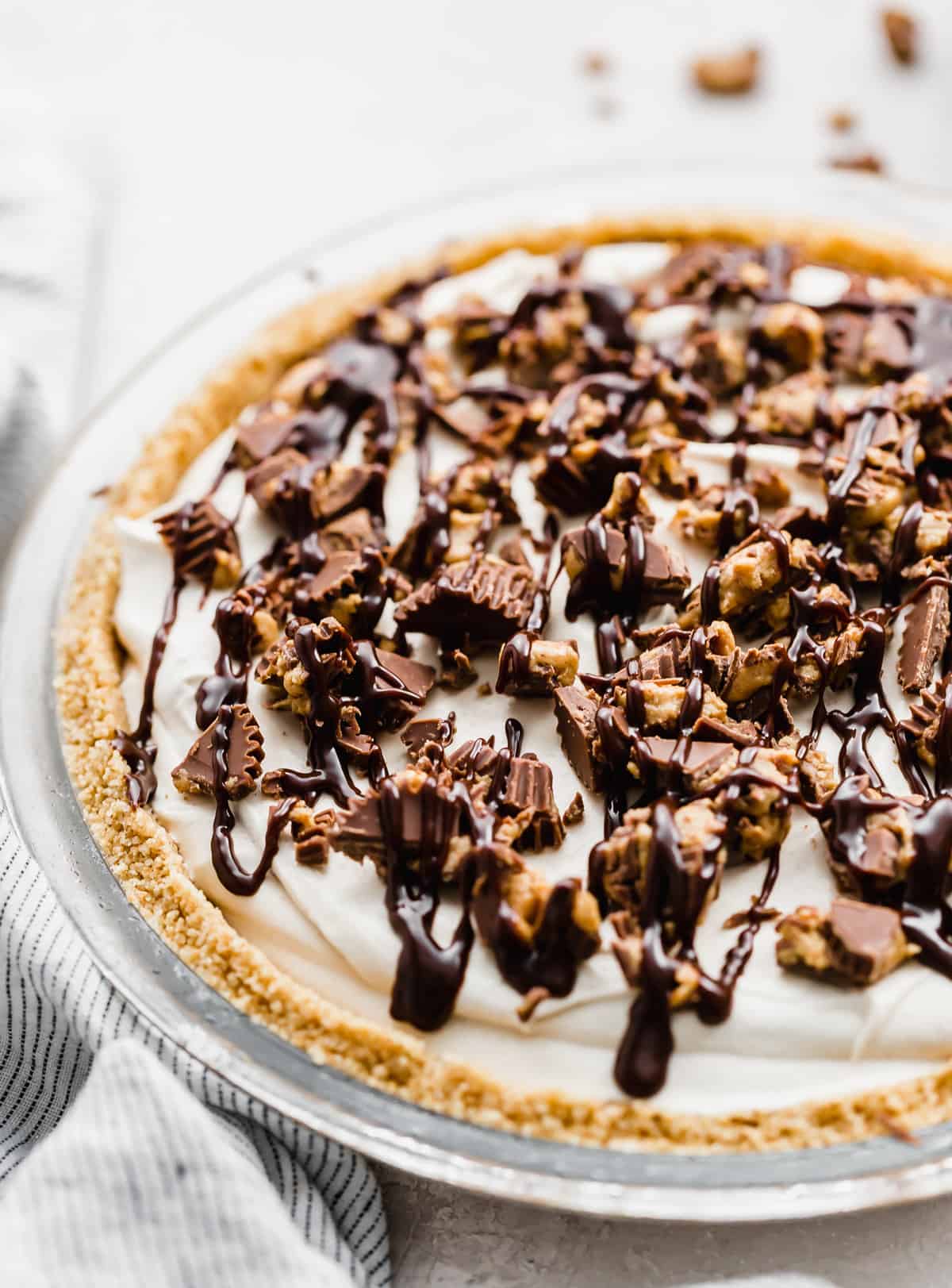 Why This Recipe Works
Easy dessert recipe. This is definitely a feature to celebrate. No need to worry about baking or anything — not even the pie crust needs to be baked! It's chill, chill, chill for this no bake peanut butter pie!
Easy make ahead pie recipe. Because this recipe is a chilled pie, it is the perfect pie recipe to make in advance! Store in the fridge for a day or two or in the freezer for a few months! You can eat the pie straight out of the freezer for a delicious frozen peanut butter pie or let it thaw slightly so that it's chilled with a slightly firm, yet creamy texture. I like it both ways!
Few simple ingredients and easy to make. This easy peanut butter pie recipe requires only 6 ingredients and takes a solid 5 minutes to assemble, making it the most hassle-free pie!
Creamy peanut butter filling. Instead of using granulated sugar, the powdered sugar helps the peanut butter pie filling be sweet and smooth.
Ingredient Notes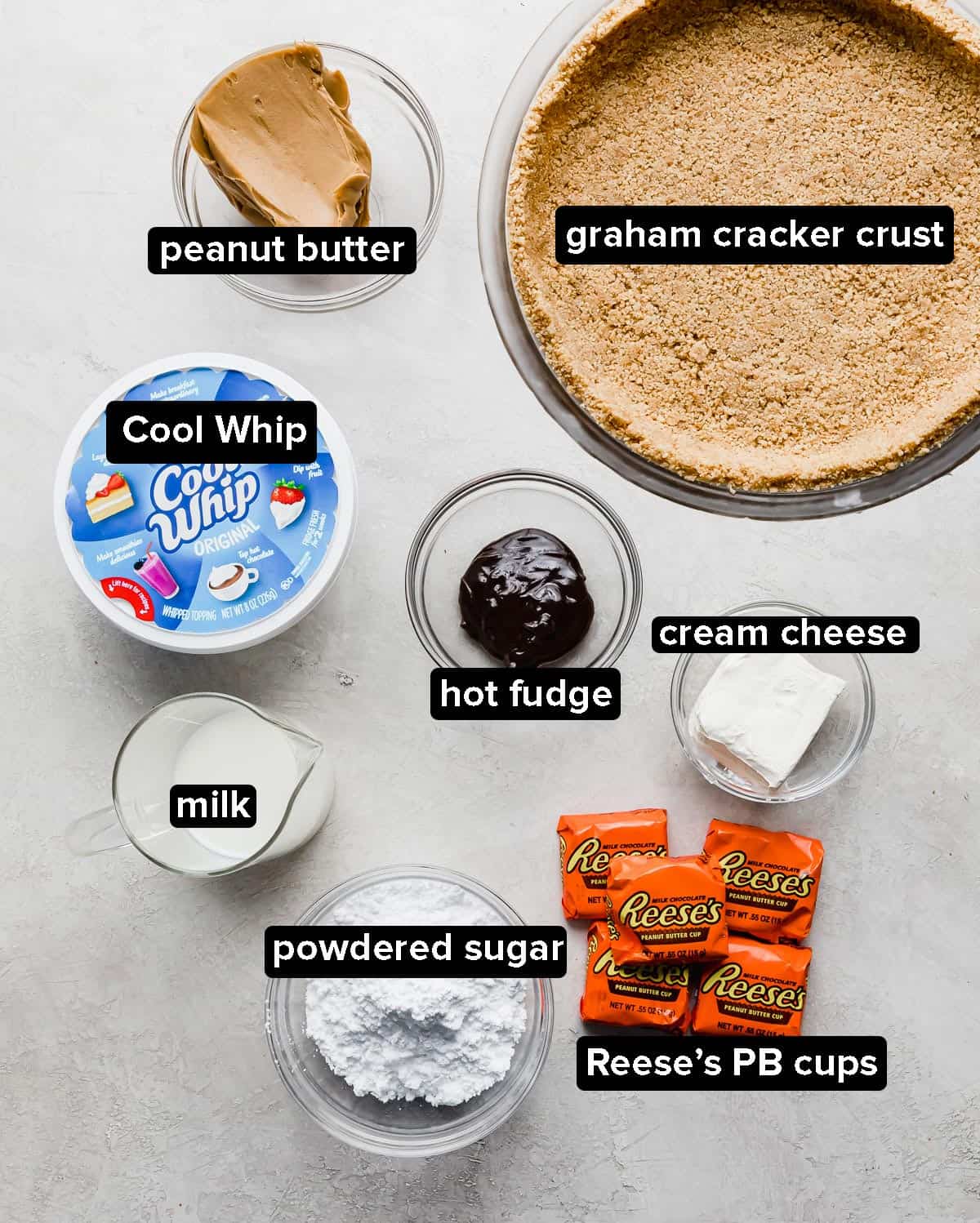 Cream Cheese: This is technically a peanut butter cream cheese pie. The cream cheese gives this pie depth and flavor so it isn't just peanut butter, sugar and whipped topping.
Powdered Sugar: No need to sift the powdered sugar. The powdered sugar provides a sweet element that pairs with the salty peanut butter flavor.
Peanut Butter: Use creamy peanut butter. I haven't tried making this easy peanut butter pie with a natural peanut butter. I'm guessing it will turn out just fine. The only issue with natural peanut butters is that the oil can separate. If using a natural PB just make sure you stir it well before adding it in the recipe.
Frozen Whipped Topping: Peanut butter pie with Cool Whip is the way to go! Cool Whip has a better structure so it will keep a fluffy peanut butter filling longer than homemade whipped cream which falls lax a lot quicker.
Reese's Peanut Butter Cups: This isn't absolutely necessary because we aren't using any of the Reese's in the pie directly, but it makes for great decoration on the pie, and it is a yummy topping!
9-Inch Graham Cracker Crust: For the pie crust you'll need graham crackers, melted butter and a food processor (or ziplock bag and rolling pin to make the graham cracker crumbs). To make this a true no-bake dessert, follow the instructions in my graham cracker crust recipe and just chill the crust rather than bake it.
Step-by-Step Instructions
Make a graham cracker pie crust. Follow my recipe for making the crust in a 9-inch pie plate. Let chill in the fridge instead of baking it. 
Make the peanut butter pie filling. Add the cream cheese to the bowl of a stand mixer fitted with the whisk attachment. Beat until smooth. Add the powdered sugar and mix until combined. Add the peanut butter and milk and beat until very smooth.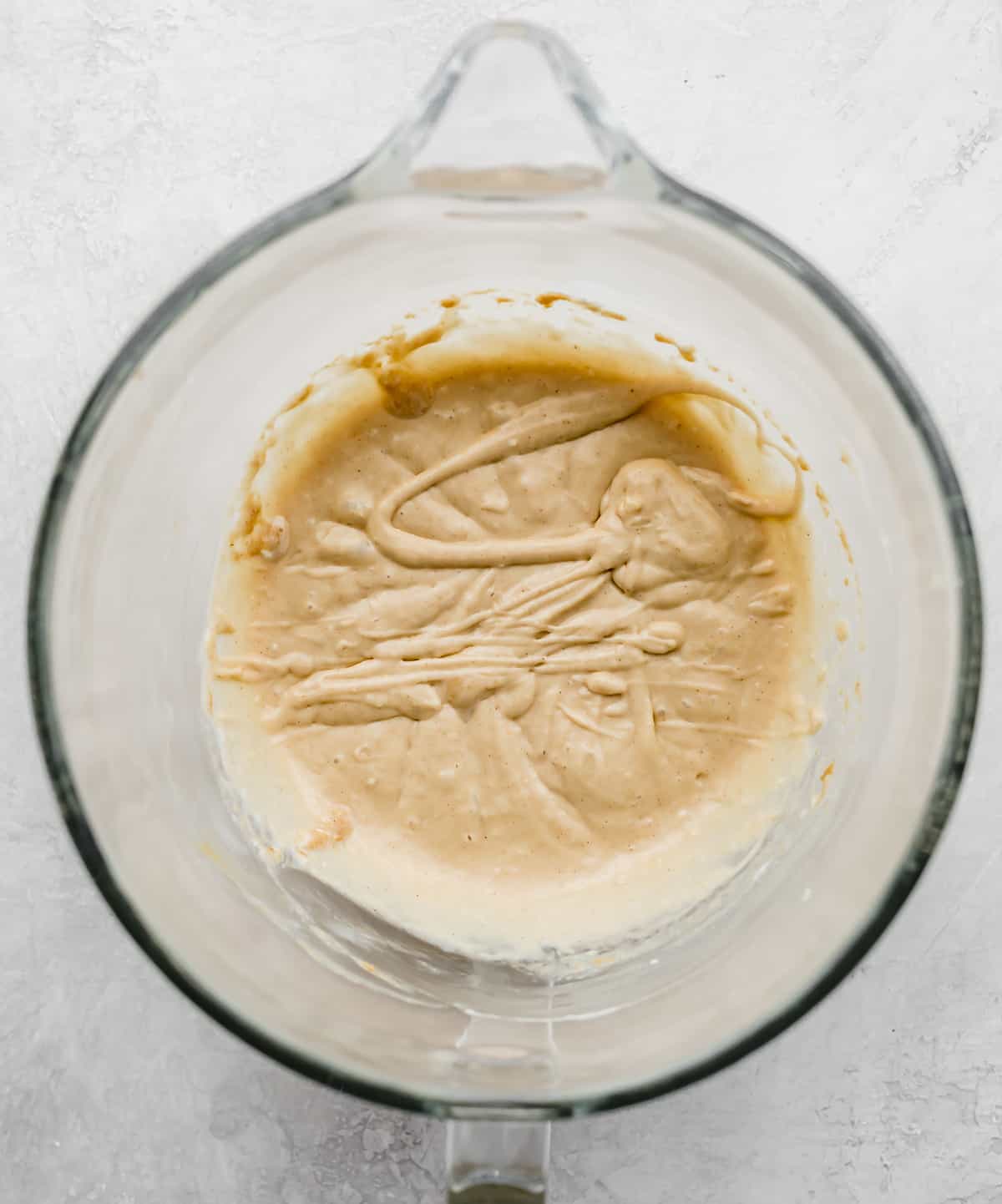 Fold in the Cool Whip. Using a rubber spatula, gently fold in the thawed whipped topping.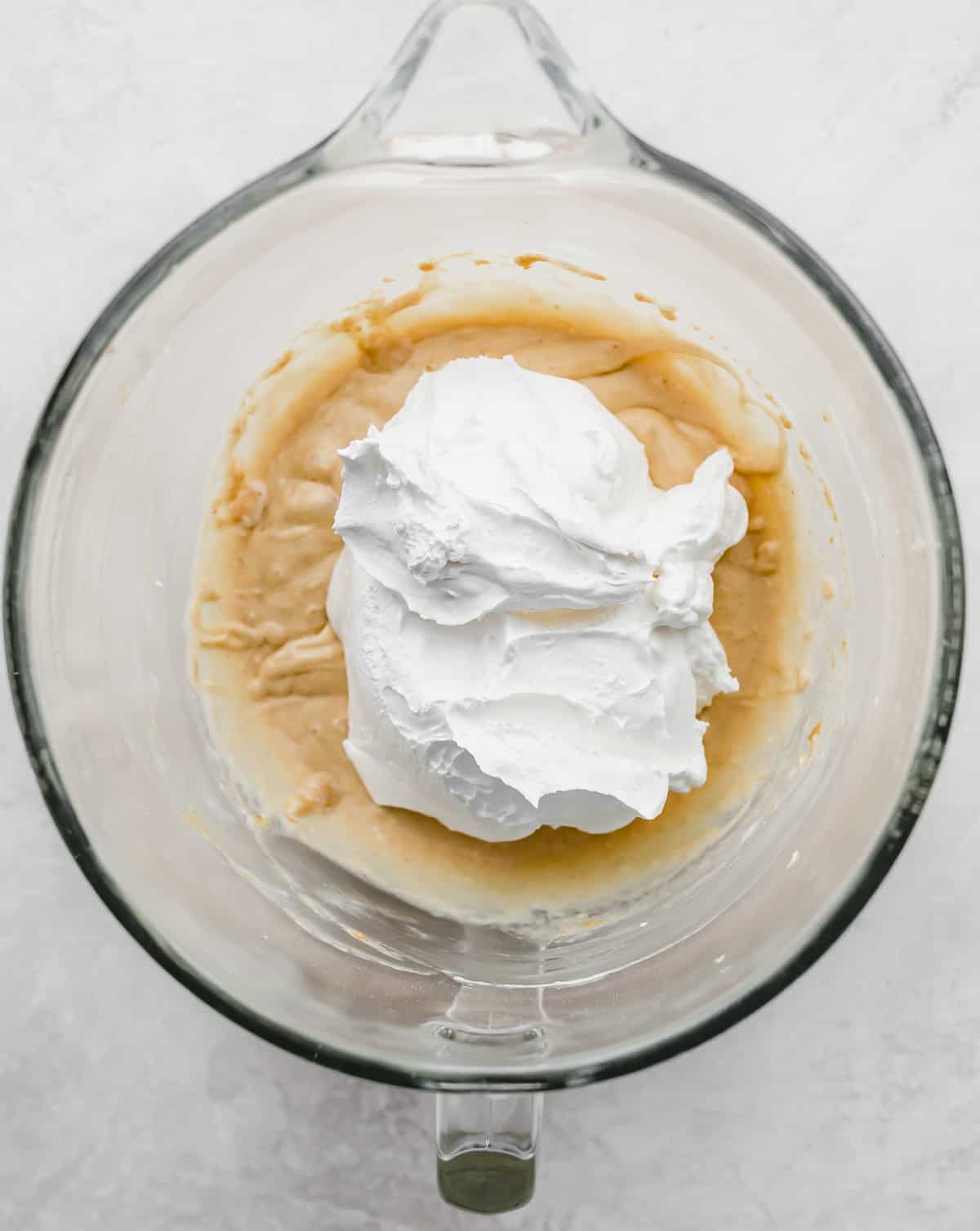 Place in the pie crust. Spoon the peanut butter mixture into the graham cracker crust. Using an off set spatula, smooth the mixture into an even layer.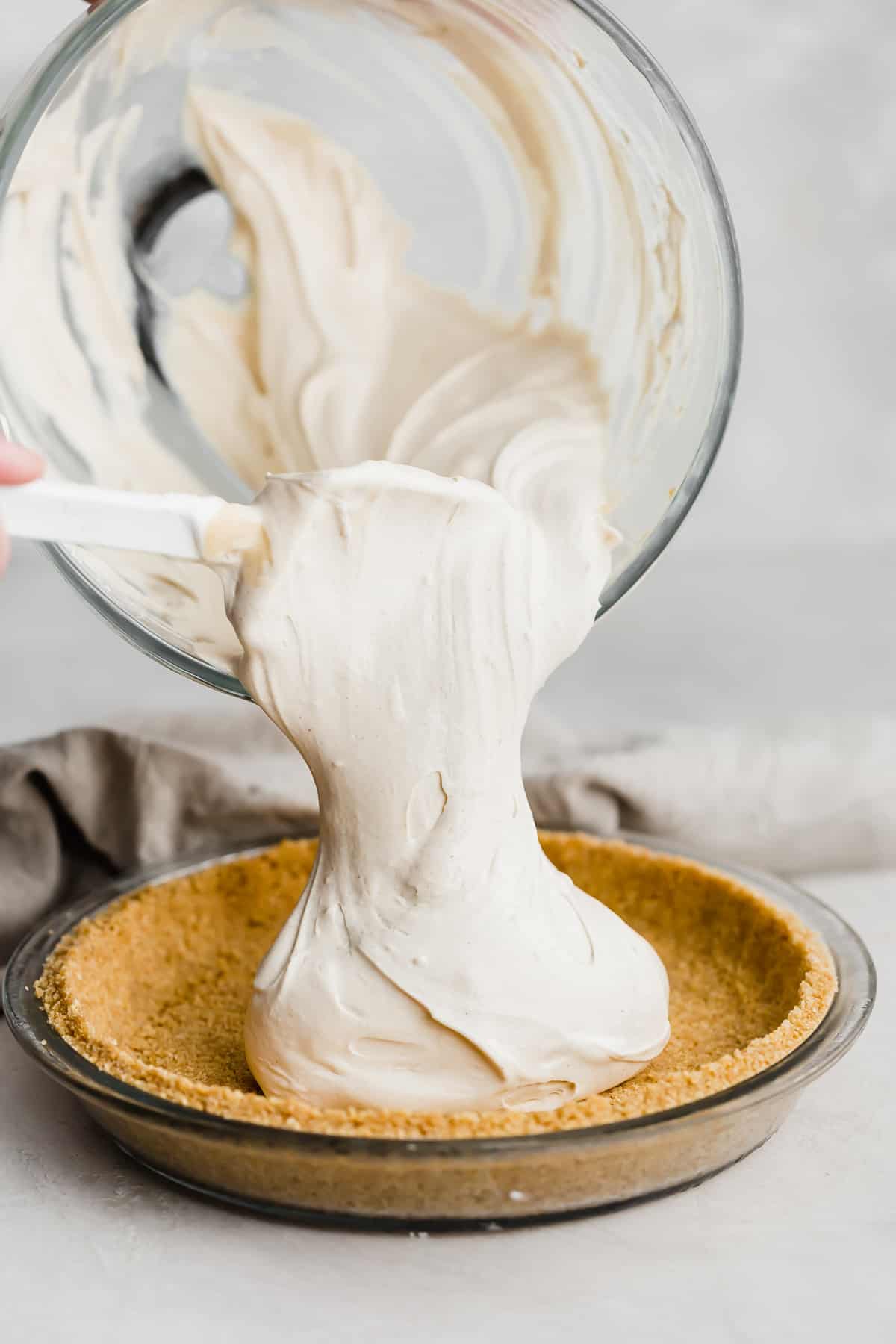 Freeze the pie. Cover the pie and place in the freezer until firm, about 4 hours. 
Top & serve. When ready to serve, remove the no bake peanut butter pie from the freezer and add chopped Reese's peanut butter cups and Old Fashioned Hot Fudge Sauce to the top of the pie if desired. Enjoy!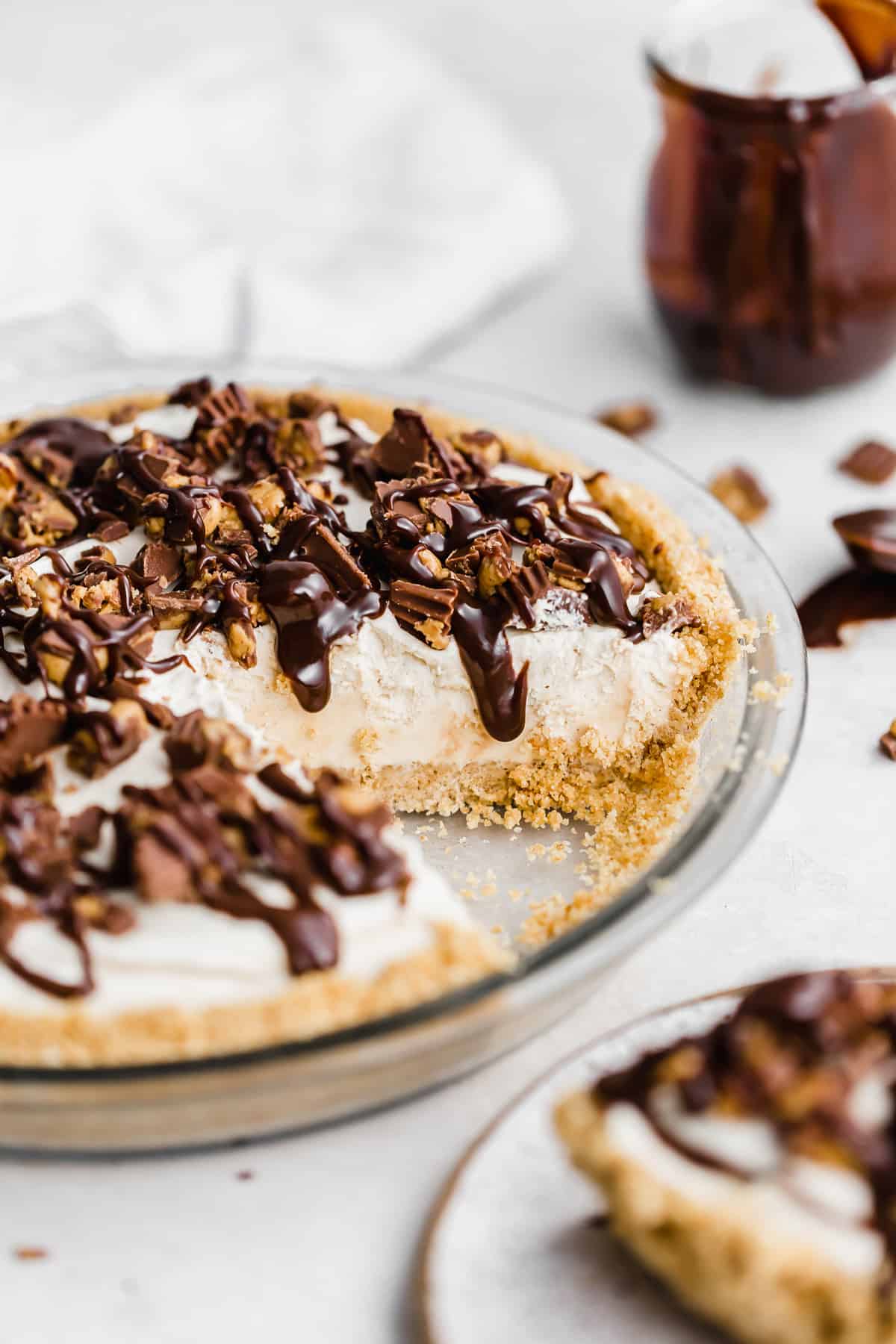 Recipe Tips
No time to make your own crust? (First, I highly recommend a freshly homemade graham cracker crust!) You can use a pre-made crust if you're in a pinch. Or, you can make the homemade crust ahead of time to make things easier too.
Swap the peanut butter pie with graham cracker crust for my chocolate Oreo crust for a delicious Oreo peanut butter pie!
Prefer a nuttier texture? Use chopped peanuts as a topping instead of chopped Reese's peanut butter cups. You can also use crunchy peanut butter in the peanut butter pie filling instead if you'd prefer.
Making dessert for a big group? Double this amazing peanut butter pie recipe and make it in a 9×13-inch baking dish lined with parchment paper for easy cutting and serving.
For clean slices, clean your knife in between each cut as some of the peanut butter filling can stick to the knife. If serving frozen, you won't have that problem.
Be sure to use Cool Whip and not homemade whipping cream. Homemade whipped cream falls lax a lot quicker than Cool Whip, so this will help keep the pie texture light for longer.
If you don't have a stand mixer, use a large mixing bowl and an electric hand mixer.
Make Ahead, Storing, and Freezing
This is a perfect make ahead pie recipe since it stores so well in the freezer and fridge.
Make in advance and freeze (up to 3 months) or make in advance and store in the fridge for 1-2 days prior to serving.
Store any leftovers in the fridge (covered) for 3-4 days or in the freezer (wrapped) for up to 3 months.
To freeze, wrap the delicious pie (without any of the toppings) in plastic wrap and then in aluminum foil (this prevents freezer burn and condensation upon thawing). Store in the freezer for up to 3 months. Remove from the freezer and store in the fridge (still covered) overnight. Remove from the fridge the next morning and remove the wrappings and store in the fridge until ready to serve. Top with toppings prior to serving.
You can also serve this as a frozen peanut butter pie. Take it out of the freezer about 15 minutes prior to serving so you can cut it more easily. The Reese's peanut butter pie will still be somewhat firm, frozen and delicious!
Recipe FAQs
What is peanut butter pie made of?
No bake peanut butter pie is made of cream cheese, peanut butter, whipped topping and powdered sugar.
Can you freeze no bake peanut butter pie?
Yes! In fact, you need to freeze it. It's a frozen peanut butter pie so you'll freeze it to help it set. You don't have to serve it frozen, but you'll want to set it in the freezer at least. 
Can I use natural peanut butter?
I haven't made this recipe with natural peanut butter, but I'm sure it will work OK. The problem with natural peanut butter is the oil easily separates. So, if you are using natural peanut butter, I would whip the peanut butter in a separate bowl until the oil is fully combined, then use the whipped peanut butter when making the recipe.
Can I add chocolate chips?
Definitely! If you want to add chocolate chips or even peanut butter chips as toppings, you can! Feel free to add your favorite toppings. Or you can even fold them into the pie filling if you'd like.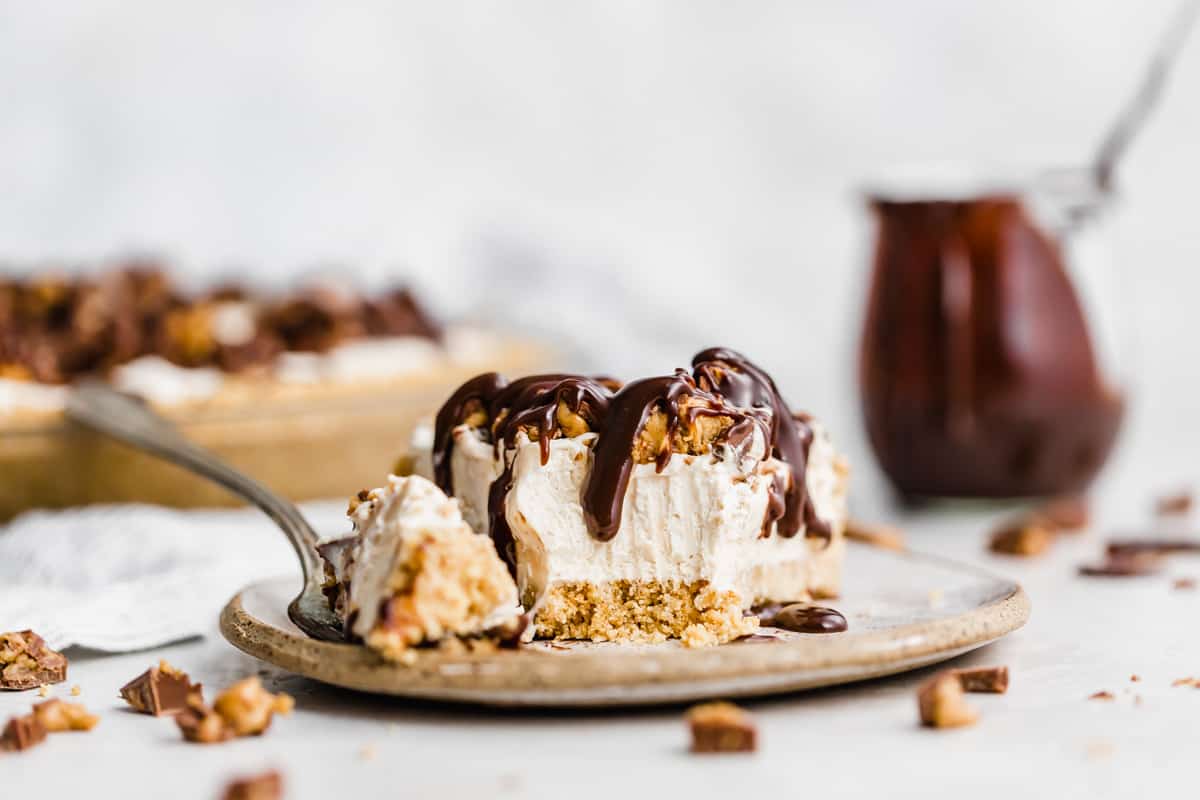 More Peanut Butter Recipes
No Bake Peanut Butter Pie
If you like peanut butter, you'll love this pie! It's a great (and easy) recipe you can make year-round.
Ingredients
4

oz

cream cheese

-

softened

3/4

cups

powdered sugar

1/2

cup

creamy peanut butter

1/2

cup

milk

8

oz

frozen whipped topping

-

thawed

1

cup

Reese's peanut butter cups

-

chopped (feel free to use more or less. It's up to you!)

hot fudge sauce

-

for serving
Instructions
In an electric mixer fitted with the whisk attachment, beat the cream cheese until smooth. Add the powdered sugar and mix until combined. Mix in peanut butter and milk and beat until smooth. 

Fold in whipped topping with a spatula. 

Spoon the mixture into the prepared pie plate. Cover and freeze until firm, about 4 hours.

Before serving top the pie with chopped reeses peanut butter cups and fudge sauce if desired.
Notes
Use Cool Whip. Homemade whipped cream goes lax a lot quicker and more easily than Cool Whip.
Keep refrigerated. 
Nutritional information doesn't include the pie crust or Reese's peanut butter cups. 
Recipe adapted from Allrecipes.
Did you make this recipe?
Leave a star rating and review on the blog post letting me know how you liked this recipe! Take a picture and tag @saltandbaker on Instagram and Facebook so I can see what you're making!
This recipe was originally published on Jan. 24, 2020. It was updated on Dec. 13, 2021, to include additional information and photos.