French Silk Pie
This French Silk Pie with graham cracker crust is perfectly creamy and full of the rich chocolate flavor that everyone loves!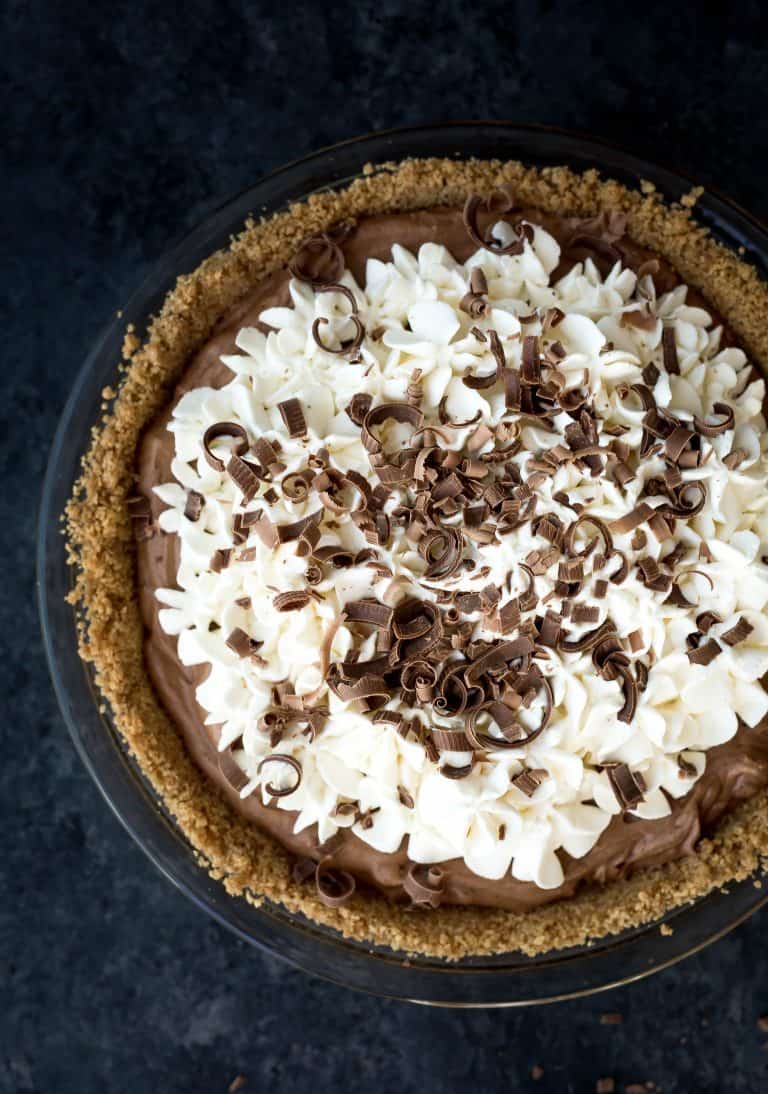 Chocolate pie has always been one of my favorite pies to eat! How can one resist chocolate in pie form? I love traditional pie crusts, but this time around I made a French silk pie with a graham cracker crust! If you prefer a traditional pie crust, by all means, use that for your French Silk Pie. But for this go-around, graham crackers it is! I want to walk you through the making of this pie. It's VERY important that you mix the ingredients for the specific amount of time stated in the recipe below. But for simplicity, let's make a list. (I love lists!)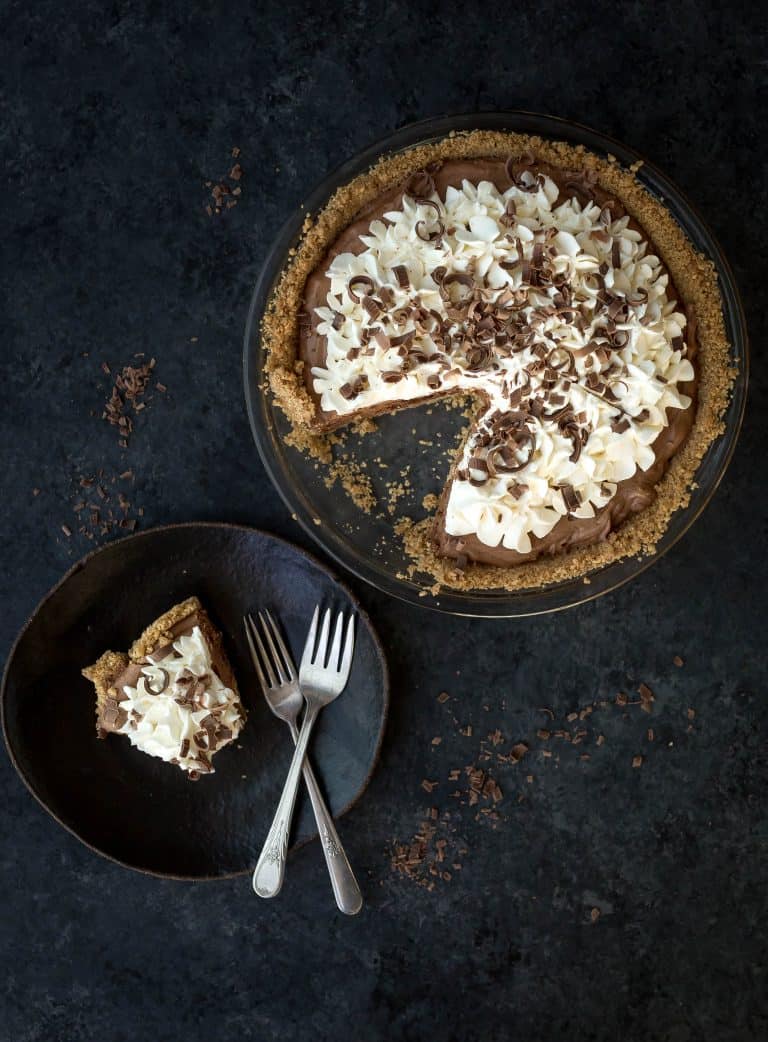 How do you make French Silk Pie?
Add softened butter and sugar to the bowl of a stand mixer. Using the paddle attachment, mix on medium speed for 10-14 minutes. This is key. You want to get the sugar and butter heavily acquainted with each other.
Add the melted chocolate and vanilla to the creamed butter mixture. Mix until combined.
Add 1 egg. Mix for 5 minutes.
Add the last egg. Mix for 5 minutes more. The reason for all of the mixing is to get the sugar dissolved. You don't want any sugar granules!
Chill for 2 hours or until set.
Top with fresh whipped cream and chocolate curls.
How do you make chocolate curls?
Using a Hershey's chocolate bar, at room temperature, take a vegetable peeler and glide the peeler across the side of the chocolate bar. Better Homes and Gardens' post will give you a good visual.
Carefully transfer the chocolate curls to the pie (or any dessert you're wanting to garnish).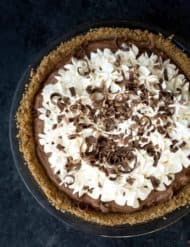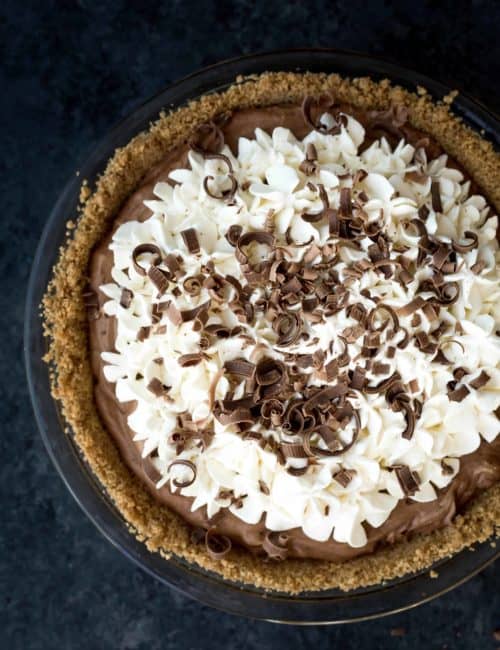 French Silk Pie
Perfect French Silk Chocolate Pie, topped with sweet whipped cream and chocolate curls.
Ingredients
Graham Cracker Crust
1

cup

graham crackers crumbs, about 8-9 full crackers ground up

1/4

cup

melted butter

1/3

cup

brown sugar

1/4

tsp

cinnamon
French Silk Pie
1/2

cup

unsalted butter, room temp

3/4

cup

sugar

2

oz

unsweetened chocolate squares

1

tsp

vanilla extract

2

eggs
Whipped topping
1 1/2

cups

heavy cream

3/4

cup

powdered sugar

1/2

tsp

vanilla
Instructions
Graham Cracker Crust
Preheat oven to 350°F.

Mix ingredients together. Press into a 9 inch pie pan so that the crumbs come up the sides. Bake at 350°F for 8 minutes. Let cool.
French Silk Pie
Place chocolate in a microwave safe bowl. Melt the chocolate in 30 seconds increments, until completely melted. Set aside.

In the bowl of a stand mixer, fitted with the paddle attachment, cream the butter and sugar. About 10-14 minutes.

Mix in the melted (slightly cooled) chocolate and the vanilla. Mix for 30 seconds. Add the eggs, 1 at a time. Beat on medium speed for 5 minutes after each addition. Scrape down the sides of the bowl as necessary. you want to make sure there are no grains of sugar.

Gently place the chocolate mixture into your pie crust. Chill for 2 hours, or until set.
Whipped Topping
Place the heavy cream, powdered sugar, and vanilla in the bowl of your stand mixer. Using teh whisk attachment beats until stiff peaks form. Spread the whipped topping over the pie. Garnish with chocolate shavings if so desired. Serve.
Recipe Notes
Recipe source: adapted from food.com