Biscoff Pumpkin Pie
This post may include affiliate links. As an Amazon Associate I earn from qualifying purchases.
This Biscoff Pumpkin Pie is made with a delicious Biscoff Cookie Pie Crust and a filling made of pumpkin puree, biscoff cookie butter, warm spices, cream cheese, and whipped cream. I mean…the ingredient list is making my mouth water even!
So whether it is Biscoff that brought you here, pumpkin recipes, or pies, we have you covered! My Biscoff Milkshake and Biscoff Butter Cookies are some of my favorite Biscoff recipes! If you're looking for a traditional pumpkin pie recipe, then you'll love my Praline Pumpkin Pie and Crustless Pumpkin Pie!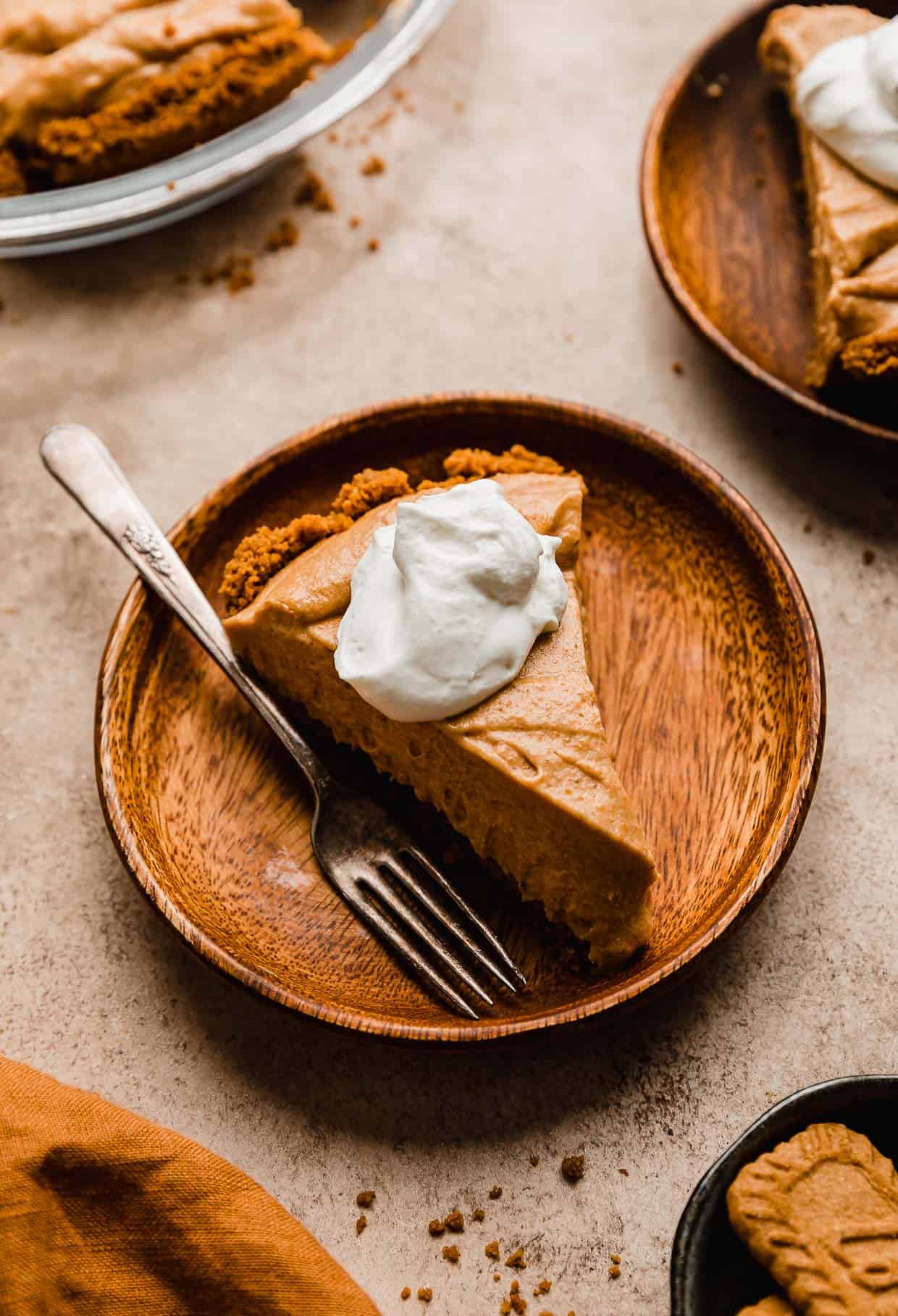 Why This Recipe Works
Cheesecake meets pumpkin pie meets biscoff heaven. Let me break this down for you: this is essentially a no-bake cheesecake, combined with a pumpkin pie, combined with whipped cream, completed with the delicious heaven that is all things biscoff! It's every single element you love in a pie — in ONE PIE! 
No bake pie recipe. This is a no bake biscoff pumpkin pie recipe! You don't have to bake the filling — you can even skip baking the crust and just chill the crust. It makes for a hassle free dessert! 
Easy peasy pumpkin pie. This Speculoos pumpkin pie recipe is super easy to make! The crust only needs 2 ingredients, and the filling comes together super quickly! 
Easily everyone's favorite! So, I know not everyone is a huge pumpkin pie person. BUT, this pumpkin biscoff pie is the perfect equalizer! Everyone loves it! Even those who are the biggest pumpkin pie fan will be won over with this amazing biscoff pumpkin pie! 
Ingredient Notes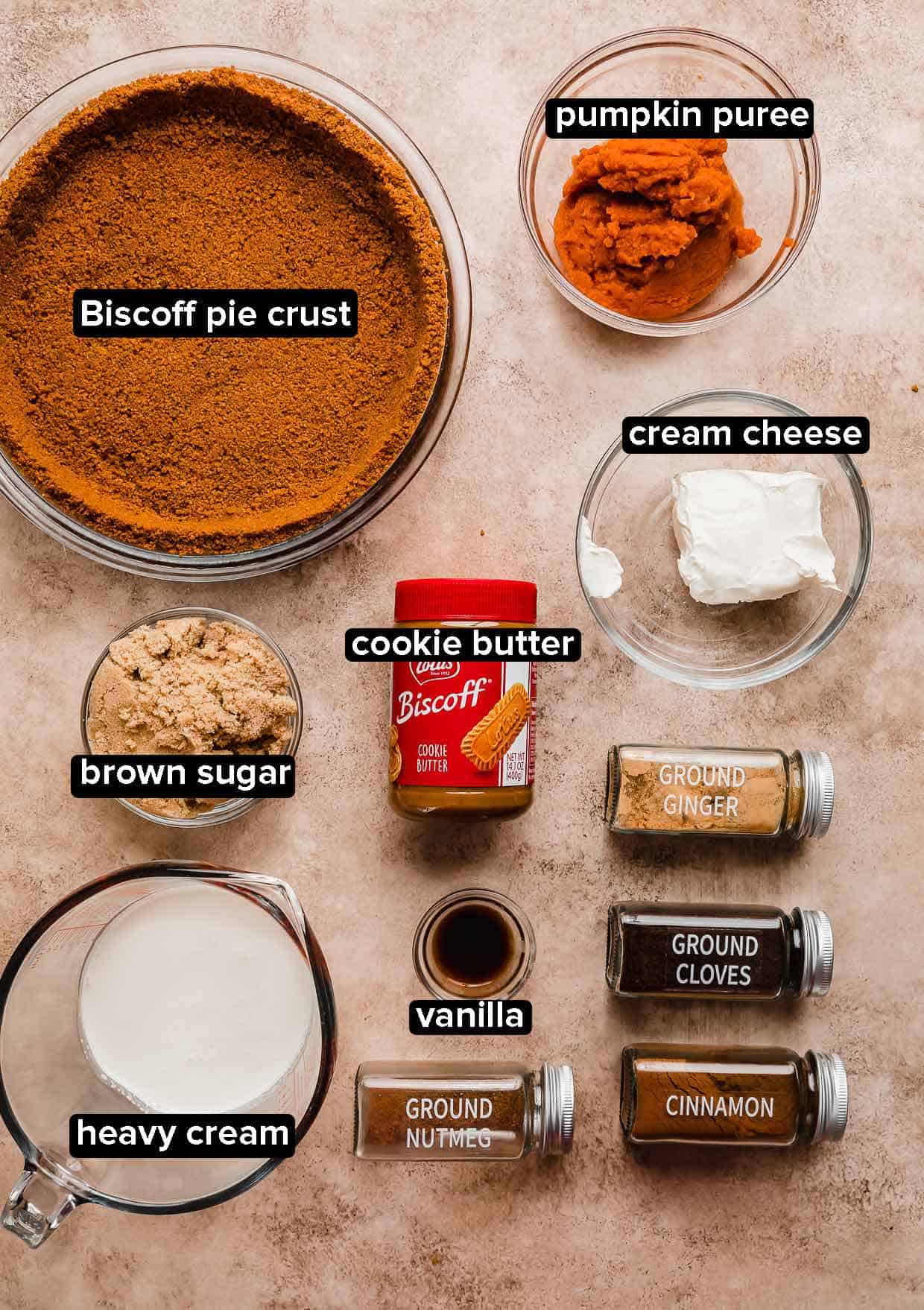 Biscoff Pie Crust: You'll need 1 pie crust from my biscoff pie crust recipe. You'll use melted butter and lotus biscoff cookies (aka Speculoos cookies) pulverized into fine crumbs for the crust. 
Heavy Cream: You want the heavy cream to be very cold! This will help it stay cold while beating it, keeping it cold until you fold it into the pumpkin biscoff pie filling mixture. Heavy whipping cream or heavy cream works great. 
Cream Cheese: I recommend using full fat cream cheese. You'll need the cream cheese to be very much at room temperature. This way it will beat up smoothly. You're essentially making a pumpkin cheesecake with some biscoff and cream! 
Brown Sugar: The brown sugar will help to sweeten the pie filling mixture. I used light brown sugar, but you could use brown sugar as well — or even a combination. 
Biscoff Cookie Butter: You can use any brand. I use the lotus cookie butter, but Speculoos is the same thing. I use a heaping 1/2 cup.
Pumpkin Puree: You want the pumpkin puree. This is different than pumpkin pie filling. Pumpkin puree is plain pumpkin. We want to be able to control the amount of spices and sugar. 
Spices: Cinnamon, ginger, nutmeg, and cloves will give us the perfect combination of spices for this delicious speculoos pumpkin pie! 
Step-by-Step Instructions
Make my Biscoff Pie Crust. Add the biscoff crumbs, melted butter and a pinch of salt to a medium bowl. Mix until combined. Press the biscoff cookie pie crust mixture into the bottom and sides of a 9-inch pie pan. Bake at 350°F for 8 minutes or chill in the fridge for 30-60 minutes. If baked, let cool completely. 
Beat the heavy cream. Add the cold heavy cream to the bowl of a stand mixer fitted with the whisk attachment. Whisk until stiff peaks form. Chill in the fridge while you finish making the biscoff pumpkin filling. 
Cream the cookie butter, brown sugar and cream cheese. Add the room temperature cream cheese, brown sugar, and the biscoff cookie butter the bowl of a stand mixer fitted with the paddle attachment (or using a hand mixer). Beat on medium speed for 2-3 minutes and until smooth.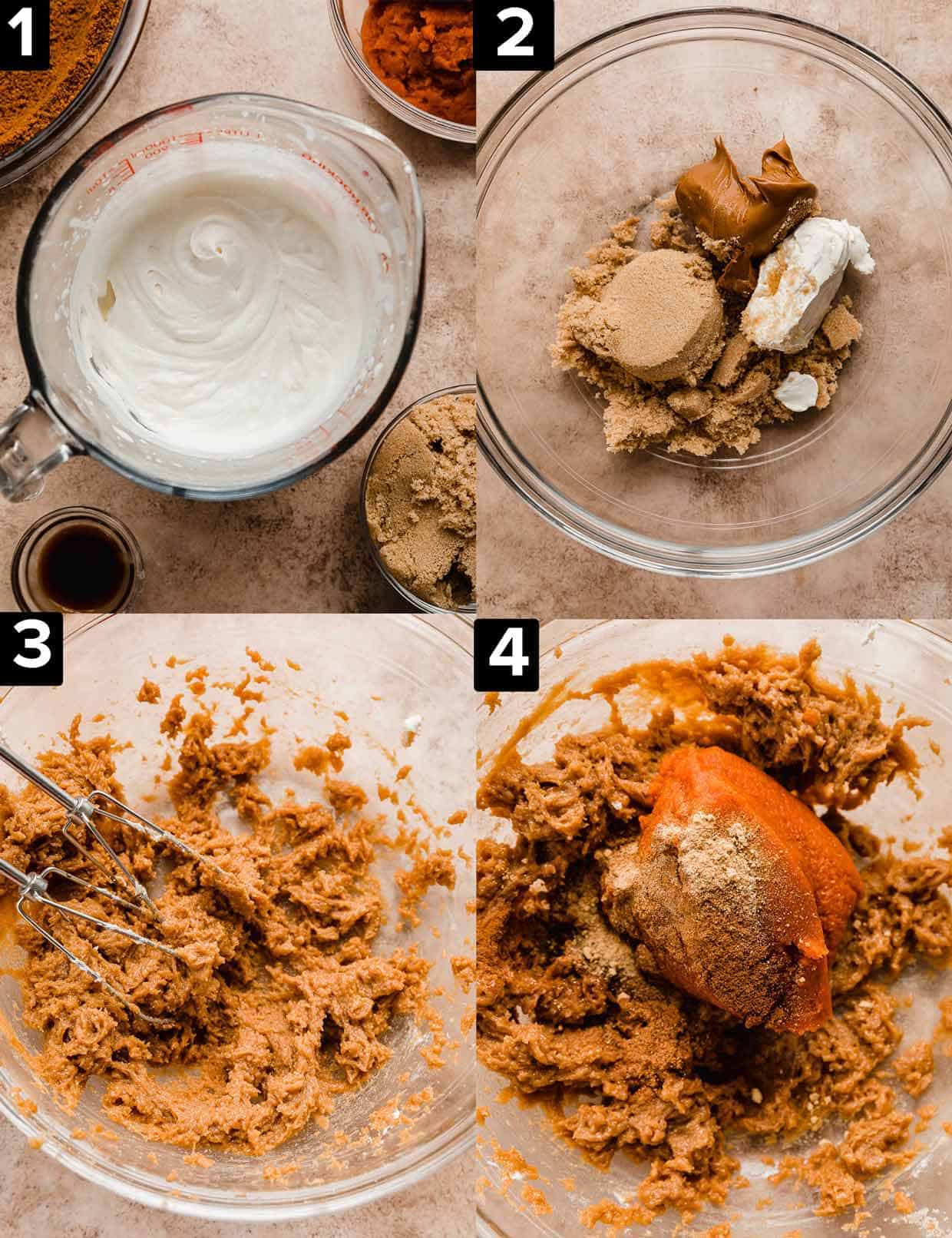 Add the remaining ingredients. Add the pumpkin puree, vanilla extract, cinnamon, nutmeg, ginger, and cloves. Mix until well combined and very smooth. Scrape down the sides of the bowl as needed.
Fold in the whipped cream. Using a rubber spatula, gently fold in the chilled whipped cream.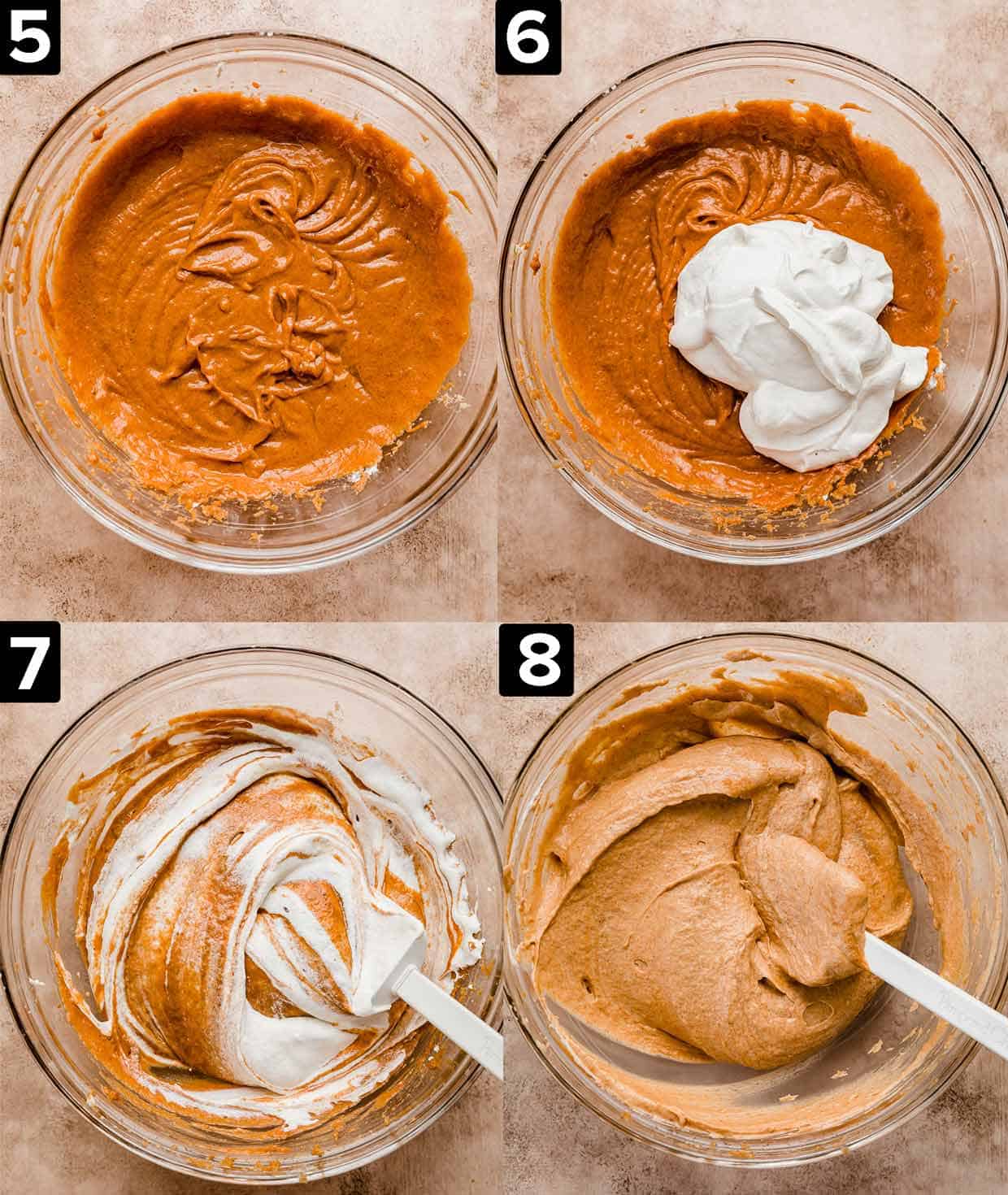 Place the pumpkin biscoff pie filling in the crust. Scoop the biscoff pumpkin mixture into the completely cooled prepared crust. Spread in an even layer. Cover with a domed lid and chill in the fridge for a minimum of 4 hours up to overnight. Keep chilled until serving. Serve with a dollop of whipped cream or decorate the top of the pie with whipped cream if desired!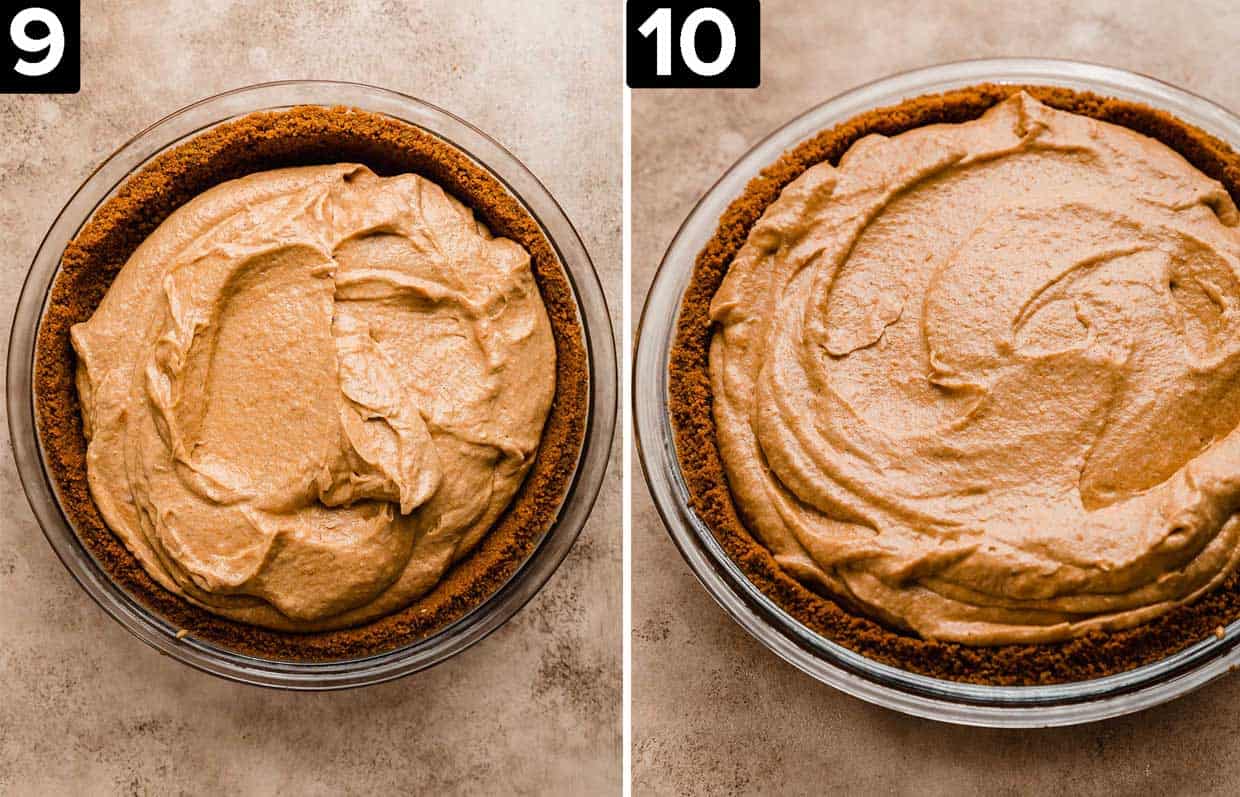 Recipe Tips
I use a food processor to get the crumbs for the biscoff crust recipe. You can use a ziplock bag and a rolling pin if you don't have a food processor.
You'll need one sleeve or package of biscoff cookies for the crust (for a total of 32 cookies).
If you'd like, you can even chill your stand mixer bowl before beating the heavy cream! That will help keep things cold.
You can find biscoff butter in most grocery stores where the peanut butter and Nutella are located.
Let your cream cheese come to room temperature. I would pull it out of the fridge 1 hour before making the pie. If you need it to soften more quickly, remove it from the aluminum sleeve and microwave it for 15 seconds. You don't want it melted, just soft.
I use full fat cream cheese and highly recommend using that. Sometimes the less fat or low fat ones have a different consistency and don't soften or combine well.
Gently fold the whipped cream in. This will give the no bake biscoff filling a light texture. You don't want to flatten the cream mixing too hard.
Keep in mind, this biscoff pumpkin pie does set up (as you can see, we get some nice lines when we cut the pie), but it is still a soft filling. As such, keep it chilled right up until you cut it and serve it.
Serve this creamy pumpkin pie after your Thanksgiving dinner for the ultimate holiday dessert — or serve it anytime in the fall when all those pumpkin cravings hit!
Make Ahead, Storing, and Freezing
You'll want to make this biscoff cookie crust pumpkin pie a bit ahead of time because it needs at least 4 hours to chill in the fridge before serving.
Store the biscoff pumpkin pie in the fridge for 4-5 days for best results.
While I don't often recommend freezing things with dairy in them, this biscoff pumpkin pie should hold up OK in the freezer. Freeze for up to 1 month for best results. Remove and let thaw. Enjoy cold.
With that being said, I think this pie is best enjoyed fresh and not frozen and thawed!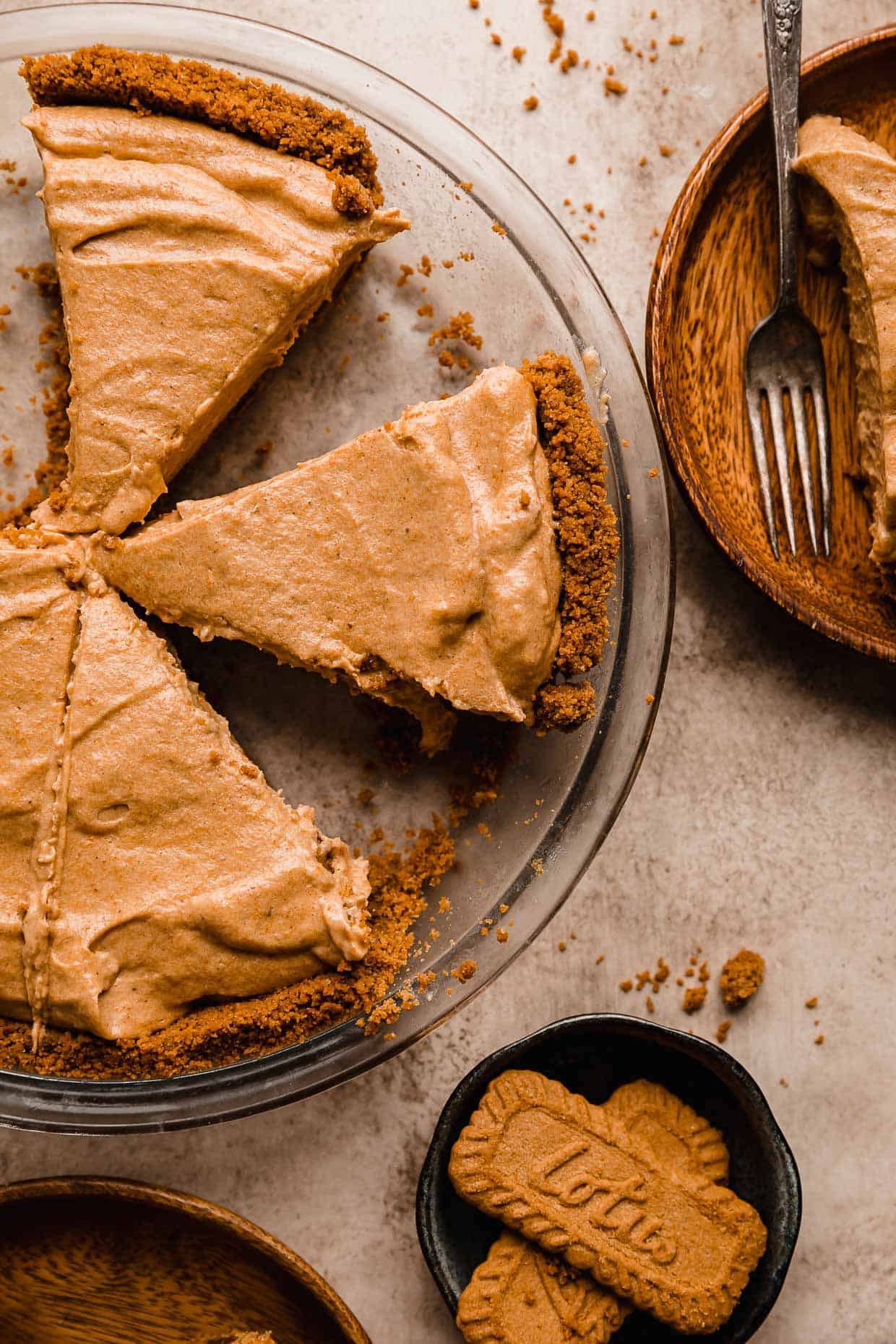 Recipe FAQs
When does pumpkin pie expire? 
I'm not sure with store bought pumpkin pie, but this biscoff pumpkin pie recipe will keep in the fridge for 4-5 days. 
Why didn't my pie set?
This could be due to not getting the heavy cream beaten into stiff enough peaks. You may also need to let the pie chill for a bit longer. The longer it chills, the better set it will be! You can chill it overnight. 
Do I need to bake the biscoff crust?
Nope! If you don't want to bake the crust, you can simply chill it for 30-60 minutes or until set. 
Does biscoff and pumpkin go well together?
Oh man does it ever! It is the most amazing combination! Biscoff is really just spiced cookies (or a spiced spread in the cookie butter). And when you make pumpkin pie, you add spices to it. So, this is just an even more amazing version of the best pumpkin pie ever! 
Can I use homemade pumpkin puree?
Honestly, I never bother with homemade pumpkin puree, because I don't want to have excess water content or not enough. However, it should work wit ha 1:1 substitution for store-bought, canned pumpkin puree.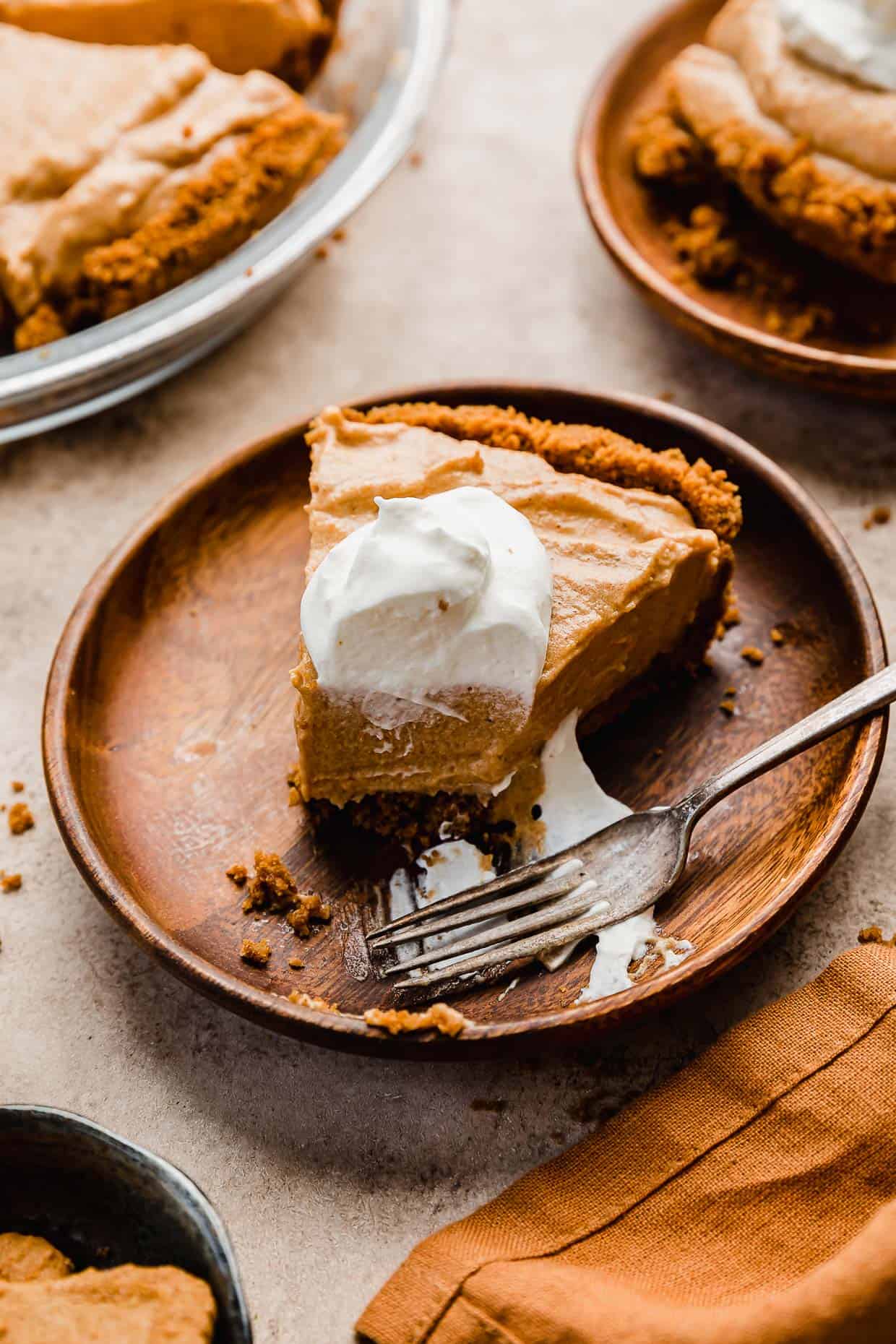 More Biscoff Recipes
Biscoff Pumpkin Pie
A biscoff pie crust is filled with a creamy cream cheese biscoff pumpkin pie filling, and let me tell you, it's AMAZING!
Ingredients
Biscoff Pie Crust
32

Biscoff cookies

-

crushed into fine crumbs (about 2 1/2 cups)

6

tablespoons

butter

-

melted, salted or unsalted is fine

pinch

salt
Biscoff Pumpkin Pie Filling
1

cup

heavy cream

-

very cold

4

oz

cream cheese

-

at room temperature

2/3

cup

brown sugar

-

packed, I used light brown sugar

1/2

cup

Biscoff cookie butter

1

cup

pumpkin puree

1

teaspoon

vanilla extract

1

teaspoon

ground cinnamon

1/4

teaspoon

ground ginger

1/4

teaspoon

ground nutmeg

1/8

teaspoon

ground cloves
Instructions
Biscoff Pie Crust
Preheat oven to 350°F. In a medium sized bowl add the crushed Biscoff cookie crumbs, melted butter, and salt. Mix to combine. Transfer the mixture to a 9 inch round pie plate. Using your hands or the bottom of a cup or glass measuring cup to press the crumbs into the bottom and up the sides of the pan. Bake for 8 minutes, remove from the oven and let cool completely. 
Biscoff Pumpkin Pie Filling
In a medium bowl, or the bowl of a stand mixer fitted with the whisk attachment, beat the heavy cream until stiff peaks form. Place in the fridge to keep cold while you make the filling. 

In a large bowl, or the bowl of a stand mixer fitted with a paddle attachment, add the cream cheese, brown sugar and biscoff cookie butter. Beat on medium speed for 2-3 minutes or until smooth and well combined. Add the pumpkin puree, vanilla, cinnamon, ginger, nutmeg, and cloves. Mix until very smooth and combined. Using a rubber spatula to fold in the whipped cream. 

Scoop the filling into the cooled pie crust. Cover the pie with plastic wrap and refrigerate for at least 4 hours or overnight. Keep the pie chilled and refrigerated until right before serving. (This pie can be made one day in advance).
Notes
Keep the pie chilled until just before serving.
Store in the fridge for up to 5 days. 
Make sure the heavy cream is beaten until still peaks for best results.
This pie sets but it is still soft…keep that in mind! 
Did you make this recipe?
Leave a star rating and review on the blog post letting me know how you liked this recipe! Take a picture and tag @saltandbaker on Instagram and Facebook so I can see what you're making!