Roasted Brussels Sprouts with Bacon
This post may include affiliate links. As an Amazon Associate I earn from qualifying purchases.
Roasted Brussels Sprouts with Bacon is made with just 3 ingredients and takes only 10 minutes to prep! The result is a caramelized flavor and crispy bacon and Brussels sprouts for an easy and delicious side dish for any meal.
You can use this recipe as a side for a potluck, for Thanksgiving or Christmas dinner or for a normal weeknight dinner. It's simple enough to whip up really fast and delicious and elegant for any special event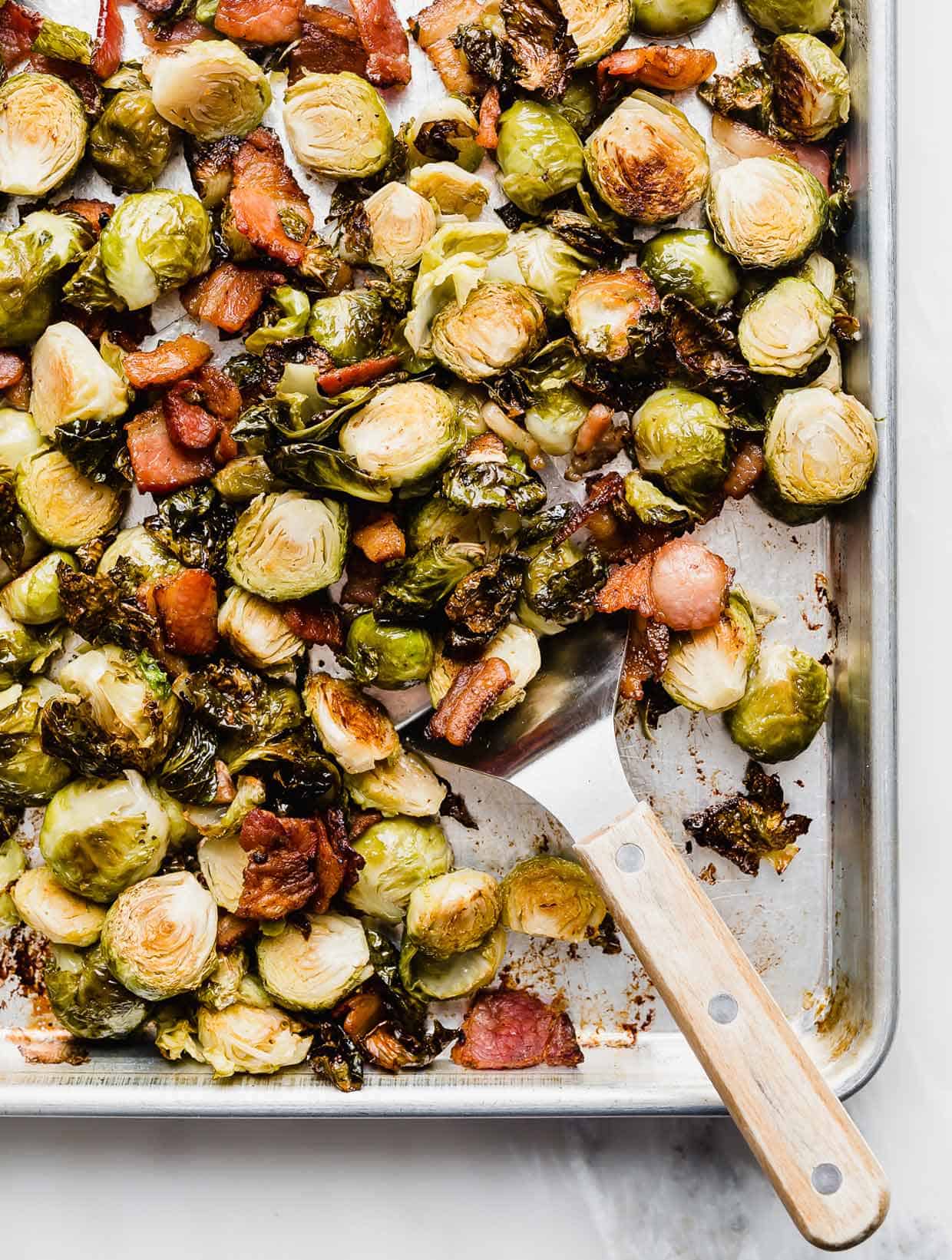 Why This Recipe Works
Easy side dish. I love this oven-roasted Brussels sprouts with bacon! The prep is easy, and I have a delicious side dish without having to stand and babysit the veggies on the stove. 
Brussels sprout and bacon. You are going to love the combination of bacon and Brussels sprouts! It's so tasty.
Three-ingredient dish. All you need for this recipe is Brussels sprouts, bacon, and olive oil! 
The best way to cook Brussels sprouts! Just do me a favor and never steam or boil Brussels sprouts, OK? It's not a good idea because they easily go mushy and the smell in the house from it will turn your nose up to the vegetable before you've even tasted them. Roasted Brussels sprouts with bacon is the way to go! Roasting brings out the flavor, cooks them but keeps them slightly crispy on the outside — and it's served with bacon which is a perfect gateway food! 
Ingredient Notes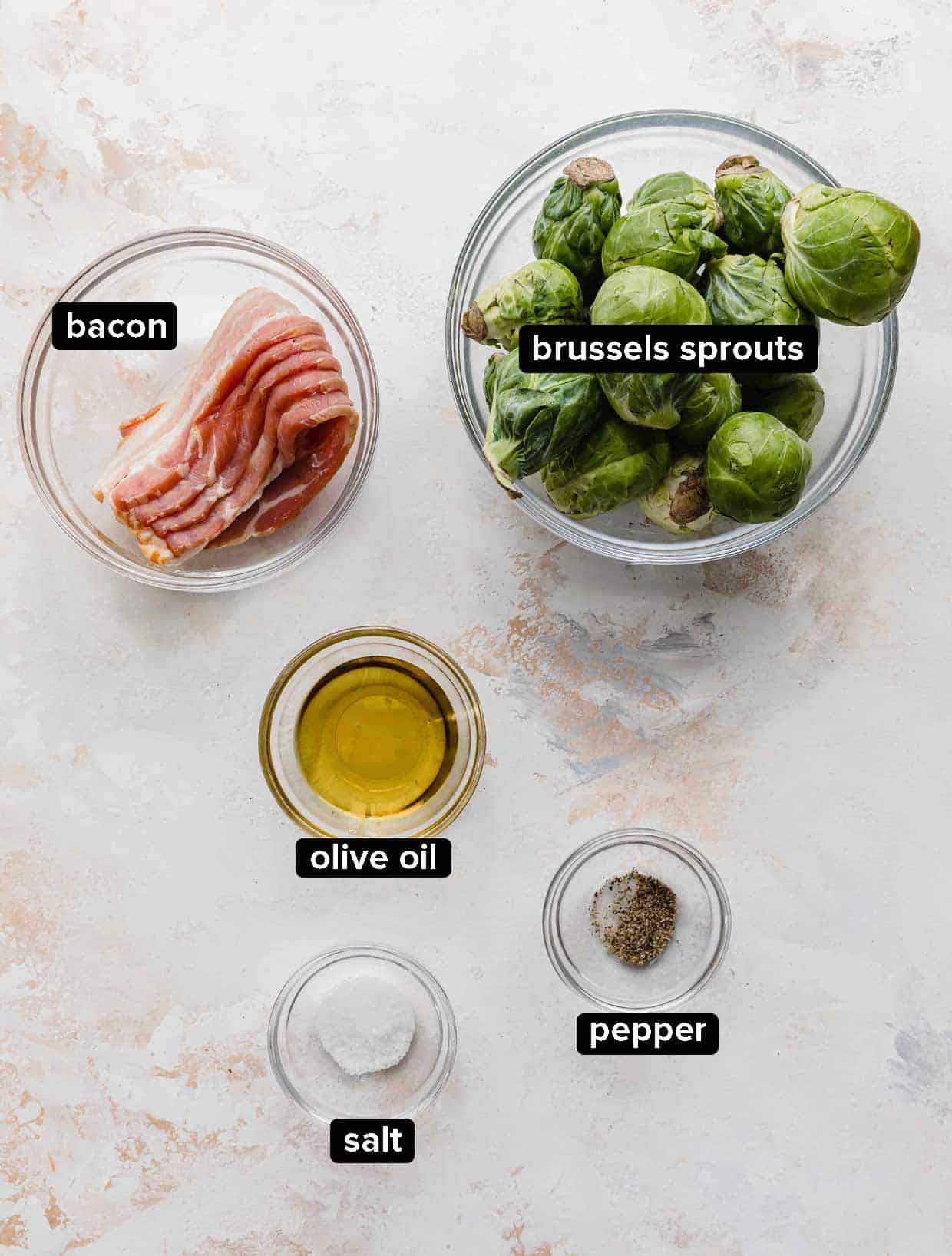 Brussels Sprouts: Be sure to wash and trim the Brussel sprouts before cutting. I like to remove any layers that are wilted or discolored. Then cut any stems off. Then cut them in half. 
Bacon: I recommend using uncooked, regular-sized bacon. If you use thick-cut bacon, you'll need to keep them in the oven longer to cook and get crispy, which can affect the Brussels sprouts cooking too much. 
Olive Oil: Use olive oil or melted butter. 
Step-by-Step Instructions
Prep the Brussels sprouts. Clean, trim and cut the Brussels sprouts. Place on a large baking sheet and drizzle with olive oil. Toss to coat.
Add the bacon. Add the pieces of bacon and toss again. Sprinkle with salt and pepper to taste. Spread out in an even layer on the sheet. 
Bake. Roast in a 400°F preheated oven for 20-30 minutes. Halfway through, stir the mixture to create an even roast. Remove when the Brussels sprouts are fork tender and the bacon is cooked and crispy. Enjoy!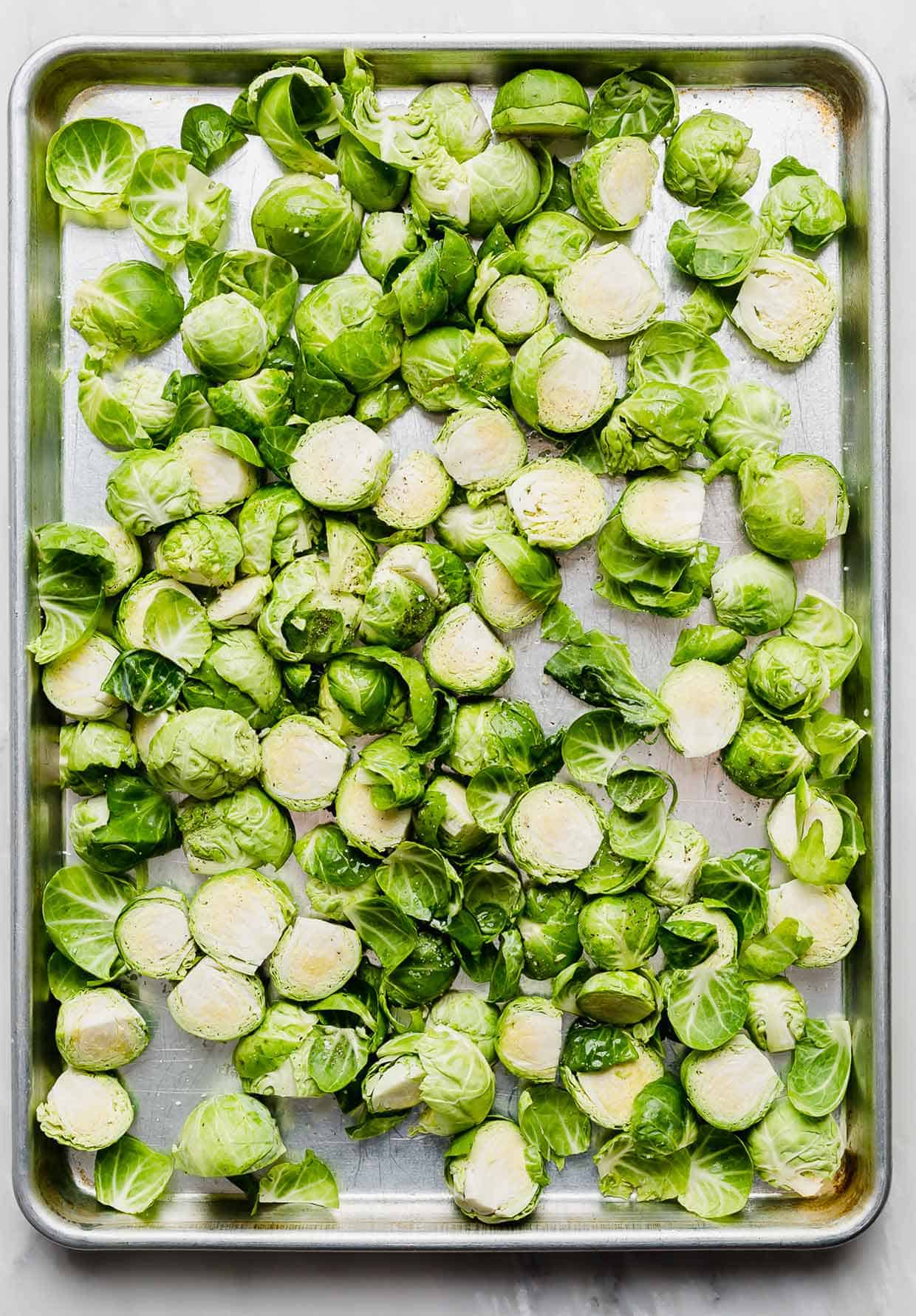 Recipe Tips
I suggest using regular sliced bacon rather than thick cut. You can use thick cut, but you will need to roast for longer so that the bacon can cook and get nice and crispy.
Try and get the Brussels sprouts to be as even in size as you can. This will allow a more even bake. If there are some small Brussels, keep them whole, and cut the larger Brussels in half. I think the photos illustrate this well, so refer to those above.
Don't overcoat in olive oil. You want the mixture to be fully coated in a thin layer of oil, but you don't want puddles of oil on the pan. This can cause sizzling (ouch!) and can make the vegetables go mushy.
Keep everything in an even, single layer in order to get crispy Brussels sprouts and bacon!
This roasted Brussels sprouts with bacon recipe is fun and easy to adjust or customize as well!
Add balsamic vinegar – drizzle a bit of balsamic vinegar or balsamic glaze on the roasted Brussels sprouts and bacon after pulling it out of the oven. This adds a nice acidic element.
Sprinkle with parmesan cheese – I'll never say no to some fresh parmesan! Serve this side dish with some grated parmesan for people to garnish with.
Drizzle with maple syrup – looking for a sweet element? Drizzle a bit of maple syrup on with about 5 minutes left to bake. This will pairs deliciously with the bacon!
Make Ahead, Storing, and Freezing
For make ahead options, I would clean and prepare the Brussels sprouts ahead of time and thaw any bacon if you are using frozen bacon. Otherwise, I would finish prep and bake this roasted Brussels dish just prior to serving it.
Store the bacon Brussels sprouts in the fridge in an airtight container for 4 days.
To reheat, you can place the Brussels sprouts on a plate and reheat in the microwave for 30 seconds to 1 minute. Or you can place them on a lightly greased baking sheet and warm in a 350°F oven for 5-8 minutes.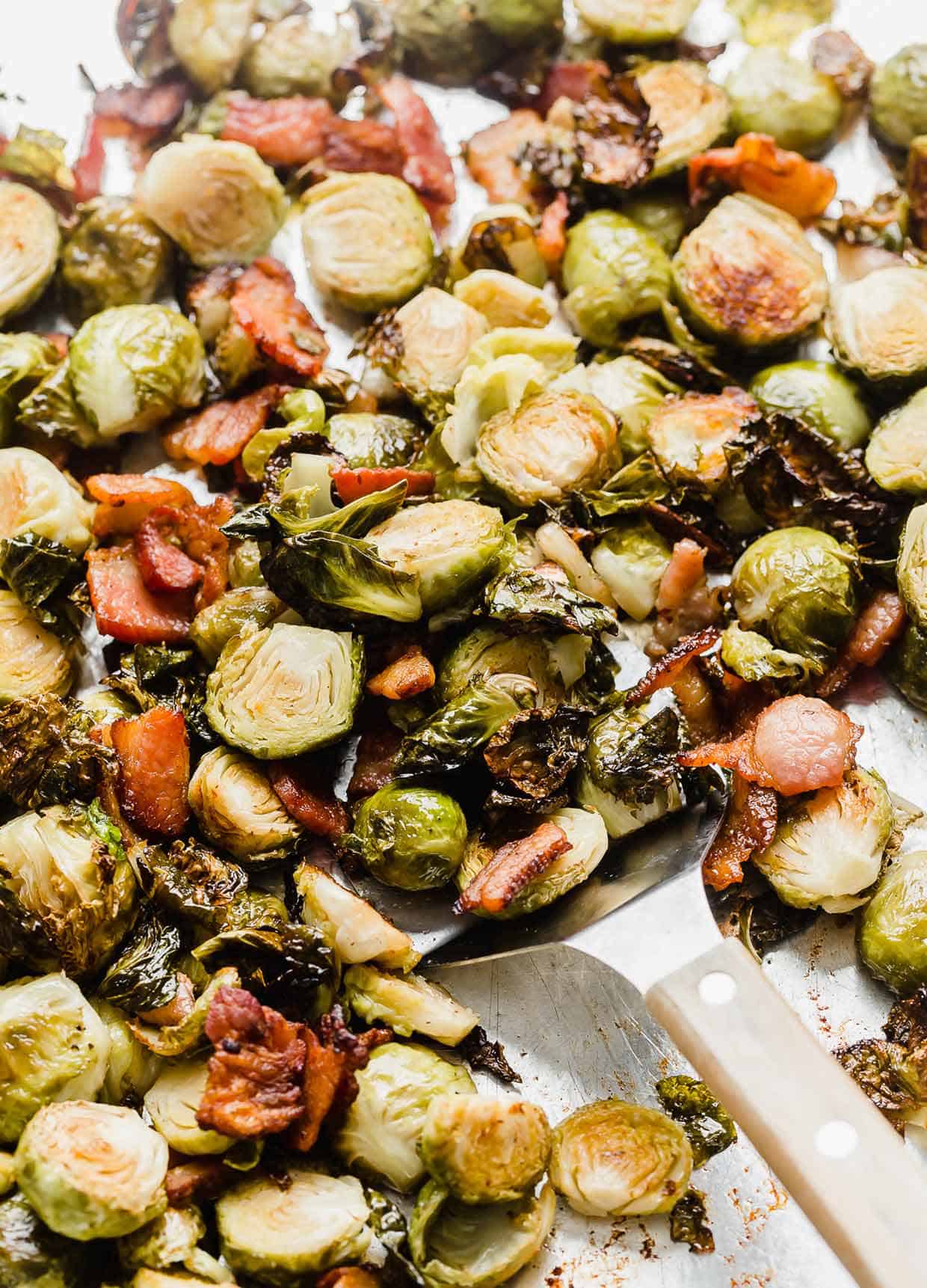 Recipe FAQs
Does roasting vegetables cause them to lose nutrients?
Eating vegetables raw preserves all their nutritional value. My dad would always say you want to make sure you eat your vegetables as brightly colored as possible! This is a great rule of thumb. Whenever you overcook vegetables, you'll notice they lose a lot of their color and with it some of the nutritional value. So, I like to cook my vegetables al dente. Not overcooked, with a little bite to them and preserve as much of that bright color as possible. 
Do I roast Brussels sprouts whole or cut?
If you see from my photos, I like to cut up the Brussels sprouts a bit. The key is to just have them as similarly sized as possible to provide an even roast. 
Why are my roasted vegetables mushy?
You could be overcrowding the pan! When there are piles of veggies (instead of spread out in a single layer) you'll get head pockets around the pile. This means your veggies will steam instead of roast. You may also want to use an oven thermometer to make sure your oven is at the proper temperature. And be sure to remove the veggie bake when the vegetables are just fork tender. 
Can I use frozen Brussels sprouts?
I would recommend using fresh Brussels sprouts! These vegetables are typically blanched prior to freezing. This can affect the way the Brussels sprouts roast in the oven. You'll find the flavor and texture is much better if you use fresh!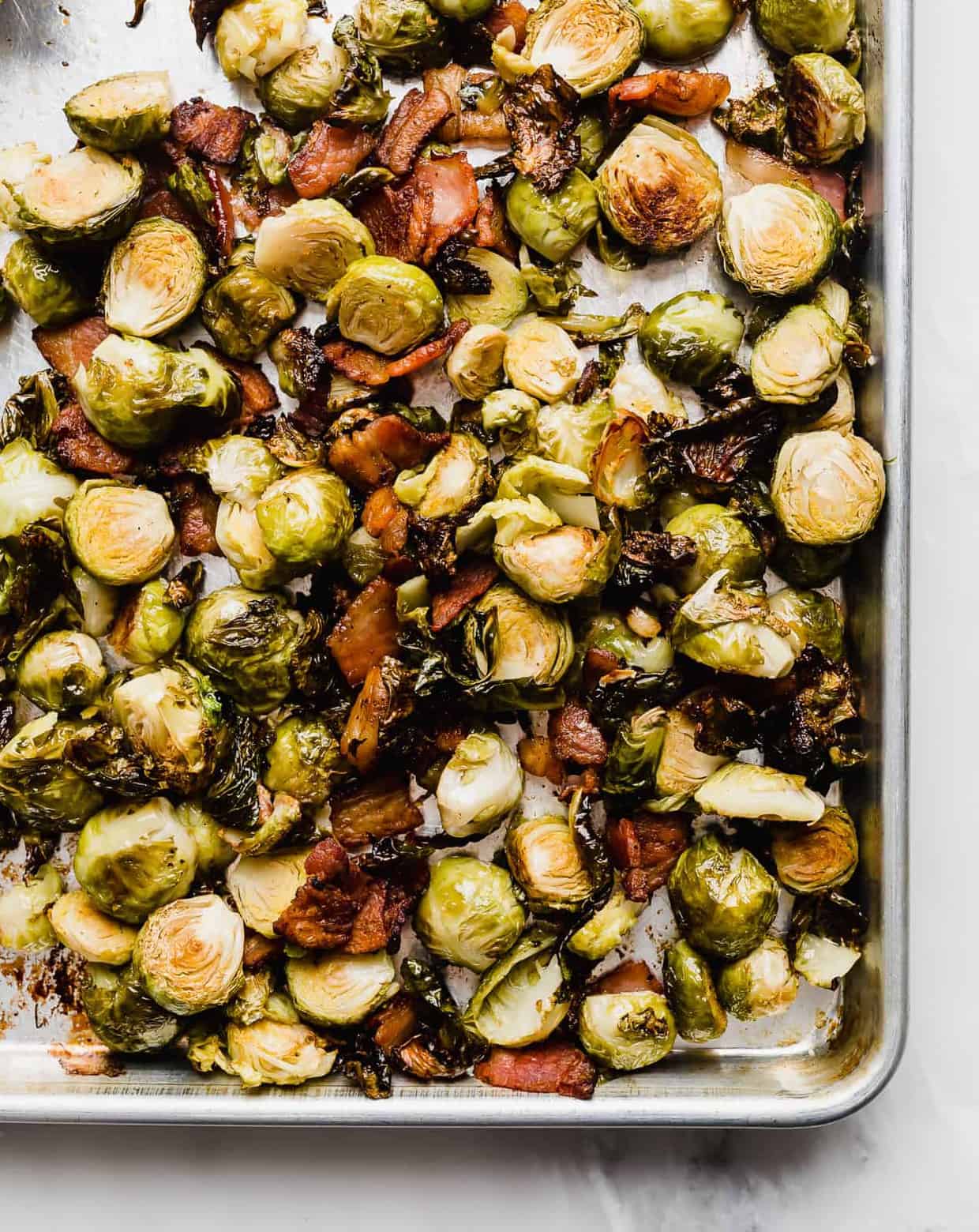 Roasted Brussels Sprouts with Bacon
Jazz up your veggies by adding bacon! Yes, this side dish is incredibly addicting. You won't be able to stop eating it.
Ingredients
1 1/2

lbs

brussels sprouts

-

trimmed and cut in half lengthwise (if large in size)

6

slices

bacon

-

preferrably not "thick bacon"

2

tablespoons

olive oil

1/2

teaspoon

kosher salt

1/4

teaspoon

fresh ground pepper
Instructions
Preheat oven to 400°F. Grease a baking sheet with nonstick cooking spray. 

Place the brussels sprouts and any loose leaves on the baking sheet.  

Drizzle the olive oil over the brussels sprouts, add the salt and pepper. Toss to coat.

Evenly distribute the chopped bacon amongst the sprouts. Spread the bacon and brussels on the baking sheet so that they're in a single layer. 

Roast for 25-35 minutes.  Stirring halfway through baking. The juices will caramelize and the bacon should be cooked and crispy.

Remove from the oven and serve warm. 
Notes
Store: in the fridge in an airtight container for 4 days.
Reheat: you can place the brussels sprouts on a platae and reheat in the microwave for 30 seconds to 1 minute. Or place on a lightly greased baking sheet and warm in a 350°F oven for 5-8 minutes.
Keep vegetables and bacon in an even layer so they all roast evenly. Piles of veggies/bacon will create pockets of steam, steaming the vegetables and bacon. This will prevent them from getting crispy. 
Did you make this recipe?
Leave a star rating and review on the blog post letting me know how you liked this recipe! Take a picture and tag @saltandbaker on Instagram and Facebook so I can see what you're making!