Small Batch Muddy Buddies
This post may include affiliate links. As an Amazon Associate I earn from qualifying purchases.
I've been making this Small Batch Muddy Buddies recipe for years! Whenever I want a quick treat, I always make muddy buddies! My recipe features Chex cereal that is generously coated in a smooth peanut butter and chocolate mixture then topped with a skiff of powdered sugar (more details below). Trust me when I say this recipe tastes a million times better than the classic muddy buddy recipe everyone and their dog makes.
If you're a big fan of muddy buddies like me, then you should try my Oreo Muddy Buddies!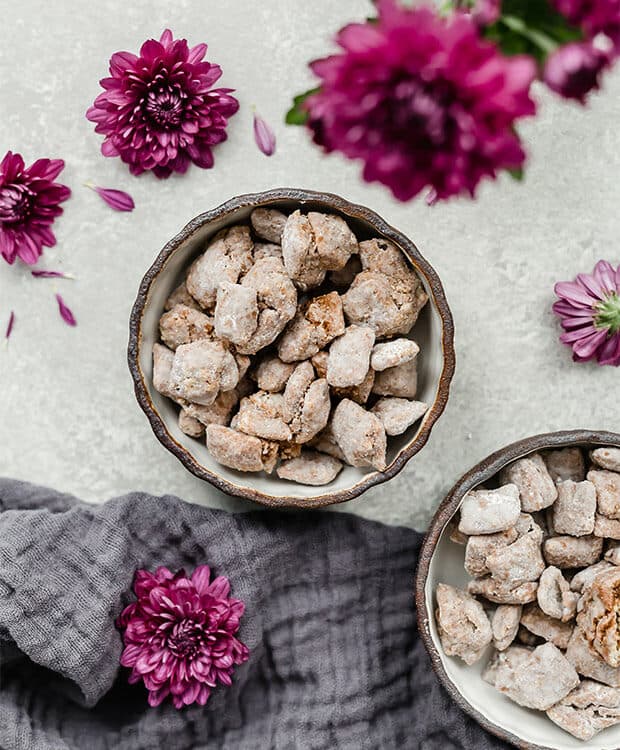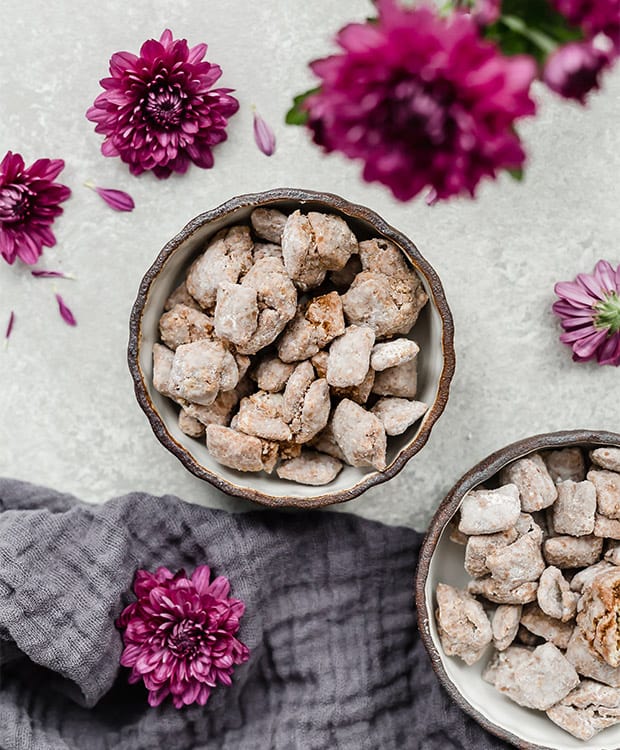 Why this is the best muddy buddies recipe
I use milk chocolate chips rather than semi-sweet. I never loved the taste of muddy buddies when made with semi-sweet chocolate. Make the simple substitution of milk chocolate chips and you'll take this recipe up 10 notches.
The Chex cereal is generously COATED in the peanut butter and chocolate mixture. Why do people make muddy buddies that have little to no chocolate mixture on the cereal? It doesn't make sense to me at all. I've spent a lot of time perfecting the ratios in this recipe, and I can honestly say this is THE BEST recipe for muddy buddies you'll ever find.
I use the right amount of powdered sugar. Too much powdered sugar will ruin the recipe. In fact, if you're heavy handed with the powdered sugar you'll end up with overly white muddy buddies that taste like nothing but pure sugar. It's true. If you use too much powdered sugar you'll mask the peanut butter and chocolate flavor. You want just enough powdered sugar to coat the cereal and cover the chocolate and that's it.
Muddy Buddy chunks. The ratio of chocolate + peanut butter to the Chex cereal is spot on. Because there's a lot of chocolate and not as much cereal, you'll get each cereal piece coated in chocolate. Some of the chocolate will clumpy together with the cereal. <– If you get this you're LUCKY! These pieces are my favorite!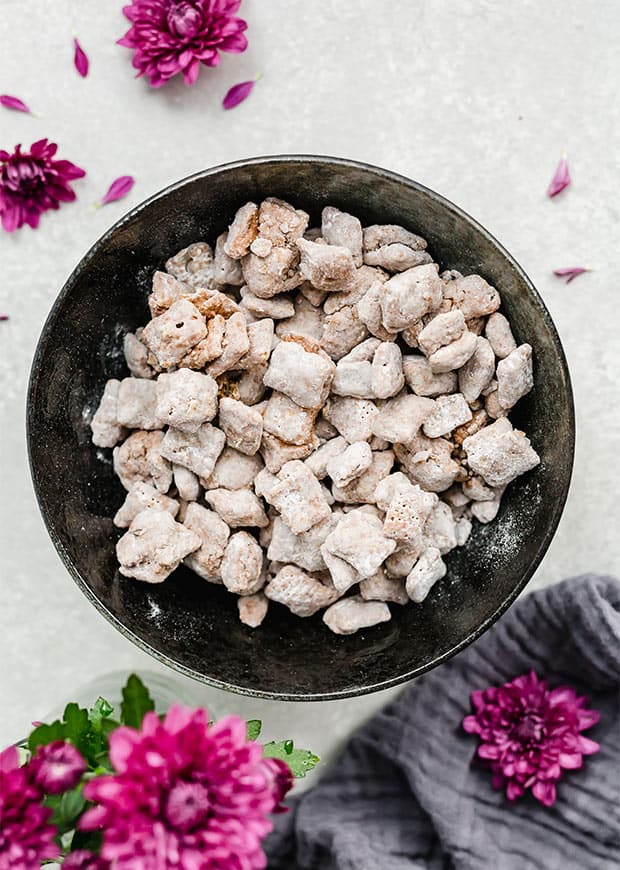 How to make Muddy Buddies
In a microwave safe bowl add the milk chocolate chips, peanut butter, and butter. Melt at half power in the microwave until melted and smooth.
Tip: make sure you stir the mixture vigorously every 20-30 seconds.
Once melted, stir in the vanilla extract.

Pour the melted chocolate + peanut butter mixture over the Rice Chex cereal. Stir to combine, being careful not to crush the cereal as you stir.

Place the powdered sugar in the bottom of a large gallon sized ziplock bag. Transfer the chocolate covered cereal to the ziplock bag, seal it, then shake the bag. Continue shaking until the powdered sugar coats all of the cereal.
Note: you can add more powdered sugar if you'd like. I've found that too much powdered sugar masks the taste of the muddy buddies so add the sugar slowly, as to not over do it.

I like to eat the muddy buddies right away when the chocolate is still melty and slightly warm.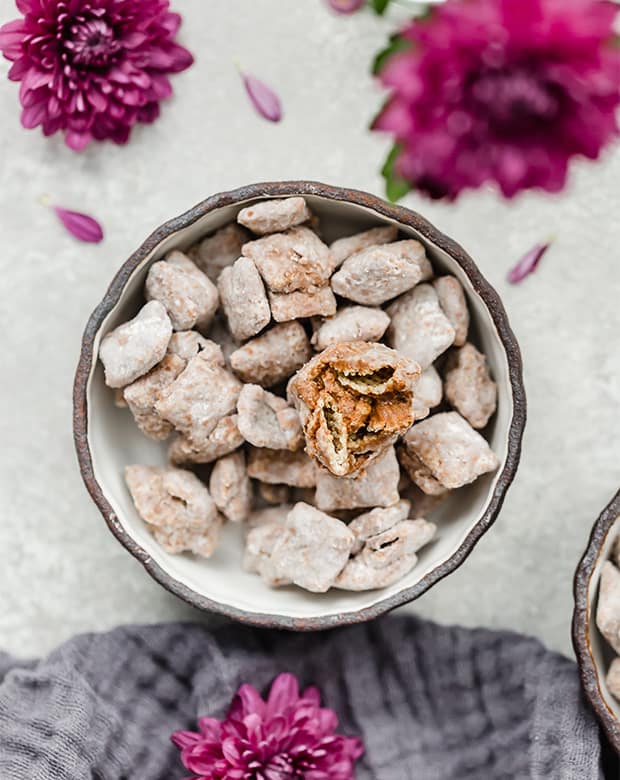 Muddy buddies should be stored in an airtight container or plastic bag. They keep at room temperature for 5 days… but they never last that long.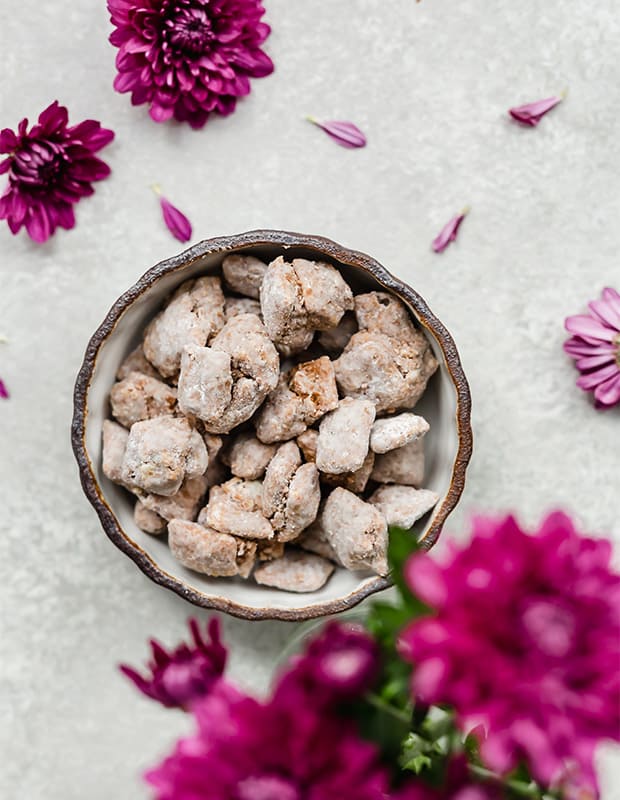 If you love this Small Batch Muddy Buddy recipe, try these:
Small Batch Muddy Buddies
When you're craving muddy buddies but you dont want to make a FULL batch. This small batch muddy buddy recipe delivers the perfect amount!
Instructions
In a microwave safe bowl melt the butter, peanut butter, and chocolate chips. I do this by turning the microwave to half power and heating in 30 seconds increments. Stir well after each 30 second interval. Continue until fully melted.

Once melted and smooth stir in vanilla. 

Add the rice Chex to medium size bowl. Pour the melted peanut butter + chocolate mixture over the Chex, stir to combined. 

Place powdered sugar in a gallon sized Ziplock bag. Scoop the chocolate covered Chex into the bag, seal it, then shake until the Chex are coated in the sugar. 
Notes
Notes:
You're welcome to add more powdered sugar if you'd like. After making muddy buddies a billion times, this is the ratio we love and enjoy. I've found that too much powdered sugar takes away from the chocolate and peanut butter flavor. 
If you don't like your muddy buddies generously coated in the peanut butter and chocolate mixture, feel free to add more Rice Chex cereal to the mix. 
Did you make this recipe?
Leave a star rating and review on the blog post letting me know how you liked this recipe! Take a picture and tag @saltandbaker on Instagram and Facebook so I can see what you're making!