Vegetarian Butter Chicken
This post may include affiliate links. As an Amazon Associate I earn from qualifying purchases.
Vegetarian Butter Chicken is a delicious butter chicken with cauliflower instead of chicken. It's a creamy sauce that is deliciously spiced made completely vegetarian — perfect for Meatless Monday! Serve alongside some naan for a complete meal!
This vegetarian butter chicken cauliflower recipe is a simple version of the popular Indian dish, Indian Butter Chicken. Except it's completely vegetarian! I love swapping out cauliflower for chicken in this classic Indian dish. It's a simple and easy way to make dinner a little bit healthier. This is also a great gluten-free dinner option. When it comes to a vegetarian or gluten-free diet, you should never have to sacrifice for flavor!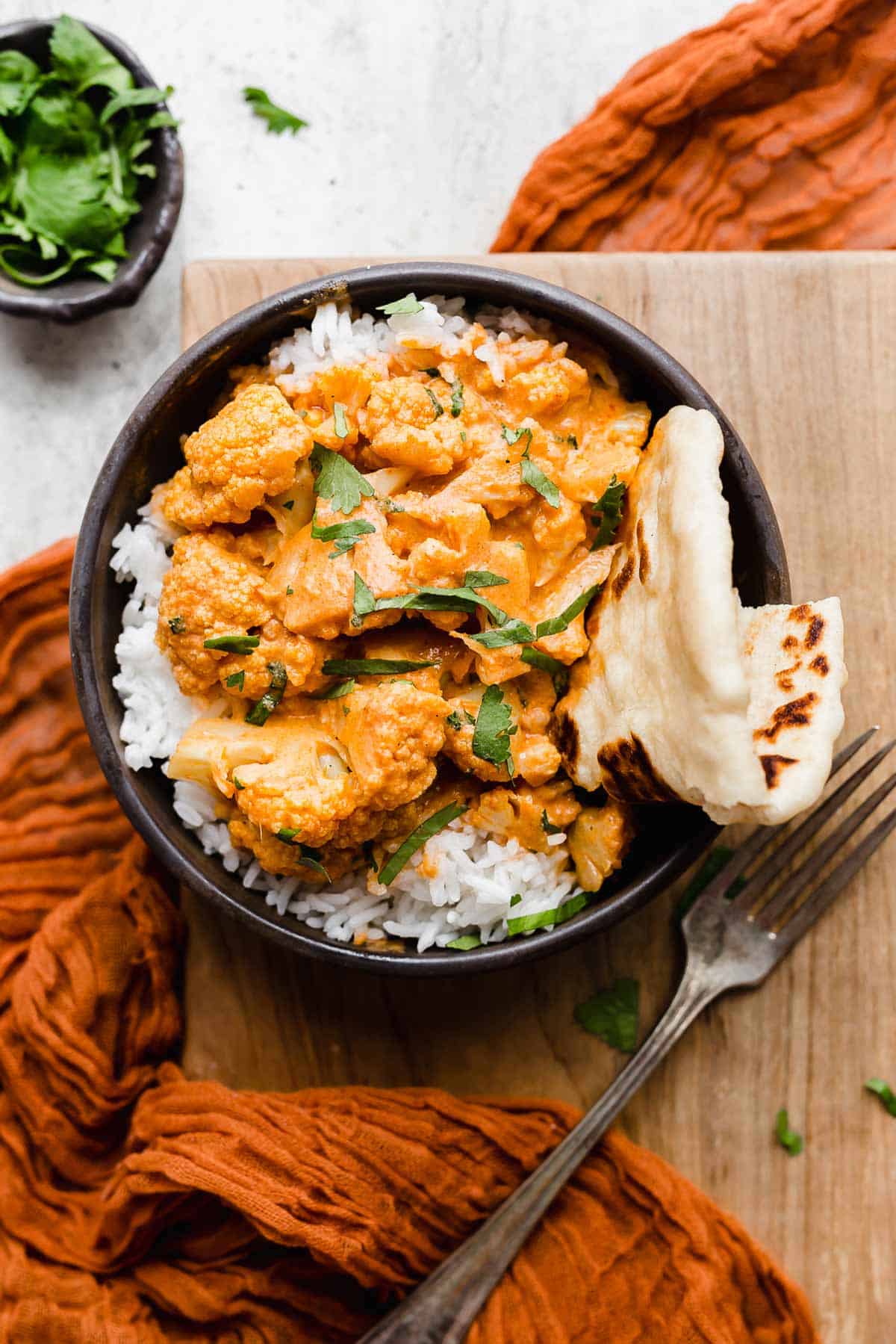 Why This Recipe Works
Vegetarian butter chicken. I love a good Indian Butter Chicken recipe, but it's awesome to have a vegetarian option! The cauliflower is the perfect stand in and has a delicious flavor and texture.
Delicious Indian spices. I love making Indian food for my family. I think it's important for my kids to have an opportunity to taste foods from a variety of cultures and spices that aren't as common for them. The good news is this is a delicious sauce the whole family's taste buds will love!
30-minute meal. This butter chicken cauliflower is an easy meal that comes together in just 30 minutes!
Ingredient Notes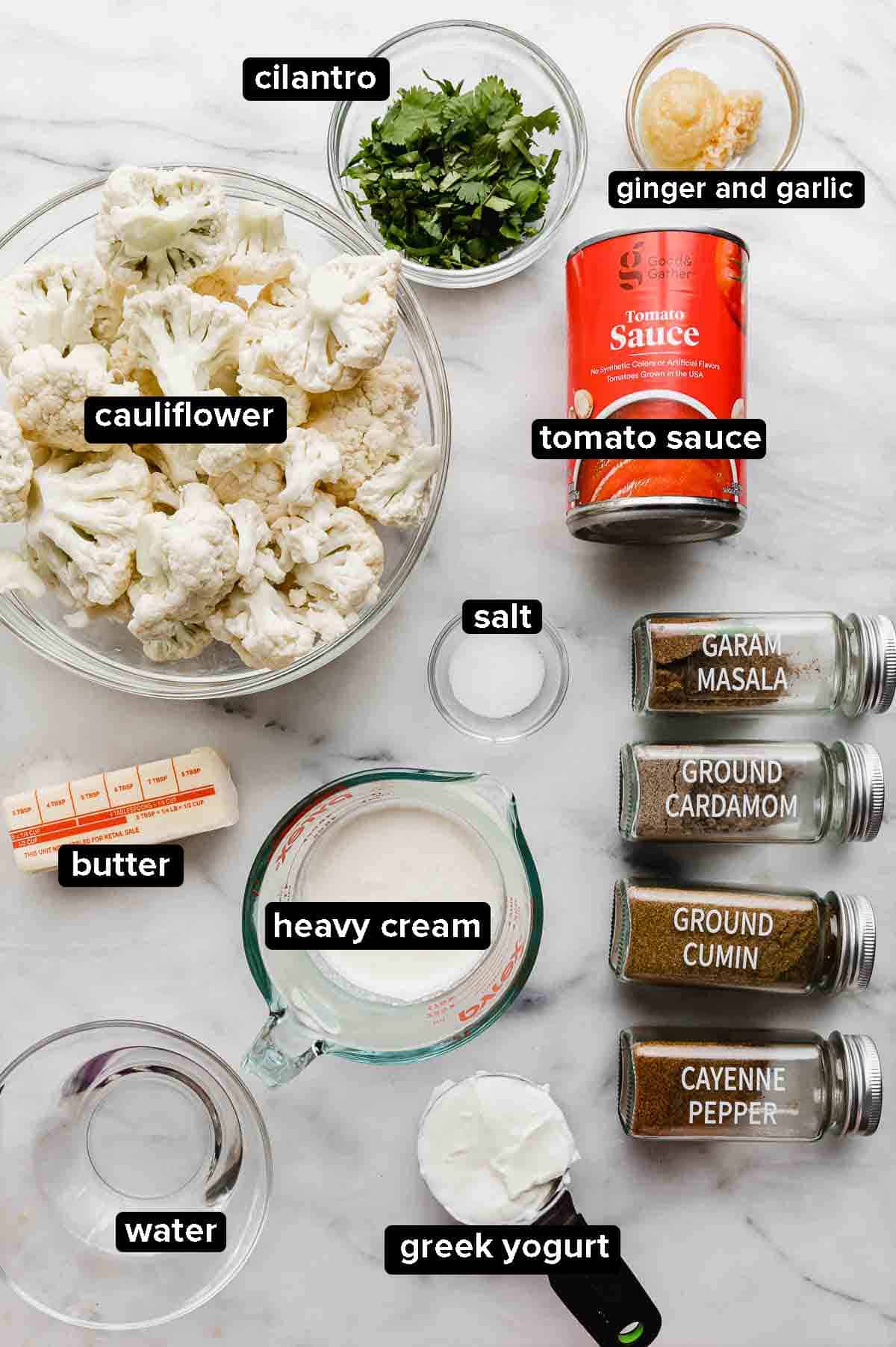 Cauliflower: Cut into florets (about 4 -5 cups) or 1 medium sized cauliflower. The cauliflower florets are a great meat alternative for this delicious recipe.
Unsalted Butter: The butter gives us that buttery element to the sauce.
Ginger Root: When at the grocery store, select a firm piece of ginger. To prepare the ginger root for cooking use a metal spoon to scrape away the skin of the ginger. The skin should come off with a gentle scrape. You can now grate the fresh ginger that you just revealed beneath the skin coating.
Tomato Sauce: This gives us that red tomato base for the Indian butter sauce.
Plain Greek Yogurt: Feel free to use full fat or nonfat yogurt, whatever you prefer.
Garam Masala: This is a spice blend widely used in Indian cuisine. The spice is made using cinnamon, mace, peppercorns, coriander seeds, cumin seeds, and cardamom pod that are then toasted in a pan to release their aromatic flavors. Once that is completed the spices are ground to a powder.
Cardamom: I know garam masala has cardamom, but adding a touch extra makes a big difference!
Heavy Cream: I prefer to use heavy creamy because it makes the sauce nice and creamy, however, if you're looking to make this dish even healthier you can substitute half and half.
Cilantro: You can use fresh chopped cilantro or even cilantro paste (sold in tubes at grocery stores) if you don't have any fresh cilantro on hand. I would avoid using dried cilantro spice as it won't really be as potent. 
Step-by-Step Instructions
Make the Indian butter sauce. Melt 6 tablespoons butter in a large skillet over medium-low heat. Once the butter is melted, stir in the minced garlic, the grated ginger root, 3 tsp garam masala, 1 tsp salt, 1/4 tsp cardamom, 1/4 tsp cayenne pepper, 1 tsp cumin, the can of tomato sauce, 1/3 cup Plain Greek Yogurt, and 1/4 cup water. Stir to combine.
Add the cauliflower. Bring the sauce to a boil. Once boiling, add in the cauliflower florets and reduce the heat to a simmer. Cover and cook for 8-10 minutes or until fork tender.
Add the heavy cream and cilantro. Once the cauliflower is cooked, stir in 1/2 cup heavy cream and 3 tablespoons chopped cilantro. Serve over a bed of cooked rice with a side of homemade naan. Enjoy!
Recipe Tips
For an extra kick, add more cayenne pepper to the cauliflower butter chicken! You can completely omit it if you're worried about any spice levels. The measurement I have in the recipe is fairly mild.
If you don't have tomato sauce, you can use crushed tomatoes or diced tomatoes and blend them in a high-speed blender until smooth.
As discussed in the "ingredients" portion, select a piece of ginger root that is firm and without wrinkles. To prepare the ginger root for cooking use a metal spoon (like a cereal spoon) to scrape away the skin of the ginger. The skin should come off with a gentle scrape. You can now grate the fresh ginger using a small grater or citrus zester.
I highly suggest making some of the homemade naan I suggested above. Indian food just seems to be incomplete without some naan!
If you're looking for a completely gluten free meal, just make sure you swap out the normal flour for gluten free flour in the naan if you make it!
Make Ahead, Storing, and Freezing
You can make the sauce ahead of time and store it in the fridge in an airtight container. Add the cauliflower and cook, following the recipe instructions.
Store any leftover Indian butter cauliflower in an airtight container in the fridge for 4-5 days.
If you want to freeze the sauce, I would freeze it without the cauliflower and without the heavy cream. Then, thaw it and bring it to a boil, add the cauliflower and cook it. Add the heavy cream and cilantro.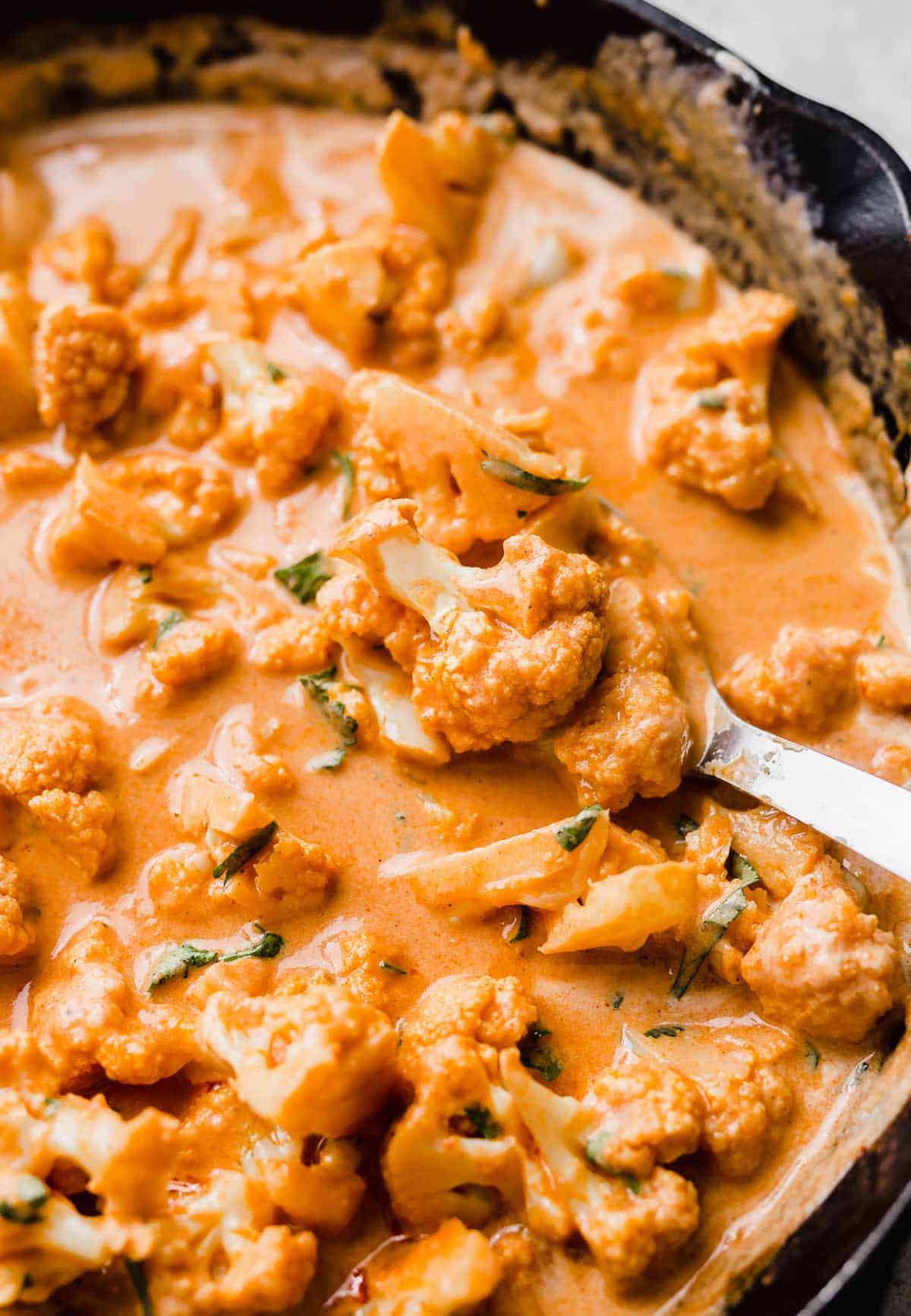 Recipe FAQs
Is this Indian Butter Cauliflower recipe vegan?
This recipe has Greek yogurt and some heavy cream. So, if you want to make a vegan version, you'll have to make sure you get a vegan yogurt option and soy or almond milk. If they have a vegan cream option, go for that (probably full-fat coconut milk coconut cream would be best). I'm not very familiar with vegan-free dairy options, so if you make it a vegan butter chicken sauce, let me know in the comments what ingredients you found that worked!
Is Indian food spicy?
The great news of making Indian food at home is that you can control the level of spice you add to the dish. If you love spicy food, add more cayenne pepper to the dish! I have some little mouths I'm feeding, so while I want to expose them to more complex flavors, I also want to make sure they can eat the dish without complaining about how spicy it is! You can make similar adjustments as well.
Is butter chicken sauce vegetarian?
The sauce is vegetarian, yes. But if made with chicken, it obviously isn't! That's why this vegetarian butter chicken recipe with cauliflower is the perfect option!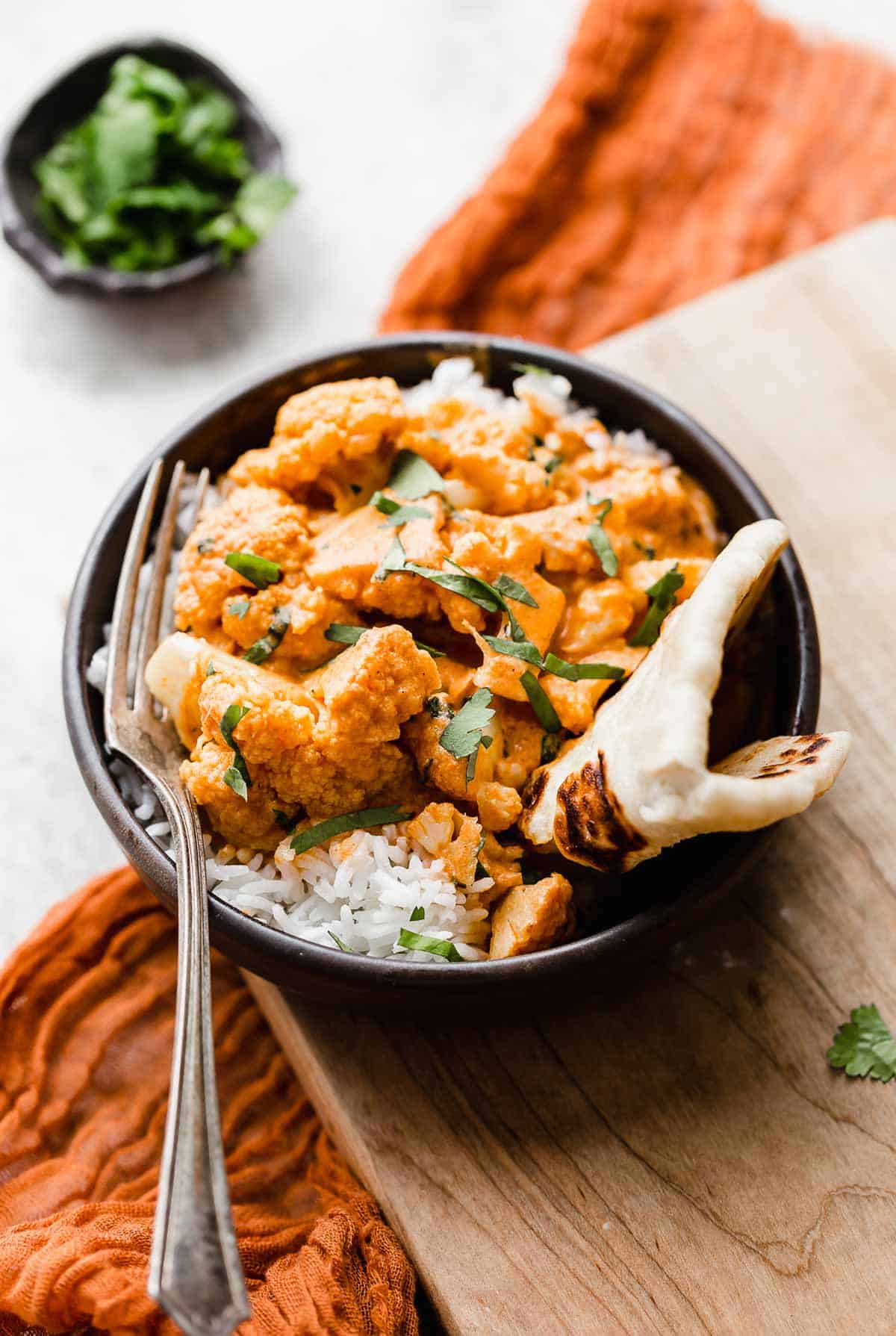 Related Recipes
Vegetarian Butter Chicken Cauliflower
A flavor-packed, quick and easy, 30 minute dinner recipe. This vegetarian meal is a great option for meatless Monday.
Ingredients
1

large

head cauliflower

-

cut into florets, about 4-5 cups

6

tablespoons

butter

4

garlic cloves

-

minced

1

inch

ginger root

-

grated

1/4

teaspoon

cayenne pepper

-

1/4 tsp is family friendly, add more for more heat

1

14.5 oz can

tomato sauce

1/3

cup

plain Greek yogurt

3

teaspoons

garam masala

1

teaspoon

salt

1/4

teaspoon

cardamom

1

teaspoon

cumin

1/4

cup

water

1/2

cup

heavy cream

3

tablespoons

cilantro

-

chopped
Instructions
In a large skillet over medium-low heat melt the butter. Once melted stir in the garlic, grated ginger root, cayenne, tomato sauce, yogurt, garam masala, salt, cardamom, cumin and water.

Bring the sauce to a boil. Once boiling stir in the cauliflower florets. Reduce the heat to a simmer. Cover and cook the cauliflower for 8-10 minutes or until fork tender. 

Once the cauliflower is fork tender stir in the heavy cream and cilantro.  Serve over cooked rice with a side of homemade naan. 
Did you make this recipe?
Leave a star rating and review on the blog post letting me know how you liked this recipe! Take a picture and tag @saltandbaker on Instagram and Facebook so I can see what you're making!