Chicken Tikka Masala
This post may include affiliate links. As an Amazon Associate I earn from qualifying purchases.
You guys all know how much I love my Indian Butter Chicken Recipe but this Chicken Tikka Masala just might take its place as my all-time favorite! The combination of the flavorful chicken marinade, rich tikka masala sauce, balanced spices, all served on top of a steamed bed of rice and paired with my delicious Greek Yogurt Naan Bread.
I love good homemade curry or Indian food! I used to think those were only meals I could get at my favorite Indian restaurant, but they are actually so easy to make at home — and with incredibly delicious results! If you want a classic curry recipe that is easy and not too out there for little mouths, my Curry Chicken Rice and Peas is my go-to.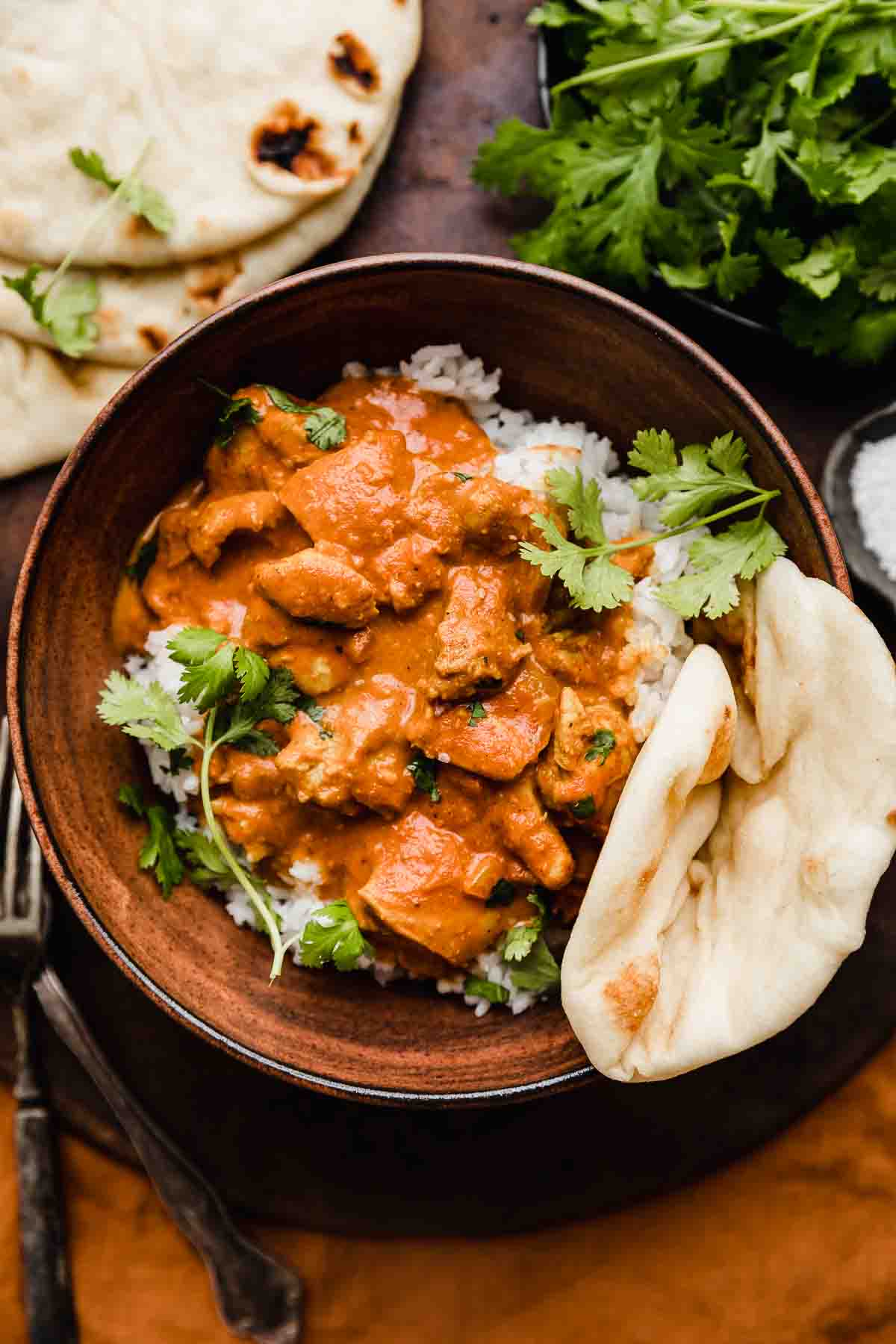 Why This Recipe Works
Flavorful chicken marinade. The chicken tikka masala has a flavorful chicken marinade. Marinating the chicken allows the spices and flavors to penetrate deep into the meat, resulting in tender, juicy chicken that is bursting with deliciousness.
Rich and creamy tikka masala sauce: Packed with spices, the tomato sauce base provides a robust and tangy flavor profile. The addition of heavy cream lends a velvety and creamy texture to the sauce, creating a harmonious balance of flavors.
Perfectly balanced spices. The blend of spices used in this best chicken tikka masala recipe is carefully curated to achieve the perfect balance. Each spice enhances the overall flavor without overpowering the dish.
Makes great leftovers! The chicken tikka masala is served with rice and a side of warm naan, offering the perfect meal — and the best part is it makes a ton so you'll have lots of delicious leftovers!
Ingredient Notes
Chicken: I used chicken thighs, but you can use chicken breasts or chicken tenderloins for this masala chicken.
Plain Greek Yogurt: The plain greek yogurt will be used in the marinade. The plain yogurt helps to break down the proteins of the chicken.
Garlic: The garlic adds a nice flavor so be sure to let it cook for a little with the butter and onion until it becomes fragrant.
Spices: The tikka masala marinade and the tikka masala sauce is made of a combination of Indian spices including ginger, garam masala, turmeric, ground cumin, salt, cayenne pepper, coriander, and paprika.
Butter: I love the buttery flavor in the sauce. It's not a butter chicken, so there isn't as much butter but this still adds that nice buttery flavor.
Onion: You can either finely dice the onion or cut it in thinly cut strips.
Tomato Sauce: This is the main base for the sauce.
Heavy Cream: This cream gives a perfect creamy sauce.
Step-by-Step Instructions
Make the marinade. To a medium bowl add1 1/4 cup plain greek yogurt, 1 1/2 tablespoons minced garlic, 1 tablespoon ginger, 2 tsp garam masala, 2 tsp turmeric, 1 1/2 tsp ground cumin, 1 tsp salt, 1/4 tsp cayenne pepper. Mix to combine.
Marinade the chicken. Place the chopped raw chicken into the tikka masala marinade and mix until the pieces of chicken are fully coated. Cover and store in the fridge for at least 1 hour or overnight if you can.
Cook the chicken. Heat 2 tablespoons of oil in a large skillet over medium heat. Once sizzling, use tongs to grab the marinated chicken pieces from the marinade and place in the hot skillet, cooking for 3 minutes on each side, then remove to a separate bowl. Continue until all the chicken is cooked. The chicken will be partially cooked (it will finish cooking in the sauce).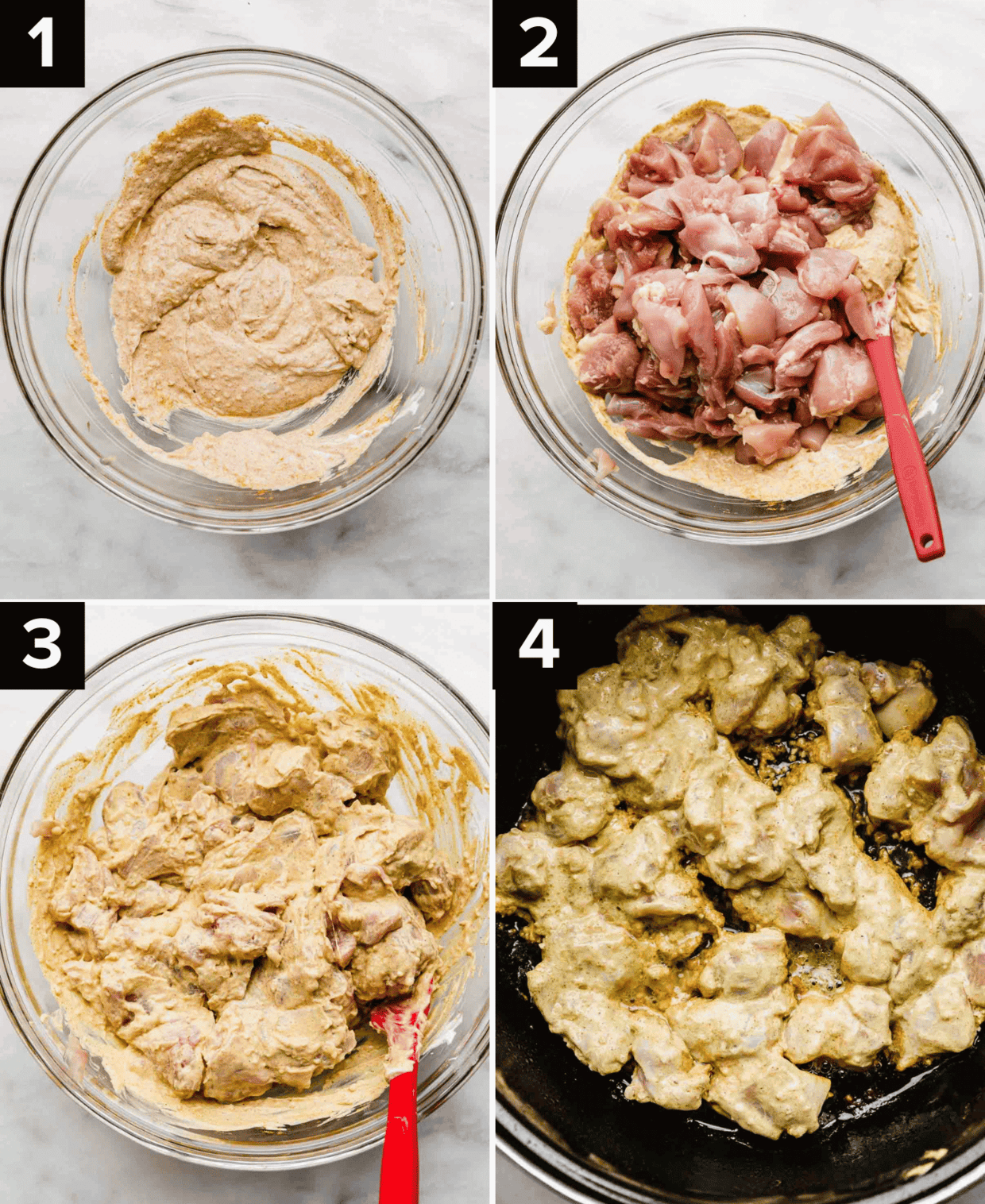 Cook the onion. Scrape any leftover marinade from your skillet into the bowl with the partially cooked chicken. Add 2 tablespoons butter to the pan and melt. Add the diced onion and cook until softened. Add 1 tablespoon minced garlic and cook for 1 minute.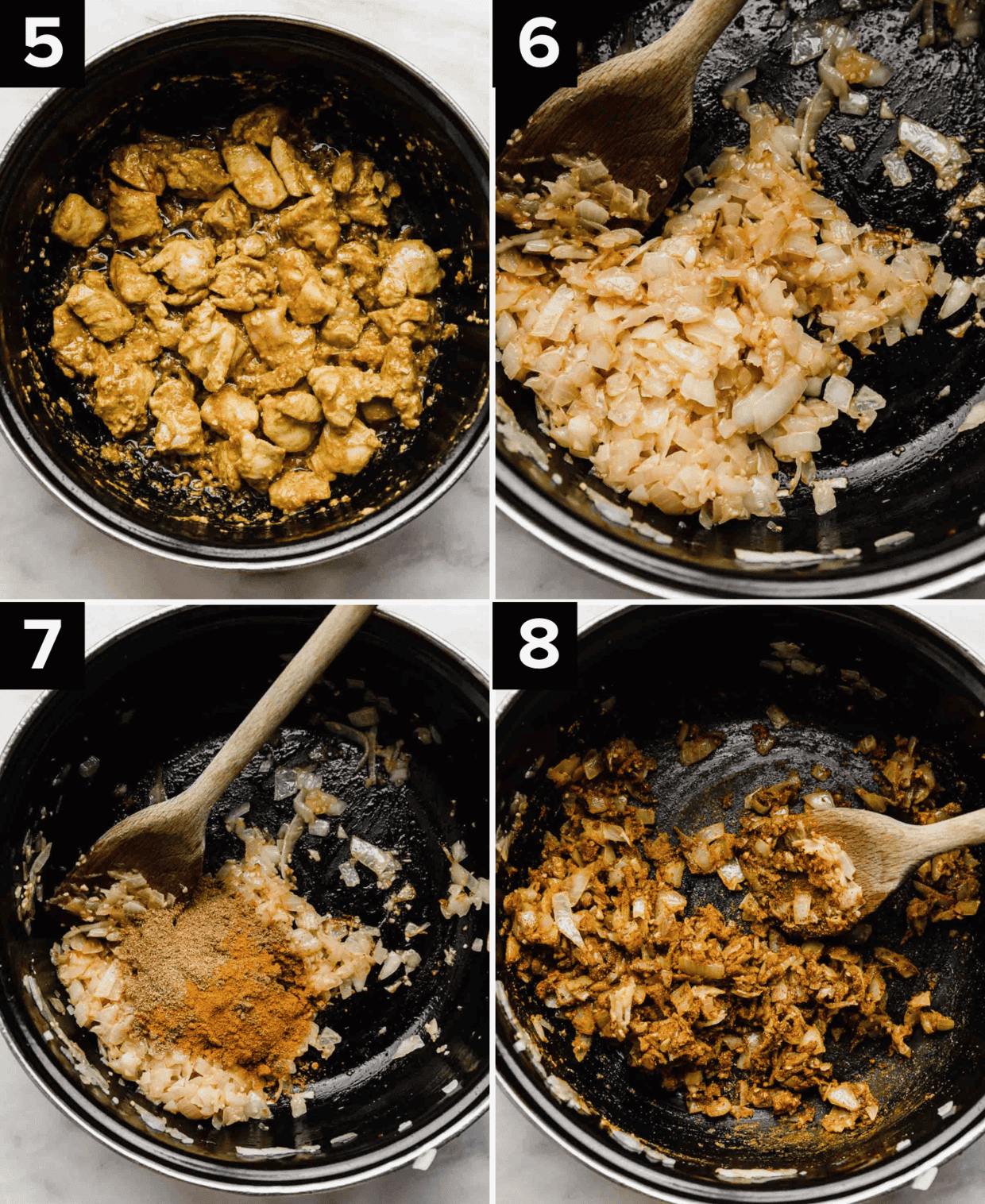 Make the tikka masala sauce. To the butter, garlic and onion mixture add 1 tablespoon ginger, 3 tsp garam masala, 2 1/2 tsp ground cumin, 2 tsp ground turmeric, and 1 1/2 tsp coriander and cook for 2 minutes. Stir in the tomato sauce, 1/4 tsp smoked paprika, 1/2 tsp cayenne pepper, 2 tsp salt, and 2 tsp brown sugar. Bring to a boil then reduce to simmer for 15 minutes, stirring so it doesn't burn.
Add the cream and chicken and cook. Add 1 3/4 cup heavy cream and the partially cooked chicken to the pot. Bring back to a simmer on low heat and cook for 10-12 minutes until the chicken is cooked through and the sauce has thickened. Serve with steamed basmati rice or brown rice and homemade naan. Garnish with fresh cilantro. Enjoy!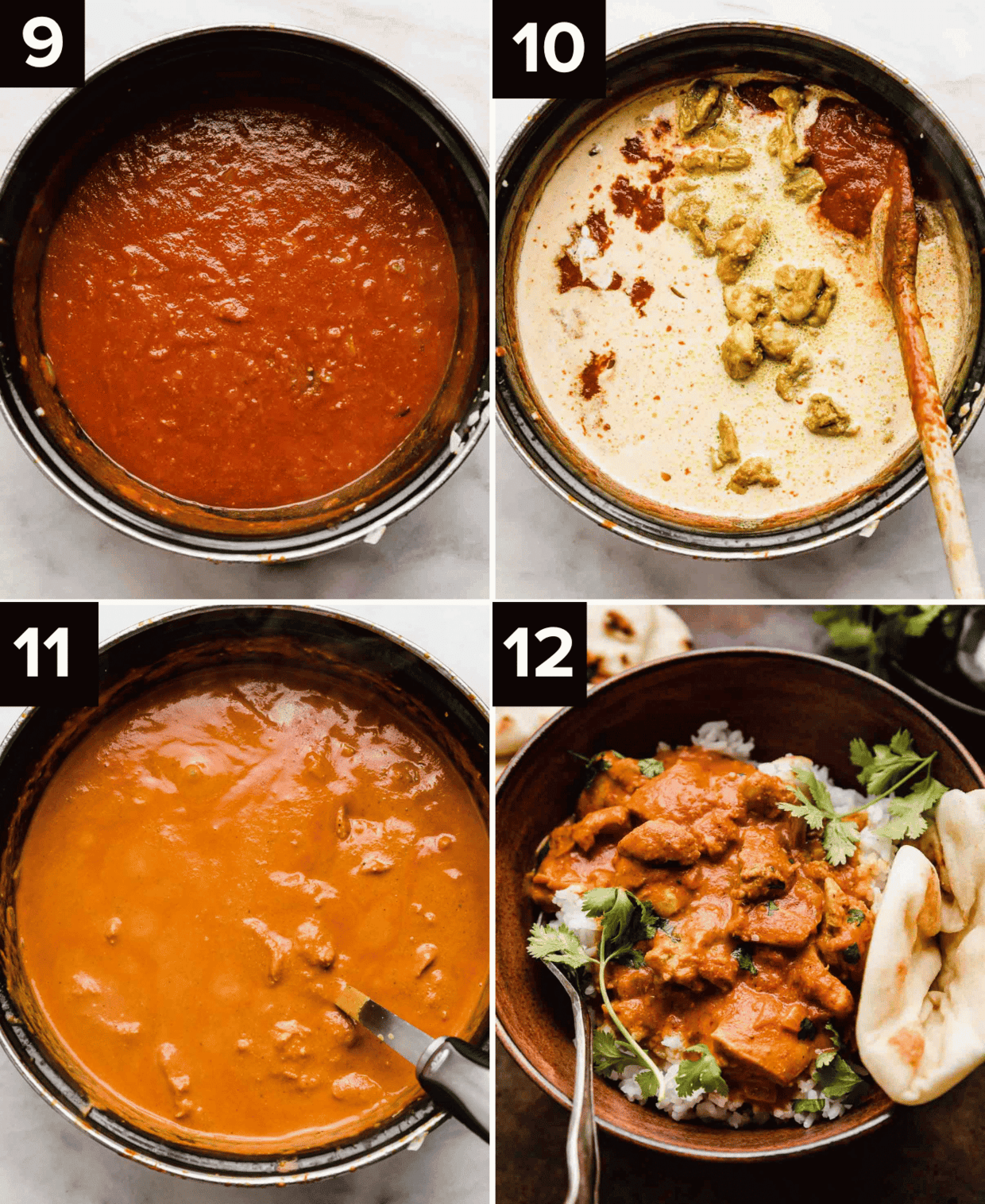 Recipe Tips
For better results, marinade the chicken overnight. This allows the flavors to infuse into the meat and makes more tender chicken.
When cooking the chicken, the marinade will still be on it, so you'll get some marinade residue in the pan. That's expected.
If there is any leftover marinade in the bowl, you can toss that.
As with everything, fresh is better, so if you have fresh ginger, opt for that.
To create a luscious and smooth tikka masala sauce, blend fresh tomatoes instead of using canned tomato sauce or tomato puree. Simply blanch the tomatoes, remove the skin, and blend them to a smooth consistency. This gives the sauce a vibrant color and fresh flavor, elevating the overall taste of the dish.
For a thicker sauce, you can add a tablespoon or two of tomato paste.
Be sure to add the cream last and gently simmer the sauce until it thickens slightly. Be careful not to boil the sauce vigorously, as it may cause the cream to curdle.
Make Ahead, Storing, and Freezing
Chicken tikka masala is a great recipe to make ahead of time. You can make the chicken marinade and then let that rest overnight. Then make the sauce and finish the recipe the next day.
Store any leftover chicken tikka masala in an airtight container in the fridge for up to 5 days. Reheat in the microwave or on the stove and serve with rice.
To freeze, let the sauce cool completely, then store in a freezer safe bag or container and freeze for up to 3 months. Remove and let thaw, then reheat.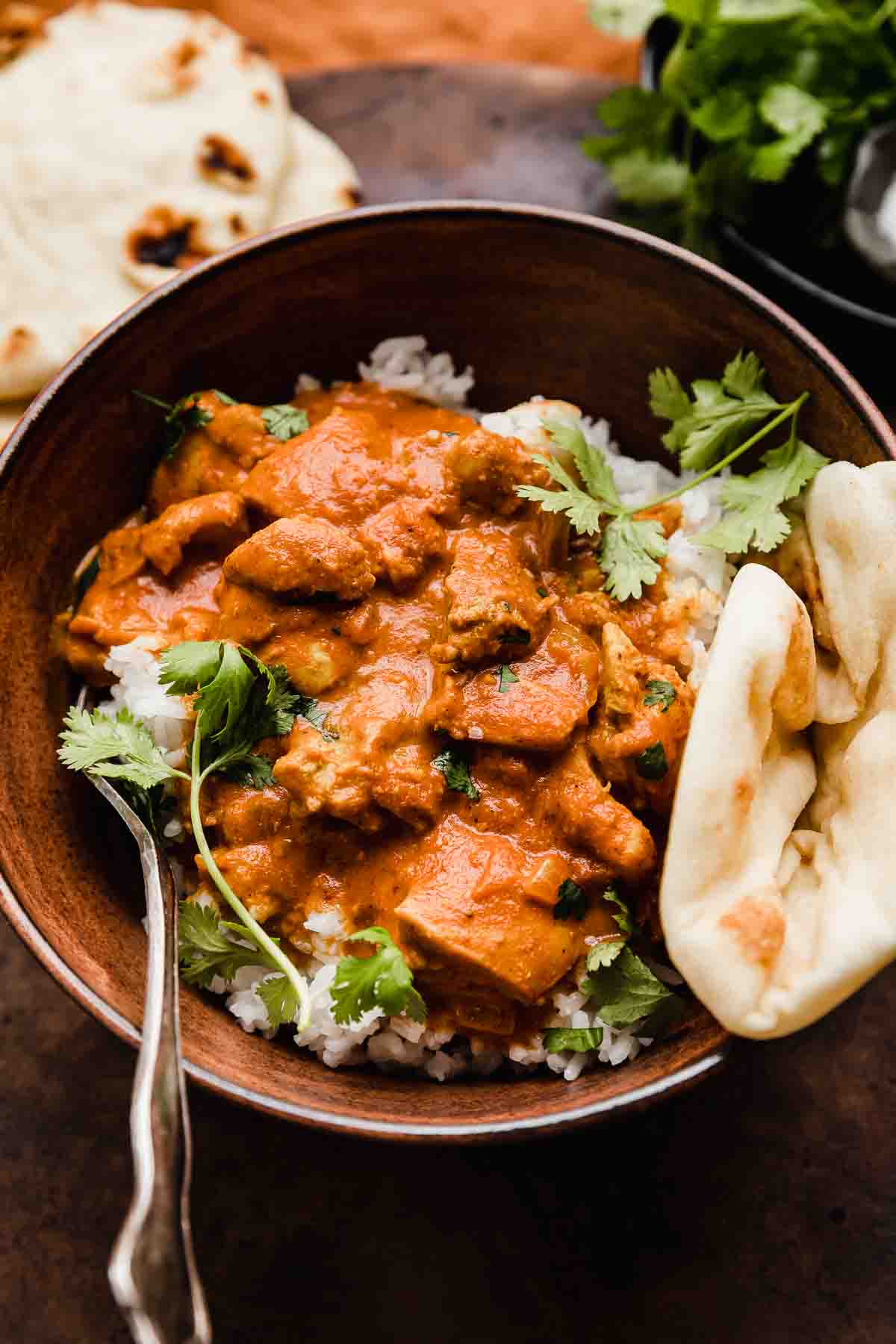 Recipe FAQs

Is chicken tikka masala spicy?
It has a subtle spice. However, if you are worried about spice, you can use 1/8 tsp cayenne pepper instead of the 1/4 tsp cayenne pepper the recipe calls for. Or you can omit it. I've made it without and it's still really delicious!  
Does chicken tikka masala have coconut?
There may be some recipes out there that use coconut milk or coconut cream (as a dairy-free tikka masala), but this recipe uses heavy cream. So, no, there is no coconut. 
Can you freeze chicken tikka masala?
Yes. Just let the sauce come to room temperature and then store it in a freezer-safe container that seals really well and freeze. Let thaw then reheat on the stove. You can freeze it with or without the chicken. I would use make sure the chicken is fully cooked before you freeze it.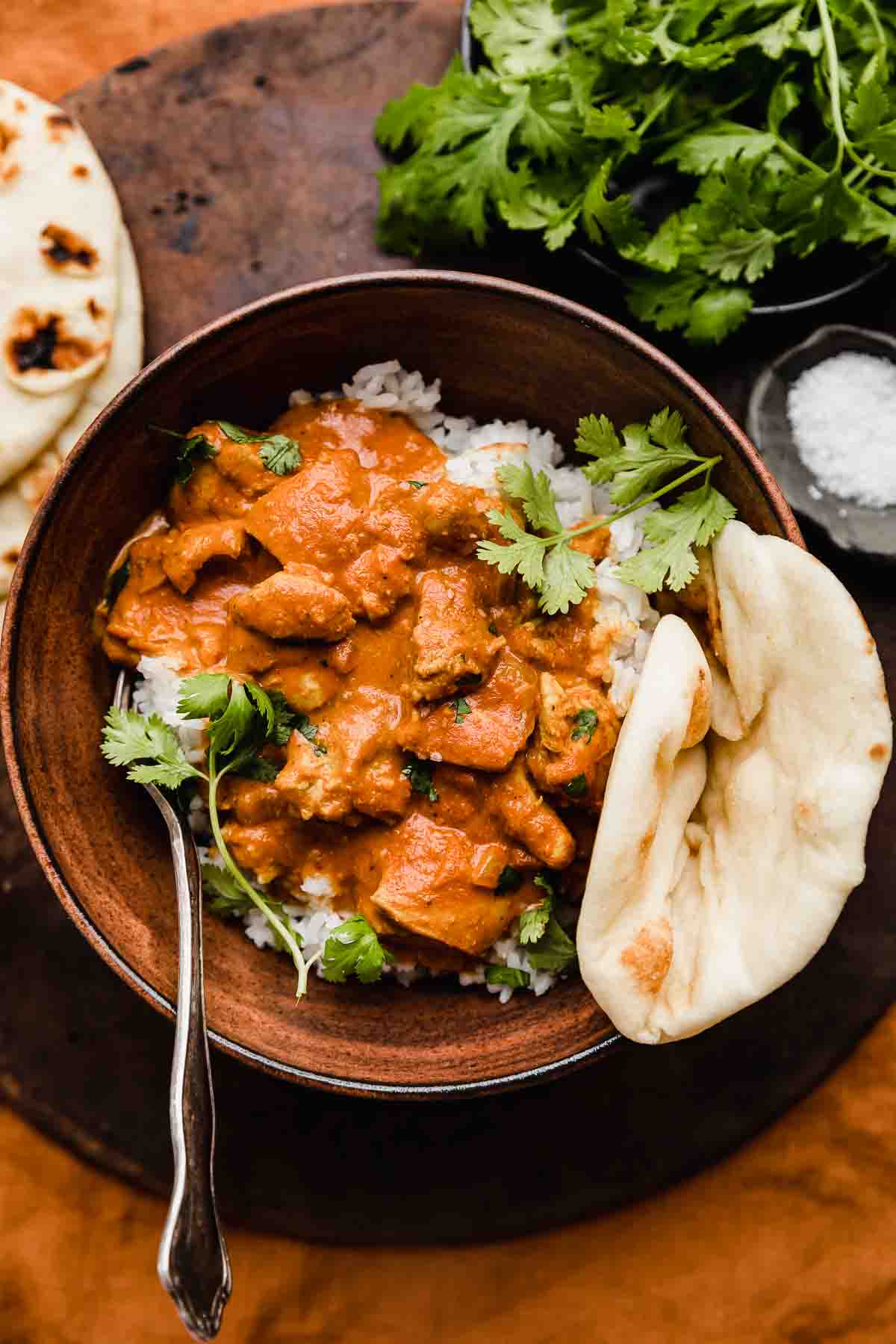 Related Recipes
Chicken Tikka Masala
The most amazing Chicken Tikka Masala is made with an array of spices, tomato sauce, and cream. It has become my new favorite meal!
Ingredients
Marinade
32

oz

boneless skinless chicken thighs

-

cut into bite sized pieces (can use chicken breasts as well)

1 1/4

cup

plain Greek yogurt

1 1/2

tablespoons

garlic

-

minced

1

tablespoon

ginger

-

minced

2

teaspoons

garam masala

2

teaspoons

turmeric

1 1/2

teaspoons

ground cumin

1

teaspoon

salt

1/4

teaspoon

cayenne pepper
Tikka Masala Sauce
4

tablespoons

vegetable oil

-

divided

2

tablespoons

butter

-

salted or unsalted is fine

1

large

yellow onion

-

finely diced

1

tablespoon

garlic

-

minced

1

tablespoon

ginger

-

minced or grated

3

teaspoons

garam masala

2 1/2

teaspoons

ground cumin

2

teaspoons

ground turmeric

1 1/2

teaspoon

ground coriander

24

oz

tomato sauce

-

(tomato puree)

1/4

teaspoon

smoked paprika

1/2

teaspoon

red cayenne pepper

-

(I do 1/8 teaspoon for my children because they're wimps).

2

teaspoons

salt

2

teaspoons

brown sugar

-

packed

1 3/4

cups

heavy cream

-

or evaporated milk
For serving
cilantro

-

chopped, for garnish

basmati rice

-

cooked, for serving

naan bread
Instructions
In a medium bowl mix the ingredients for the marinade. Stir the chicken into the yogurt mixture, cover, and place in the fridge for 1 hour or overnight if time allows. 

Heat 2 tablespoons of oil in a large skillet over medium heat. Once the oil is sizzling add the chicken in batches, cooking the pieces for 3 minutes on each side. Remove from the skillet and set aside. Add the remaining oil and heat until sizzling. Cook the remaining chicken in the same manner until all have been partially cooked (we will finish cooking the chicken in the sauce). 

Melt the butter in the same skillet. Add the onions and cook until softened about 5 minutes. Add the garlic and ginger and cook until fragrant, about 1 minute. 

Stir in the garam masala, cumin, turmeric, coriander. Cook for 2 minutes or until very fragrant. Stir in the tomato sauce, smoked paprika, cayenne pepper, salt, and brown sugar. Bring to a boil, reduce to  a simmer and let simmer for 15 minutes, stirring occasionally so that the bottom doesn't burn. The sauce will have thickened and deepened in color. 

Stir in the heavy cream and chicken. Bring back to a simmer and cook for 10-12 minutes or util the chicken is cooked through and the sauce is thick. Serve with hot rice and a side of homemade naan. 
Notes
Once you add the cream, cook low and slow so the cream doesn't burn or curdle. 
Store leftovers in an airtight container in the fridge for up to 5 days. 
Did you make this recipe?
Leave a star rating and review on the blog post letting me know how you liked this recipe! Take a picture and tag @saltandbaker on Instagram and Facebook so I can see what you're making!