Asian Broccoli Slaw
This post may include affiliate links. As an Amazon Associate I earn from qualifying purchases.
Whip up a quick and delicious Asian Broccoli Slaw with pre-made broccoli slaw, sunflower seeds, green onions, and crunchy ramen noodles, all tossed in an Asian-inspired dressing. This easy broccoli slaw recipe complements any meal and is ready in just 15 minutes, making it the perfect side dish or light lunch option.
Serve this delicious Asian broccoli slaw as a side dish to some of my favorite Asian recipes on the blog! We love serving it alongside my Coconut Curry Noodles with Veggies, my Thai Peanut Noodles, or my Sesame Noodles.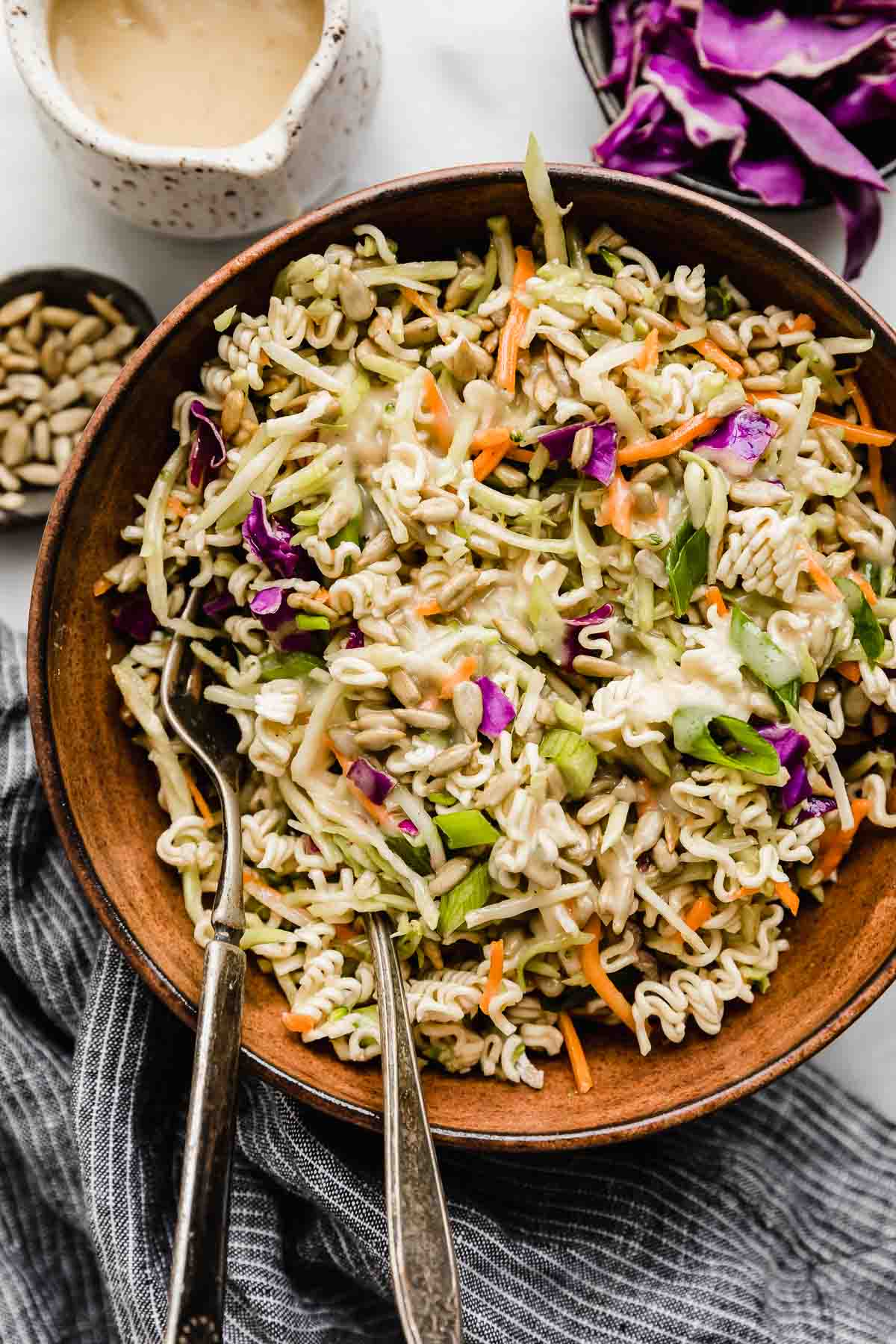 Why This Recipe Works
Great texture. You all know how much I love a recipe with good texture! And this Asian broccoli slaw has the crunchy ramen noodles, crispy broccoli slaw, and the soft chew of the sunflower seeds. It's the perfect combination! 
Easy broccoli slaw. Thanks to using a packaged broccoli slaw, this broccoli slaw recipe comes together in just 15 minutes — and it's a great way to use up the broccoli stalks!
Add your spin! This is an easy recipe to dress up to your liking! Add more vegetables, make the dressing spicy, adjust for dietary restrictions, and more!
Perfect side dish for any meal. This delicious salad has refreshing flavors is nice and light. This makes it an easy side dish that complements a wide variety of main dishes, such as grilled meats, seafood, or vegetarian options. It's also an ideal side dish for summer barbecues, picnics, potlucks, or simple weeknight dinners.
Ingredient Notes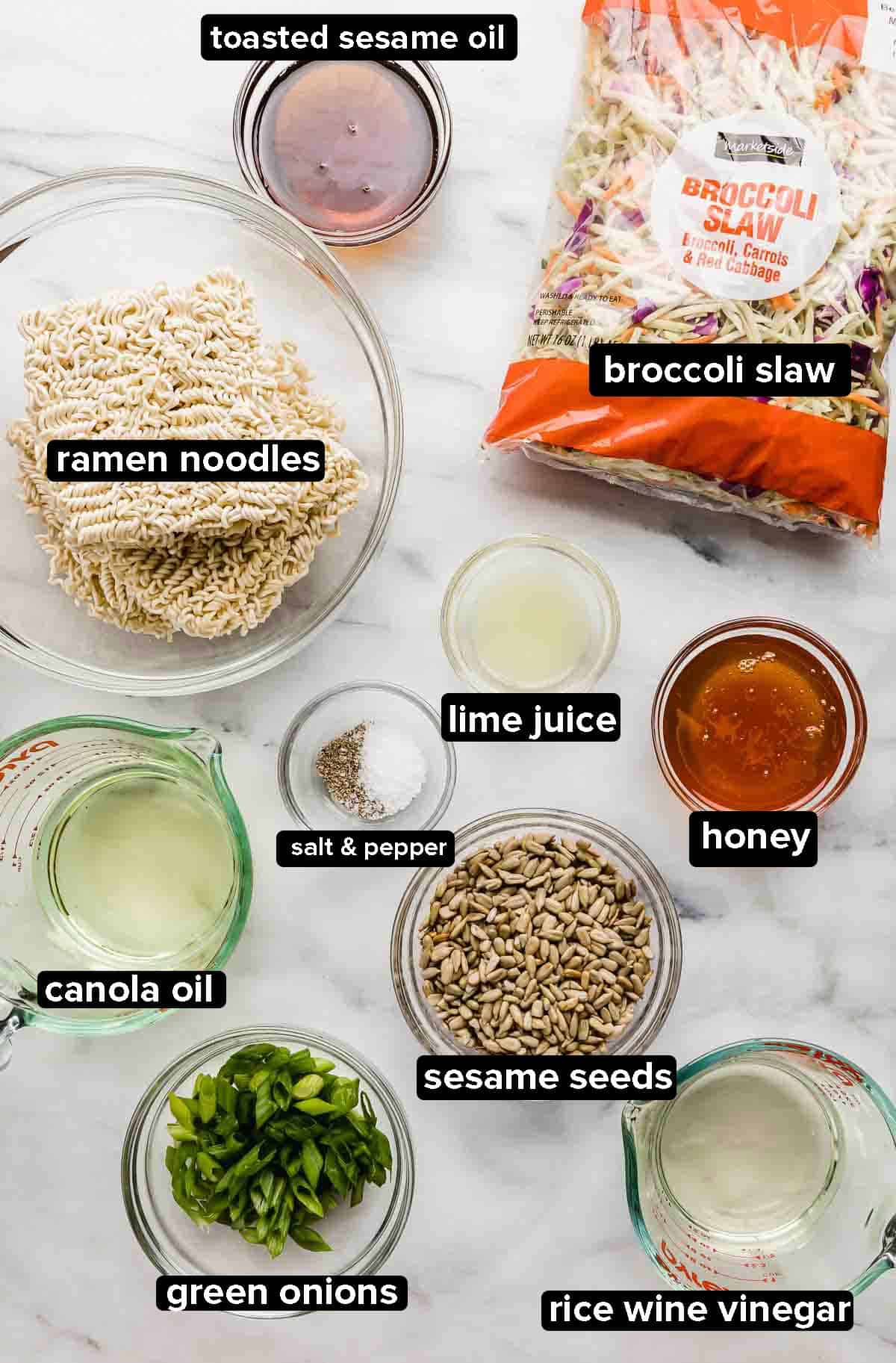 Prepared Broccoli Slaw: This broccoli slaw salad is so easy thanks to using a pre-made bag of broccoli slaw.
Ramen Noodles: Discard the flavoring packets in the ramen packet. And we aren't cooking the noodles, just crushing them up into pieces.
Green Onions: I like to thinly slice the green onions so there aren't such large chunks.
Sunflower Seeds: Yes, the picture says sesame seeds, it's SUNFLOWER seeds 🙂
Canola Oil: For a substitute, you can use olive oil instead.
Rice Wine Vinegar: This adds a delicious flavor to the asian salad dressing we are making.
Toasted Sesame Oil: I highly recommend using toasted sesame oil and not just plain sesame oil. It makes a difference!
Honey: Use maple syrup if you'd prefer. We just need a bit of sweetener for the dressing to make it super yummy!
Lime Juice: You can use fresh limes or lime juice from the store. If you don't have lime juice, use lemon juice.
Step-by-Step Instructions
Combine salad ingredients. Add the bag of crunchy broccoli slaw mix to a large bowl. Break up the ramen noodles and add them to the bowl. Add the sliced green onions and the sunflower seeds.
Make the broccoli slaw dressing. To a blender, salad dressing bottle, or small bowl add 2/3 cup canola oil, 1/3 cup rice wine vinegar, 1/3 cup toasted sesame oil, 1/3 cup honey, 1 tablespoon lime juice, 1 1/2 tsp kosher salt, and 1/2 tsp black pepper. Blend, shake, or vigorously mix the dressing ingredients until well combined and smooth.
Add the dressing. Add half of the asian dressing to the broccoli slaw and toss to coat. Cover the bowl and chill for 30 minutes. Right before serving, add more dressing as desired (you may not use all the dressing). Enjoy!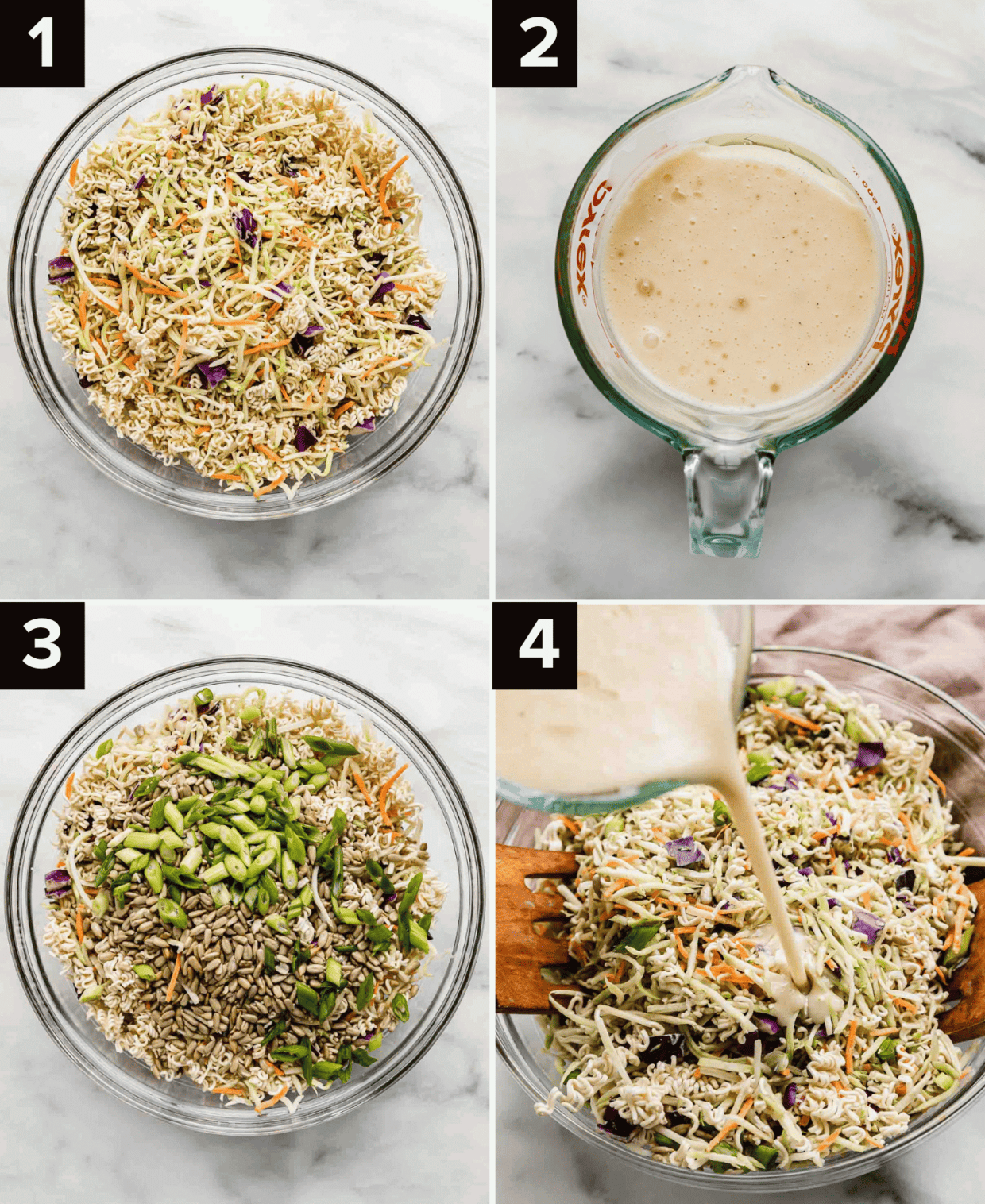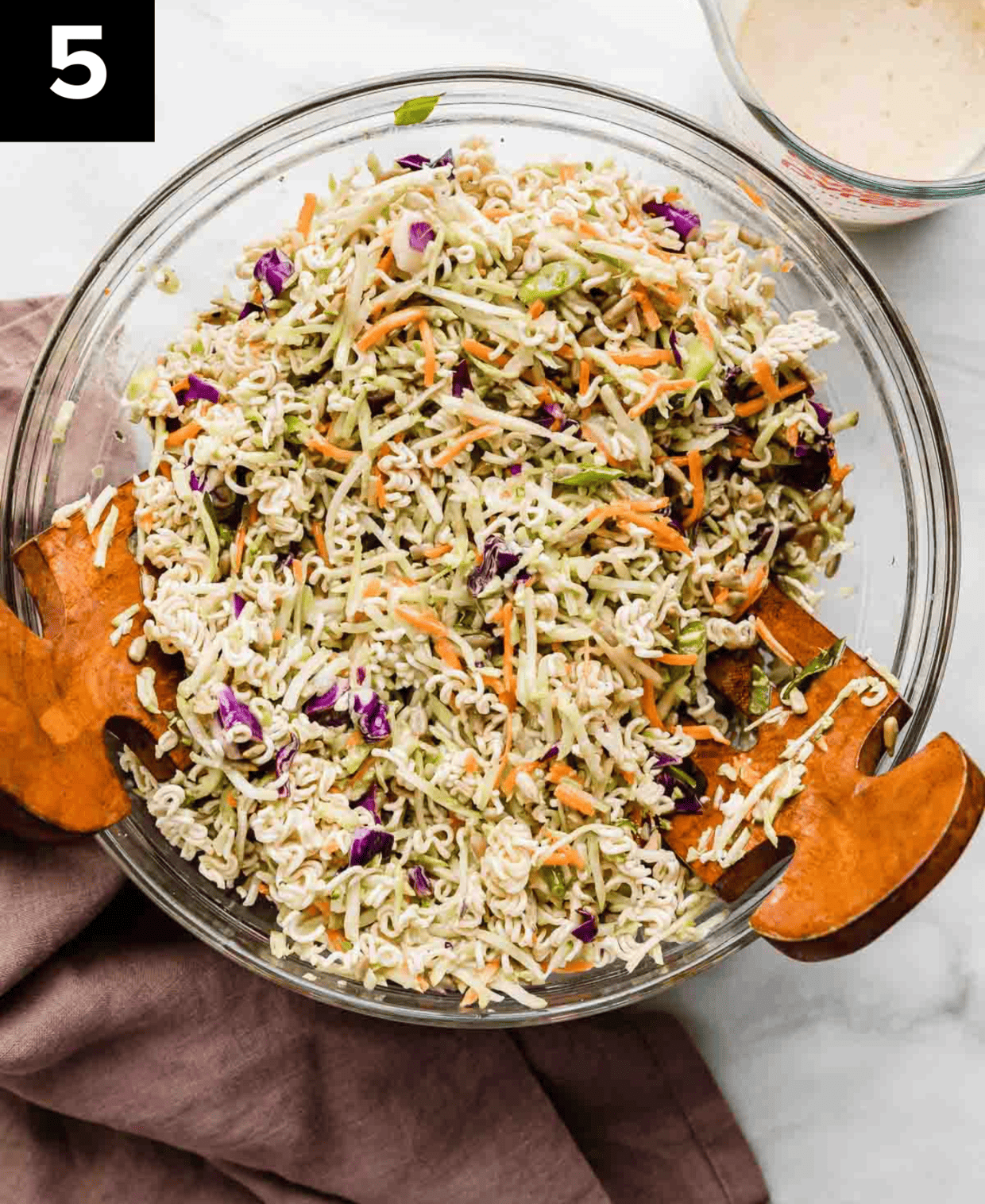 Recipe Tips
Before adding the sunflower seeds to the ramen broccoli slaw, you can toast them in a dry skillet over medium heat until they become lightly golden and fragrant. Toasting the seeds enhances their nutty flavor and adds a delightful crunch to the slaw.
Be sure to crush the hard ramen noodles into smaller pieces before adding them to the slaw. This step ensures that the noodles are evenly distributed throughout the dish, providing a satisfying crunch in every bite.
It's important to let the broccoli slaw with ramen noodles marinate. This is why we chill it in the fridge for 30 minutes before serving. Marinating helps the flavors meld together and softens the slaw ever so slightly, making it even more enjoyable to eat.
Feel free to experiment with the Asian-inspired dressing to suit your taste preferences. You can adjust the sweetness, tanginess, or spiciness by varying the amount of soy sauce, rice vinegar, honey, sesame oil, and other seasonings (such as cayenne pepper or red pepper flakes). Taste and adjust as needed until you achieve your desired flavor profile.
Add some additional toppings! Chopped cilantro, toasted sesame seeds, sliced red onion, or thinly sliced red bell peppers can add extra color and flavor to the dish, making it even more visually appealing and delicious.
Make Ahead, Storing, and Freezing
You can prepare the dressing ahead of time and store it in an airtight container in the refrigerator. Give it a good shake before using to ensure the ingredients are well combined.
Store any leftover broccoli slaw in an airtight container or covered dish in the fridge for up to 24 hours. This salad is much better fresh because eventually the ramen will soak up the sauce and go soft.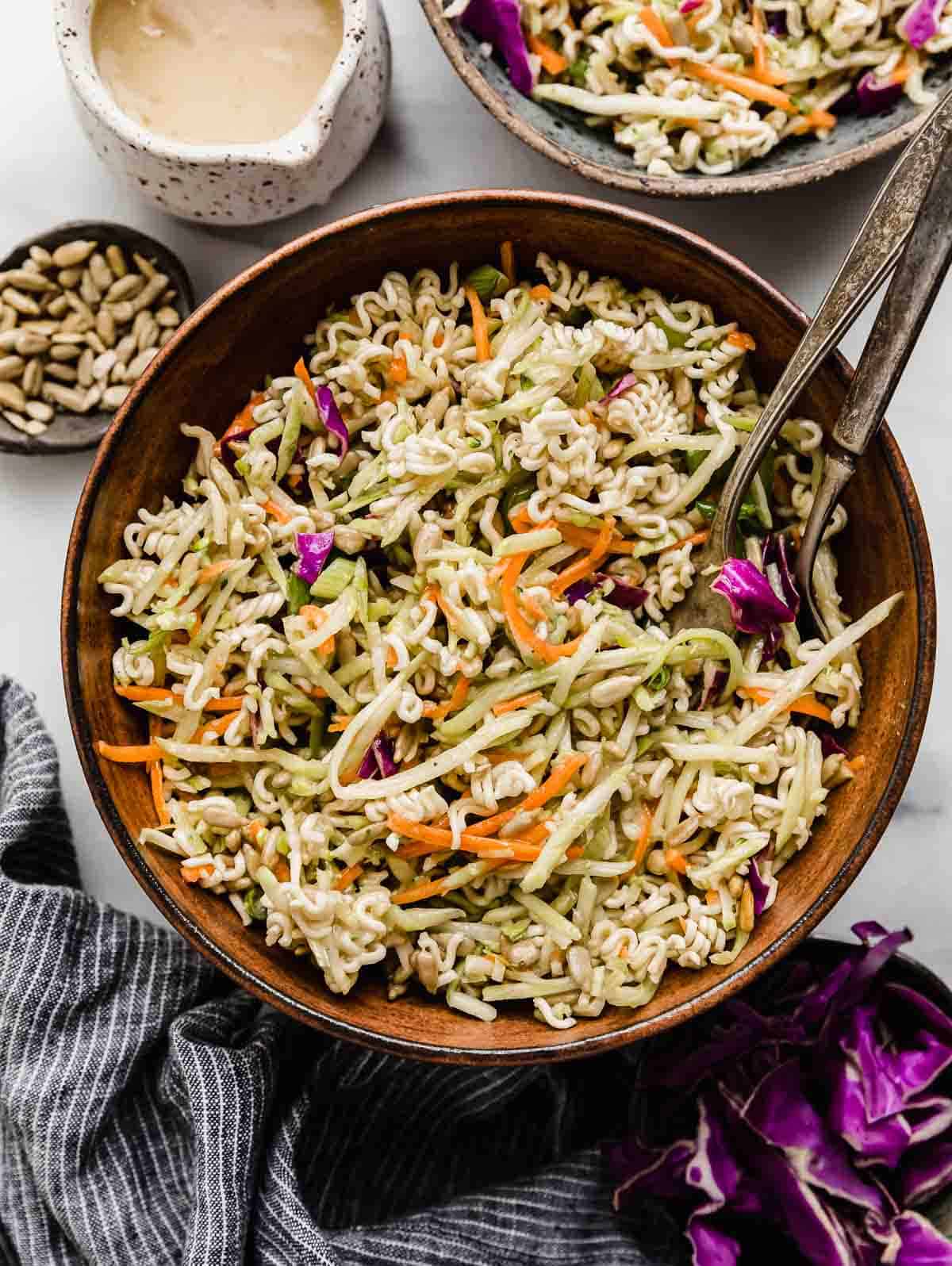 Recipe FAQs
Can I use pre-packaged broccoli slaw for this recipe?
Yes, you can use pre-packaged broccoli slaw to save time. However, for a fresher taste and texture, you can also make your own broccoli slaw by cutting off the broccoli stems from fresh broccoli florets (uncooked) and cutting them into thin matchsticks. (Most broccoli slaw mixtures also have matchstick carrots). 
Can I make the broccoli slaw ahead of time?
Absolutely! Broccoli slaw can be made ahead of time and stored in the refrigerator. However, for the best texture, I recommend waiting to dress the slaw until just before serving to keep it crisp.
Can I use other types of nuts instead of sunflower seeds?
Yes, you can experiment with different nuts like almonds, cashews, or pumpkin seeds to add a unique flavor and crunch to the broccoli slaw.
Is broccoli slaw vegan?
This broccoli slaw recipe can be adapted for vegans by using a plant-based alternative for honey, such as agave or maple syrup. Additionally, ensure the ramen noodles used are egg-free if you're following a vegan diet.
Can I add protein to the broccoli slaw?
Absolutely! To make it a more substantial meal, you can add grilled chicken, tofu, shrimp, or any protein of your choice to the broccoli slaw.
Can I use other vegetables in the slaw?
Yes, feel free to get creative with the vegetables. You can add thinly sliced red cabbage, bell peppers, or edamame to add more color and nutrients to the slaw.
What dressing for broccoli slaw?
While the Asian-inspired dressing complements the flavors well, you can use other dressings like a creamy coleslaw dressing or a lemon vinaigrette to suit your taste preferences.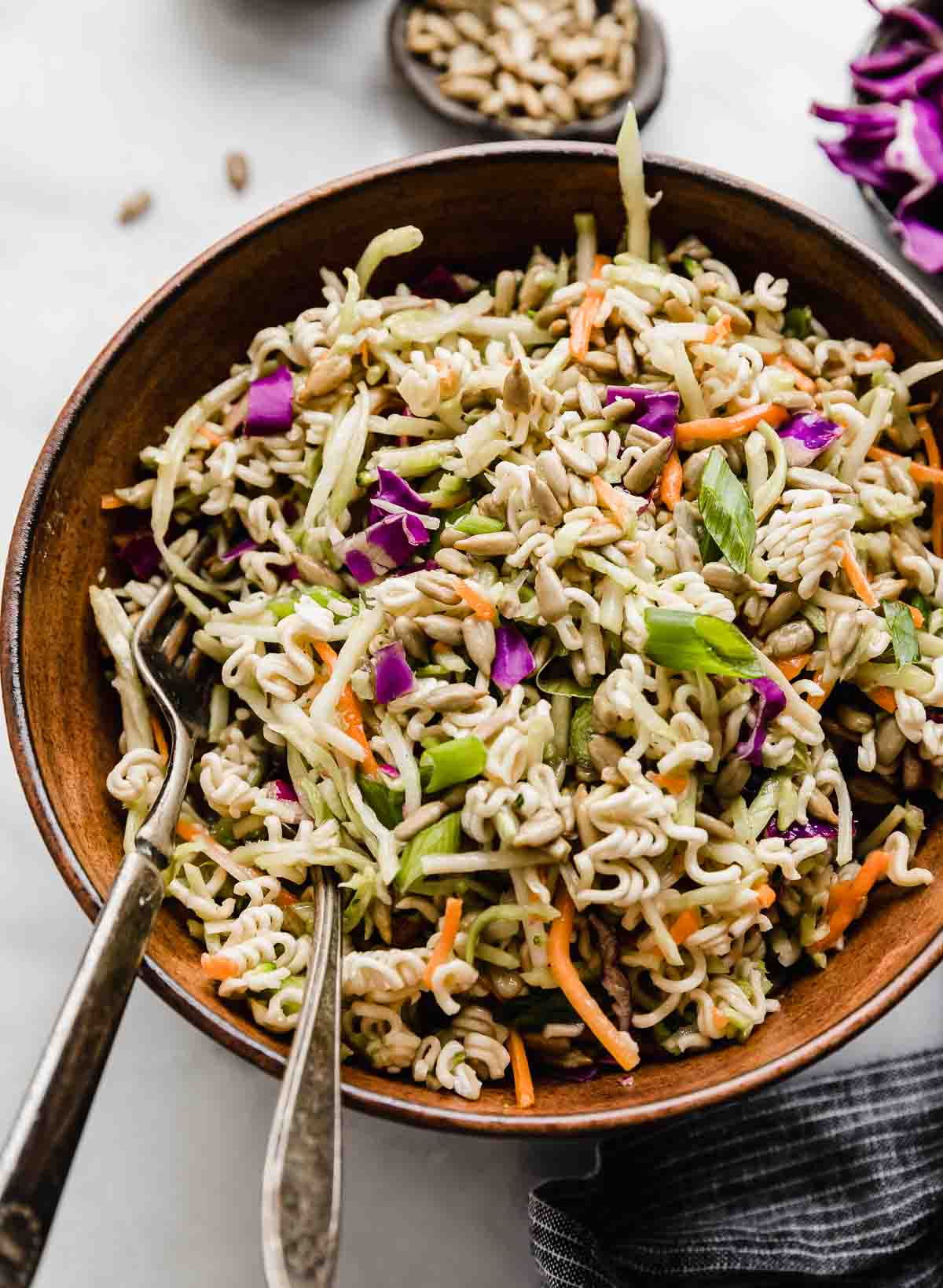 More Salad Recipes
Asian Broccoli Slaw
Crunchy Asian Broccoli Slaw is made with broken up ramen noodles, broccoli slaw mix, toasted sunflower seeds, green onions, and then tossed with an asian inspired dressing. This is an all-purpose side salad! It pairs beautifully with just about anything!
Ingredients
16

oz

broccoli slaw

3

packs

ramen noodles

-

flavor packets discarded

3

green onions

-

thinly sliced

1

cup

sunflower seeds

-

toasted

2/3

cup

canola oil

1/3

cup

rice wine vinegar

1/3

cup

toasted sesame oil

1/3

cup

honey

1

tablespoon

lime juice

1 1/2

teaspoon

kosher salt

1/2

teaspoon

fresh cracked black pepper
Instructions
Add the broccoli slaw to a large bowl.

Break the ramen noodles into small chunks and add them to the bowl with the broccoli slaw. Next, add the green onions, and sunflower seeds. 

In a blender add the oil, rice wine vinegar, toasted sesame oil, honey, lime juice, salt, and pepper. Blend until smooth and combined. 

Add half of the dressing to the salad and toss to coat. Cover and chill for 30 minute prior to serving. Right before serving add a little more dressing (you may not use all of it), and toss. Enjoy!
Notes
Makes about 12-15 side salad portions. 
Did you make this recipe?
Leave a star rating and review on the blog post letting me know how you liked this recipe! Take a picture and tag @saltandbaker on Instagram and Facebook so I can see what you're making!