Summer Citrus Salad
This post may include affiliate links. As an Amazon Associate I earn from qualifying purchases.
Summer means fresh fruit and salads for me, especially when it includes this Summer Citrus Salad! We drizzle a citrus vinaigrette overtop fresh lettuce greens, chopped fruit, and nuts. And let me tell you, the dressing is amazing. It has hints of sweetness from the fresh orange juice with a subtle tanginess to it. It's exactly what you need on a hot summer day.
I love a good salad recipe, and I'm always on the lookout for new delicious ways to serve salad. My Strawberry Spinach Salad and Rocket and Pear Salad are some of my favorite green salad recipes.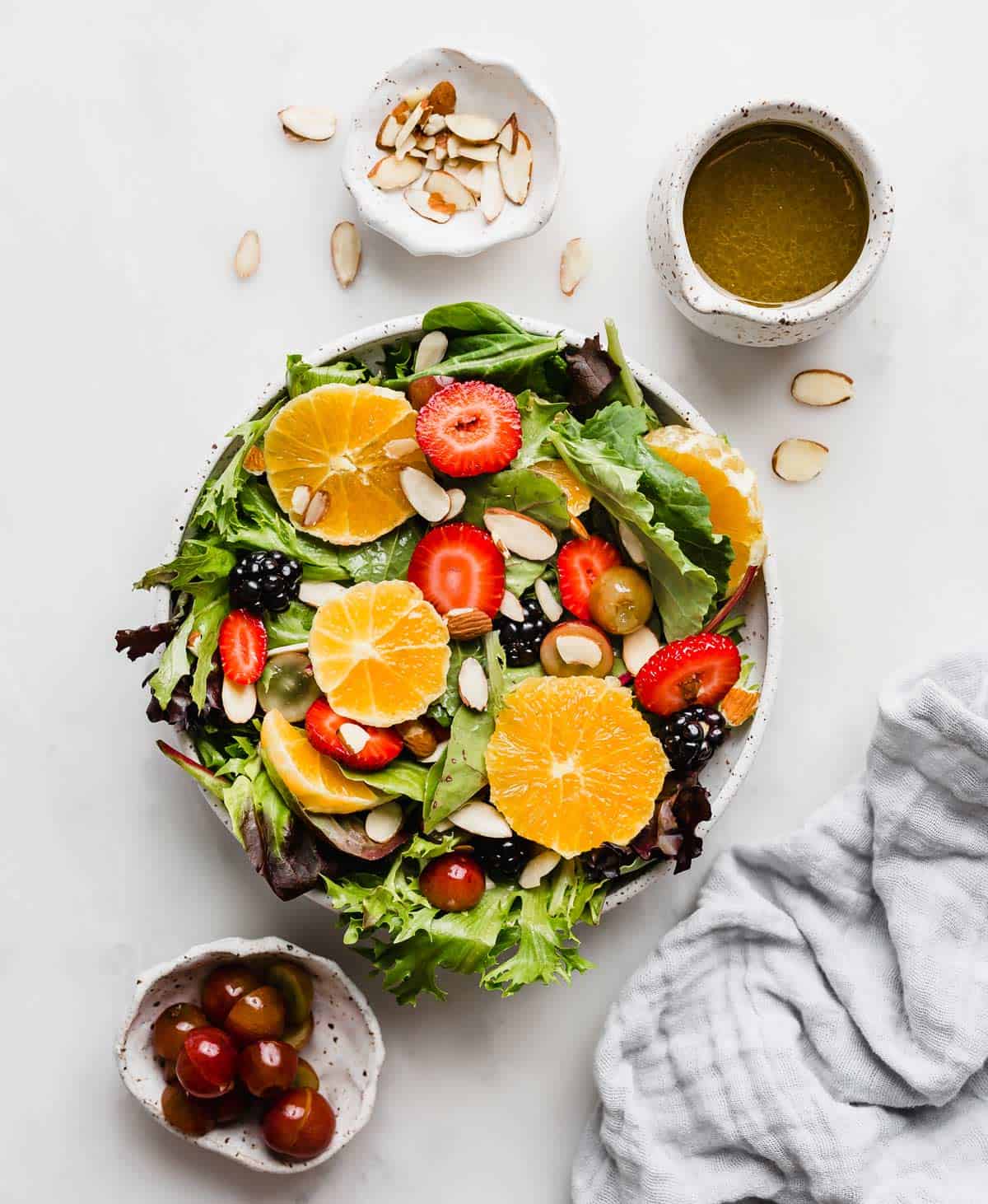 Why This Recipe Works
Easy summer citrus salad recipe. This salad comes together easily and uses simple ingredients.
Flavorful citrus dressing. You'll love the citrus vinaigrette! It's a simple vinaigrette, but is the perfect salad dressing for summer and pairs well with this summer fruit salad.
Ingredient Notes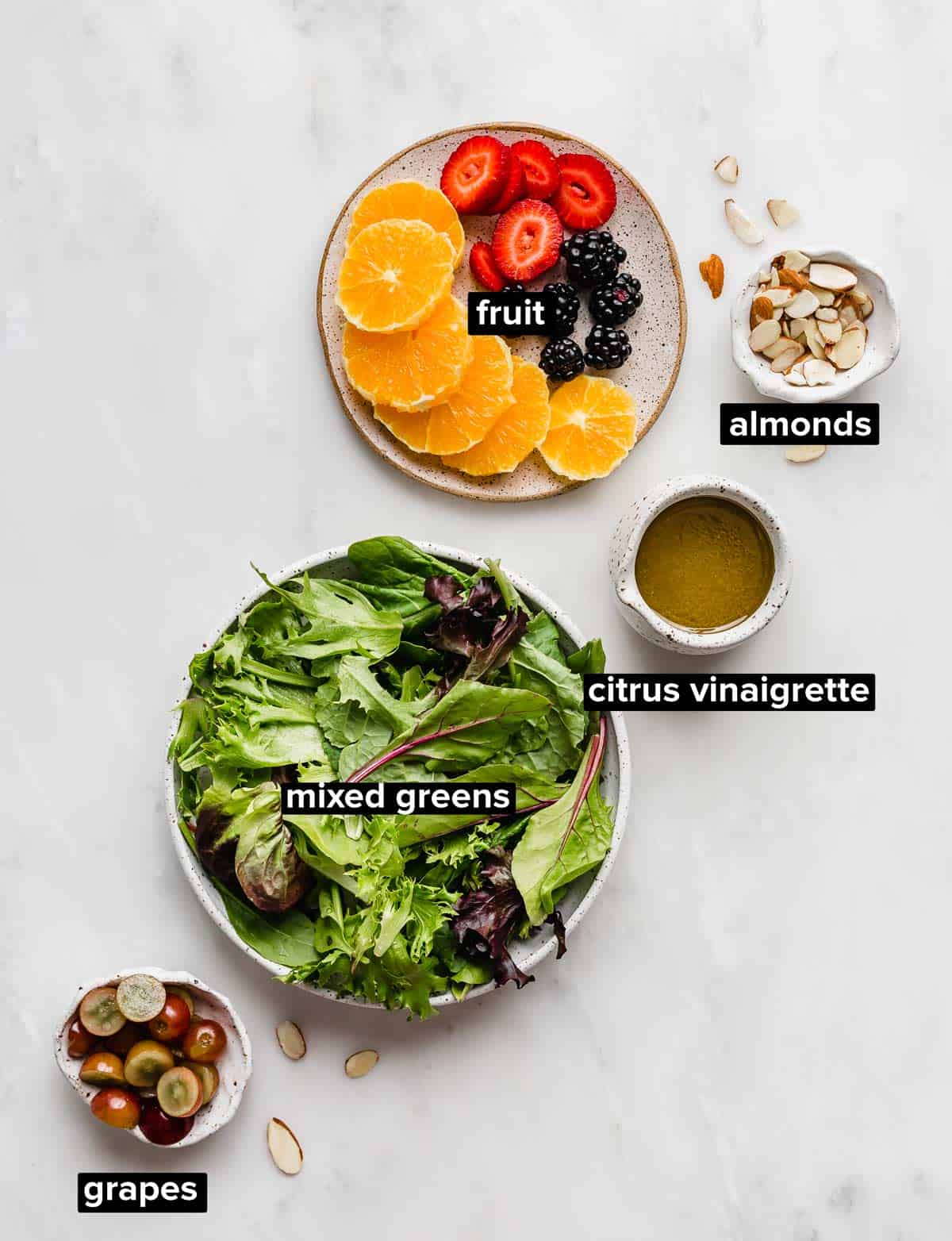 Mixed Greens: I love mixed green salads, but you can also mix and match the different salad greens you use — whether you like a kale, spinach and romaine mix or an iceberg loyalist, the citrus vinaigrette pairs well with a variety of options.
Nuts: I used sliced almonds, but you can use pecans, walnuts, cashews or any other nut variety you have on hand. You may consider adding candied pecans for a sweeter spin.
Fruit: Use a variety of fruits! Anything will work here. I added grapes, navel oranges, strawberries, and blackberries. You can slice fresh oranges or use mandarin oranges.
Cider Vinegar: The citrus salad dressing needs a bit of acidity. The apple cider vinegar provides that while complementing the citrus nature of the salad.
Fresh Orange Juice: I haven't tried making this with a different citrus juice but feel free to do so! You may need to taste as you go. Depending on the fruit juice you use, you might need to add more or less honey to the citrus vinaigrette.
Honey: This is a great way to add some natural sweetness to the citrus dressing without using refined sugar.
Dijon Mustard: The dijon mustard adds a delicious depth of flavor and has a richer flavor than regular mustard.
Step-by-Step Instructions
Prepare the citrus summer salad. Add 6-8 cups mixed greens to a large bowl. Top with 1/2 cup sliced almonds, 1/2 cup grapes, the orange slices, 1/4 cup blackberries, and 1/4 cup strawberries.
Make the citrus dressing. In a liquid measuring cup or small bowl, add 3 tablespoons cider vinegar, 1/3 cup fresh orange juice, 2 tablespoons honey, 1 1/2 tsp Dijon mustard, the minced garlic, 1/4 tsp salt, and 1/4 tsp freshly cracked black pepper. While slowly streaming in 1/2 cup olive oil, whisk the dressing ingredients together vigorously until well combined.
Serve! You can drizzle the citrus vinaigrette directly over this vibrant salad and toss, or you can serve it separate and people can add their own dressing to their individual salads. Enjoy!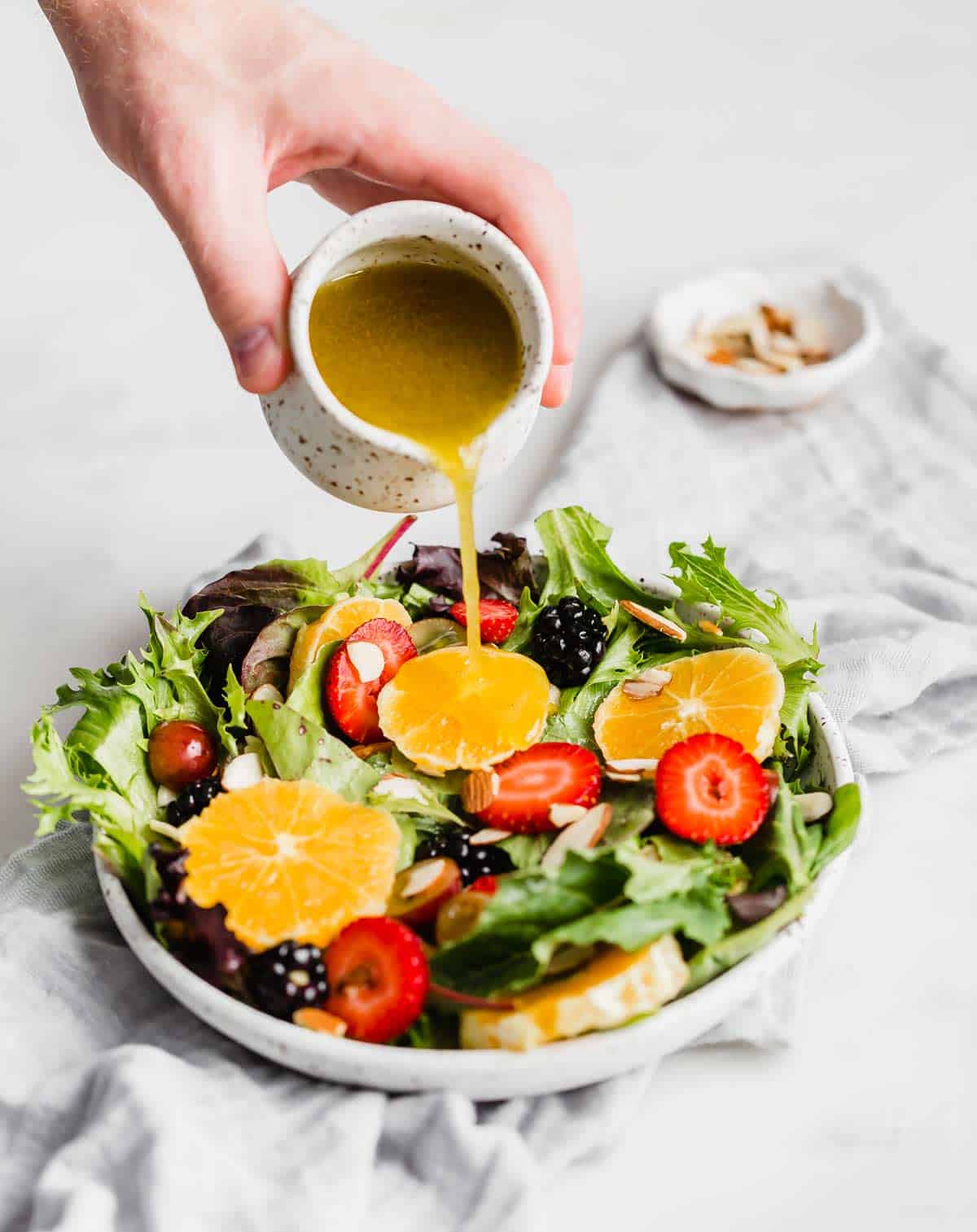 Recipe Tips
This recipe is just a guideline! It's a simple citrus salad, but mix things up if you'd like! Add cooked, diced chicken for added protein. You can add crumbled feta cheese, goat cheese, or gorgonzola to the salad as well. (All 3 of which are delicious!) You can even add slices of avocado for some healthy fats.
Experiment with different fruits. Some suggestions include: kiwis, papaya, pineapple, peaches, raspberries. Cut the fruit in thin slices to make things easier to eat.
Use maple syrup in the citrus dressing for a vegan option.
This citrus green salad is perfect to serve for a summer picnic, a summer BBQ, potluck or as a fresh side for dinner with family and friends.
Fruit Toppings for Salads
You can top this salad with just about any fruits, not just your favorite citrus fruits, but here are some ideas and suggestions:
Papaya
Peaches
Kiwi
Grapefruit
Pineapple
Raspberries
Strawberries
Oranges/mandarin oranges
Blood oranges
Make Ahead, Storing, and Freezing
You can make the citrus vinaigrette ahead of time. Just store the tangy vinaigrette in the fridge, covered or in a mason jar, until ready to use. Before serving, remove from the fridge and whisk until ingredients are smooth and thoroughly combined.
Prepare the fruits ahead of time for easier assembly. Store them in an airtight container in the fridge until ready to use.
Just remember, salads don't keep well if the dressing has been poured overtop, so plan accordingly.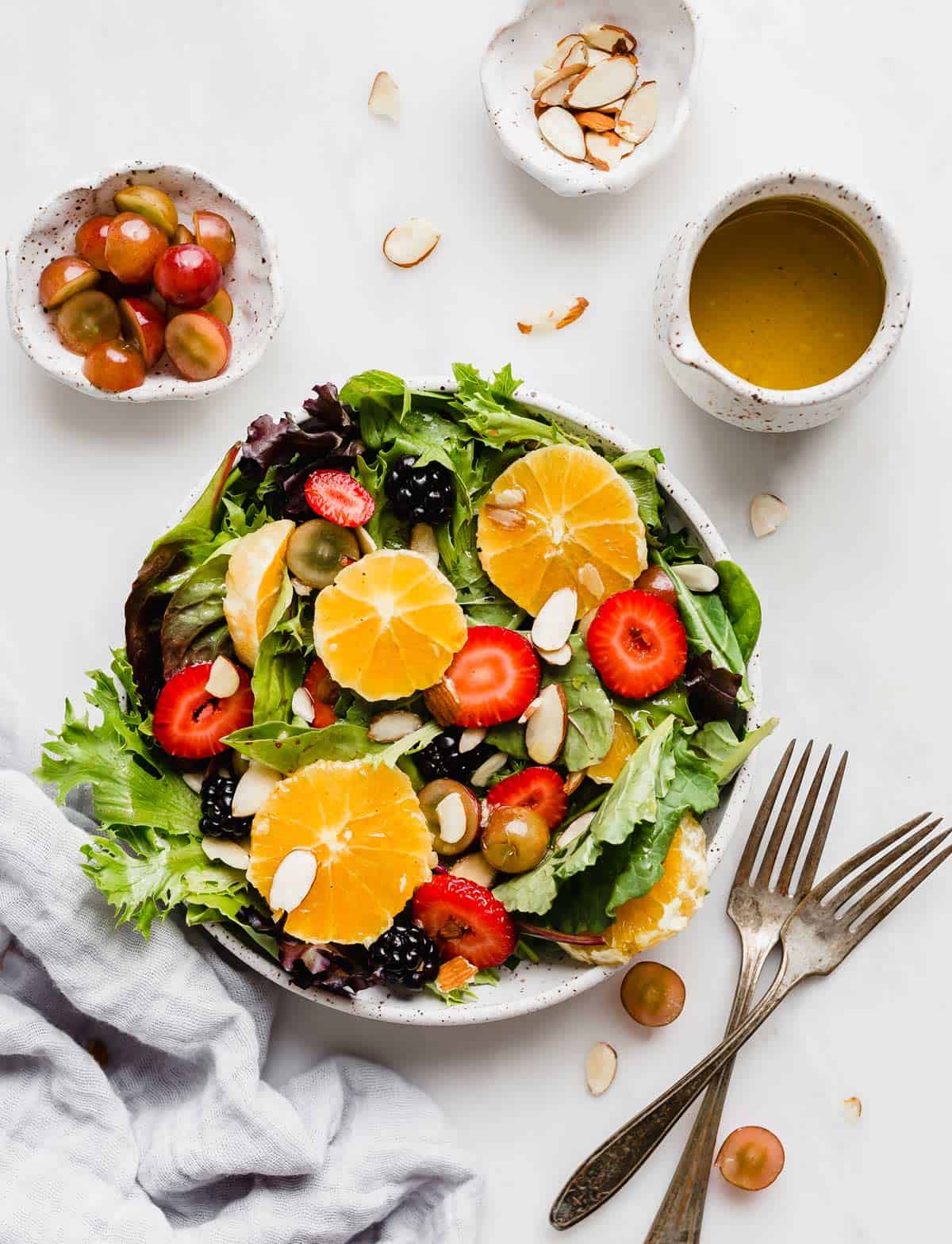 Recipe FAQs
What fruit is good on salad?
You can use tons of different kinds of fruit: sliced peaches, pears, strawberries, blackberries, raspberries, blueberries, oranges, etc. 
Can I make this a spinach salad?
Yes you can! Feel free to use any type of greens. Baby spinach would be yummy with this amazing salad recipe.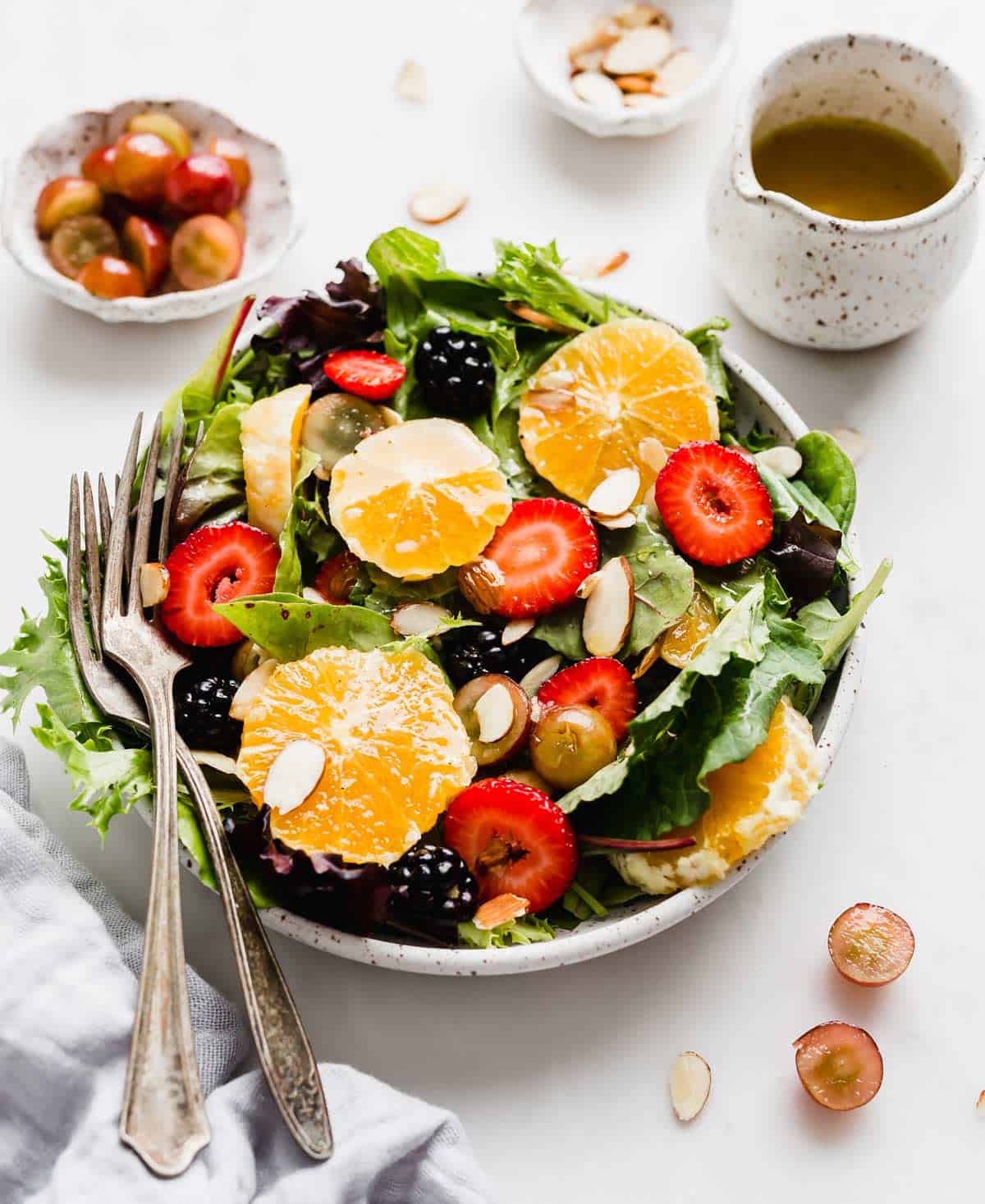 More Delicious Salad Recipes
Summer Citrus Salad
A fresh green salad topped with fresh fruit, nuts, and a delicious citrus vinaigrette.
Ingredients
6-8

cups

mixed greens

1/2

cup

sliced almonds

1/2

cup

grapes

2

oranges

-

mandarin oranges or sliced navel oranges

1/4

cup

blackberries

1/4

cup

strawberries

-

sliced
Citrus Vinaigrette
3

tablespoons

cider vinegar

1/3

cup

fresh orange juice

2

tablespoons

honey

1 1/2

teaspoon

dijon mustard

2

garlic cloves

-

minced

1/4

teaspoon

salt

1/4

teaspoon

freshly cracked black pepper

1/2

cup

olive oil
Instructions
Place the salad greens in a large bowl. Top with the nuts and fresh fruit. Drizzle the vinaigrette overtop and toss to coat. Alternatively, you can make the salads on an individual basis by adding the greens to small plates and sprinkling the desired toppings overtop.
Citrus Vinaigrette
In a liquid measuring cup whisk the vinegar, orange juice, honey, mustard, garlic, salt and pepper. Slowly stream in the olive oil and whisk vigorously until fully combined. Cover and place in the fridge until ready to use.
Notes
This recipe is just a guideline! 
Add cooked, diced chicken for added protein. 
You can add cheese such as crumbled feta cheese, goat cheese, or gorgonzola. Each are delicious on this salad.
Experiment with different fruits. Some suggestions include: kiwis, papaya, pineapple, peaches, raspberries. 
Did you make this recipe?
Leave a star rating and review on the blog post letting me know how you liked this recipe! Take a picture and tag @saltandbaker on Instagram and Facebook so I can see what you're making!