Kale Salad with Balsamic Dressing
This post may include affiliate links. As an Amazon Associate I earn from qualifying purchases.
Kale Salad with Balsamic Dressing is made with fresh kale, cooked quinoa, craisins, pecans, feta cheese and sliced peaches. You can make this kale and quinoa salad with your choice of fruit or fruit that is in season! Topped with a creamy balsamic salad dressing, this is the perfect healthy and delicious salad!
Kale seems to get a bad rap, but I've found it's all about the flavor combinations to complement the powerhouse superfood. I have a bunch of kale recipes that are all super delicious! First off, Kale Pesto is a delicious alternative to traditional Basil Pesto. You can use it on my Kale Pesto Pasta! Kale is also really delicious on my Kale Pizza or served with butternut squash in my Butternut Squash and Kale side dish.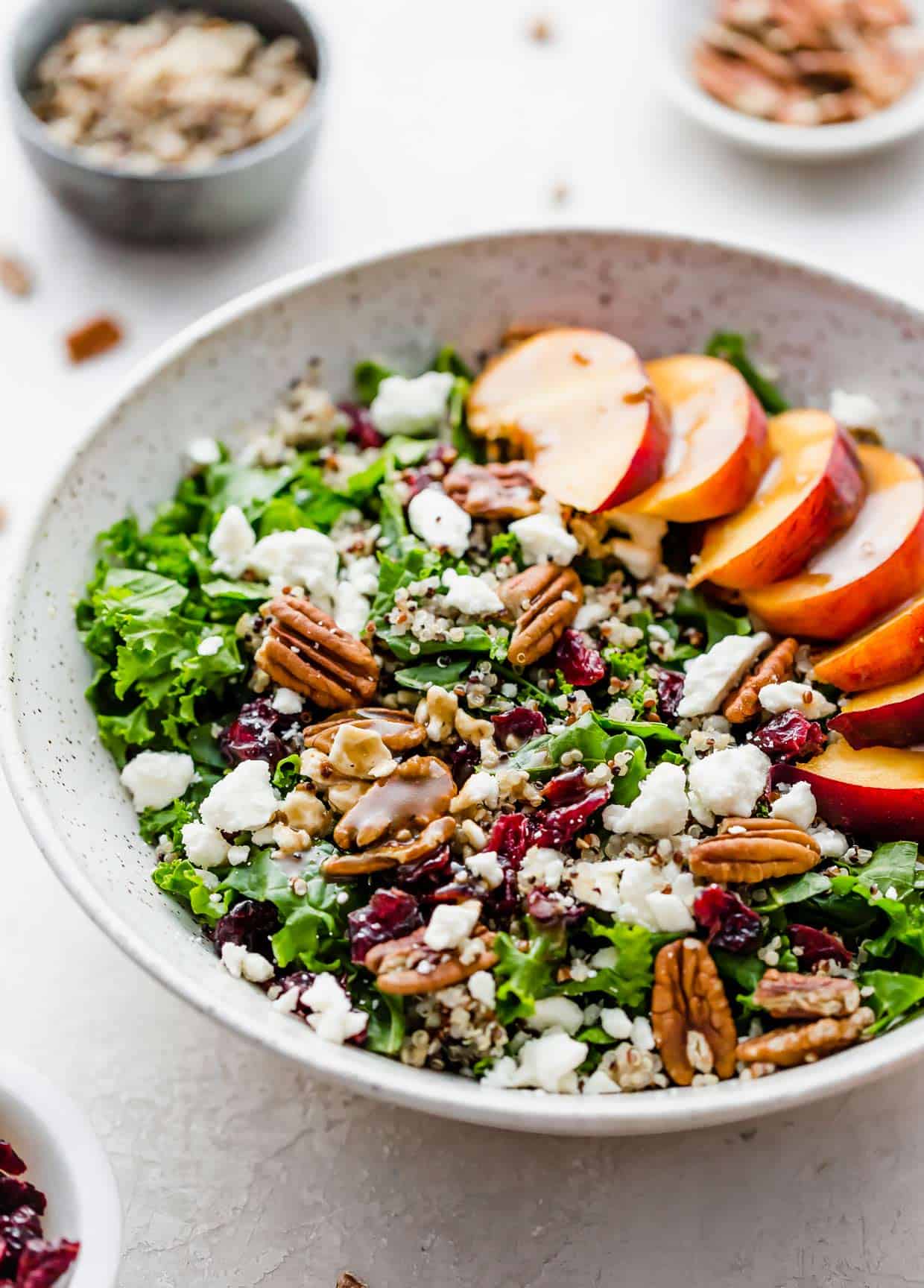 Why This Recipe Works
Homemade creamy balsamic dressing. I am obsessed with this dressing! It is the best creamy balsamic dressing! It would be great over so many salads, so don't feel limited to using it on just this kale quinoa salad! It's got the perfect balance of sweet, salty and zesty.
Best kale salad recipe. This kale salad with balsamic dressing has been on repeat at our house recently. We love the great textures and contrasting flavors between the fresh fruit and the salty feta cheese, and the crunchy pecans (candied pecans for added sweetness) and soft dried cranberries. With two superfoods being the star of the show, kale and quinoa, this healthy and versatile salad is one you can make all year round!
Filling salad recipe. It goes without saying that loaded salads are something I, and hopefully most people, love. I really enjoy a good salad with a great protein option and complimentary textures and flavors. This kale salad with balsamic dressing can easily be made the main course of your dinner by adding some grilled chicken! This salad is easy to make, packed with nutritious ingredients, and is filling!
Ingredient Notes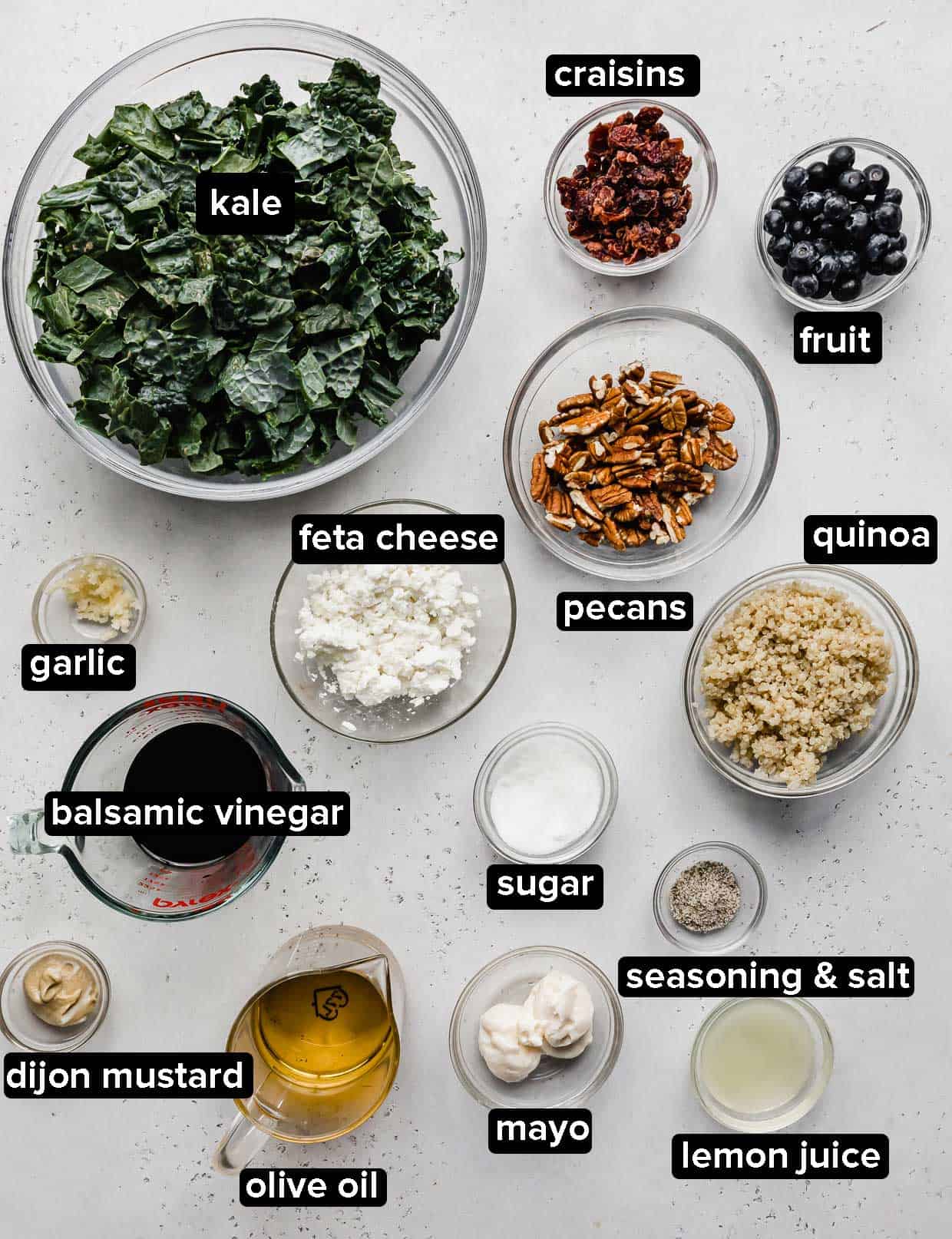 Kale: De-stemmed, washed and chopped kale. I also like to massage the kale a bit with olive oil to help loosen up the fibers a bit.
Quinoa: Be sure to properly cook the quinoa according to the package instructions. Then let it chill.
Feta Cheese Crumbles: The saltiness of the feta cheese is the perfect complement to the flavors in this kale and quinoa salad!
Pecans: You can use homemade candied pecans for a bit of a sweeter nutty flavor. And feel free to use a different nut if you'd prefer. You can use chopped walnuts or almond slivers.
Fresh Fruit: I used fresh peaches for this kale salad with balsamic dressing because fresh peaches were in season when I made and photographed this recipe. Feel free to use whatever fruit you'd prefer or whatever fruit is in season: blackberries, blueberries, pears, peaches, nectarines, etc.
Granulated Sugar: This just helps sweeten the balsamic vinaigrette dressing a bit. You can use honey if you'd prefer.
Morton Nature's Seasons Seasoning: This is a Morton's brand seasoning salt. It's made from a collection of spices including salt, black pepper, sugar, onion powder, garlic powder, parsley, and celery salt. If you don't have this seasoning blend on hand, you can use a collection of these spices to make the blend at home.
Balsamic Vinegar: This is the main base flavor for the balsamic vinaigrette. You can use any brand.
Extra-Virgin Olive Oil: I like to use extra virgin olive oil when making salad dressings because it's a deeper and stronger flavor.
Step-by-Step Instructions
Prepare the quinoa. Cook the quinoa according to the package directions. Let chill in the fridge.
Prepare the kale. Wash and chop the kale. Add it to a large bowl and drizzle with a tablespoon of olive oil. Using clean hands, massage the kale for 2 minutes until the leaves are soft and slightly wilted.
Make the creamy balsamic salad dressing. To a small bowl or liquid measuring cup, add the mayo, lemon juice, sugar, garlic, Dijon mustard, Morton's Nature's Season seasoning, salt and balsamic vinegar. Whisk until uniform. Drizzle in the extra virgin olive oil while whisking.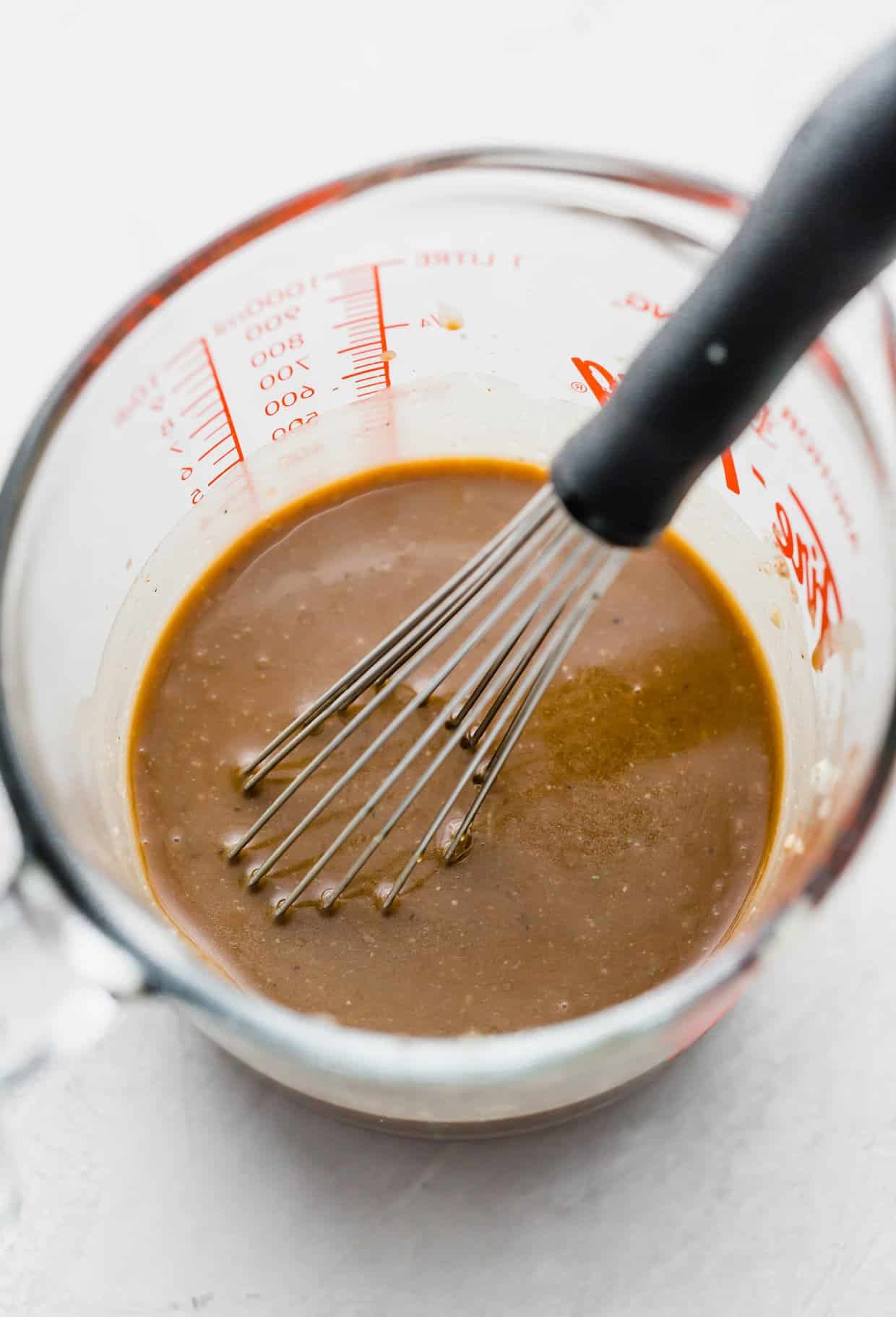 Assemble the kale and quinoa salad. Once the quinoa is chilled, add it, the raisins, feta cheese crumbles, pecans, and peaches (or the fresh fruit of your choice) to the salad bowl with the kale. Drizzle with your desired amount of balsamic dressing. Toss and serve!
Recipe Tips
Make this kale and quinoa salad a full meal by adding grilled chicken. This is a vegetarian kale quinoa salad, however, I also enjoy tossing a grilled chicken breast into the mix. I don't do this every time because I think it's delicious as is, but my husband enjoys the added protein.
There's protein in quinoa, which makes it a great vegetarian salad option because it's filling without having meat.
Be flexible with the fruit. I used peaches because they are in season at the moment. Use your favorite fruit! This would taste great with fresh blueberries, grapes, raspberries, strawberries, apples, pears or nectarines.
Goat cheese is a good substitute for feta cheese.
I like to make my salad dressing in a liquid measuring cup. It makes pouring it over the salad much easier! You won't use all of the dressing on this one salad. It's made to have leftovers. You'll see why when you taste it, you'll either drown your salad in it because it's so good, or you'll be glad you have extras for later use!
Before adding the toppings to the kale, make sure the kale leaves have been removed from the tough kale stems. Then chop it. I like to cut it in thin strips to make it easier to eat. Finally, massaging the kale breaks down the tough cell structure and makes it softer and easier to eat.
The nutrition calculates all of the dressing, not just the dressing per serving. You will have leftovers! The dressing will cover about 3x this salad.
Make Ahead, Storing, and Freezing
This kale quinoa salad is best served the same day it is made. However, if you want plan on taking it to a gathering or party, place the ingredients over the kale and wait to add the dressing until right before serving.
This creamy balsamic salad dressing will keep in the fridge for about 3 weeks.
Store any leftovers in an airtight container in the fridge for 1-2 days.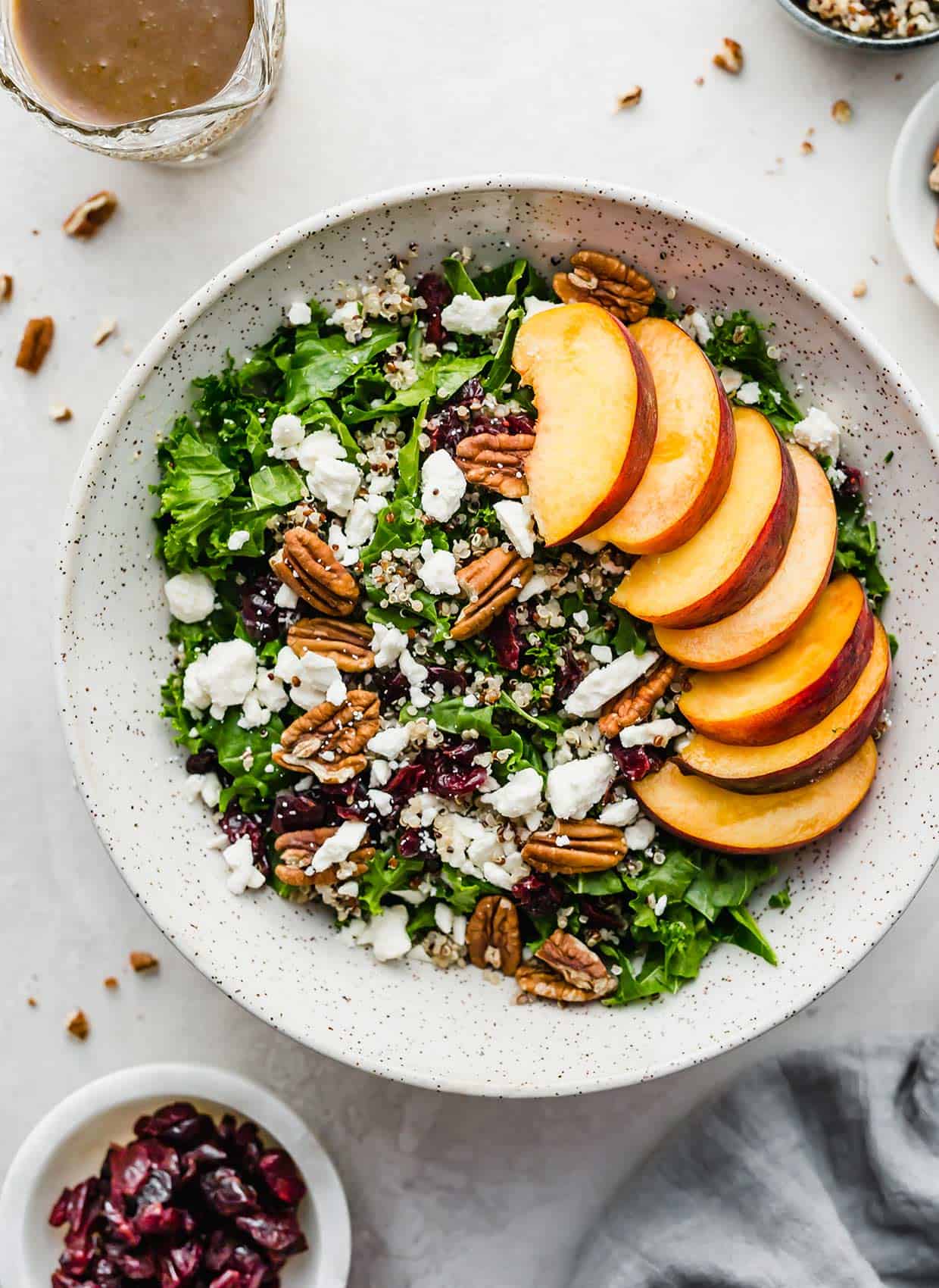 Recipe FAQs
Can I use spinach instead of kale?
Yes you can. If you don't want to use kale, spinach is a great alternative. I prefer the kale! If you are new to kale, give it a try! I promise you will love it. Use my tips such as removing the ribbing, cutting it in strips, and massaging the olive oil into the leaves. These tricks will help make the kale much less bitter and much softer. 
What fruit can I use in kale salad?
Use whatever fruit you prefer or that is in season. I used peaches because they are in season and I love the pop of color and the juicy element to them. Other great fresh fruit for this kale salad with balsamic dressing would be blackberries, blueberries, raspberries, pears, nectarines, apples, mandarin oranges, or grapes. Those are just a few, so let me know in the comments if you used a different fruit and loved it! 
Is kale good raw in salad?
Yes it is! Follow my kale tips found in my Recipe Tips section to get the best results for your raw kale. These tips will help soften the bitterness and the texture of the kale, making it ultra delicious and enjoyable to eat!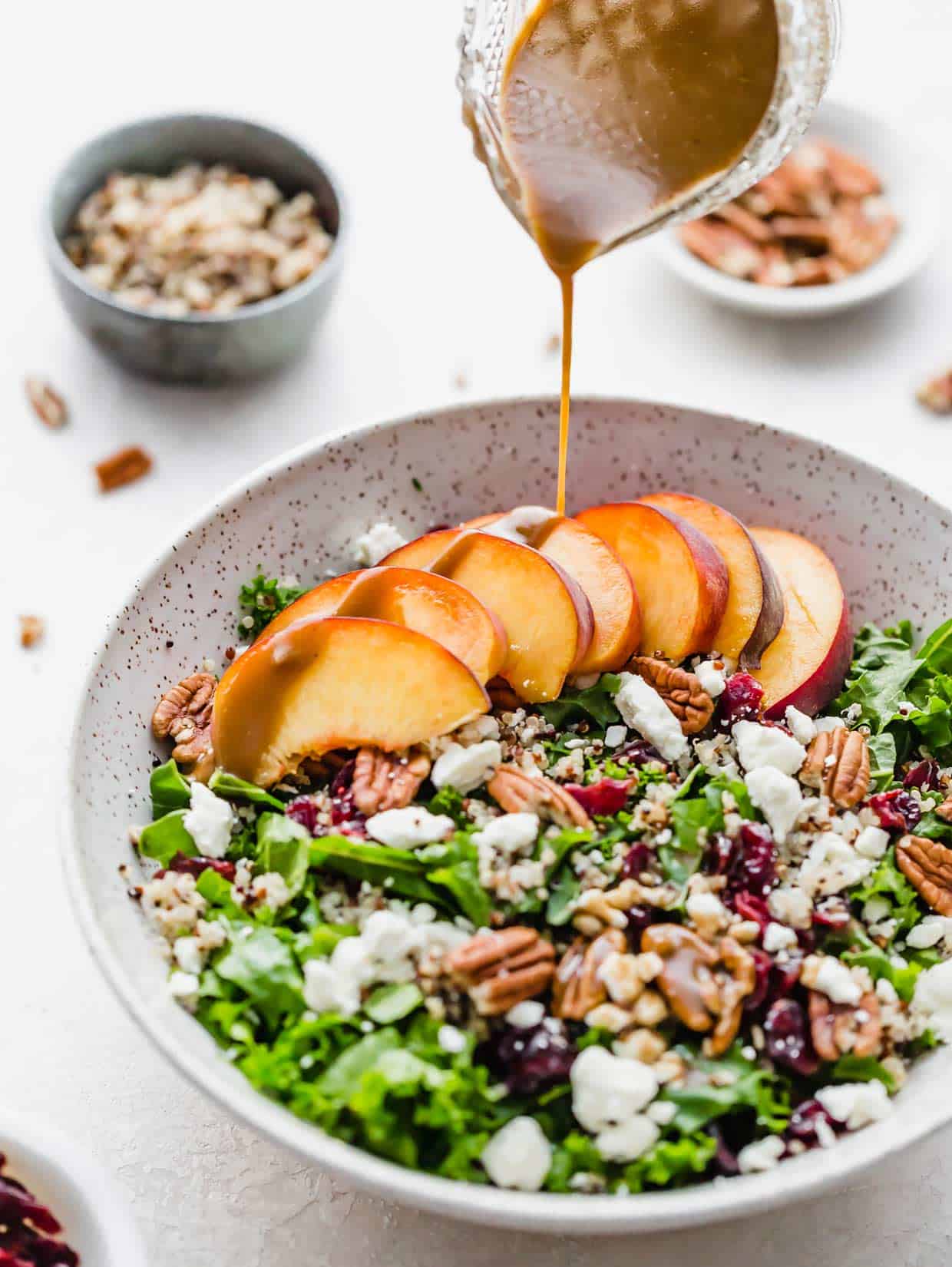 Kale Salad with Balsamic Dressing
A delicious and healthy salad loaded with fresh kale, quinoa, feta cheese, pecans, dried cranberries, and peaches (or any fruit of your choosing). Top it with my favorite creamy balsamic dressing and you have yourself an easy, healthy, and vegetarian dinner.
Ingredients
Kale and Quinoa Salad
1/2

teaspoon

olive oil

3

heaping cup

kale

-

chopped

1/3

cup

cooked quinoa

1/4

cup

craisins

1/3

cup

feta cheese crumbles

1/4

cup

pecans

- chopped and toasted. OR candied pecans

1

peach

-

sliced
Balsamic Dressing
2

garlic cloves

-

minced

3

tablespoons

mayo

2

tablespoons

lemon juice

2

tablespoons

granulated sugar

-

or honey

1

tablespoon

dijon mustard

3/4

teaspoon

Morton's Nature seasoning

1/4

teaspoon

salt

1/4

cup

balsamic vinegar

3/4

cup

extra virgin olive oil
Instructions
Salad
To a large bowl add the chopped kale. Drizzle the olive oil overtop. Using your hands massage the kale for 2 minutes until the leaves become soft and wilted.

Top the salad with quinoa, craisins, feta, pecans, and peaches. Drizzle your desired amount of balsamic dressing overtop. Serve!
Balsamic Dressing
In a small bowl (I like to use a liquid measuring cup) whisk the garlic, mayo, lemon juice, sugar, Dijon mustard, Morton's Nature seasoning, salt, and balsamic vinegar.

While whisking, slowly drizzle in the olive oil. Whisk until dressing is smooth and emulsified.

Cover and refrigerate until using. *Note, this dressing makes a lot, so you'll have extra.
Notes
You don't have to use peaches, it's the fruit in season so that what I grabbed. You can use anything though! Blueberries, grapes, strawberries, nectarines. 
We like to add diced grilled chicken to our salad as well! 
Note, the calories will be off. This calculates ALL of the dressing. You will have leftovers! The dressing will cover about 3 of these salads 🙂 
Did you make this recipe?
Leave a star rating and review on the blog post letting me know how you liked this recipe! Take a picture and tag @saltandbaker on Instagram and Facebook so I can see what you're making!