Butternut Squash and Kale
This post may include affiliate links. As an Amazon Associate I earn from qualifying purchases.
Looking for a healthy and delicious side dish? Look no further! This Butternut Squash and Kale recipe is easy to make, HEALTHY, and so yummy!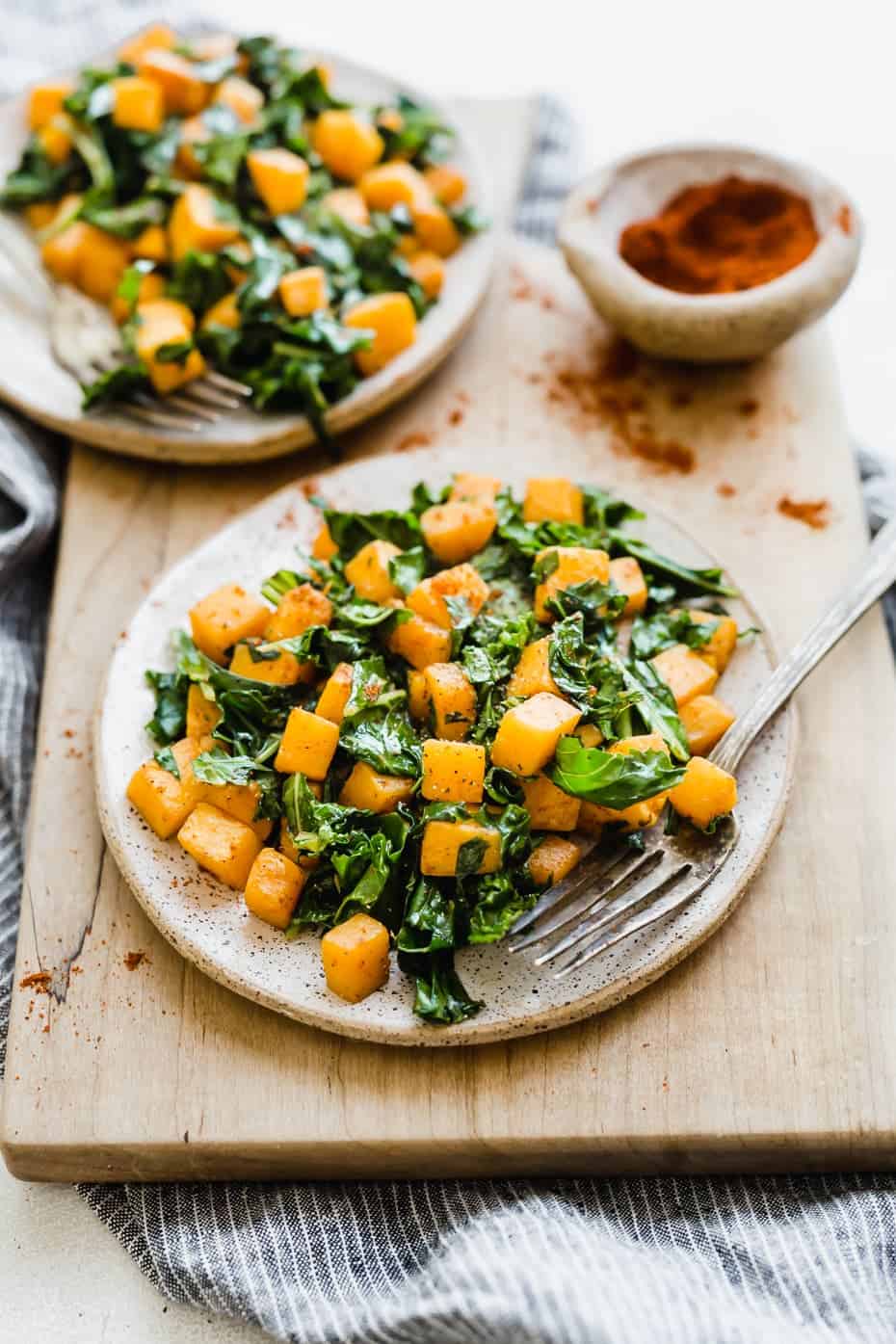 When I think of butternut squash I don't exactly think of kale. Kale is suppose to be bitter, too healthy, and frankly not my first choice in greens.
However, a few weeks ago I saw a photo of butternut squash and kale quesadillas. So I made them. Not a shabby quesadilla by any means.
It was the butternut squash and kale combo that got my wheels spinning!
I love butternut squash (like LOOOOOVE butternut squash). So pairing it with something healthy like kale was fine. If anything, it meant I could eat more without the guilt of eating the entire pan.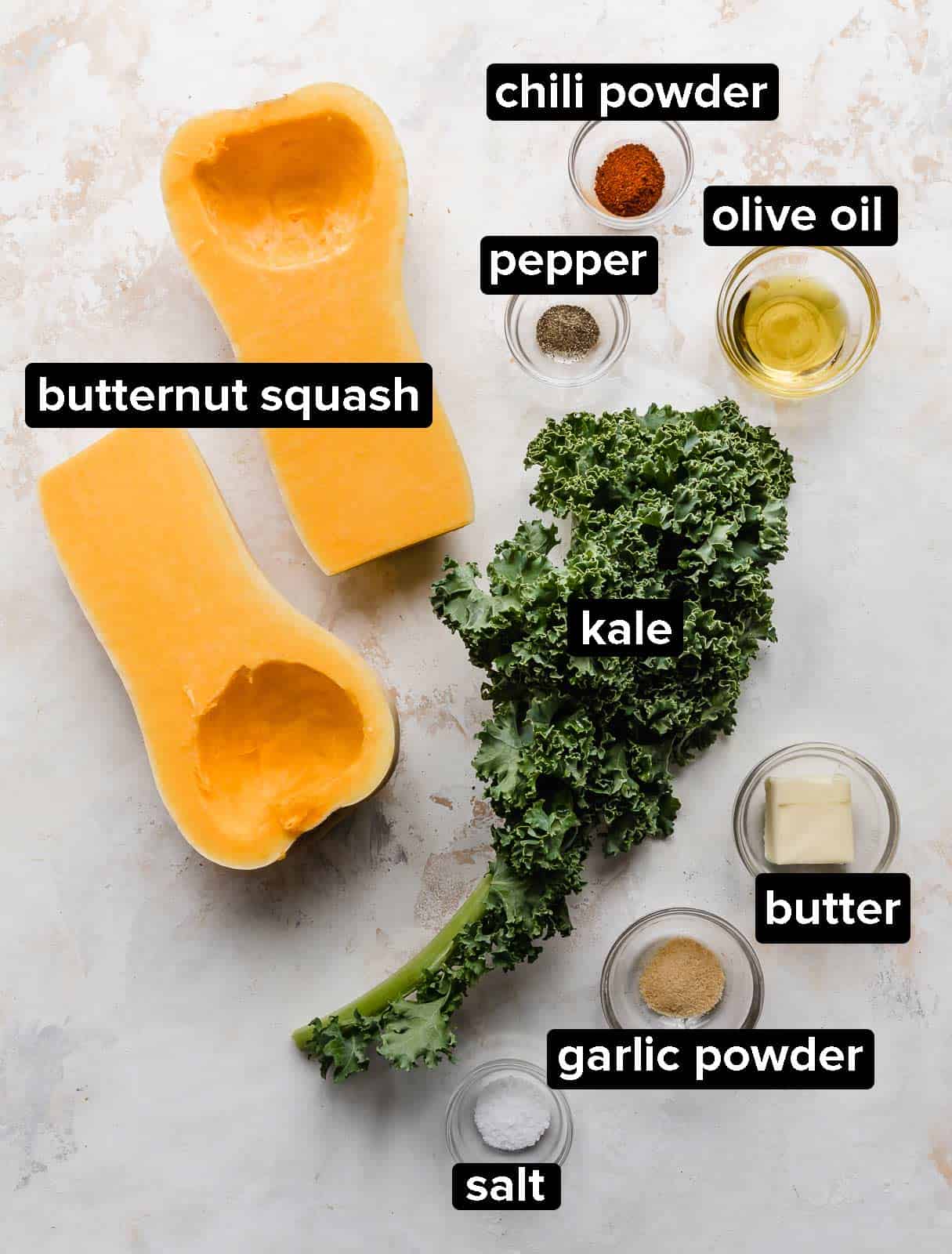 Because, hello! This side dish is healthy. Just scroll down and look at the nutrition facts.
Now compare that to my Nutella Brownies.
See. Healthy!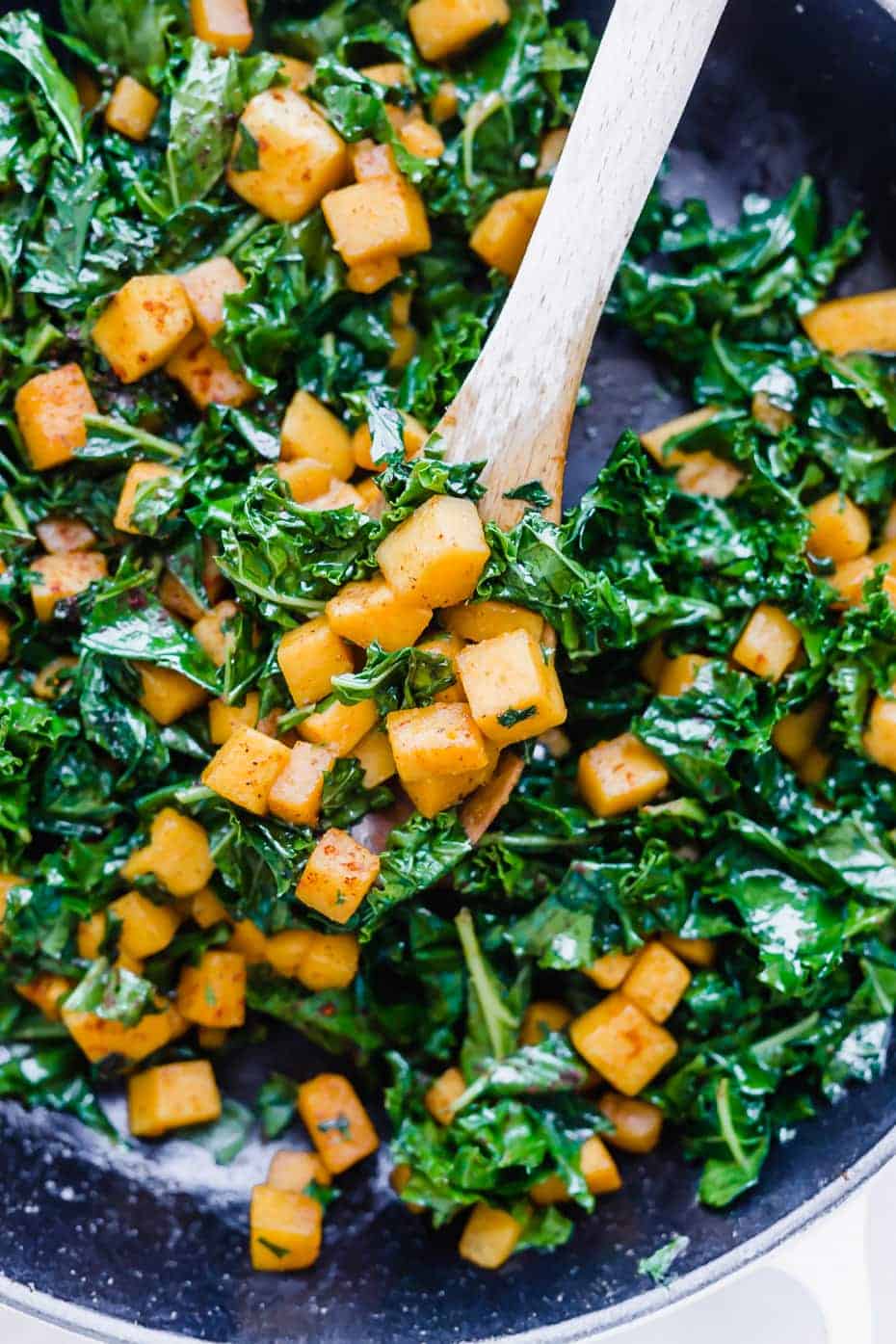 I can always use more healthy in my life. And come on, how can you pass up a superfood such as Kale.
Health benefits of kale
1 cup of raw kale = 33 calories, 3 grams of protein, 2.5 grams of fiber.
Has lutein and zeaxanthin. What does that mean? Those are nutrients that protect against macular degeneration and cataracts! ?? (I need alllll the eye health I can get). I've already had cataract surgery in my left eye. I'm 27. It's a long story.
Kale is high in vitamin A (important for vision, the immune function, and reproduction) , vitamin C (antioxidant), and vitamin K (helps blood clotting)!
To sum it up, "Kale is among the most nutrient dense foods on the planet!"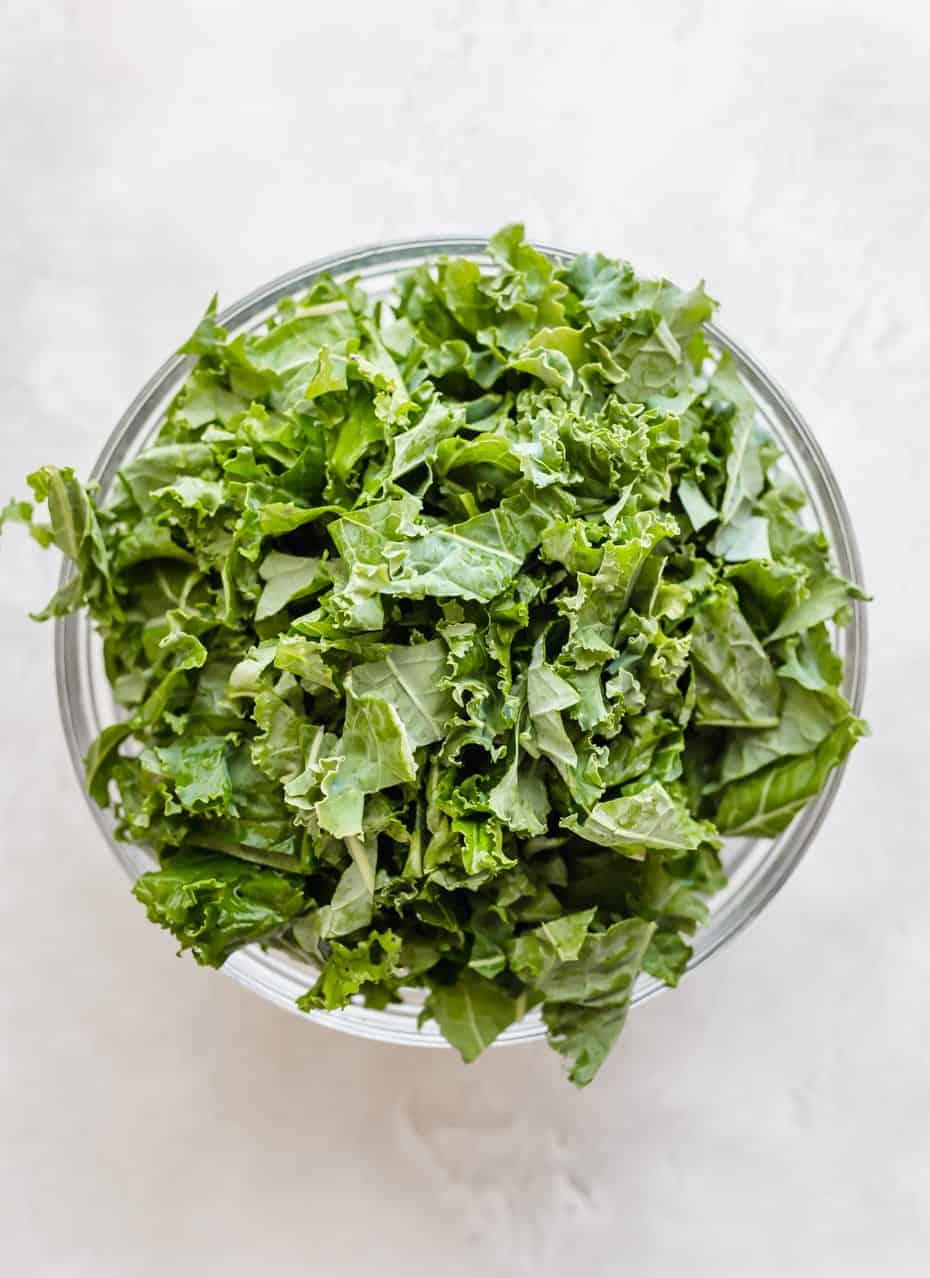 So I've convinced you that kale is the bomb dot com. If you aren't incorporating kale into your diet, this butternut squash and kale recipe is a great recipe to start out with.
How to make Butternut Squash and Kale
Melt the butter in a skillet over medium heat.
Add the diced butternut squash and spices to the skillet. Cook for 6-10 minutes, or until the squash is slightly tender when pierced with a fork. Not too tender, because we still need to add and cook the kale.
Meanwhile, add the chopped kale to a large bowl.
Drizzle the olive oil over the kale and add the salt. Using your hands, gently massage the kale for a minute or two. The leaves will become less tough, shrink in size, and have a silky texture. If you're making a kale salad, this massaging step would be very important! In fact, you'd want to massage for a good 4-5 minutes. However, we are sautéing the kale and not eating it raw so the massaging part isn't as important for this recipe. But just know the next time you go to make a kale salad… massage the kale.
Add the kale to the butternut squash. Cook for an addition 2-3 minutes.
Remove from heat and serve warm.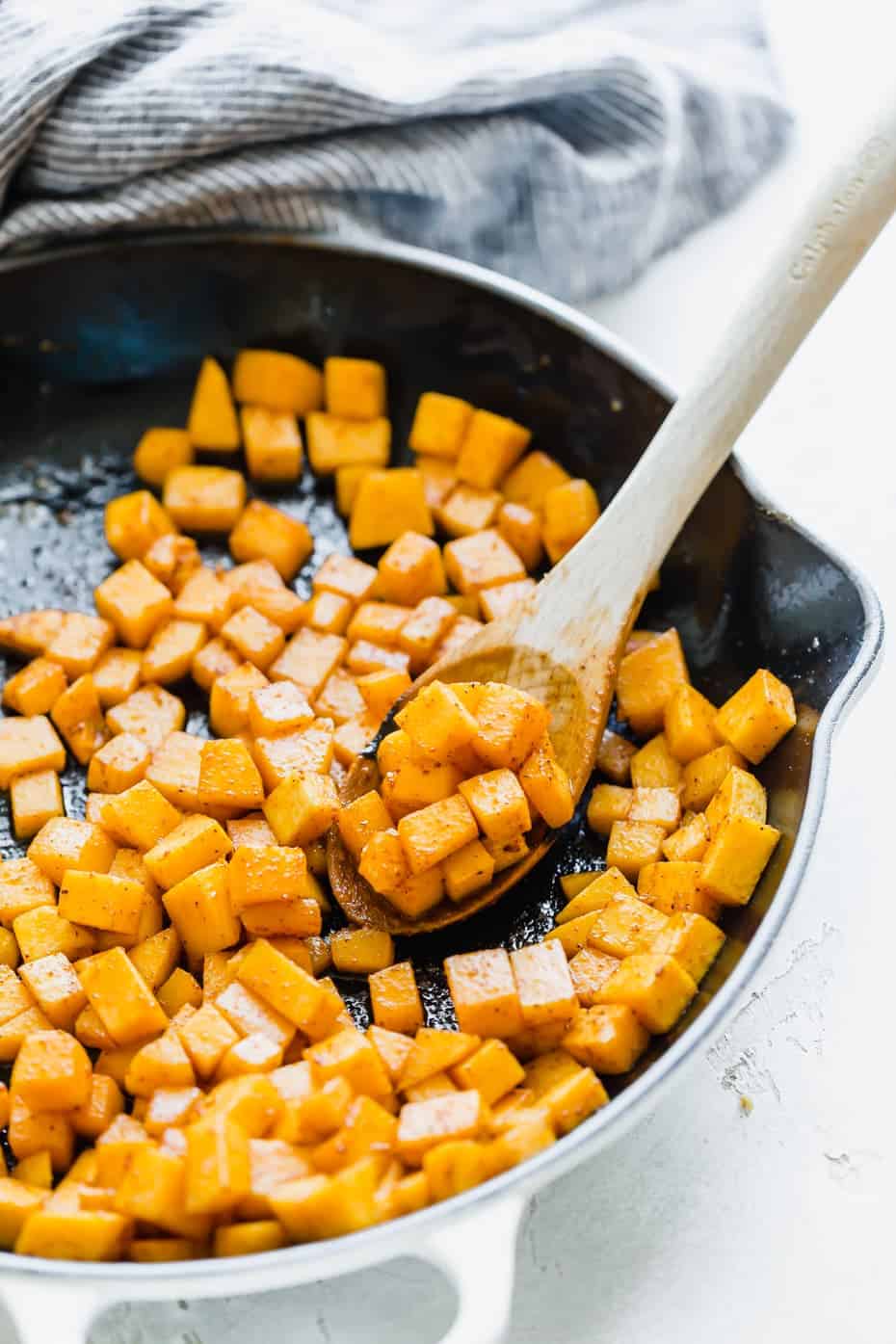 There you have it! An easy side dish recipe that's perfect for this time of year.
If you try this recipe be sure to come back and leave a rating in the comments section! I love hearing from my readers!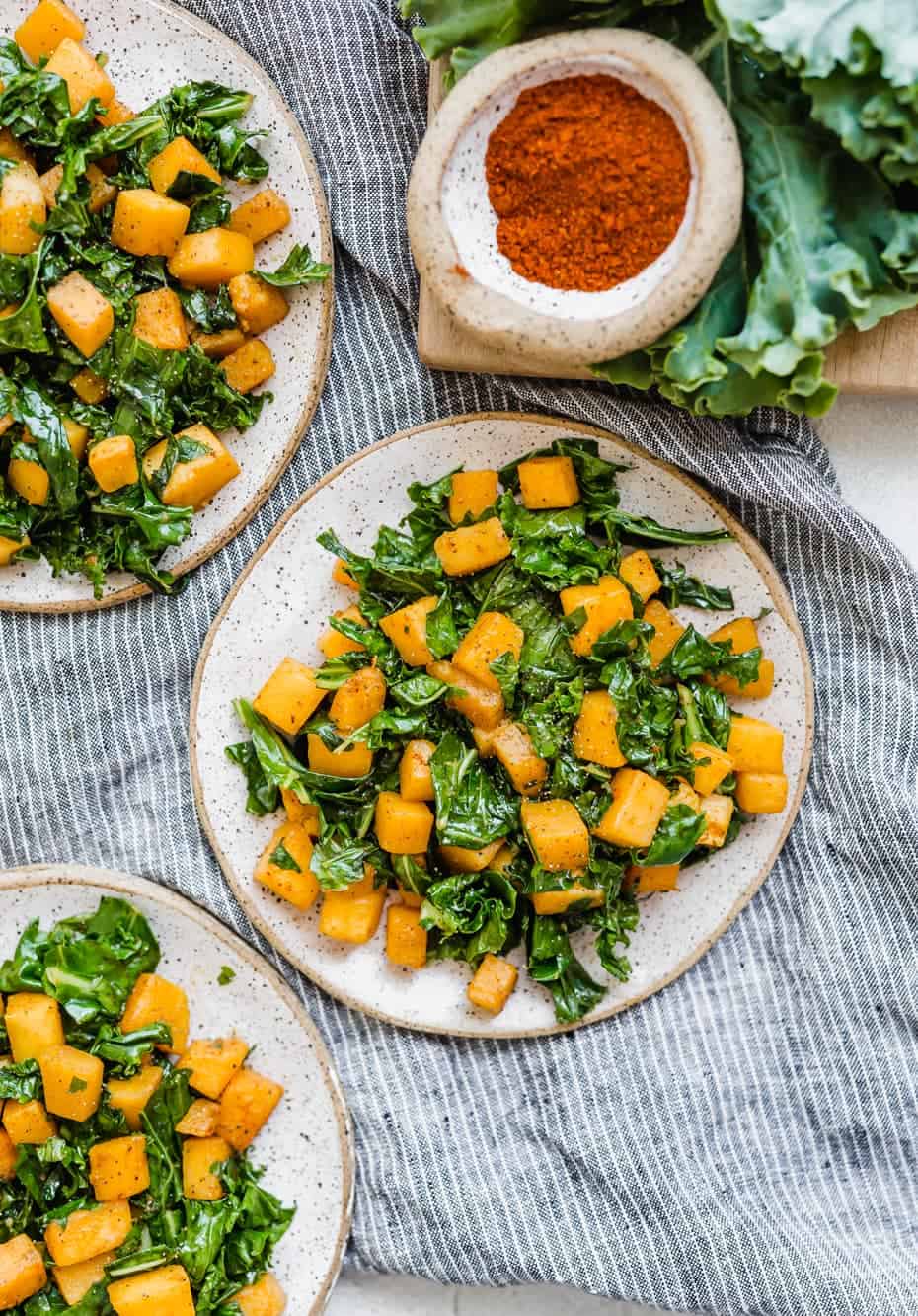 Additional kale recipes you'll enjoy
Butternut Squash and Kale
Butternut squash is so yummy! Pair it with kale and you have a delicious (and healthy) meal or side dish!
Ingredients
4

cups

butternut squash

-

diced about 1/2-1 inch

1

bundle

kale

-

stamps removed and leaves roughly chopped

2

teaspoons

olive oil

1

teaspoon

kosher salt

-

divided

2

tablespoons

unsalted butter

1

teaspoon

chili powder

1/2

teaspoon

garlic powder

1/4

teaspoon

pepper
Instructions
In a skillet over medium heat, melt the butter. Add the butternut squash. Season the squash with chili powder, garlic powder, ½ tsp kosher salt, and pepper. Cook for 6-10 minutes or until the squash is somewhat tender when pierced with a fork.

In a large bowl combine the chopped kale, olive oil, and ½ tsp kosher salt. Using your hands, massage the kale for 1 minute.


Add the kale to the butternut squash. Cook for 2-3 minutes or until the kale has wilted slightly. Taste, and season as you'd like. Serve warm!

Did you make this recipe?
Leave a star rating and review on the blog post letting me know how you liked this recipe! Take a picture and tag @saltandbaker on Instagram and Facebook so I can see what you're making!