Kale Pesto Recipe
This post may include affiliate links. As an Amazon Associate I earn from qualifying purchases.
This Kale Pesto Recipe is the perfect recipe to make to include more kale in your diet. Similar to Basil Pesto, you can serve this kale pistachio pesto on pizza, in your favorite pasta, or as a spread on sandwiches. It's healthy and delicious!
We love serving this kale pesto recipe as Kale Pesto Pasta or as an alternative to basil pesto on homemade Kale Pizza. You can also serve it as a dip or spread on garlic bread to accompany all pasta dishes!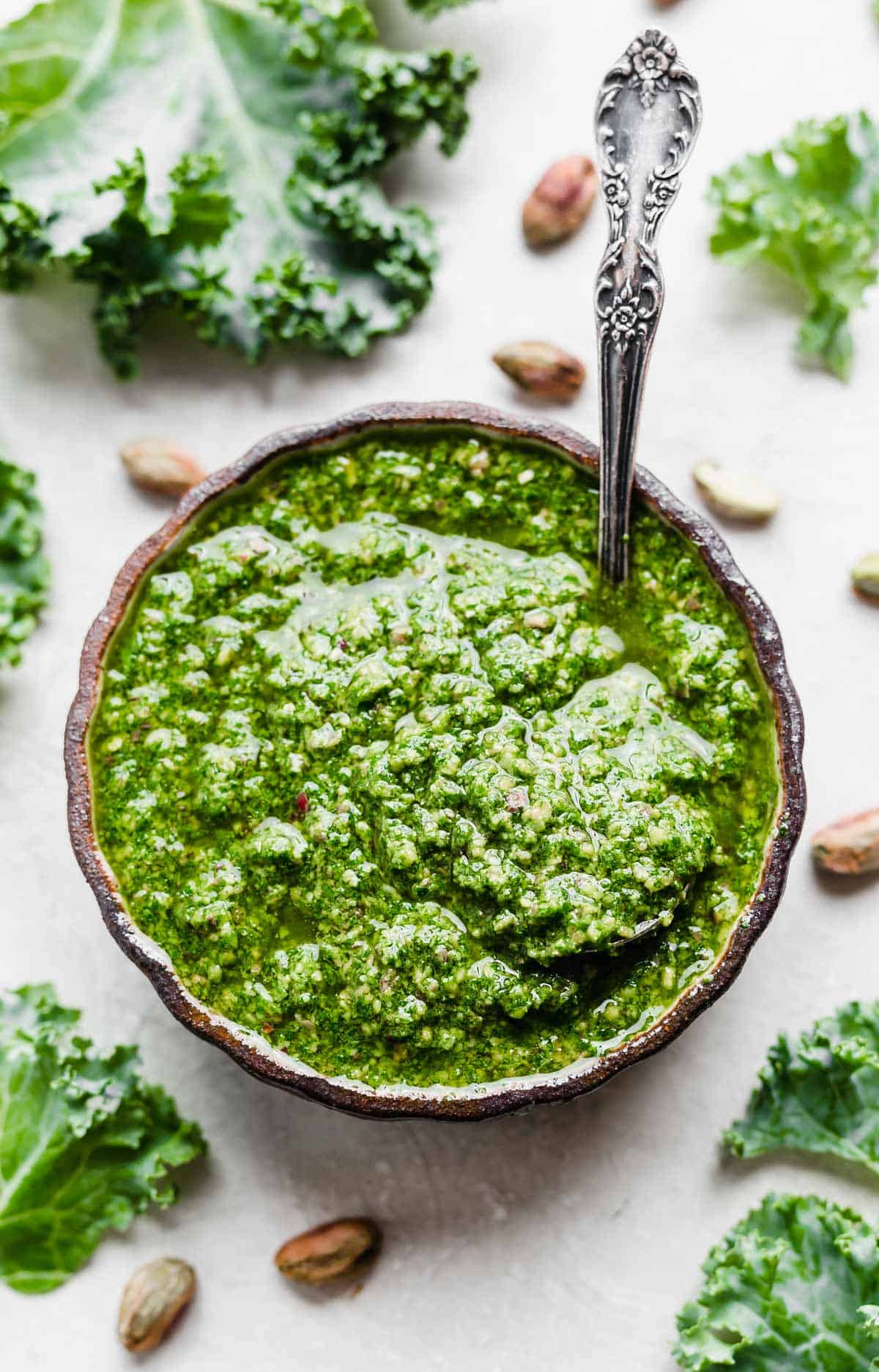 Why This Recipe Works
6-ingredient homemade pesto. This kale pesto recipe uses just 6 ingredients and comes together in only 5 minutes. It's the perfect homemade sauce to make with your kale.
Great basil pesto substitute. Mix up your pesto recipes with this kale pesto sauce!
Healthy. Kale is a powerhouse super food — and using it to make kale pesto is the perfect use of kale to incorporate it into your diet more than in just kale salads. Plus, if you have any family or friends who are a fan of kale, this is a delicious way to intrude them to the vegetable!
Ingredient Notes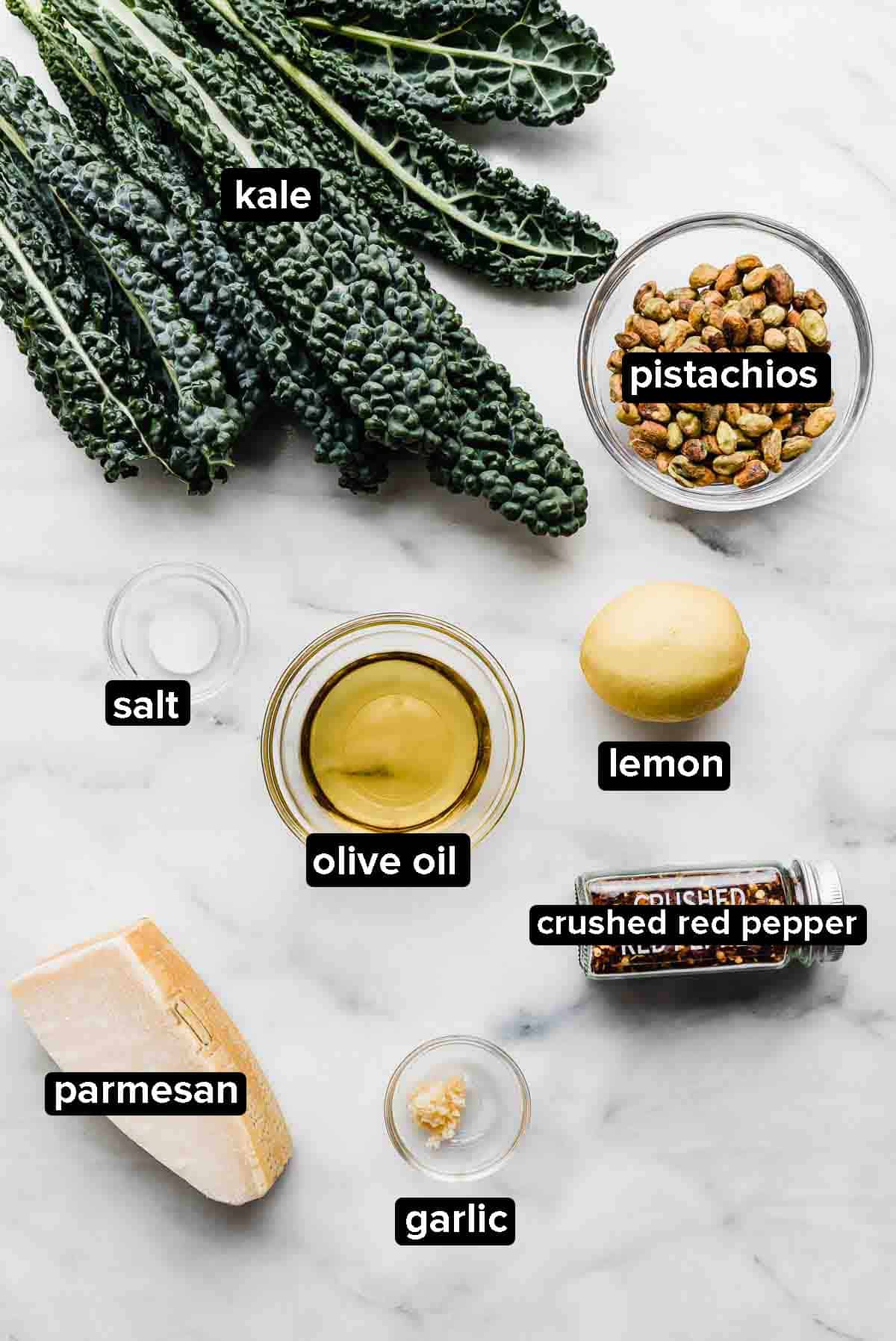 Fresh Kale: You can use tuscan kale, curly kale, or baby kale (stems removed). I used curly kale. Just be sure to wash the bunch of kale and remove the tough stems.
Garlic Cloves: I find that 2 garlic cloves is the perfect amount to add that raw garlic flavor, without being too overpowering.
Lemon Juice: I love the added lemon juice because it creates that pop of zesty flavor.
Pistachios: I used roasted pistachios. You can substitute the pistachios out for different nuts if preferred.
Olive Oil: This is the base for this kale pesto recipe. I recommend using a good quality extra virgin olive oil for the best flavor.
Parmesan Cheese: I love using freshly grated parmesan cheese for the best fresh flavor. For a sharper flavor, I recommend Romano cheese.
Step-by-Step Instructions
Process all ingredients. To a food processor, dd 3 cups raw kale leaves, 1/2 tsp salt, 2 garlic cloves, 1 tablespoon lemon juice, 1/4 cup pistachios, 1/2 cup extra-virgin olive oil, 1/4 cup freshly grated parmesan cheese, and a pinch of crushed red pepper flakes (if using). Process until smooth.
Serve. Serve with pasta, as a spread on sandwiches, or as a pizza topping.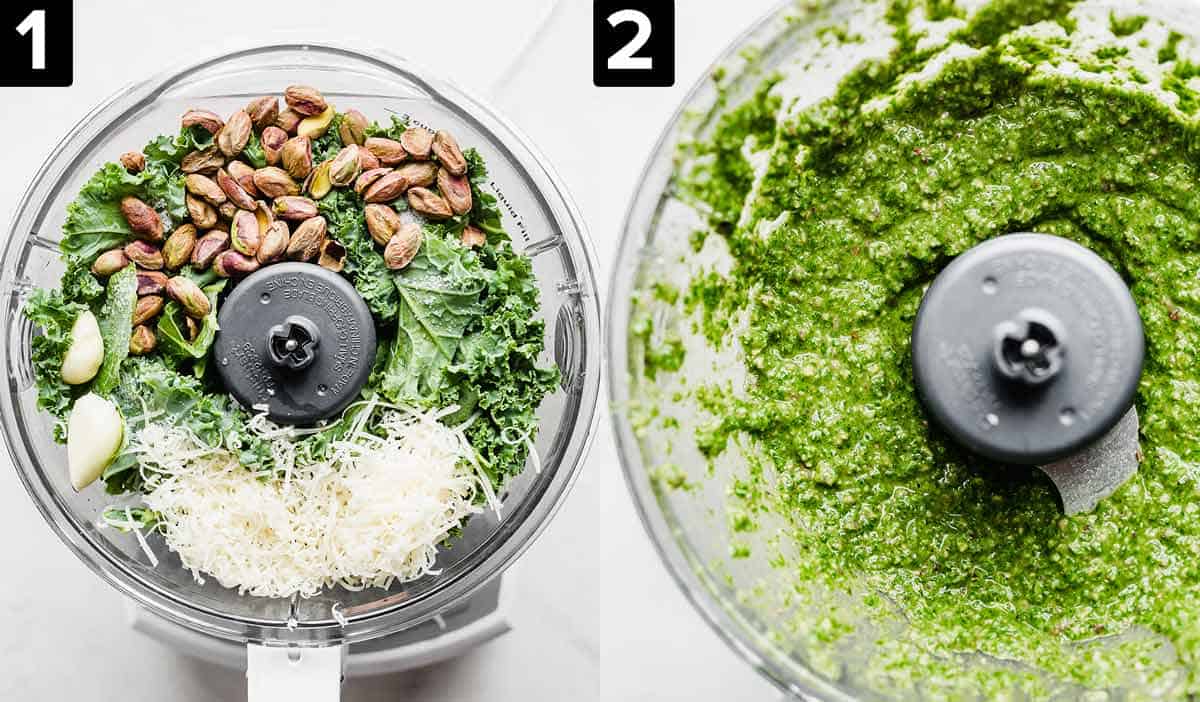 Recipe Tips
If using salted pistachios make sure to reduce the salt to 1/4 teaspoon.
If you don't have pistachios you can substitute a different kind of nut such as walnuts, cashews, pine nuts, or almonds. You can also use pepitas (aka pumpkin seeds) if you have a nut allergy. You'll still get that nutty flavor but in a nut-free version!
Add some flax seeds or hemp hearts for added nutritional value.
For a more pungent flavor use Romano cheese rather than parmesan.
If you don't have red pepper flakes you can add jalapeño to the pesto for heat. Remove the jalapeño seeds for mild/medium, and keep the seeds for medium/hot.
Add a 1/4 tsp real maple syrup or honey if the kale pesto has any bitterness to it.
Make Ahead, Storing, and Freezing
Store the kale pesto in an airtight container or mason jar in the fridge for up to 2 weeks.
You can also freeze the kale pesto. I like to portion it into an ice cube tray and freeze that. Then transfer the frozen kale pesto cubes to a freezer-safe bag. Then, when you want to add some kale pesto to pizza, pasta, or sandwiches, you can thaw the cubes — as many as needed.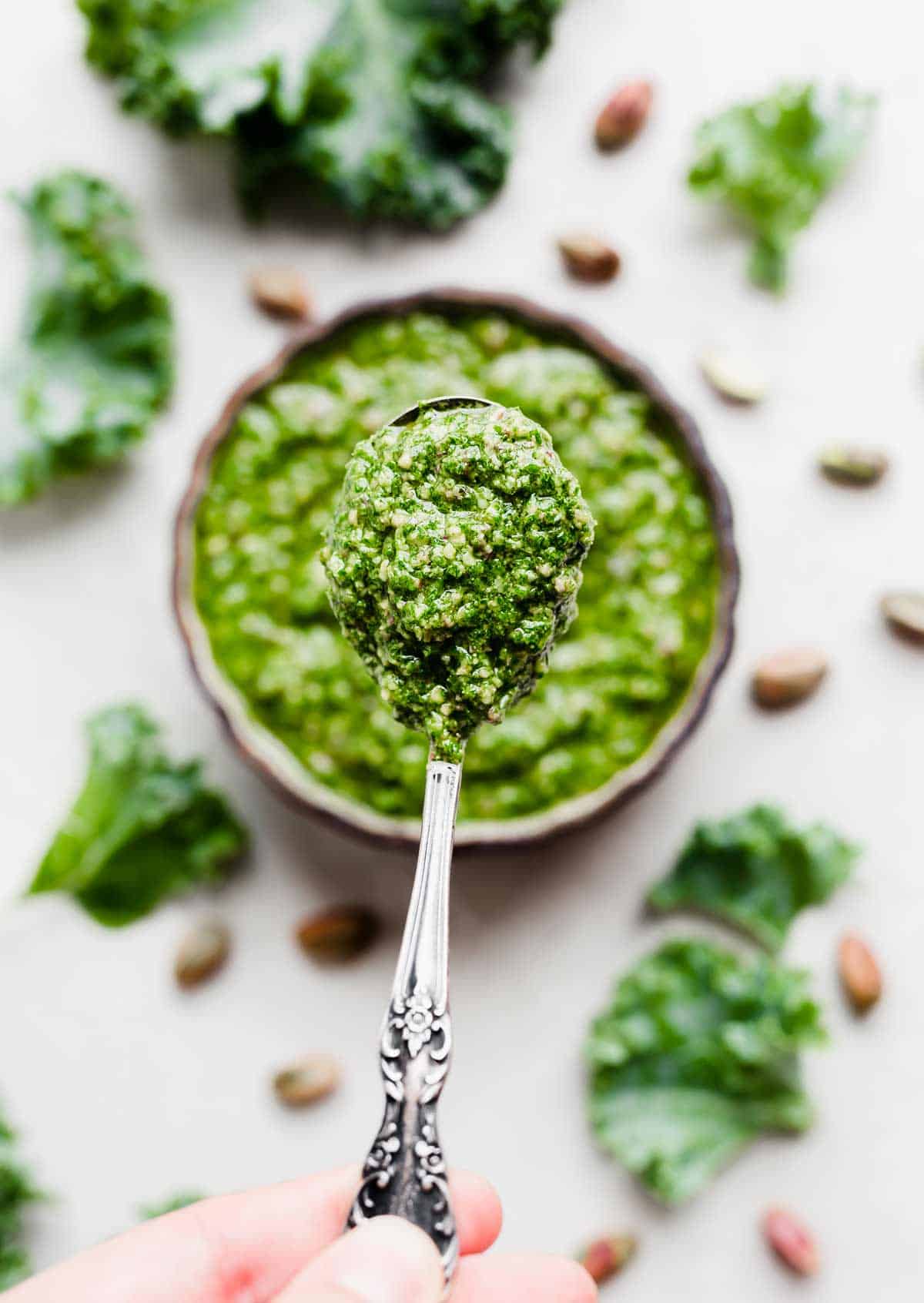 Recipe FAQs
What does kale pesto taste like?
If you're expecting kale pesto to taste like traditional pesto, you're going to be disappointed. Classic pesto is made with basil, and basil is really aromatic and has a strong Italian flavor. Kale is a bit more earthy and peppery. 
What can I substitute for the cheese?
If you are looking for a dairy-free pesto, you can use nutritional yeast instead of parmesan. Nutritional yeast will add a cheesy flavor and make this a vegan kale pesto, but just know that you won't get the parmesan flavor. 
Why is my kale pesto bitter?
Kale tastes slightly bitter and peppery, so your pesto may have a slight bitterness to it. Try adding a bit more lemon juice or parmesan cheese to see if that balances it out. If not, add a 1/4 honey. 
How to use kale pesto?
We love using our kale pesto recipe tossed in pasta, served with scrambled eggs, served on garlic bread, used as a spread on sandwiches or wraps, as a sauce for homemade pizza, or as a topping for roasted veggies.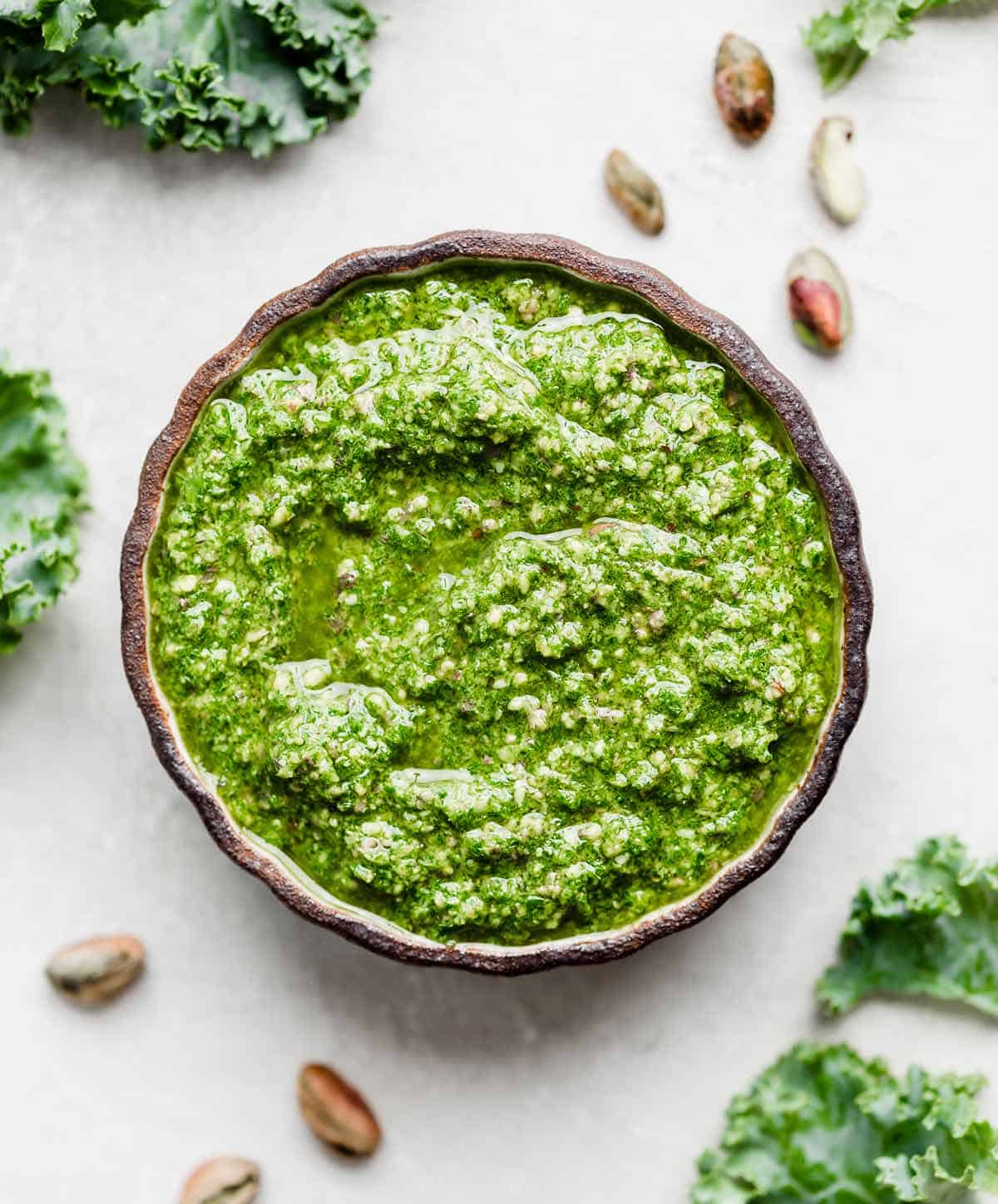 More Pesto Recipes
This kale pesto recipe is delicious to use as a pasta sauce instead of traditional basil pesto in any of these pesto dishes!
Kale Pesto Recipe
You can use this pesto on anything! Sandwiches, pasta, or eat it plain. It's THAT good!
Ingredients
3

cups

kale

-

stems removed, packed

1/2

teaspoon

salt

2

garlic cloves

1

tablespoon

lemon juice

1/4

cup

pistachios

-

see notes

1/2

cup

olive oil

1/4

cup

freshly grated parmesan cheese

pinch

crushed red pepper flakes

-

optional. Add more for added heat
Instructions
Add the kale, salt, garlic, lemon juice, pistachios, grated parmesan, olive oil, and crushed red pepper flakes (if using) to the bowl of a food processor. Process until smooth. 

Serve with pasta, on sandwiches, on pizza. 
Notes
If pistachios are salted, reduce salt to 1/4 teaspoon.
Replace pistachios with walnuts, cashews, or almonds — use pepitas for a nut-free option.
If you don't have red pepper flakes you can add jalapeño to the pesto for heat. Remove the jalapeño seeds for mild/medium, and keep the seeds for medium/hot.
Did you make this recipe?
Leave a star rating and review on the blog post letting me know how you liked this recipe! Take a picture and tag @saltandbaker on Instagram and Facebook so I can see what you're making!