Pesto Tortellini Pasta
This post may include affiliate links. As an Amazon Associate I earn from qualifying purchases.
This Pesto Tortellini Pasta is made with just 5 ingredients and comes together in only 10 minutes! Cheese-filled tortellini are coated in pesto and paired with sun-dried tomatoes, pine nuts and spinach!
I always have Costco cheese tortellini in my freezer, which makes this pesto pasta salad even more approachable. Looking for more tortellini recipes you can use the Costco tortellini in? Check out my Creamy Tomato Tortellini Soup or Sausage Tortellini Soup recipes.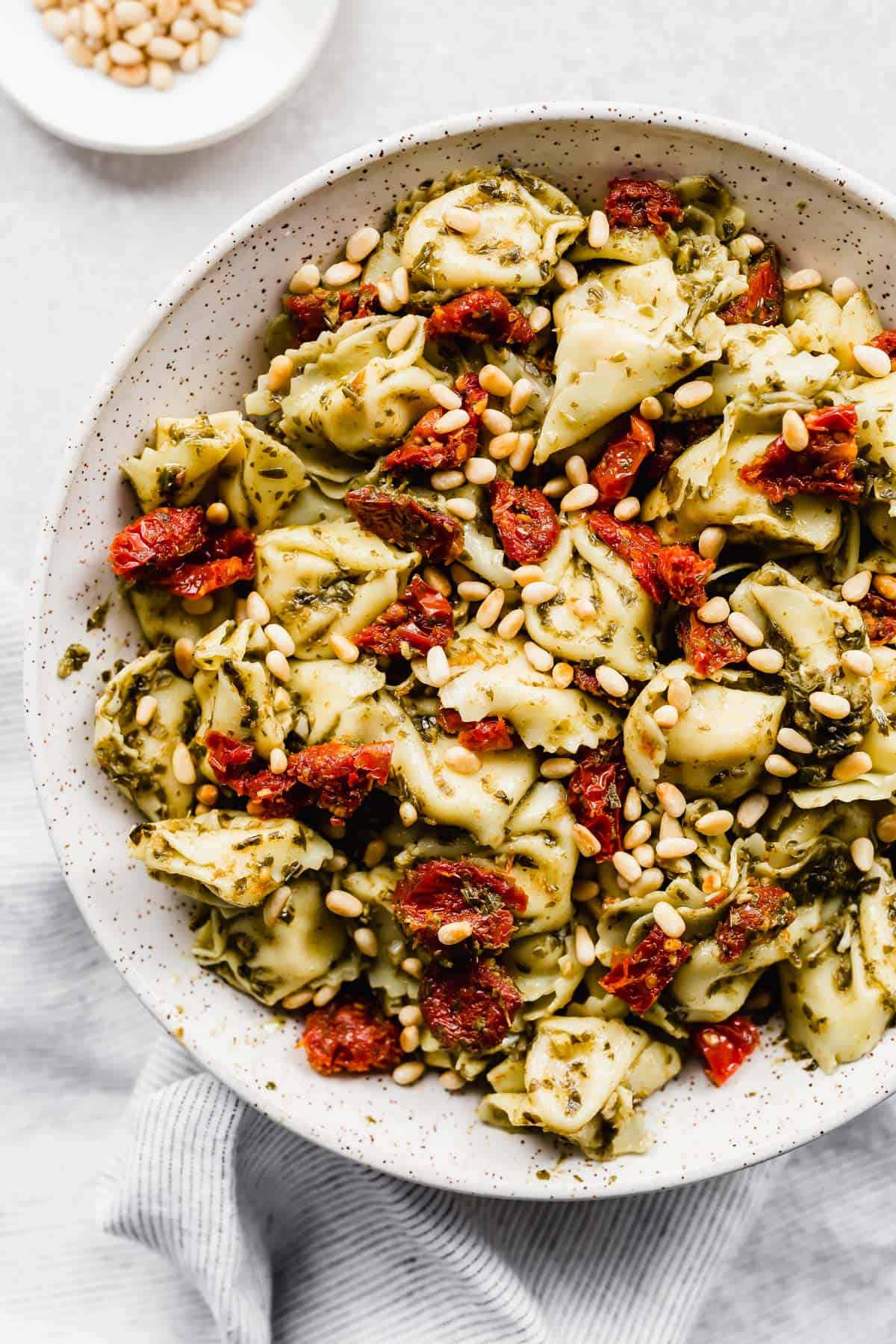 Why This Recipe Works
10-minute dinner recipe. This is my go-to quick and easy dinner. It is super easy to put together and my kids love it!
Only requires 5 ingredients. This recipe is easy because you only need 5 simple ingredients to make it. I usually have these ingredients on hand in my pantry or freezer (yay for freezing tortellini!), making it a great dinner recipe you don't have to go to the grocery store for!
Deliciously creamy pesto tortellini. Not only is a simple dinner recipe, but it is super yummy! My kiddos love it and always ask for more!
Ingredient Notes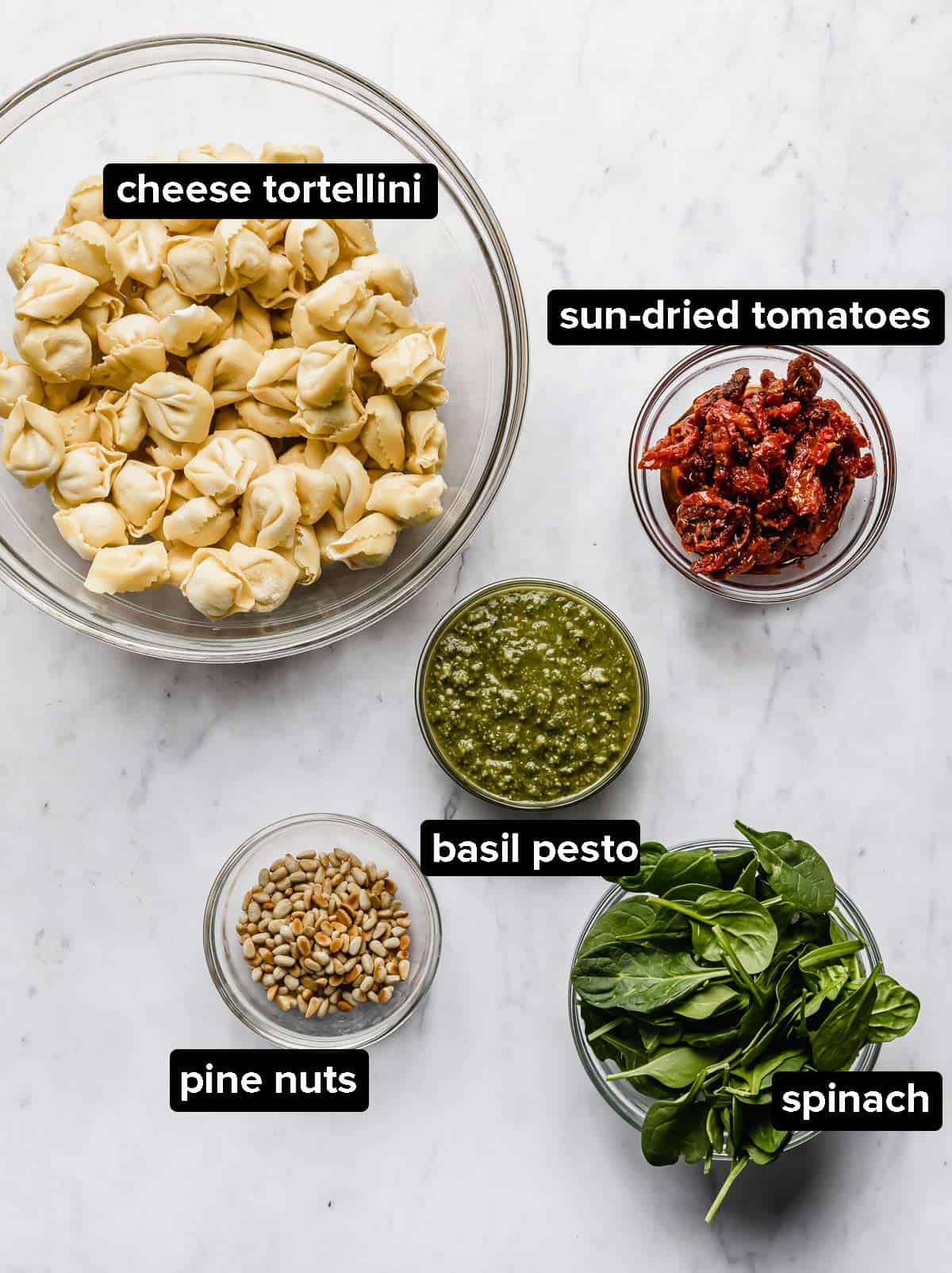 Tortellini: You can use any tortellini you'd like. I usually purchase the cheese tortellini (specifically from Costco, because… hello, Costco 😊).
Pesto: You can use homemade fresh basil pesto, kale pesto, or jarred pesto sauce.
Sun-Dried Tomatoes: I purchase one 8.5 oz jar of sun-dried tomatoes in oil. I drain the oil and then chop the tomatoes.
Roasted Pine Nuts: I like to toast the pine nuts before adding them to the salad.
Spinach: This is optional, but I've been adding chopped fresh spinach to the salad recently and have been loving the additional greens.
Step-by-Step Instructions
Cook the tortellini. Following the package instructions, cook the tortellini in a large pot on medium heat until al dente. Drain and transfer the tortellini to a large serving bowl.
Toss in the pesto. Add the pesto and toss to coat. Add the sun-dried tomatoes and the spinach, if using. The heat of the pasta will allow the spinach to wilt slightly.
Garnish with pine nuts. Add the toasted pine nuts. Add a pinch or two of kosher salt and black pepper to taste. You can also add a splash or two of olive oil (or sun-dried tomato oil) if needed.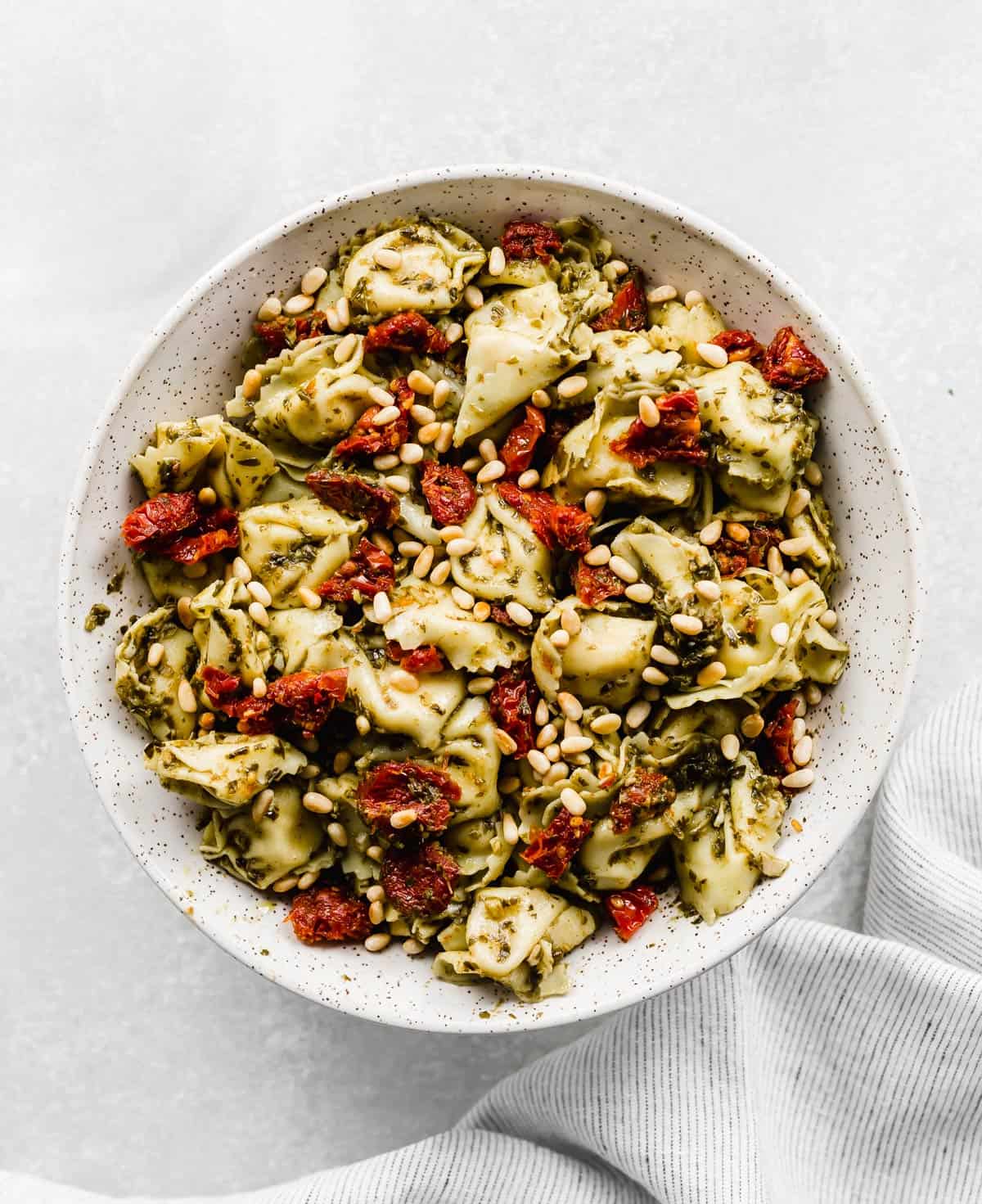 Recipe Tips
To toast the pine nuts, add them to a nonstick skillet over medium low heat. (Don't add any oil!) While stirring, cook the pine nuts until they are golden.
You'll be tempted to turn the heat to high in hopes of toasting the pine nuts quicker… but beware, you're more likely to burn the nuts if you do this.
The pesto can be served hot or as a cold pasta salad at family dinner or summer parties.
Top with some freshly grated parmesan cheese and red pepper flakes (for a kick) if you'd like. You can also add some chopped artichoke hearts as a great addition for more variety. Serve alongside garlic bread and garlic parmesan roasted carrots.
Reserve some of the sun-dried tomato oil to add to the pasta if needed. You can also use sun-dried tomato oil for cooking chicken like in my Creamy Tuscan Chicken recipe! 
Prefer a red pesto sauce? Find the recipe in my Red Pesto Pasta!
Make Ahead, Storing, and Freezing
You can freeze the tortellini in the packages you buy them in. I usually have a package or two of tortellini from Costco in my freezer.
Store leftover pesto tortellini pasta in an airtight container in the fridge for 3-4 days. You may want to add extra pesto sauce when reheating the pasta to keep the pasta saucy.
To freeze, store the pesto tortellini salad in an airtight container in the freezer for 1-2 months. Note: I think tortellini holds its shape better if frozen prior to cooking. Keep that in mind if you decide to freeze any leftovers after cooking the noodles.
Recipe FAQs
What kind of tortellini can I use?
I use cheese-filled tortellini, but you can use whatever kind you prefer or what your local grocery store stocks.
Can I use a different pesto?
Yes you can! Feel free to use any kind of pesto in this pesto tortellini pasta salad. You can also make fresh pesto at home with my Kale Pesto and Basil Pesto recipes! 
Can I use fresh tomatoes?
Yes you can! If you are looking for recipes with fresh tomatoes, then you'll love my Cherry Tomato Caprese Salad! I love the sun-dried tomatoes in this creamy pesto tortellini, but you can use fresh if you prefer. I recommend using a smaller tomato like cherry tomatoes or grape tomatoes and cut them in half.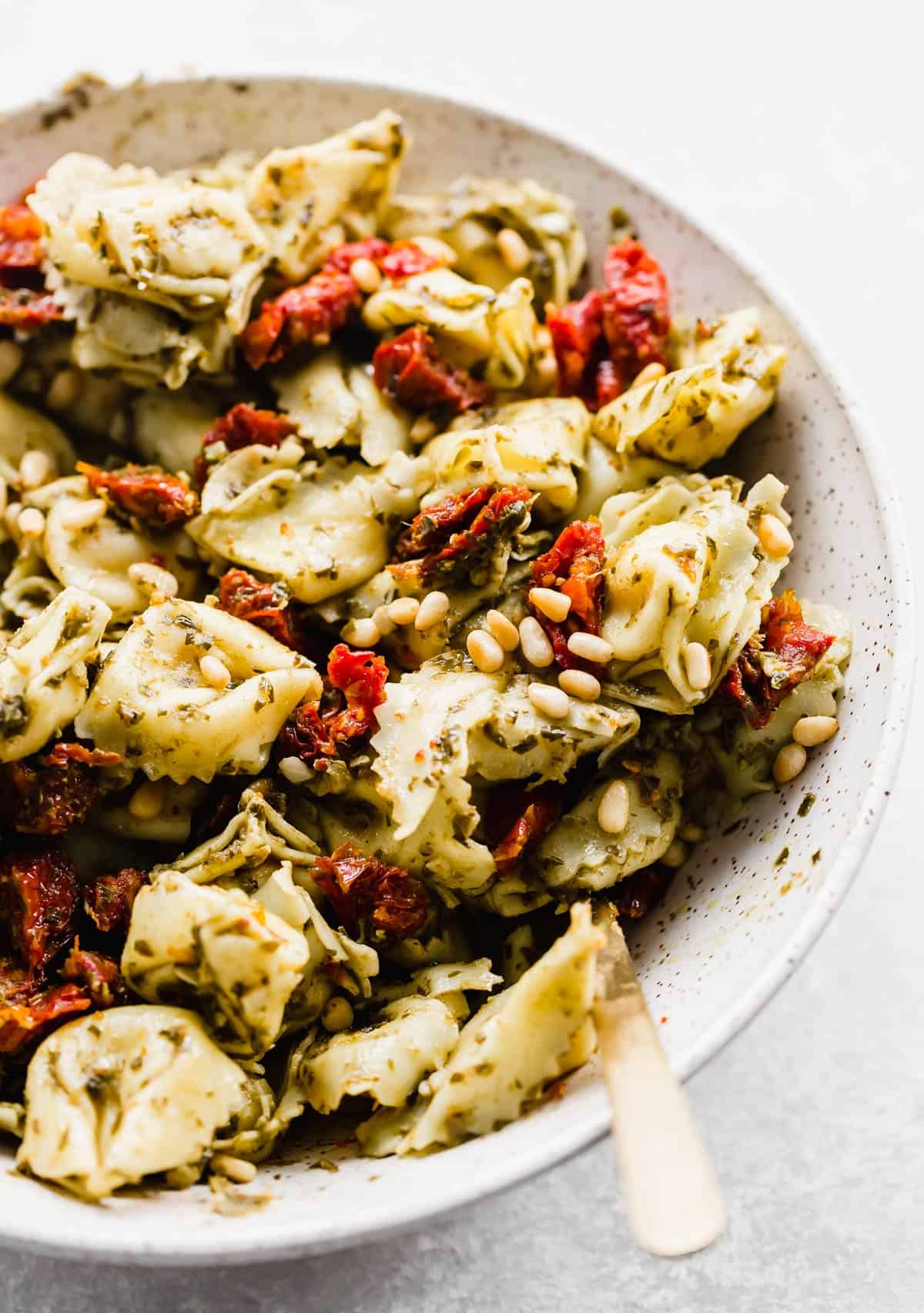 Recipes with Pesto
Pesto Tortellini Pasta
An easy 10 minute pesto tortellini pasta featuring cheese tortellini covered in fresh pesto sauce, sundried tomatoes, and roasted pine nuts. It's simple and delicious!
Ingredients
24

oz

cheese filled tortellini

3/4

cup

basil pesto

-

(a 6 oz jar of pesto is equivalent to 3/4 cup)

1

cup

sundried tomatoes

-

drained and chopped (an 8.5 oz jar will give you 1 cup)

1/3

cup

roasted pine nuts

1

cup

baby spinach

-

chopped, optional
Instructions
Cook the tortellini according to package directions. Drain and transfer the tortellini to a large bowl. 

Add the pesto and sundried tomatoes to the large bowl. Gently toss to coat. Add the chopped spinach (if using) and toss again. Season with salt and pepper, to taste.

Sprinkle the pine nuts overtop and serve. 
Notes
Add a tablespoon or two of olive oil to the finished pasta dish if you think it needs it.  
Store leftover pesto tortellini pasta in an airtight container in the fridge for 3-4 days. You may want to add extra pesto sauce when reheating the pasta to keep the pasta saucy.
Nutrition facts are based on 1 serving. 
Did you make this recipe?
Leave a star rating and review on the blog post letting me know how you liked this recipe! Take a picture and tag @saltandbaker on Instagram and Facebook so I can see what you're making!