Sausage Tortellini Soup
This post may include affiliate links. As an Amazon Associate I earn from qualifying purchases.
This Creamy Sausage Tortellini Soup has delicious pieces of pork sausage, cheese-filled tortellini, fresh spinach, cooked carrots and onions all swimming in a creamy Italian-seasoned soup base! This soup is on instant repeat in our house this time of year.
If you love this Italian sausage tortellini soup recipe then you will love my Creamy Tomato Tortellini Soup! It's very similar to this recipe but has a tomato sauce base. It's also amazing! And if you love tortellini, then you'll want to save this Pesto Tortellini Pasta for your next pasta dinner!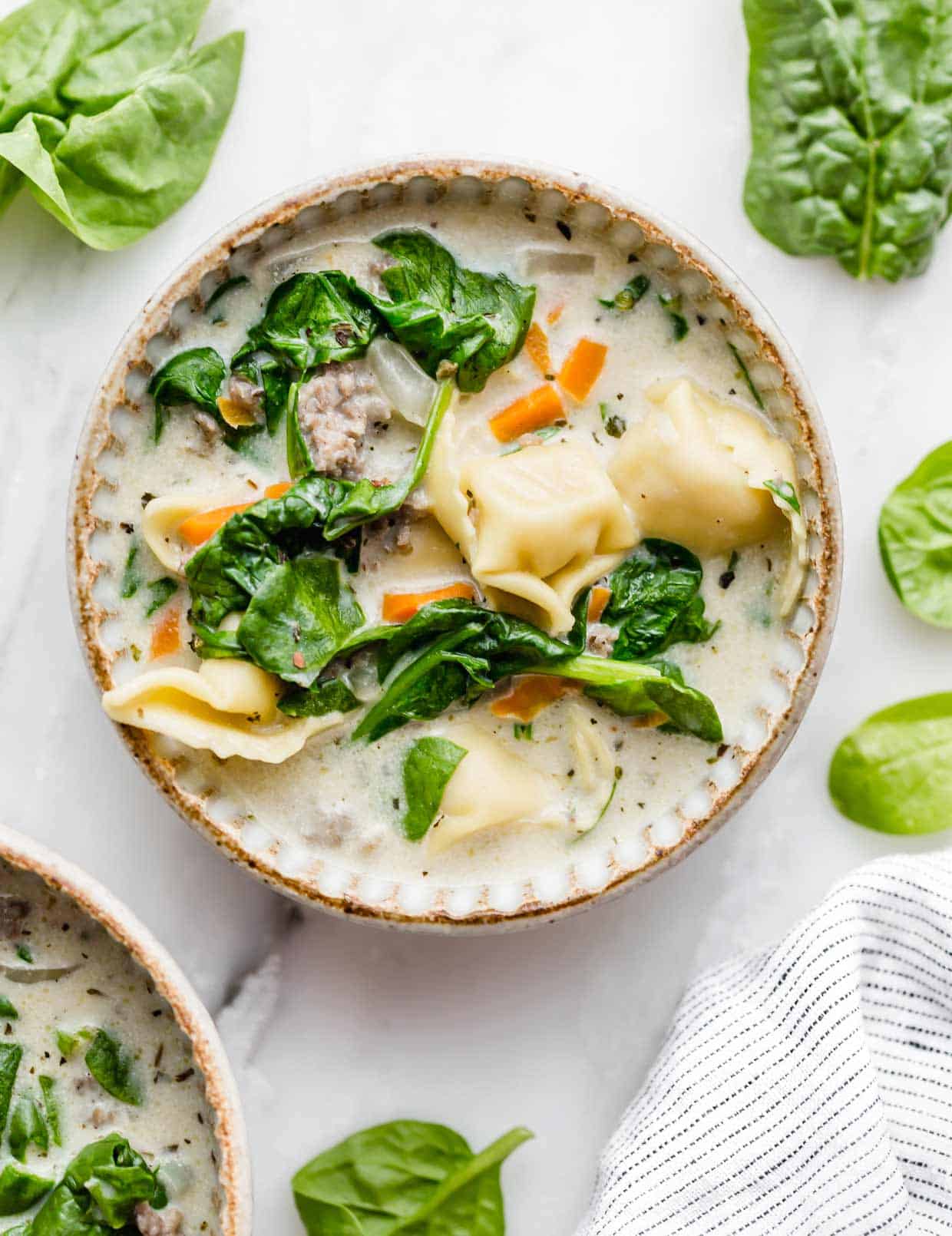 Why This Recipe Works
One pot soup recipe. I love a good one pot meal! It makes cooking the dinner and cleaning it up a breeze!
Easy dinner recipe. This Italian sausage and tortellini soup recipe comes together easily and makes a lot too! 
Creamy soup. The fact that this sausage tortellini spinach soup has a creamy liquid base instead of just plain broth is a huge game changer for me.
Packed with vegetables. Not only does this delicious meal have cheesy tortellini and an entire pound of Italian sausage, but it is packed with easily my favorite veggies to include in soups — carrots and onions! 
Ingredient Notes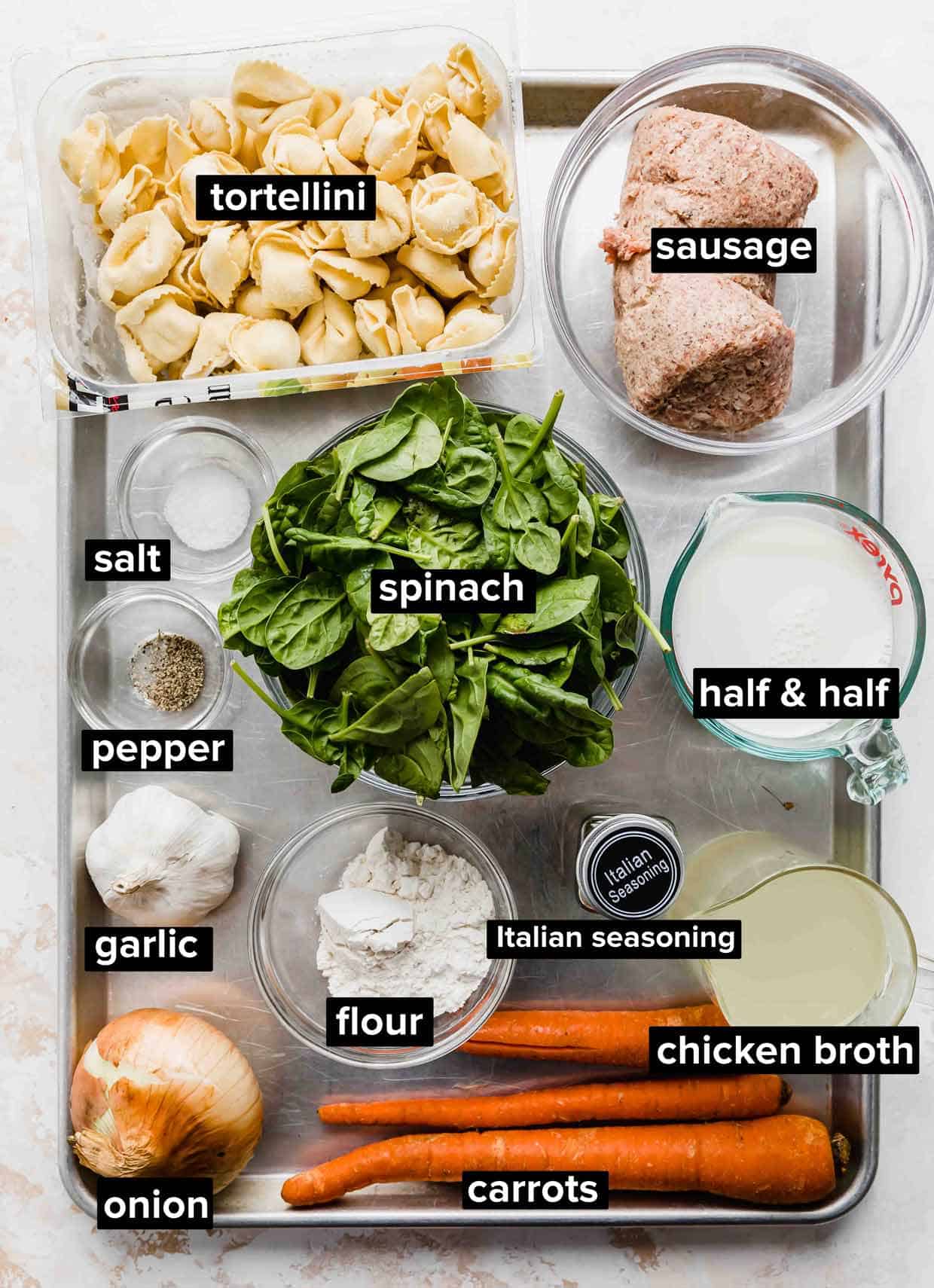 Pork Sausage: I use the Jimmy Dean sausage. You can use regular or the Italian sausage. 
Carrots: I love carrots! And they are a great soup addition. Not only will the carrots add a beautiful color and excellent nutrition to the creamy sausage tortellini soup, carrots have a natural sweetness to them, which makes the flavor complex of this soup so much better!
Flour: Adding flour will help create a thicker soup base that will then get deliciously creamy with the added half and half. 
Cheese Tortellini: You can buy cheese tortellini in the refrigerated noodles section of your grocery store. I like buying the kind from Costco and keeping them in my freezer for whenever I need a quick meal! 
Seasonings: All you'll need to get the perfect flavor is Italian seasoning, salt and pepper. If you are using regular sausage (and not Italian sausage), then you may want to add just a tad more Italian seasoning. Just give the soup and taste and decide from there. 
Fresh Spinach: The fresh spinach will give a nice green color and add extra nutrition! 
Half and Half: If you don't have half and half, you can use part milk/part cream. You can also just use heavy cream if you'd prefer. 
Step-by-Step Instructions
Cook the sausage. Add the sausage to a large pot. Cook over medium heat until browned and cooked through. Remove the sausage and place on a paper towel-lined plate. 
Cook the vegetables. Add the onion and carrots to the same pan and cook until tender (about 4-5 minutes). Add the minced garlic cloves and cook for 1 more minute. 
Make the soup base. Add the flour and stir until combined. Cook for 1 minutes then slowly add in the chicken broth while stirring. Bring to a boil then reduce to low hit and simmer for 5 minutes (covered).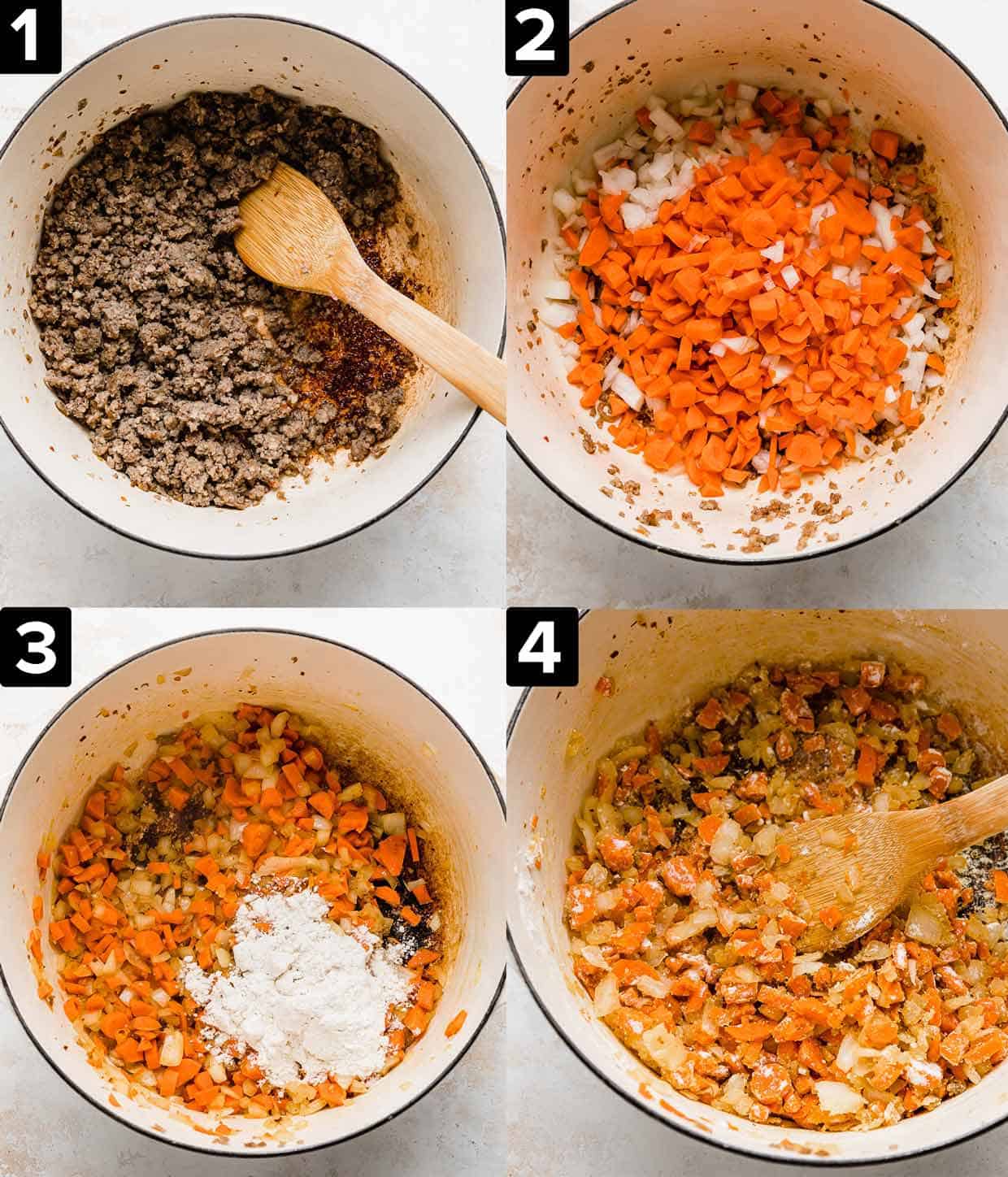 Add the tortellini, seasonings, spinach and half and half. Add the cheese tortellini, Italian seasoning, salt and pepper, spinach and half and half. Stir until combined. Cook for 4-5 minutes or until the tortellini is warmed and cooked. Serve with fresh basil, parmesan cheese and artisan bread if desired!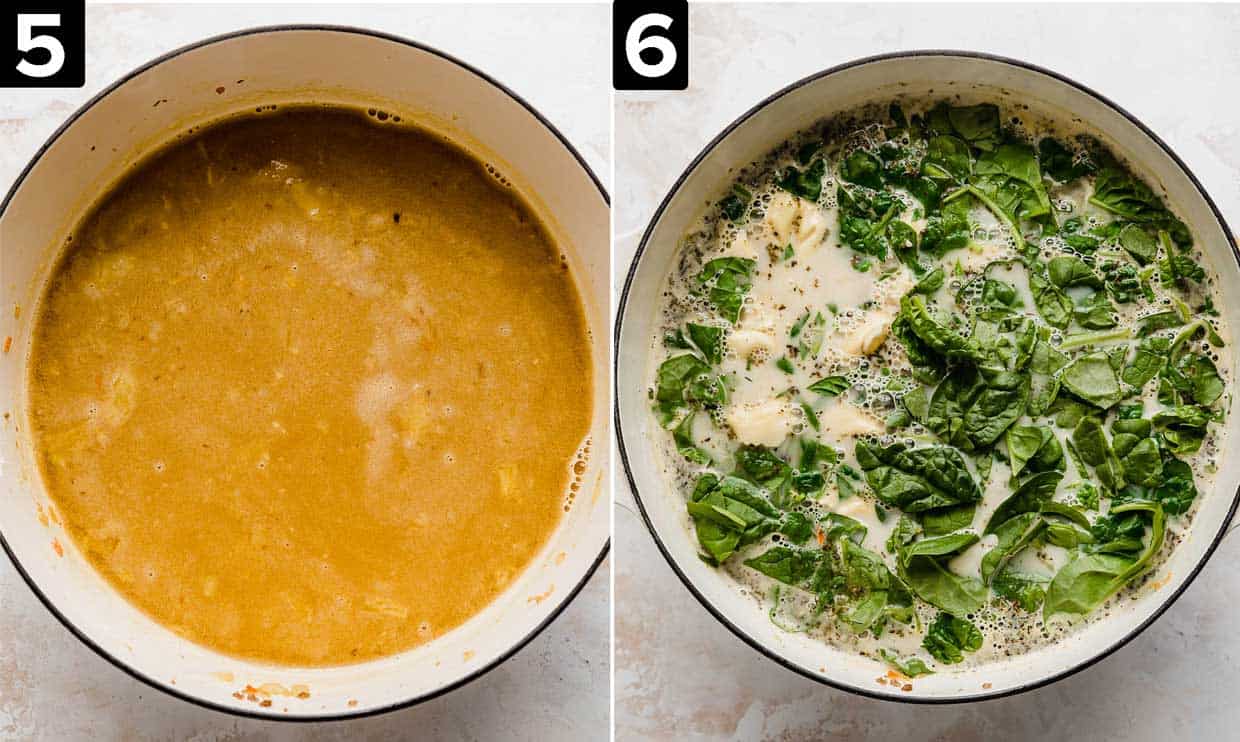 Recipe Tips
A common vegetable combination in Italian dishes is celery, carrots and onion (diced). This is called a soffritto. If you'd like, you can definitely add diced celery to the vegetables mixture!
Feel free to use regular spinach, fresh baby spinach, or even kale! Even frozen spinach would be fine if you're in a pinch.
Looking for some spice? Use hot Italian sausage and add some red pepper flakes.
If you've purchased fresh tortellini, it will only cook for 4-5 minutes. If you are using dry tortellini from the shelf, it will cook more like a dry noodle — 10-11 minutes or until tender. You can also cook this tortellini from the freezer and it will take a few minutes longer than the fresh cheese tortellini.
You can use half and half or cream. Cream has a higher fat content so it will make the soup thicker and creamier, but half and half works fine too! If you use just milk, it won't be as creamy in terms of thickness.
This creamy Italian sausage soup will typically yield leftovers for a family of 4. Note that as the tortellini sits in the fridge, they will soak up some of the liquid. As such, you'll probably have more of a pasta dish than a soup as leftovers. It's still super yummy! Just wanted to give you a heads up.
If you want to return it to soup consistency, you can add additional half and half and chicken stock as well as some additional Italian seasoning.
Make Ahead, Storing, and Freezing
If you want to make some of the soup ahead of time to freeze and finish later, cook up the sausage and vegetables and freeze those. Then, when you are ready to eat the soup, pull the meat and veggies mixture out of the freezer to thaw. Add the mixture to a pot to warm, then you can finish making the soup starting with the flour step, then adding the broth, tortellini and cream.
Store leftover sausage tortellini soup in an airtight container in the fridge for 4-5 days.
The tortellini soup with sausage and spinach will be less liquidy the next day. This is due to the tortellini soaking up the liquid while it sits. This isn't a bad thing! It still super delicious. It will just be more like eating leftover pasta than eating leftover soup.
When frozen and defrosted, milk and cream can separate, creating a grainy texture and look. Any soups with pasta in them don't freeze well. The noodles can lose their shape and get mushy and soft. I don't recommend freezing this soup since there is half and half and pasta in it.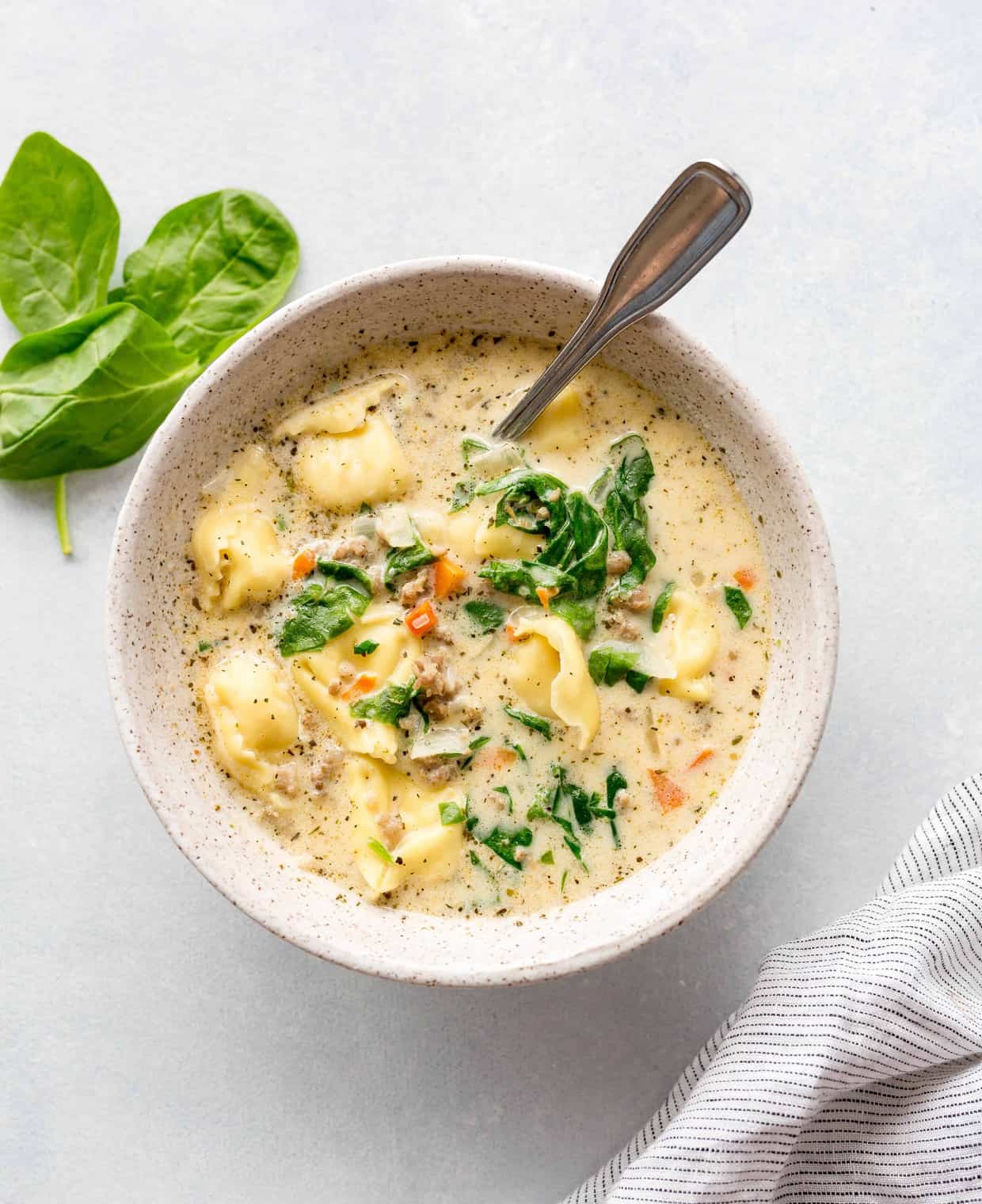 Recipe FAQs
How do I make a creamy soup base? 
If you want to turn any soup into a creamier base, add a bit of flour to the broth, bring the broth to a boil, then simmer for a couple of minutes. This process will create a thicker soup base, instead of a clear, liquid broth. Using the flour and bringing the mixture to a boil, then simmering is key.
Can I use sausage links? 
Of course! If you want to cook up sausage links and cut those instead of using a ground sausage option, that's just fine. However, there may be a slight difference in the final taste of the soup, so keep that in mind. I love this Italian sausage and tortellini soup for the mild Italian sausage so I opt for that instead of sausage links. 
Can I use ground beef instead of sausage? 
You are more than welcome to swap out the meat in this creamy tortellini soup, but I highly recommend sticking to sausage. Sausage typically has a richer and more complex flavor than ground beef, since sausage usually has added spices — making this the best soup ever!  
How many people does this feed? 
This soup feeds about eight people. It's a great size for a family dinner. However, if you are making this soup for a large gathering, I'd suggest doubling it. For a family of 3 or 4 people, this recipe will most likely yield some leftovers.
What to serve with sausage tortellini soup?
Typically when I make this main course I don't make tons of sides (this is a hearty soup since there is meat, pasta, and veggies in the soup!). However, I do love Focaccia Bread or Dinner Rolls Recipe alongside this Italian soup recipe.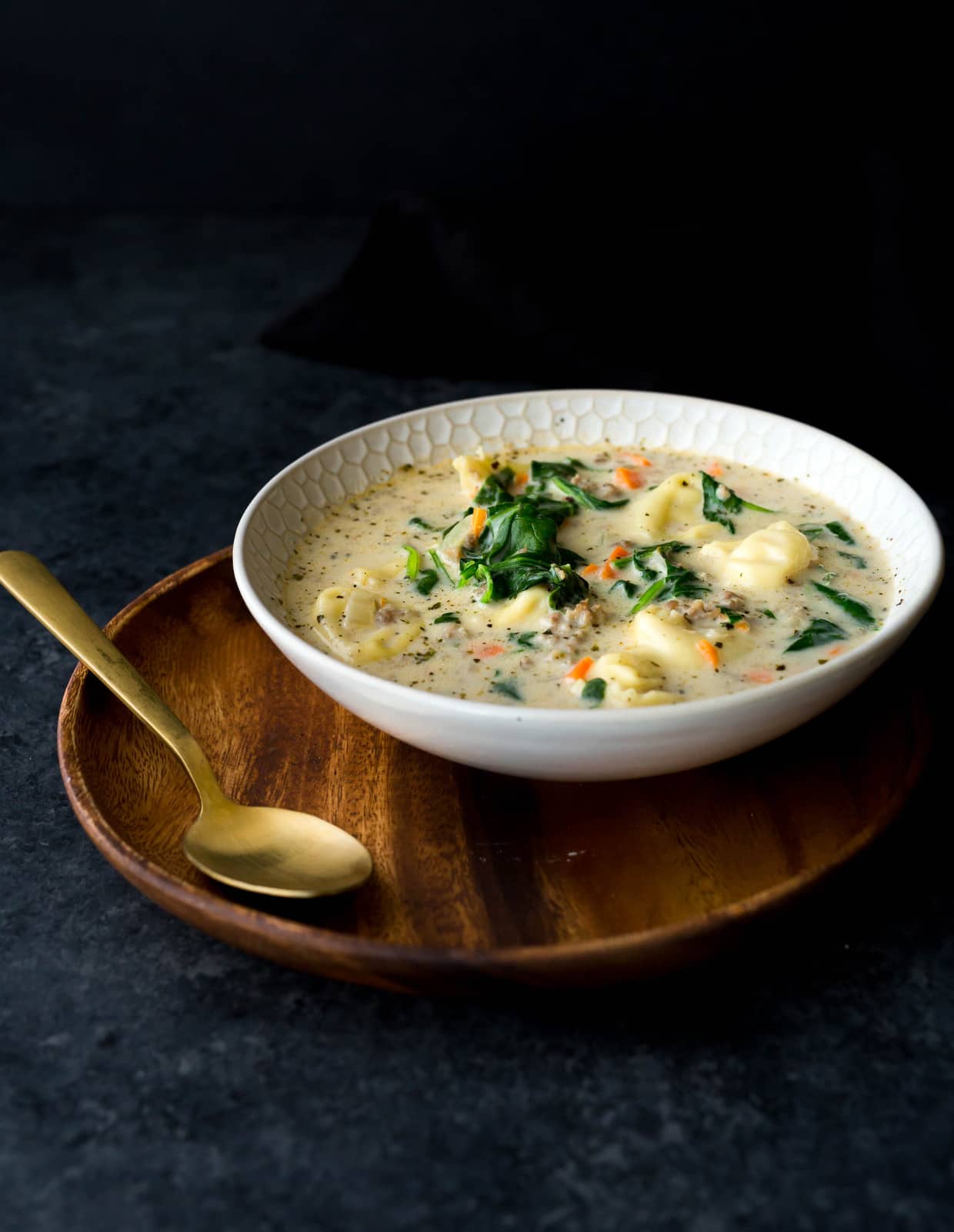 More Favorite Soups
Sausage Tortellini Soup
The soup has become a family favorite. It's loaded with diced veggies, cheese tortellini, crumbled sausage, and lots of spinach. The flavor is amazing and it stores really well too!
Ingredients
1

lb

regular pork sausage

1

small yellow onion, diced, about 1 cup (or half a medium onion)

3

large carrots, peeled and diced

4

garlic cloves, minced

1/3

cup

flour

7

cups

low sodium chicken broth

24

oz

refrigerated cheese tortellini*

1

tsp

kosher salt

1

tablespoon

Italian seasoning

1/2

tsp

ground black pepper

6

oz

fresh spinach, chopped

2 1/4

cups

half and half
Instructions
In a medium/large size pot, add the sausage. Cook over medium heat until browned. Once sausage is cooked through, use a slotted spoon and transfer the meat to a paper towel lined plate.

Add the onion and carrots to the pan. Saute until the vegetables are tender, about 4-5 minutes. Add the minced garlic, stir frequently, cooking for 1 minute more. Whisk in the flour. Cook for 1 minute, whisking constantly. Slowly add the chicken stock. Whisk to combine. Bring the mixture to a boil. When it reaches a boil, reduce heat to low, and cover. Simmer for 5 minutes.

Add the cheese tortellini, salt, Italian seasoning, black pepper, spinach, cooked sausage, and half and half. Cook for 4-5 minutes or until the cheese tortellini is warm. Serve immediately. 
Notes
*Costco sells refrigerated cheese tortellini. I always use one of those when make this meal. 
Leftovers will be less soupy due to the tortellini soaking up the liquid. It's still so yummy! Just a heads up that it will be more like a pasta sauce than a soup. Eat as is (which I love!) or make it soupy again by adding more chicken stock, half and half, and a bit of Italian seasoning. 
Recipe Source: adapted from Life Made Simple. 
Did you make this recipe?
Leave a star rating and review on the blog post letting me know how you liked this recipe! Take a picture and tag @saltandbaker on Instagram and Facebook so I can see what you're making!