Taco Soup with Fritos
This post may include affiliate links. As an Amazon Associate I earn from qualifying purchases.
This Taco Soup with Fritos is loaded with hearty meat, beans, canned tomatoes, corn, green chilis, and taco seasoning. We like to serve ours with a generous handful of Fritos, grated cheese, and sour cream! It's the perfect dinner on a cold day or those busy weeknights when you can't spend a long time in the kitchen!
If you're looking for more soup recipes to keep you warm this season, try my Ham and Corn Chowder, Zupas Tomato Basil Soup, Crockpot Cream Cheese Chicken Chili, and Sweet and Spicy Chili! This beef taco soup is the soup form of my Walking Taco Casserole, so be sure to give that recipe a try as well!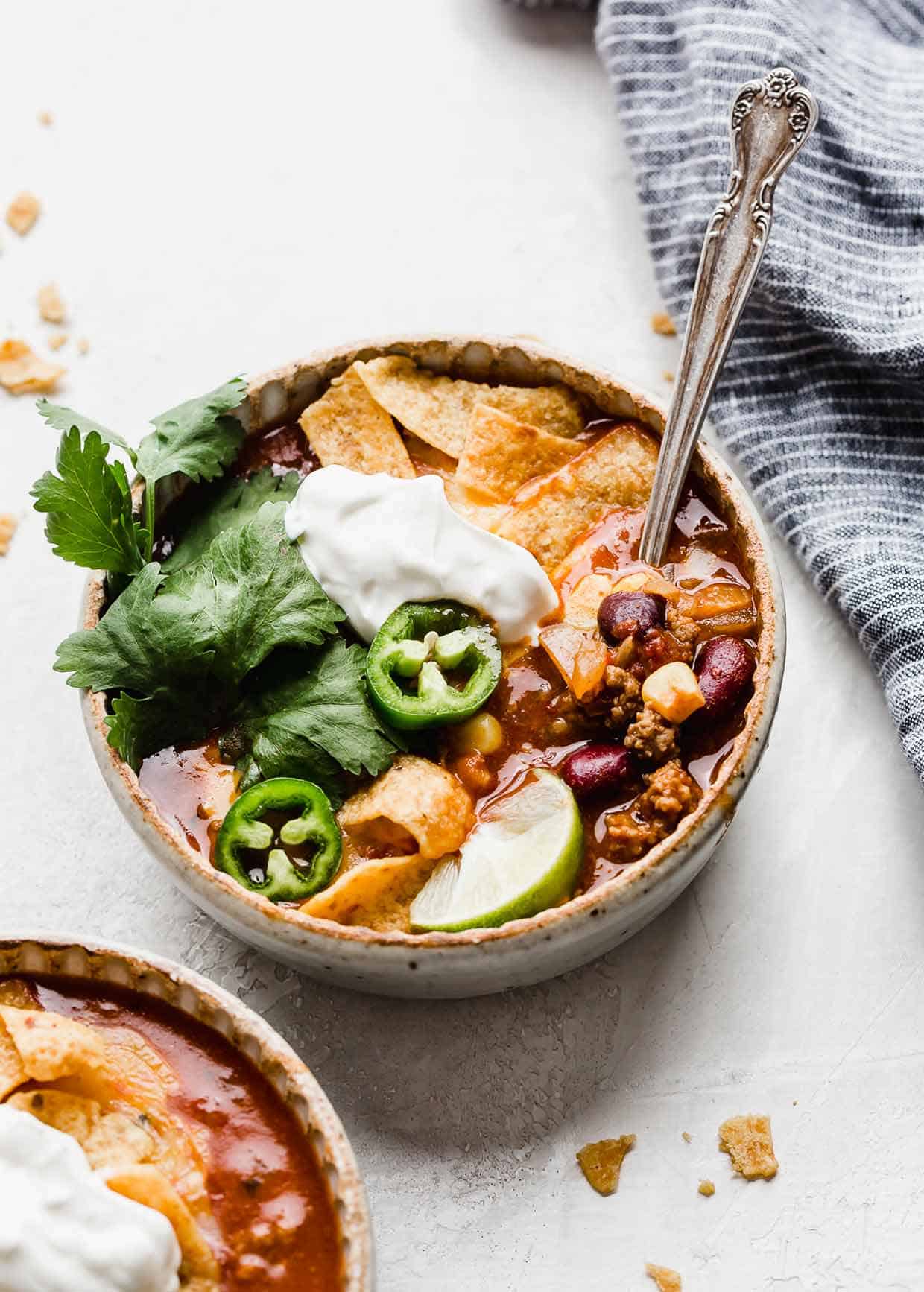 Why This Recipe Works
6 can taco soup. My 6 can taco soup is a dinner staple at our house during the colder months. I love the warmth and ease of this recipe! It's nice to put to use some of those canned goods and pantry staples you have! 
Easy taco soup. This easy taco soup with cans is my favorite easy recipe when I am in a time crunch because it's so easy to grab 6 cans and have dinner almost ready! 
One pot taco soup. You can make this hearty soup recipe in one pot, an instant pot, or a crock pot! While there is a lot of variation with taco soup, my taco soup with ground beef combines things the whole family loves, and that you most likely have in the pantry, in one pot.
Ingredient Notes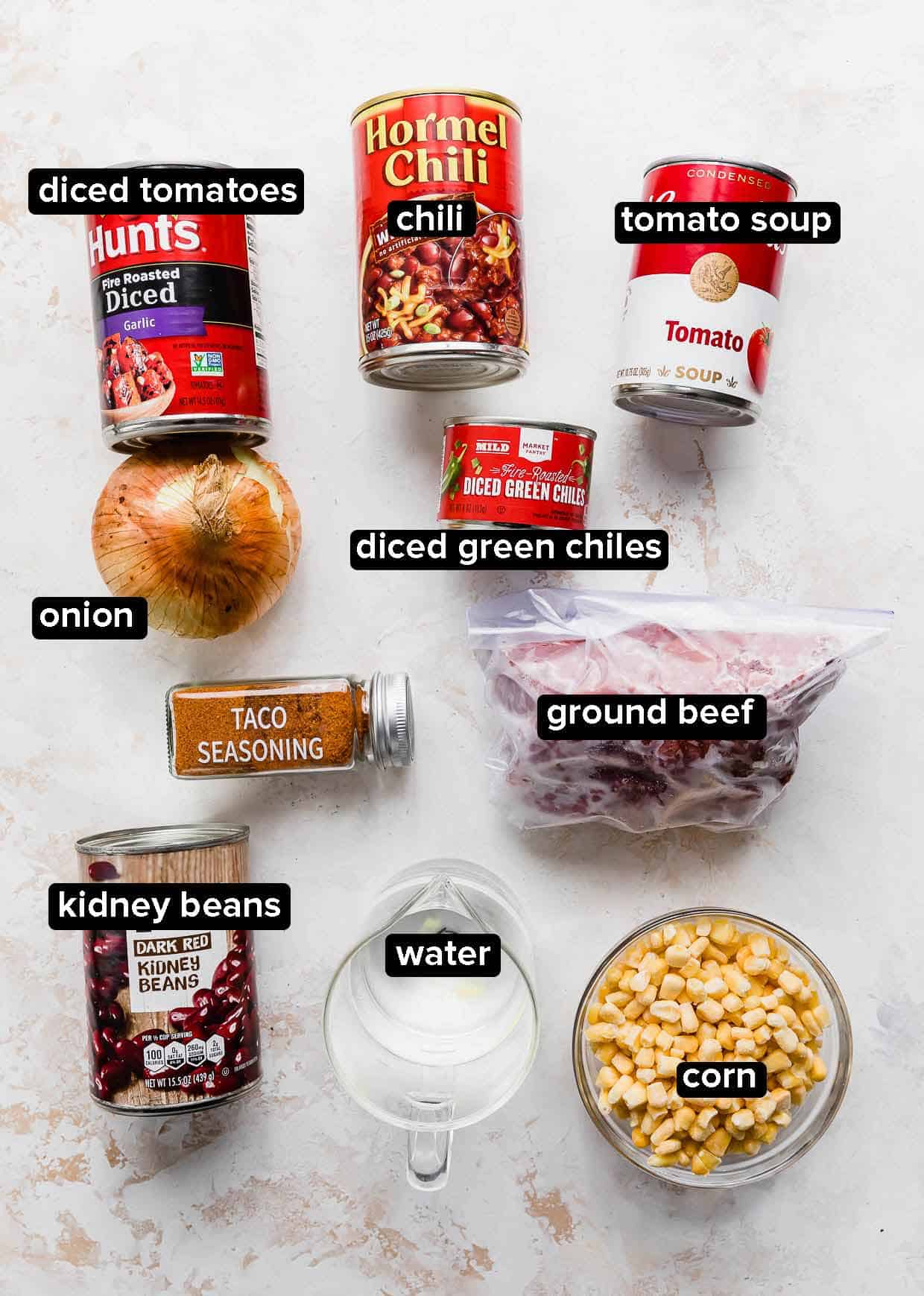 Canned Chili: Grab whatever brand you like. I usually opt for one with meat because I want the extra protein for my boys.
Fire Roasted Diced Tomatoes: You don't have to use fire roasted (it just has a little extra seasoning to them), diced or petite diced tomatoes or rotel tomatoes work great! 
Canned Kidney Beans: You'll need to drain and rinse the kidney beans. I use a strainer and it works perfectly!
Canned Corn: If you don't have canned corn, or you want to use frozen or fresh corn, I use 1 1/2 cups of corn. 
Ground Beef: You'll fully cook the beef before adding it to the soup. If you are short on time, or you want to stick to cans, then you can omit the ground beef (there is ground beef in the canned chili). You can also make a chicken taco soup by adding some canned chicken (I love Costco's canned chicken). Just drain it and add to the soup, breaking up the chicken as you stir.
Water: I usually dump the tomato soup into the pot and then fill the now empty tomato soup can with water then add that to the soup. You can also use chicken broth instead of water if you want a more flavorful soup. I use water for simplicity! It's just to give the soup a more soupy consistency. 
Taco Seasoning Mix: You can also use homemade taco seasoning.
Garnishes: Garnish this delicious soup with your favorite taco toppings. Adding sour cream makes this a delicious creamy taco soup! Also add some Fritos or tortilla chips, shredded cheddar cheese, lime wedges, and chopped cilantro! 
Step-by-Step Instructions
Brown the beef. Add the ground meat and chopped onion to a large soup pot. Cook over medium heat until the meat is fully cooked. Drain any excess grease. 
Add all of the remaining ingredients. Add the cans of chili, tomato soup, diced tomatoes, green chilies, kidney beans, and corn (drain and rinse the can of beans and drain the corn) to the large pot. Add the taco seasoning and water. 
Simmer. Bring the soup to a low boil then reduce to simmer for 5 minutes. I like to simmer the soup for 20-30 minutes because it helps the flavors of the soup become more profound. But if you're in a time crunch you can simply simmer for a few minutes and then serve the soup.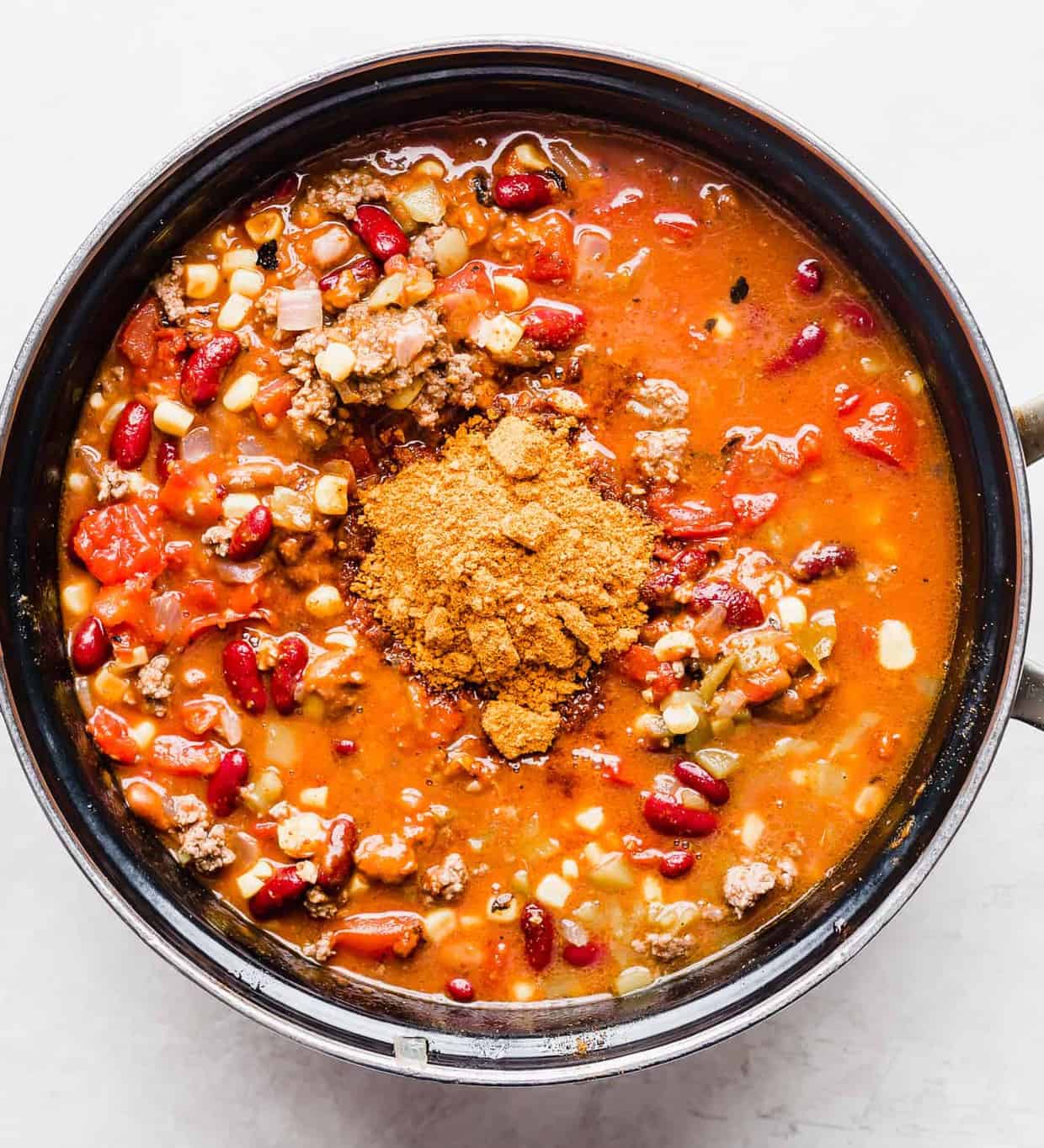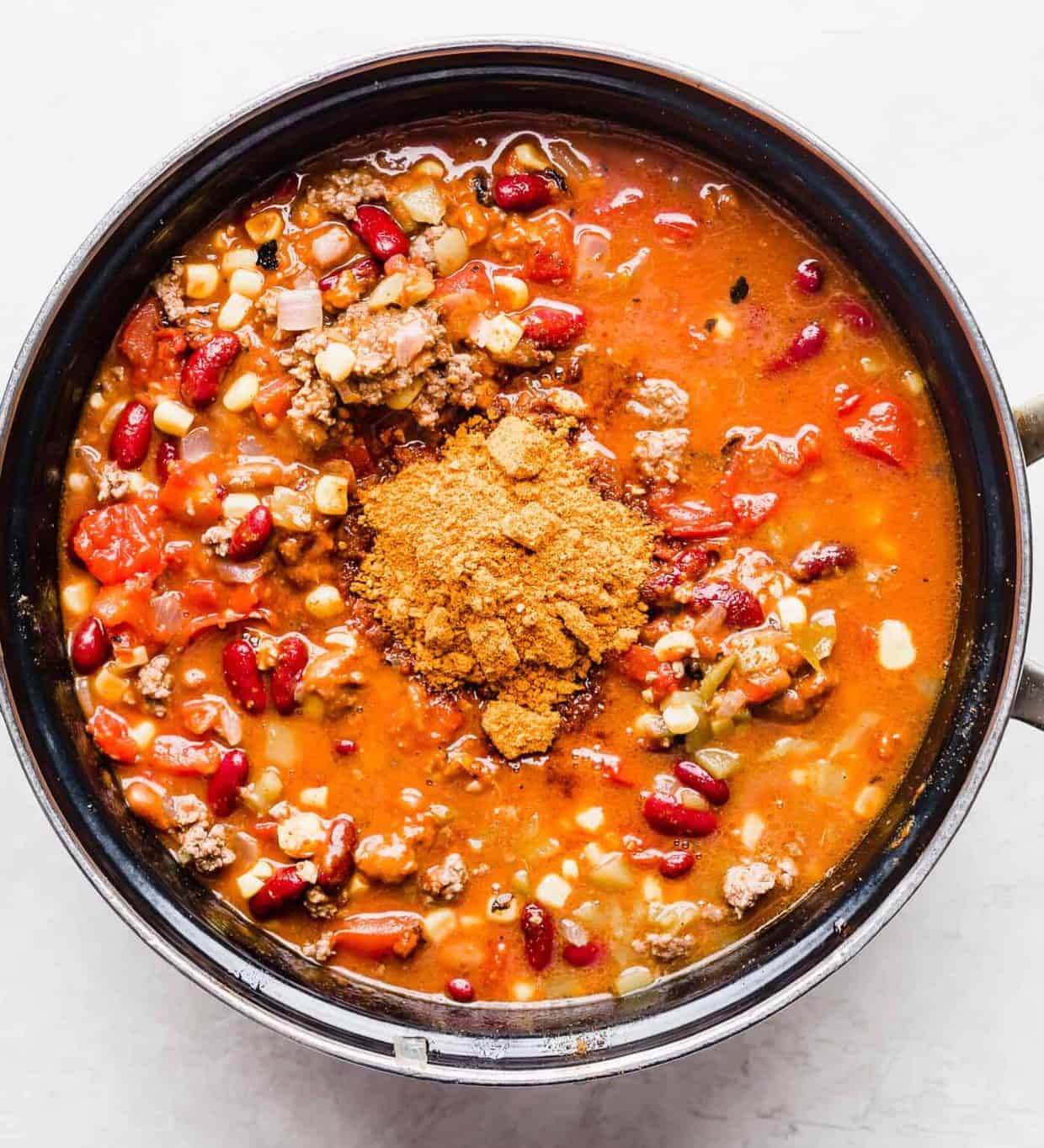 Serve! Serve the taco soup with Fritos. Lots of Fritos! (How can you say no to a dinner served with Fritos?! You can't!) We also like to add sour cream, grated cheese, avocado slices, cilantro and fresh jalapeños (if you want a spicy version). Enjoy!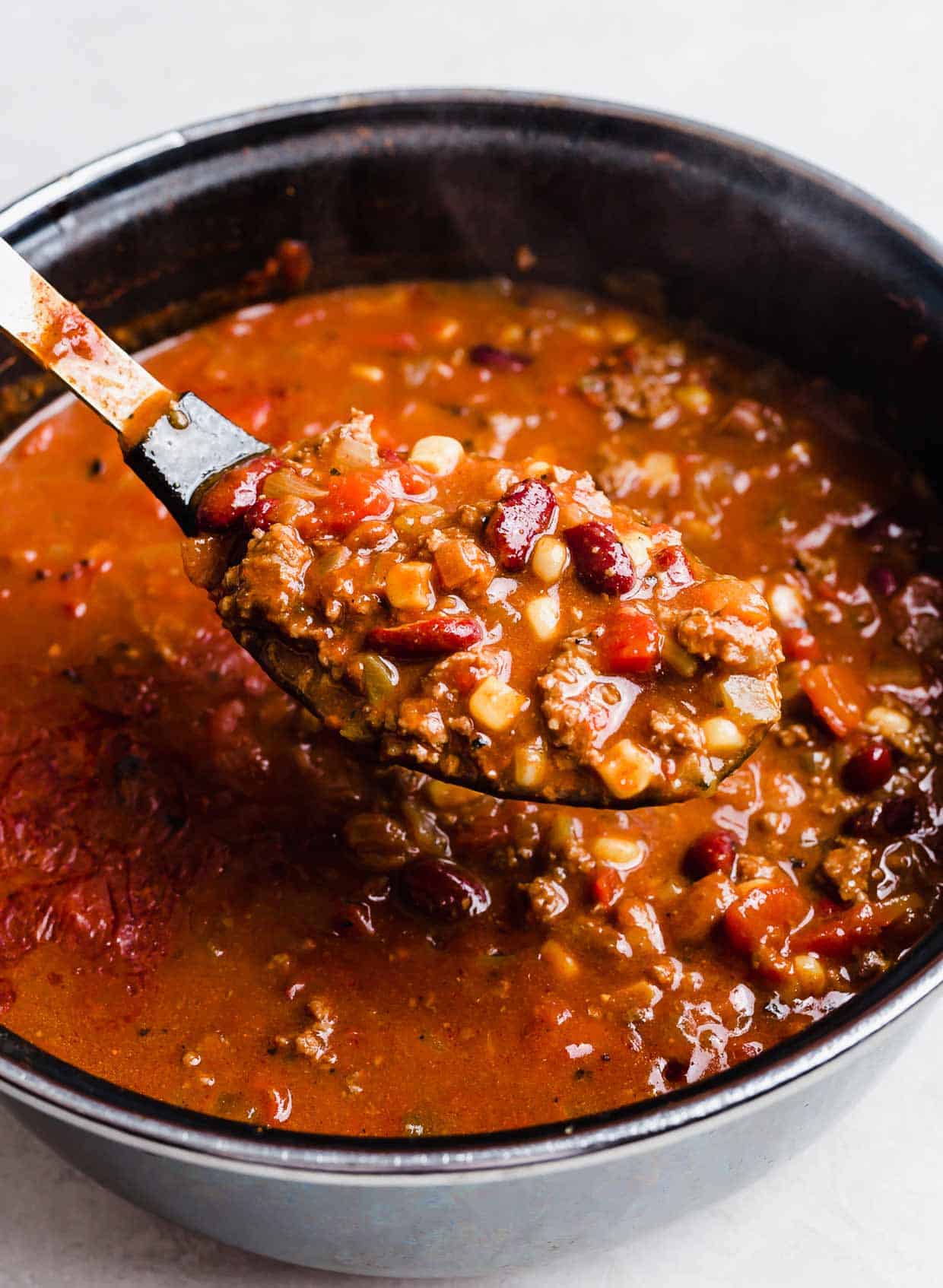 Recipe Tips
You can also make this in a crockpot, slow cooker, or instant pot. Since this soup doesn't take long to cook, sometimes it's just easiest for me to do it in one pot, right before dinner.
Now, with dinner on the table in a few simple minutes, you can make the soup your own by adding whatever toppings you'd like.
This easy taco soup with tomato soup is filled with great protein and vegetables, but if you want to switch things up to go a level up on the healthy factor, here are some tips
Swap out ground beef for ground turkey — This is a great substitution in any recipe that includes ground beef that you want to make a bit healthier.
Crock Pot Taco Soup — YES, you can make this recipe in the crock pot. To do so, simply cook the onion and brown the beef in a skillet on the stove. Transfer the meat and onion mixture to the crock pot then add the remaining canned ingredients to the crock pot and cook on low for several hours or until ready to serve. When I'm serving this at a party or for game day, I always make it in my slow cooker for added convenience. 😄
Use freshly cooked corn instead of frozen or canned — If you're looking for ways to improve your meals, swapping out canned or frozen food items for fresh is always a great option! Just remember that the time will increase since you'll be preparing more food items instead of just opening cans or bags of frozen food.
Replace the canned chili with pinto beans and spices — If you don't want to use canned chili, simply swap out canned chili for some chili powder and pinto beans. Usually canned chili is made with pinto beans, chili powder, crushed tomatoes, vinegar, sugar, etc. But we can nix the preservatives and use cooked pinto beans and chili powder instead.
Add more beans/veggies — Feel free to add a second can of kidney beans, or even black beans! You can also add some diced bell pepper in when cooking the beef and onion.
Take care with your toppings — If you're looking for healthier options, you can swap out sour cream for a fat free sour cream, or cut the sour cream. You can also eliminate the shredded cheese you put on top and instead add diced green onions, fresh tomatoes, etc.
Replace Fritos with a healthier chip option — Instead of taco soup with Fritos, try regular tortilla chips which have less calories and fat than Fritos. That's an easy option if you are looking to make the soup a bit healthier. I love that the Fritos give the soup that taco shell crunch, but it doesn't have to be Fritos! Find a chip or cracker that you love that gives it that yummy crunch.
Make Ahead, Storing, and Freezing
You can definitely make this taco soup with Fritos ahead of time and warm on low in a crockpot for 2-3 hours.
Store any leftovers in an airtight container in the fridge for 3-5 days. Reheat in the microwave.
To freeze, let the soup cool completely, then store in a glass jar or a ziplock bag. Freeze for up to 6 months. Remove and let thaw in the fridge over night then on the counter top until thawed. Reheat in the microwave or on the stovetop.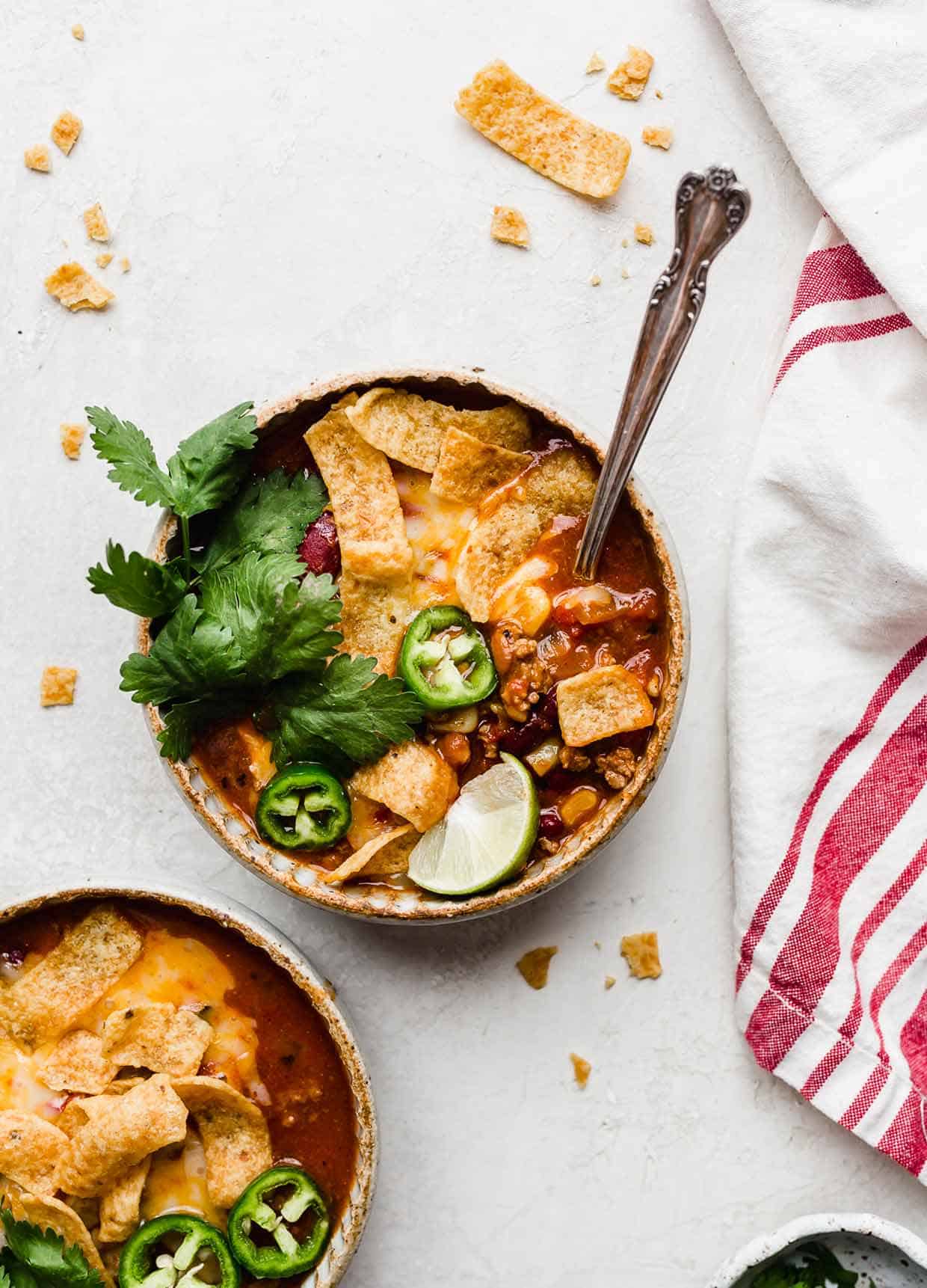 Recipe FAQs
When making taco soup, do you drain the beans?
Yes! You'll drain the kidney beans. You'll also drain the canned corn. If you are using frozen corn, this won't apply. Do not drain the chili, green chilis or the diced tomatoes.  
Is taco soup healthy?
The tomatoes, corn, and beans all provide health benefits we need. Tomatoes are high in vitamin C, vitamin K and potassium. Corn is high in zinc, magnesium, vitamin B, and iron. All important nutrients we need! And beans are high in protein, fiber and vitamin B. So, yes! This soup is yummy and filled with ingredients that will provide vitamins and nutrients you need. If you are looking for ways to make the soup even healthier, read the recipe tips above.
Can you freeze taco soup?
Yes yes yes yes! I'm all for making food and freezing it for a quick meal later. You can definitely freeze taco soup. Simply pour the soup into a glass jar or zip top bag (without any of the toppings, of course) and freeze for 3-6 months. 
What goes well with taco soup?
 That's a great question! I love serving this taco soup with some fresh biscuits, homemade rolls (for dipping, of course!), or a side of spinach salad.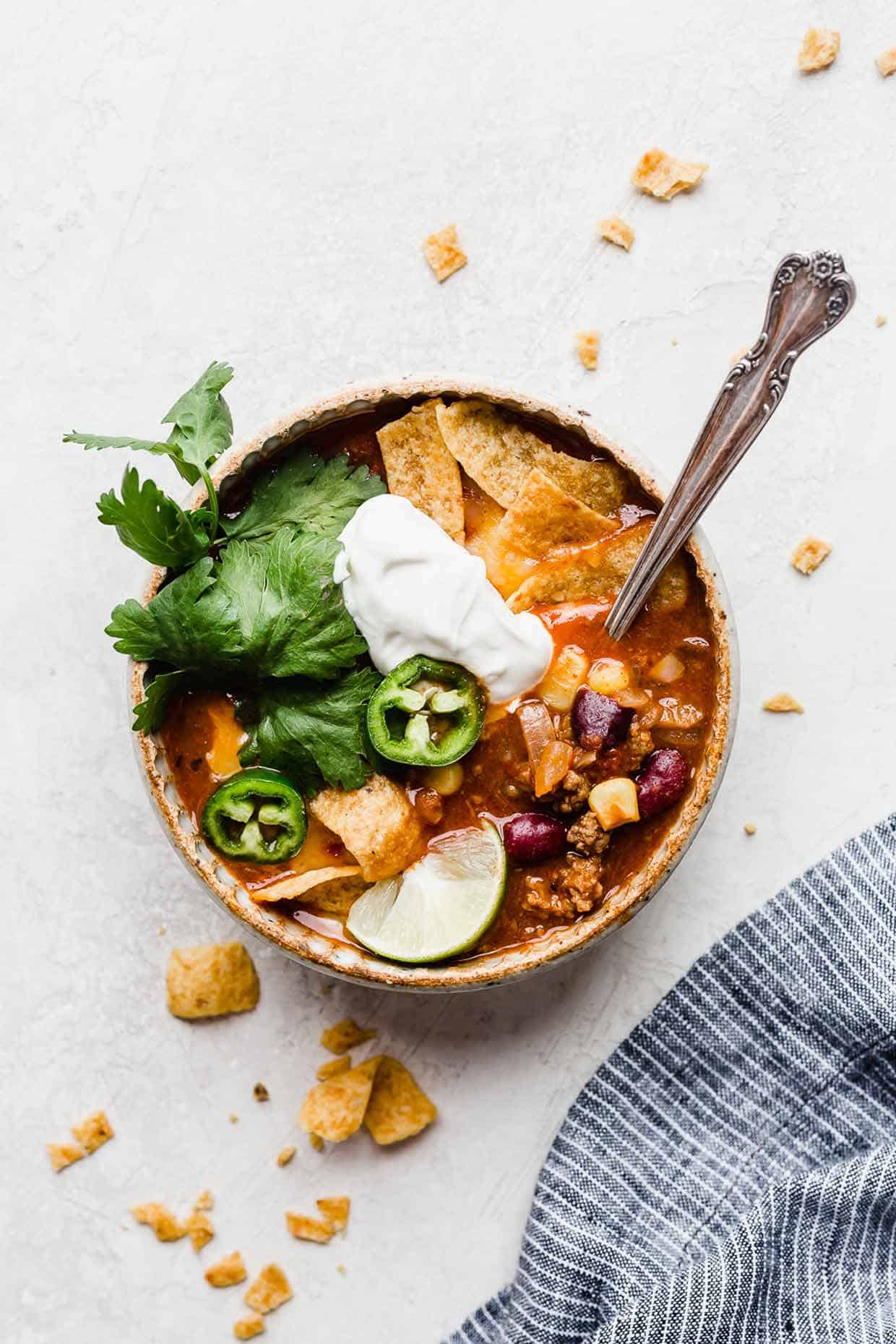 Taco Soup with Fritos
This classic taco soup recipe is a keeper. You and your family will love it!
Ingredients
1 – 15

oz

can chili

1 – 8

oz

can tomato soup

1 – 28

oz

fire roasted diced tomatoes

1 – 4

oz

can diced green chilies

16

oz

ground beef

yellow onion, chopped (about 1 1/4 cups)

1 – 15

oz

can kidney beans

-

rinsed and drained

8

oz

water

1

can of whole corn

-

alternatively you can use 1 1/2 cups of frozen corn (which is what I usually do).

1

pkg (1 oz)

taco seasoning mix
Garnishes
sour cream

grated cheddar cheese

Fritos

chopped cilantro

avocado slices
Instructions
In a large pot over medium heat add the ground beef and onion. Cook until beef is cooked through and the onion is translucent. If there's grease from the beef, drain it.

With the cooked beef and onion in the large pot, add the chili, tomato soup, stewed tomatoes, green chilies, kidney beans, water, corn, and taco seasoning. Bring to a boil, then reduce to a simmer and simmer for 30-40 minutes. Simmering isn't completely necessary. It just helps the flavor develop. I've eaten this taco soup plenty of times without simmering it, and it still tastes great!

Serve soup warm and top with sour cream, Fritos, avocado slices, cilatnro, and grated cheddar cheese. 
Notes
Nutritional information does not include topping suggestions.
Store leftovers in an airtight container for 3-5 days. 
Reheat in the microwave or in a pot on the stove.
To cook in the crockpot, cook the beef and onion then transfer to a crock pot. Add the remaining ingredients then cook on low for 3-4 hours. 
To freeze, let cool completely then store in a freezer safe bag. Freeze for up to 6 months. Remove and let thaw. Warm on the stove. 
Did you make this recipe?
Leave a star rating and review on the blog post letting me know how you liked this recipe! Take a picture and tag @saltandbaker on Instagram and Facebook so I can see what you're making!
This recipe was first published November 2017, but has been updated with new pictures and more recipe information.