Taco Soup
This taco soup is a cinch to make! It's the perfect dinner for when the nights turn chilly. Grab a pot and lets get cookin'!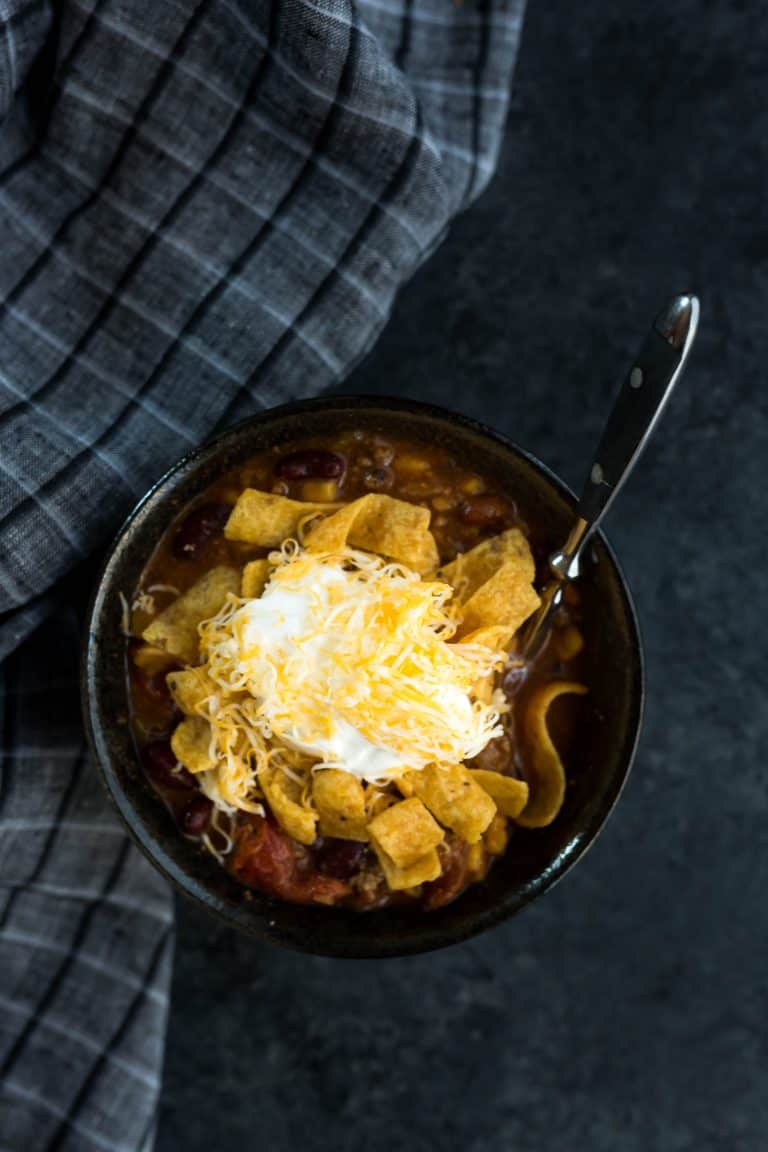 My husband has been traveling a lot these past few weeks. He's currently interviewing across the country for a residency position. If you don't know what I'm talking about read this. I've traveled to and from the airport 3 times this week. I'm getting to the point where I can drive aimlessly without thinking and I'll end up at the airport. Ha. His next interview will be in Alabama. Any of you readers from Alabama? If so, shoot me an email! I'd love to hear from you.
Before my husband left on one of his interviews, I made taco soup for dinner, and I'm so glad I did! We have a small family (3 of us), and taco soup can feed 10 people. I didn't have to cook dinner for 4 days. It was marvelous!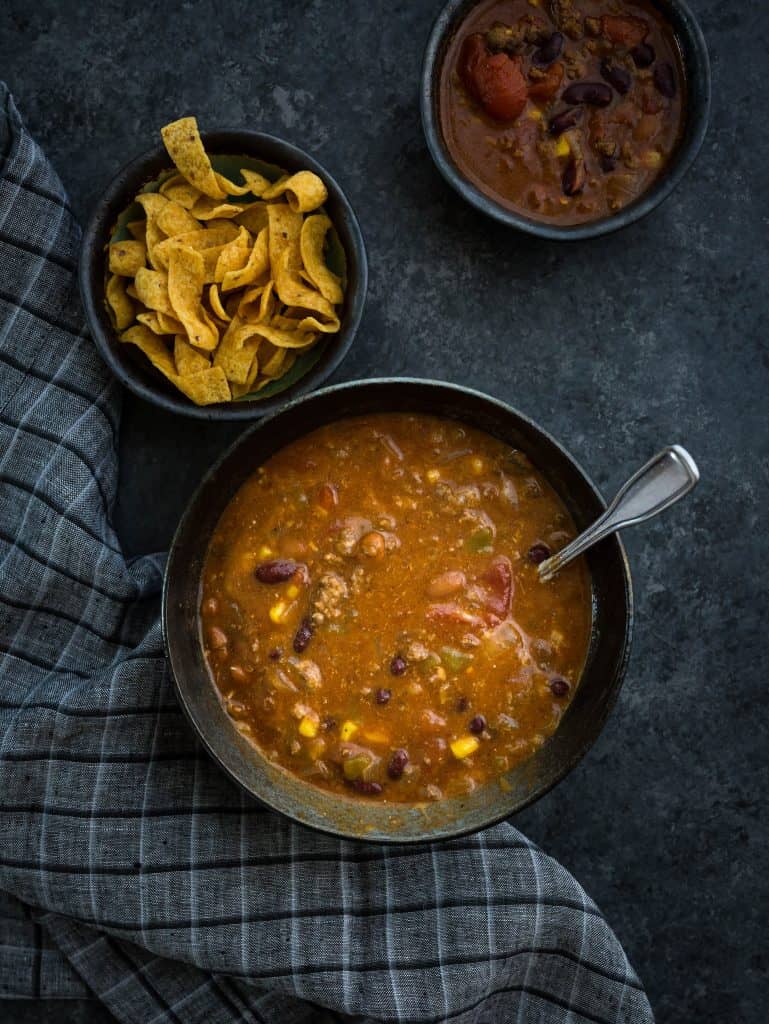 You have to agree when I say, taco soup is a classic. One of my favorite things about this dish is how easy it is to put together. When I say easy, I'm talking easy.
I also love meals that reheat nicely (doesn't everyone). Yup, taco soup leftovers reheat beautifully and it still tastes delicious, maybe even better! You see, I'm all about the leftovers. As I mentioned above, I didn't have to cook dinner for 4 days. Major mom-win.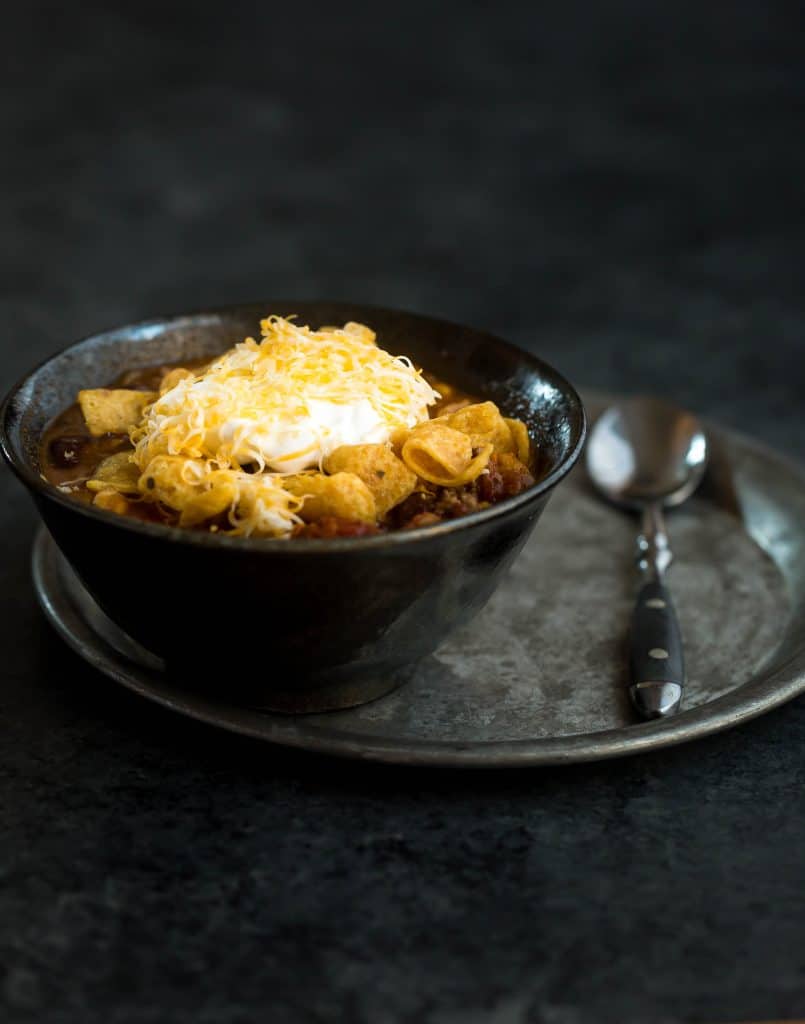 As the nights get colder I find myself craving the warm soups, pasta dishes, and casseroles. These kind of meals are just what one needs during the winter months. It sounds cliché but soup warms the soul. It really does. Now, if you've never made taco soup let me just explain how easy it is to make…
How to make Taco Soup:
Chop onion.
Brown the beef.
Add all of the ingredients to a large pot.
Simmer.
Garnish and enjoy!
Easy peasy.
One MAJOR bonus of making taco soup for dinner… leftovers taste delicious. Oh, do they taste delicious! (How many times can I say that without sounding like a broken record)?
Last but not least, you must garnish your taco soup. YOU MUST! My favorite garnishes for this taco soup include sour cream, grated cheese, avocado, and Fritos. Lots of Fritos. How can you say no to a dinner served with Fritos?! You can't.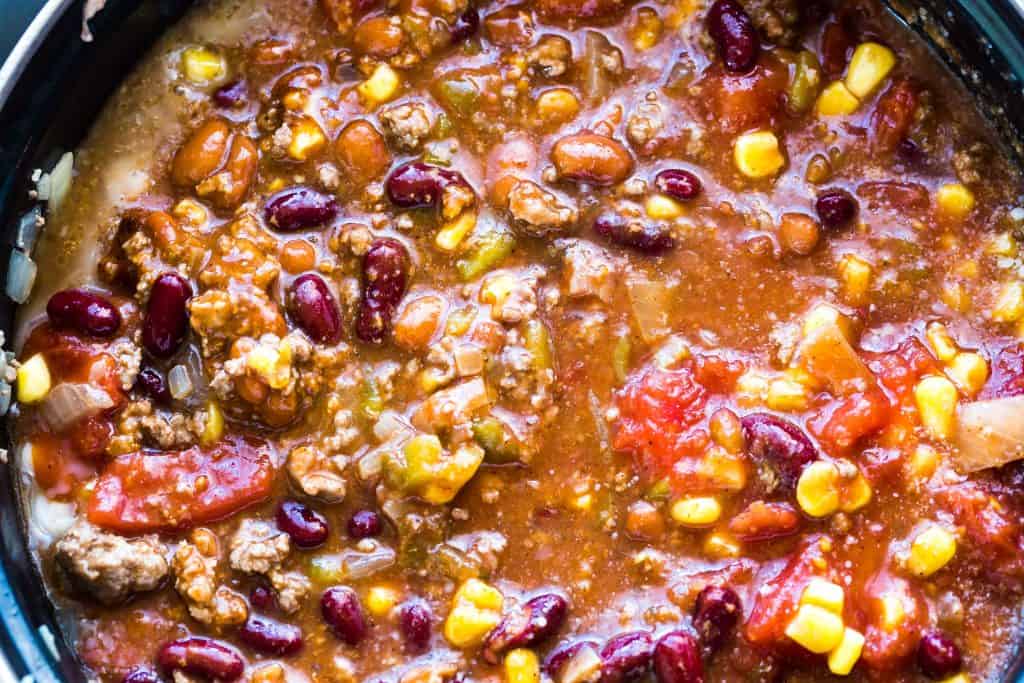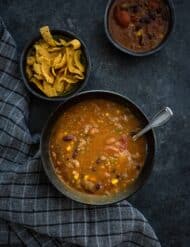 Nutrition Facts
Taco Soup
Amount Per Serving
Calories 101
Calories from Fat 63
% Daily Value*
Total Fat 7g 11%
Cholesterol 26mg 9%
Sodium 261mg 11%
Potassium 102mg 3%
Total Carbohydrates 1g 0%
Protein 6g 12%
* Percent Daily Values are based on a 2000 calorie diet.
Taco Soup
This classic taco soup recipe is a keeper. You and your family will love it!
Ingredients
1 - 15

oz

can chili

1 - 8

oz

can tomato soup

1 - 28

oz

can stewed tomatoes

(if the tomatoes are too chunky, I'll cut them to be more bite size).

1 - 4

oz

can diced green chilies

16

oz

ground beef

yellow onion, chopped (about 1 1/4 cups)

1 - 15

oz

can kidney beans

8

oz

water

1

can of whole corn.

alternatively you can use 1 1/2 cups of frozen corn (which is what I usually do).

1

pkg

taco seasoning mix
Garnishes
sour cream

grated cheddar cheese

Fritos
Instructions
In a large pot over medium heat add the ground beef and onion. Cook until beef is cooked through and the onion is translucent. If there's grease from the beef, drain it.

With the cooked beef and onion in the large pot, add the chili, tomato soup, stewed tomatoes, green chilies, kidney beans, water, corn, and taco seasoning. Bring to a boil, then reduce to a simmer and simmer for 30-40 minutes. Simmering isn't completely necessary. It just helps the flavor develop. I've eaten this taco soup plenty of times without simmering it, and it still tastes great!

Serve soup warm and top with sour cream, Fritos, and grated cheddar cheese.
Keyword:
how to make taco soup, taco soup, taco soup recipe