Roasted Parmesan Carrots
This post may include affiliate links. As an Amazon Associate I earn from qualifying purchases.
These Roasted Parmesan Carrots are the perfect side to any meal! The buttery, parmesan, and garlic flavor make these carrots melt-in-your-mouth tender and delicious.
For more delicious ways to make roasted carrots, try my Roasted Baby Carrots and my Brown Sugar Roasted Carrots recipes! Or if you need a delicious way to use up a bunch of garden carrots, make my ultra yummy Carrot Cake with Pineapple and Pecans!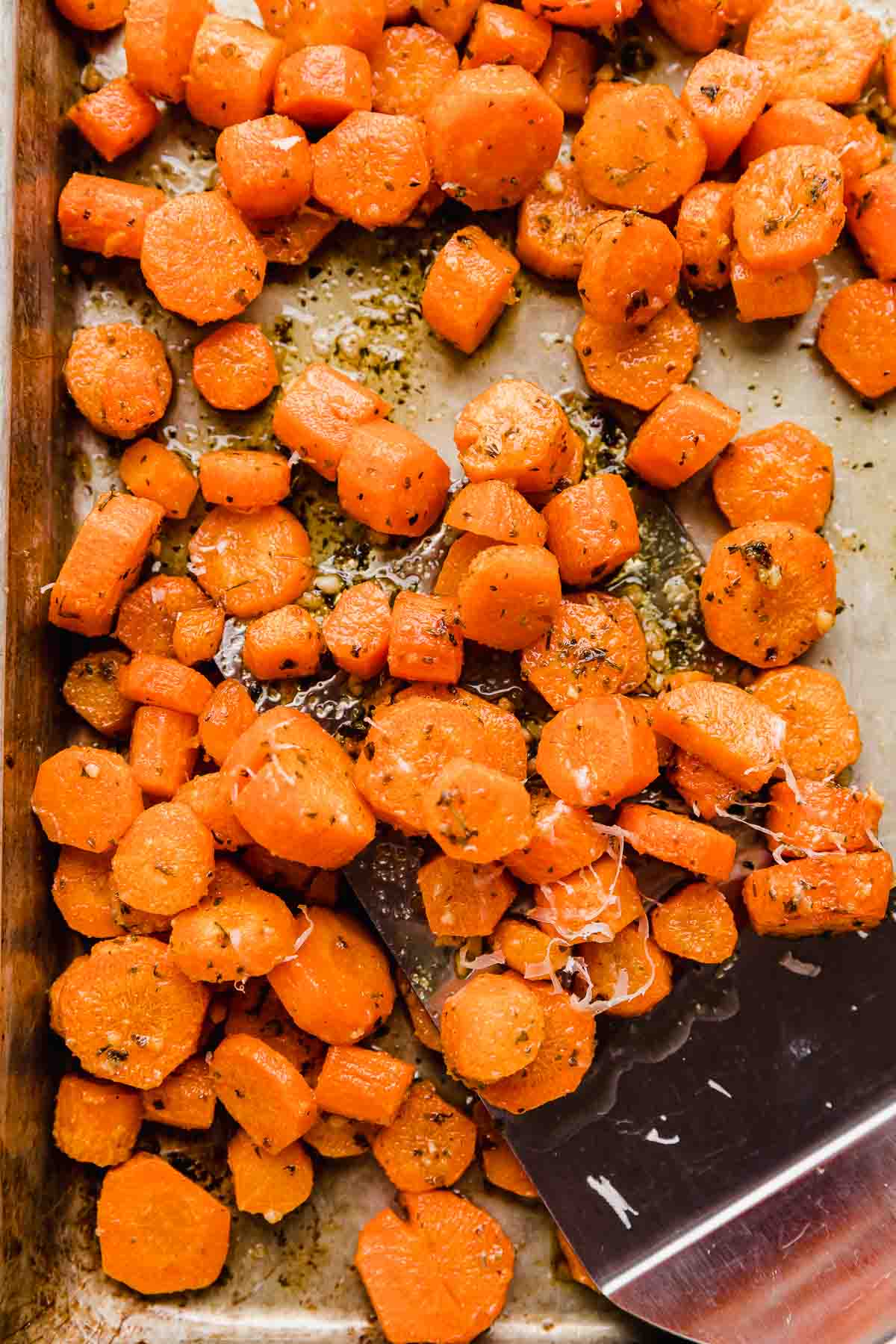 Why This Recipe Works
Best parmesan carrots. These roasted carrots are my husbands favorite way to eat carrots. No lie! I made these for the first time a few weeks ago and he couldn't get enough of them.
Easy roasted carrot recipe. These roasted parmesan carrots only takes minutes of prep time and just 15 minutes to cook in the oven. That's the beauty of this recipe!
Ingredient Notes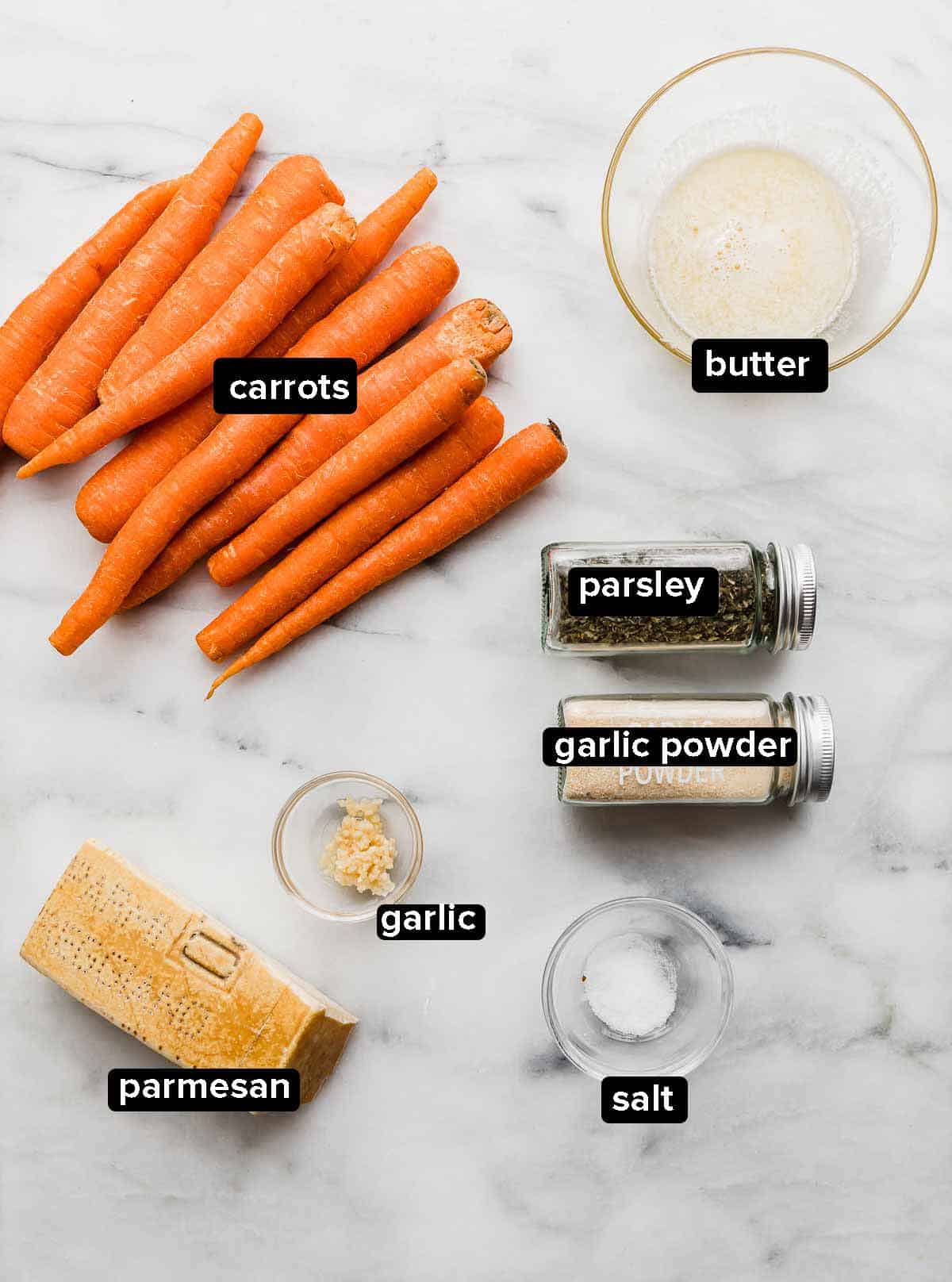 Carrots: Scrub the carrots then peel and slice them into coins that are 1/4 inch to 1/2 inch in thickness.
Butter: Melt the butter to combine with the remaining seasonings to create a delicious garlic butter roasted carrots sauce.
Garlic: Use fresh minced garlic and then garlic powder for the most amazing savory garlic butter roasted carrots!
Parmesan Cheese: I used freshly grated parmesan cheese because I love the flavor so much! But you can use the Kraft parmesan that is in those big shaker tubs.
Dried Parsley: Combine the dried parsley with the melted butter to help disperse the seasoning among the carrots when you toss them. Top with fresh parsley when serving if you'd like!
Step-by-Step Instructions
Make the garlic butter sauce. Preheat the oven to 425ºF. To a small bowl add 1/4 cup melted butter, the minced garlic cloves, 1/4 tsp salt, 1 tablespoon grated parmesan cheese, 1 tsp garlic powder, and 1 tsp dried parsley. Mix to combine.
Place sliced carrots on a baking sheet. Take the peeled and sliced carrots and put them on a baking sheet. Drizzle the garlic butter mixture on top. Toss carrots to coat.
Bake the garlic parmesan carrots. Bake the garlic butter roasted carrots for 16-18 minutes, stirring halfway through. Remove from the oven and serve! Top with fresh parsley and extra cheese if you want. Enjoy!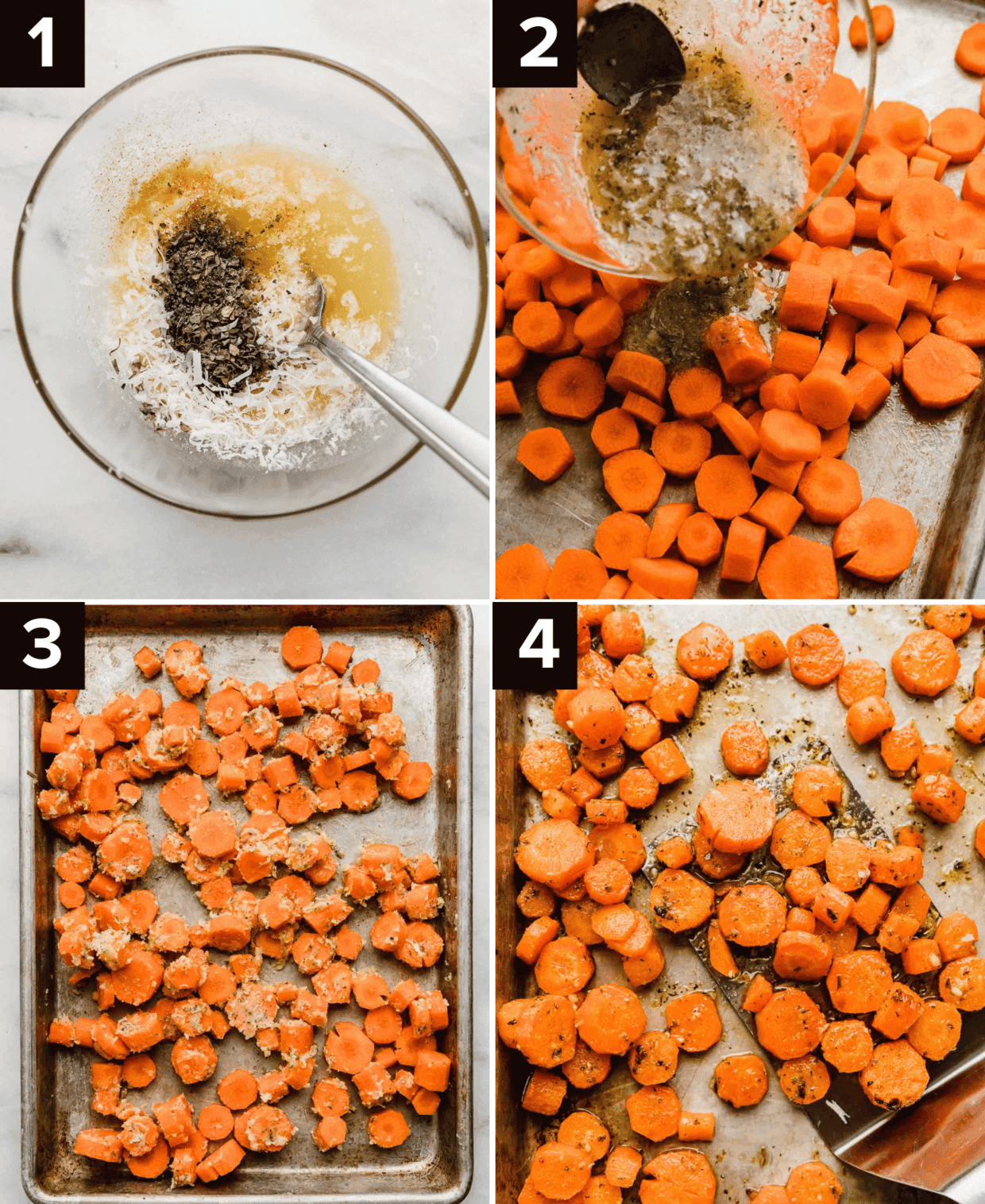 Recipe Tips
These roasted carrots are a delicious side dish for any meal but would also be perfect to serve for holiday meals such as Thanksgiving and Easter.
Try to get the sizes of your carrots sliced as similar as possible. This will make sure there is more of an even cook with the entire pan of carrots.
Add 1/4 cup of panko bread crumbs to the carrots and toss to coat for a delicious crispiness.
Try and get the carrots all in one single layer on the sheet pan. This will give a much more even roast. And you can use parchment paper on the baking sheet to make clean up a bit easier if you'd like.
If you wanted to do roast whole carrots, the cooking time will be much longer — probably around 20-25 minutes, but I would check at 18 minutes and go from there.
Make Ahead, Storing, and Freezing
You can make these roasted parmesan carrots ahead of time. Then just reheat them prior to serving.
Store any leftover parmesan carrots in an airtight container in the fridge for 3-4 days.
To freeze, let cool completely, then store in a freezer-safe bag. Remove and let thaw, then warm and enjoy.
Recipe FAQs
Are roasted carrots soft?
Roasted carrots are soft. I paid really close attention to the oven temperature and the amount of time I let the carrots stay in the oven. I wanted the roasted carrots to be cooked and soft, but not mushy. These carrots have a slight crunch to the center but medium soft texture to the outsides. If you prefer a firmer carrot, cook them for 15 minutes. Or better yet, use a fork and pierce a carrot to test for your desired doneness. 
Can roasted carrots be frozen?
Yes. If you don't eat all of the carrots (which, I can assure you, you will). Place the leftovers in a freezer safe bag, label it with the date, and store in the freezer for up to 3 months. The carrots will lose some of their texture. If you plan to use these garlic parmesan roasted carrots in a stew or casserole then the texture won't be an issue and you'll be good to go!
How to know when roasted carrots are done?
Take a fork and pierce a few of the carrot pieces. If they fork slides easily through, but not way to easily — we don't want them mushy — then they are done. I like to pierce any of the pieces that I ended up cutting to thick since if those are done, then others will be too. 
Do you peel roasted carrots?
You technically don't have to peel them so long as they are cleaned really well. The skin is tough, so my personal preference is to peel the skin and leave the tender part of the carrots. However, if you like to keep the skin on, you definitely can. It will soften in the oven.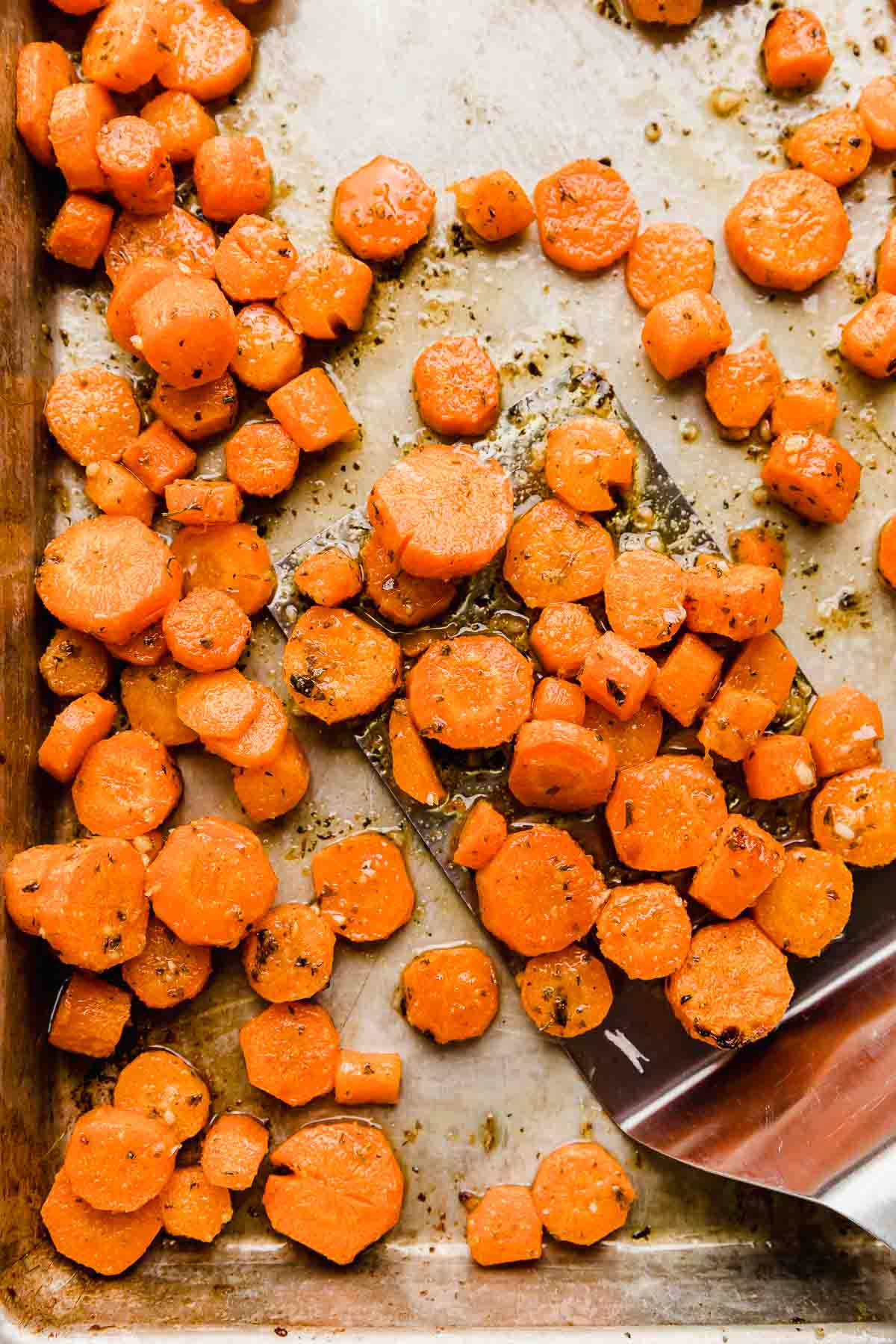 More Easy Vegetable Recipes
Roasted Parmesan Carrots
These Garlic Parmesan Roasted Carrots are the perfect side to any meal! The buttery, parmesan, and garlic flavor make these carrots melt-in-your-mouth tender and delicious.
Ingredients
4

cups (20 oz)

carrots, peeled and sliced about 1/4″-1/2″ thick

1/4

cup

melted butter

2

garlic cloves, minced

1/4

teaspoon

salt

1

tablespoon

grated parmesan cheese

1

teaspoon

garlic powder

1

teaspoon

dried parsley
Instructions
Preheat the oven to 425°F.

In a small bowl combine the melted butter, garlic, salt, parmesan, garlic powder, and parsley. Mix to combine.

Place the chopped carrots onto a baking sheet.

Drizzle the butter mixture over top the carrots. Toss to coat.

Bake at 425°F for 16-18 minutes, stirring halfway through.

Remove from the oven and serve! Garnish with fresh parsley if desired. R
Did you make this recipe?
Leave a star rating and review on the blog post letting me know how you liked this recipe! Take a picture and tag @saltandbaker on Instagram and Facebook so I can see what you're making!