Cherry Tomato Caprese Salad
This post may include affiliate links. As an Amazon Associate I earn from qualifying purchases.
This Caprese salad with cherry tomatoes is a fabulous meal (or side dish) that's perfect for summer. It's light, refreshing, and so easy to make; less than 10 minutes from start to finish!
Salads are a perfect option when you don't want to heat up the house or eat something heavy and warm. Another salad recipe like this caprese salad is my Panzanella Toscana. My Caprese Chicken Sandwich and Caprese Orzo Salad are also delicious caprese recipes!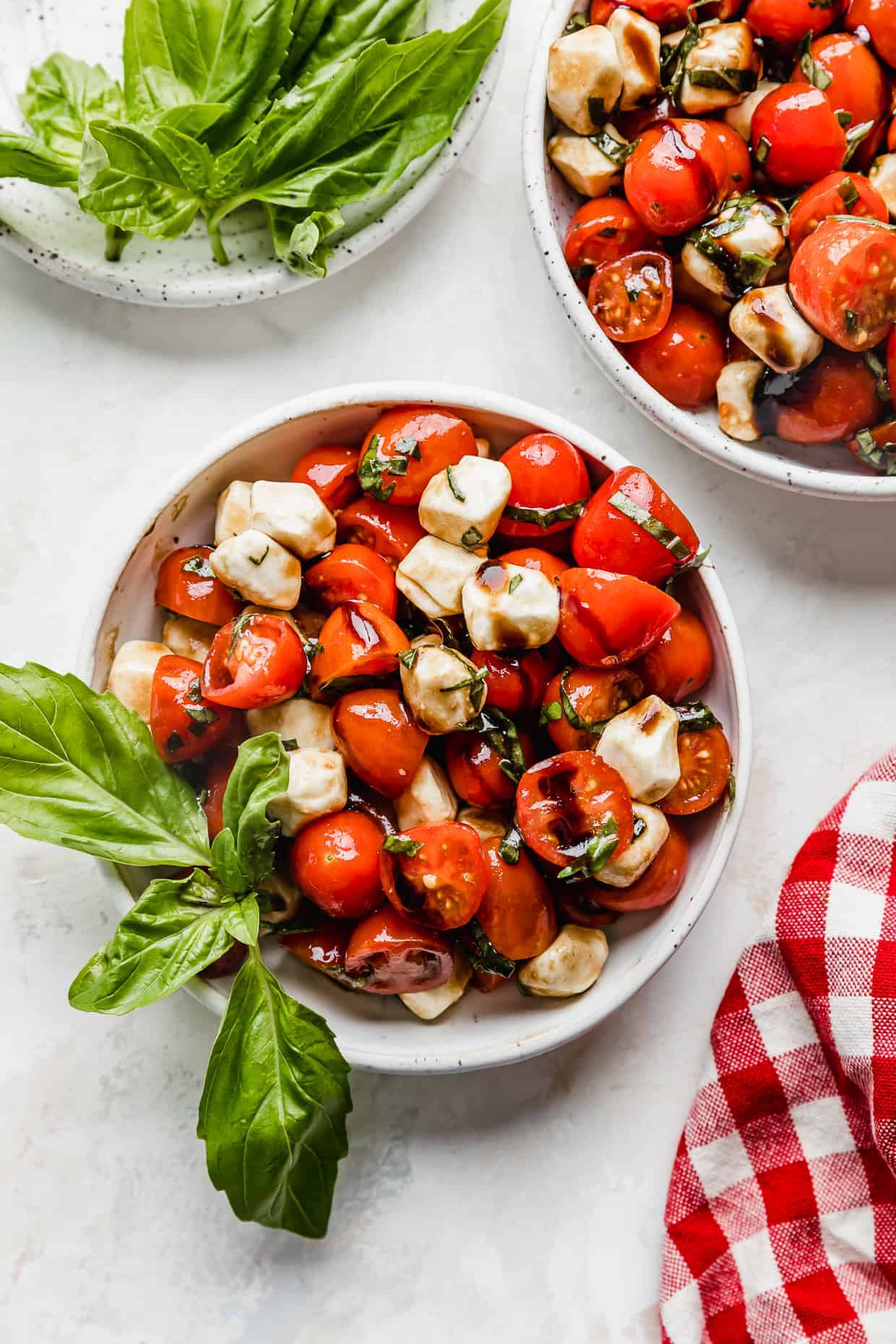 Why This Recipe Works
If you're looking for a lighter meal that requires very little effort you really can't go wrong with this simple Caprese salad. With just 5-10 minutes of effort and a single mixing bowl, you can have a wonderful salad tossed together and ready to eat.
We use balsamic glaze (rather than balsamic vinegar) to offer a thicker and slightly sweeter balsamic flavor to this Cherry Tomato Caprese Salad.
We use fresh basil to bring the natural vibrance and fresh aroma and subtle peppery flavor to the salad.
Unlike a traditional caprese salad that's made with large slices of tomato and mozzarella, this caprese is the perfect side or appetizer to take for any potluck, barbecue, holiday party, or gathering. Why? Because guests can use a large spoon to easily serve themselves as little or as much as they want.
In addition, it's easy to eat because it uses cherry or grape tomatoes and mozzarella pearls. You can easily skewer a tomato half and mozzarella ball without any hassle.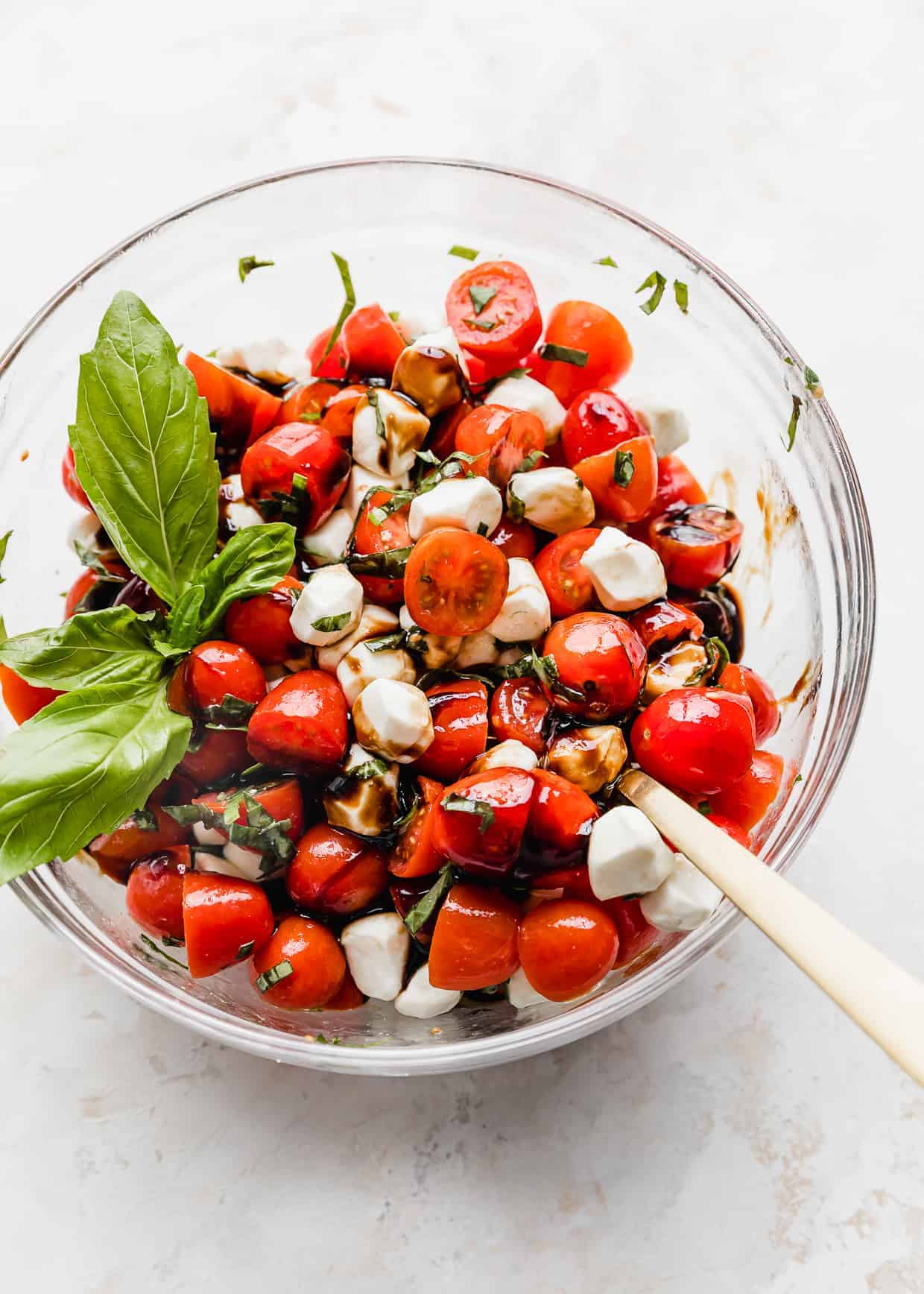 Ingredients
Tomatoes: You can use cherry tomatoes or even grape tomatoes. Both work wonderfully!
Mozzarella: We want to use the little mozzarella pearls because they're easier to work with but if you can't find them in your local grocery store, feel free to use regular fresh mozzarella and just chop them into smaller bite-sized pieces.
Basil: Using fresh basil will add a great burst of green to the plate as well as fresh herb flavors.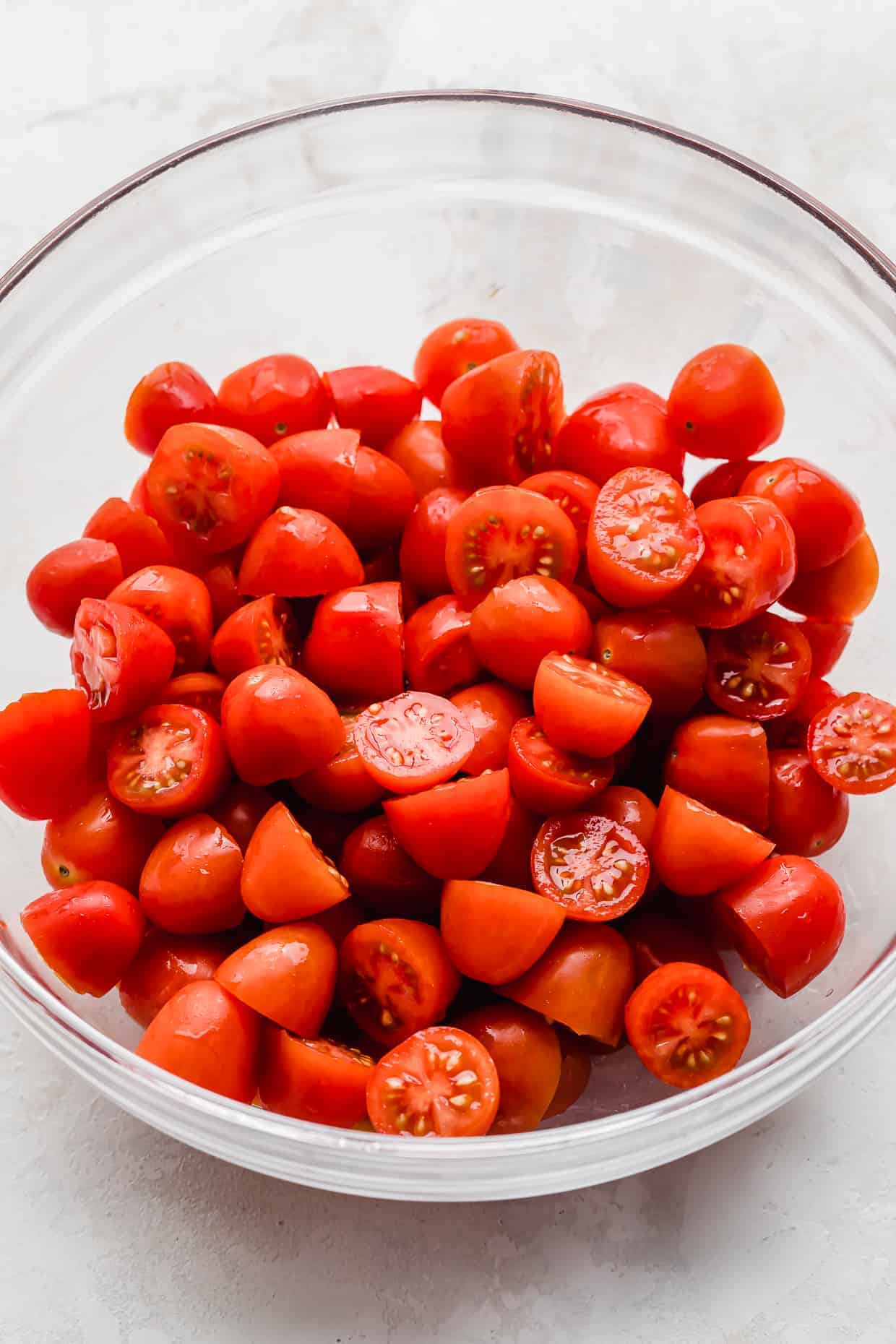 Step-By-Step Instructions
In a medium-sized bowl, add your tomatoes, mozzarella, and basil.
Drizzle the olive oil over the top and toss it together to combine.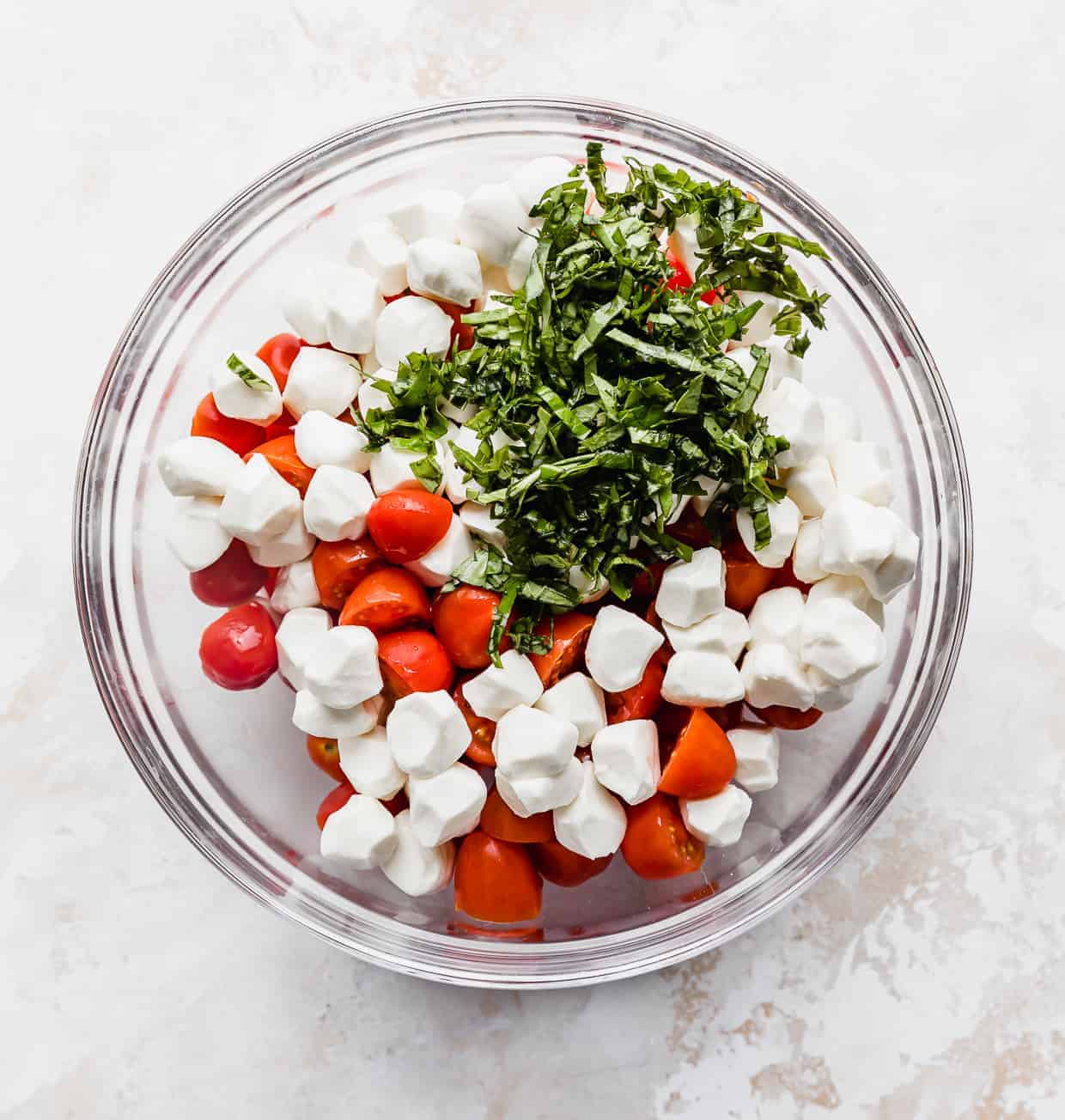 Drizzle the balsamic glaze over the top and then toss it together again.
Season your salad with kosher salt and freshly ground black pepper to taste.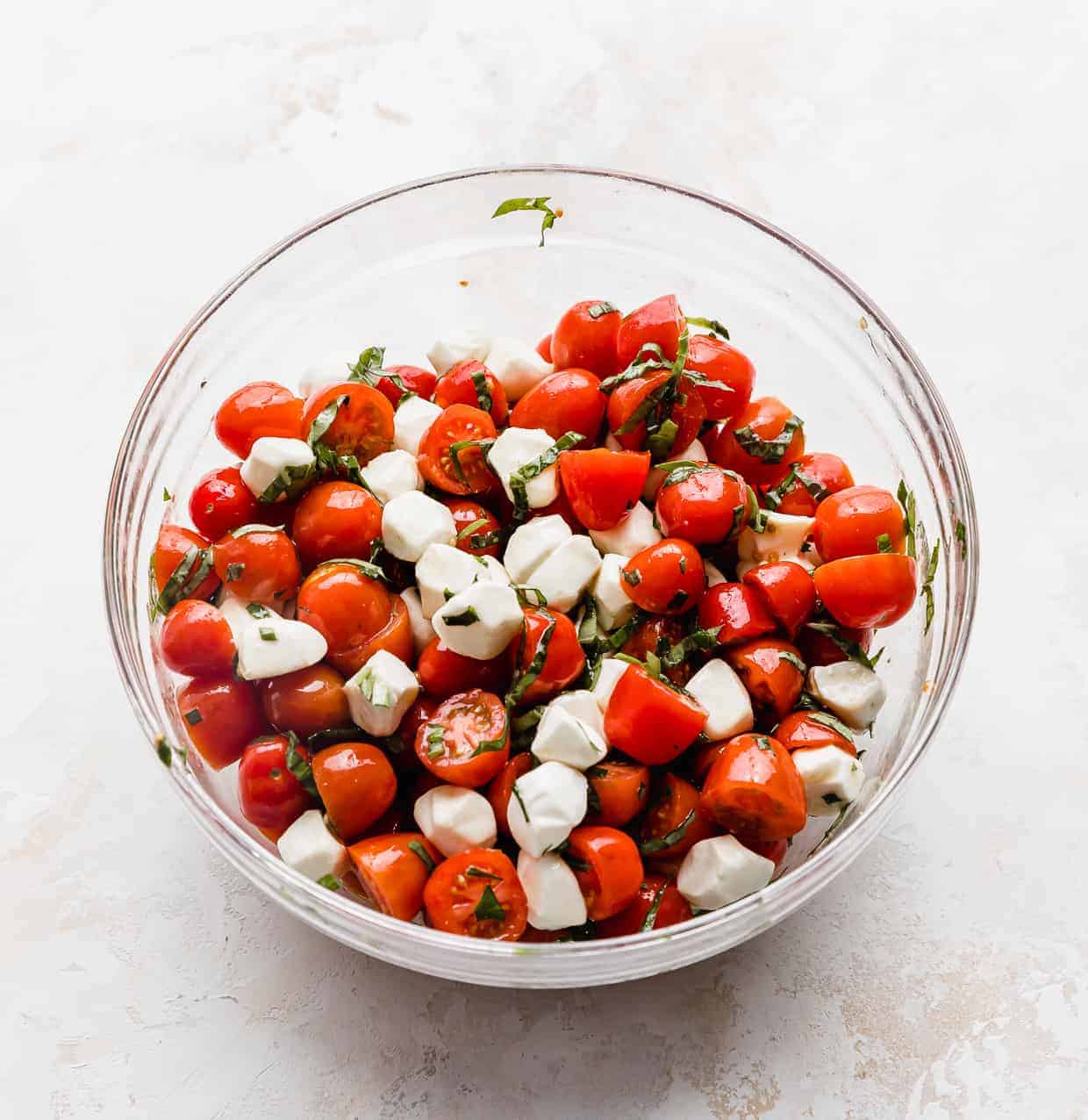 Immediately serve your salad or place it in the fridge for about an hour before serving. This dish is best served the same day that it is made.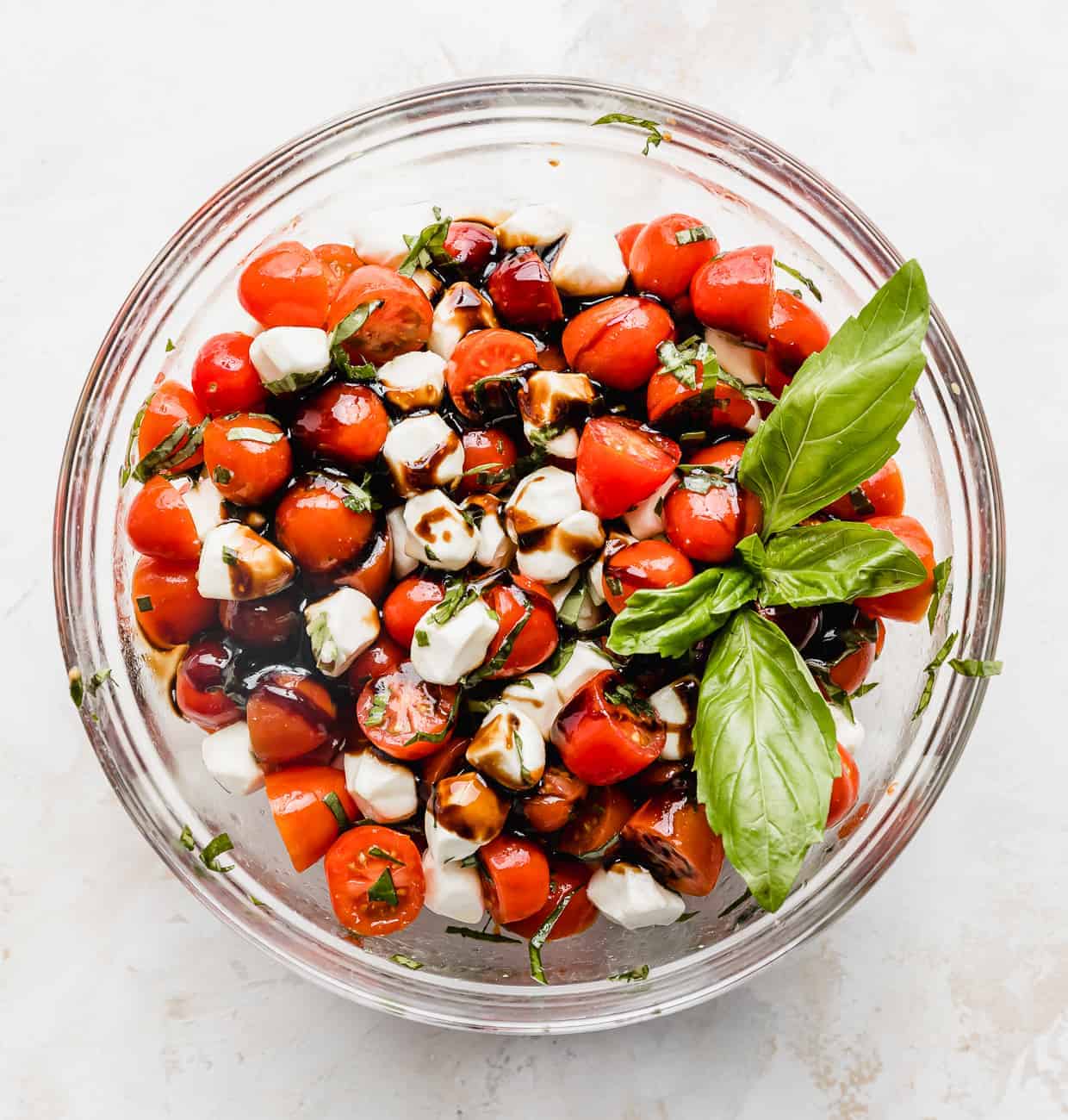 Recipe Tips
Mozzarella pearls are tiny balls of fresh mozzarella found in the deli section of most grocery stores somewhat near where you'd find the large balls of fresh mozzarella. Sometimes they're closer to the fancy cheese balls too, so make sure to check there as well. If you can't find these tiny cheeses, you can use a larger ball of fresh mozzarella and just cut it into smaller pieces. The taste will be the same, but the prep work will increase slightly.
Make sure to slice your tomatoes in half or even quarter them if needed. Cherry tomatoes can be rather large or uneven in size but getting them to be smaller means you can fit more variety on every forkful of salad!
Storing
Store leftovers covered, in the fridge, for about 1 day. This dish is best served the same day it is made.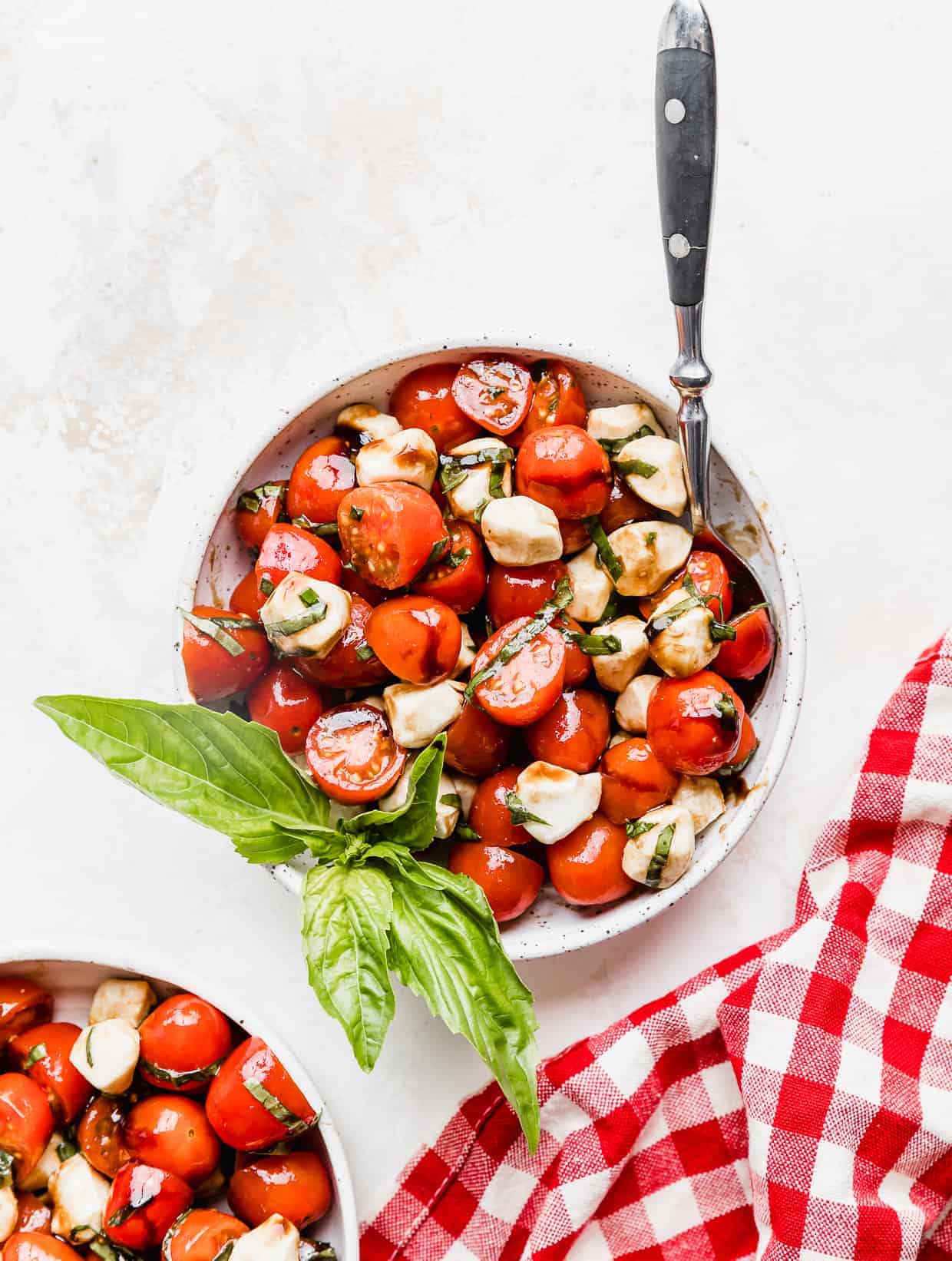 FAQs
What is Caprese Salad?
This is a super simple Italian salad made using fresh mozzarella cheese, tomatoes, basil, seasonings, and olive oil of balsamic glaze over the top. The flavors come together wonderfully and despite being a lighter meal, you'll be surprised by how filling this meal can be.
How to eat Caprese salad
This dish can be served cold or at room temperature. In Italy, you'll find that it's often served about room temperature and that it's actually more refreshing that way. To eat your salad simply try and tuck some basil, tomato, and cheese onto the prongs of your fork and dig on in. Getting a nice blend of flavors in every bite is a wonderful way to enjoy this simple salad.
Is Caprese salad healthy?
This dish is usually considered a healthier option due to the low calories and carbs on every plate. That said, adding too much cheese can make this dish less healthy, so try not to overdo it.
Can you make Caprese salad ahead of time?
This dish is best served soon after being made. While you can chill the salad for about an hour to let the flavors mingle, it will not last long if made too far in advance.
When to serve cherry tomato and mozzarella salad
This salad goes great during the summertime as a meal in itself but serving it up as a side dish is a great option too. Consider serving it at BBQs, 4th of July gatherings, picnics, or even as an appetizer before a great Italian main dish.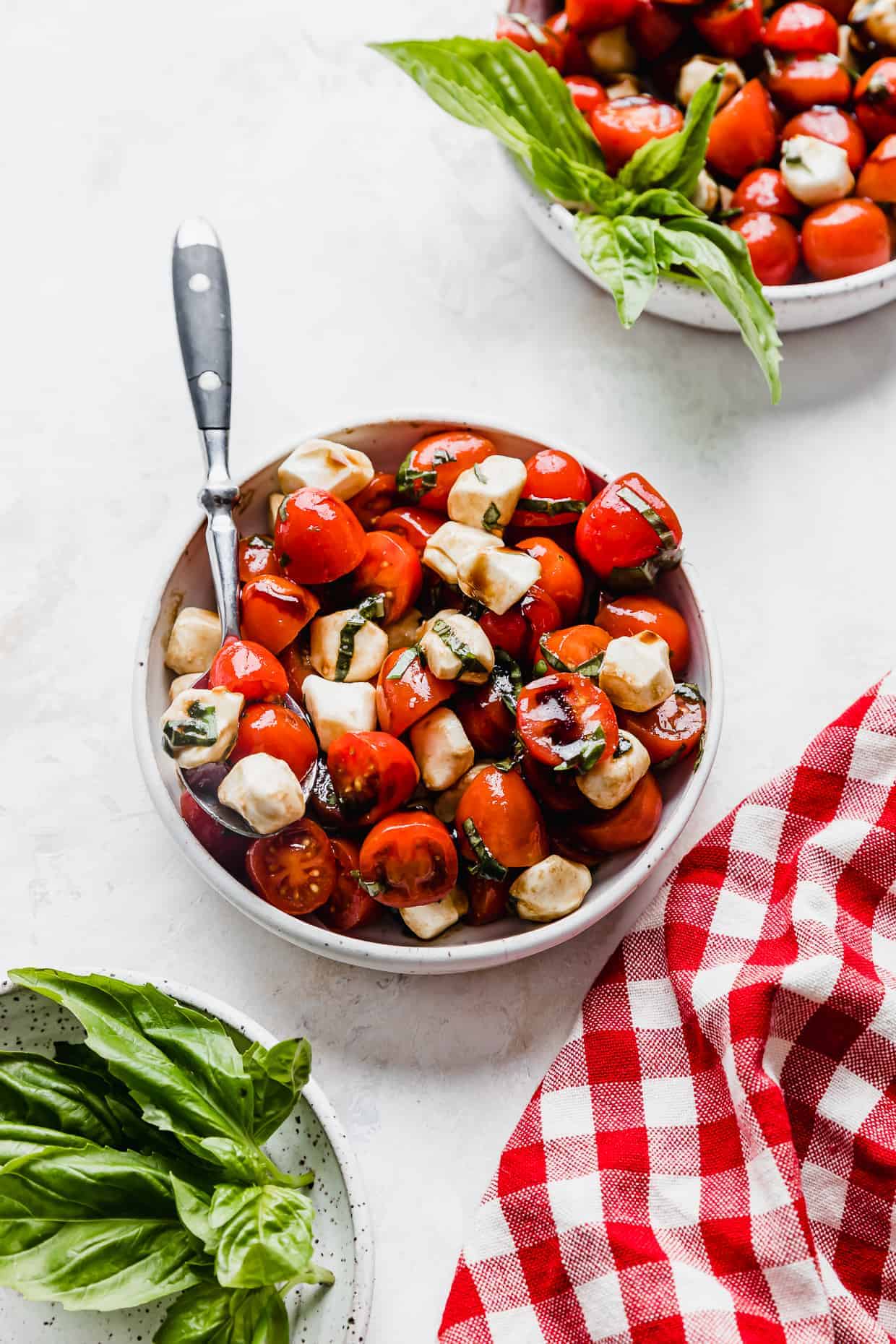 Cherry Tomato Caprese Salad
This Cherry Tomato Caprese Salad is an easy 5 minute salad that tastes amazing and so refreshing! It pairs beautifully with so many main course dishes and can also be used as an appetizer because it's quite light. You can use cherry or grape tomatoes to make this salad.
Ingredients
16

oz

cherry or grape tomatoes

-

halved

8

oz

mozzarella pearls

-

(mozzarella balls)

1/4

cup

fresh basil

-

chopped

2

tablespoons

extra virgin olive oil

2

tablespoons

balsamic glaze

kosher salt

-

to taste

freshly ground black pepper

-

to taste
Instructions
Add the tomatoes, mozzarella, and basil to a medium sized bowl. 

Drizzle the olive oil over top and toss to coat. Drizzle the balsamic glaze over top and toss again. 

Season with kosher salt and freshly ground black pepper, to taste. 

Serve immediately or refrigerate for an hour or so before serving. This dish is best when served the same day it is made. 
Notes
Mozzarella: If you can't find the mozzarella pearls you can buy an 8 oz ball of fresh mozzarella and chop it into bite sized pieces. 
Did you make this recipe?
Leave a star rating and review on the blog post letting me know how you liked this recipe! Take a picture and tag @saltandbaker on Instagram and Facebook so I can see what you're making!