Pesto Mozzarella Sandwich
This post may include affiliate links. As an Amazon Associate I earn from qualifying purchases.
This ultimate Pesto Mozzarella Sandwich is bursting with flavor, juicy ingredients, and amazing textures — made with basil pesto, mayo, fresh mozzarella and fresh juicy tomatoes, then toasted until perfection. You'll love this for an easy lunch or dinner recipe.
Want to add some protein? Try my Chicken Caprese Sandwich! Use my Blender Pesto for the best homemade pesto you'll ever have.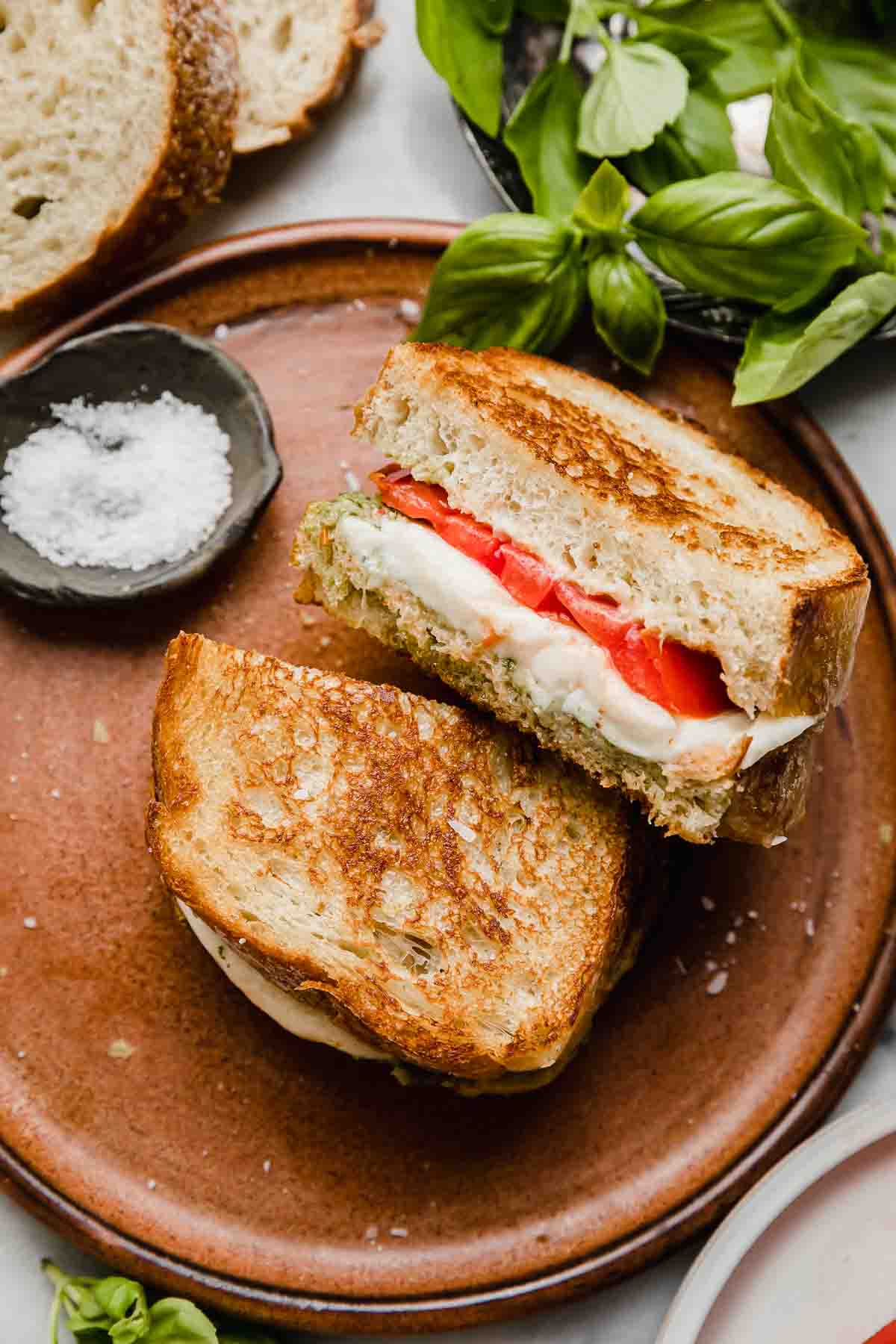 Why This Recipe Works
Perfectly balanced pesto tomato sandwich. The combination of tangy basil pesto, creamy mayo, juicy tomatoes, and flavorful mozzarella creates a perfect harmony of tastes in every bite.
Texture heaven. Y'all know I love a recipe with some good texture! Crisp and toasted bread provides a satisfying crunch against the smooth, melted mozzarella and juicy tomatoes — heaven!
Customizable tomato basil pesto sandwich. Whether you choose French bread or your favorite sandwich bread, store-bought or homemade pesto, and a variety of tomato options, this recipe accommodates your preferences.
Fresh mozzarella pesto sandwich. Opting for fresh mozzarella lends a delightful gooeyness and richness that takes the grilled mozzarella tomato sandwich to the next level.
Ingredient Notes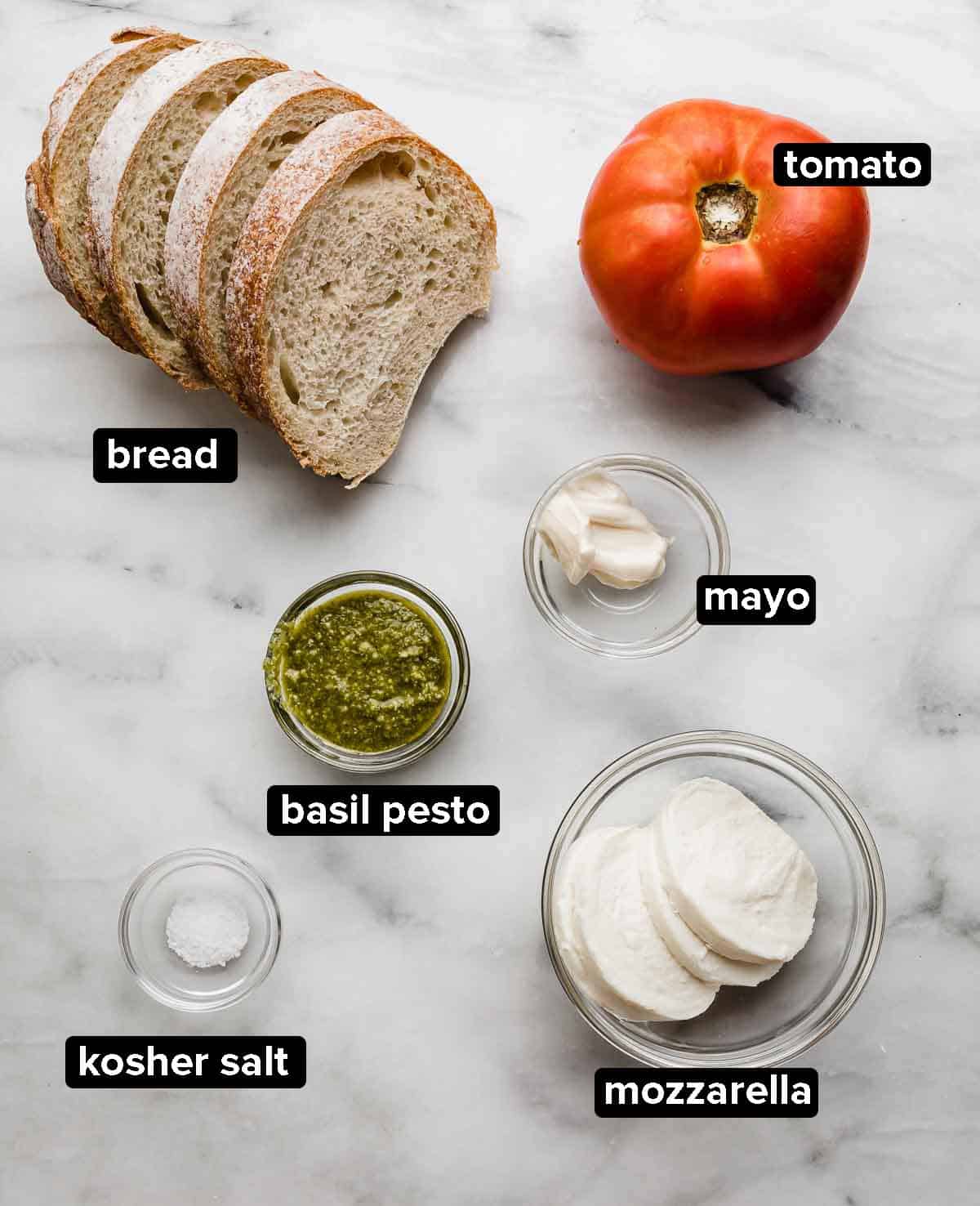 Bread: Feel free to use regular sandwich bread if you'd prefer. I used French bread. You could also use whole wheat bread or sourdough bread if you like that!
Mayo: Use your favorite brand of mayo.
Basil Pesto: You can use any store-bought pesto or make a fresh pesto with my homemade pestorecipe.
Tomatoes: You can use heirloom tomatoes, Roma tomatoes, or beefsteak tomatoes. I wouldn't use grape tomatoes or cherry tomatoes because they are so small you'd have a hard time keeping them on the tomato pesto sandwich!
Fresh Mozzarella Cheese: I highly recommend using fresh mozzarella! It's juicy and way yummier!
Step-by-Step Instructions
Place spreads on the slices of bread. Slice the bread in thick slices and spread pesto on one slice and mayonnaise on the other.
Add the tomato slices and mozzarella. Place the slices of tomatoes on the pesto side and fill the whole piece. Lightly salt. Add the slices of mozzarella, then place the bread slices together.
Grill the pesto tomato sandwich. Using a panini press or a skillet, place the mozzarella pesto sandwich on and grill or cook until all sides are golden brown. Enjoy!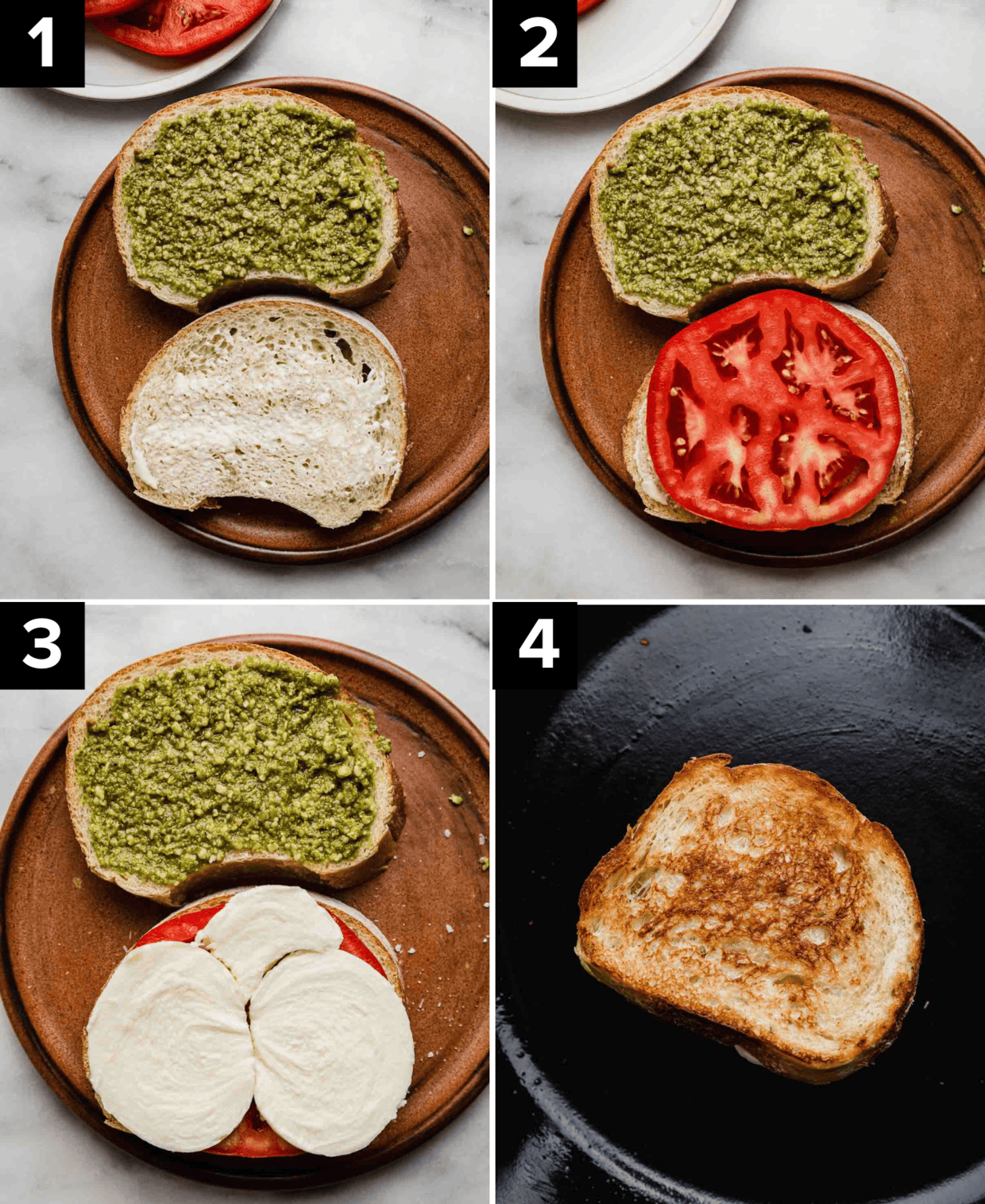 Recipe Tips
Homemade basil pesto isn't necessary. I LOVE homemade pesto, but unless you have a green house with a large basil plant, chances are you don't have homemade basil on hand during the winter months.
However, if you'd like to give homemade pesto a shot, I have a great recipe right here. Basil pesto is easy to make and it tastes delicious! Consider experimenting with different pesto varieties such as sun-dried tomato or walnut pesto. You can also try my Kale Pesto Recipe instead!
To get even melty mozzarella, allow the mozzarella to come to room temperature before assembling the tomato mozzarella sandwich.
If you don't have a panini maker, you can use a regular sautè pan, frying pan, or cast iron skillet.
Add a handful of fresh baby spinach or arugula for an extra layer of flavor and nutrition.
We also love drizzling on some balsamic glaze.
Make Ahead, Storing, and Freezing
Prepare the sandwich components (spreads, sliced tomatoes, and mozzarella) in advance for a quicker assembly when ready to cook.
Refrigerate assembled but uncooked sandwiches in an airtight container. Grill them fresh for optimal taste and texture.
I don't recommend freezing the sandwich.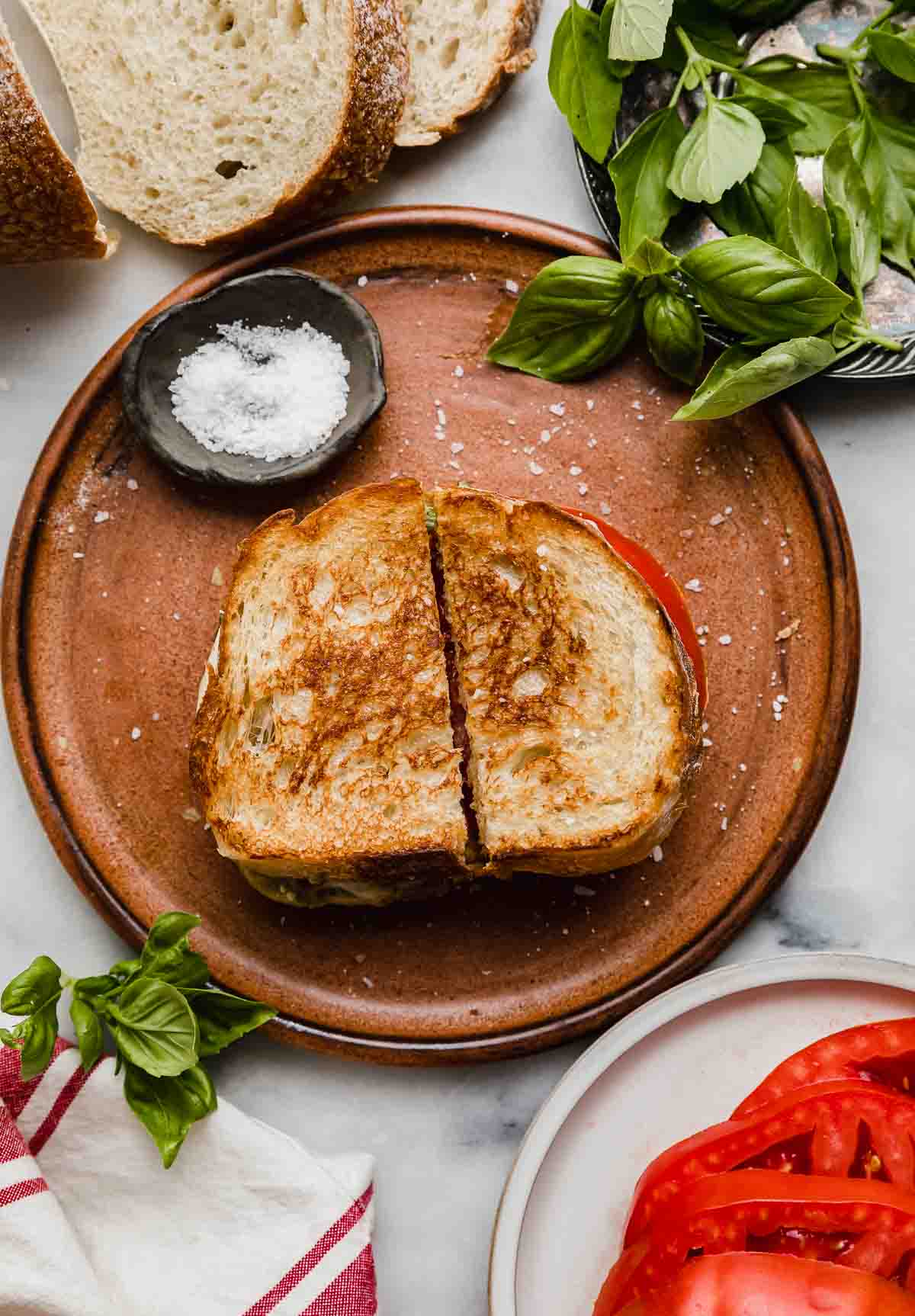 Recipe FAQs
How much mozzarella should I use when making a tomato sandwich?
I use anywhere from 1.5-2 oz of sliced mozzarella on each sandwich I make. Once you see how much or how little 2 oz of cheese appears, you might opt for adding a touch more mozzarella on your sandwich, or slightly less. But 2 oz has proved to be my family's sweet spot.
How can I make this gluten-free? 
Simply choose your favorite gluten-free bread to make this sandwich suitable for a gluten-free diet.
Can I use cherry tomatoes? 
While not recommended due to their size, you can slice cherry tomatoes in half and distribute them evenly for a unique twist.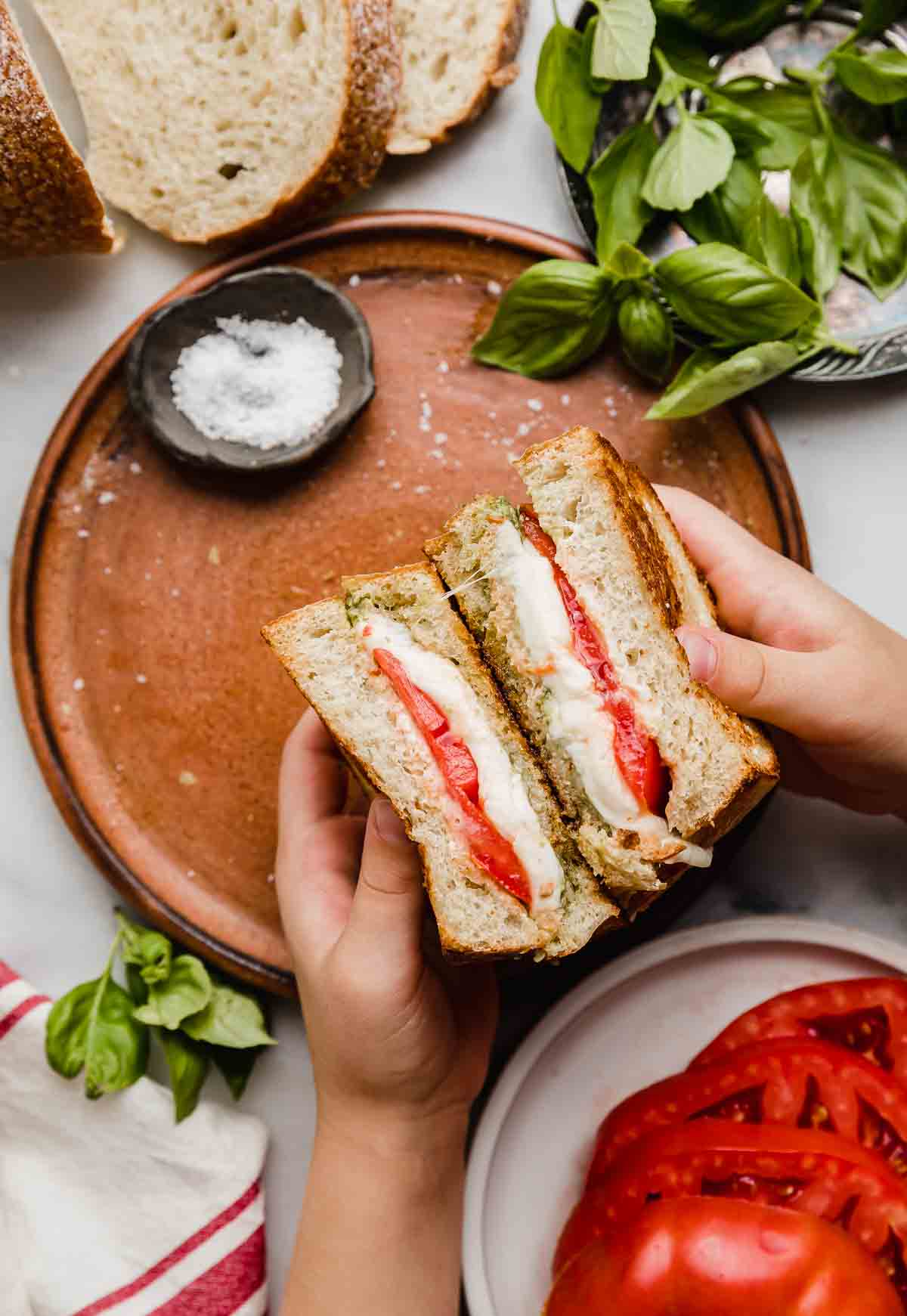 More Pesto Recipes
Pesto Mozzarella Sandwich
A Pesto Mozzarella Sandwich with fresh tomato is a delectable and flavorful vegetarian sandwich that combines the richness of mozzarella cheese, the vibrant taste of pesto sauce, and the juicy sweetness of fresh tomatoes. This sandwich is a perfect balance of textures and tastes, making it a popular choice for a quick and satisfying lunch or light dinner!
Ingredients
2

slices

bread

-

I used French bread, you can use whatever you have/like

1

tablespoon

mayo

-

(more or less to your liking)

1 1/2

tablespoons

basil peso

1

tomato

-

slices

1.5-2

oz

mozzarella

-

sliced, I prefer to use fresh mozzarella

kosher salt

-

to taste
Instructions
Spread the pesto on one slice of bread.

Spread the mayonnaise on the other slice of bread.

Place the tomatoes on the bread until the bread has been covered. Lightly salt the tomatoes.

Place the slices of mozzarella on the tomatoes.

Place the slice of bread with the pesto overtop the mozzarella and tomatoes.

Place your sandwich on a panini maker until all sides are crisp and golden brown. If you don't have a panini maker you can warm up a skillet on your stovetop and grill your sandwich that way.
Did you make this recipe?
Leave a star rating and review on the blog post letting me know how you liked this recipe! Take a picture and tag @saltandbaker on Instagram and Facebook so I can see what you're making!