Blender Pesto
This post may include affiliate links. As an Amazon Associate I earn from qualifying purchases.
Whip up the best homemade pesto sauce with this easy blender pesto recipe. Using fresh basil leaves, olive oil, garlic, pine nuts, and parmesan cheese, this flavorful and vibrant basil pesto will be the perfect addition to your favorite pasta sauce, pizza, or sandwich.
This is the perfect recipe to use in my Zupas Tomato Basil Soup, Pesto Pasta with Tomatoes, or this fresh Pesto Tortellini Pasta Salad. I also have a homemade red pesto recipe found in my Red Pesto Pasta post that uses sun-dried tomatoes.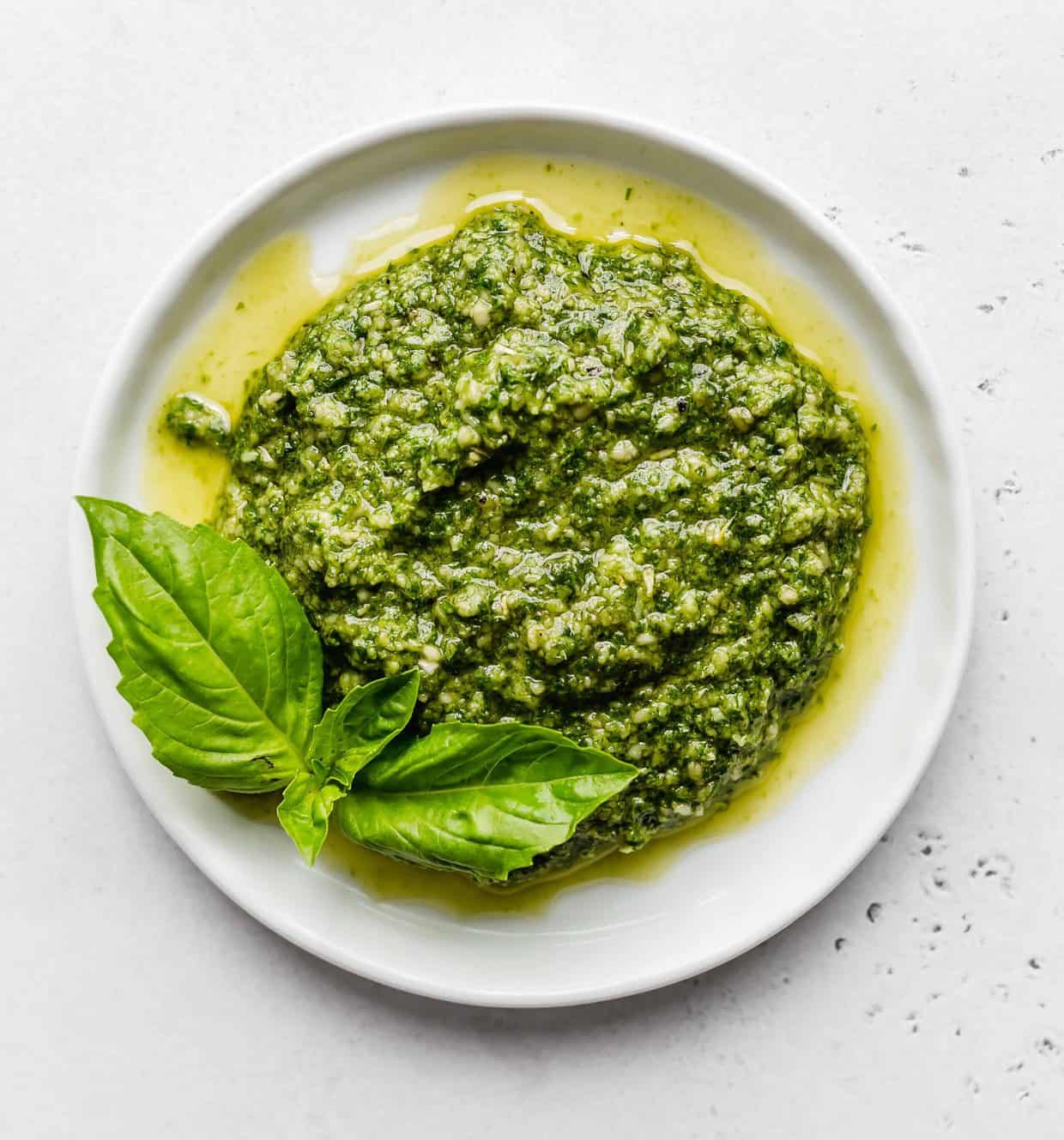 Why This Recipe Works
Fresh basil pesto. The difference between a good pesto recipe and the best pesto recipe is using fresh ingredients. This enhances the fresh flavor and provides a vibrant green color.
Blender pesto. Now, you can use a blender OR a food processor. Either makes this such an easy pesto recipe!
Versatile sauce. This homemade basil pesto is easy to adapt based on your liking. Want it cheesier? Add more parmesan! Want it nuttier? Add more nuts — or even a different variety of nuts.
Ingredient Notes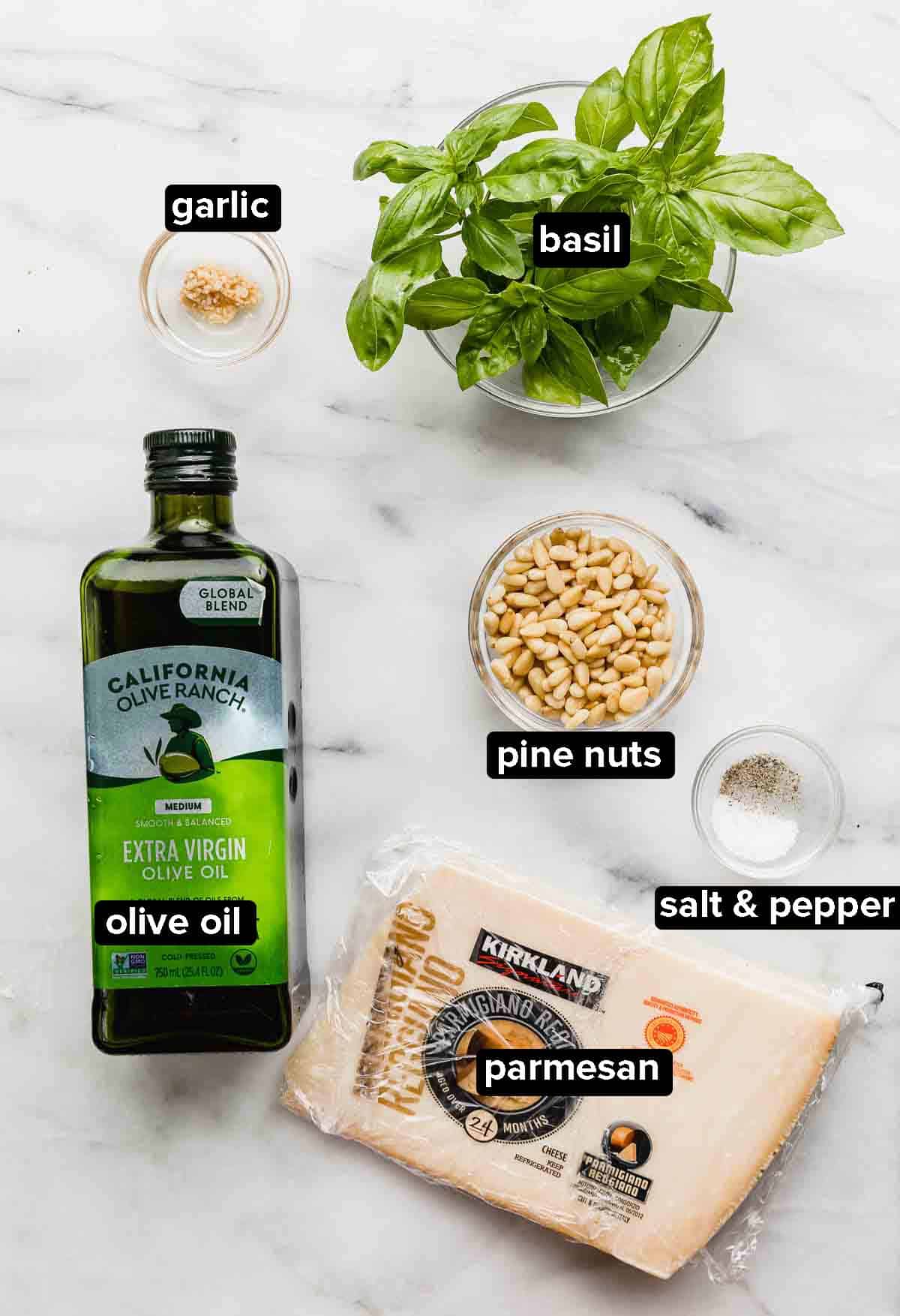 Fresh Basil: Using fresh basil we create the flavor and green color that this sauce needs. If you have your own basil plant, you can find that this is a very cost-effective recipe too!
Pine Nuts: Toasted pine nuts are a great ingredient in pesto because it adds a nice consistency and nutty flavor that works so well in many dishes. Don't worry if you buy them un toasted (we're going to toast them ourselves!)
Garlic Cloves: We're going to want 2 garlic cloves for this pesto sauce because they add a lot of traditional pesto flavor.
Salt and Pepper: You can add salt and pepper to taste to adjust the flavor of the recipe to your own personal standards.
Grated Parmesan Cheese: Parmesan cheese is a very popular and key ingredient in a classic pesto recipe unless you're purposely trying to find an alternative for a vegan or dairy free version, we want the cheese to stay because it adds so much flavor and rich goodness.
Extra Virgin Olive Oil: A very popular oil used in Italy is olive oil because it works great with many of the recipes. In this sauce it helps work as the liquid that blends everything together and helps the flavors to meld together to be a cohesive sauce we love.
Step-by-Step Instructions
Add ingredients to a blender or food processor. Add 2 1/2 cups of basil, 1/4 cup pine nuts, 2 garlic cloves, 1/2 tsp salt, pinch black pepper, and 1/2 cup grated parmesan cheese to a blender or food processor. Blend or pulse until smooth.
Slowly stream in the olive oil. Slowly stream in 1/2 cup olive oil. Taste and adjust the salt and pepper to your liking. Use as a sandwich spread, as a dipping sauce, or in your favorite pasta dishes. Enjoy!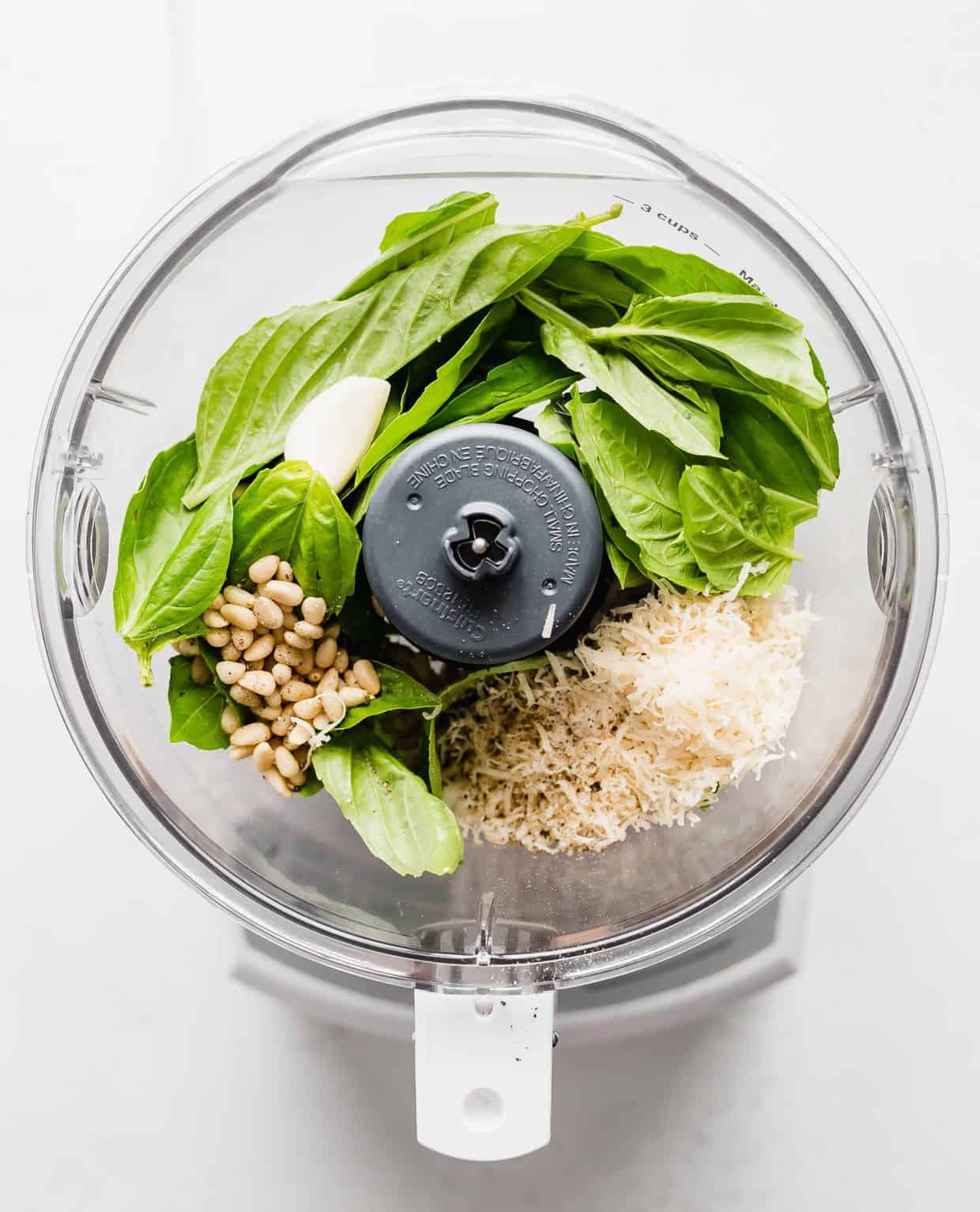 Recipe Tips
For a stronger flavor use pecorino Romano cheese.
Basil is a strong and very aromatic herb. Some may not like the overly strong flavor and taste of a full basil pesto. To mellow out the flavor use half basil leaves and half spinach leaves. You'll still be able to taste the basil but it won't be as pronounced.
You don't have to use pine nuts in homemade pesto. In fact feel free to use walnuts or even pistachios. I use pistachios to make kale pesto and it's divine.
For a better flavor, toast the pine nuts.
When blending the ingredients in the food processor or blender, gradually add the olive oil in a steady stream. This allows you to control the consistency of the pesto. If you prefer a thicker pesto, use less oil; for a smoother and creamier texture, add more oil.
If you don't have a food processor or a high-powered blender, you can use an immersion blender. Blend to your desired texture for a smooth sauce or slightly chunky sauce.
Pesto is a spring and summer staple, but it can be used all year long. In our house we love it so much we use it on just about everything. This basil pesto recipe can be used in some basil pesto pasta, smothered over a cooked chicken, tossed with homemade ravioli, or even used as a sauce base for pizza.
Make Ahead, Storing, and Freezing
Store leftover pesto in an airtight container or store as a jar of pesto in the fridge for up to 1 week.
To increase the shelf life of this classic basil pesto recipe, add a thin layer of olive oil on top of the basil pesto to create a barrier against air exposure. Then cover it and store it in the fridge.
If you plan on freezing your pesto sauce, it's best to not add the cheese to the recipe until you're ready to serve. The cheese doesn't freeze very well and you can easily stir some grated parmesan into the pesto before serving.
Another good tip is to freeze it in small batches so you don't have to thaw it all at once.
Using ice cube trays, you can get small portions really easily. After they've frozen solid, simply remove from tray and place in a ziplock bag and continue freezing until you're ready to use!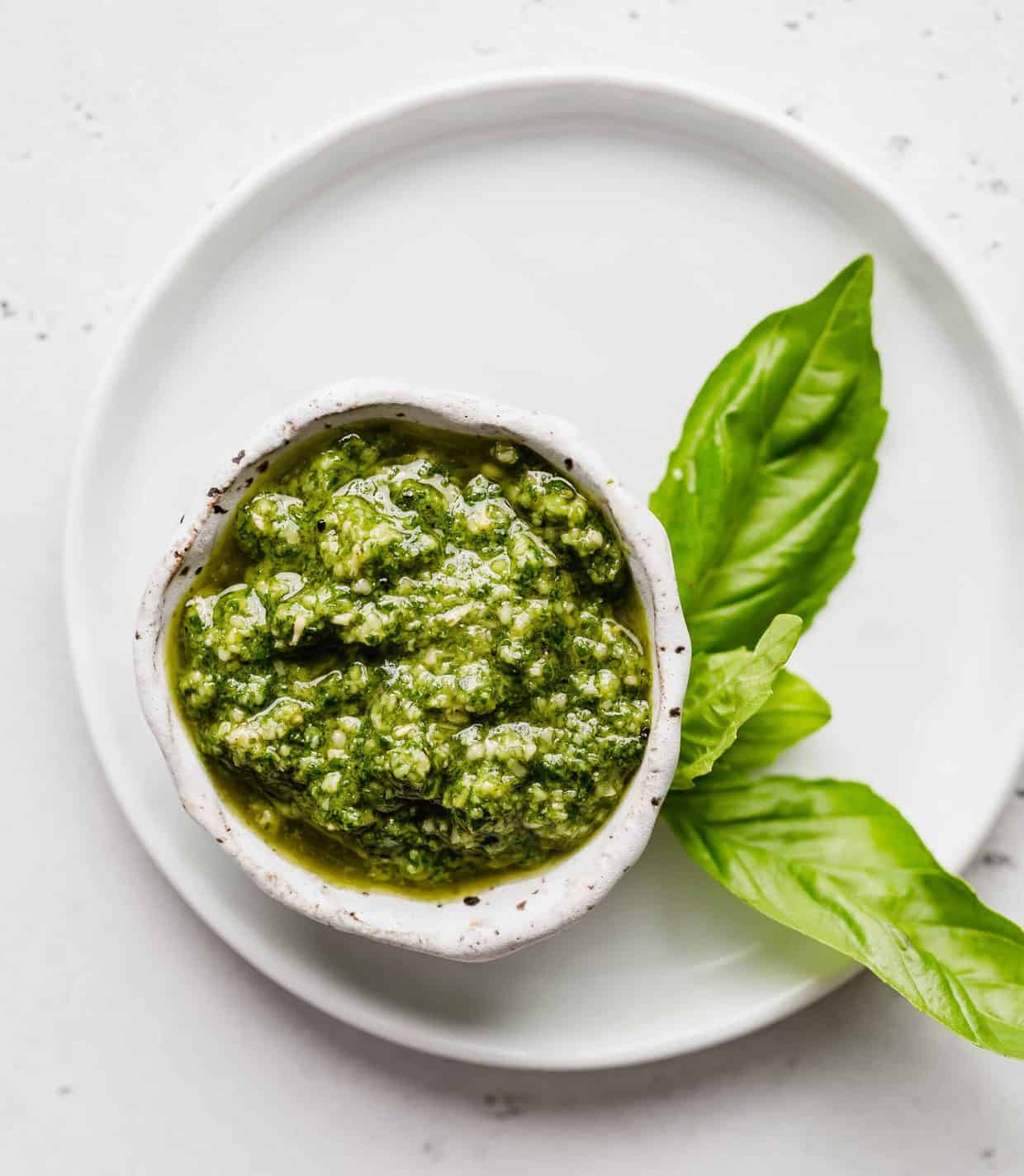 Recipe FAQs
Why is my pesto sauce bitter?
If you think your sauce has a bitter flavor after blending and making it, it could be from a simple reason. Some extra-virgin olive oils can leave behind a bitter note in pesto due to the bitter attributes in the olive oil itself. If that's happening, try using regular olive oil. 
How to make basil pesto vegan?
Instead of using parmesan cheese, add in 1 tablespoon of nutritional yeast. This will give a cheesy flavor without the actual cheese needing to be involved.
Can I use any nut in basil pesto?
I think so! The traditional way pesto is made if using pine nuts, but you can use any type of nuts such as almonds, walnuts, pistachios, cashews, pecans, etc. If you have a nut allergy, you can omit the nuts.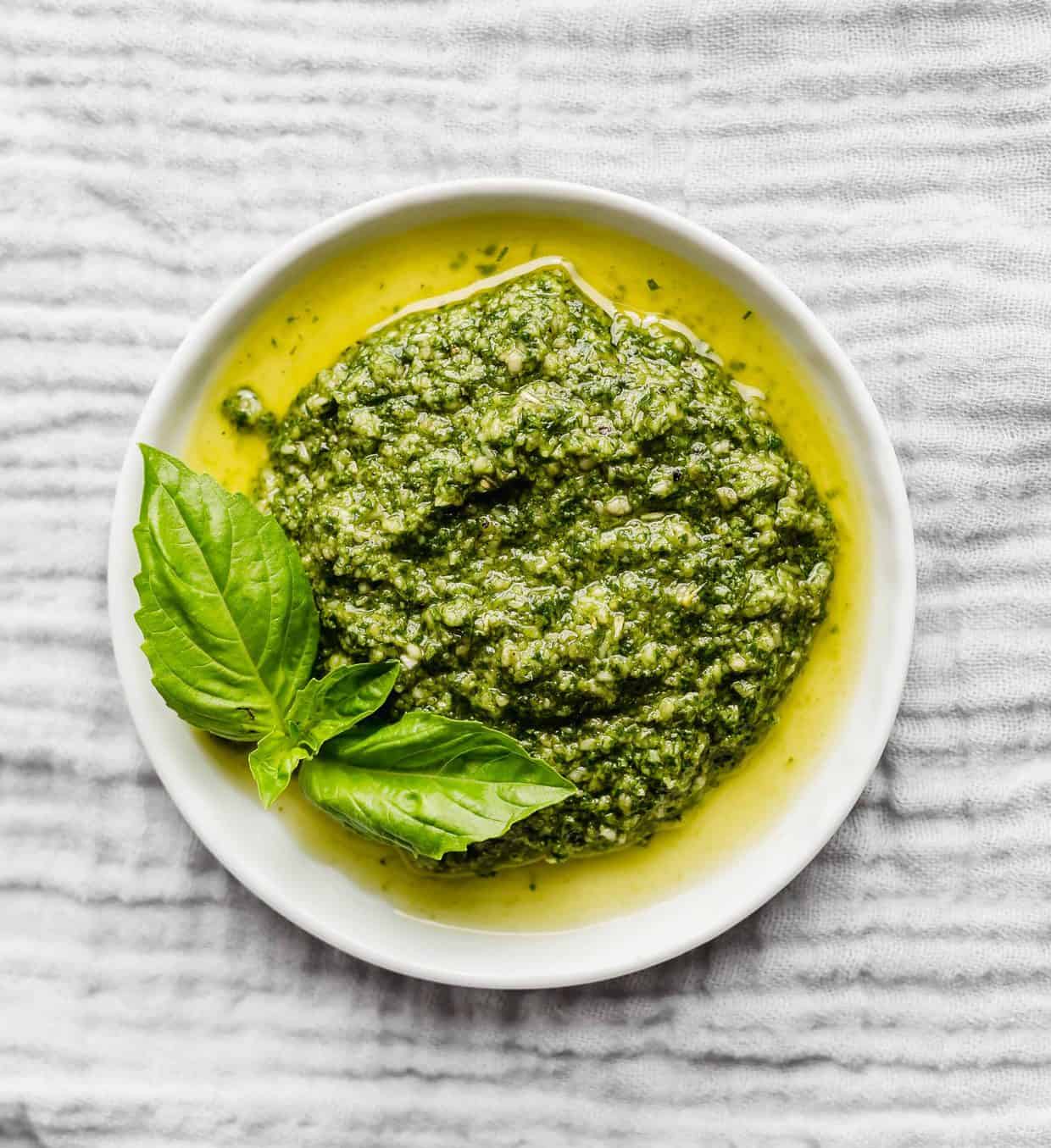 My Favorite Pesto Recipes
Basil Pesto
Easy, fresh, basil pesto.
Ingredients
2 1/2

cups

fresh basil (packed)

1/4

cup

pine nuts

-

toasted

2

garlic cloves

1/2

tsp

salt, or to taste

pinch

black pepper

1/2

cup

freshly grated parmesan cheese

1/2

cup

olive oil
Instructions
Add the basil, toasted pine nuts, garlic cloves, salt, pepper, and parmesan to the bowl of your food processor (or blender). Pulse until the ingredients are incorporated.

With the food processor on, stream in the olive oil. I like my pesto a tad chunky, so I don't overdo it with the food processor. Taste the pesto, add salt and pepper to taste.
Notes
Store in an airtight container in the fridge for up to 1 week. To increase shelf life, pour a thin layer of olive oil on top of the basil pesto. Don't stir. 
To freeze, batch freeze using an ice cube tray. Once frozen, transfer to a freezer bag or container. 
Did you make this recipe?
Leave a star rating and review on the blog post letting me know how you liked this recipe! Take a picture and tag @saltandbaker on Instagram and Facebook so I can see what you're making!