Kale Pizza
This post may include affiliate links. As an Amazon Associate I earn from qualifying purchases.
This Kale Pizza is one of my all-time favorite pizza recipes — it's made with Basil Pesto, kale leaves, goat cheese, fresh arugula, and balsamic glaze. If you want a healthy pizza that also tastes good, this kale pizza recipe will be your new favorite pizza!
Every good pizza begins with a fool-proof, easy, and delicious pizza dough. I have just what you need. My homemade pizza dough recipe will start you on the right track to making any pizza! Then you can make even more of my delicious homemade pizza recipes like my Blackberry Pizza and my Pesto Arugula Pizza. They are more of my very favorite pizza recipes!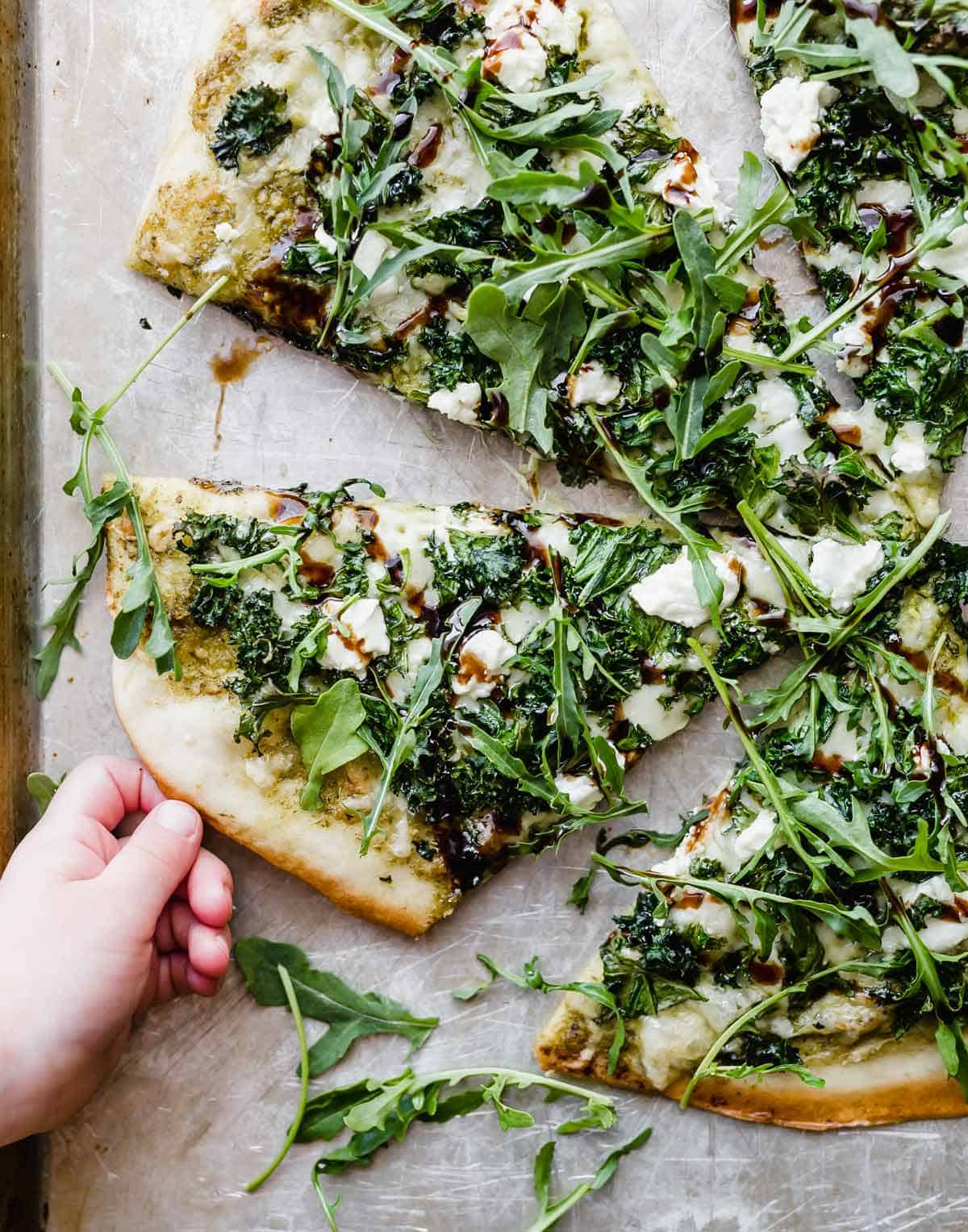 Why This Recipe Works
Veggie-packed pizza recipe. You are going to love this veggie pizza recipe. It's topped with fresh basil pesto, fresh kale that cooks up in the oven so nicely, and topped with fresh arugula just before serving. It's so good!
Goat cheese pizza. I love the crumbled goat cheese on top. It adds such a delicious salty flavor to the pizza and pairs beautifully with the pesto, kale, and arugula.
Best kale pizza. This recipe is the best way to use kale! The kale is massaged with olive oil and salt to help soften the kale and make it ultra tender for this most delicious kale pizza.
Ingredient Notes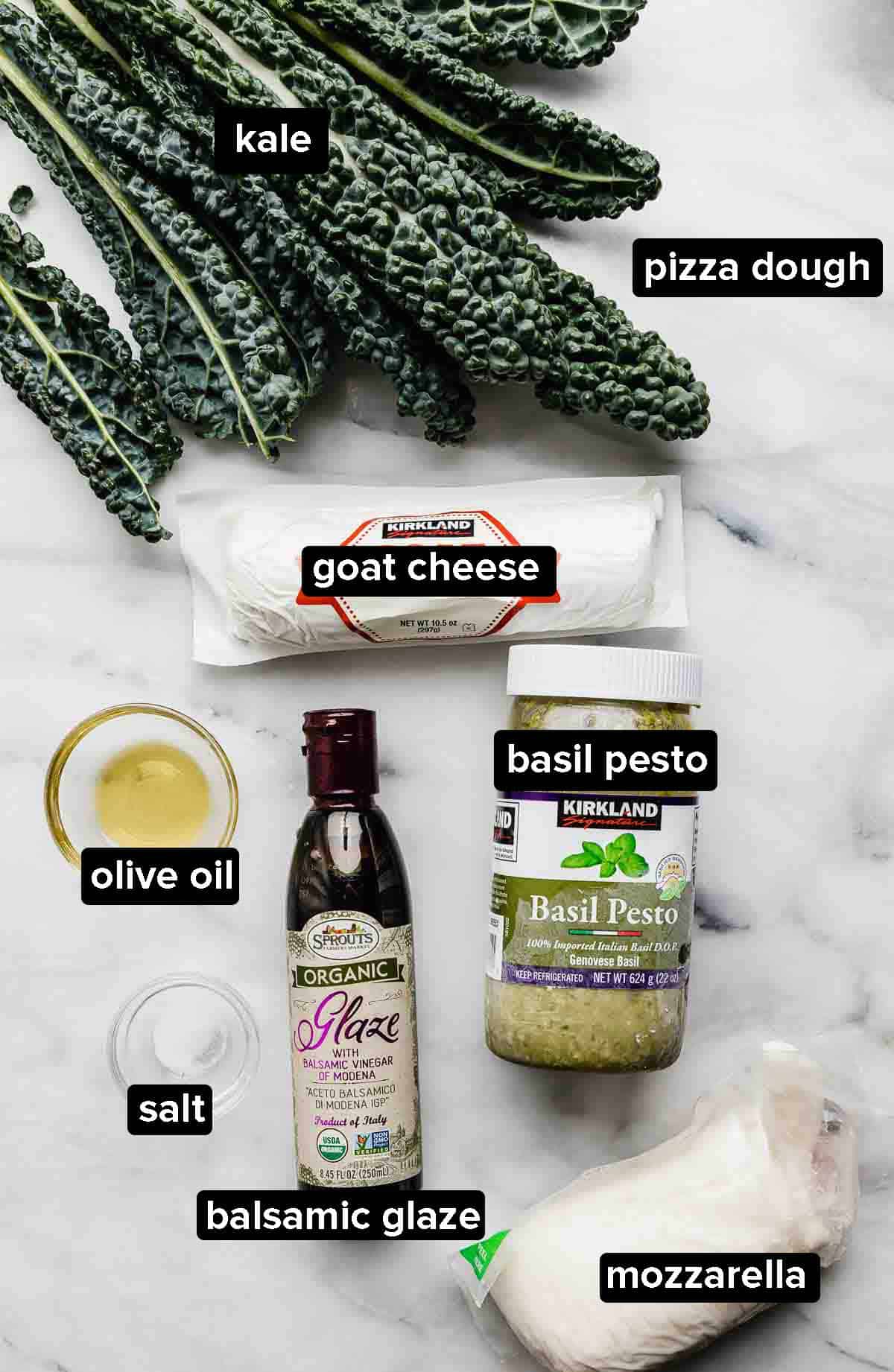 1 Batch Pizza Dough: Use my homemade pizza dough recipe (which makes enough homemade dough for 2 pizzas. You can also use store-bought dough if you'd like, for ease. I love to make my homemade pizza dough and store it in the freezer to use later! 
Basil Pesto: I used basil pesto for this recipe, but you can use a homemade arugula pesto or even a Homemade Kale Pesto Recipe!
Mozzarella Cheese: You can use fresh mozzarella and rip it into pieces (or use mozzarella pearls) or use shredded mozzarella. Whatever you prefer! 
Fresh Kale: Wash the kale, then remove the thick stems. I like using curly kale instead of lacinato kale. 
Goat Cheese: Feel free to use as much goat cheese as you want! 
Arugula: This adds some great texture and flavor to the pizza. I also really love having fresh greens on my pizza, it's so good!
Balsamic Glaze: You can purchase balsamic glaze at the grocery store, or you can make some yourself with some balsamic vinegar. I have a great blog post that walks you through making a balsamic reduction. The balsamic glaze rounds out the pizza. Add it, you won't regret it!
Step-by-Step Instructions
Roll out the pizza dough. Preheat the oven to 450ºF and coat a baking sheet in a thin layer of olive oil. Using a rolling pin, roll the pizza dough out on a lightly floured surface (or lightly oiled surface) into a thin circle-like shape. Transfer the pizza base to the large baking sheet.
Top with the basil pest and mozzarella. Spread an even layer of pesto on top of the fresh pizza dough. Sprinkle 1 1/2 cups shredded mozzarella cheese on top of the pesto.
Add the massaged kale. To massage the kale, place the chopped kale in a bowl and drizzle a little olive oil and 1/4 tsp salt. Using your hands, massage the kale leaves until they become soft. Add the kale mixture to the pizza in an even layer. 
Top pizza with goat cheese. Crumble the goat cheese on top of the pizza.
Bake. Place into the oven and bake for 13-15 minutes or until the crust is golden brown and cooked through. Remove and top with fresh arugula and drizzle with balsamic glaze! Enjoy!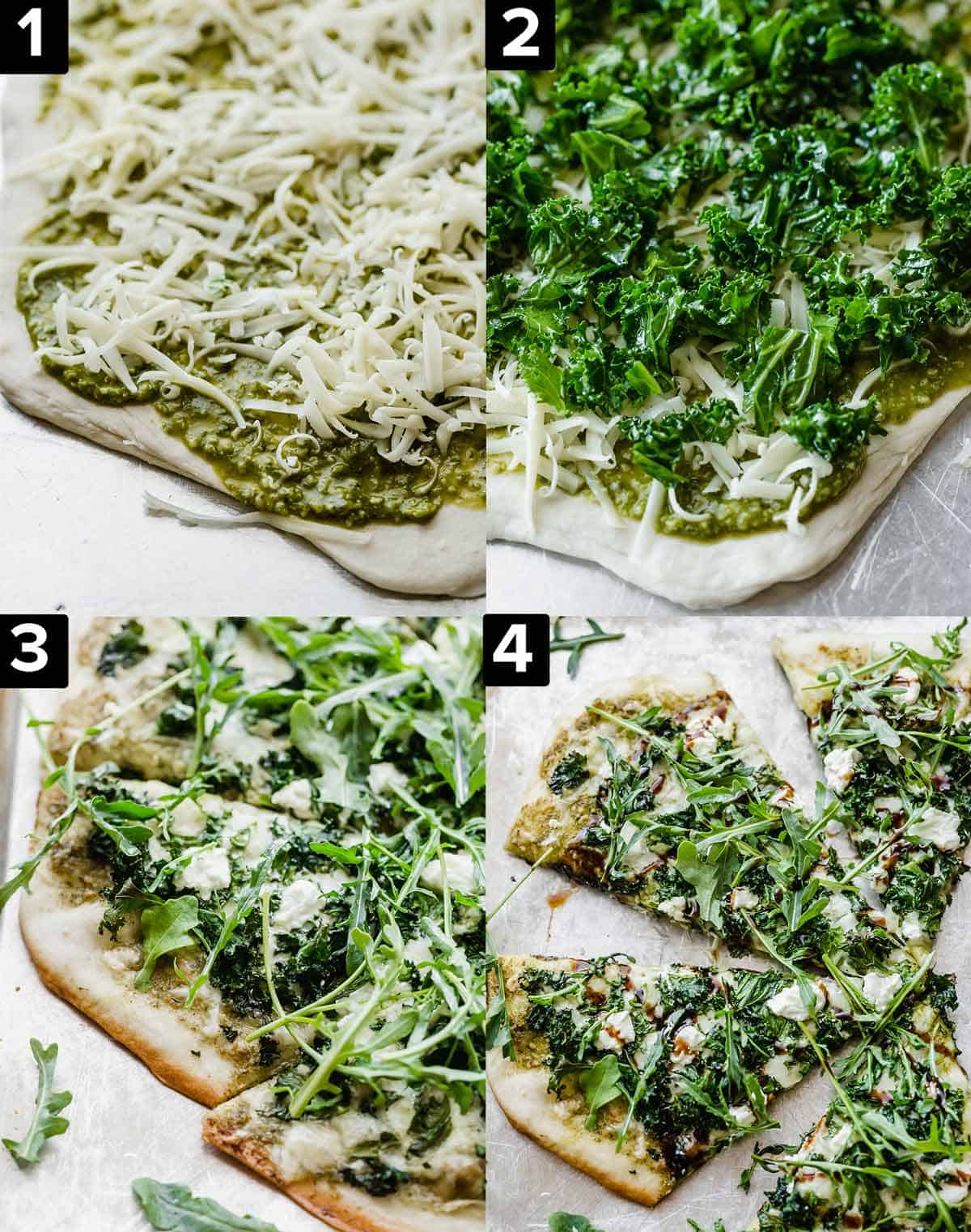 Recipe Tips
To save time, buy the pizza dough from a grocery store. Personally, I've never purchased pizza dough, but I know others who have and they say it tastes good.
Be sure to massage the kale before using it! Remove the main stem from the kale and then chop the kale leaves into bite size pieces. Place the chopped kale into a medium size bowl and add a half teaspoon of olive oil and a sprinkle of salt and pepper. Using you hands, massage the kale until the leaves are slightly wilted and covered in the olive oil.
Massaging the kale will help tenderize the fibers so it wilts better in the oven.
The pizza will be about 16-18″ inches in diameter. If it's bigger or smaller, that's fine too. We aren't aiming for perfection here.
You can use more than the 2 ounces of goat cheese if you'd like!
I also think this kale and goat cheese pizza recipe would be delicious with some caramelized onions! See my Caramelized Onion and Goat Cheese Crostini recipe for how to caramelize onions.
Preheat the oven in advance! And make sure you use olive oil on the baking sheet otherwise the pizza will be majorly stuck! You can also bake this kale pizza on a pizza stone.
Make Ahead, Storing, and Freezing
You can make the pizza dough in advance and store it to use for this kale pizza recipe.
Store any leftover kale pizza in an airtight container or ziplock bag in the fridge for 3-4 days. To reheat, pop in the microwave or place in the oven at 350ºF for a couple of minutes until warmed through.
To freeze, and store each slice of pizza in a freezer-safe bag in the freezer for up to 1 month. Remove and let thaw in the fridge. Reheat in the oven.
Recipe FAQs
Is kale good on pizza?
Yes! It's so yummy! We massage the kale with olive oil and salt in order to bread down the fibers and make it soft and more tender. The kale is cooked on the pizza so it becomes oven roasted kale and it's so delicious!  
Can I use fresh mozzarella on pizza?
Yes you can! Rib the mozzarella into pieces and place on the pizza dough. 
What if I don't have goat cheese?
If you don't have goat cheese, you can use feta or dollops of ricotta. I like the goat cheese because it has a rich and salty flavor, which ricotta doesn't have.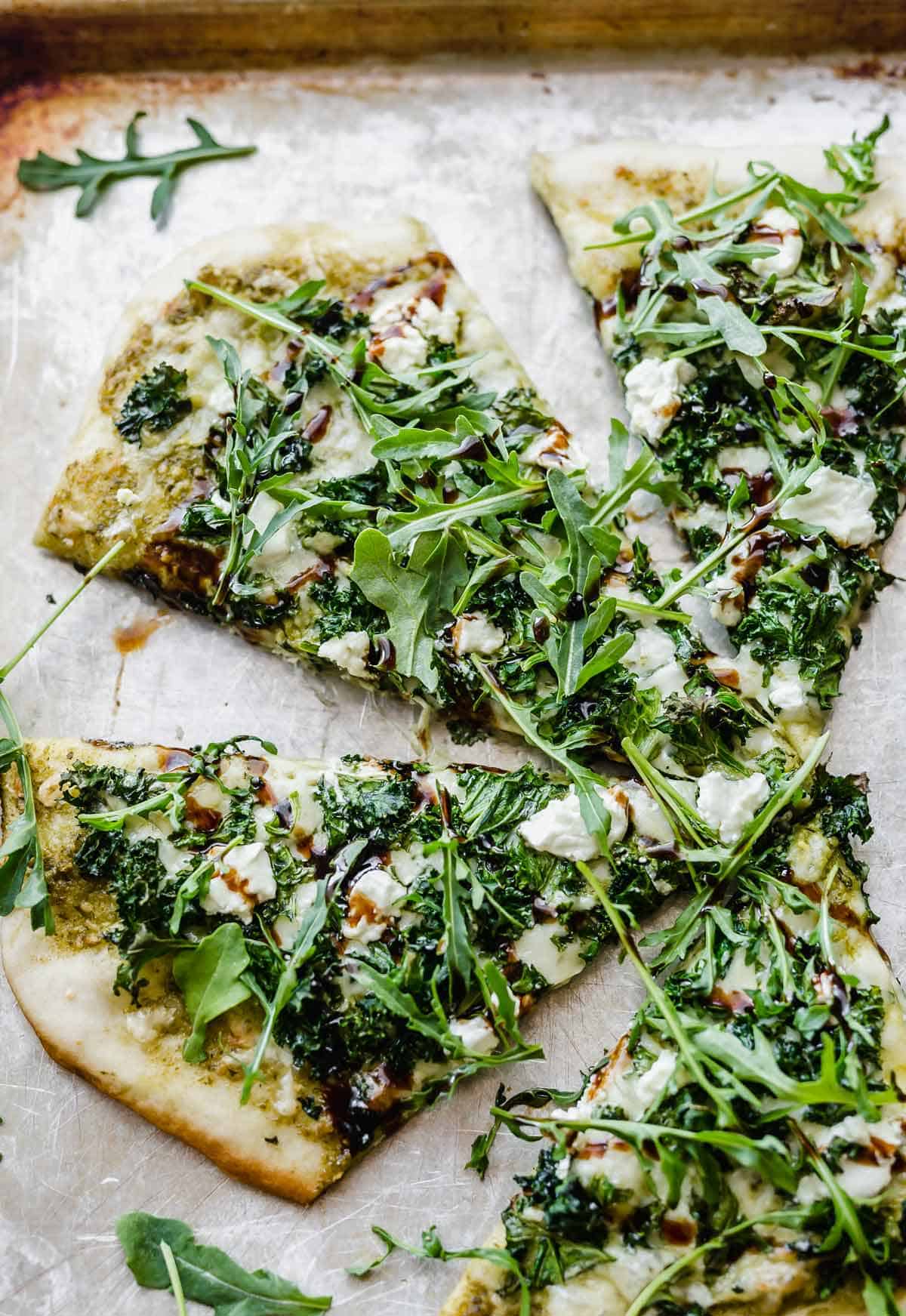 More Pizza Recipes
Kale Pizza
An easy pizza recipe with kale, basil pesto, and arugula.
Ingredients
14-16

ounces

homemade pizza dough

1/3

cup

basil pesto

1 1/2

cups

mozzarella cheese

-

shredded

2

cups

kale

-

chopped

1/2

teaspoon

olive oil

1/4

teaspoon

salt

2

ounces

goat cheese

-

crumbled

arugula

-

for topping

balsamic glaze
Instructions
Preheat the oven to 450°F. Spread a thin coat of olive oil on a baking sheet.

Roll the pizza dough into a thin circle. (We love thin crust pizza, so we roll ours out fairly thin). Carefully transfer the pizza dough to the baking sheet.

Spread the basil pesto into an even layer on top of the pizza dough.

Sprinkle the shredded mozzarella over the pesto.

In a medium sized bowl combine the kale, olive oil, and salt and pinch of black pepper. Using your hands, massage the kale until the leaves become droopy and soft, about 2 minutes.

Spread the kale in an even layer over the mozzarella cheese.

Disperse the crumbled goat cheese over the kale.

Bake for 13-15 minutes or until the crust is golden in color and cooked through.

Remove the pizza from the oven and top with fresh arugula and a drizzle of balsamic glaze. Enjoy!
Did you make this recipe?
Leave a star rating and review on the blog post letting me know how you liked this recipe! Take a picture and tag @saltandbaker on Instagram and Facebook so I can see what you're making!