Watermelon Skewers
This post may include affiliate links. As an Amazon Associate I earn from qualifying purchases.
These Watermelon Skewers are the perfect sweet and salty appetizer. Juicy watermelon balls are paired with salty feta cheese squares drizzled with balsamic glaze and garnished with fresh mint leaves. It's an easy and indulgent summer appetizer!
When it comes to excess watermelon during the summer months, there are plenty of fun ways to serve it! Watermelon Feta Salad with Basil is another delicious watermelon and feta recipe. You can also juice it and serve it as a drink with my Watermelon Juice Recipe.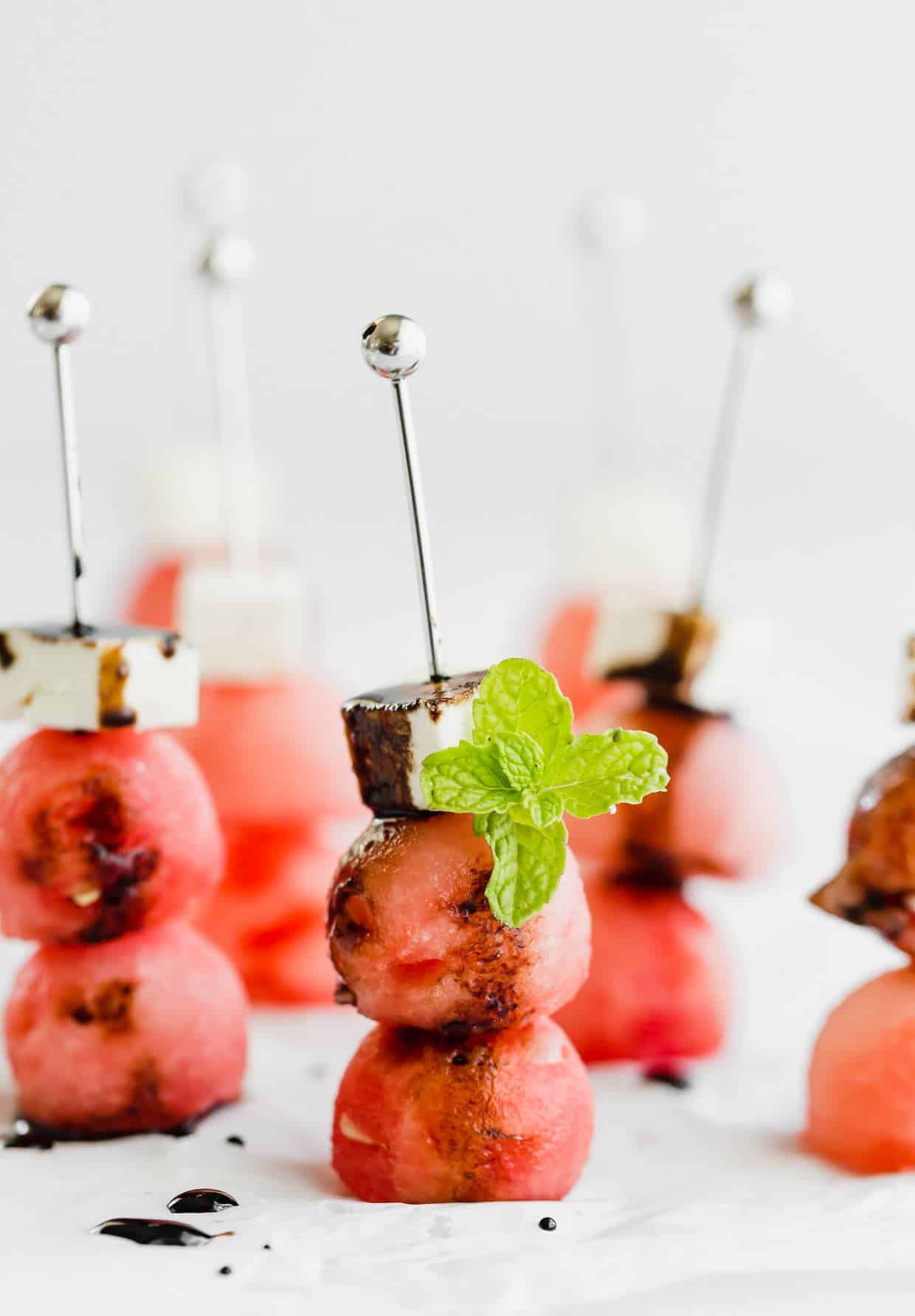 Why This Recipe Works
Sweet and salty combination. I'm a big lover of a great sweet and salty combination! And these watermelon feta skewers are just that! The salty feta cheese and sweet watermelon complement each other so well and are perfect for a hot summer day!
Easy watermelon appetizer recipe. I can't get over how simple and delicious this watermelon recipe is! It's the perfect easy appetizer! You can get creative with how you serve your watermelon this summer! Use this simple watermelon skewers recipe and it will be the hit of the party this summer!
Ingredient Notes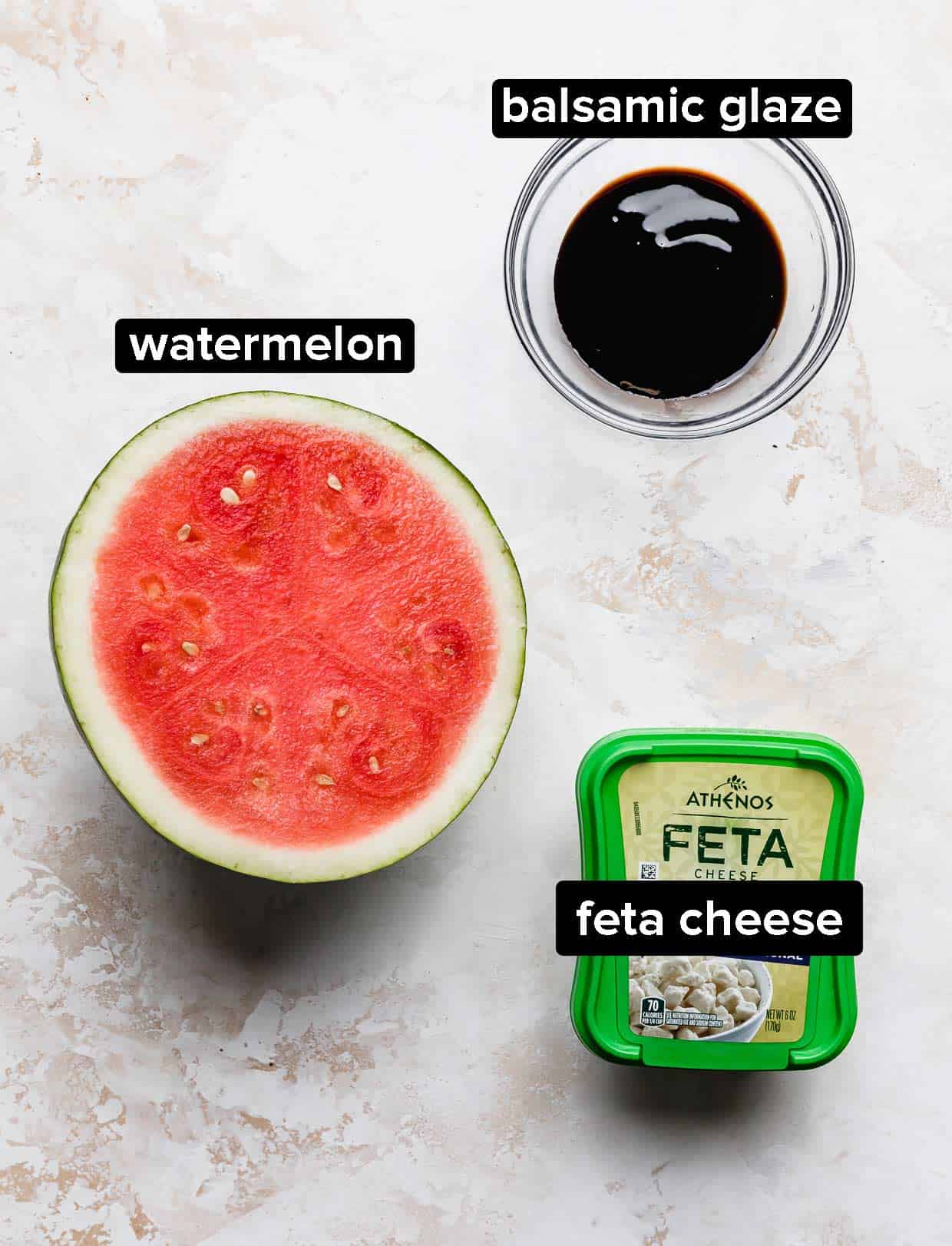 Watermelon: I used about half a large watermelon. Depending on how many skewers you want, you can you a lot of watermelon or a little.
Feta Cheese: You want the block of feta cheese, not the crumbles.
Balsamic Glaze: You can purchase balsamic glaze at the store. You can also make your own, which is called a balsamic reduction. See the Recipe Tips section below for instructions on how to make balsamic glaze at home.
Step-by-Step Instructions
Prepare the watermelon and feta. Using a watermelon ball scooper, scoop the watermelon into balls. Cut the block of feta cheese into squares.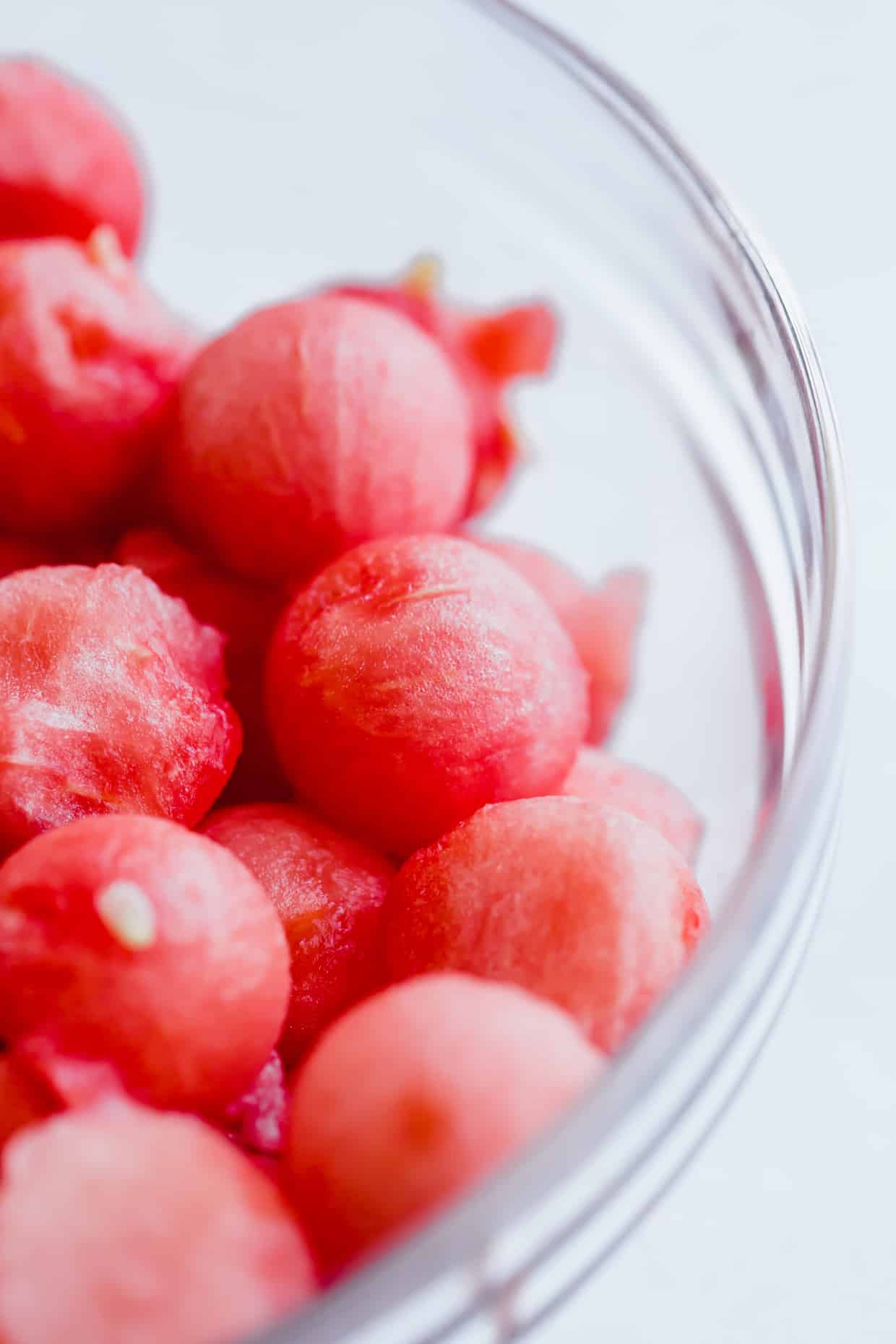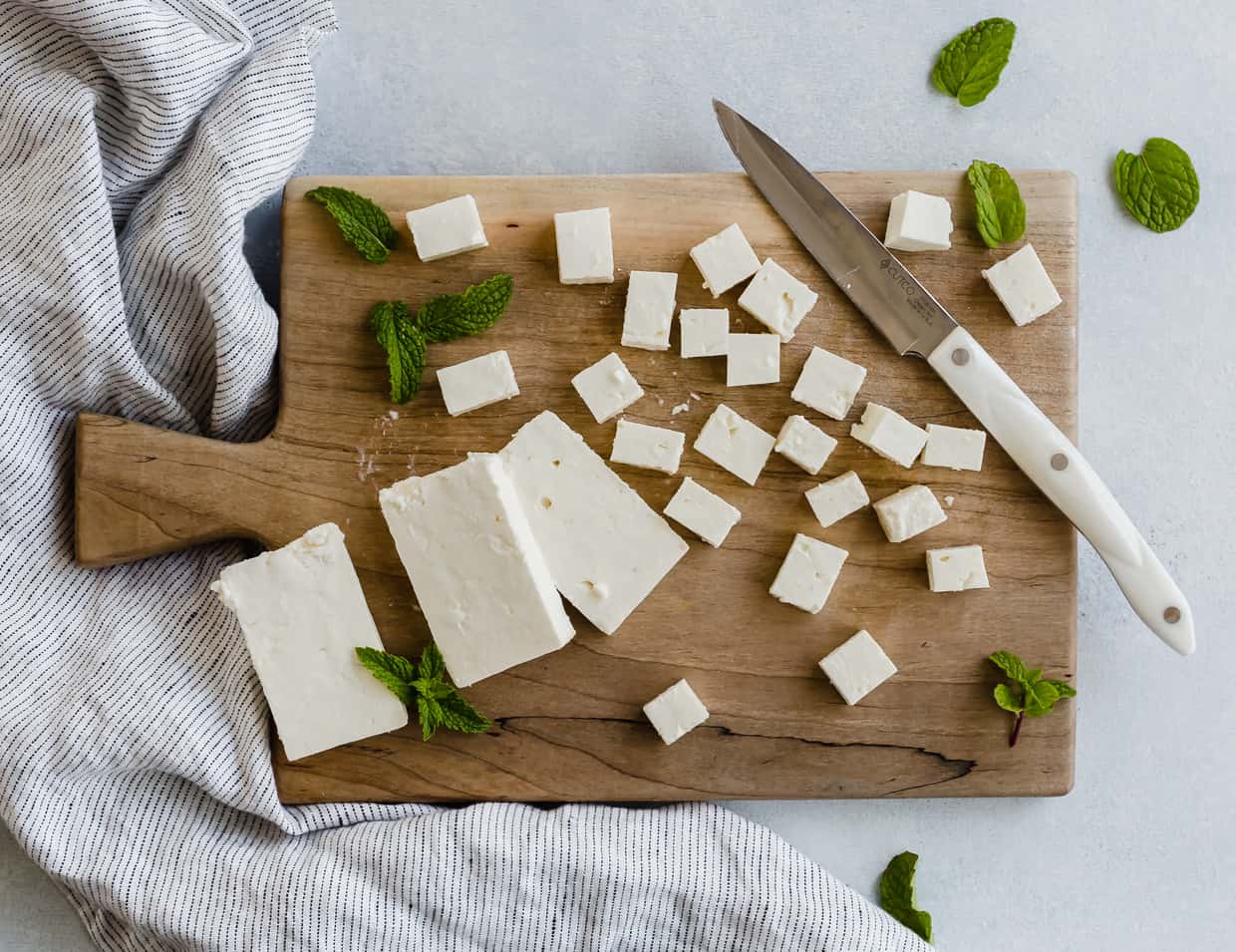 Assemble the watermelon skewers. Using metal, plastic or wooden skewers, toothpicks or appetizer sticks, gently poke a feta cube. Add 1-2 watermelon balls (depending on how big your skewers/toothpicks are).
Drizzle with balsamic glaze. Once all the skewers are filled, drizzle with balsamic glaze or homemade balsamic reduction. Garnish each of the watermelon feta skewers with a fresh mint leaf. Enjoy immediately!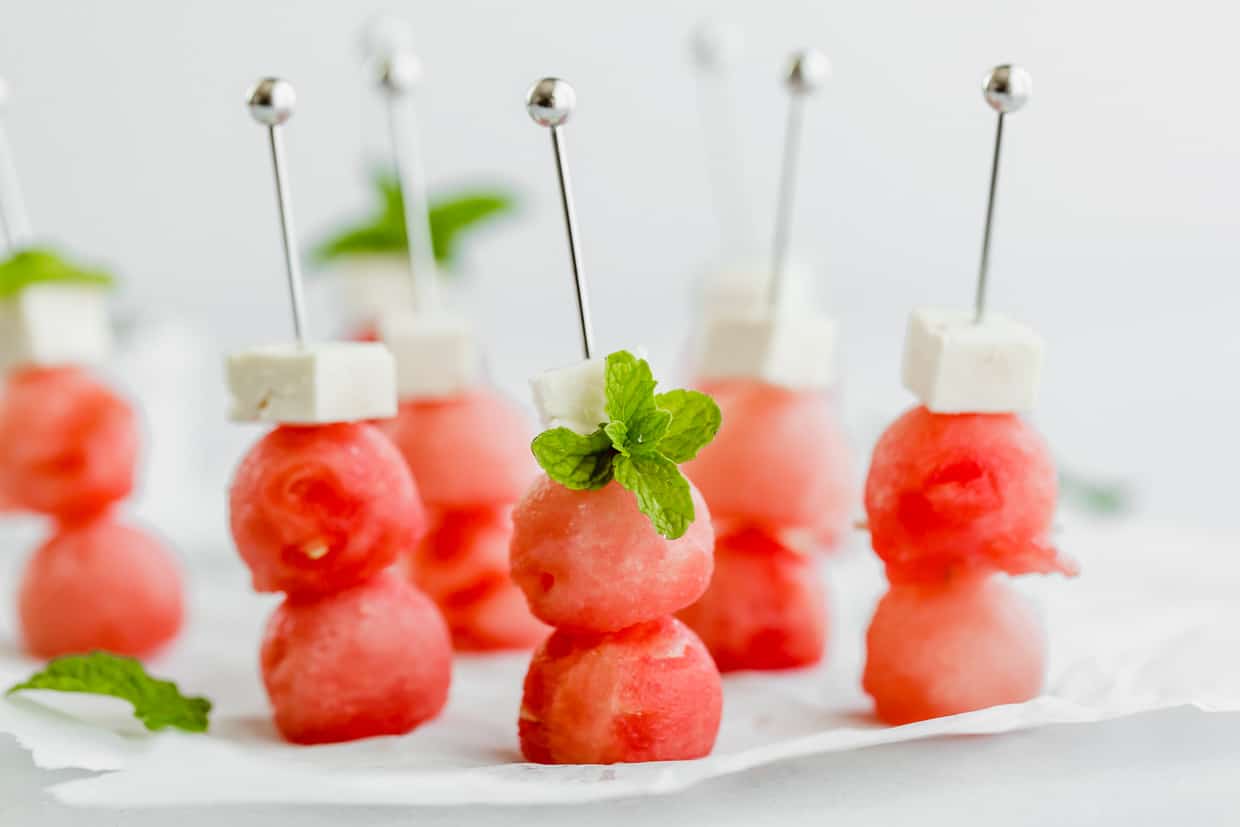 Recipe Tips
If using toothpicks, you might only have room for 1 watermelon ball. Also, be sure to gently poke the feta as it is a crumbly cheese. You'll want the feta cubes to be sizable enough to stay on the skewers.
When serving, I like to have the watermelon and feta skewers assembled and displayed on a plate or platter and then a small bowl of the balsamic glaze next to the skewers. This way guests can drizzle it on themselves and it's fresh and ultimately looks better!
Once the balsamic reduction has been drizzled over the skewers, the watermelon and cheese soak it right up and they don't look as pretty.
How to Make Balsamic Glaze
If you don't have balsamic glaze you can make your own using balsamic vinegar.
Simply add 1 cup of balsamic vinegar to a small pot. Bring to a boil, then reduce the heat to a simmer. Simmer for 15-20 minutes or until the sauce thickens and coats the back of a spoon. Remove from heat. Cool to room temperature. This can be stored in an airtight container in the fridge.
If you like a sweeter balsamic reduction feel free to add a teaspoon or two of honey to the mixture. I like it as is, but you can taste and adjust as you go.
Add fresh mint leaves as a garnish for a beautiful pop of color and flavor! Watermelon feta mint skewers are elegant and delicious! Garnish on top, or put a mint leaf on the skewers in between the watermelon and feta.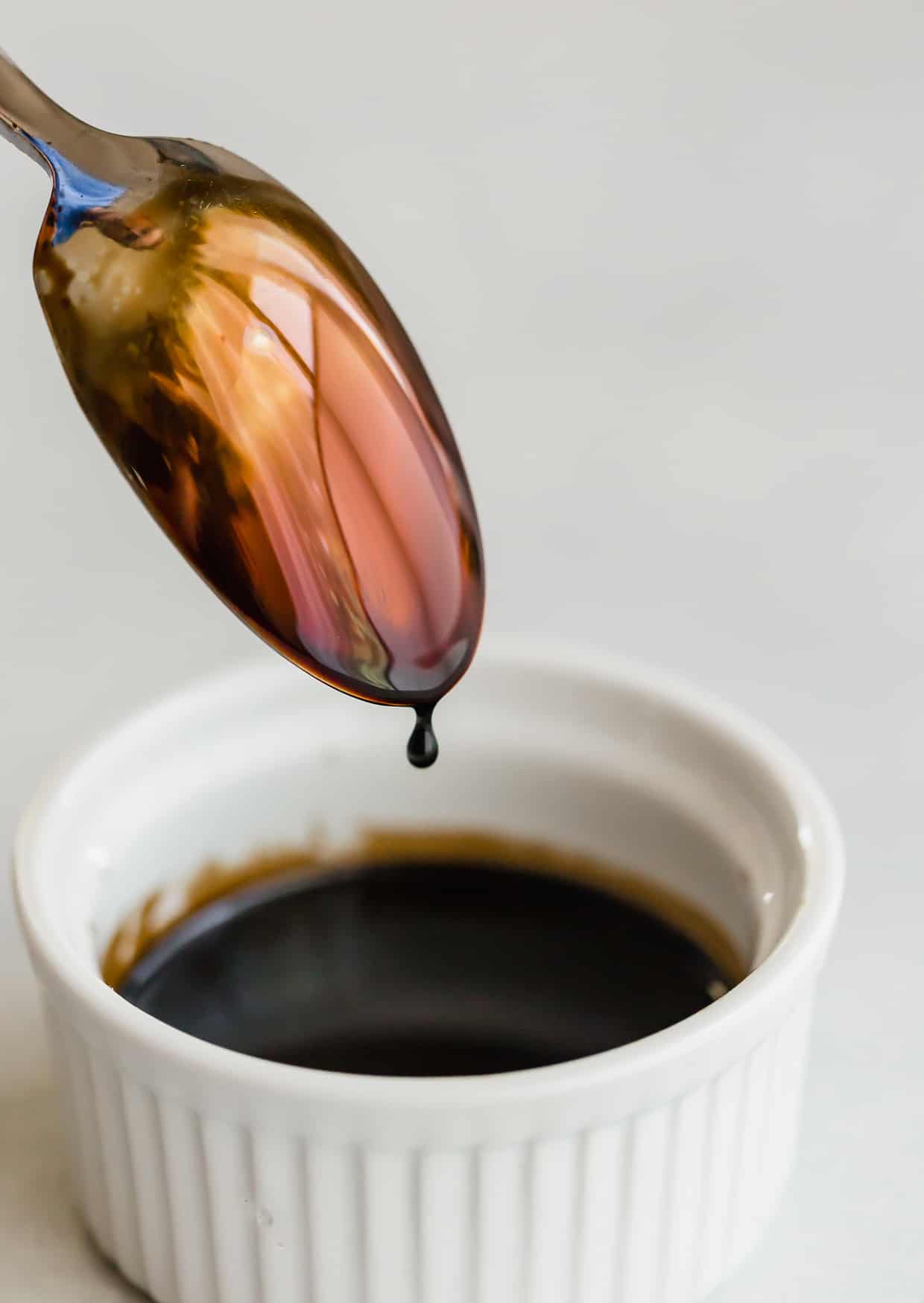 Make Ahead, Storing, Freezing
This is one of those dishes that is best served fresh. If you need to prepare things in advance, assemble the skewers but do not drizzle the balsamic reduction/balsamic glaze until serving.
Arrange the skewers right before serving. Usually this isn't possible, so if you need to make them in the afternoon and then refrigerate the skewers for a few hours, that's fine.
You'll want to eat all the skewers that have been drizzled with glaze. They'll soak up the glaze and the color and texture will change if stored that way for long.
Typically you won't have leftovers, but if you do, store any watermelon and feta skewers (unglazed) in an airtight container in the fridge for 1-2 days.
Do not freeze.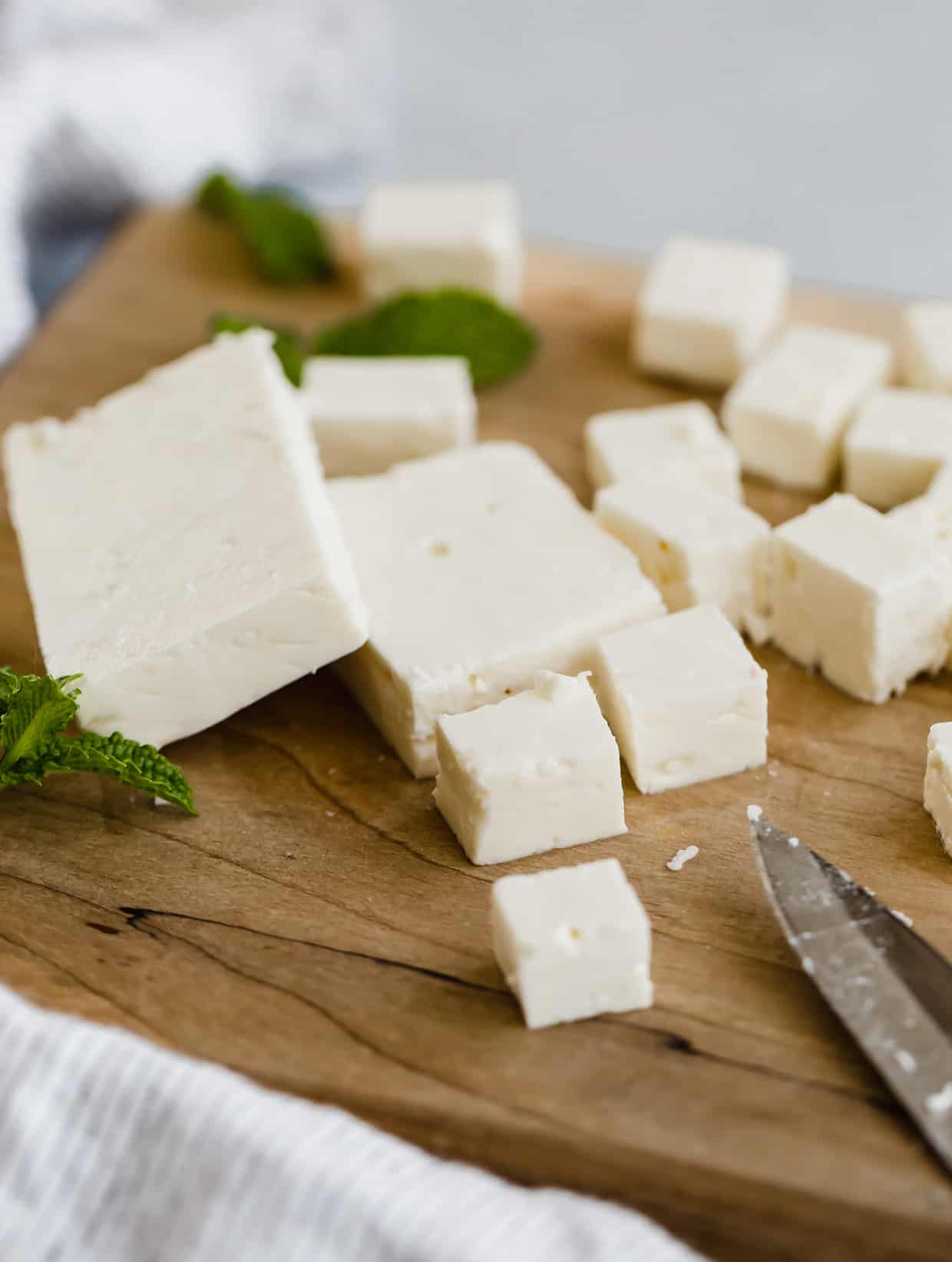 Recipe FAQs
What is balsamic reduction?
When you reduce balsamic vinegar, you're evaporating the water and concentrating the sugars. The end result is a thickened balsamic glaze that is sweeter and perfect for pairing with sweet or savory foods. My Nectarine Arugula Pizza with Balsamic Drizzle is another great way to use balsamic glaze as well as my Cherry Tomato Caprese Salad.   
Can I use crumbled feta?
Crumbled feta won't work if you are doing watermelon skewers. If you want to ditch the skewers, you can use crumbled feta and the watermelon balls and serve as a salad in a large salad bowl and drizzle with balsamic glaze (similar to a salad dressing). 
How do you scoop watermelon into balls?
You can use a fancy watermelon scooper! It makes it super easy. If you don't have one of these, you can cut watermelon cubes.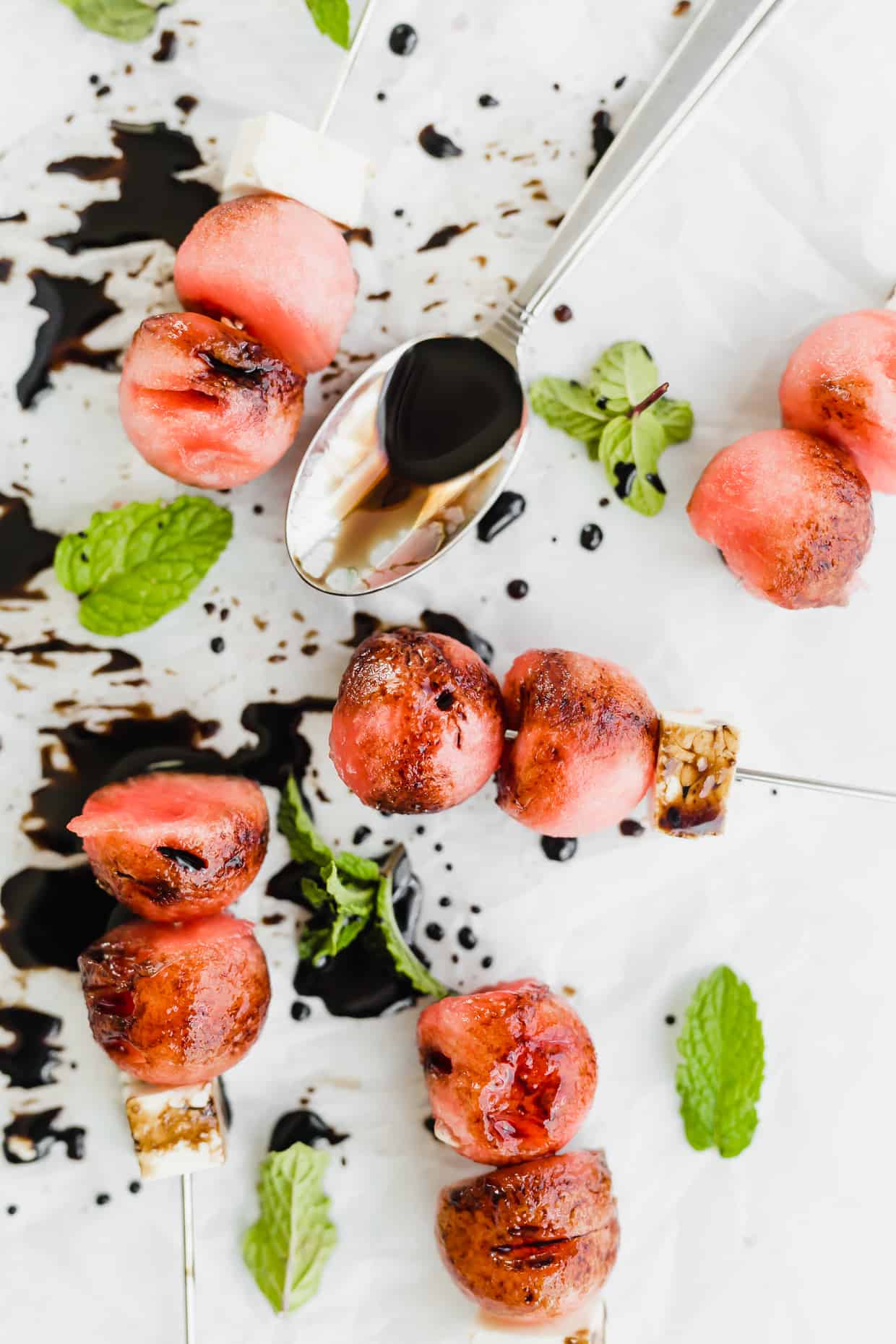 More Light Appetizer Recipes
Watermelon Skewers
A refreshing appetizer for any party! The sweet watermelon paired with the salty feta cheese is a match made in heaven! Make this for your next barbecue or family gathering and watch them be devoured!
Ingredients
1/2

watermelon

-

scooped into balls

8

oz

feta

-

cut into squares

1/3

cup

balsamic glaze

-

see notes on how to make your own
Instructions
Assembling the Watermelon Feta Skewers
Using mini skewers, toothpicks, or appetizer sticks, carefully skewer a small square of feta cheese. Then add 1-2 watermelon balls. *

After you've used all of the feta cheese and the watermelon, carefully drizzle the balsamic reduction overtop each skewer.** If you drizzle the balsamic reduction overtop, these will need to be eaten immediately. Otherwise, you can store the skewers in the fridge for a few hours until ready to eat. They don't store long, so best to make these before you plan on eating them. ***
Notes
For how to make your own balsamic glaze, see the corresponding section under Recipe Tips in the blog post. 
If using toothpicks, you might only have room for 1 watermelon ball. 
Assemble the skewers and place the balsamic glaze in a bowl for guests to drizzle themselves. 
Did you make this recipe?
Leave a star rating and review on the blog post letting me know how you liked this recipe! Take a picture and tag @saltandbaker on Instagram and Facebook so I can see what you're making!